This Paula Deen corn casserole recipe combines a handful of super simple ingredients plus some good old-fashioned corn muffin mix to make a creamy and savory corn casserole that your family will fight over for the last spoonful!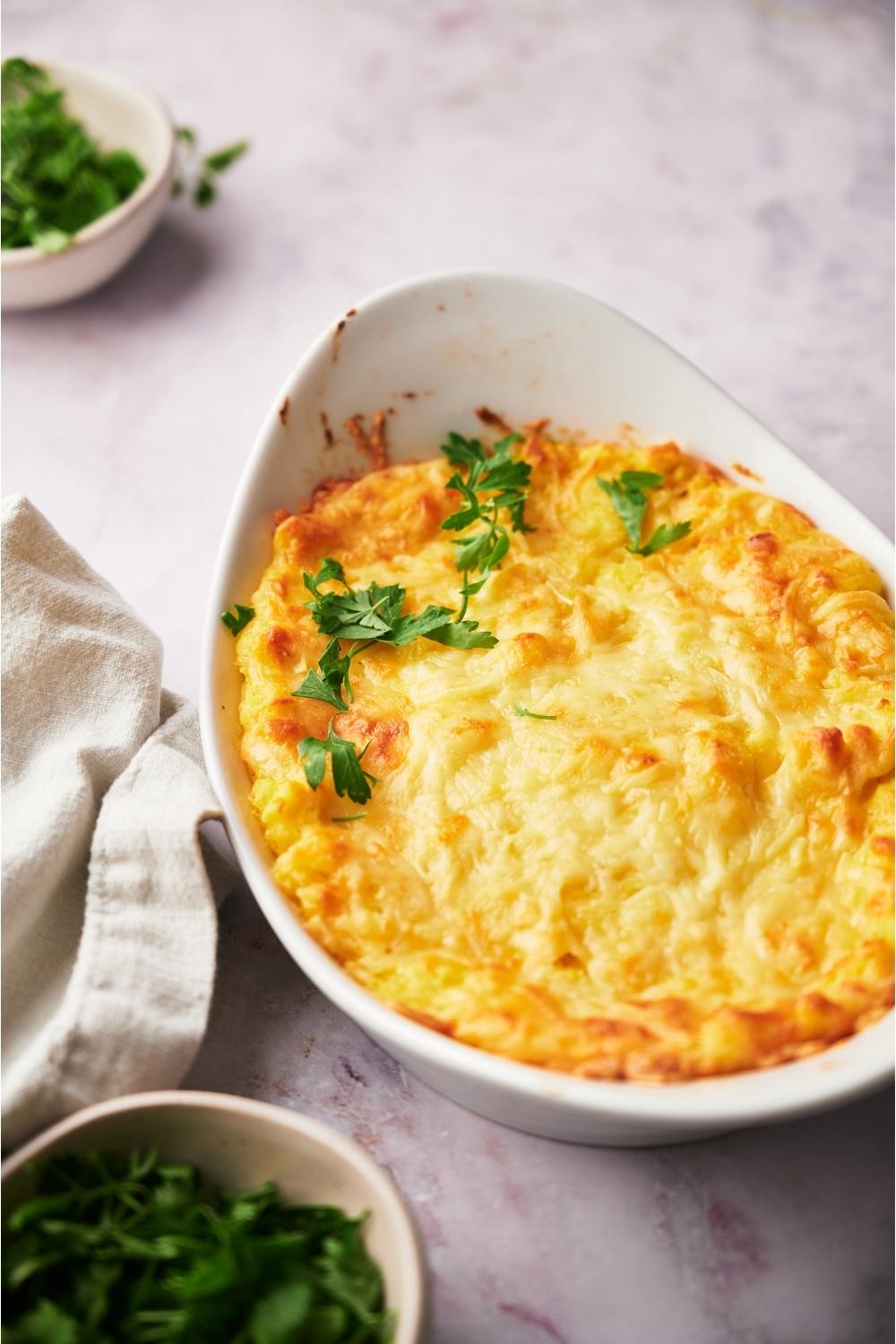 The Best Corn Casserole
Paula Deen makes some incredible recipes, but I think her corn casserole is by far one of her best. So, since that's the case, you know I had to put a spin on her iconic cream style corn casserole recipe.
I know I'm biased, but I think this version of it is incredible. Seriously, it might be even better than Paula's!
What sets this corn casserole recipe apart from others is that it uses a combination of corn muffin mix and creamed corn as the main ingredients. And those 2 ingredients not only add the perfect amount of sweetness to the casserole, but they also add a rich and fluffy texture that makes the dish so satisfying - and less heavy - to eat.
Oh, and since the cooking is all hands-off, you'll have plenty of time to make a main dish to go with the casserole. A few of my favorites to make with it are this southern meatloaf, this no bean chili, and these breaded chicken cutlets.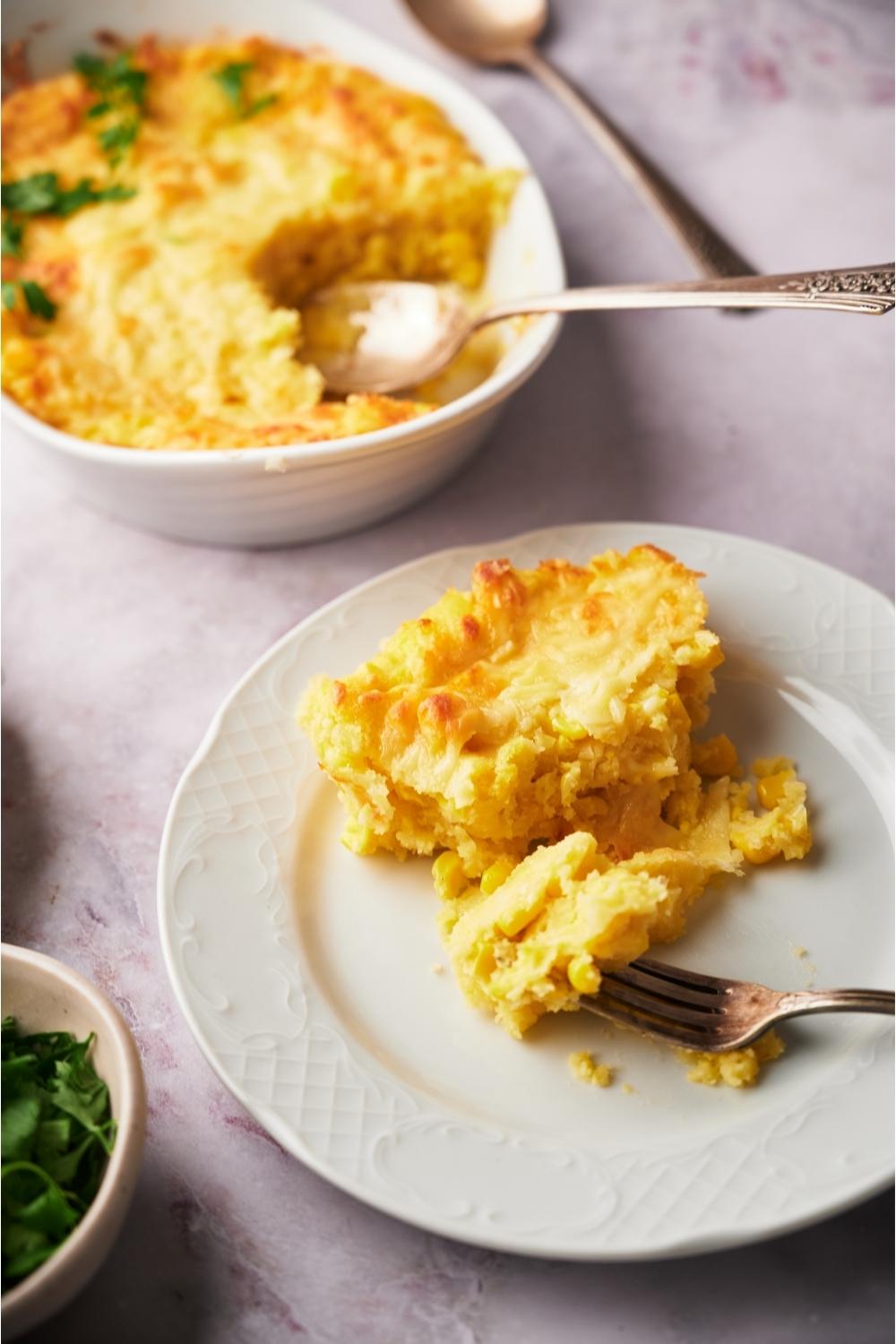 Ingredients You'll Need
Whole Corn Kernel- You can use fresh or frozen whole corn kernels, but just remember to thaw them first if you decide to use frozen ones.

Creamed Corn-

canned.

Jiffy Corn Muffin Mix- I recommend Jiffy Mix because it's by far the best one. But you can use another brand if you want.
Sour Cream- or cream cheese for a richer filling.
Butter- melted and slightly cooled.
Mozzarella Cheese- shredded cheddar cheese, Mexican cheese, or even pepper jack cheese for a little spice work too.
Oh, and the best part is that if you have the ingredients above, you can use the majority of them to make this corn souffle and sweet corn cake recipe next!
If you want to make this recipe without cheese, check out my classic Jiffy corn casserole.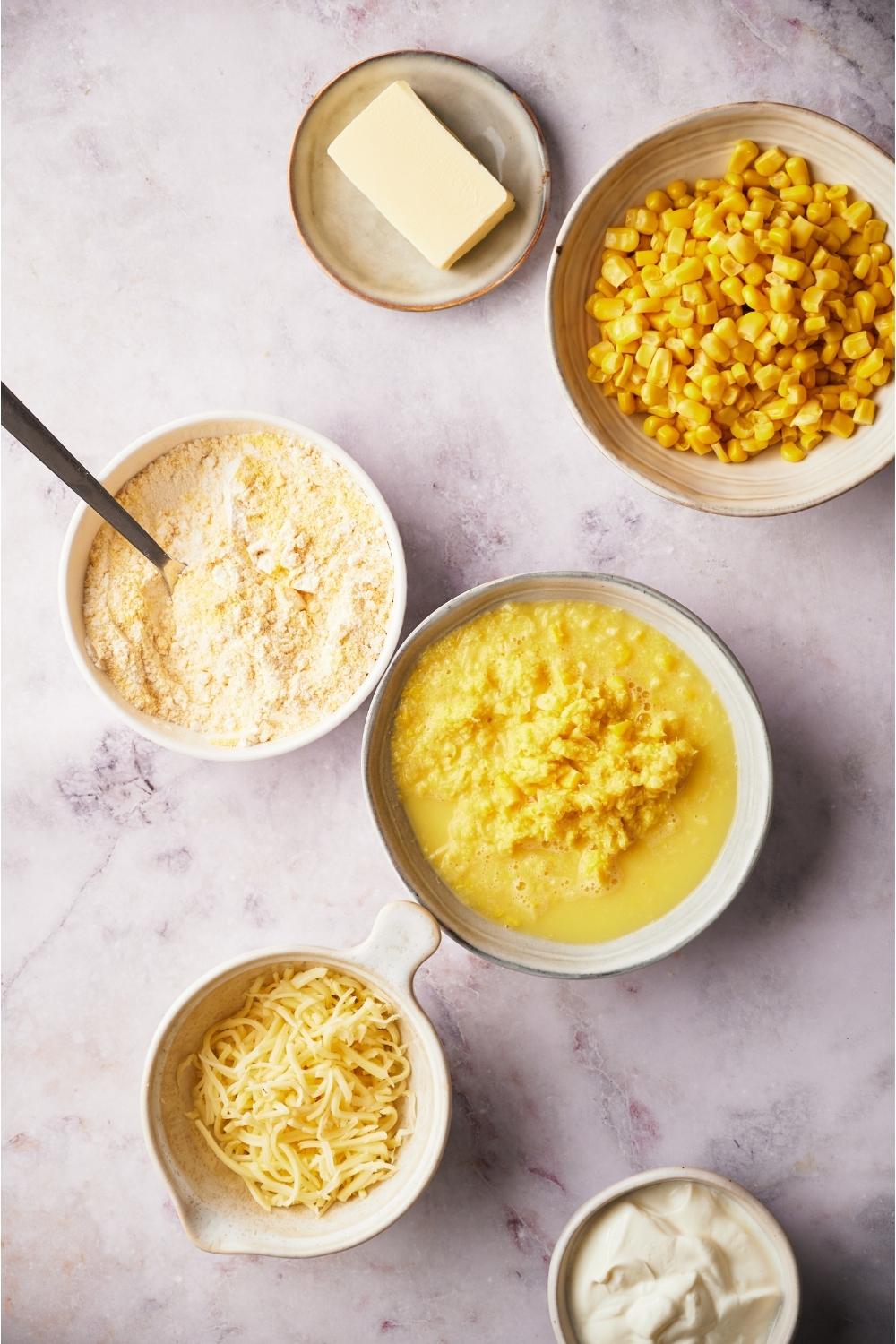 How To Make Paula Deen's Corn Casserole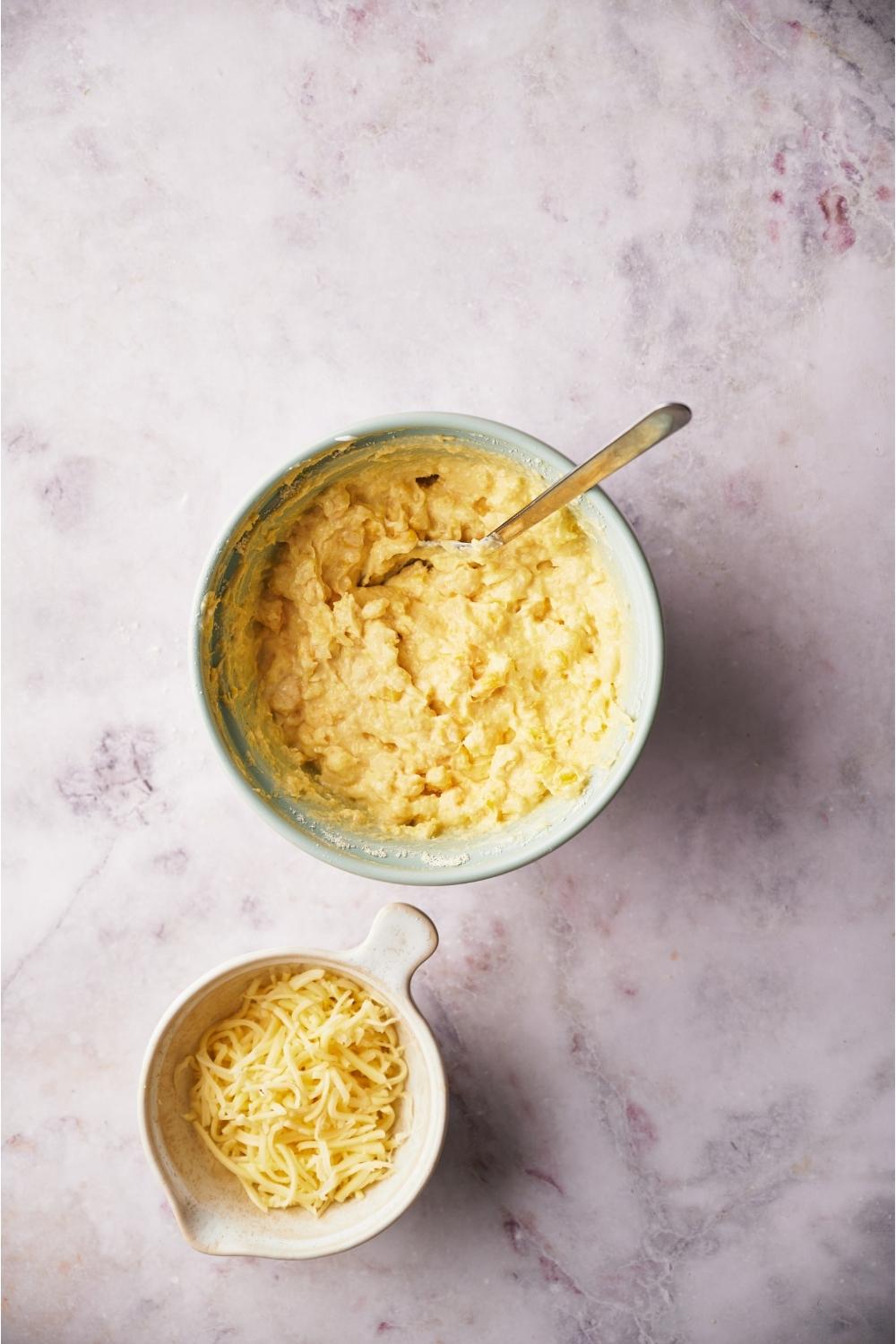 Step 1: Prep Work
First things first, you'll want to preheat the oven to 350°F (180ºC).
Then, take out a large baking dish - or casserole dish - and lightly grease it with butter - or oil - so the corn casserole doesn't stick to it. Just keep in mind that the size of your pan will affect the thickness of the casserole.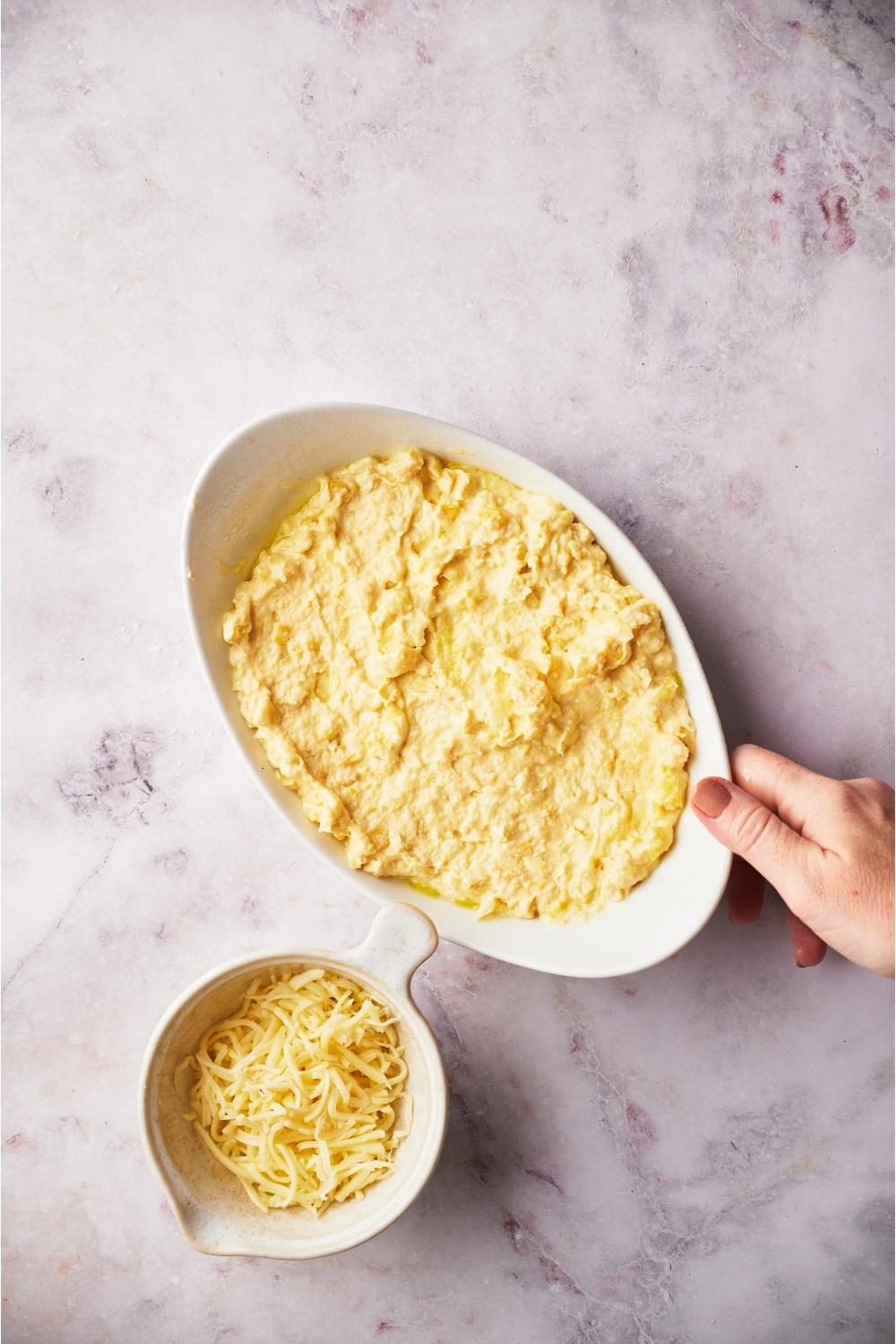 Step 2: Make The Corn Casserole Filling
Now it's time to assemble the corn casserole. So, the first thing you'll want to do is take out a large bowl and add the drained whole kernel corn, cream style corn, corn muffin mix, sour cream, and butter to it.
Then, give everything a good mix with a rubber spatula until all of the ingredients are well combined. With that said, be careful not to overmix it because you don't want to mash up the fresh corn pieces.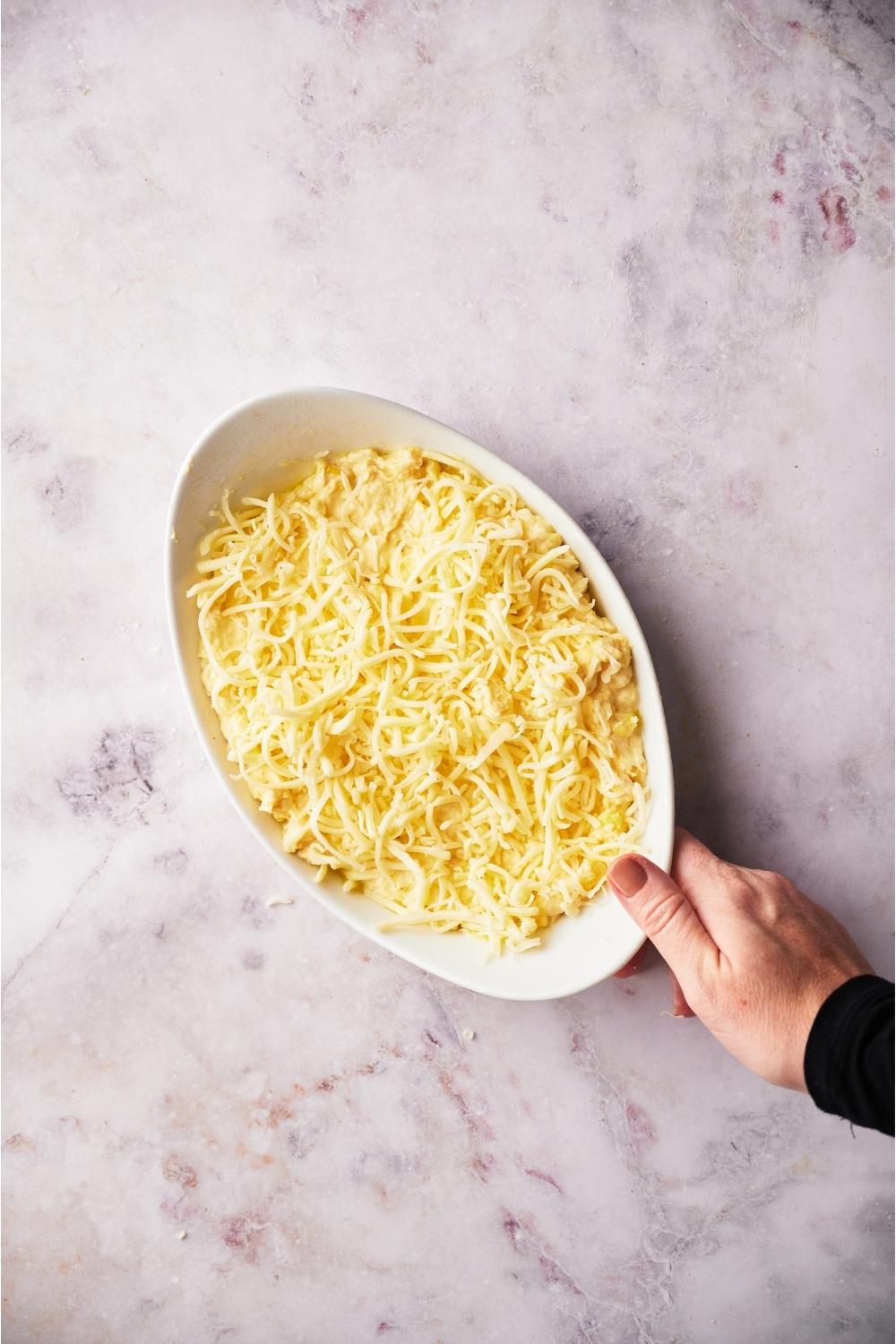 Step 3:
Bake The Corn Casserole
Now, once the creamed corn casserole is mixed, you can transfer it to the casserole dish you prepped earlier. Just make sure to spread it out evenly with a rubbery spatula when you do.
Then, once you've got the casserole spread out, you can generously cover it with shredded cheese and bake for about 25 minutes - or until the cheese is bubbly and golden brown on top.
Finally, after it's cooked to perfection, you'll want to let the casserole cool for a few minutes before serving it.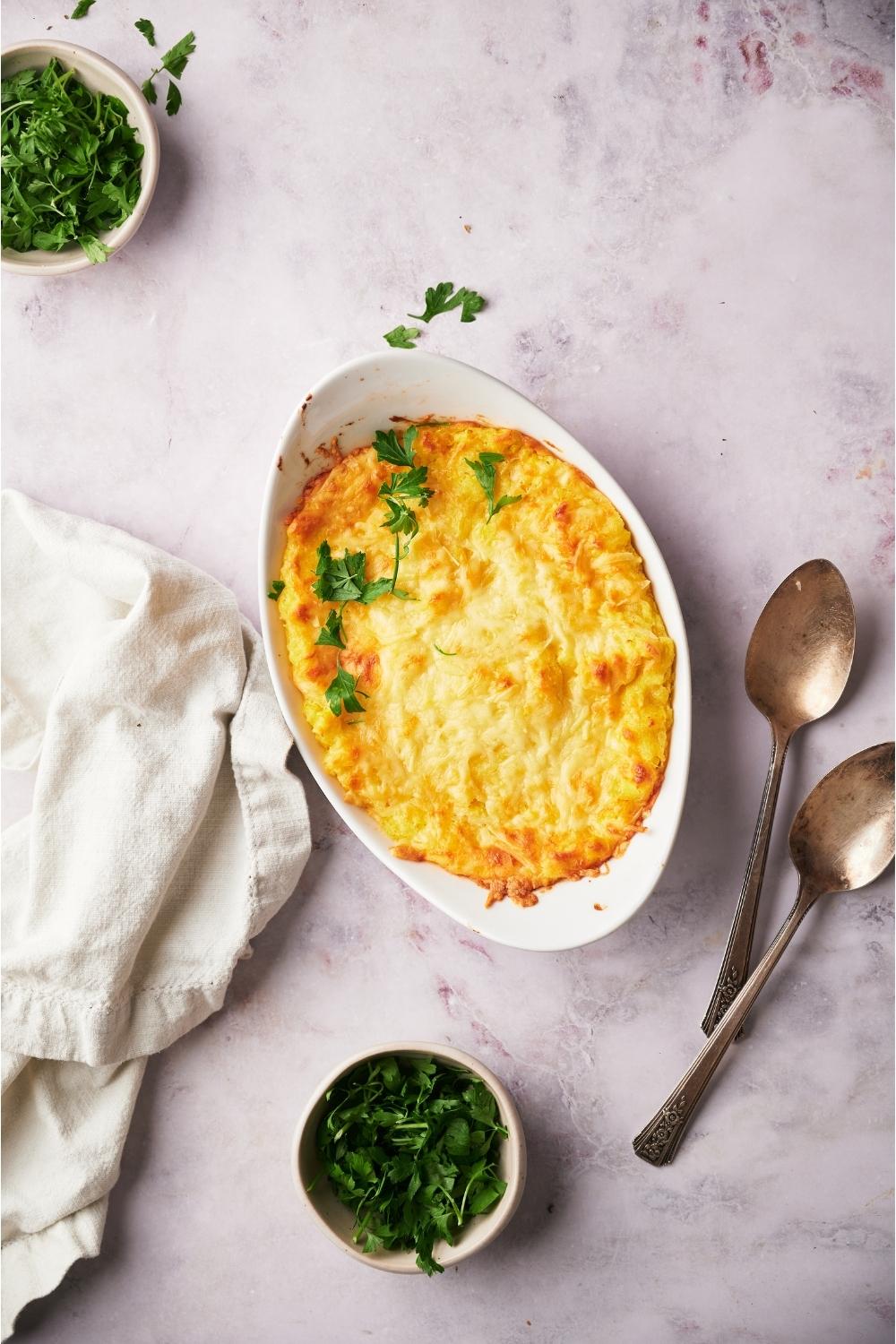 How To Store Corn Casserole
This recipe for corn casserole makes about 6 side-dish-sized servings. So, depending on how many other dishes you're serving, you may end up with some leftovers.
If so, you're in luck. This copycat Paula Deen creamed corn casserole recipe tastes incredible for days after you make it. Honestly, it might even taste better the next day.
Anyway, if you end up with leftover corn casserole, storing it is a breeze. You can either wrap the entire casserole dish tightly in plastic wrap and store it in the fridge, or you can store your leftovers in an airtight container in the fridge as well. Stored either of these ways, the casserole will stay good for up to 4 days.
By the way, if you want to keep your casserole for even longer, you can totally freeze it. Just keep it in an airtight container and freeze it for up to 6 months.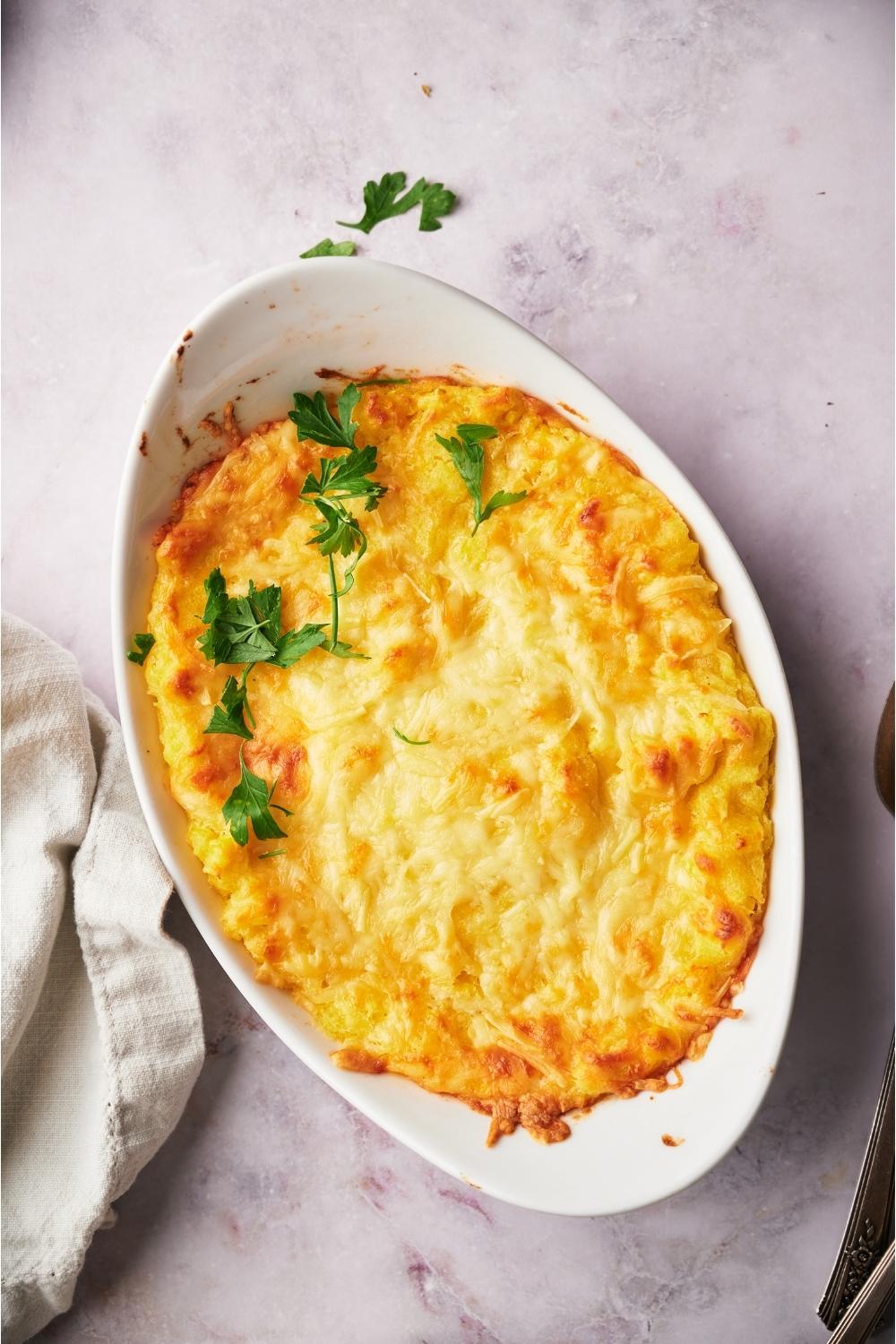 How To Reheat Corn Casserole
Corn casserole is best enjoyed warm, so you'll definitely want to reheat it when you're ready to start enjoying your leftovers!
To reheat leftover corn casserole, you can keep it simple - and quick - and microwave it in 30-second increments until warm. Or, alternatively, you can put the casserole dish directly in the oven at 350°F for about 10 minutes or until the cheese melts again and it reaches your desired temperature.
With that said, to reheat a frozen casserole, you'll want to reheat it in the oven at 350°F for about 50 minutes.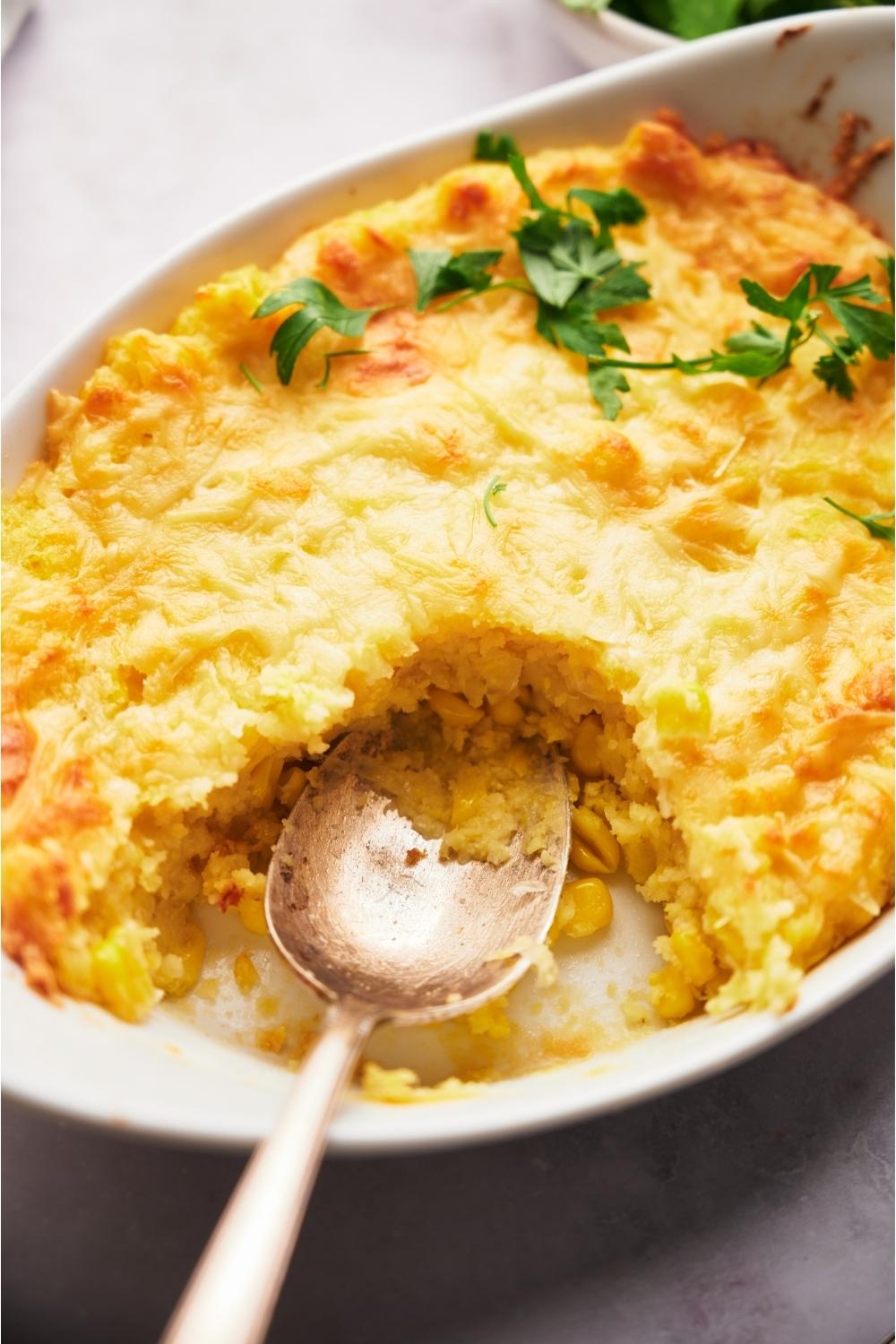 More Casserole Recipes
If you enjoyed this Jiffy mix corn casserole recipe, we've got plenty of other casserole recipes on the blog that I think you'll like just as much!
Give one of these a try next:
Oh, also, be sure to check out our Instagram, YouTube, and TikTok, for more tasty tastiness. We post new recipes on them every day.
Yield: 6 servings
Paula Deen Corn Casserole Recipe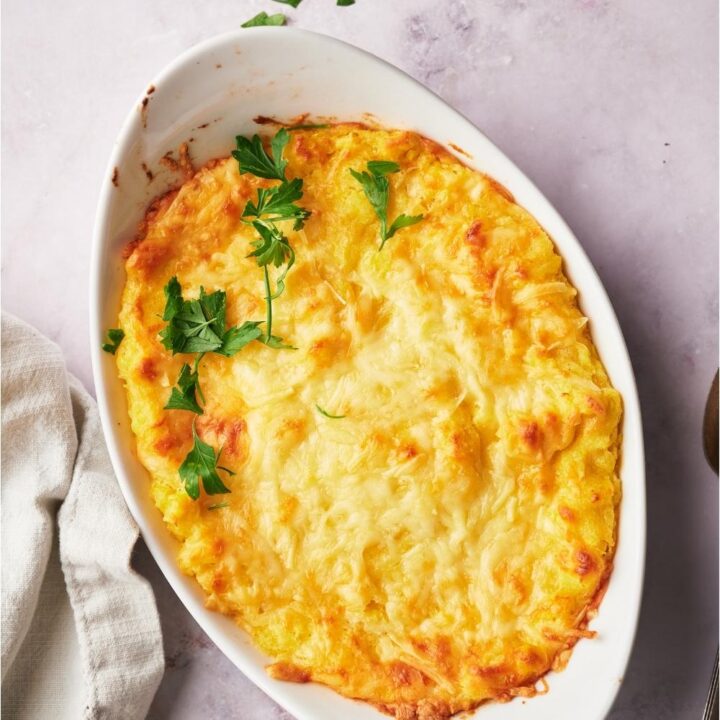 This Paula Deen corn casserole recipe combines a handful of super simple ingredients plus some good old-fashioned corn muffin mix to make a creamy and savory corn casserole that your family will fight over for the last spoonful! 
Ingredients
2 cups Whole Corn Kernel, drained 
2 cups Creamed Corn
1 cup Jiffy Corn Muffin Mix
½ cup Sour Cream
¼ cup Butter, melted
1 cup Mozzarella Cheese, shredded
Instructions
Preheat the oven to 350°F (180ºC).

In a bowl, mix the corn, creamed corn, Jiffy corn muffin mix, sour cream, and butter until combined.

Grease a casserole dish and spread the corn mixture in it. Top with mozzarella cheese.

Bake for 25 minutes or until bubbly.
Nutrition Information:
Serving Size:
1 serving
Amount Per Serving:
Calories:

369
Total Fat:

19g
Saturated Fat:

0g
Trans Fat:

0g
Unsaturated Fat:

0g
Cholesterol:

0mg
Sodium:

0mg
Carbohydrates:

45g
Fiber:

0g
Sugar:

0g
Protein:

10g