This low carb keto meatloaf recipe is on the top of the list for keto comfort foods. Each slice is perfectly tender, has so much flavor, and is just over 1 NET CARB. And this keto meatloaf recipe is super easy to make too, giving you a great dinner option for a busy weeknight.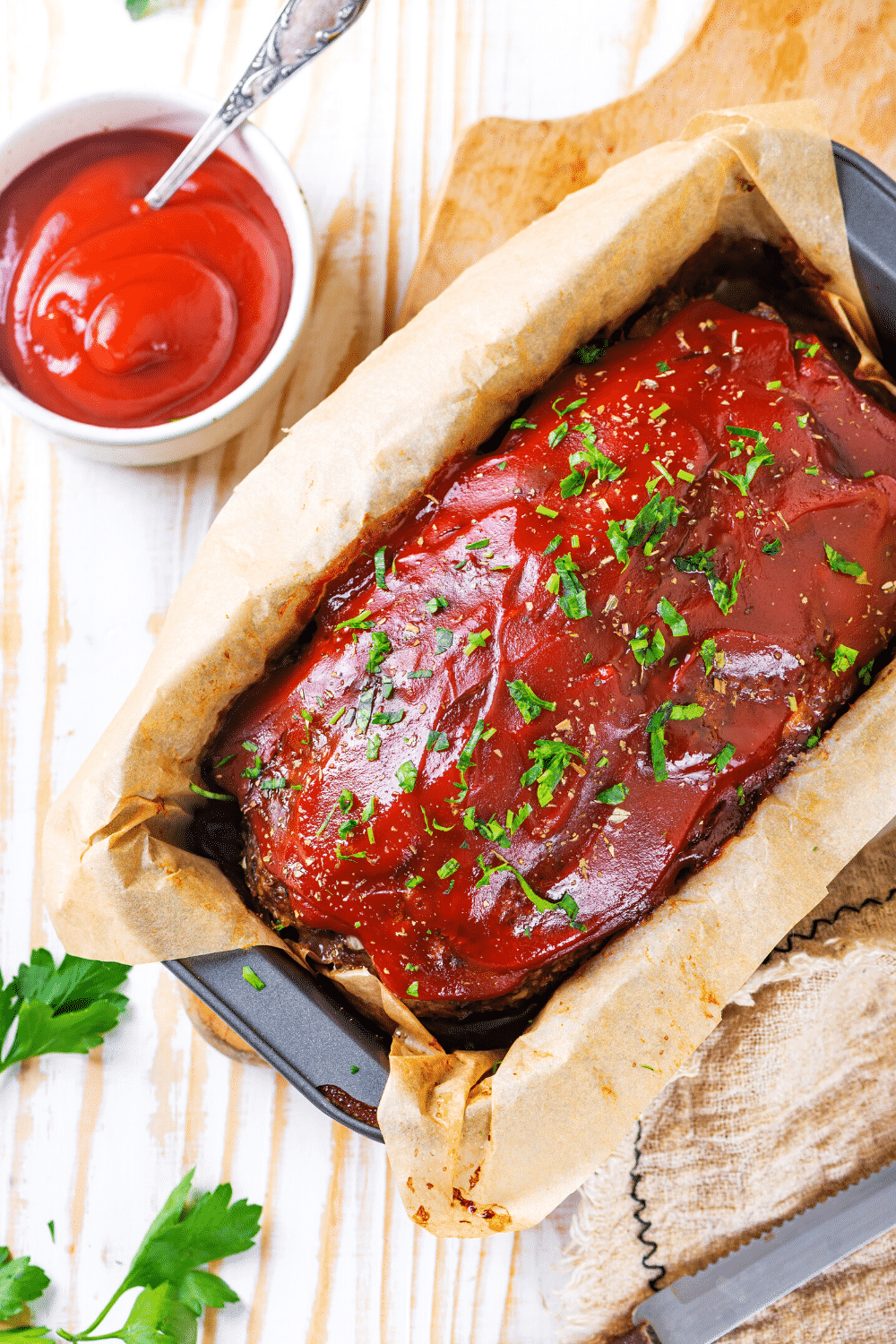 THE BEST KETO MEATLOAF RECIPE
As far as keto dinner recipes go, this keto meatloaf has got to be one of the easiest recipes you can make!
Seriously, out of all the keto meatloaf recipes out there, this one is on a whole new level of easy.
All you really need to do is combine the ingredients, shape the loaf, and bake it in the oven.
I mean, how much more simple can it get, am I right?
Not to mention it's made with everyday pantry staples, so it's the perfect back pocket keto recipe for when you don't know what to make for dinner.
But don't let its simplicity fool you – this low carb and gluten-free meatloaf makes for a wonderfully comforting and delicious dinner.
In fact, it's so good that no one would ever be able to guess that each serving has just over 1 NET CARB.
And to make it even better, you can either cook this keto meatloaf in the air fryer or oven.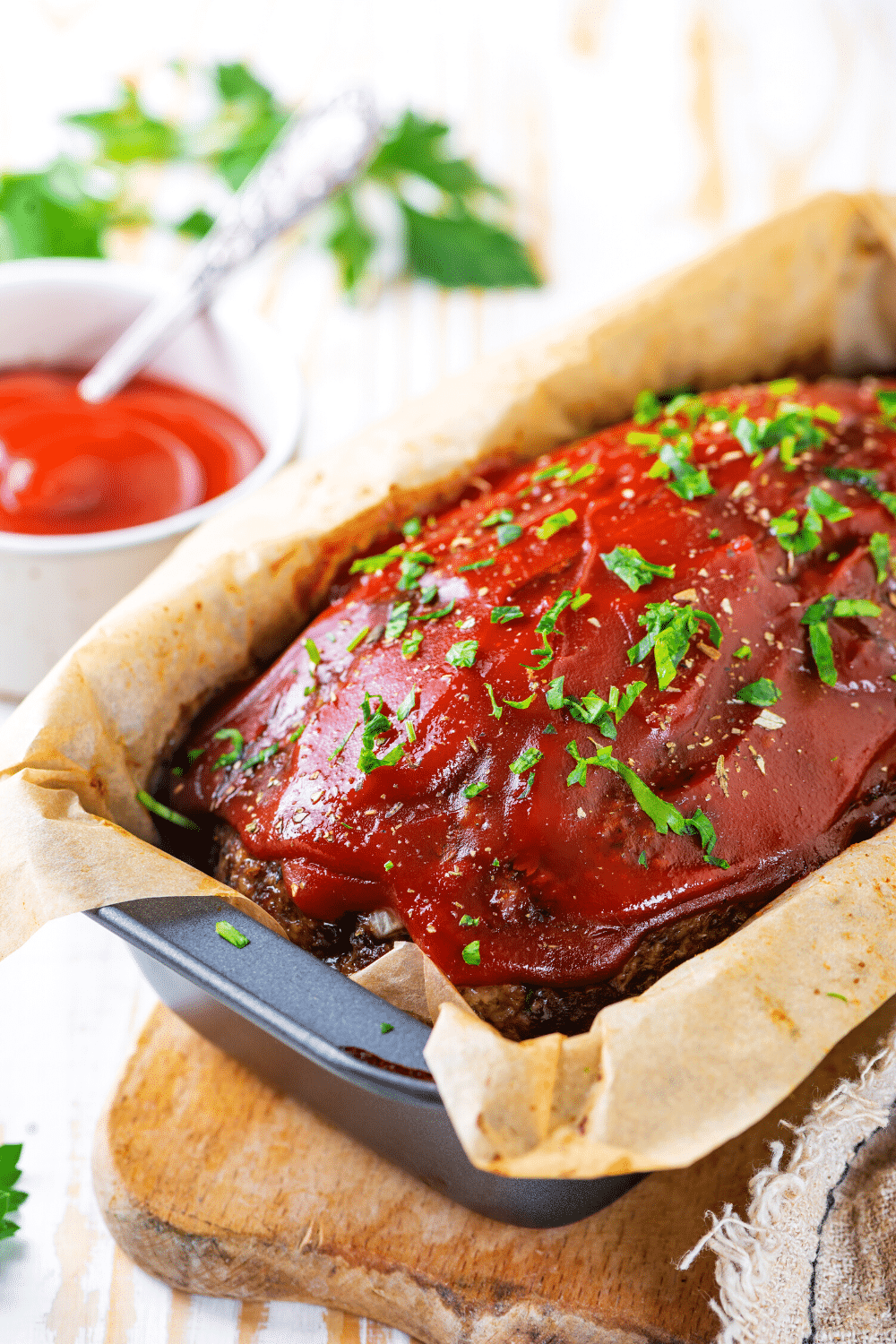 INGREDIENTS FOR KETO MEATLOAF
So as I mentioned, we'll be using pantry staples to make this keto low carb meatloaf.
And those staples are just a few seasonings, along with a couple of other ingredients that will turn this meatloaf into the delicious dish that it is.
Anyway, here's everything you'll need for the recipe:
2 lbs ground beef

1 egg

½ cup almond flour

½ medium onion, minced

2 tbsps. chopped parsley

½ teaspoon dried oregano

1 teaspoon garlic powder

1 teaspoon salt

½ teaspoon black pepper

⅓ cup keto friendly ketchup (sugar free ketchup) for the top

6-8 slices of bacon (optional)
Pretty simple stuff, right?
Now, if you don't like one of the seasonings in this recipe, feel free to leave it out or substitute it with anything you prefer.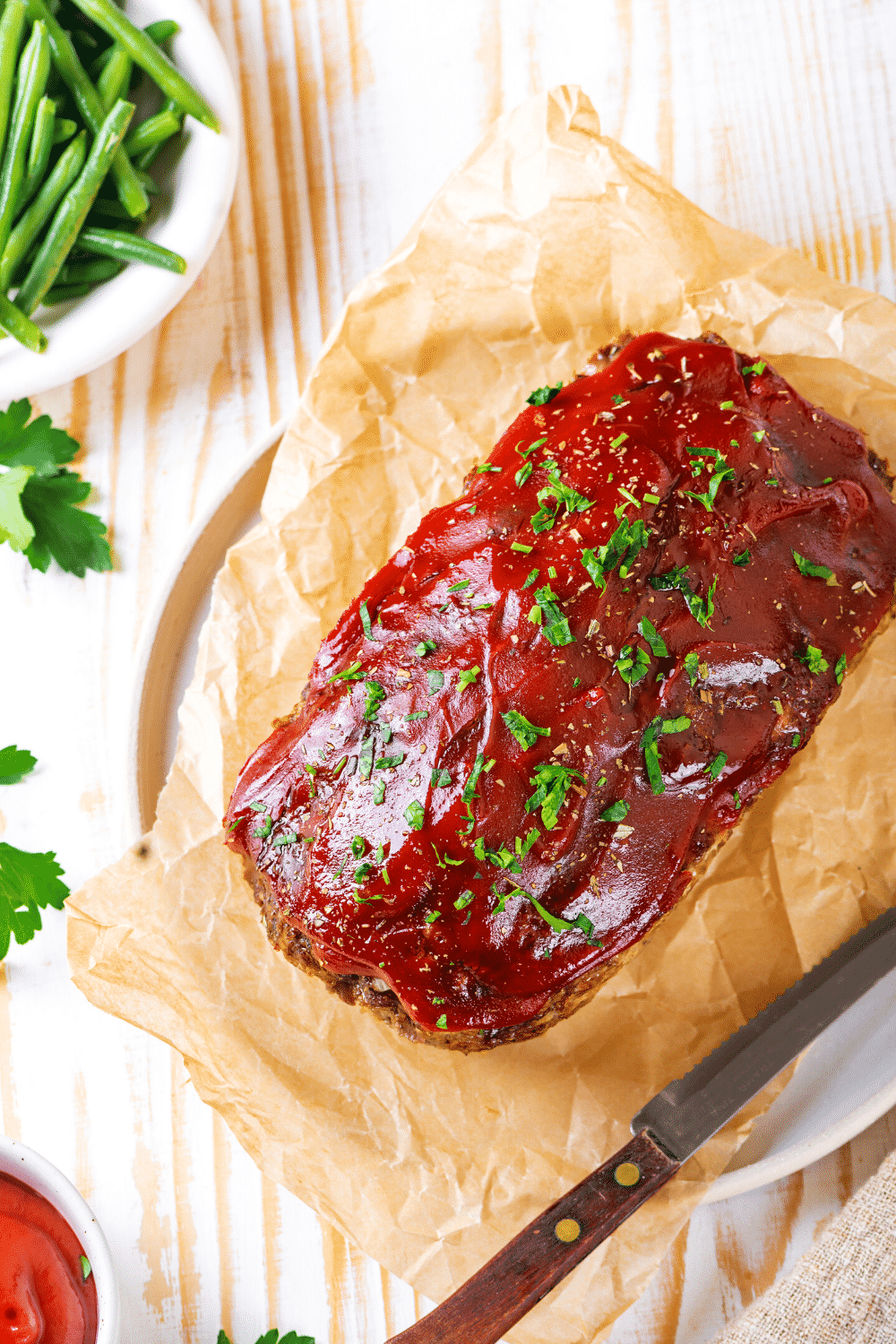 PICKING A FLOUR TO MAKE THIS MEATLOAF KETO
So you may be wondering why regular meatloaf isn't really considered keto.
Well, although it's made with primarily keto-friendly ingredients, meatloaf typically has breadcrumbs or flour mixed in to shape and bulk it up. As a result, it can have upwards of 20g of carbs per serving. And, that's obviously not keto-approved.
So to bring the carb count for this recipe down to less than 1 net carb, we'll be using almond flour instead - it adds the perfect shape and tenderness to this meatloaf without packing on the carbs.
Also, since you'll be using almond flour to make this recipe - and you'll have it out already - you might as well make these 2-ingredient almond flour keto french fries too! They're the perfect side dish to accompany this meatloaf.
But if almond flour isn't your thing, a couple of other great low carb swaps you can use are walnut flour and sunflower seed flour.
However, you'll definitely want to avoid coconut flour for this one. Not only will it make your meatloaf fall apart more easily, but it'll also add a noticeable coconut flavor. And, let's be real, nobody wants a coconut-tasting meatloaf.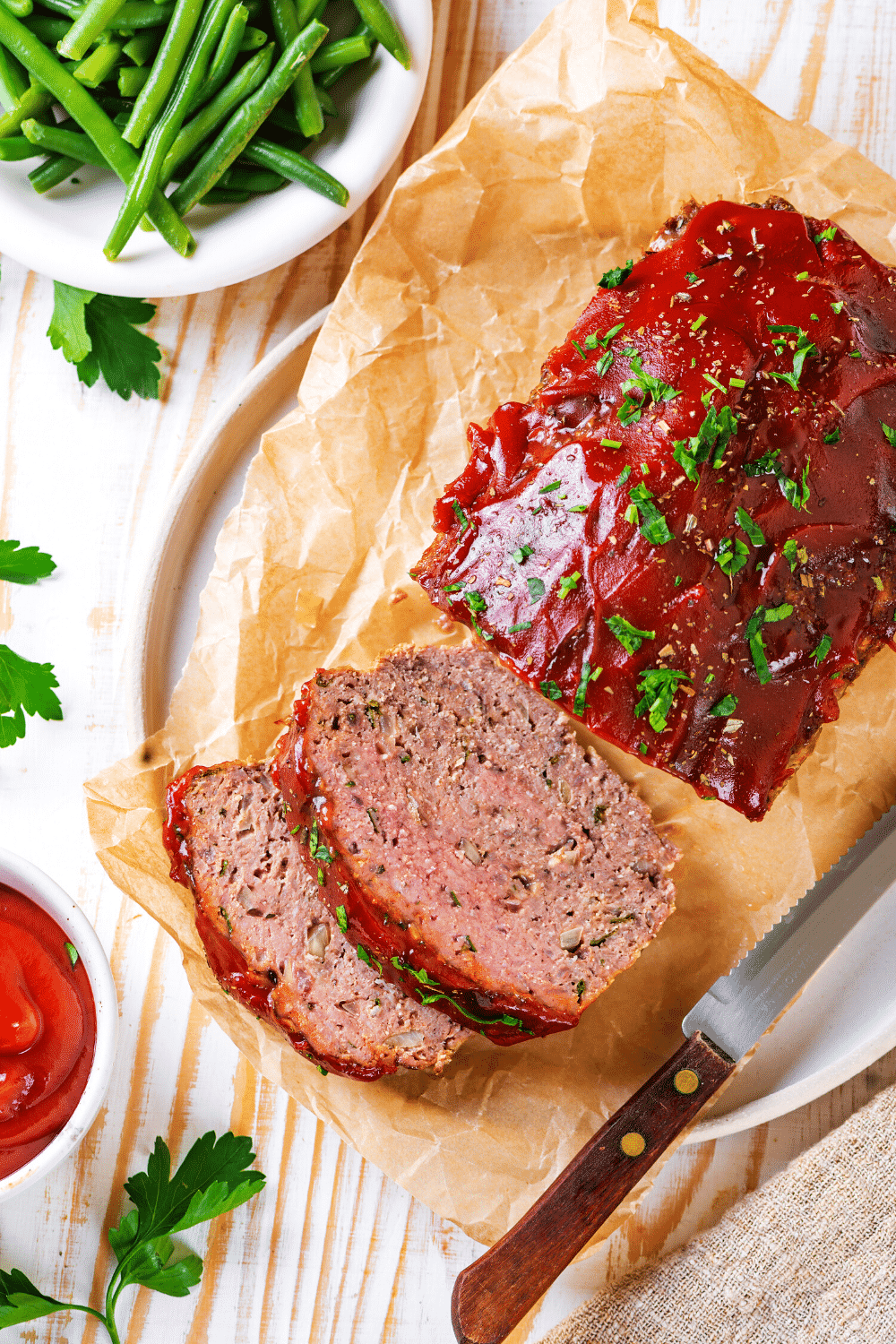 KETO FRIENDLY KETCHUP TO USE
Now before you reach for that bottle of ketchup in your pantry, it's worth noting that a lot of ketchup brands aren't good for keto.
While tomatoes themselves are keto-friendly when eaten in small quantities, ketchup often contains added sugars.
That said, there are a lot of keto-friendly options available. I used the No Sugar Added Heinz Tomato Ketchup for this recipe, but you can use any ketchup you can find as long as there are no sugars added to it.
Anyway, now that our ingredients are covered, let's move on to the rest of the recipe.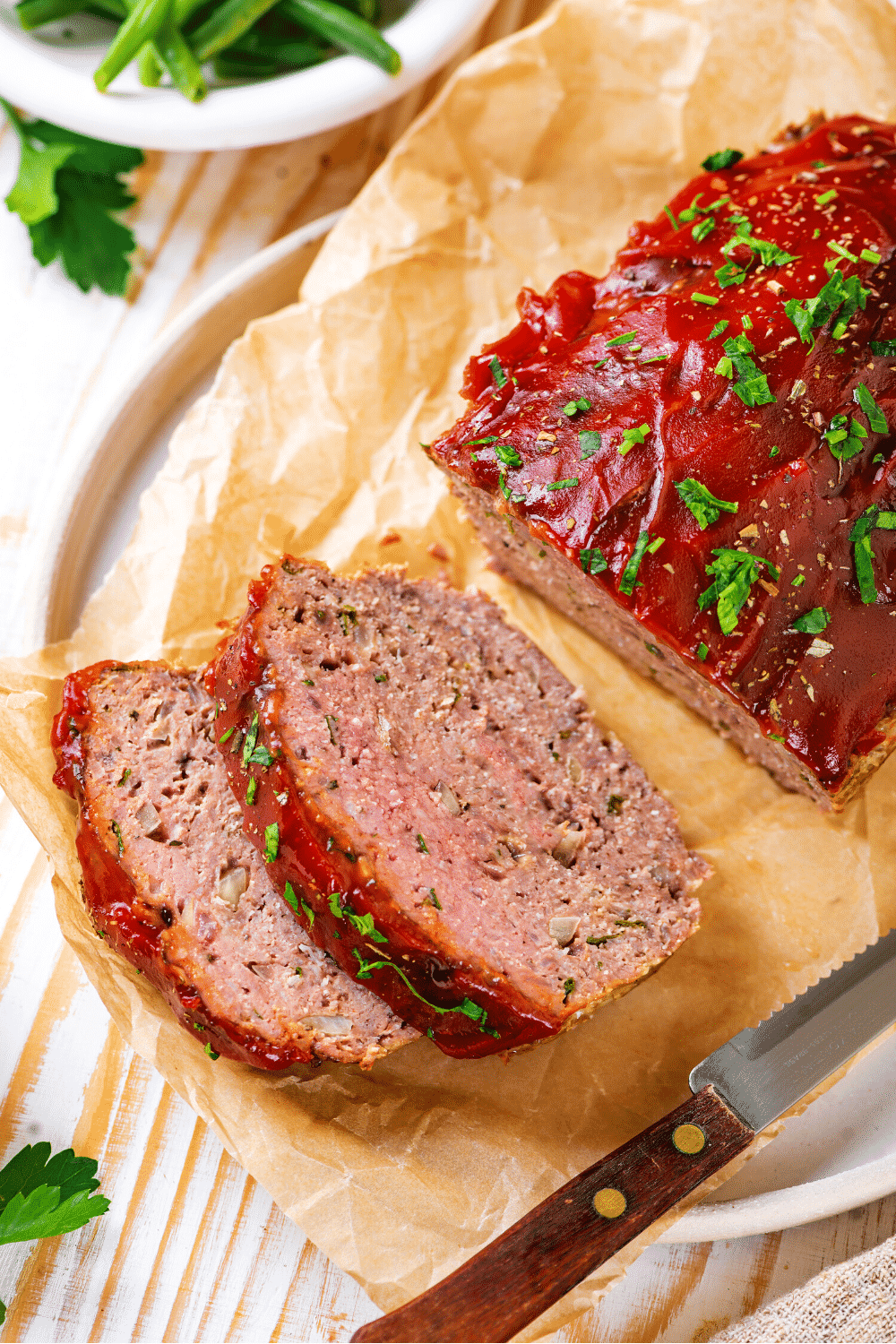 HOW TO MAKE KETO MEATLOAF
Again, this keto meatloaf is one of the best recipes to make when you need a quick meal and don't want a long cooking process.
It only takes about 10 minutes of work, and then you can just let the oven do its thing.
Plus, it makes 8 servings worth of meatloaf, so it's excellent for a big family dinner or meal prep throughout the week.
And, of course, you can always double or even triple the recipe if you want more.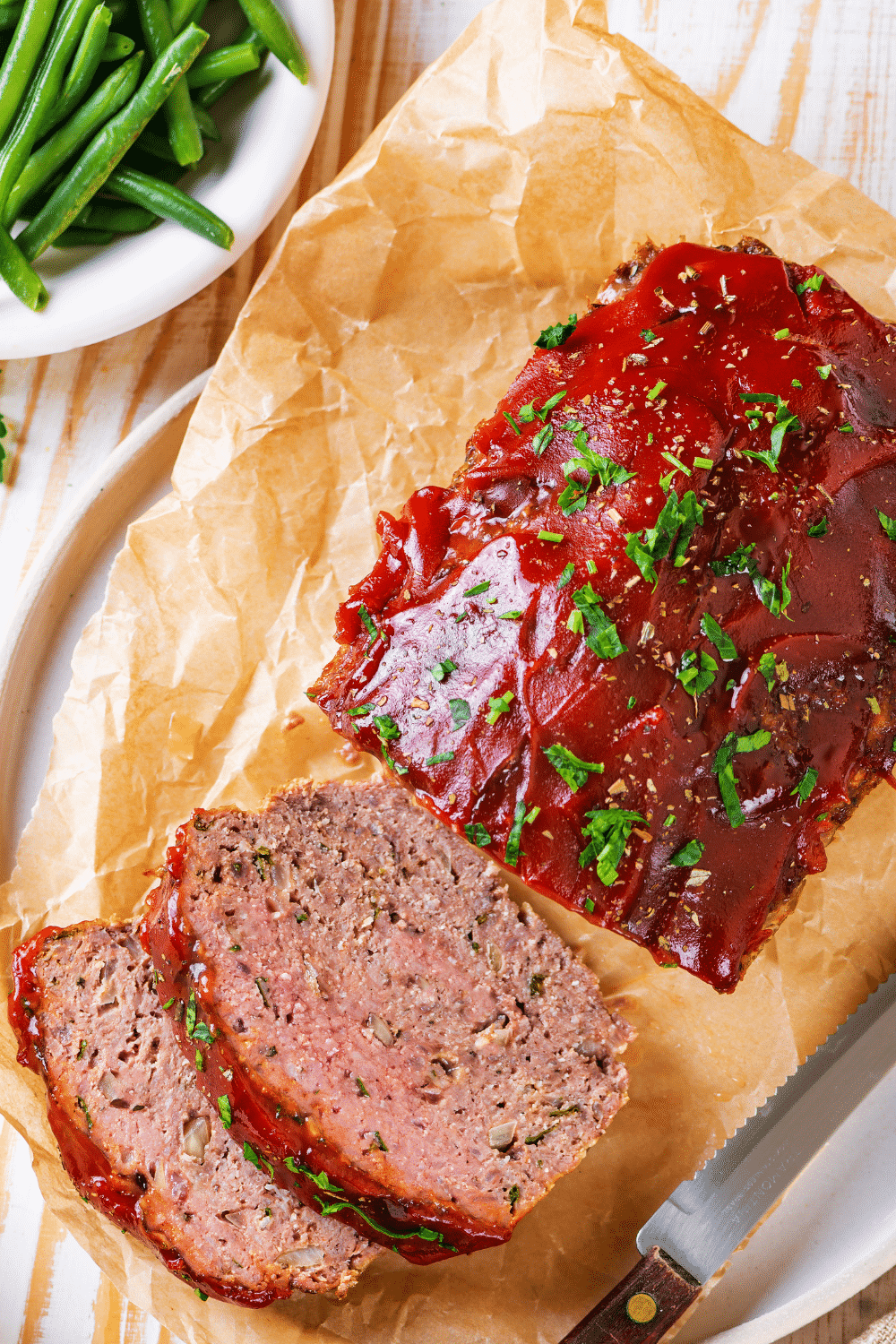 Step 1: PREPARING YOUR KETO MEATLOAF
Start by preheating your oven to 350°F (177 °C) and line a 9x5 inch loaf pan with parchment paper.
Next, you'll want to start preparing your seasonings, meat, and veggies.
So, you'll want to mince up the onion and chop up the parsley. Then measure out the flour, seasonings, and ground beef to make the meat mixture.
Then, once all your ingredients are ready, mix them in a large bowl with your egg until all your ingredients are thoroughly combined and a ground beef meatloaf mixture forms.
Lastly, transfer the ground beef meatloaf mixture into the prepared loaf pan, so it's a loaf shape.
Step 2: BAKING AND SERVING YOUR KETO MEATLOAF
Put your meatloaf into the oven and bake for 1 hour.
Halfway through baking (30 minutes in), pour your keto ketchup evenly on top of the meatloaf and let it finish cooking.
By the way, do not try to pour the ketchup over the meatloaf before placing it in the oven. While that may sound a lot easier, your ketchup will end up burning on top of the meatloaf if you bake it too soon.
That said, once your meatloaf is cooked to perfection, serve the delicious meatloaf and enjoy!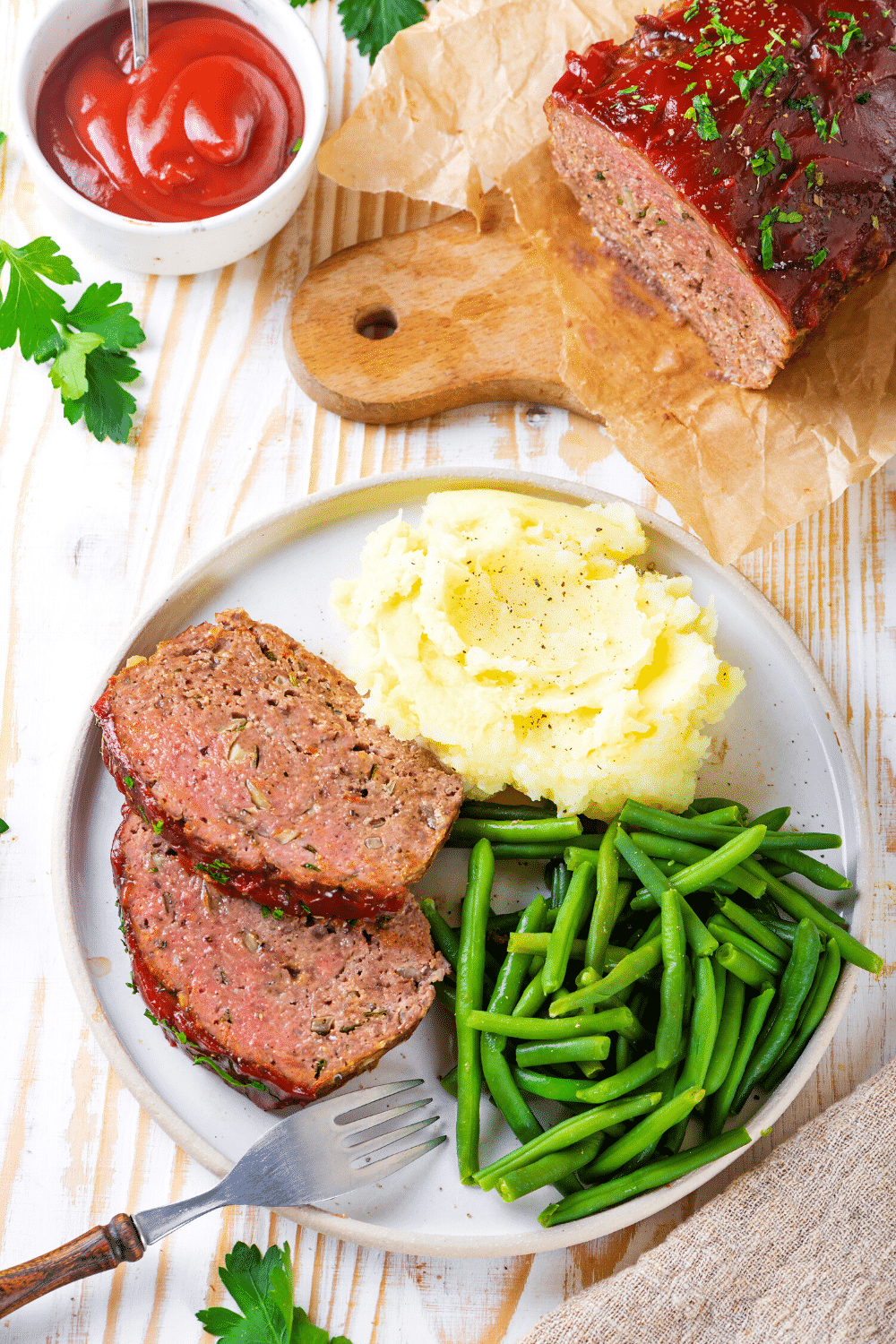 MAKING BACON-WRAPPED KETO MEATLOAF
If you want to add even more flavor to the best meatloaf recipe, you can make keto bacon wrapped meatloaf.
All you have to do to add some bacony goodness is wrap 6-8 slices of bacon around the meatloaf before baking.
Wrapping it in bacon will result in an extremely juicy and doubly flavorful meatloaf with a crispy bacon crust. And it won't add any carbs to the meal!
KETO MEATLOAF IN THE AIR FRYER
By the way, you can easily make this keto meatloaf in the air fryer, too.
First, preheat your air fryer to 325°F (160°C).
Then, instead of preparing a loaf pan, shape the meatloaf on a tray to fit in your air fryer.
Then place some foil at the bottom of the air fryer basket and cook your meatloaf for about 45-50 minutes, making sure to add the ketchup at the halfway mark.
And if it starts to brown a little too quickly, you can cover the top in foil to help it cook evenly.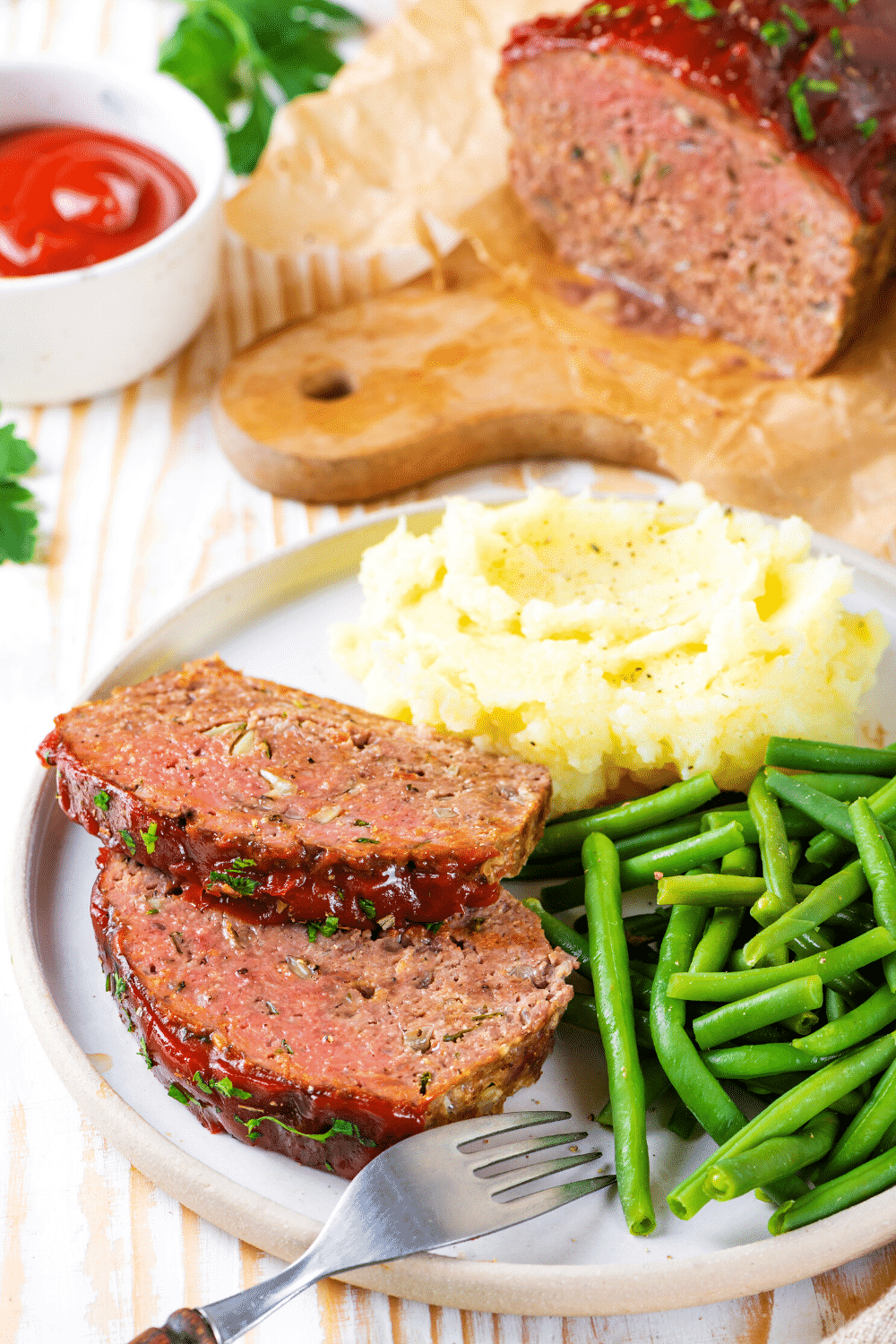 How To Store KETO MEATLOAF
As I mentioned earlier, this keto meatloaf recipe will make 8 servings.
So odds are you'll have some leftovers - just another reason to love this recipe.
You can either wrap your leftovers tightly in plastic wrap, in tin foil, or in an airtight container and refrigerate them for up to 4 days - or freeze them for up to 3 months.
If you do freeze it, I highly recommend individually wrapping the slices of the meatloaf, so you only have to take it out and reheat what you need.
How To Reheat Keto Meatloaf
When you're ready to enjoy this ground beef meatloaf again, it's definitely best reheated.
To reheat your leftovers, put them in the oven at 350°F (175 °C) for 15-25 minutes - the time will depend on the amount you're reheating.
And before reheating the frozen meatloaf, thaw it overnight in the freezer and then reheat it the same way as above.
Wrapping It UP
Well, there you have it - the quickest, most delicious, and absolute easiest keto low carb meatloaf recipe you can make!
This recipe is a lifesaver when you need a healthy dinner for a busy weeknight.
And your family is sure to love every single bite and won't have a clue it is a keto meatloaf.
I hope you enjoy one of the best low carb meatloaf recipes as much as I do.
Be sure to take a picture and tag us on Instagram if you end making this or any other recipes. We'd love to see how it turned out and share it on our story!
MORE QUICK AND EASY KETO RECIPES
Before you go, I have a few more easy keto recipes on the blog.
If you liked the simplicity of this meatloaf recipe, you'll love these:
Print
Keto Meatloaf | The Best Low Carb Keto Meatloaf Recipe
This low carb keto meatloaf recipe is on the top of the list for keto comfort foods. Each slice is perfectly tender, has so much flavor, and is just over 1 NET CARB. And this keto meatloaf recipe is super easy to make too, giving you a great dinner option for a busy weeknight.
Author:
Prep Time:

5 minutes

Cook Time:

60 minutes

Total Time:

1 hour 5 minutes

Yield:

8

servings

1

x
Category:

Dinner

Method:

Oven

Cuisine:

Keto Low Carb
Instructions
Preheat the oven to 350°F (175°C) and line 9x5-inch loaf pan with parchment paper. 

Mix all the ingredients in a bowl and then place in the prepared pan. 

Bake for 1 hour, pouring ketchup on top of the meatloaf after 30 minutes.
Notes
The scale up function does not change the gram measurements.
Nutrition
Serving Size:

1 Slice

Calories:

253.8

Fat:

16.5

Carbohydrates:

2

Fiber:

.75

Protein:

25.6
Keywords: Keto meatloaf, keto meatloaf recipes, keto meatloaf recipe, low carb meatloaf, low carb meatloaf recipe, gluten free meatloaf, keto low carb meatloaf, low carb keto meatloaf, keto low carb meatloaf recipe, how to make keto meatloaf, easy keto meatloaf, recipe for keto meatloaf, keto meatloaf air fryer, air fryer keto meatloaf, gluten free meatloaf recipe, keto bacon wrapped meatloaf, bacon wrapped keto meatloaf, bacon wrapped keto meatloaf recipes