This Keto Coleslaw Recipe might just be the best coleslaw you ever make! It's just so fresh, so creamy, and so perfectly tangy. And it has just the most unforgettably flavorful keto coleslaw dressing. Not to mention, this recipe is super quick and easy, and comes together in just 5 minutes!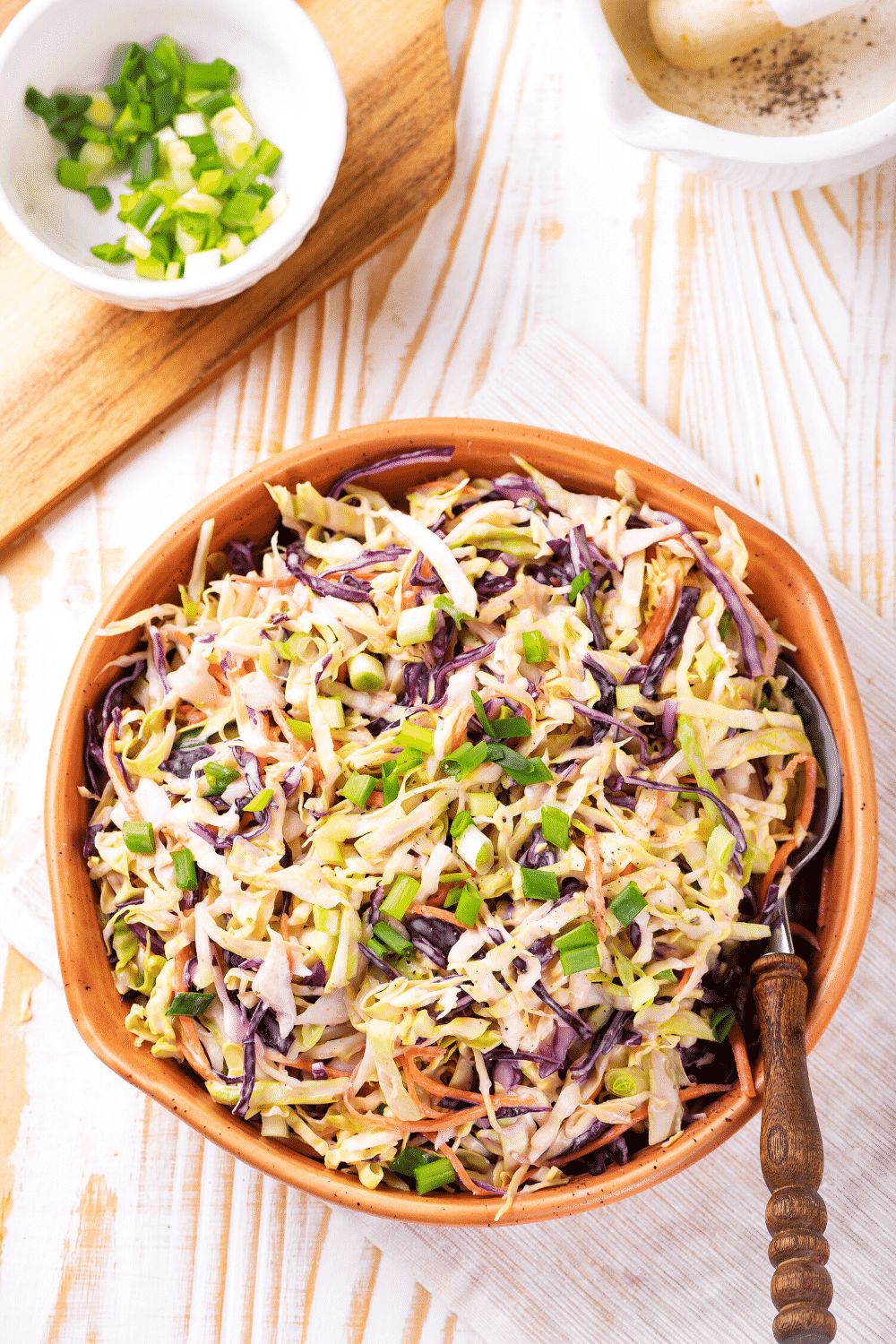 THE BEST KETO COLESLAW
There is nothing better than a versatile side dish that can go with pretty much anything.
And when the summer comes around and barbecues are in full swing, there isn't a better recipe to have on hand than this keto coleslaw.
Seriously, this homemade coleslaw is a total crowd-pleaser - bright, creamy, healthy, and packed with tons of flavor - you really can't beat it. And along with being delicious, each serving has just 2.5 NET CARBS!
It's so good that anyone who tries it won't be able to tell the difference between this, and the non-keto kind. In fact, I might even go as far as saying that this gives "regular" coleslaw a run-for-its-money!
But you don't have to take my word for it - try this recipe out for yourself, and you'll see what I mean.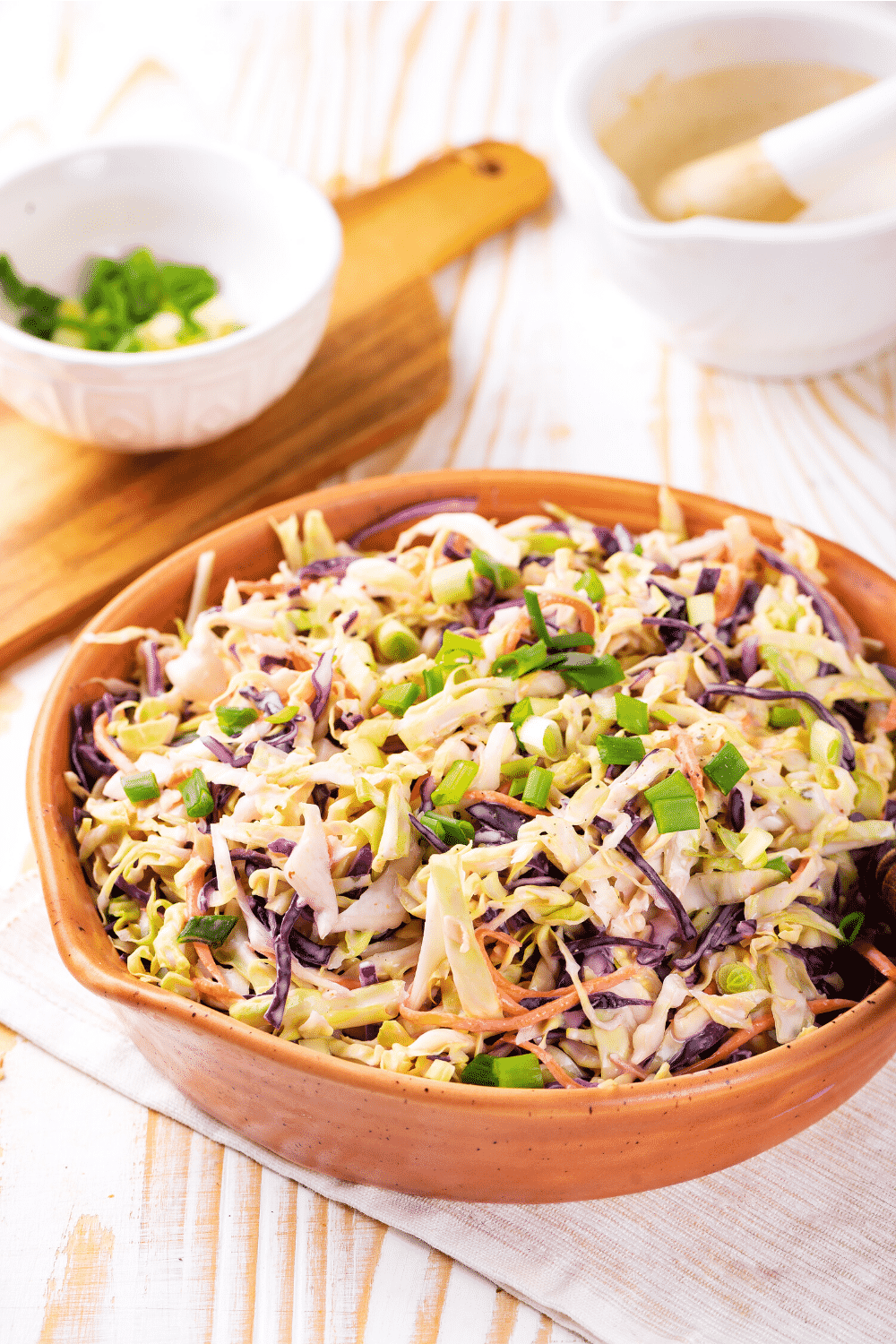 INGREDIENTS FOR KETO COLESLAW
As I mentioned, this recipe is a step above basic coleslaw, so there's a little more that goes into the dressing than usual.
But don't worry, most of these are common kitchen ingredients – a lot of which you may already have on hand.
Having said that, here are all of the ingredients you'll need:
4 cups shredded coleslaw mix

¼ cup mayonnaise

¼ cup sour cream

2 tablespoons apple cider vinegar

1 tablespoon Confectioners Swerve

1 teaspoon celery seed

½ teaspoon Dijon mustard

½ teaspoon garlic powder

Sea salt (to taste)

Black pepper (to taste)
Like I said, pretty common stuff! And, let me tell you, every ingredient comes together to create the perfect balance of flavors. Oh, and you can use these ingredients to make this crack slaw, so you'll want to check that out next!
So, now that we've got our ingredients list let's go over some important points before starting.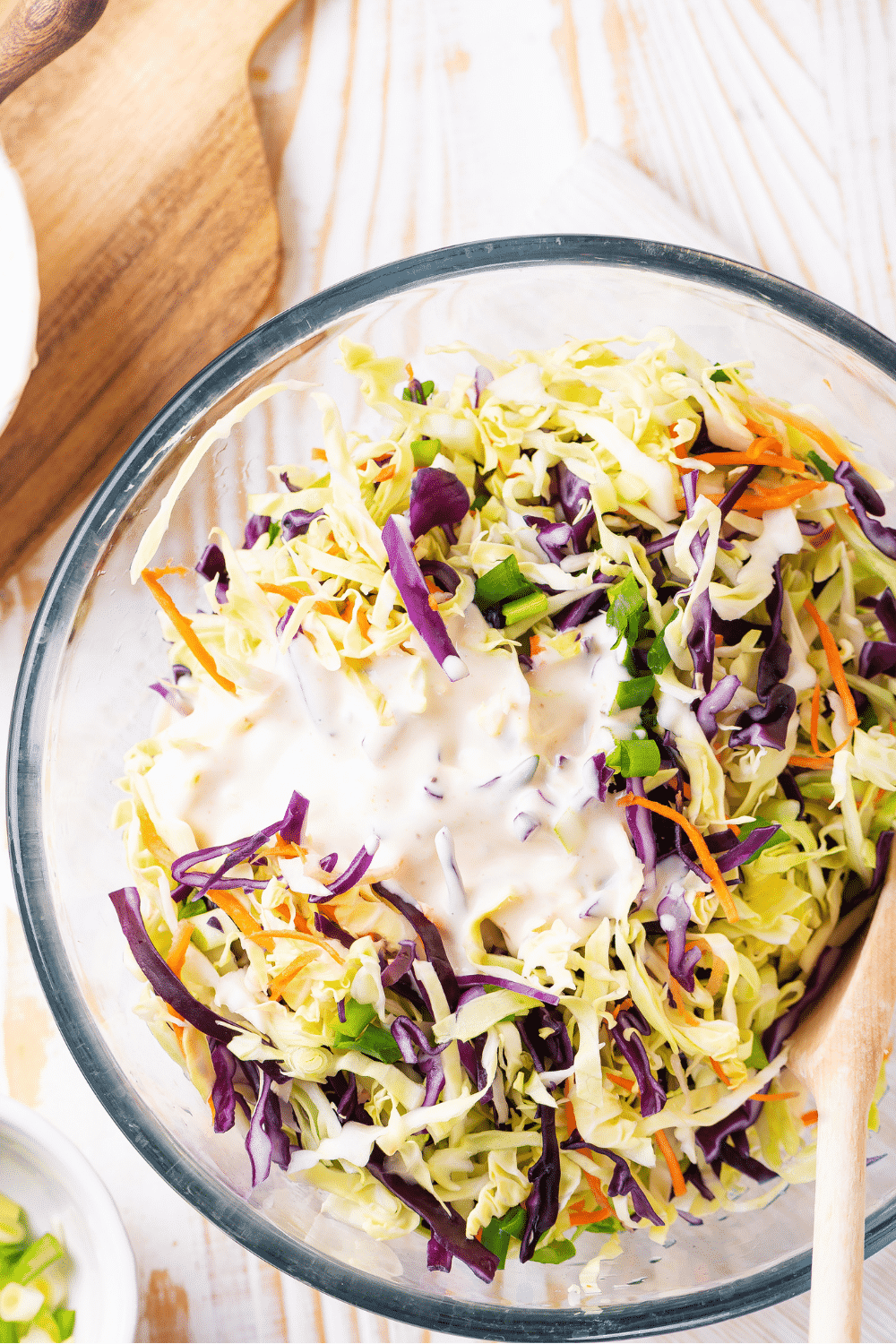 WHAT'S IN COLESLAW MIX?
As you can see, this recipe calls for a few cups of shredded coleslaw mix.
And if you don't know what that is, it's basically pre-shredded red or green cabbage with some grated carrots mixed in.
Now, you can usually find pre-packaged coleslaw mix in the store. But if you'd rather make your own, all you have to do is combine shredded green cabbage, shredded red cabbage, and some sliced carrots to make a tri-color coleslaw mix.
Making a homemade coleslaw mix is simple as that!
CHOOSING YOUR KETO MAYONNAISE
Ok, so when choosing the mayonnaise for your keto coleslaw, remember that not all mayonnaise is made equal.
Some mayonnaise brands contain a ton of added sugar and therefore are definitely not keto-friendly.
For this recipe, you'll want to go with sugar-free mayonnaise, like the one from Cool Chef Foods. It literally has 0 carbs, making it perfect for this recipe.
That being said, you can use pretty much any low carb mayonnaise for this recipe – it'll come out tasting fantastic either way!
By the way, you'll also want to be careful when choosing your dijon mustard. Although it is less common than mayonnaise, some brands sneak in added sugars, so make sure you read the ingredients label and nutrition facts.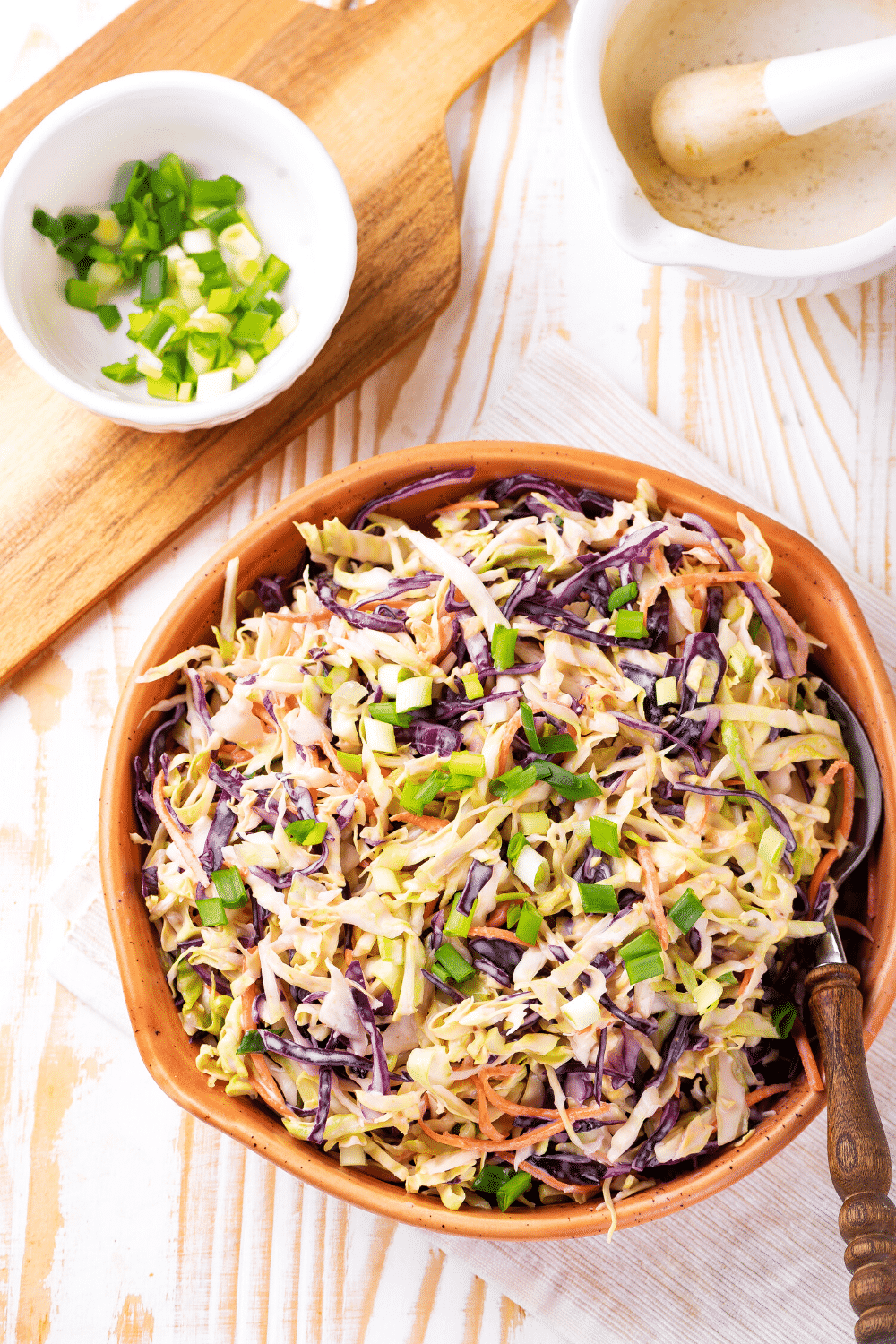 GIVING THIS COLESLAW A SWEET TOUCH
Now let's talk about how to make sugar free coleslaw - one that's got a slightly sweet & tangy taste, but no added sugar.
My go-to sweetener for this recipe is Confectioners Swerve. It's a keto-friendly sweetener that's just as sweet as sugar but with 0 carbs and 0 calories.
Another great keto sweetener option is Lakanto's Monk Fruit Sweetener. Just like Swerve, you can use it to replace sugar at a 1:1 ratio and it also has the same level of sweetness with 0 carbs.
However, you can always use a liquid sugar free sweetener to sweeten up this coleslaw recipe. As long as it's pure stevia, monk fruit, or sucralose, it'll have 0 carbs, and it'll be keto friendly.
HOW TO MAKE KETO COLESLAW
Now that we're caught up on the ingredients, we can get started on making this quick and easy low carb coleslaw recipe.
And when I say this recipe is easy, I mean it's literally just two steps - making the dressing and combining it with the coleslaw mix.
All in all, it should take you about 5 minutes to make your coleslaw – or 10 minutes if you're shredding your own vegetables.
With that being said, you'll still want to make this recipe at least an hour before you're planning to serve it, to let the vegetables really absorb the flavors from the dressing.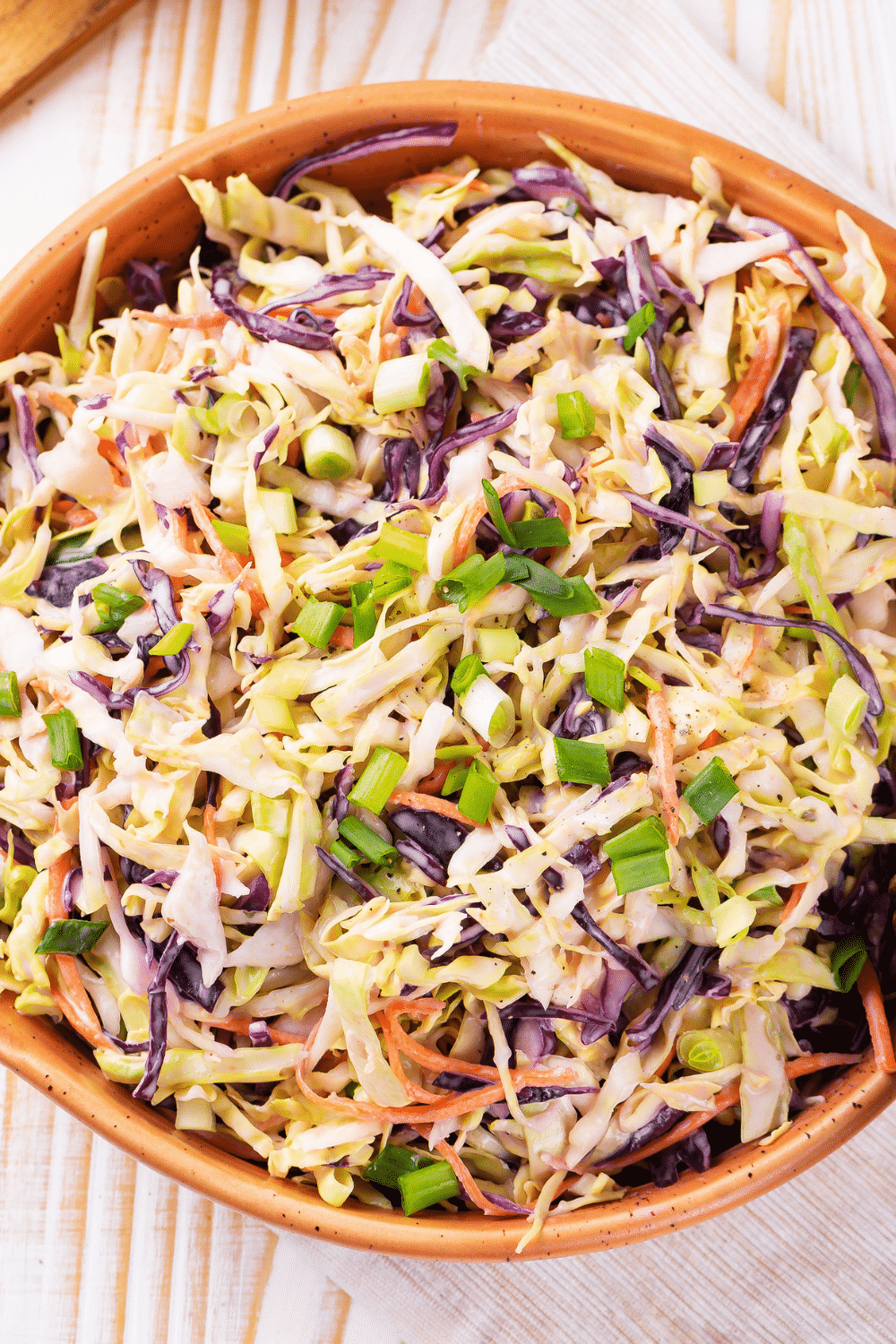 STEP 1: MAKING THE DRESSING
First, to make the dressing, whisk & combine all the dressing ingredients – except the coleslaw mix – in a large bowl.
And, I like my coleslaw to be super bright and tangy, so I use sour cream, Dijon mustard, and apple cider vinegar.
But if you want less of a tangy flavor, you can start with a small amount of vinegar and work your way up until you have your desired flavor.
STEP 2: PREPARING THE VEGETABLES
So, if you're using coleslaw mix, you can skip this step.
But if you're starting with whole cabbages and carrots, this is how to prepare them for the coleslaw.
First, start by removing the rough outer skin of your carrot with a hand peeler or a paring knife. That said, if you're using baby carrots, you won't have to remove any outer skin.
Then, cut off the carrot(s) ends and use a knife or the large teardrop-shaped end of a grater to make them into narrow slices.
To shred the cabbage, cut off the hard stem and slice the cabbage in half. Cut out any remaining pieces of the tough inner core.
Then, slice the cabbage leaves lengthwise to create long strips or width-wise if you want shorter pieces.
Combine your shredded carrots and cabbage in a bowl, and there you have it – homemade coleslaw mix!
STEP 3: MAKING THE COLESLAW
Now, once your dressing and vegetables are ready, place your coleslaw mix in a large bowl and drizzle the dressing on top.
Gently toss everything together until the dressing has coated all the cabbage and carrots evenly.
Then put it in the fridge for at least 1 hour before serving to give the flavors of the dressing a chance to absorb into the vegetables. Enjoy!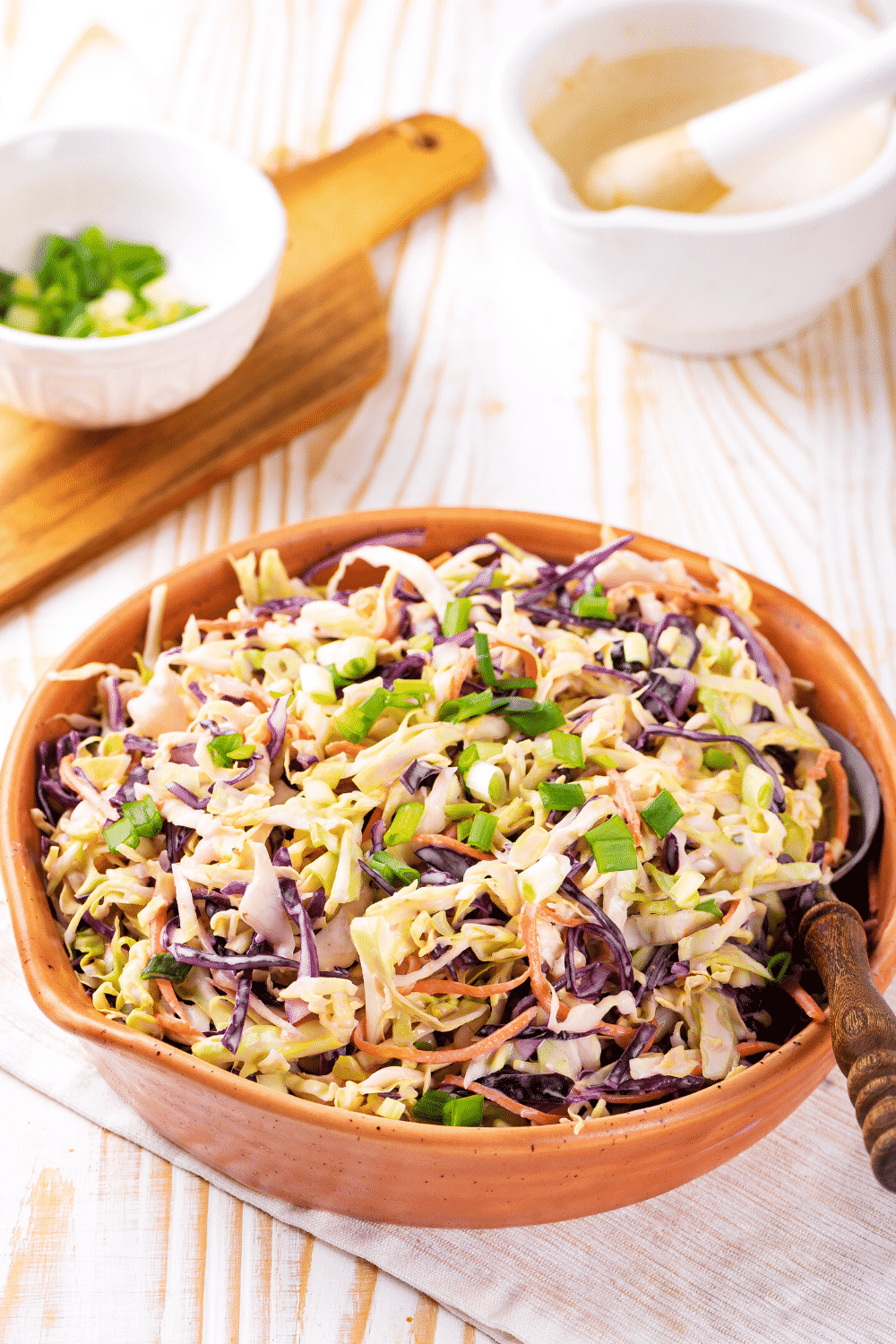 STORING YOUR KETO COLESLAW
Once you've served your keto coleslaw, you don't want to leave it at room temperature for more than 90 minutes. As with any coleslaw recipe, it can develop a strange taste if left out too long.
This recipe makes 4 servings, so if you have some leftover, the best way to retain the flavor and texture is to keep it in an airtight container and store it in the fridge for up to 4 days.
And the great thing about this recipe is that it comes together really quickly, so you can always make a fresh batch if you run out!
NUTRITIONAL INFORMATION
So, as I mentioned earlier, each serving of keto coleslaw has just 2.5 NET CARBS!
As for the rest of the macros, 1 serving has:
136 Calories

12.25g Fat

3.5g Carbs

1g Fiber

2.5 NET CARBS

1g Protein
You can add this coleslaw to any meal without having to worry about the carb count getting to high!
I'm confident that it will become a staple side dish at your table – especially in the summer. I mean, there are just so many meals that coleslaw can go with, and it can even be enjoyed all by itself as a snack.
Anyway, I hope you use this keto coleslaw recipe as much as I do. Be sure to let me know what you think in the comments below!
WHAT TO EAT WITH THIS KETO COLESLAW
If you're looking for some main dishes to pair with your coleslaw, I have a few that I think you'll enjoy:
Print
Keto Coleslaw | The Best Easy Keto Coleslaw Recipe
This Keto Coleslaw Recipe might just be the best coleslaw you ever make! It is just so fresh, so creamy, and so perfectly tangy. And it has just the most unforgettably flavorful keto coleslaw dressing. Not to mention, this recipe is super quick and easy and comes together in just 5 minutes! 
Author:
Prep Time:

5 minutes

Cook Time:

0 minutes

Total Time:

5 minutes

Yield:

4

servings

1

x
Category:

Appetizer

Method:

Mixing Bowl

Cuisine:

Keto Low Carb
Instructions
Add all the dressing ingredients into a mixing bowl and whisk together until well combined.

Add coleslaw mix to a large bowl and pour the dressing over the top.

Gently toss to thoroughly combine the mix and dressing.

Chill in the fridge for at least 1 hour, so the coleslaw can absorb the flavors of the dressing.
Notes
The scale up function does not change the gram measurements.
Nutrition
Serving Size:

1 serving

Calories:

136.50

Fat:

12.25

Carbohydrates:

3.5

Fiber:

1

Protein:

1
Keywords: Keto coleslaw, recipe for keto coleslaw, keto coleslaw recipe, how to make low carb coleslaw, recipe for low carb coleslaw, low carb coleslaw, keto side dishes, low carb coleslaw recipe, keto coleslaw dressing, sugar free coleslaw, coleslaw keto, coleslaw low carb, keto low carb coleslaw, how to make keto coleslaw