This green spaghetti recipe combines perfectly cooked spaghetti with a rich, fresh, and creamy sauce made up of fresh cilantro and roasted peppers. The resulting pasta dish is out-of-this-world delicious, and the best part is it's so easy to make. In fact, all you'll need is about 15 minutes to make this epic Mexican green spaghetti!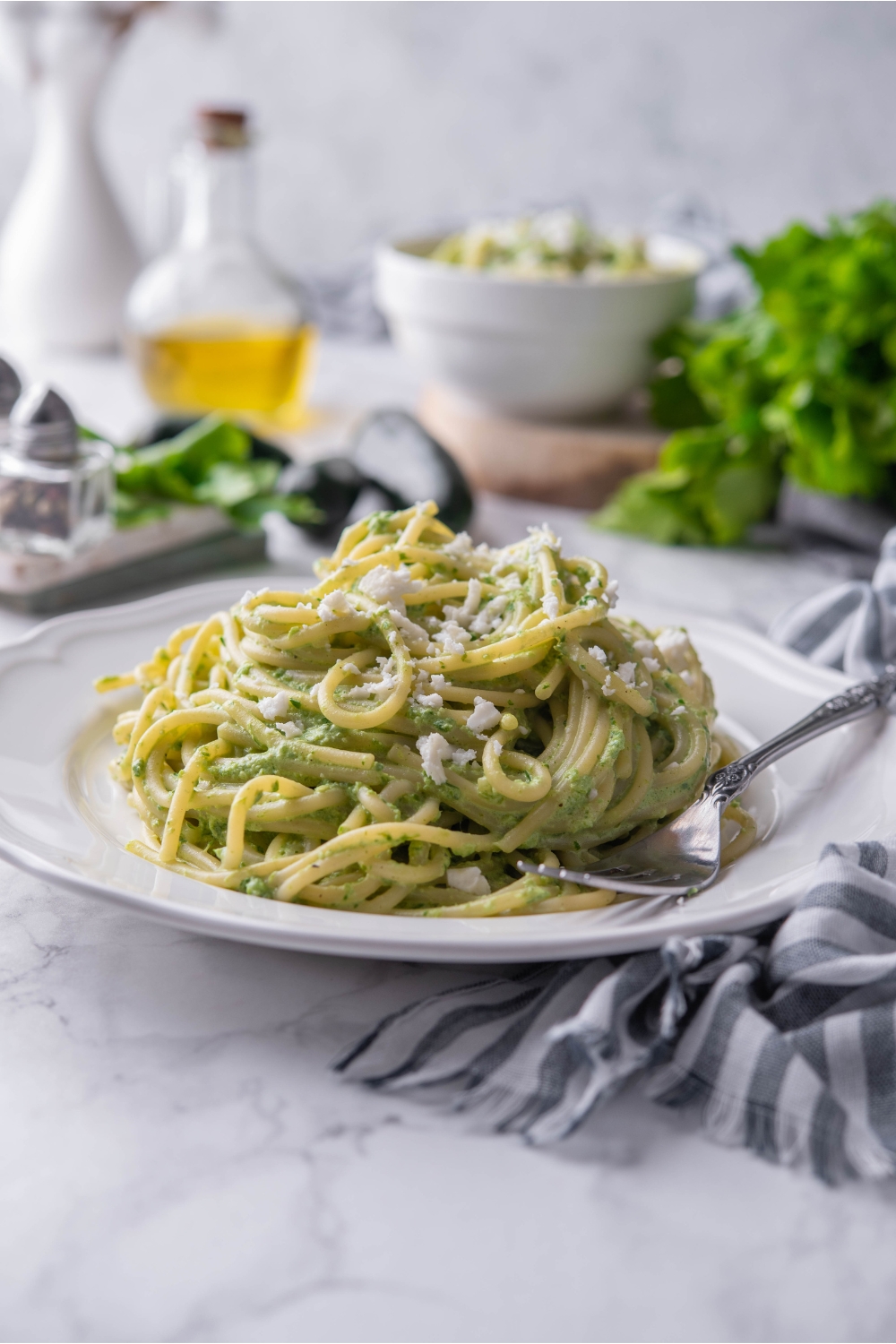 The Best Green Spaghetti
If you're looking for a hearty and delicious pasta dish that's totally different, then you definitely need to make this green spaghetti recipe. Honestly, it might just be my new favorite pasta recipe, which is really saying something because I have quite a few of them on the blog.
Seriously, this creamy green spaghetti has the best of both worlds. The spaghetti noodles are loaded with fresh Mexican flavors then it's coated in a rich and creamy sauce. How good does that sound?
And in addition to being a super flavorful dish, it's also a breeze to whip together. You basically just cook the spaghetti, blend up your sauce ingredients, then combine 'em together. It's as easy as making spaghetti with a can of marinara sauce, only it's entirely homemade and sure to impress everyone you make it for.
By the way, since this recipe comes together super quickly, you'll have plenty of time to whip up some sides. If you're wondering what to serve with green spaghetti, this Little Caesars crazy bread or these Texas Roadhouse rolls are both delicious dipped in the green spaghetti sauce.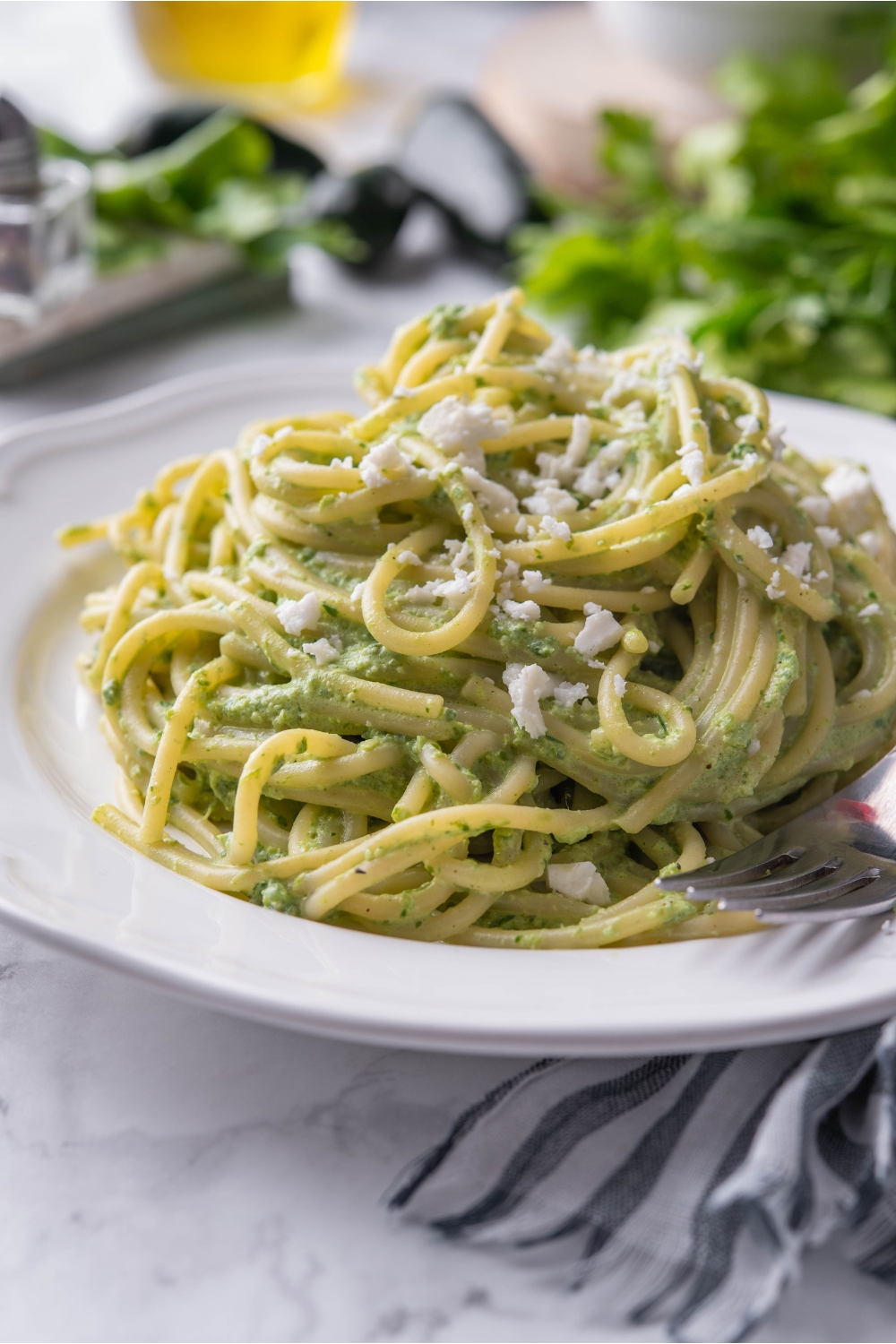 Ingredients
For being totally unique, the ingredient list for this green spaghetti recipe is super straightforward. With a quick trip to the nearest grocery store, you'll be well on your way to making this tasty pasta dish!
Anyway, here's everything you'll need to make this green spaghetti:
8oz. spaghetti
½ tbsp extra-virgin quality oil
½ cup chopped cilantro
3 jalapenos, roasted (or roasted pablano peppers)
1 fresh jalapeno, chopped
1 tsp onion powder
1 tsp garlic powder
½ cup sour cream
4oz. cream cheese
½ veggie bouillon cube
¼ cup water
Cotija cheese, for serving or desired cheese
Pretty simple stuff, right?
Now, if you end up with any extra jalapeño peppers, you're in luck because you can use them to make these fried jalapenos or these cream cheese jalapeno poppers.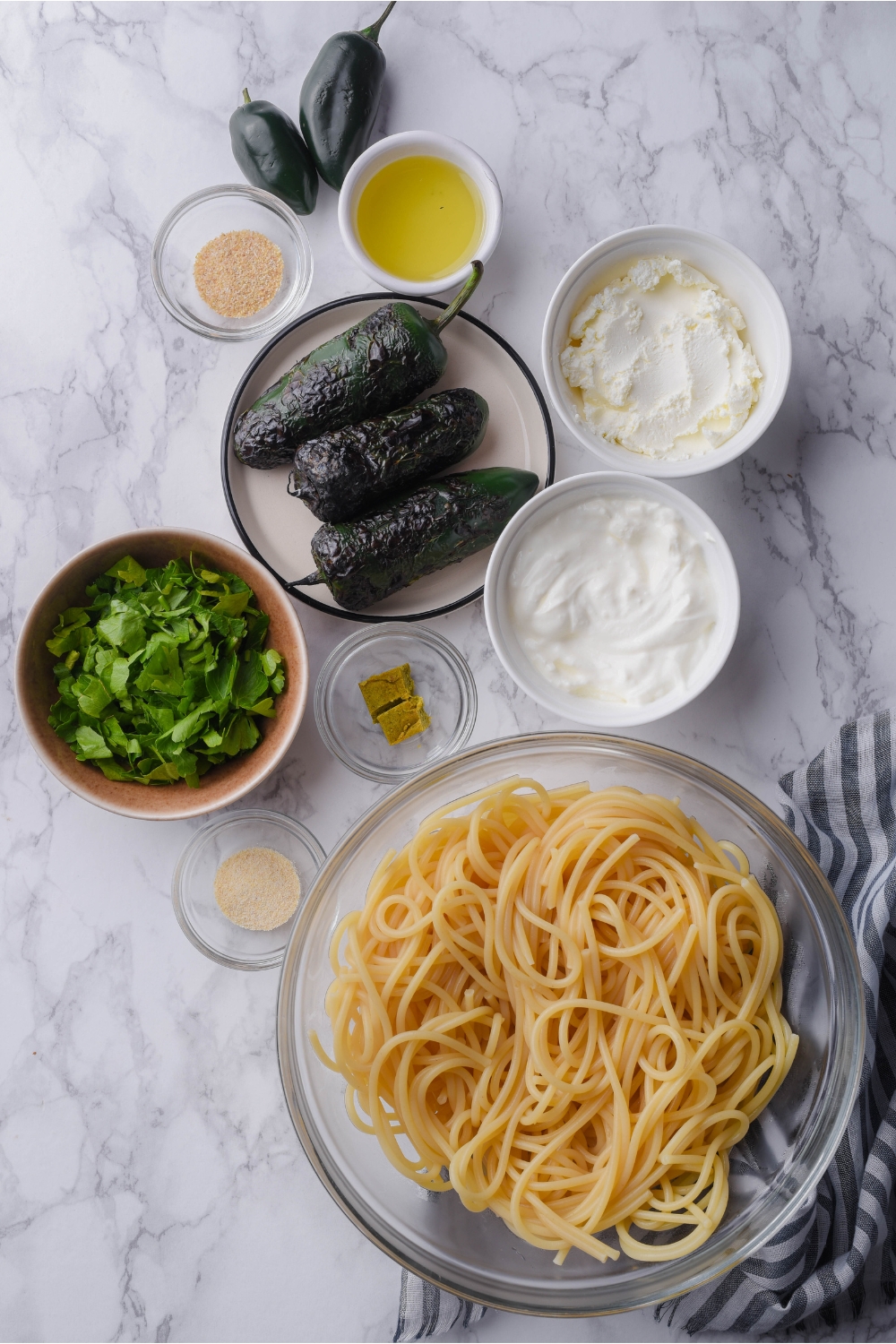 Ingredient Substitutions And Suggestions
While I always make this Mexican green spaghetti recipe with the ingredients listed above, there's definitely some wiggle room for you to swap some ingredients to suit your preferences or possibly save you a trip to the store.
So, this recipe calls for jalapeño peppers since they add tons of brightness and a nice kick to the spaghetti. That said, you can use any green peppers you want. If you don't want a spicy spaghetti verde, then you can swap 'em for serrano peppers or roasted poblano peppers.
As for how to roast poblano peppers, just treat them exactly as you would jalapeño peppers. There are a few espagueti verde green spaghetti recipes that use a creamy poblano sauce as opposed to jalapeño sauce, so you can definitely make a poblano sauce instead.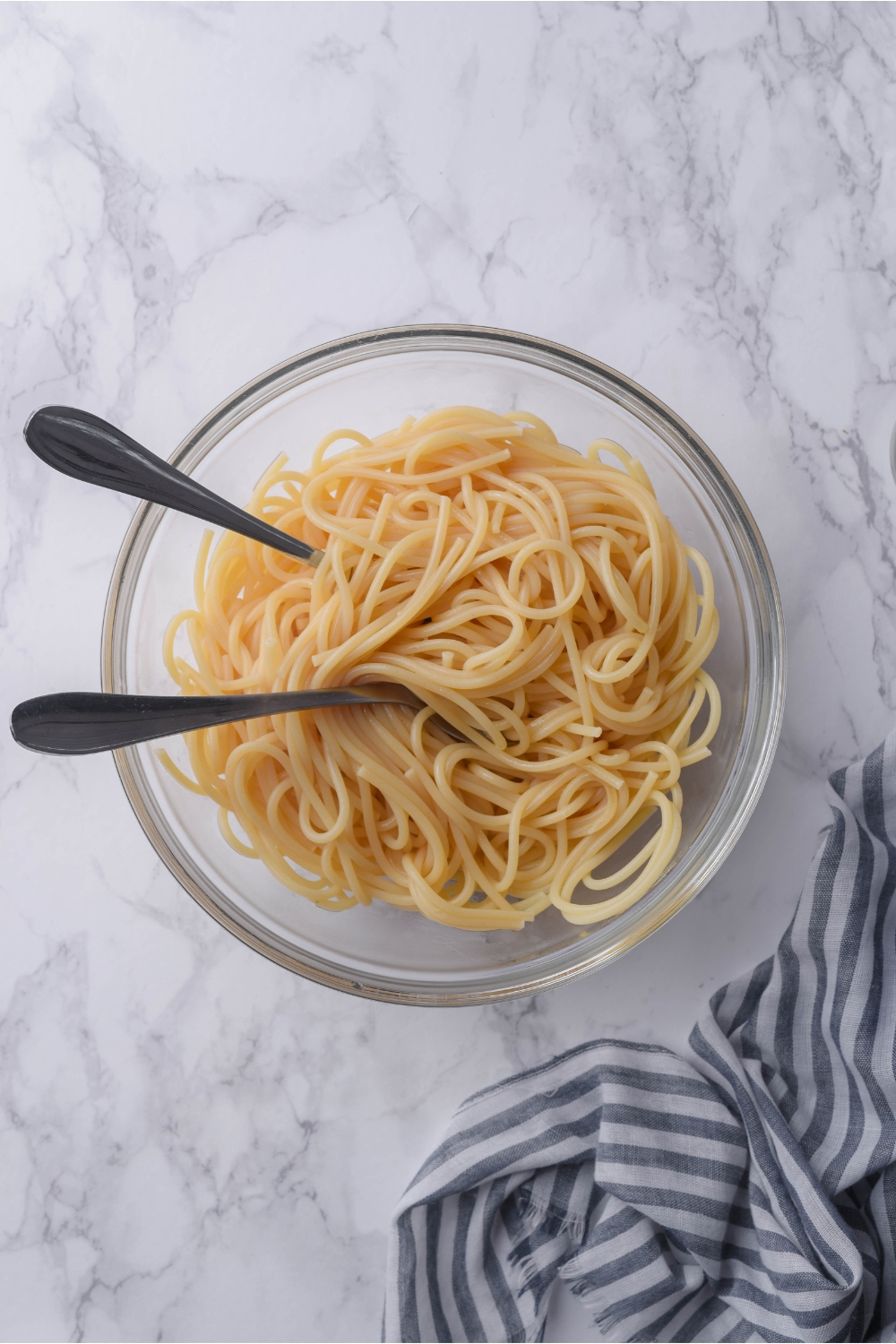 How To Make Green Spaghetti
Now it's time to make Mexican green spaghetti!
As I mentioned earlier, it couldn't be easier to make this green spaghetti recipe. After all, how can you beat a recipe that comes together in a few simple steps and only takes 10 minutes from start to finish?
Anyway, let's stop wasting time and make this pasta!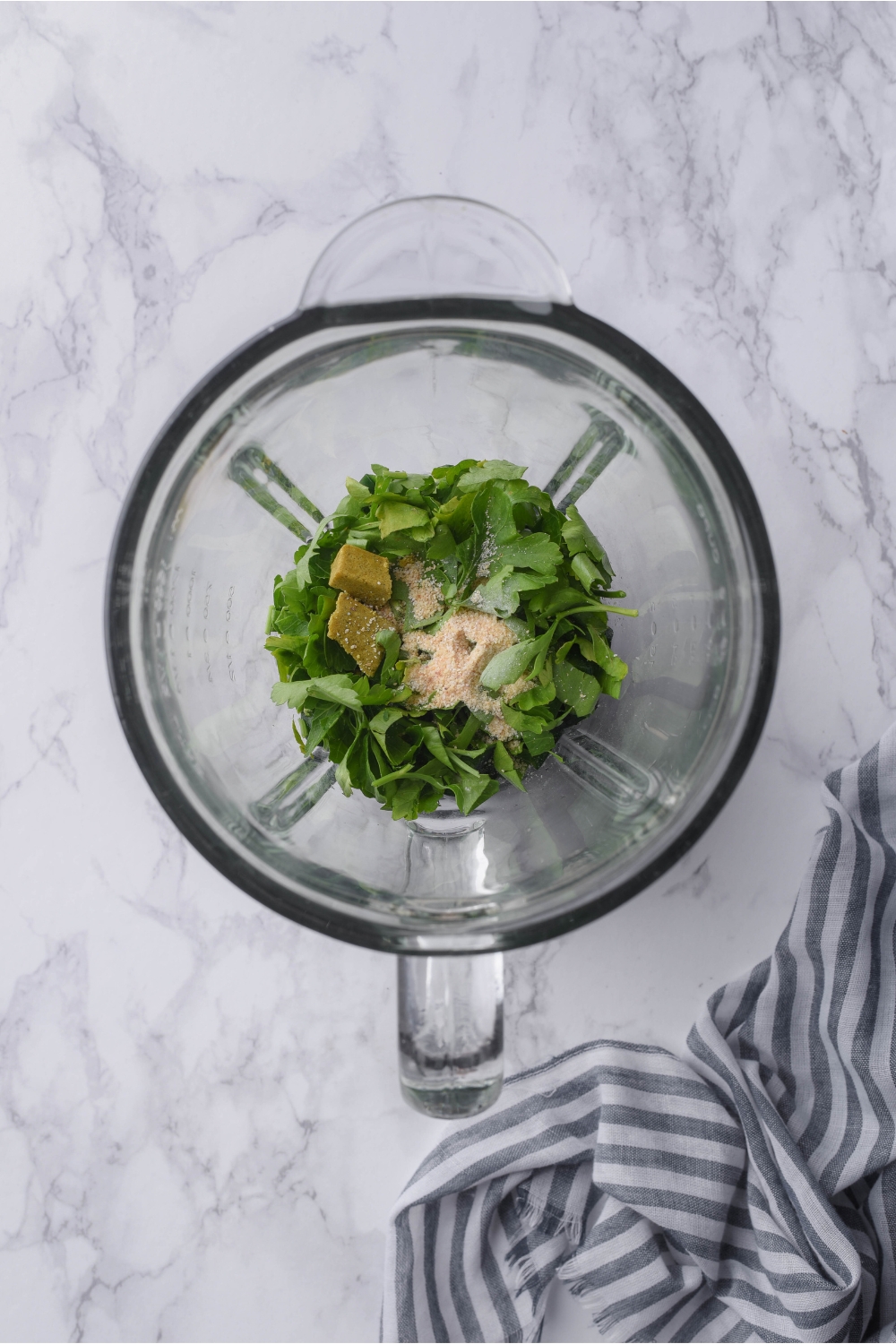 Step 1: Cook The Spaghetti
First, you'll want to cook the spaghetti of your choice according to the package directions.
Then, as soon as you've cooked and strained the spaghetti, you can toss it with olive oil. You'll want to do this while the pasta is hot to prevent sticking. Anyway, after the spaghetti is tossed, you can set it aside while you work on the sauce.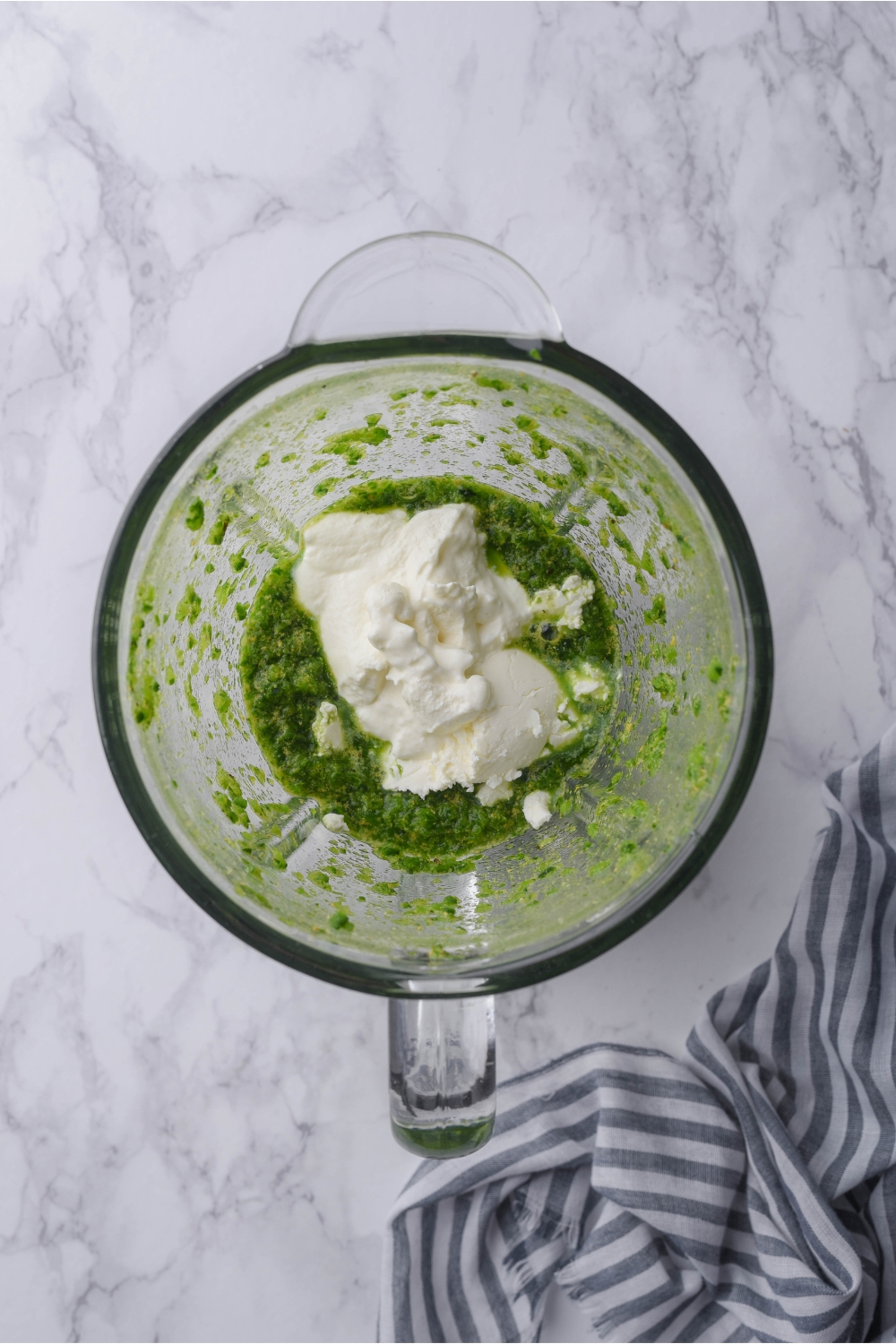 Step 2: Make The Green Sauce
Once you've taken care of the spaghetti, you'll want to peel the roasted jalapeño peppers and remove the seeds. Then you can chop the roasted jalapeños and do the same with the fresh jalapeños. I suggest using a pair of gloves for this part since the oils from the peppers are hot if you touch your skin.
Anyway, once you've prepped the peppers, you can add them along with the fresh cilantro, garlic powder, onion powder, bouillon, and water to a blender.
Now blend this mixture until it's perfectly smooth and combined. Then you can add the cream cheese and sour cream and continue blending until the sauce reaches your desired consistency.
Step 3: Combine The Ingredients
When your creamy green sauce is good to go, you'll want to transfer it to a skillet and bring it to a simmer. Then you can taste the sauce and add a little salt and pepper if you think it needs any. Next, you can add the spaghetti to the sauce and give it a good stir until the spaghetti is well coated in it.
Lastly, serve the spaghetti verde warm, garnished with some Cotija cheese.
Enjoy!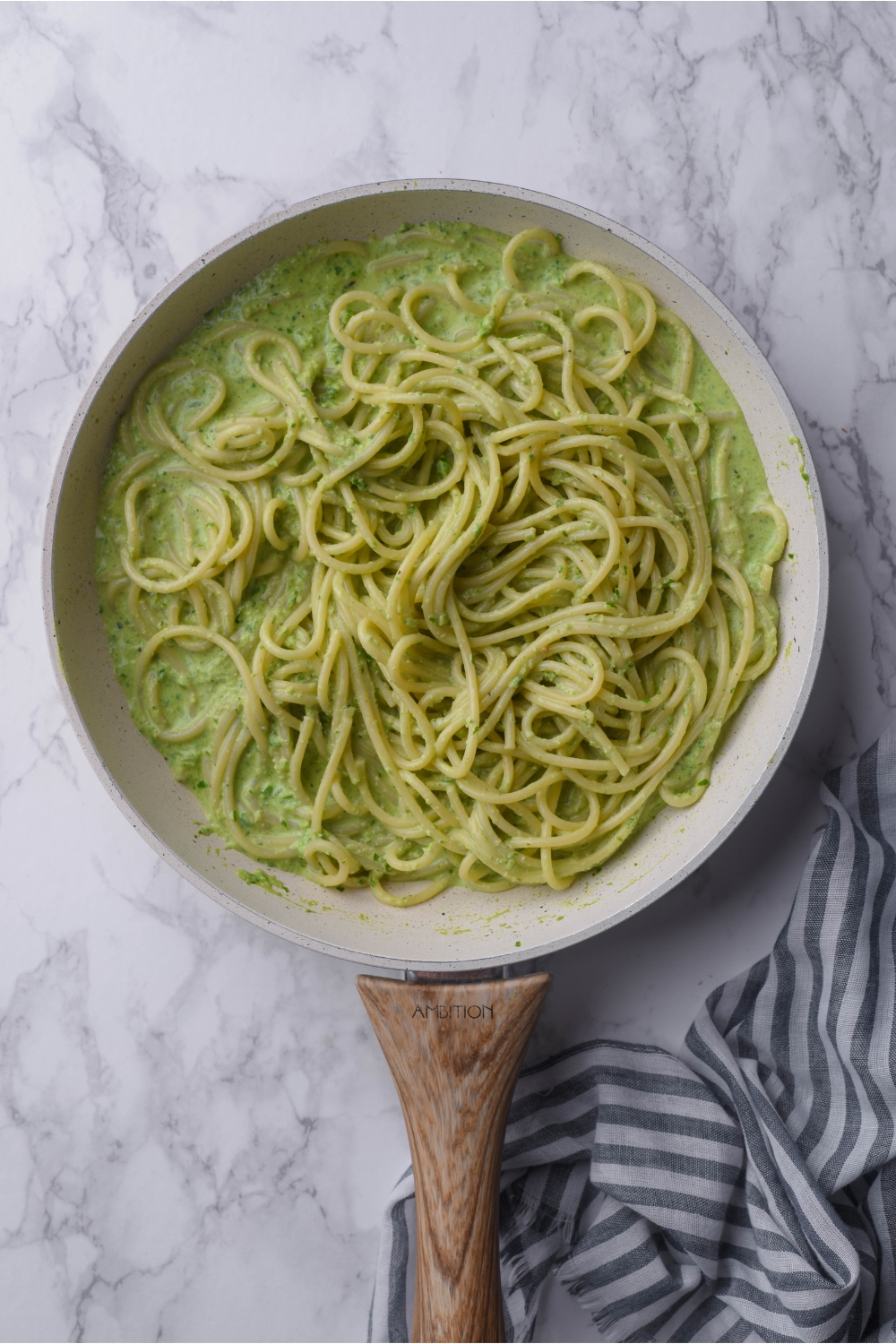 How To Store Green Spaghetti
This recipe for green spaghetti makes 2 servings, so it should be just enough for a small dinner for two. That said, if you did want to make more pasta, then you could easily double - or triple - this recipe with little added time.
If you do end up with leftovers, then you can store the cooked pasta in the fridge for up to 2 days. I suggest using an airtight container for maximum freshness. And if you want to keep the pasta for longer, you can store the cooked pasta in the freezer for up to 3 months.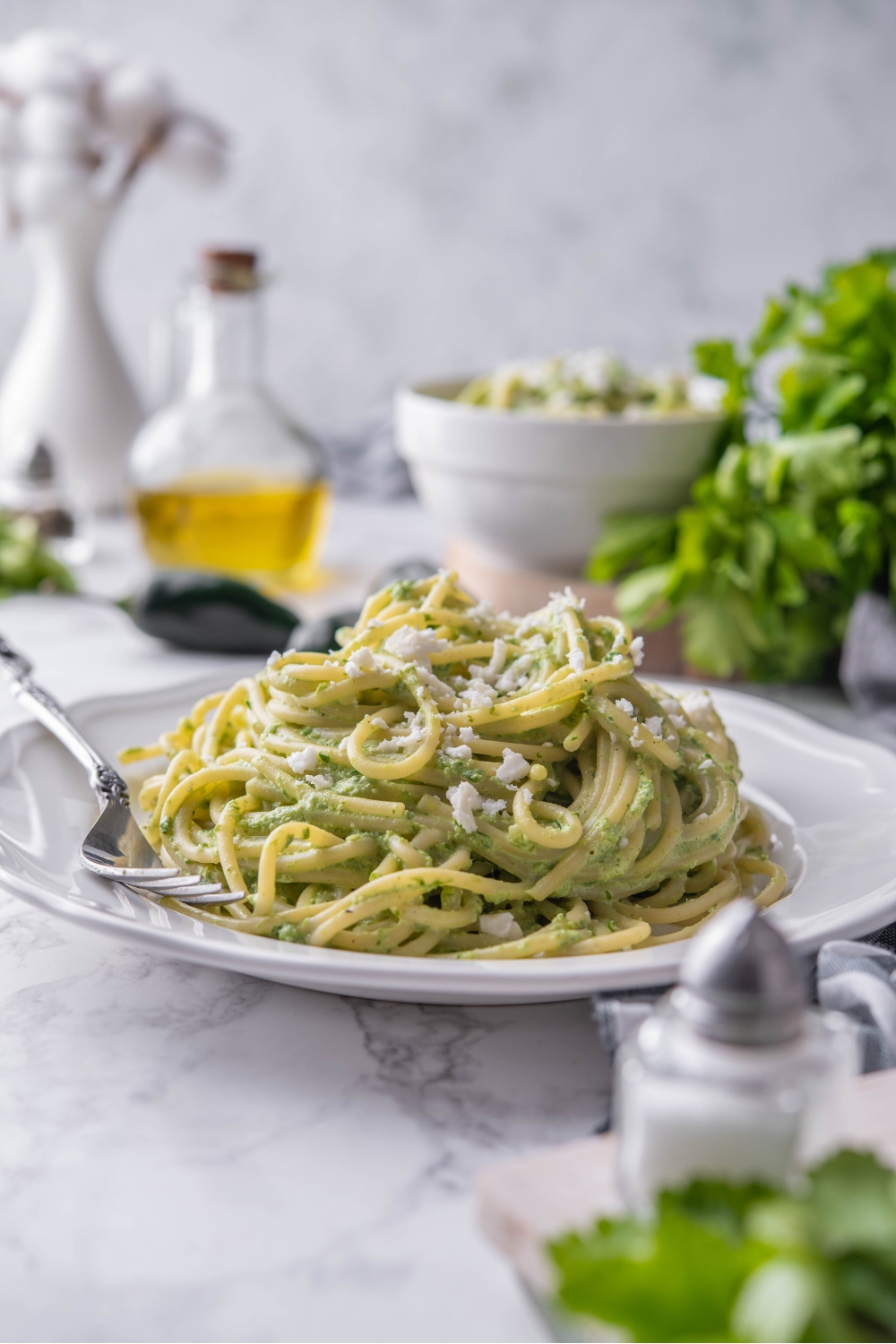 How To Reheat Green Spaghetti
When you're ready to enjoy your green spaghetti again, you'll definitely want to reheat it first. I suggest placing the leftovers in a pot or skillet over medium heat and letting it simmer for a few minutes. You'll want to make sure that you frequently stir the pasta until it reaches your desired temperature.
Alternatively, if you want a quicker method, you can also microwave your leftovers. I usually do it in 20-second intervals and stir between each one until the pasta is fully reheated.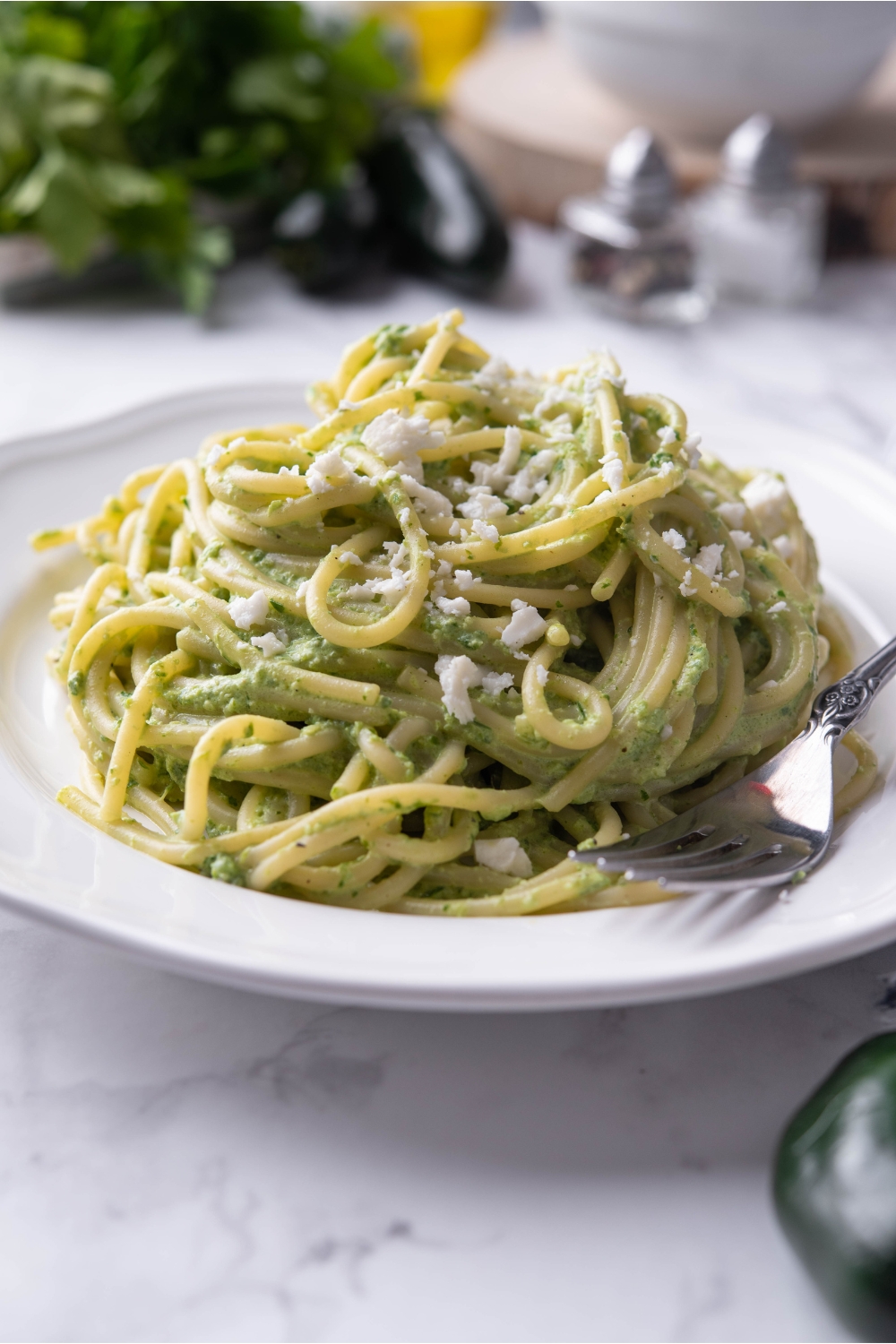 FAQs About This Green Spaghetti Recipe
What is green spaghetti made of?
Green spaghetti is typically made up of cooked spaghetti in a creamy green poblano sauce made up of fresh cilantro and roasted poblano chiles. It can also be made with jalapeno peppers like in this recipe. The pasta is then garnished with Cotija cheese or queso fresco.
What do green noodles taste like?
Green spaghetti noodles taste savory, creamy, and fresh with vibrant cilantro and a roasted pepper flavor. They're honestly so good and have a flavor like no other.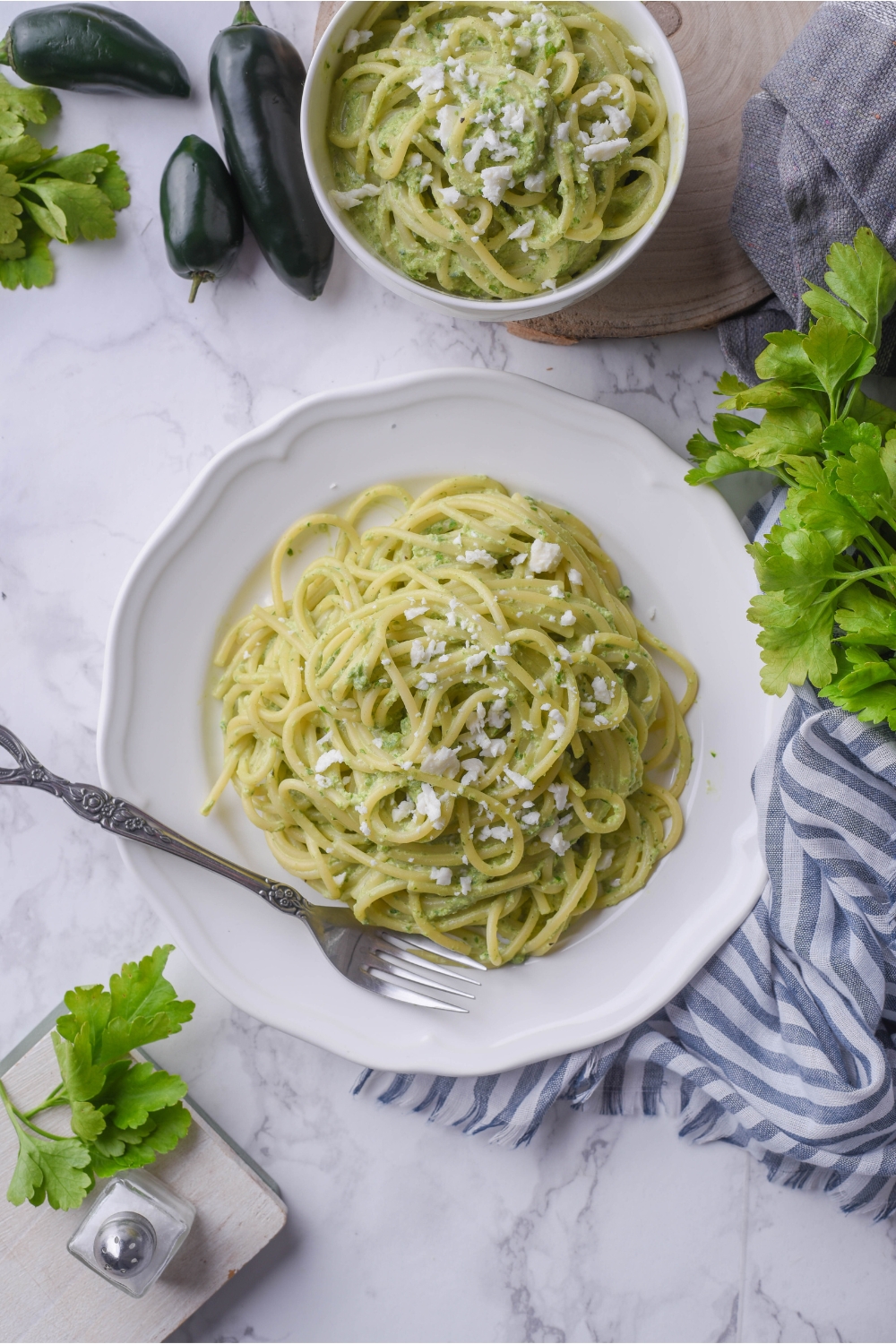 Wrapping It Up
Well, that's how to make green spaghetti!
One of the things I love most about this espagueti verde recipe is that it's nothing like anything you'd find at an Italian or Mexican restaurant. From the tender noodles to the rich and creamy sauce and salty Cotija cheese on top, it's an irresistible dinner everyone is sure to love!
Anyway, I hope you enjoyed this creamy Mexican green spaghetti recipe as much as I/we do.
As always, if you make it, leave a comment below and let me know how it turned out!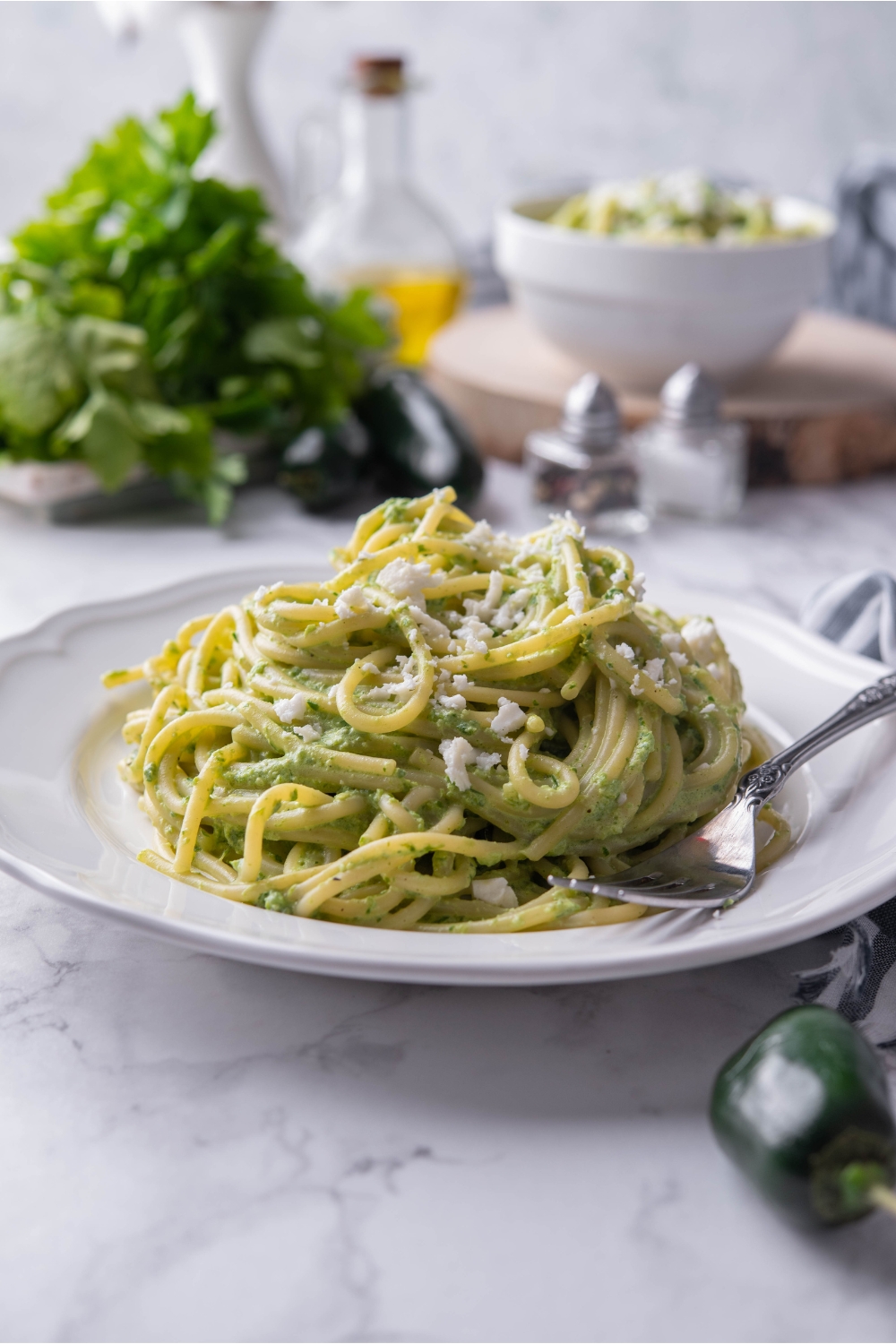 More Recipes
If this recipe has you in the mood to make even more tasty pasta recipes, we have a ton on the blog you can try next!
Here are some of our most popular recipes with noodles:
Oh, and make sure to check us out on TikTok, Instagram, and YouTube! We post new recipes on them every day.
Yield: 2 servings
EASY Green Spaghetti Recipe (Made In Just 15 Minutes)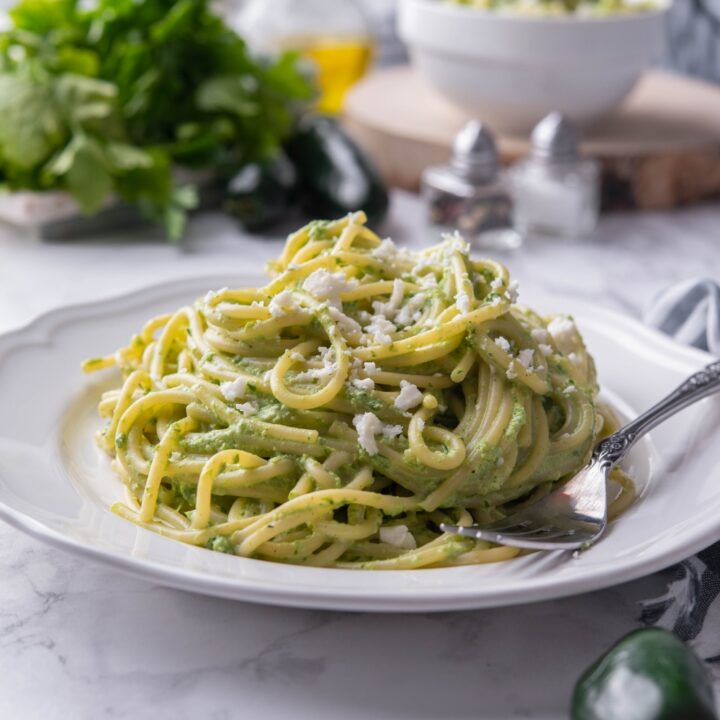 This green spaghetti recipe combines perfectly cooked spaghetti with a rich, fresh, and creamy sauce made up of fresh cilantro and roasted peppers. The resulting pasta dish is out-of-this-world delicious, and the best part is it's so easy to make. In fact, all you'll need is about 15 minutes to make this epic Mexican green spaghetti!
Ingredients
8oz. spaghetti
½ tbsp extra-virgin quality oil
½ cup chopped cilantro
3 jalapenos, roasted (or roasted pablano peppers)
1 fresh jalapeno, chopped
1 tsp onion powder
1 tsp garlic powder
½ cup sour cream
4oz. cream cheese
½ veggie bouillon cube
¼ cup water
Cotija cheese, for serving or desired cheese
Nutrition Information:
Serving Size:
1 serving
Amount Per Serving:
Calories:

392
Total Fat:

31g
Saturated Fat:

0g
Trans Fat:

0g
Unsaturated Fat:

0g
Cholesterol:

0mg
Sodium:

0mg
Carbohydrates:

19g
Fiber:

0g
Sugar:

0g
Protein:

6g