This fried polenta has a satisfying crunchy texture with a soft, creamy inside. It's an incredibly versatile side dish and also tastes amazing as an appetizer. Even if you aren't a huge polenta fan, I'm positive you'll love these chewy and crispy polenta strips!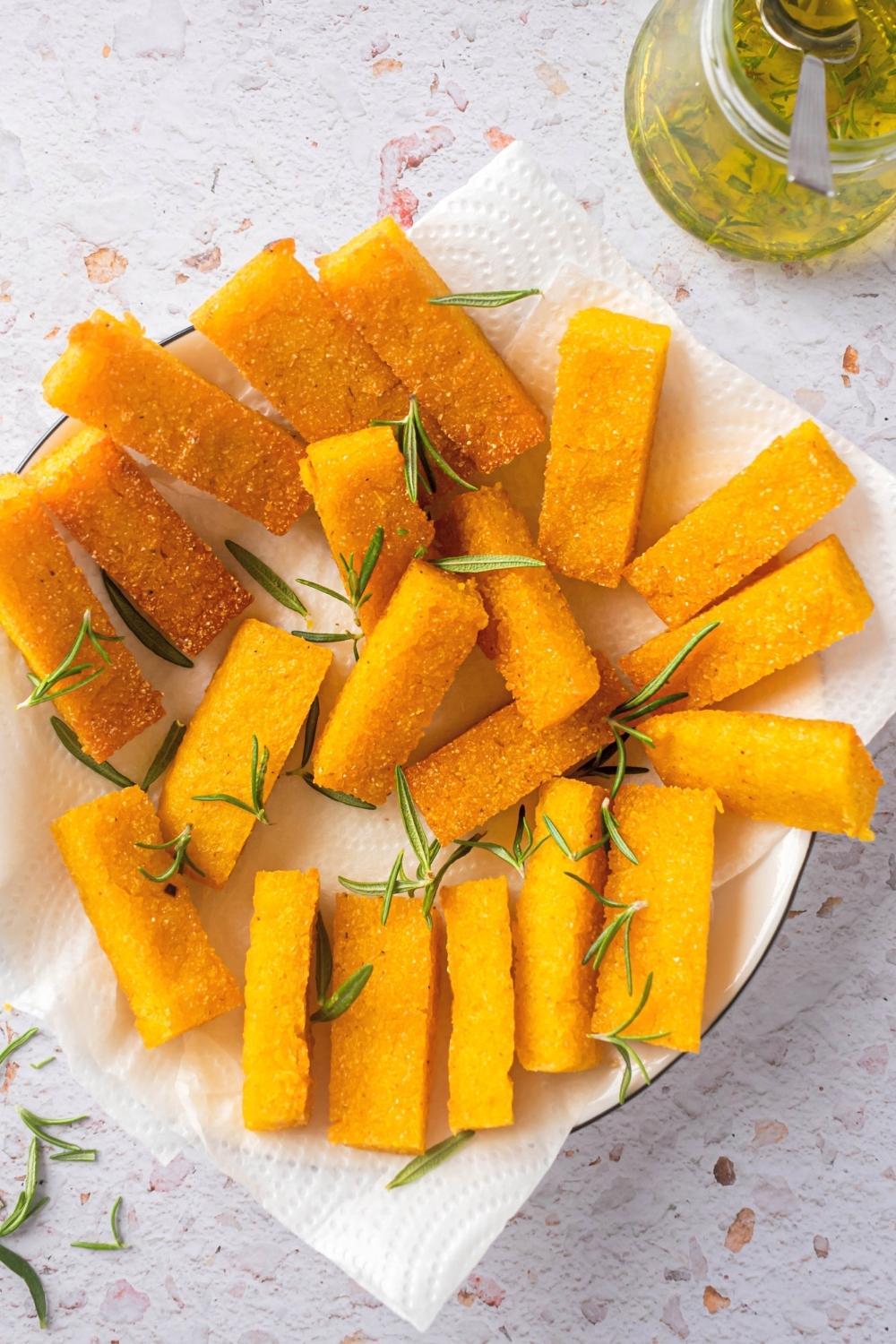 The Best Fried Polenta
Plain polenta porridge might not be your first choice for an exciting side dish, but it has a lot more potential than you think. It's affordable, easy to cook, and is a healthier side dish than pasta, potatoes, or white rice. Not to mention, it's totally gluten-free.
If you're looking for a way to spice up your usual bowl of polenta or reuse your polenta leftovers, this fried polenta recipe is a great way to do so.
You do have to spend a little extra time on prep, but the results are undoubtedly worth it. With just a handful of ingredients, you get mouthwatering, crispy, golden polenta strips with a melt-in-your-mouth soft and creamy inside.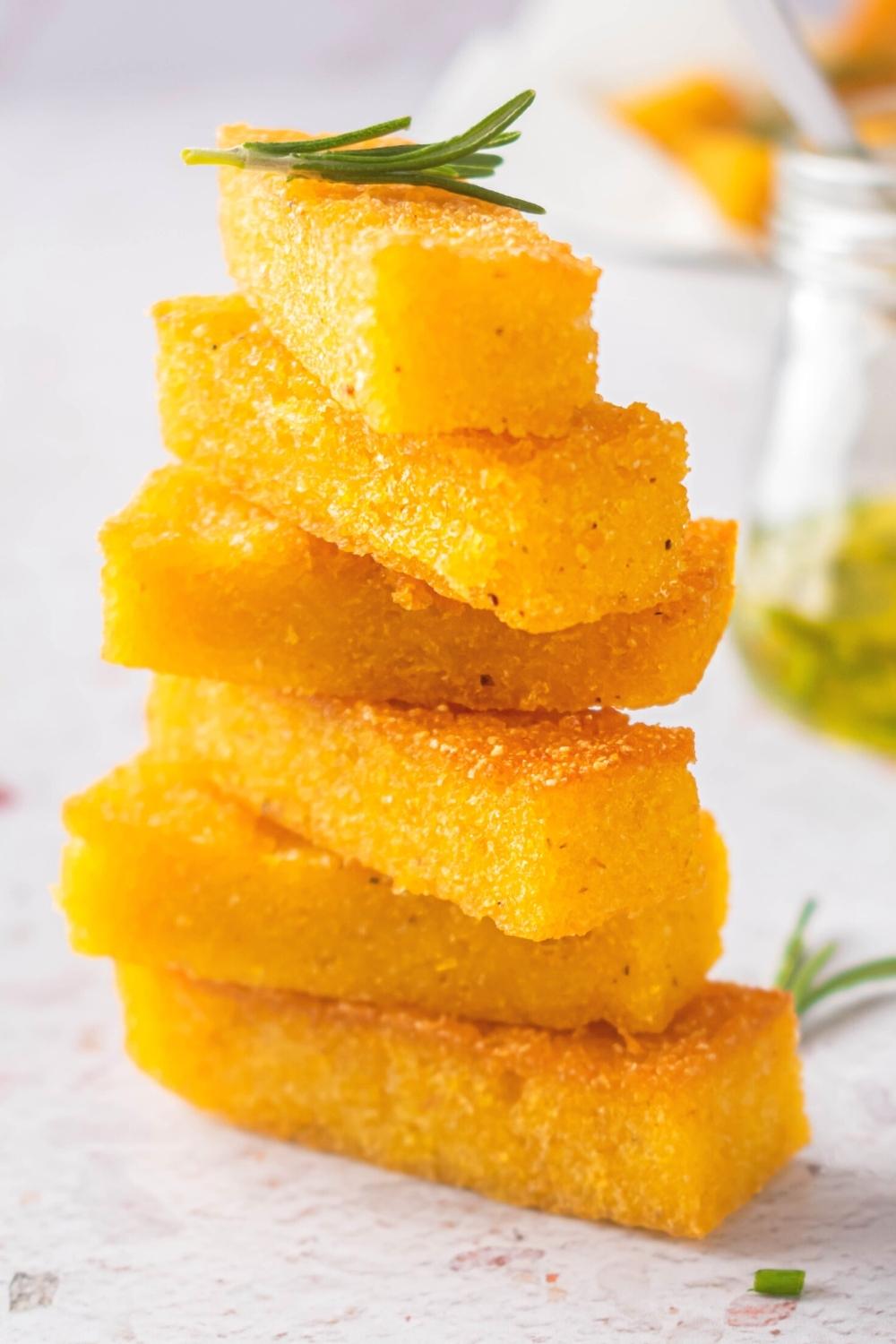 Ingredients You'll Need
Polenta flour- pre-cooked yellow corn flour.

Vegetable broth

Olive oil

Salt and pepper

Oil- any neutral for frying.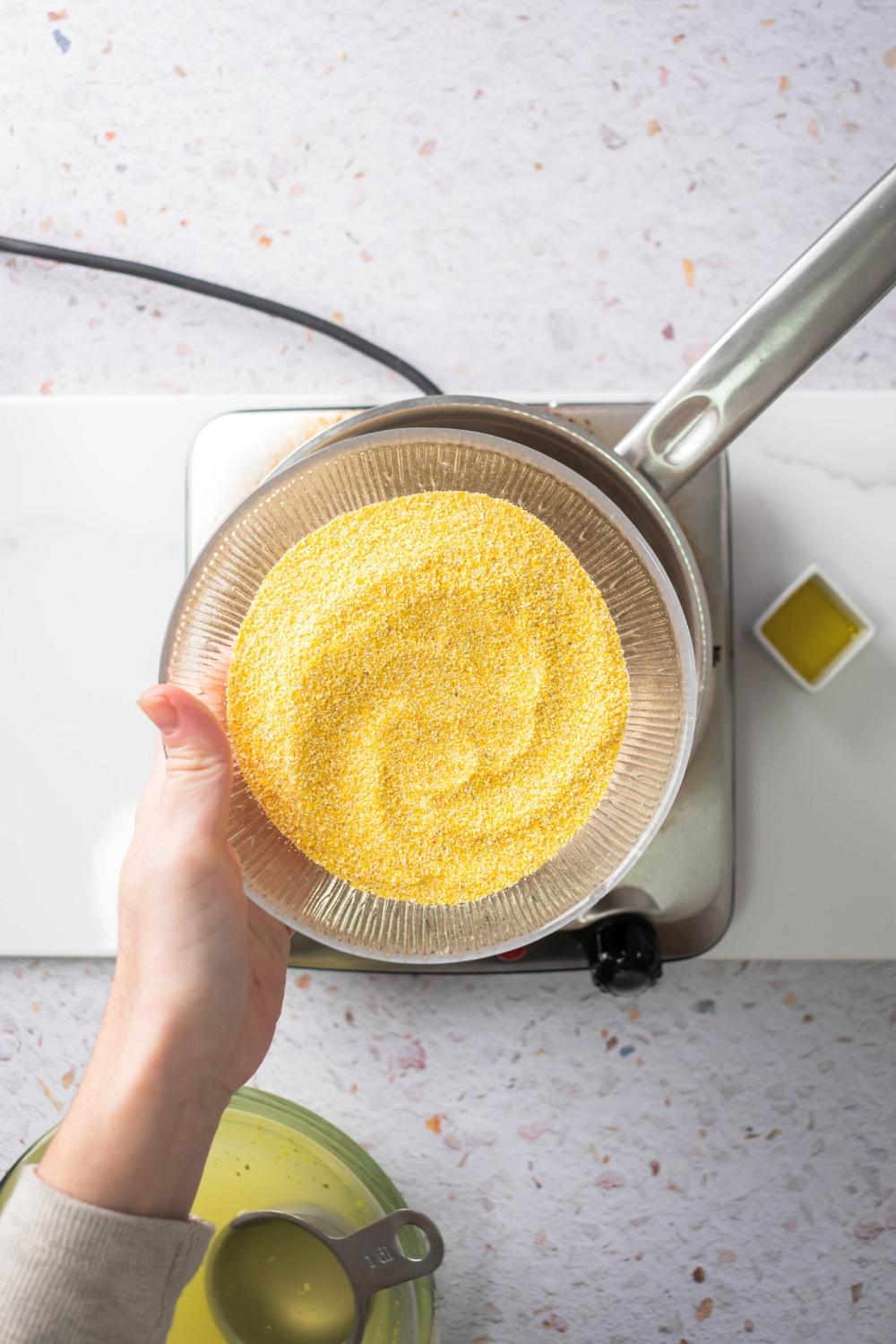 How To Make Fried Polenta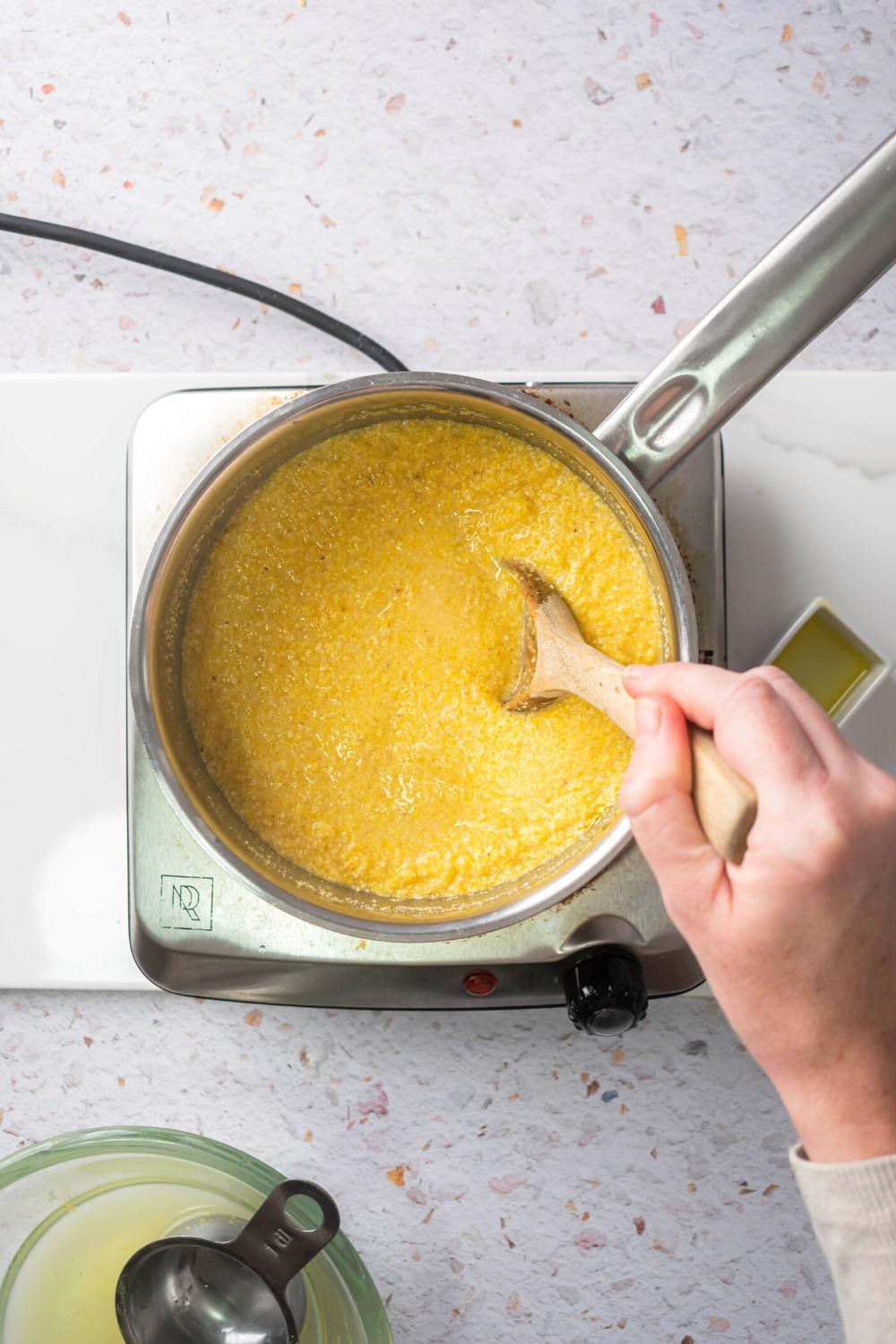 Step 1: Cooking the Polenta
First, bring the vegetable broth to a boil, and then add the polenta flour. Let the polenta cook for 10 minutes on low or medium heat - or until the mixture is thick enough to separate from the pot. And don't forget to stir the polenta a few times to prevent the formation of lumps. Once cooked, whisk in the olive oil and season with salt and pepper to taste.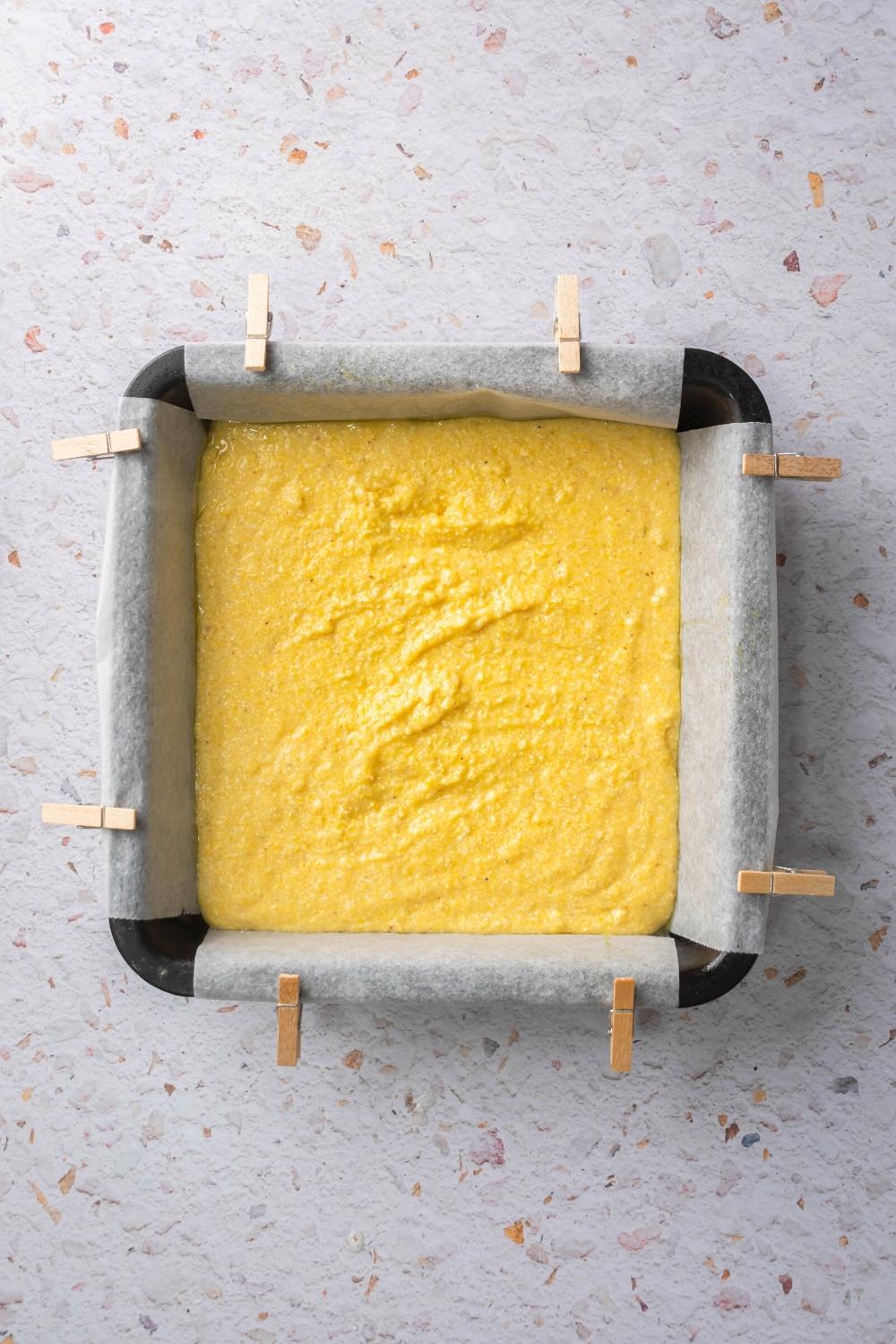 Step 2: Preparing the Polenta for Frying
The cooking process usually ends at this point for ordinary polenta porridge, but since we're making crunchy golden fried polenta, we'll also set and fry it. First, line a baking sheet with parchment paper. Then transfer the polenta mixture to the baking sheet and even it out. Now, refrigerate the polenta mixture for 2 hours. Or, if you are in a rush, you can bake it in a preheated oven at 425°F (220ºC) for 20 minutes. This will speed up the hardening process for the polenta.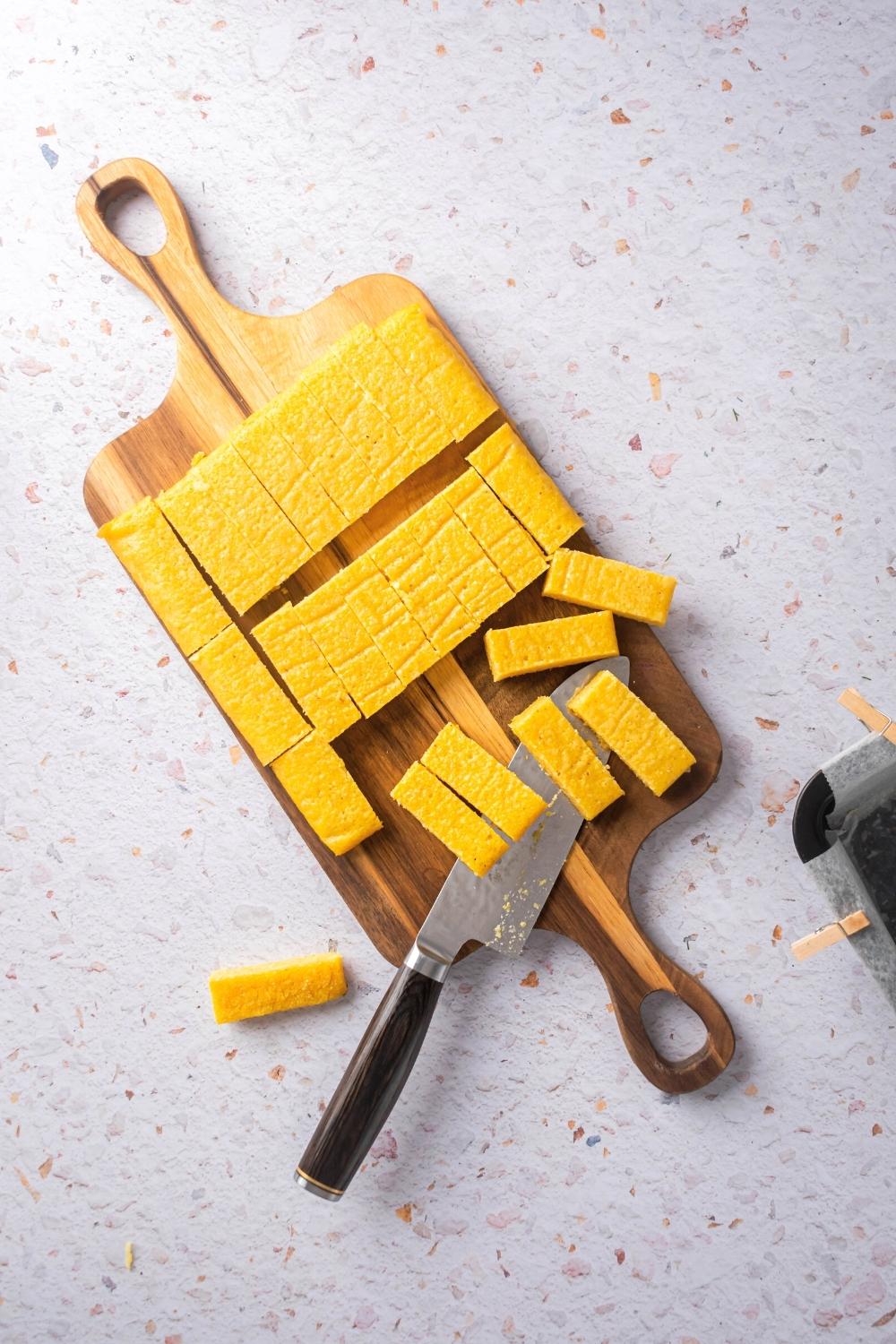 Step 3: Frying the Polenta and Serving
When the polenta has hardened, cut it into strips. I recommend making them slightly larger than french fries so that the fried polenta strips hold their shape well. You can also cut it into large squares to make crispy polenta cakes. Anyway, heat your oil in a frying pan or a deep fryer. When the oil temperature reaches 350°F (175ºC), fry the polenta strips in batches for around 5 minutes - or until golden brown. Then, transfer the hot polenta strips onto paper towels to remove the excess oil. Finally, drizzle them with rosemary oil, top with fresh rosemary, and enjoy!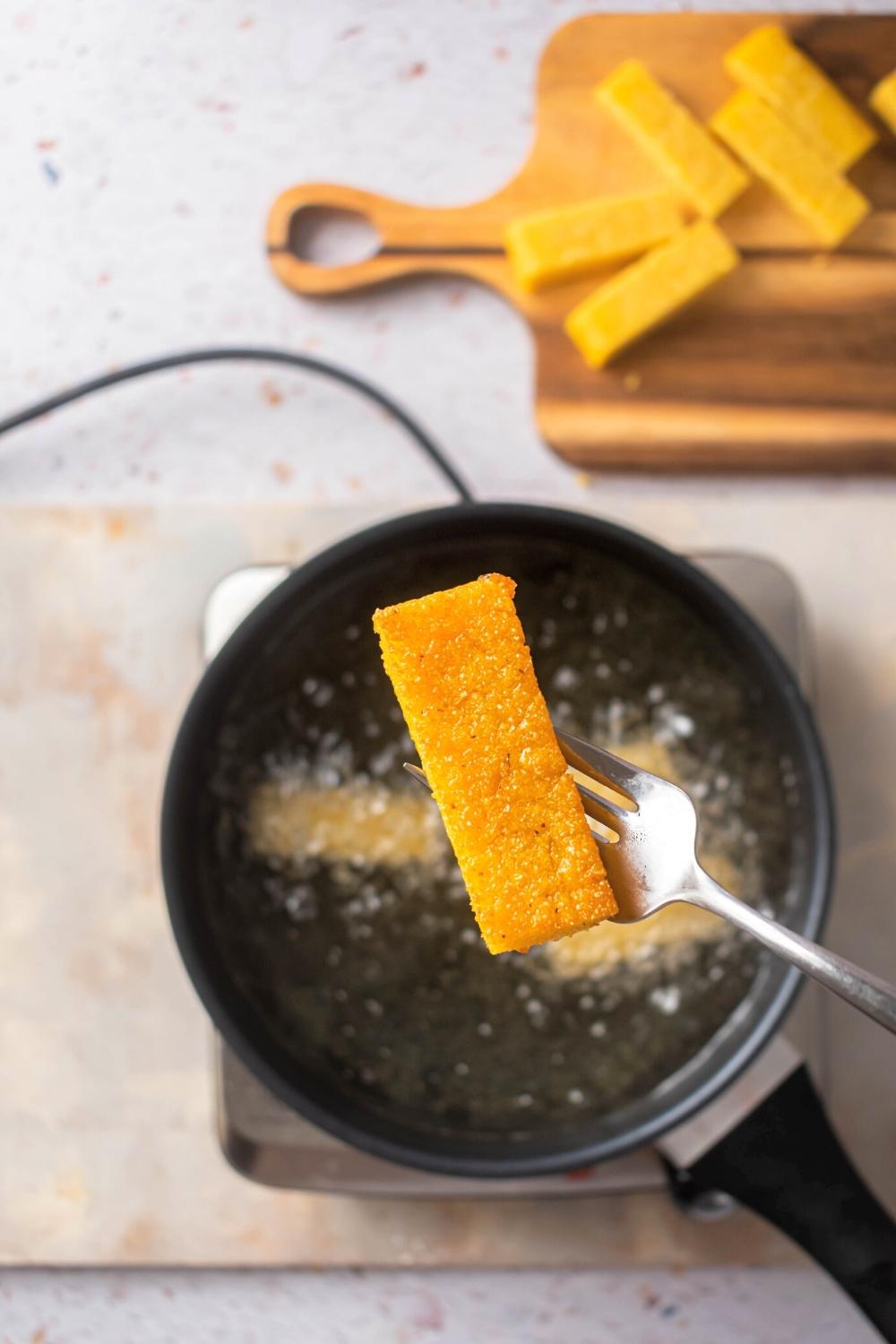 How To Store Fried Polenta
This recipe makes about four servings, so you should have plenty for an appetizer for the whole family or dinner for two. If you have any leftovers, just transfer them to an airtight container, and they'll last in the fridge for up to 3 days. If you want to freeze the polenta, you can store it in a freezer-safe container or bag for up to 3 months.
To reheat your leftovers, the best way is to just toss them back into a frying pan with a dash of oil and heat for a couple of minutes on each side until warm.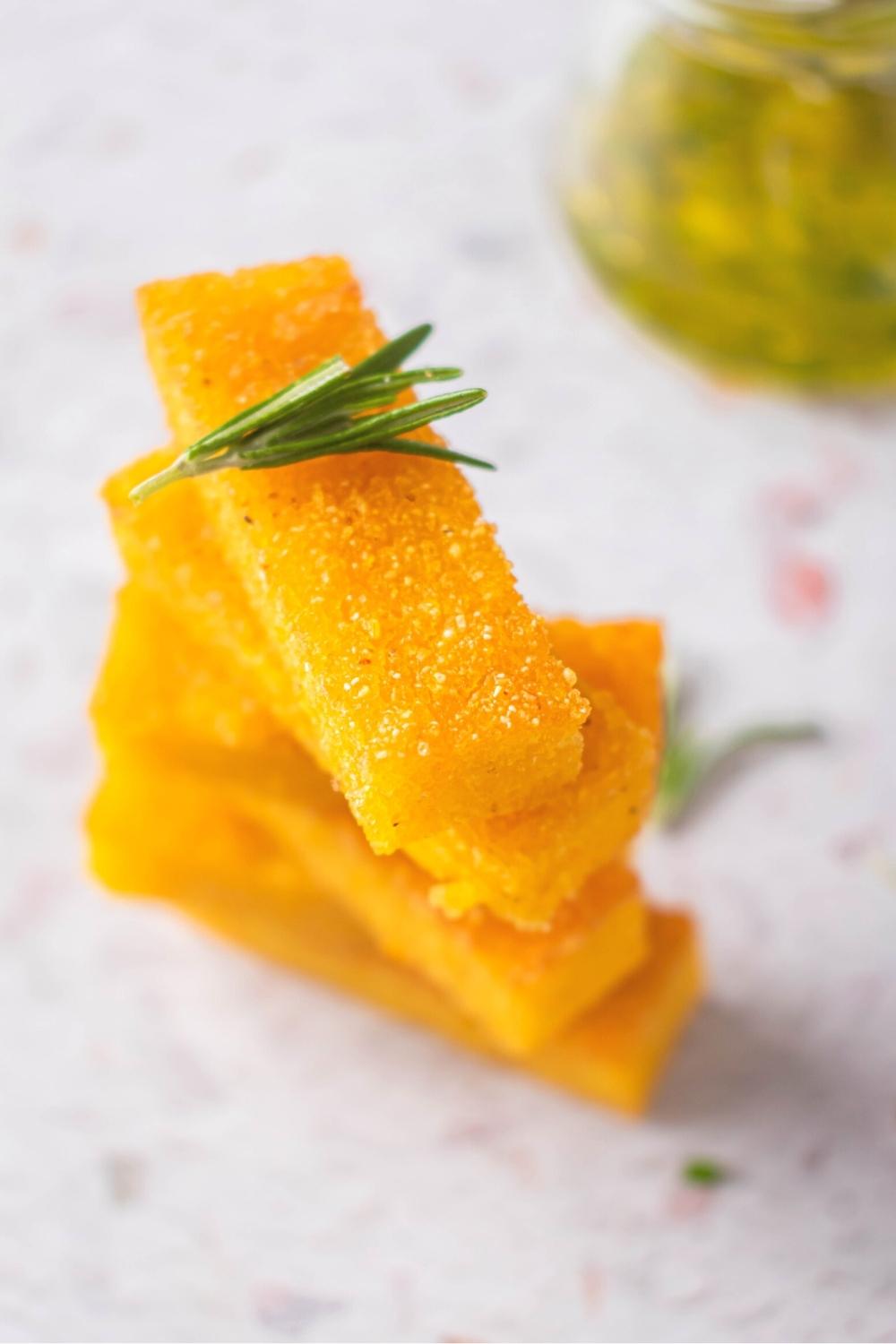 Frequently Asked Questions
What Is Polenta?
Polenta is a rich, creamy Italian dish made of coarsely ground corn. Freshly cooked polenta has a wonderful porridge-like consistency that serves as a terrific bed for sauces and main dishes. And when polenta cools, it solidifies and can be easily sliced and fried.It comes in a few different forms. Regular polenta, which can be coarsely - or finely ground - takes the longest to cook. You can also buy instant or quick-cooking polenta and pre-cooked tubes of polenta as well. And you can usually buy a bag of polenta at your local supermarket alongside grits and cornmeal. Also, since it is pretty close in taste and texture to cornmeal, you can typically use them interchangeably.
What does fried polenta taste like?
Because polenta is a corn-based product, it's natural that it tastes like corn, no matter how you cook it. Its flavor is similar to grits and cornbread, which are also made from corn. However, what sets this fried polenta apart from the regular kind is the addictive creamy-on-the-inside-crunchy-on-the-outside texture and the savory flavor from the vegetable broth. To give your cooked polenta even more personality and flavor, you can cook it with other kinds of stock or milk. You can also use cheese, herbs, garlic powder, and red pepper flakes to spice things up and elevate your usual polenta, whether you're making it creamy or fried.
What to serve with polenta?
Fried polenta works well as a side for a variety of dishes. It has a complimentary flavor and can be served with things like this mixed vegetable casserole, Instant Pot risotto, vegan mac and cheese, and this Hawaiian-inspired huli huli chicken. It's also delicious dipped in things like this Texas Roadhouse ranch and sweet chili sauce!
More Fried Food Recipes
There's nothing more delicious and indulgent than some fried food. So, if you're looking for some more fried recipes to try, give one of these a shot next.
Yield: 4 servings
Fried Polenta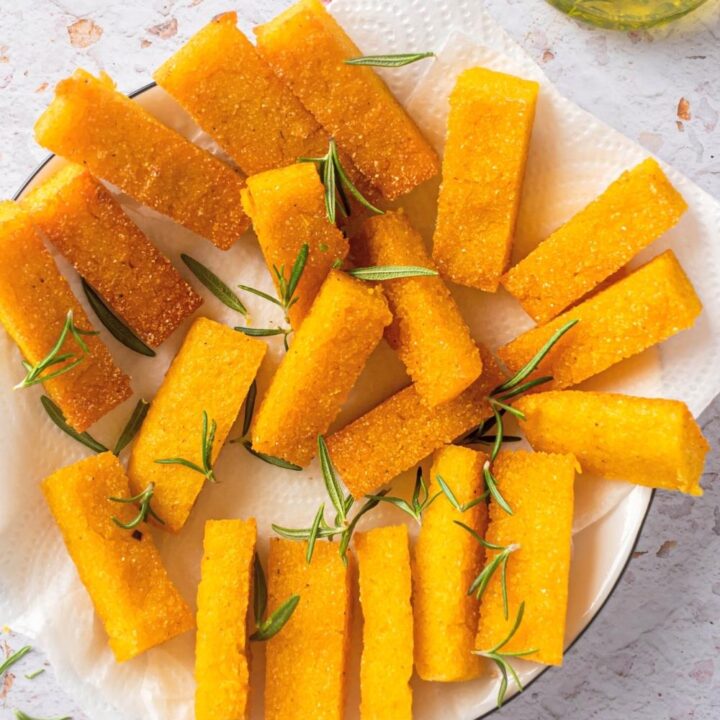 This fried polenta has a satisfying crunchy texture with a soft, creamy inside. It's an incredibly versatile side dish and also tastes amazing as an appetizer. Even if you aren't a huge polenta fan, I'm positive you'll love these chewy and crispy polenta strips!
Ingredients
2 cups Polenta Flour (pre cooked yellow corn flour)
2 cups Vegetable Broth
1 tbsp. Olive Oil
Salt and Pepper
Oil for frying
Instructions
Cook the polenta flour, vegetable broth, olive oil, salt and pepper at low to medium heat in a pot. Cook for around 10 minutes, or until it is thick and it starts separating from the pot.
Line a baking sheet with baking paper and transfer the mixture. Refrigerate for around 2 hours or until hard (alternatively you can bake it for 20 minutes at 425°F (220ºC) so it hardens faster).
Cut it in strips (a bit larger than french fries).
Deep fry at 350°F (180ºC) for around 5 minutes, or until golden brown.
Remove excess heat with paper towels.
Serve with rosemary oil and fresh rosemary.
Nutrition Information:
Serving Size:
1 serving
Amount Per Serving:
Calories:

246
Total Fat:

5.75g
Saturated Fat:

0g
Trans Fat:

0g
Unsaturated Fat:

0g
Cholesterol:

0mg
Sodium:

0mg
Carbohydrates:

46.5g
Fiber:

4.25g
Sugar:

0g
Protein:

4g