This fried squash is quick, easy, and just the most delicious way to prepare butternut squash. Just 4 simple ingredients are all you need to turn some sweet squash into light and crispy bites of goodness!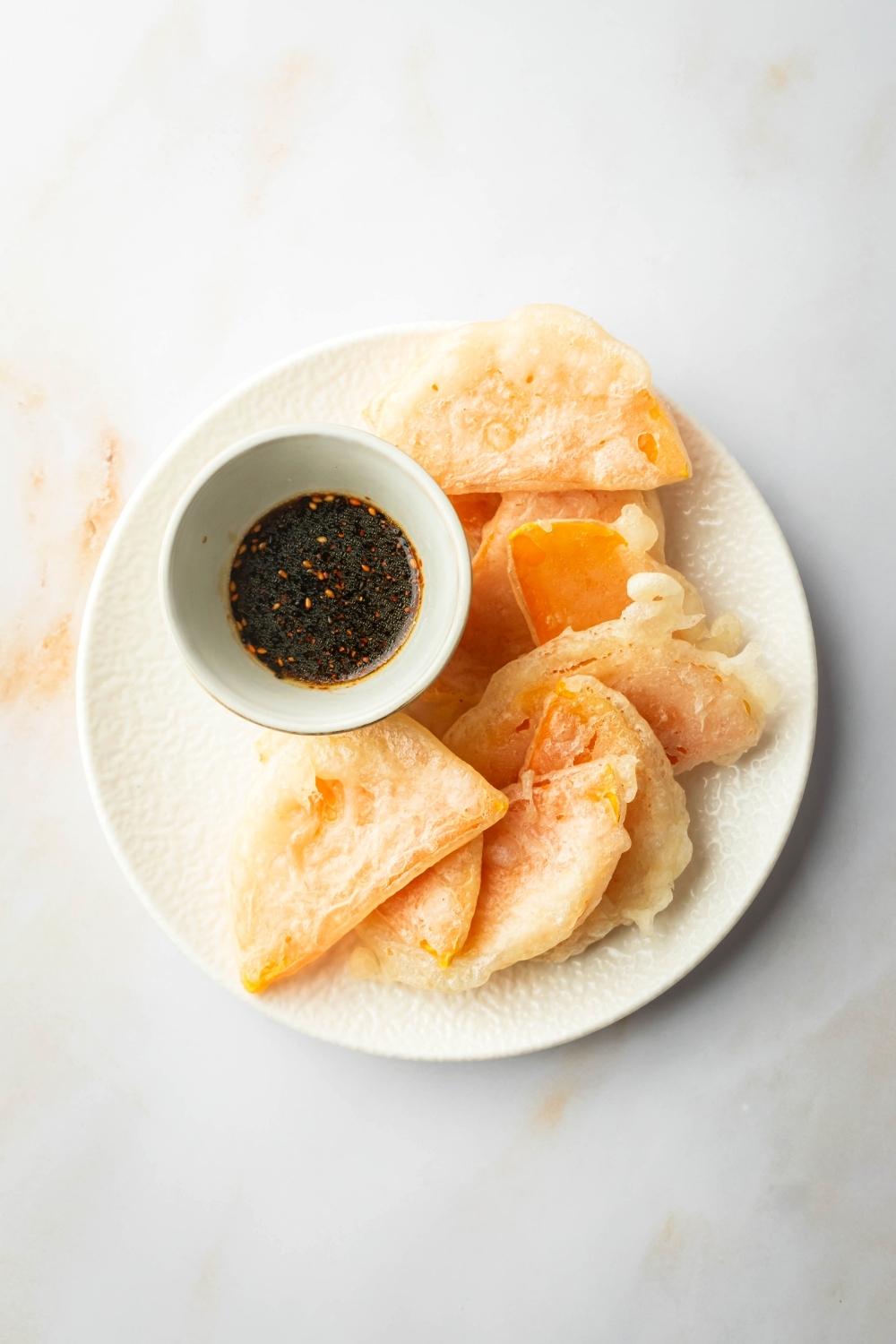 THE BEST FRIED SQUASH
Butternut squash is such an underrated vegetable that's available year-round. It has a sweet and slightly nutty flavor and is incredibly delicious if you cook it the right way.
Although roasting squash is pretty tasty, it's kind of bland and can get boring. Enter this fried squash recipe - the squash gets coated in a batter with no egg and no milk, but the coating crisps up to golden brown perfection with an irresistible crunch.
And the butternut or yellow squash stays nice and tender on the inside without becoming too soggy. Then, paired with my easy soy sauce recipe gives this fried squash an overall flavor that you just can't get anywhere else.
It's ideal for serving as an appetizer or side dish with dinner and goes perfectly with this chicken tempura for a completely crispy and crunchy meal. And since you can fry the yellow squash and chicken both of at the same time, it's a convenient pair to make together.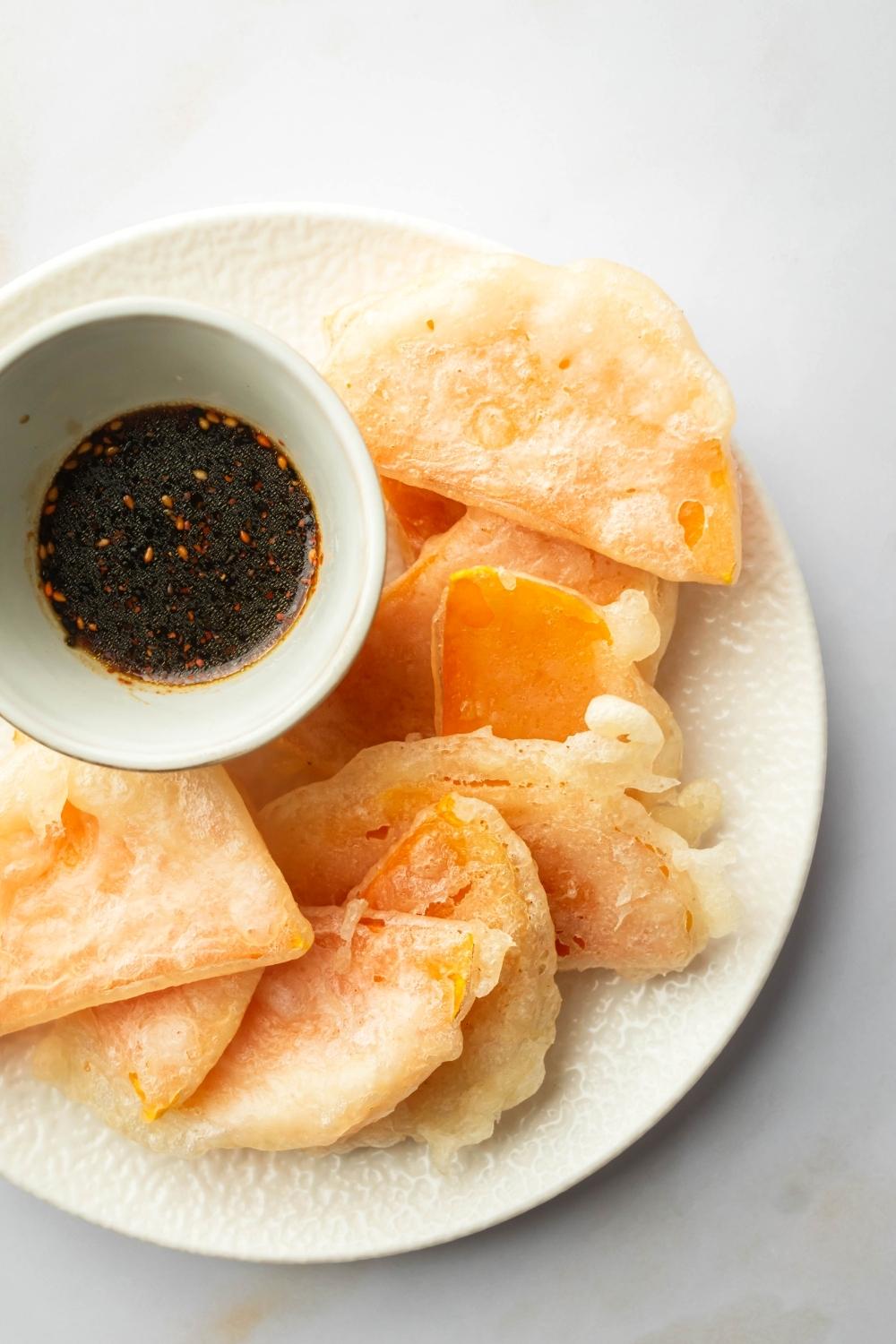 Ingredients
This fried yellow squash only requires a couple of basic ingredients. And since there are no eggs and no milk, the ingredient list is completely vegan as well!
Anyway, here's what you'll need:
½ Butternut Squash, sliced in discs or half-moons
1 cup Flour
1 cup Soda water, very cold
1 tsp. Salt
Oil for frying
And for the sauce:
¼ cup Soy Sauce
1 tbsp. Sesame Oil
Shichimi powder (optional for spice)
Now, the sauce is totally optional, but I highly suggest making it. It not only adds a ton of flavor to the fried squash, but it also creates the perfect balance of sweet, salty, nutty, and earthy notes.
By the way, you can use any squash that you want to make this recipe like yellow squash, summer squash, winter squash, or butternut squash! All of them make for a great side dish cuisine.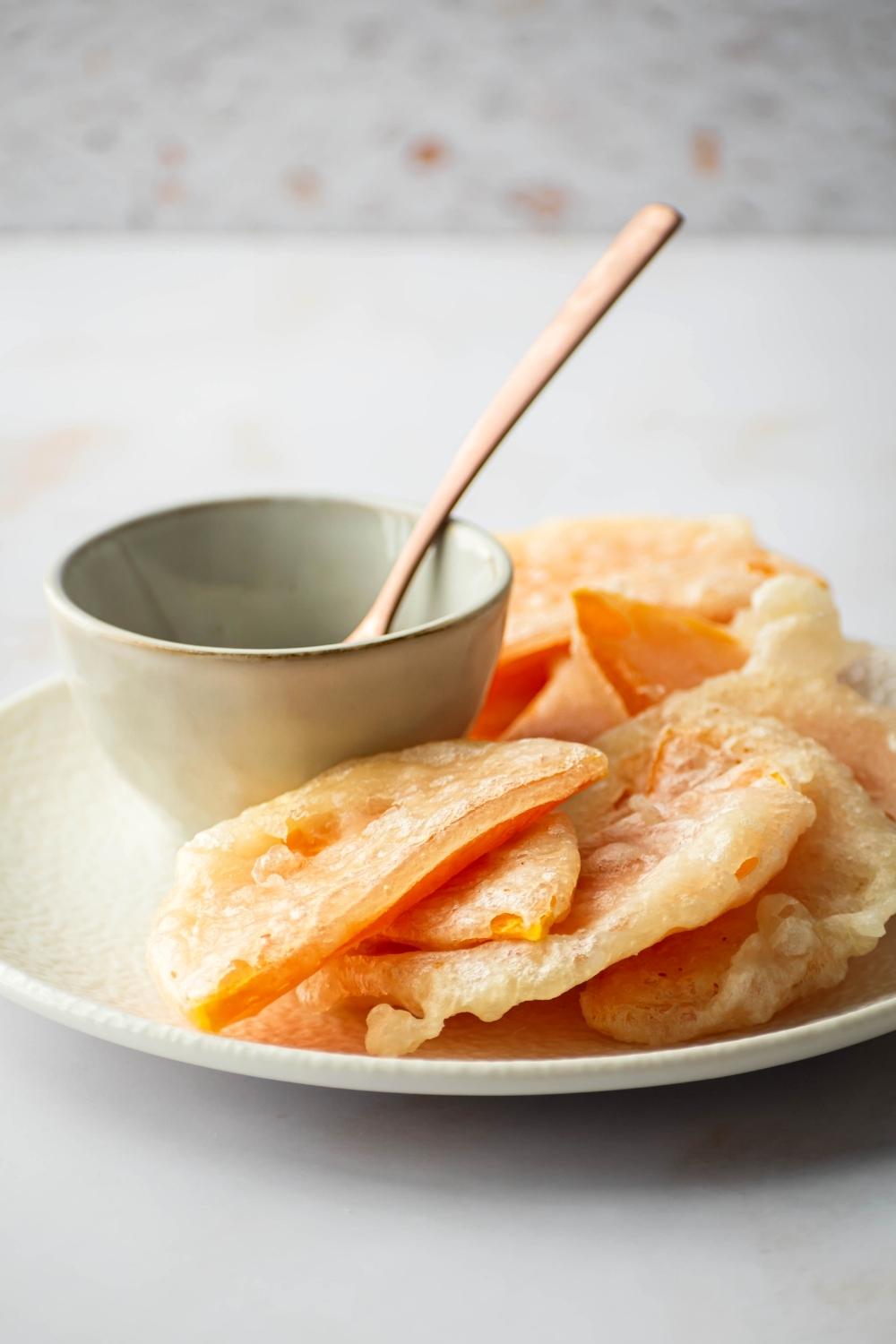 How to Make Fried Squash
The process of making this fried squash could not be any easier.
It takes well under 20 minutes and just involves a little mixing, dipping, and frying.
Now, I know you don't want to wait any longer to find out how to make this fried butternut squash recipe, so let's get down to the nitty-gritty cooking details.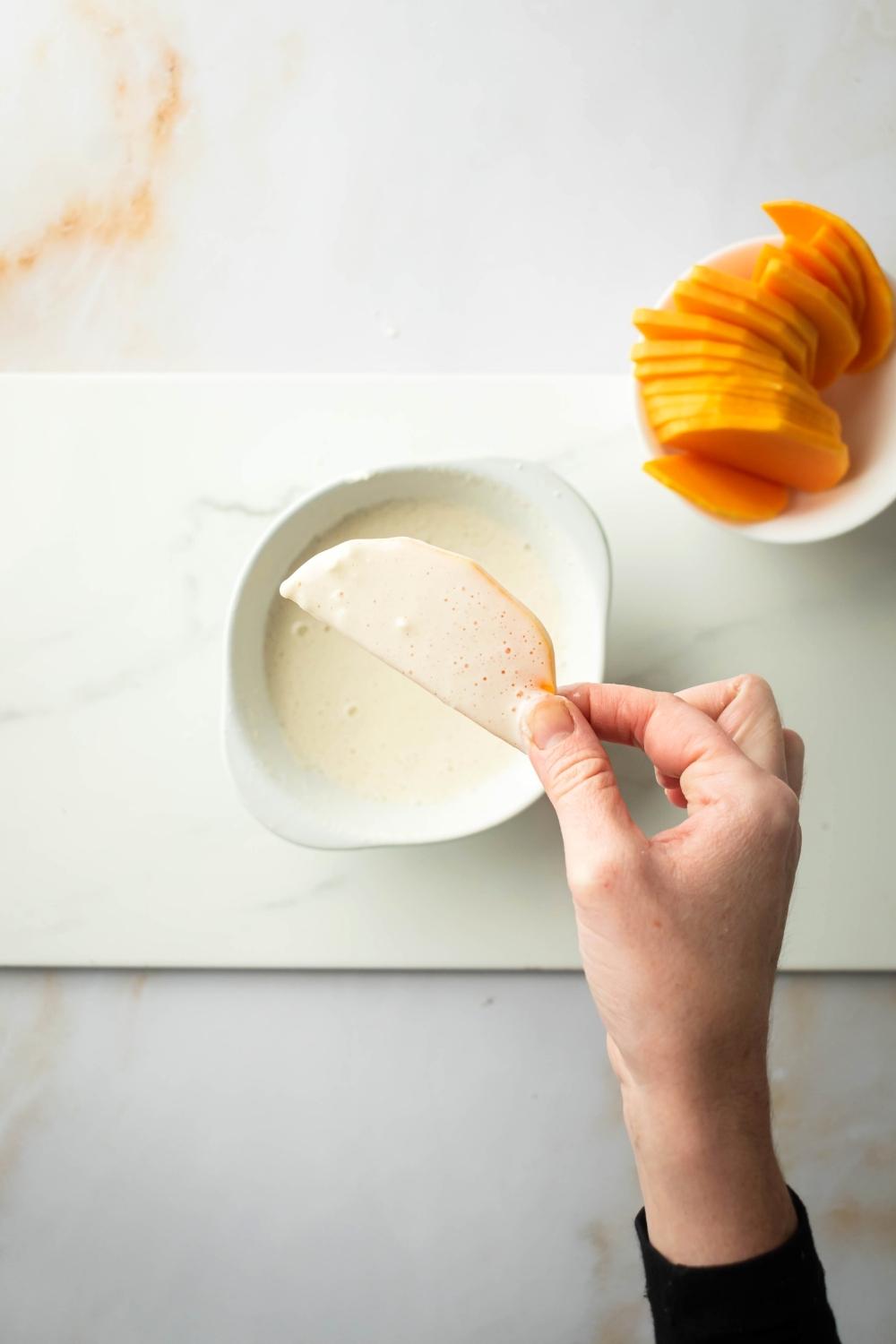 Step 1: Prepping the Squash
Start by preparing the squash for frying. First, cut out the ends of the butternut squash to be able to stand it securely on the cutting board.
Next, peel the squash using a sharp knife or a vegetable peeler.
Then, cut it in half lengthwise and slice the squash into ½-inch thick half-moons. Or you can always just slice the squash into discs instead without cutting it in half.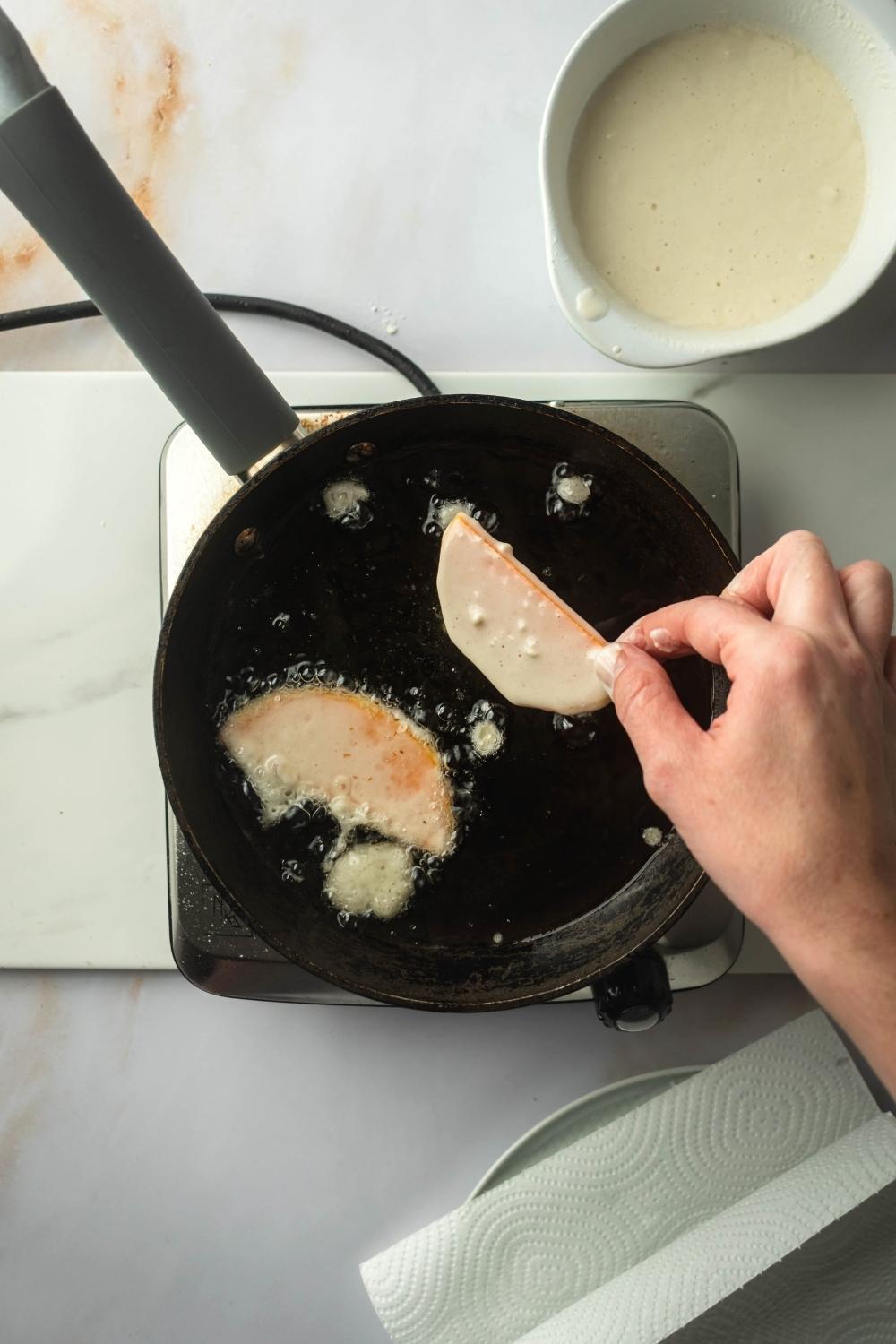 Step 2: Frying the Squash
Now pour enough oil to cover the squash slices into a deep frying pan, and heat it over medium until it reaches 355°F (180°C). By the way, any neutral-flavored frying oil will work for this recipe.
While the frying oil heats, prepare the batter - add the soda water, flour, and salt to a bowl and mix them to thoroughly combine.
Once the oil is heated, dip each butternut squash slice into the batter, covering the slices in the mixture on both sides.
Then, quickly submerge the squash into the oil. And, depending on the size of your pan, you can fry a few slices at a time. But don't overload the pot, as doing it will cause the oil temperature to drop.
Now, when the squash is golden, take it out of the pan and transfer it to a plate lined with paper towels - or a wire rack - and pat with paper towels to get rid of the excess oil.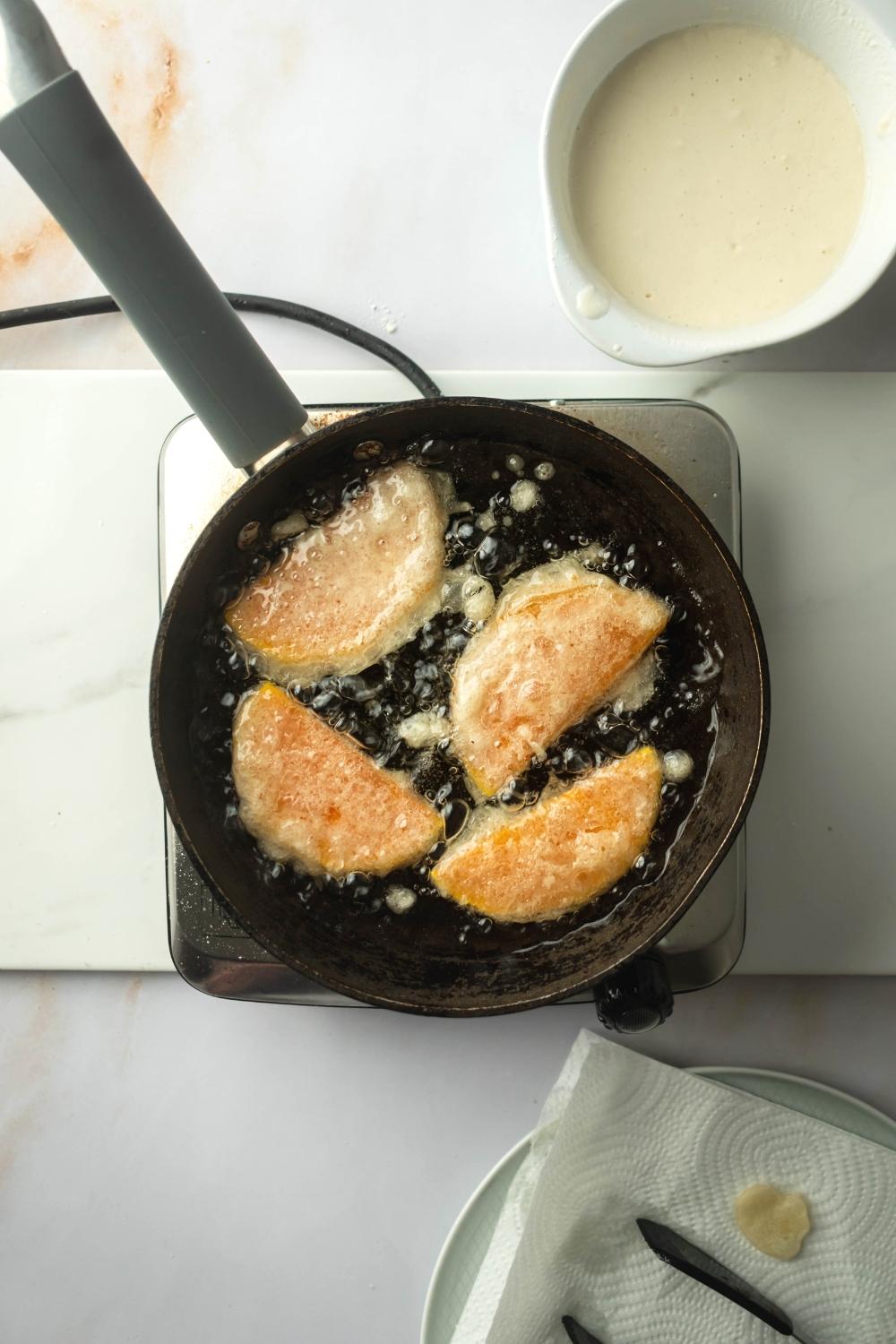 Step 3: Preparing the Sauce and Serving
After all the squash slices are fried to golden brown perfection, it's time to prepare the sauce to complete this recipe.
All you have to do is mix the soy sauce, sesame oil, and shichimi powder - if you're using it - in a bowl until everything is combined.
Then serve the fried squash slices alongside the flavorful sauce and enjoy!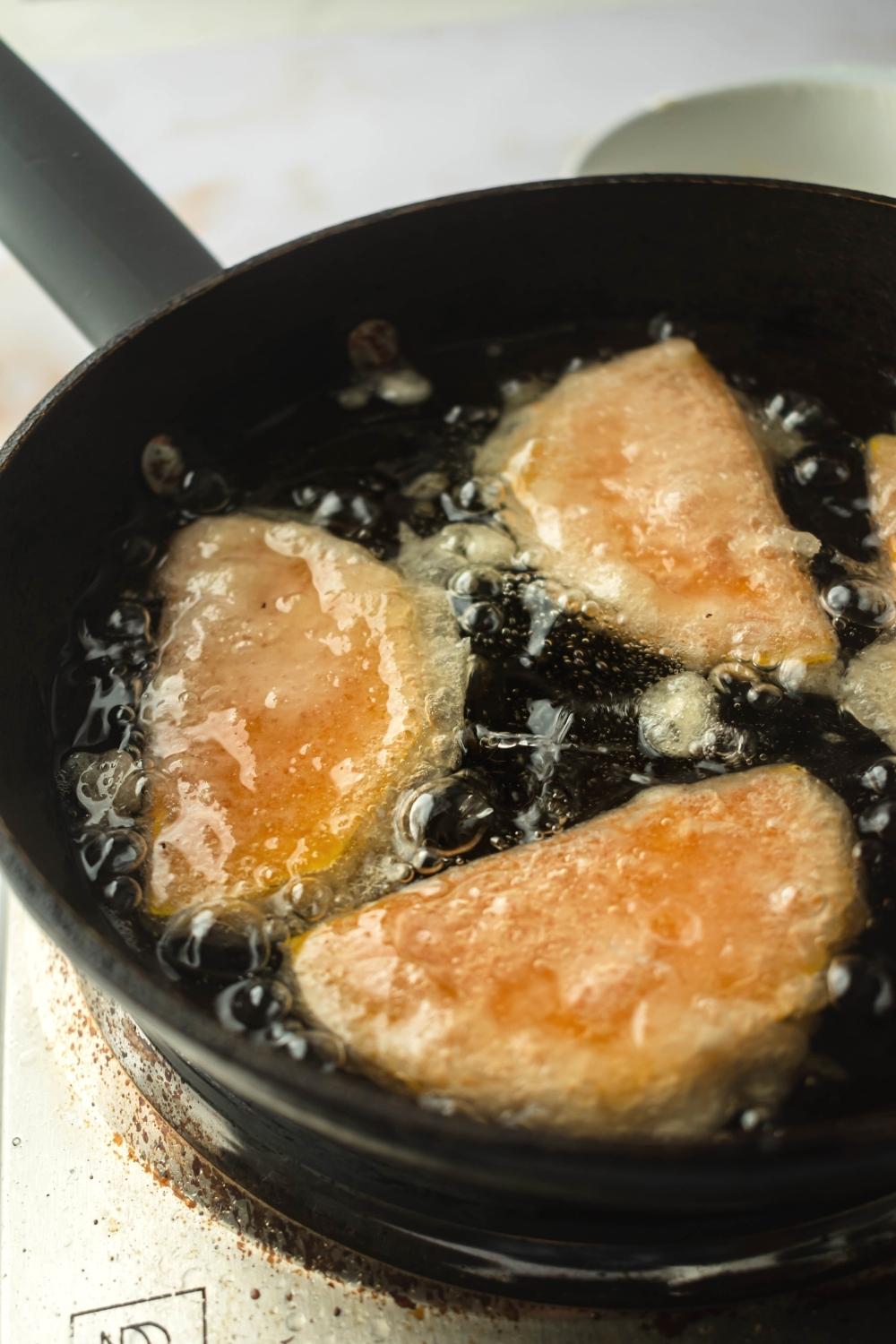 How to Store Leftover Fried Squash
So, this recipe will make about 16 half moon slices of fried squash - or about 4 servings worth. And, if you serve it for a family dinner, I doubt you'll have any leftovers.
But, if you do, you can store the squash in an airtight container in the refrigerator for up to 3 days.
Now, with that said, this fried squash recipe is definitely best enjoyed fresh because the slices do become a little soggy as they sit in the fridge. But, the good news is you can easily bring back the crispiness of them. Just arrange the slices on a baking sheet and heat them in the oven at 375 degrees Fahrenheit (190°C) for around 5 minutes - or until warm, crispy, and still golden brown.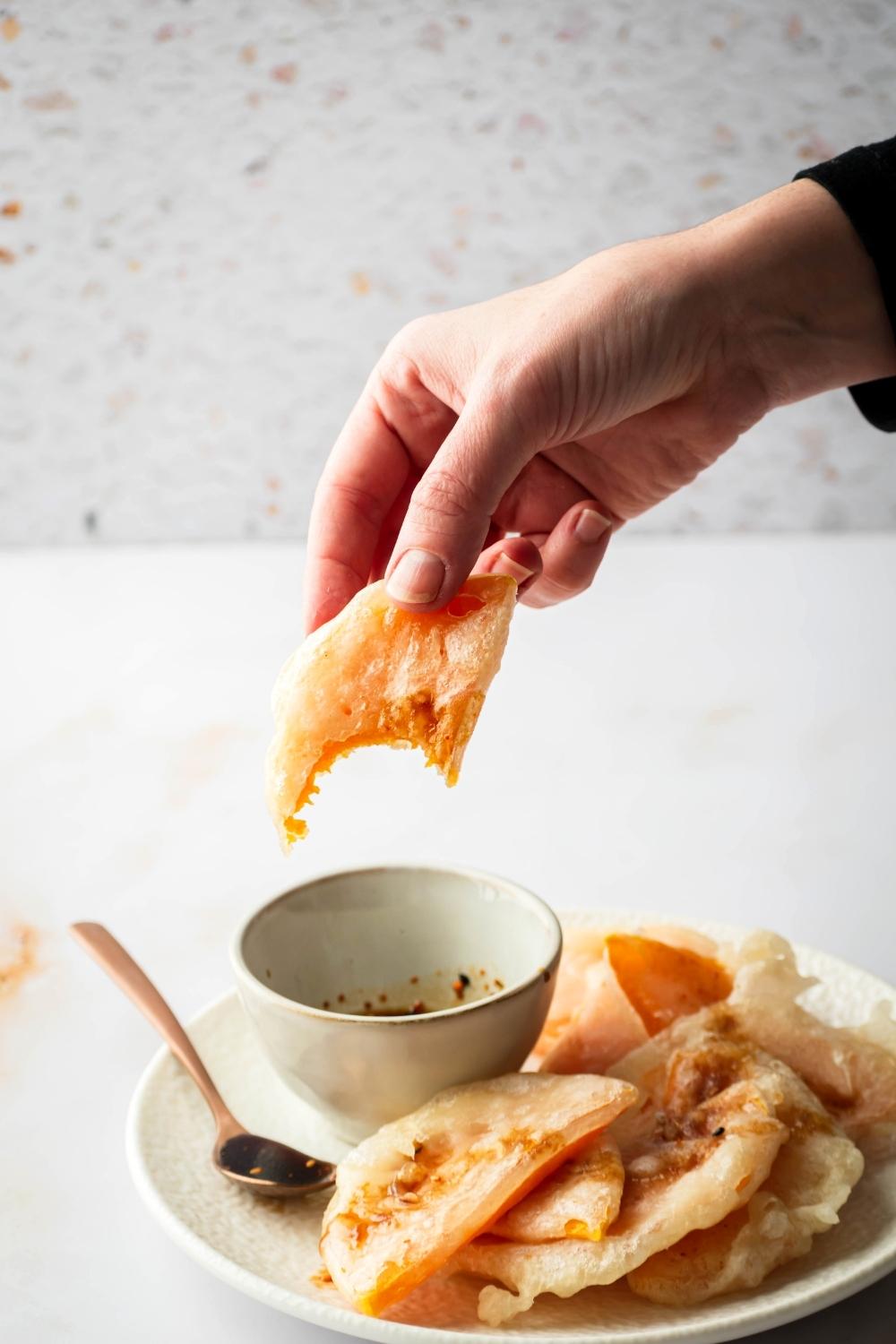 How to freeze butternut squash
Butternut squash freezes very well, and luckily, frozen butternut squash can be fried too!
If you've used only a small part of the butternut squash for this recipe - or any other - and don't know what to do with the rest, you can freeze it for about 6 months.
Just slice the raw butternut and flash-freeze it on a baking sheet lined with parchment paper. Then, when it comes the time to fry the butternut squash slices, transfer them from the freezer into the fridge.
Having said that, you'll find that there's a lot of water in thawed butternut squash, so when it's completely defrosted, make sure to pat it dry with paper towels.
Then, once it's been dried, you can cook the squash as described above!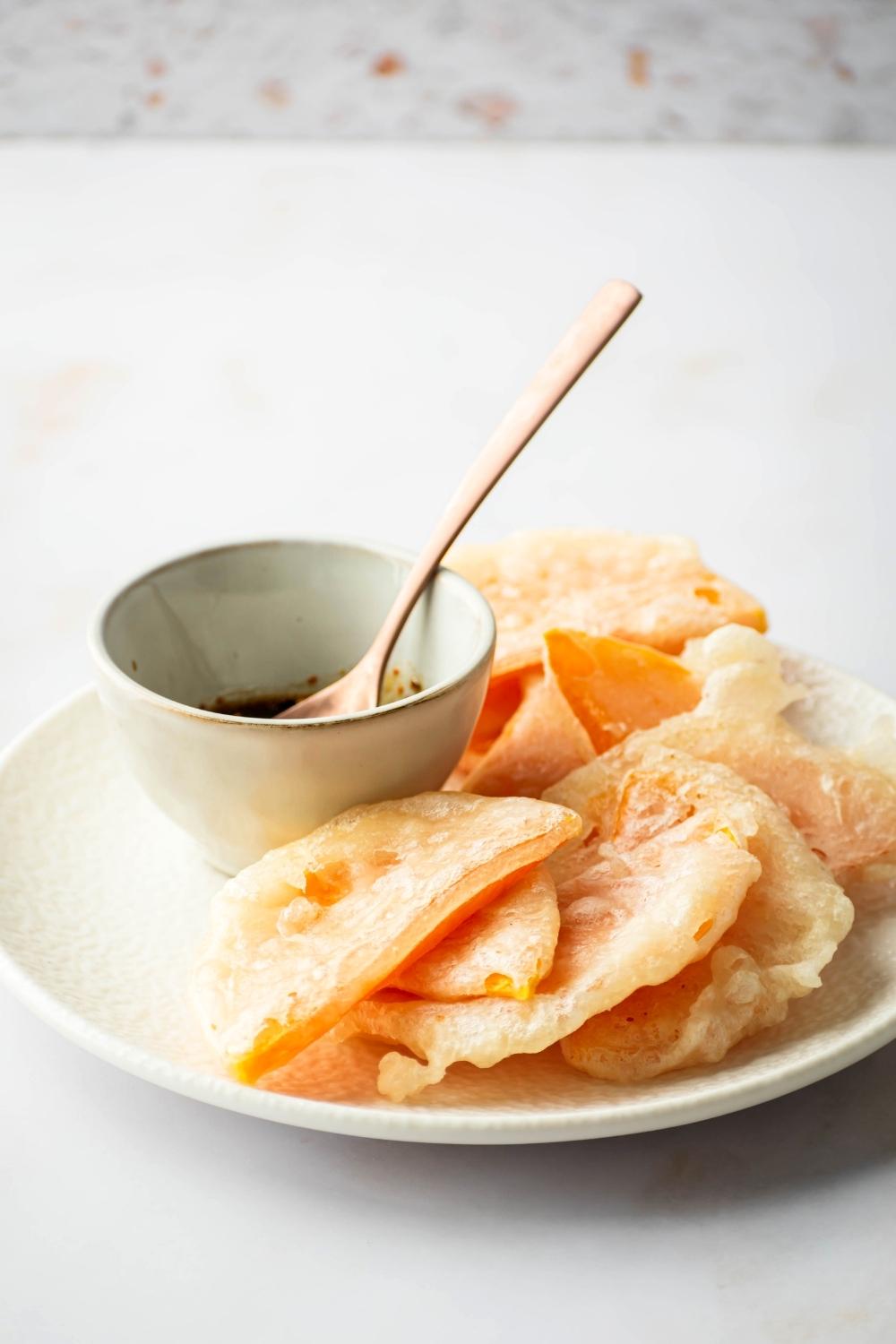 FAQS ABOUT THIS FRIED SQUASH RECIPE
How do you keep fried squash from getting soggy?
The best thing you can do to prevent fried squash from getting soggy is to immediately transfer it to a wire rack after frying. Then, pat the squash dry with paper towels to soak up the excess oil. Following this 2-step process almost guarantees the squash will be crisp, and not soggy.
Can you fry canned squash?
I do not suggest using canned squash for frying. Cutting the fresh squash into slices holds the coating best, and fries the best.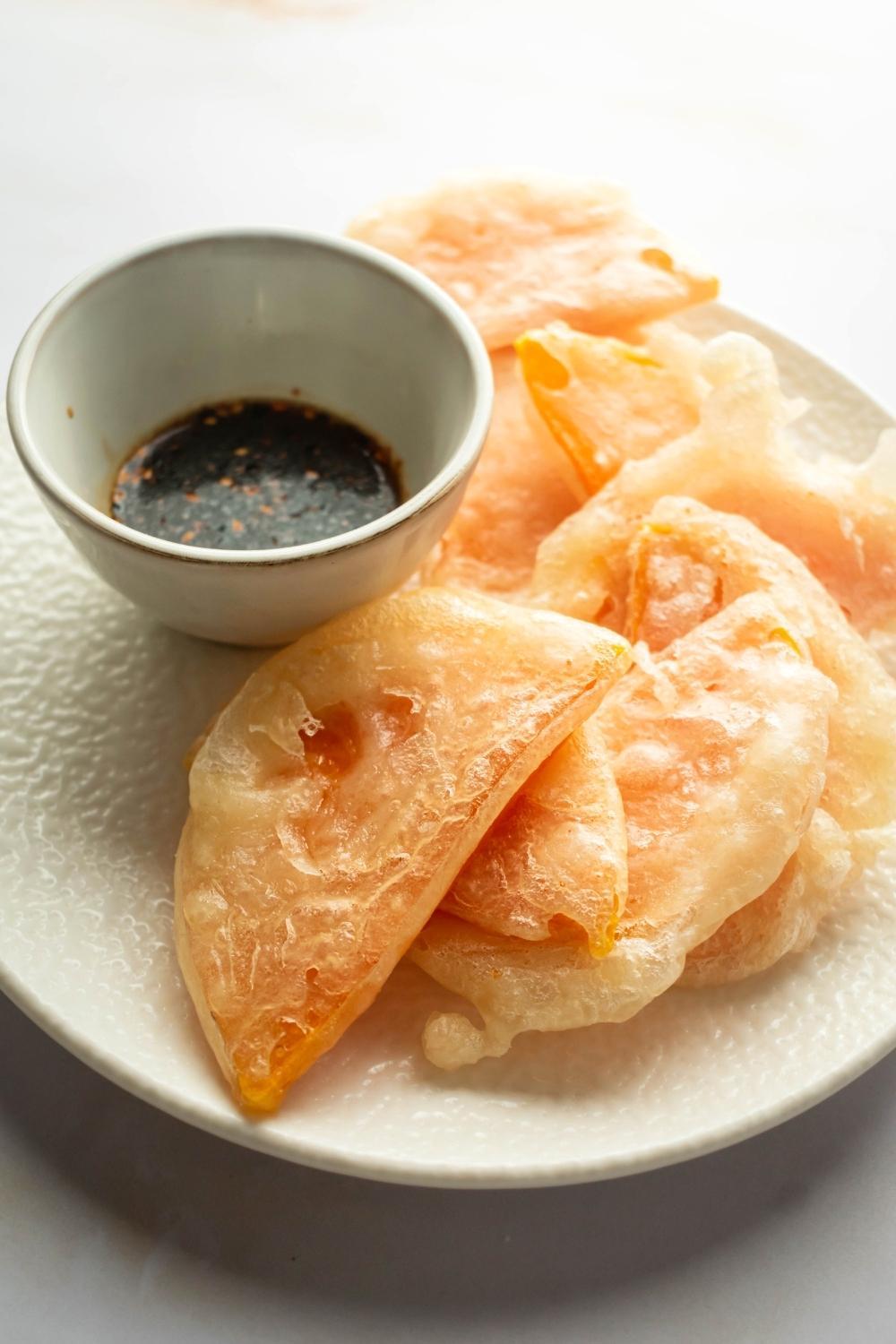 Wrapping It All Up
Well, that is how to fry squash to golden brown perfection for a crispy yet tender and super flavor dish.
Paired with the homemade soy sauce, you won't find a tastier fried vegetable to make. It's incredible and goes really well with practically any dish like chicken and shrimp alfredo or lamb breast.
Anyway, I hope you enjoy the best fried squash recipe as much as my family and I have.
If you make it, leave a comment below and let me know your thoughts!
FRIED RECIPES
If you like how crispy, crunchy, and just downright delicious fried food is, we have a few more recipes that you'll have to try.
Check these out:
Oh, and be sure to check out our Youtube Channel for even more recipes as well.
Print
Fried Squash Made With 4 Ingredients
This fried squash is quick, easy, and just the most delicious way to prepare butternut squash. With the help of 4 simple ingredients, you can turn sweet squash into light and crispy goodness!
Author:
Prep Time:

10 minutes

Cook Time:

10 minutes

Total Time:

20 minutes

Yield:

4

servings

1

x
Category:

Dinner

Method:

Stovetop

Cuisine:

Vegan
½ Butternut Squash, sliced in discs or half-moons
1 cup Flour
1 cup Soda water, very cold
1 tsp. Salt
Oil for frying
The sauce:
¼ cup Soy Sauce
1 tbsp. Sesame Oil
Shichimi powder (optional for spice)
Instructions
Peel the squash and slice it into half-moon shapes.

Preheat enough oil to cover the squash in a deep frying pan to 355°F (180ºC).

Combine flour, soda, and salt in a bowl and mix to combine.

Dip each squash slice into the batter and quickly submerge it in the oil. Depending on your pot, you will have to adjust the squash slices you can fry at the same time - it shouldn't be very loaded, so the oil doesn't cool.

 Once the squash is golden, remove it and drain it on a plate with a paper towel.

Combine all the sauce ingredients in a bowl.

Serve the fried squash with the sauce on the side.
Nutrition
Serving Size:

1 serving

Calories:

257

Fat:

2

Carbohydrates:

54

Fiber:

8

Protein:

6
Keywords: fried squash, fried squash recipe, how to fry squash, how to make fried squash, fried squash with flour, fried squash recipe with flour, fried squash recipe using flour, fried squash recipe without egg, fried butternut squash, fried butternut squash recipes, fried butternut squash recipes easy, easy fried squash, squash recipe, butternut squash recipe,