These vegan donuts are super soft, oh so cakey, and they have an old-fashioned donut texture. And each one is topped with a vanilla glaze that makes these donuts absolutely dream-worthy. Plus, these baked vegan donuts only take 10 minutes!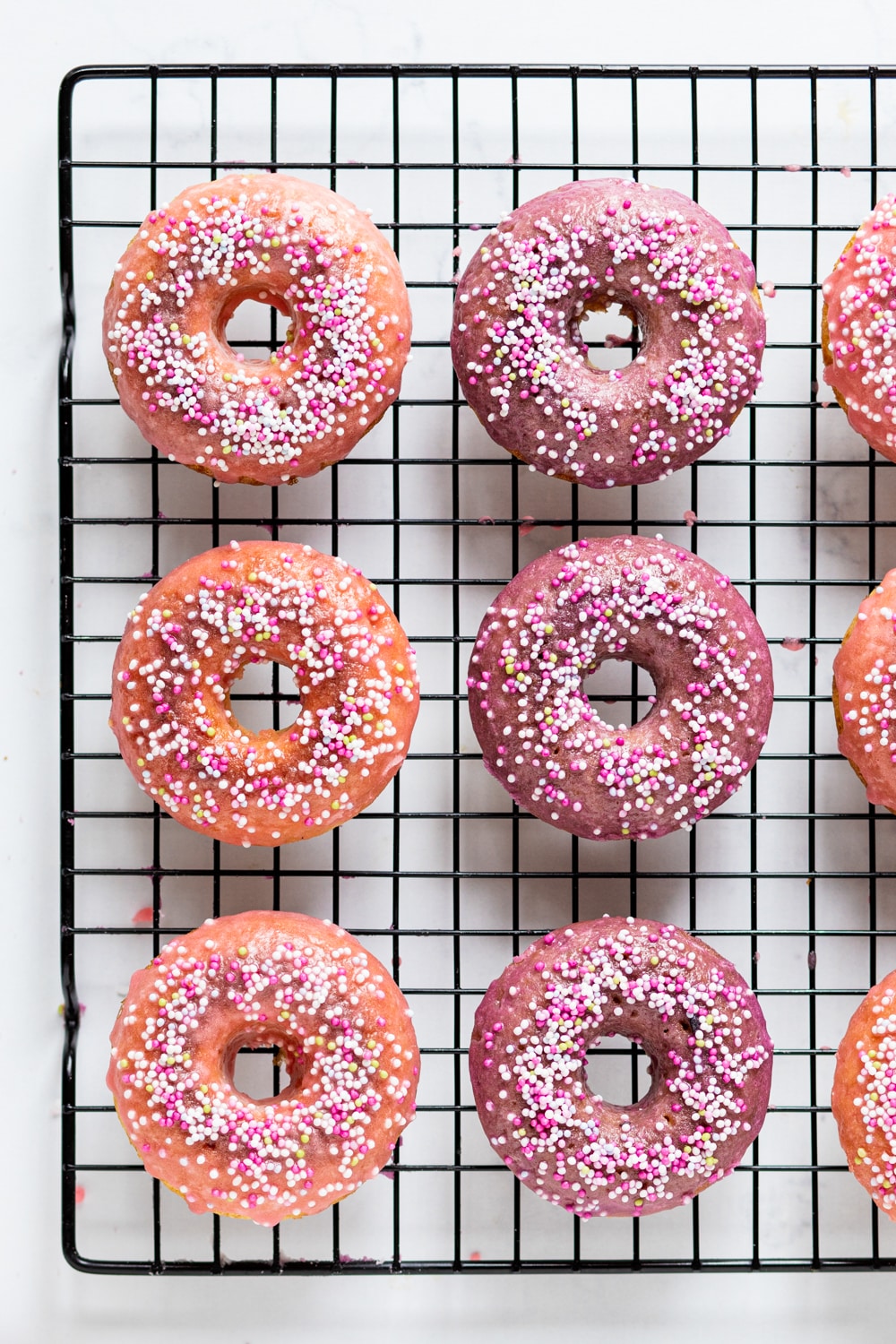 THE BEST VEGAN DONUTS
These easy baked vegan donuts are the ultimate pick me up and makes for the perfect breakfast, snack, or dessert.
And, let's be real, donuts are, without a doubt, one of the best ways to start your day - they pair perfectly with a cup of coffee, you can eat them on the go, and are just so satisfying to have for breakfast.
Seriously, these vegan donuts (also spelled vegan doughnuts) are so good that it will be hard to believe they're not from a bakery.
On top of that, they're made with household ingredients and come together in just 20 minutes!
Oh, and who said donuts couldn't be healthy? Well, this recipe gives you the option to make sugar free donuts!
Plus, we'll be baking our donuts instead of frying them - making them extra, extra healthy. This seriously might be one of the best donut recipes in existence.
By the way, these baked vegan donuts go great with a drink from this vegan Starbucks list, so make sure to check that out and grab one before you make this recipe!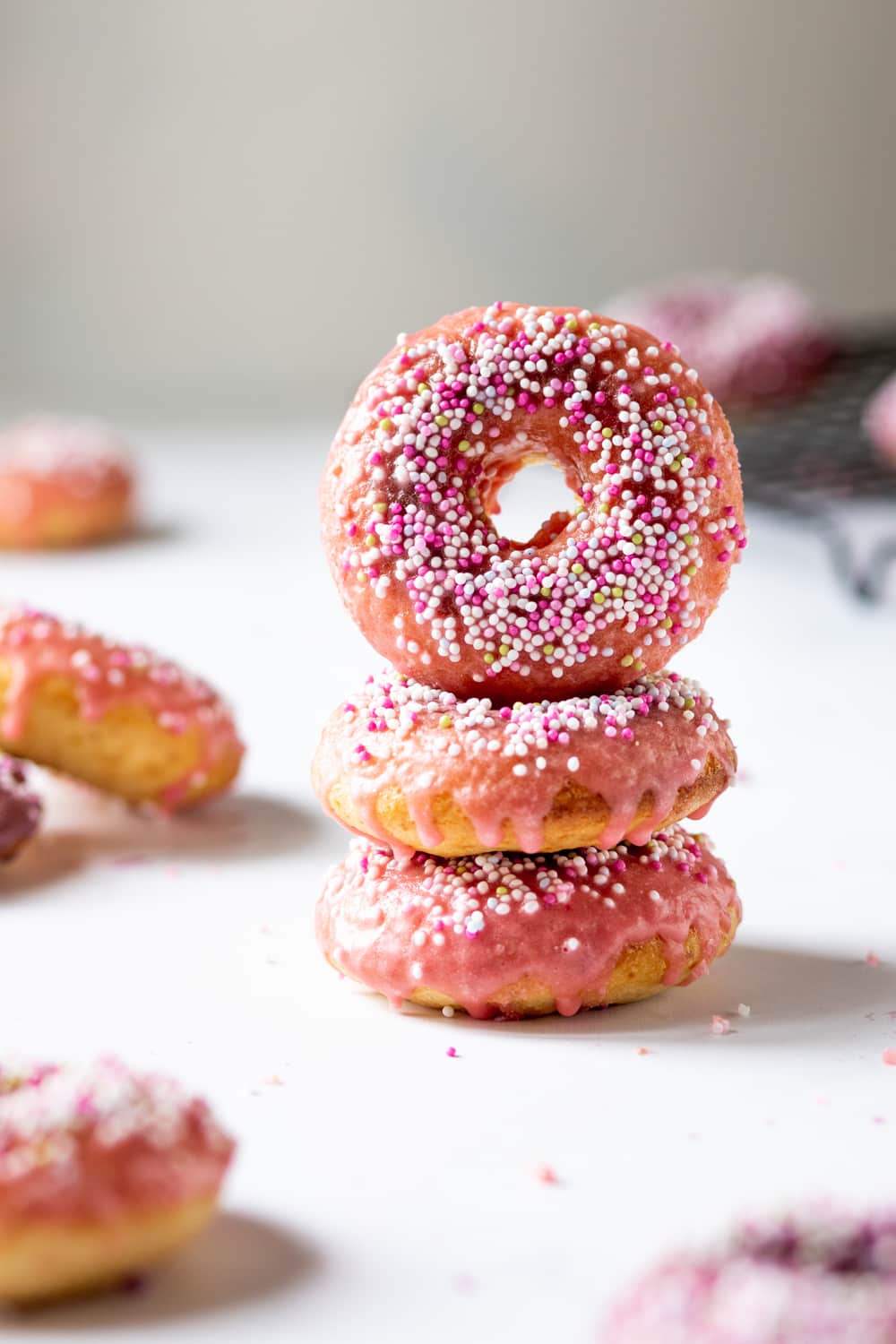 INGREDIENTS
Ok, so the best part about these donuts might be they are made with all common household ingredients - odds are you have everything you need to make this vegan recipe!
That said, here's what you'll need for the donuts:
And for the glaze:
Pretty simple stuff, right?
The only ingredients that you might not already have are red food coloring and sprinkles. And these are totally optional - they are just used to give these baked vegan donuts a bakery-like look. Either way, they will be just as delicious!
Also, I actually use a lot of these same ingredients to make my vegan waffles. They're just as quick, easy, and delicious as this recipe, so I highly recommend trying them next!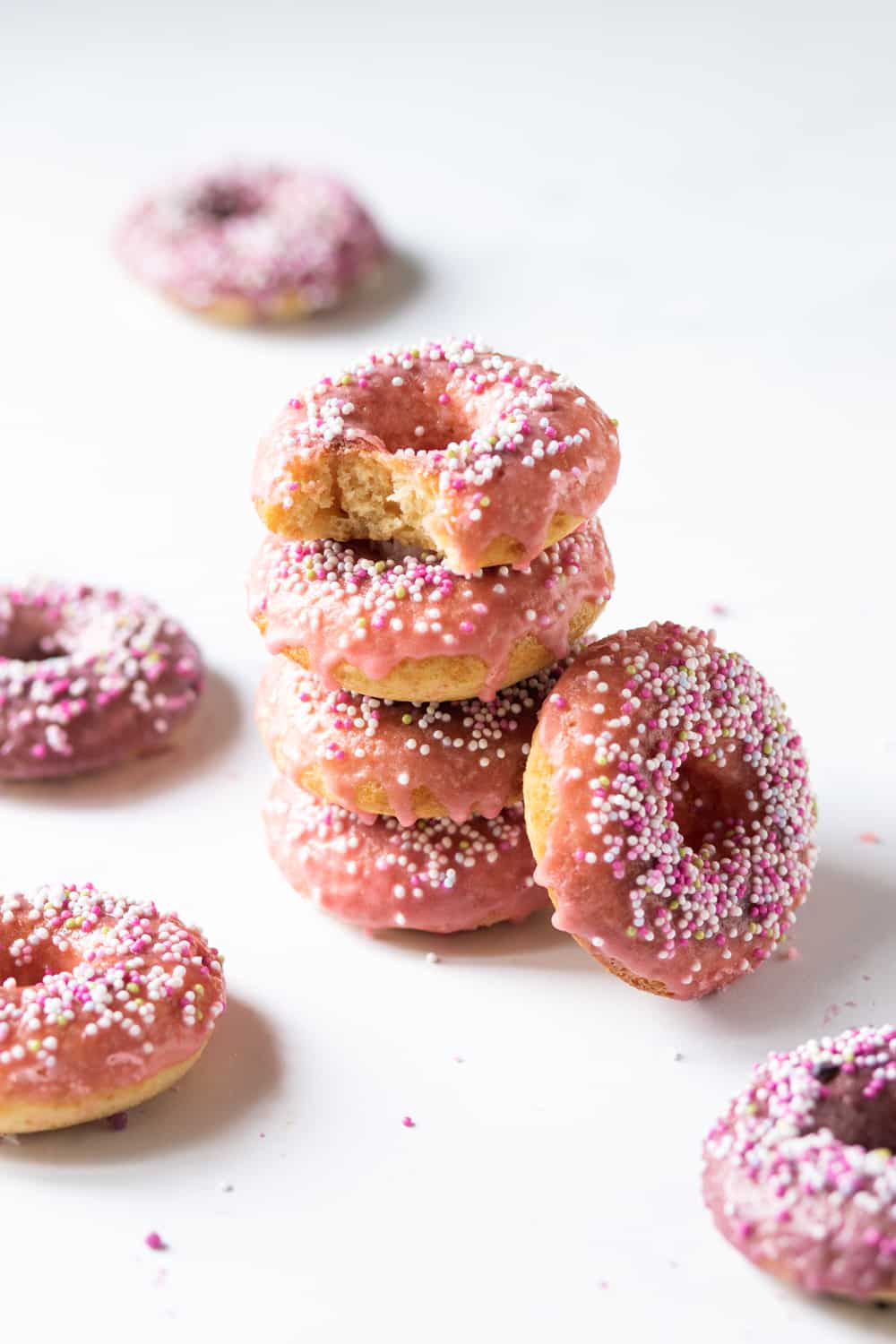 MAKING THESE DONUTS SUGAR FREE
As I mentioned earlier, one of the ways you can turn make these donuts healthier is by making them sugar free - and this is super easy to do.
You will just have to swap out the granulated sugar and confectioners sugar for a sugar-free sweetener.
So, to do that, I recommend swapping out the granulated sugar for granular swerve and the confectioners sugar for confectioners swerve.
Swerve measures out with sugar at a one-for-one ratio, and it has the same sweetness as sugar - making it the perfect substitute.
Another sugar substitute you can use is monk fruit sweetener, specifically Lakanto's. You can use the classic white in place of granulated sugar and powdered for the confectioners sugar. Also, this sweetener also measures out with sugar on a one-for-one ratio.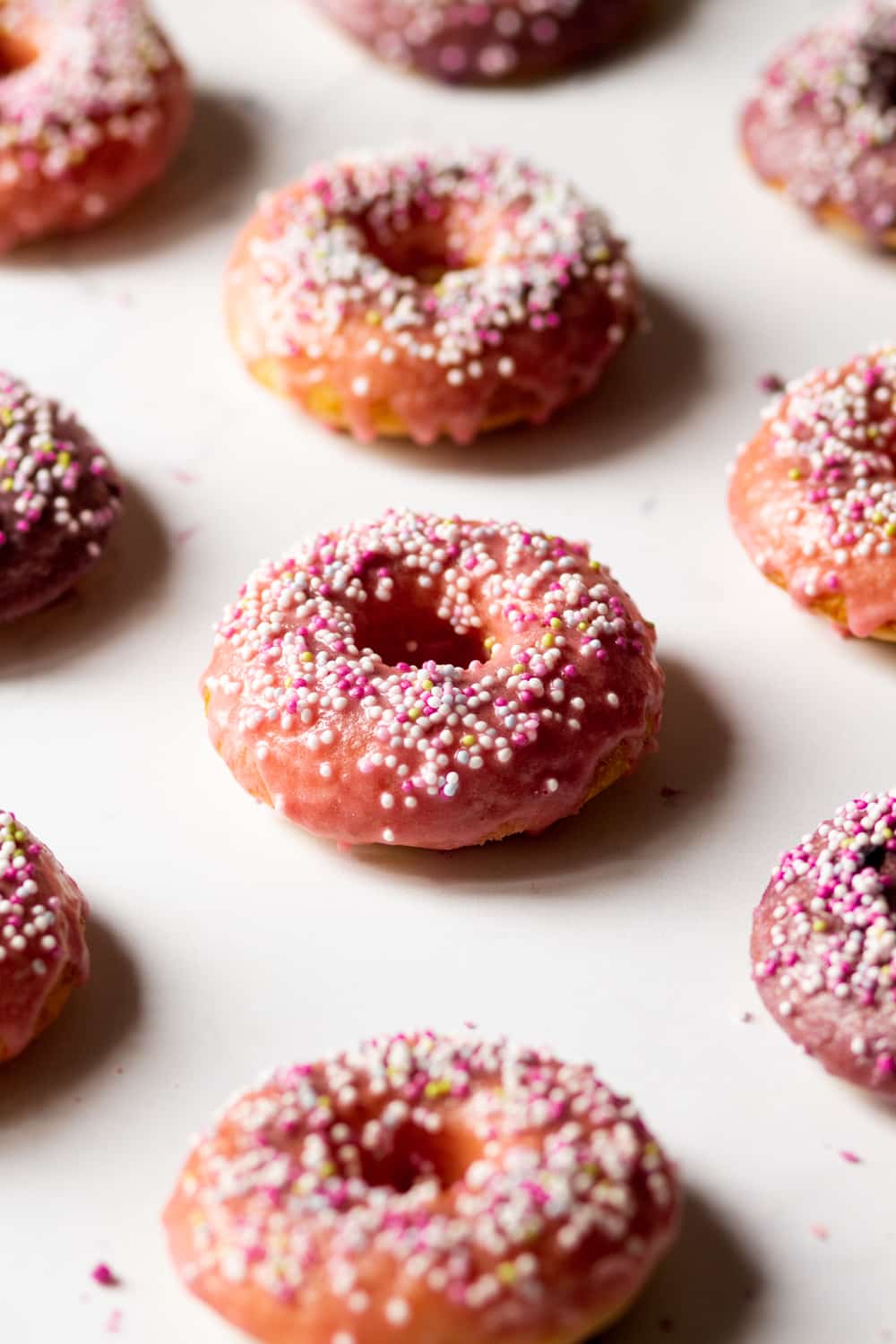 Substituting out butter
Now, as I mentioned, we will be using coconut oil in place of butter, and that is really the only difference between these and regular donuts.
The coconut oil will give these donuts their slightly hard outer texture that classic old-fashioned donuts have. And the hard surface with the cakey inside is what makes these donuts so irresistible.
Now, I've talked about this a few times before, but it's worth mentioning again - coconut oil comes in two different kinds - unrefined and refined.
Unrefined coconut oil will add a hint of sweetness and coconut flavor to your recipe - and this will pair well with the other flavors in this donut recipe.
But if that's not something you want for your vegan donuts, refined coconut oil – which has no coconut flavor - also works perfectly.
And if you don't have coconut oil available - or don't want to use it - you can also use melted vegan butter in its place. Vegan butter and coconut oil substitute for another on a one-for-one basis in pretty much all vegan recipes, so you'll use four tablespoons regardless.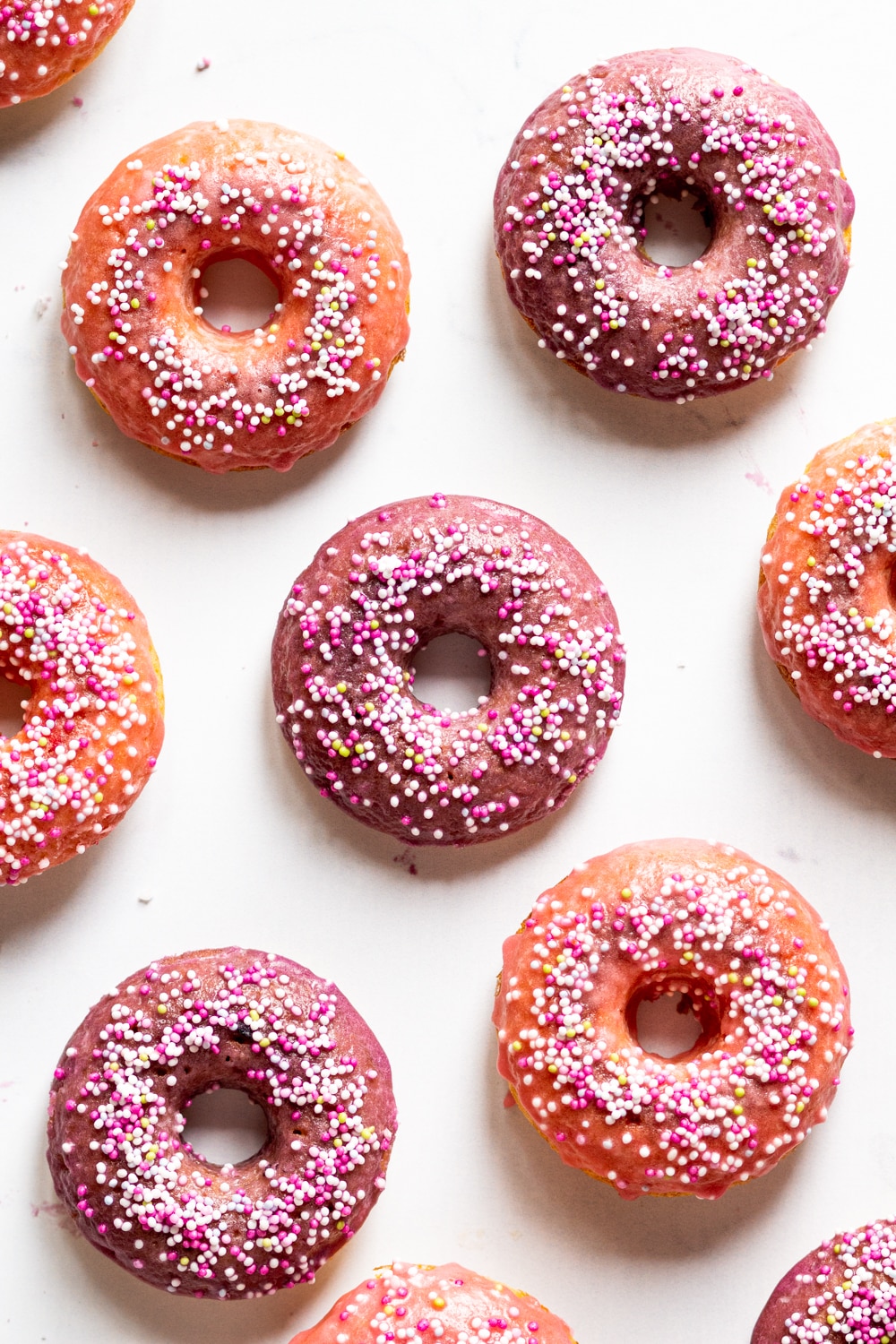 HOW TO MAKE VEGAN DONUTS
Now that we've covered the ingredients and substitutions let's get into the recipe!
You'll only need about 20 minutes to make 6 glazed donuts, and the recipe has just three steps: making the donuts, making the glaze, and putting the two together.
Yup, it's that simple!
With that said, it will take at least 30 minutes for the glaze to set and the donuts to cool down. So give yourself a little extra time if you want to serve these for breakfast!
STEP 1: MAKING THE DONUTS
Since the donut batter comes together really quickly, you'll want to start by preheating your oven to 400°F (200°C).
You can also get out your donut tray and set it aside. With that said, I HIGHLY recommend getting/using a silicone donut tray. The donuts will easily slide out of the silicone tray, and they're so simple and easy to clean.
And trust me on this one - I used to own a non-stick donut tray, and it was the worst. The donuts stuck to the tray half of the time - so pretty much the opposite of "non-stick." So save yourself the frustration and invest in a silicone tray.
Anyway, I digress, back to making the donuts.
First, mix all the wet ingredients - milk, melted coconut oil, and vanilla extract - in a bowl until combined.
Then in a separate bowl, mix the dry ingredients - flour, sugar, baking powder, baking soda, salt.
After that, pour the wet ingredients into the dry ingredients and combine until you've formed a donut batter.
Next, you'll want to generously coat the donut tray with cooking spray. Then mold 6 donuts out of the dough, and fair warning, it will be a little sticky.
Now, after the donut tray is filled, pop it in the oven and bake for 10 minutes.
You'll know the donuts are ready when you can stick a toothpick into them and it comes out clean.
STEP 2: MAKING THE GLAZE
While the donuts are baking in the oven, you can start making the glaze.
This step is super simple and only takes about a minute. All you have to do is combine all the glaze ingredients- powdered sugar, milk, vanilla, and food coloring - in a bowl and mix them together.
The consistency should be slightly runny but thick enough to cling to the donuts. If your glaze is too runny, you can add a little extra sugar. And if it is too thick, you can add some more plant milk.
STEP 3: GLAZING THE DONUTS
Now for our last step, glazing the donuts. To do this, dip the top of the warm donut into the vanilla glaze and then top with sprinkles.
As I mentioned, the glaze will need some time to set, so let the glazed donuts cool on a wire rack for 30 minutes.
After they are cooled and the glaze has hardened, you can dig in!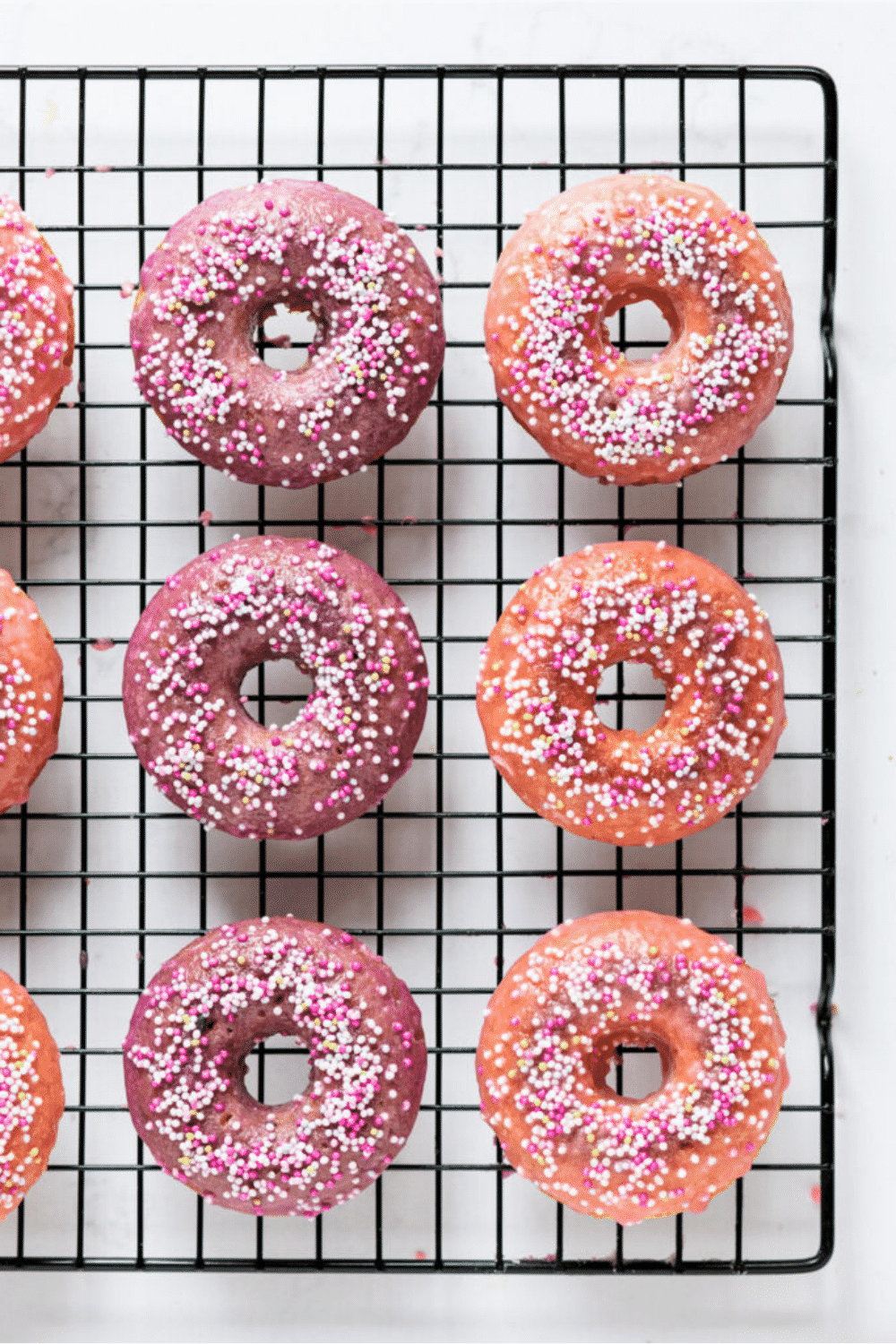 STORING THE DONUTS
Ok, so these donuts are so good, you'll want to make sure you have some saved for the week. And if you want more than half a dozen donuts, you can easily double or triple this recipe.
As far as storing them goes, you can store the donuts in an airtight container or sealable bag at room temperature for 2-3 days, in the fridge for up to a week, or in the freezer for up to 3 months.
WRAPPING IT ALL UP
That is how to make the best vegan donuts that are such an absolutely delicious way to start your day!
Honestly, when I have these donuts on hand, I fly out of bed in the morning.
And what's great about these donuts is you don't only have to eat them for breakfast- they can also be enjoyed as a mid-day snack or vegan dessert - like these oatmeal cookies, another one of our delicious vegan recipes.
Anyway, as always, we hope you enjoy these baked vegan donuts as much as we do. If you try them, definitely tag us on Instagram! We love seeing your recreations.
Print
Vegan Donut Recipe | The Best Baked Donuts
These vegan donuts are super soft, oh so cakey, and they have an old-fashioned donut texture. Plus, each one is topped with a vanilla glaze that makes these donuts absolutely dream-worthy. Not to mention, they only take 10 minutes to bake!
Author:
Prep Time:

10 minutes

Cook Time:

10 minutes

Total Time:

20 minutes

Yield:

6

Donuts

1

x
Category:

Breakfast

Method:

Oven

Cuisine:

Vegan

Diet:

Vegan
Instructions
Preheat oven to 400 degrees°F (200°C).

Mix all the wet ingredients together in a bowl.

In another bowl mix all the dry ingredients. 

Pour the wet ingredients into the bowl of dry ingredients and mix together until a dough forms.

Form 6 donuts out of the dough - the dough will be sticky - and put them in a donut tray coated with baking spray.

Bake the donuts for 10 minutes.

Meanwhile, make the glaze - mix all the ingredients together in a bowl. 

Dip the warm donuts in the icing and then top with the sprinkles.

Let the donuts cool on a wire rack for a few minutes and enjoy.
Notes
The scale up function does not change the gram measurements.
Nutrition
Serving Size:

1 Donut

Calories:

201.83

Fat:

9.8

Carbohydrates:

28

Protein:

0.33
Keywords: vegan donuts, vegan donut recipe, dairy free donuts, vegan doughnuts, vegan doughnuts recipe, eggless donuts, doughnuts vegan, how to make vegan donuts, donuts vegan, healthy donuts, healthy donut recipe, vegan breakfast, vanilla glaze, donuts healthy, baked donuts, vegan baked donut recipe, vegan baked donuts, baked donut recipe, vanilla glazed donuts, how to make baked donuts