This pork chop casserole is the ultimate one-pan dish. It combines savory pork chops with rice, cheese, crispy fried onions, and a rich, creamy white sauce. Honestly, it's as good as a casserole recipe gets!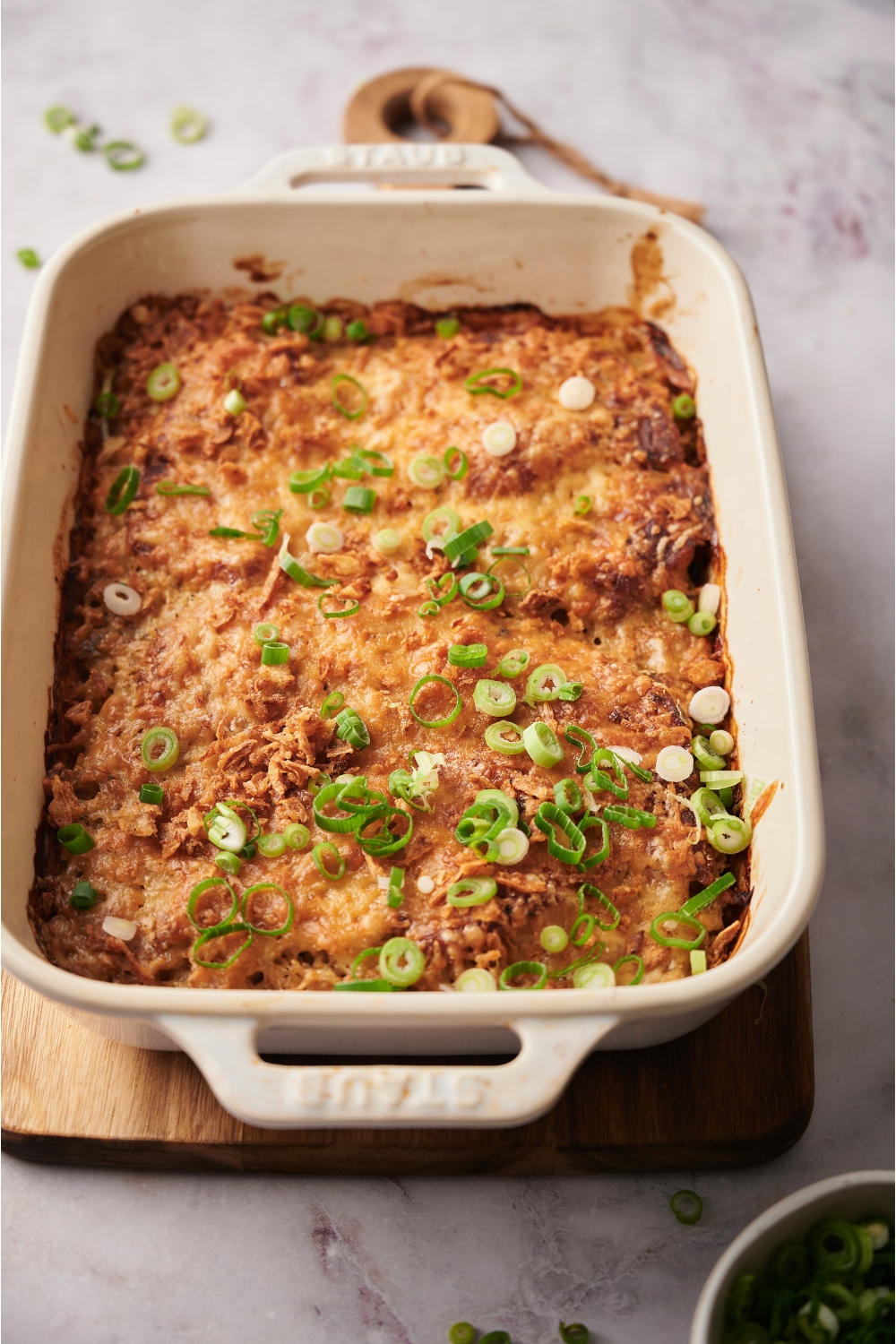 The Best Pork Chop Casserole
If you've been following the blog, then you know I've been obsessed with making casseroles. I mean, they're just so simple to put together and make for the perfect busy weeknight dinner or satisfying leftovers for lunch or dinner the next day.
Out of the casserole recipes I've made recently, this pork chop casserole has to be one of my favorites. It takes boneless pork chops to another level by cooking them alongside a few other ingredients, so they stay super tender and juicy throughout the cooking process.
Why You'll Love This Recipe
Every part is delicious. The pork chops are layered in a creamy seasoned base with rice throughout, then they're topped off with melty shredded mozzarella cheese and French fried onions for a little crunch.
It's truly easy to make. You basically just put all of the ingredients in a casserole dish and then pop it in the oven. You barely have to do any work!
Makes the perfect comfort food meal. This is seriously so comforting and satisfying. Especially if you serve it with some sides, like these sweet potato biscuits, these Chinese green beans, and french fries.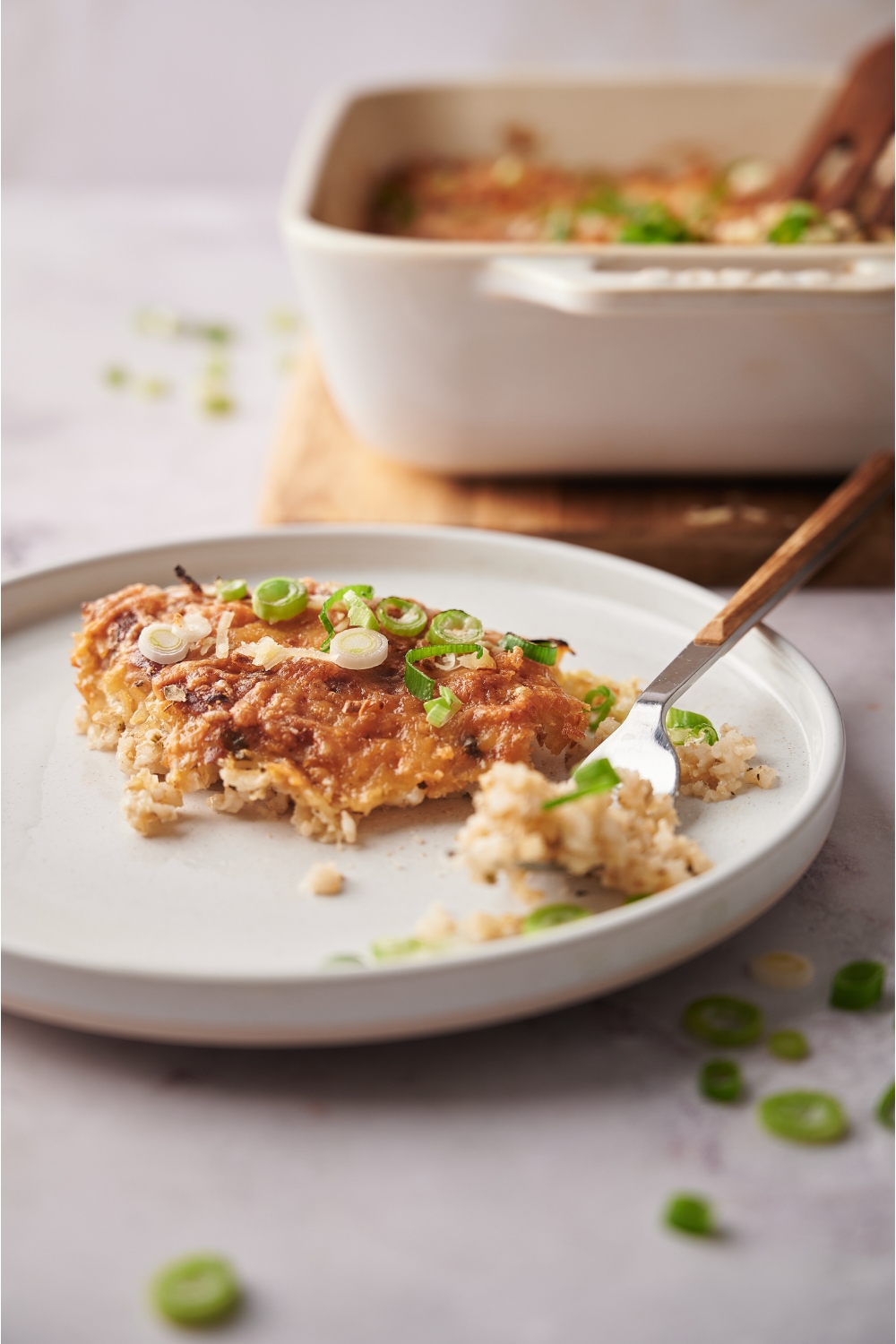 Ingredients You'll Need
Boneless pork chops- I use pork chops that are on the thinner side.
Cream of mushroom soup- golden mushroom soup, or any condensed cream soup, like cream of chicken or cream of celery, will work too.
Milk- I like to use whole milk to add a richer flavor and texture to the soup.
Italian seasoning- it gives everything the perfect flavor.
Brown rice- cooked first. White rice will work too.

Mozzarella cheese- shredded cheddar cheese works too,

Green onions- chopped for garnish.
French fried onions- for a delicious crunchy finish.
By the way, if you love the combination of pork chops and crispy fried onions, you have to make these French onion pork chops next! Or you can use the chops to make my homemade shake and bake pork chops.
And if you love pork in general, you'll want to make my pork chop potato casserole and pulled pork casserole are two other delicious pork casserole recipes you can try!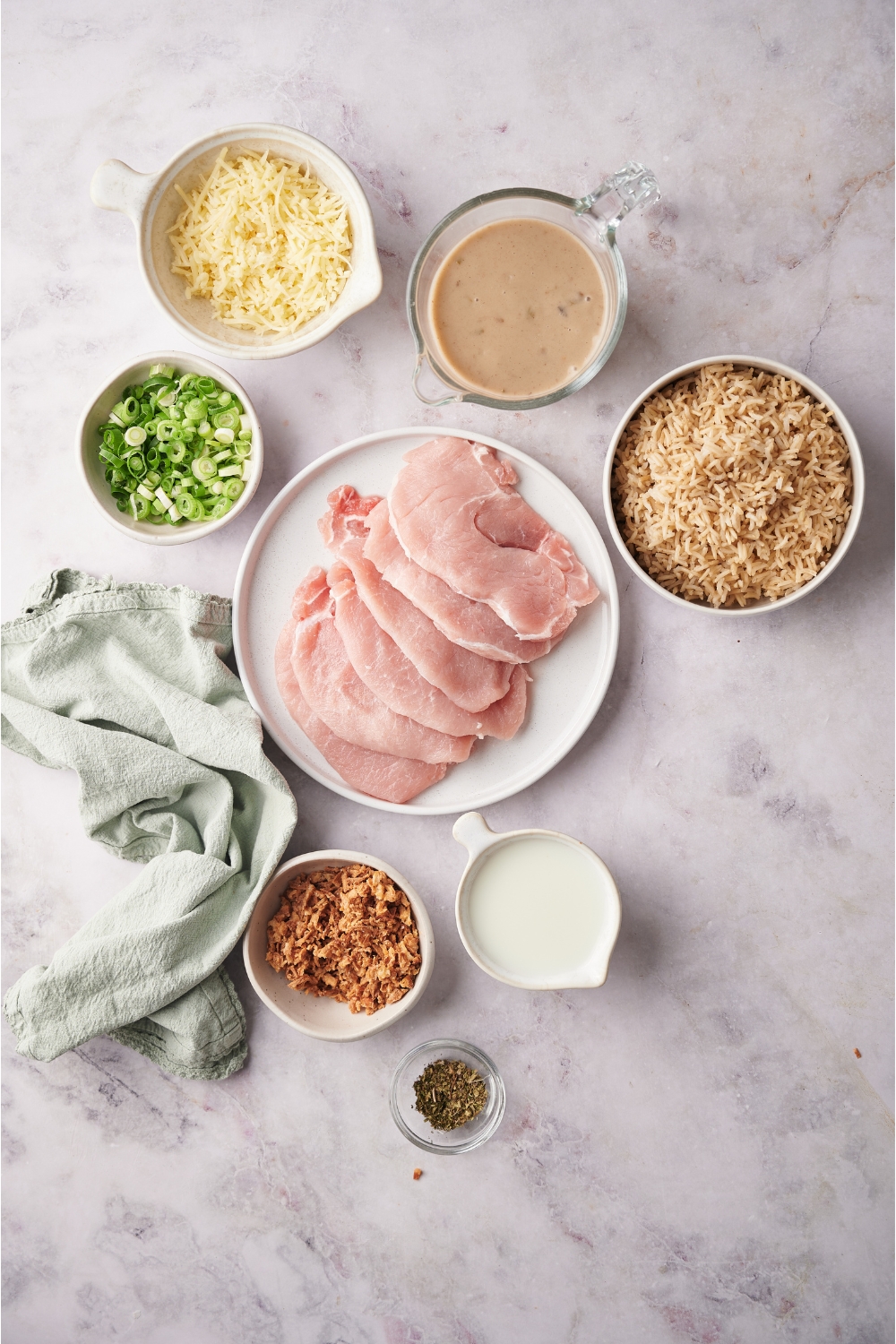 How To Make Pork Chop Casserole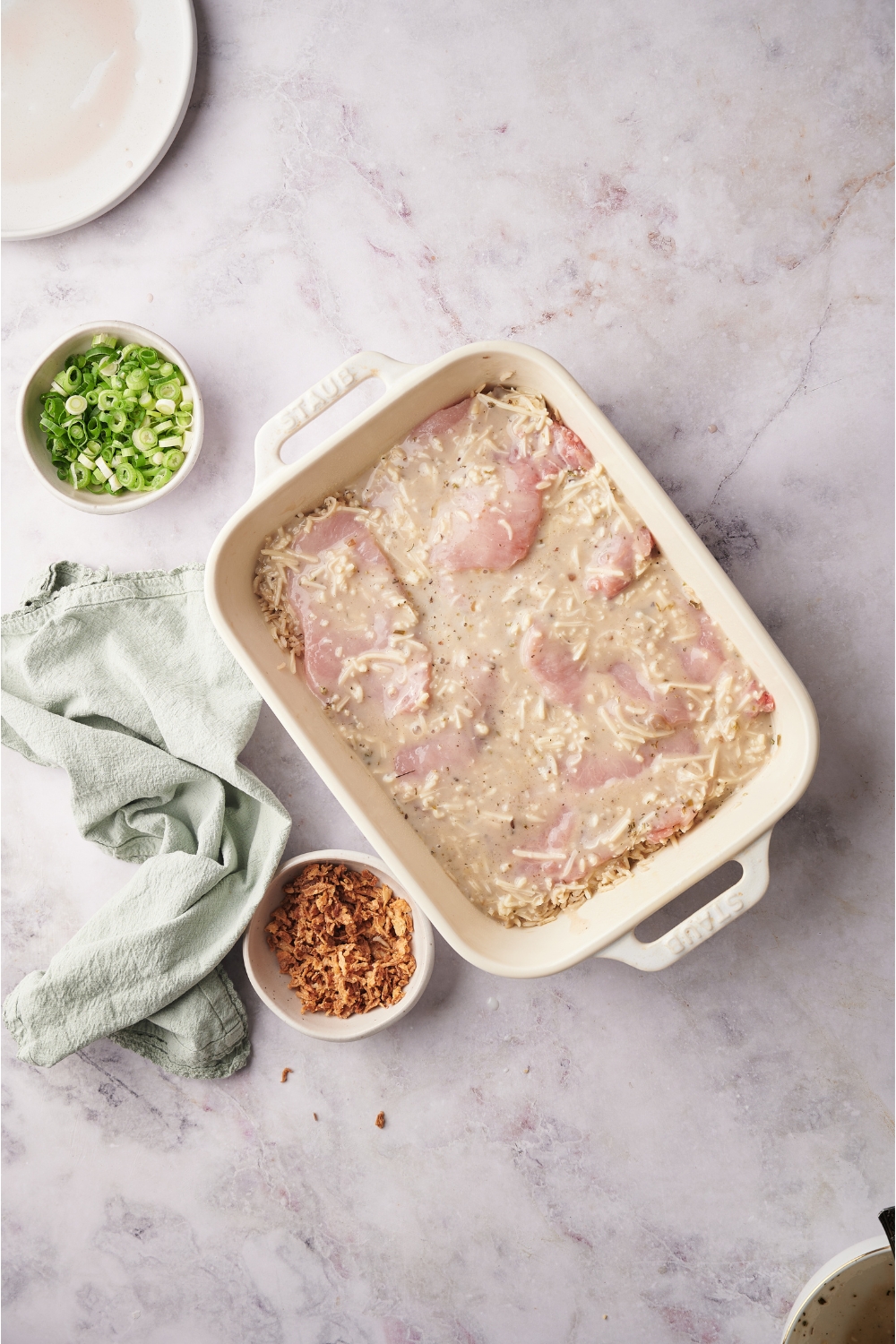 Step 1: Prep Work
First, you'll want to begin by preheating the oven to 400°F (200°C) and prepare a 9x13 inch baking dish (or something similar in size) by spraying it with the cooking spray.
Next, take out a large bowl and add the mushroom soup, milk of your choice, and Italian seasonings. Then, give it a little whisk until everything is well combined.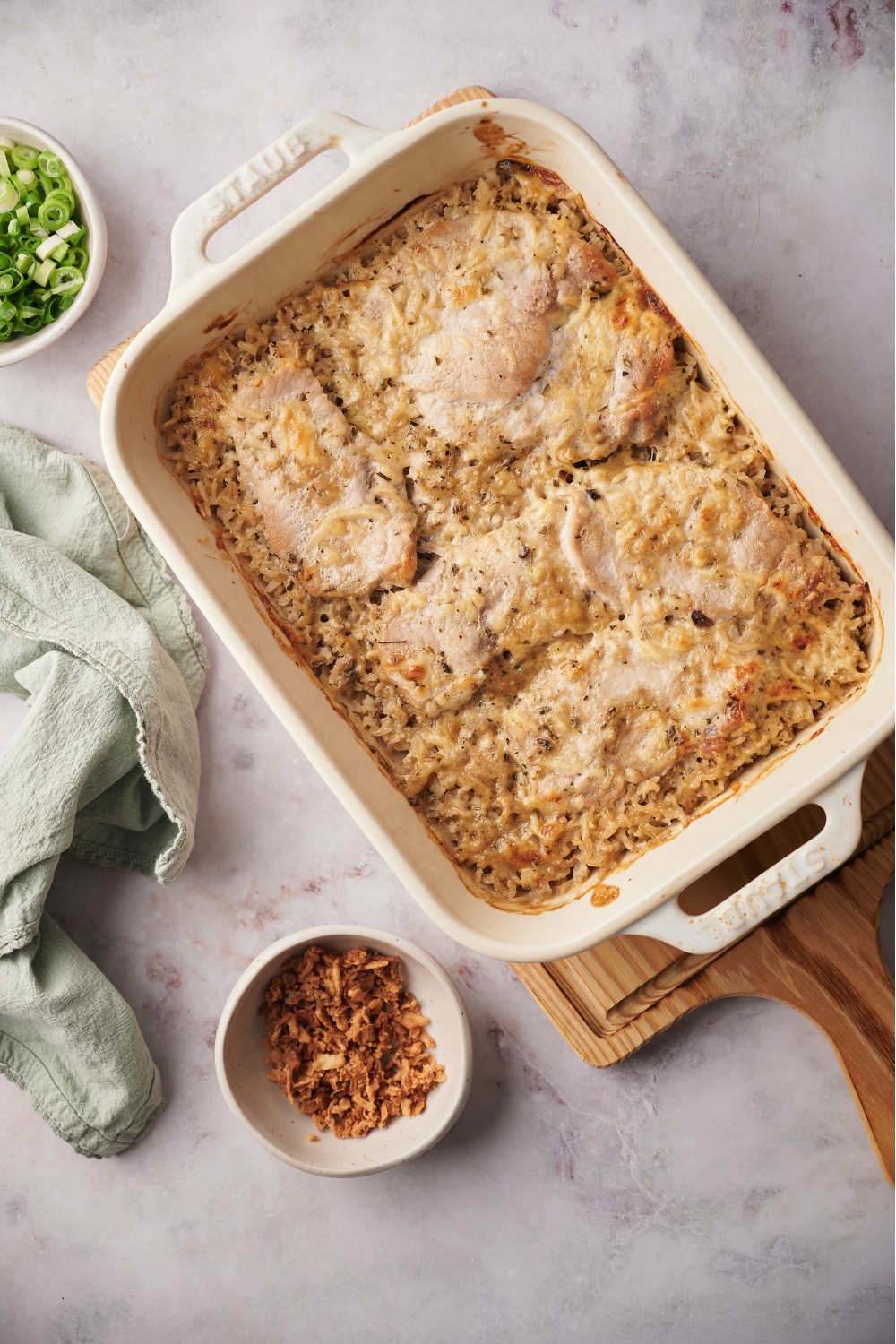 Step 2: Layer The Casserole
Now that the oven is preheated and the soup mixture is ready to go, you can add the cooked rice evenly to the bottom baking dish, followed by half of the soup mixture.
Next, season the pork chops with a little salt and pepper and layer them on top of the rice. Then, you can pour the rest of the soup mixture on top of the pork chops and sprinkle on a fourth of the cheese.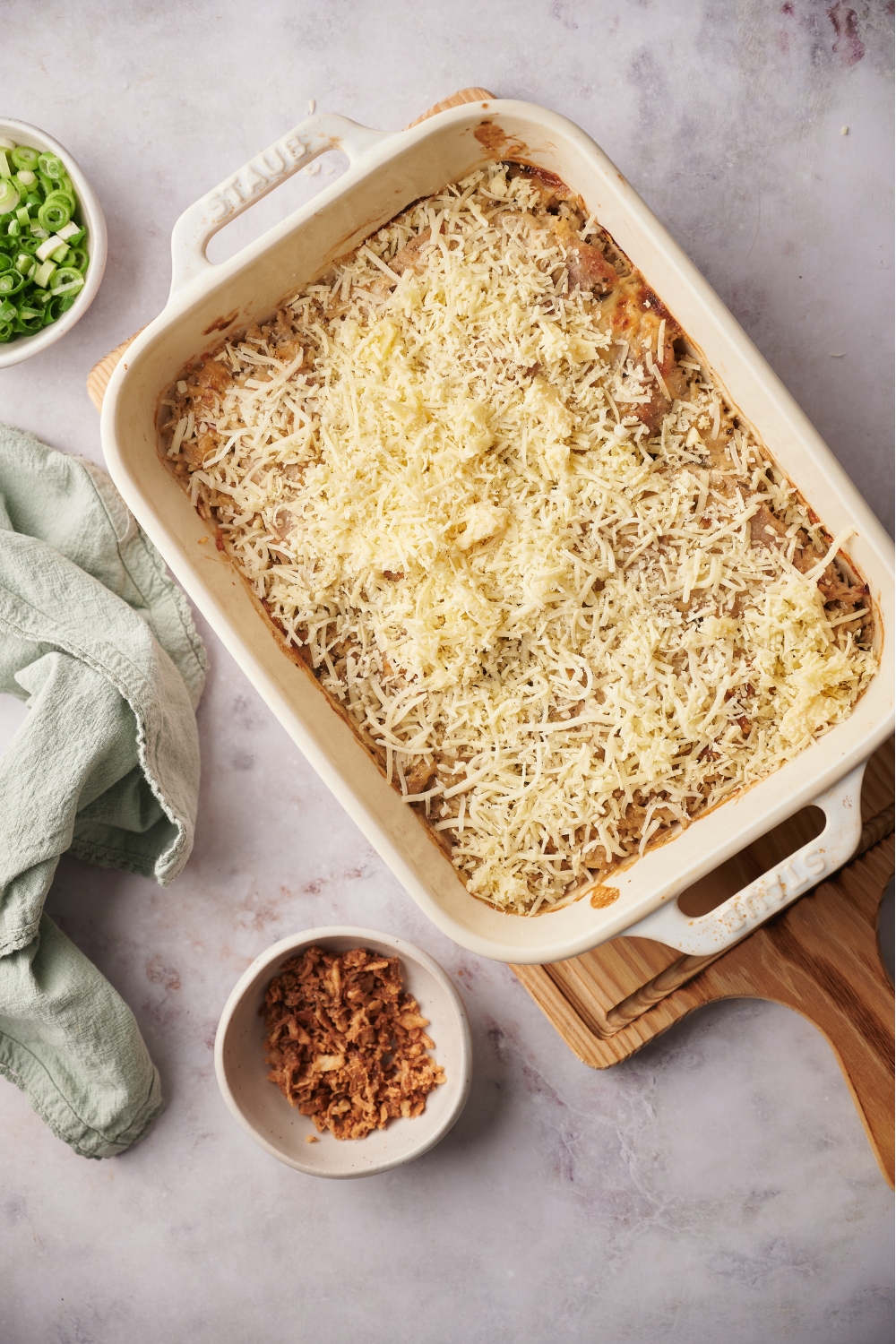 Step 3: Bake The Casserole
Put it in the oven and bake for 30 minutes or until the pork chops are nearly done cooking. Then, you can evenly sprinkle the rest of the shredded mozzarella on top, return the dish back to the oven, and continue baking until the cheese has completely melted. Once it's looking good, take it out of the oven and top it with fresh green onions and crispy French fried onions. Serve warm and enjoy!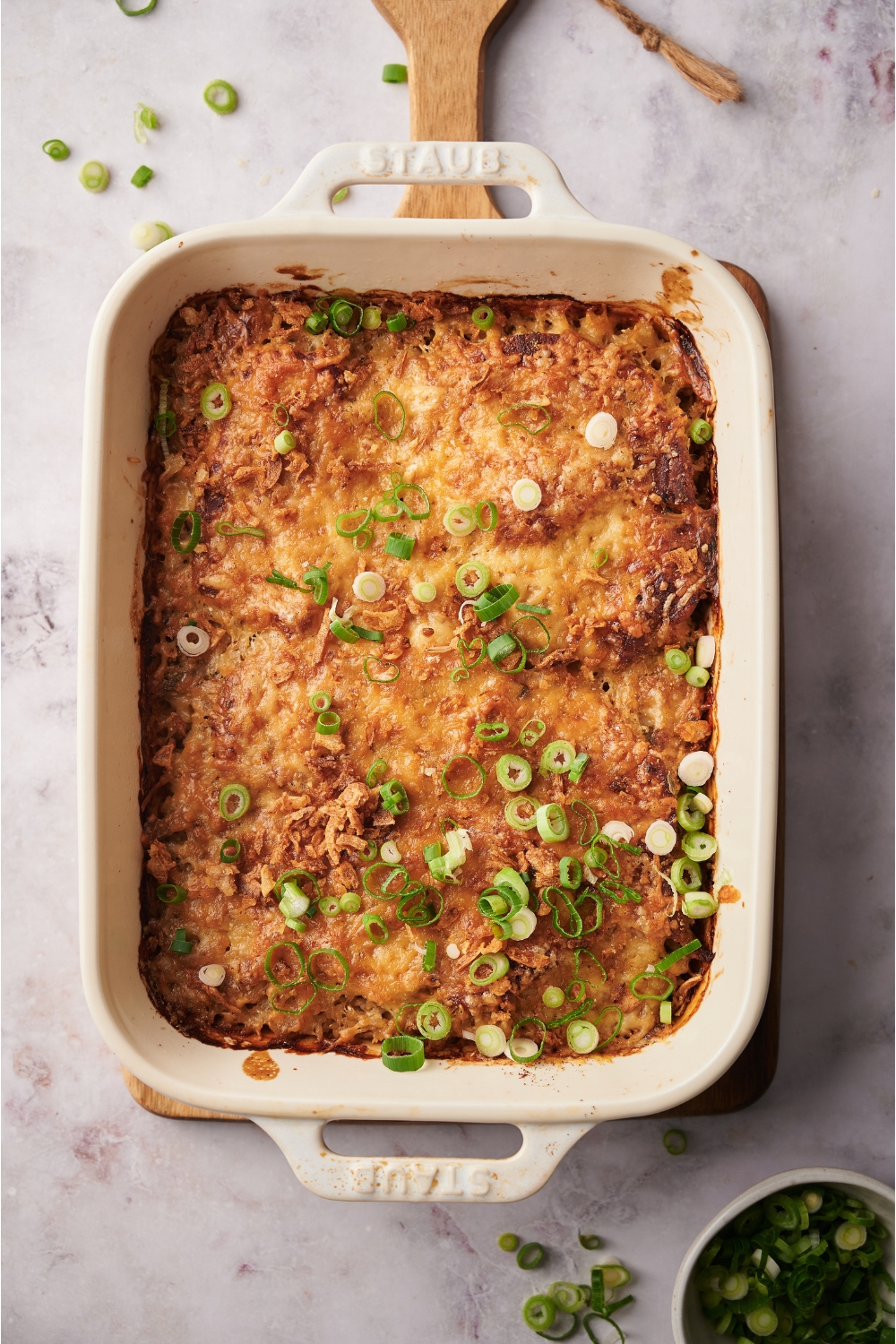 How To Store and Reheat Leftovers
This recipe for pork chop casserole will make about 6 servings. So it's really perfect for a big family dinner, and you might even have some leftovers for dinner the next day.
Speaking of leftovers, you can store them in an airtight container or put a lid on the casserole dish. Stored either of these ways, the leftovers will last in the fridge for about 3-4 days. Alternatively, if you want your pork chop casserole to last even longer, you can freeze it for about 2-3 months.
By the way, I recommend storing the leftovers without the crispy onions on top. Otherwise, they'll get soggy.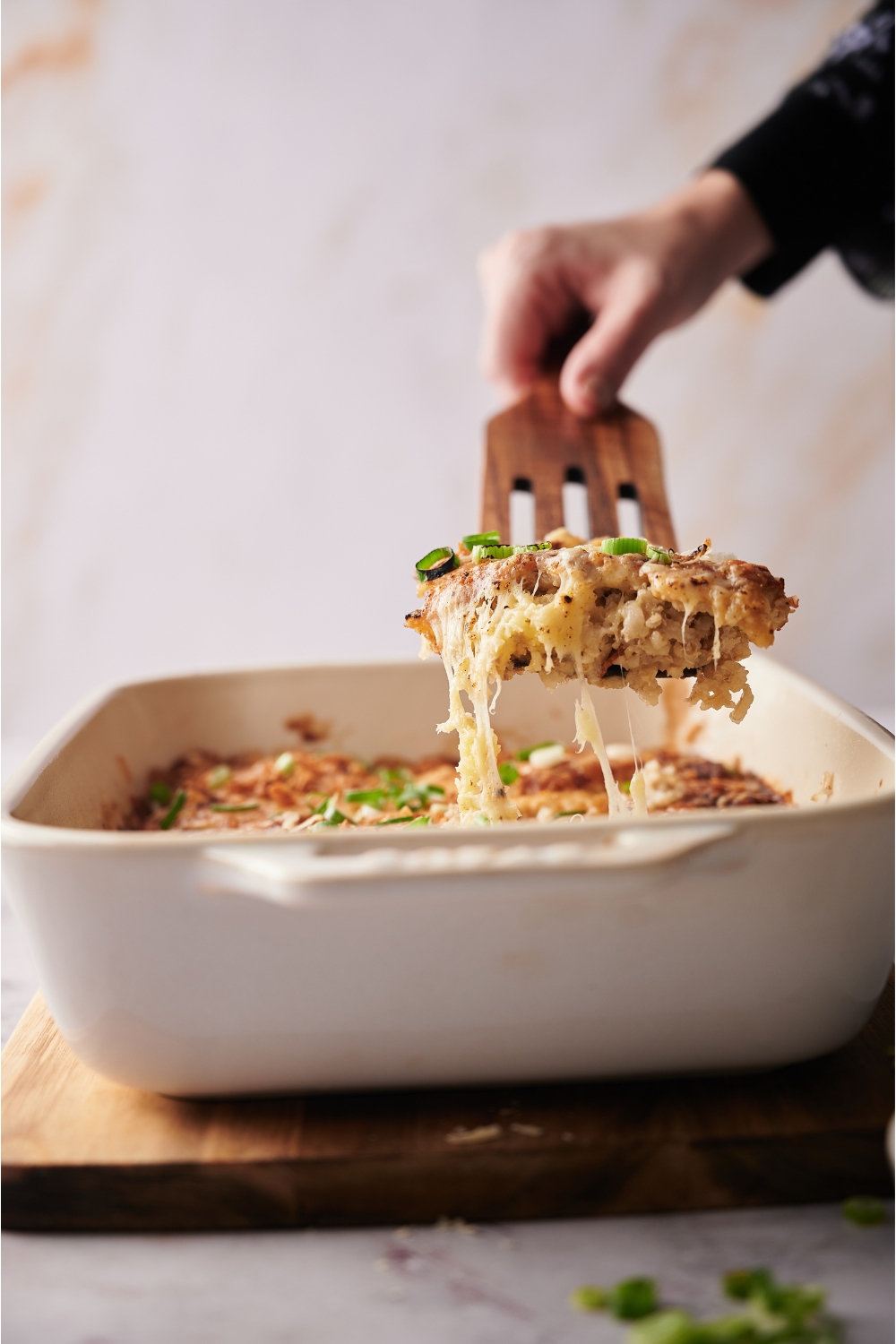 My favorite way to reheat this casserole is in the oven. Just put your leftovers back in a baking dish and cover it with foil. Warm it in the oven at 350°F for about 10-15 minutes or until the cheese melts again and the filling is warmed through. Oh, and if you're reheating the frozen casserole, you'll just need to add some more cooking time to what I suggested. Most likely, it will take 30-40 minutes.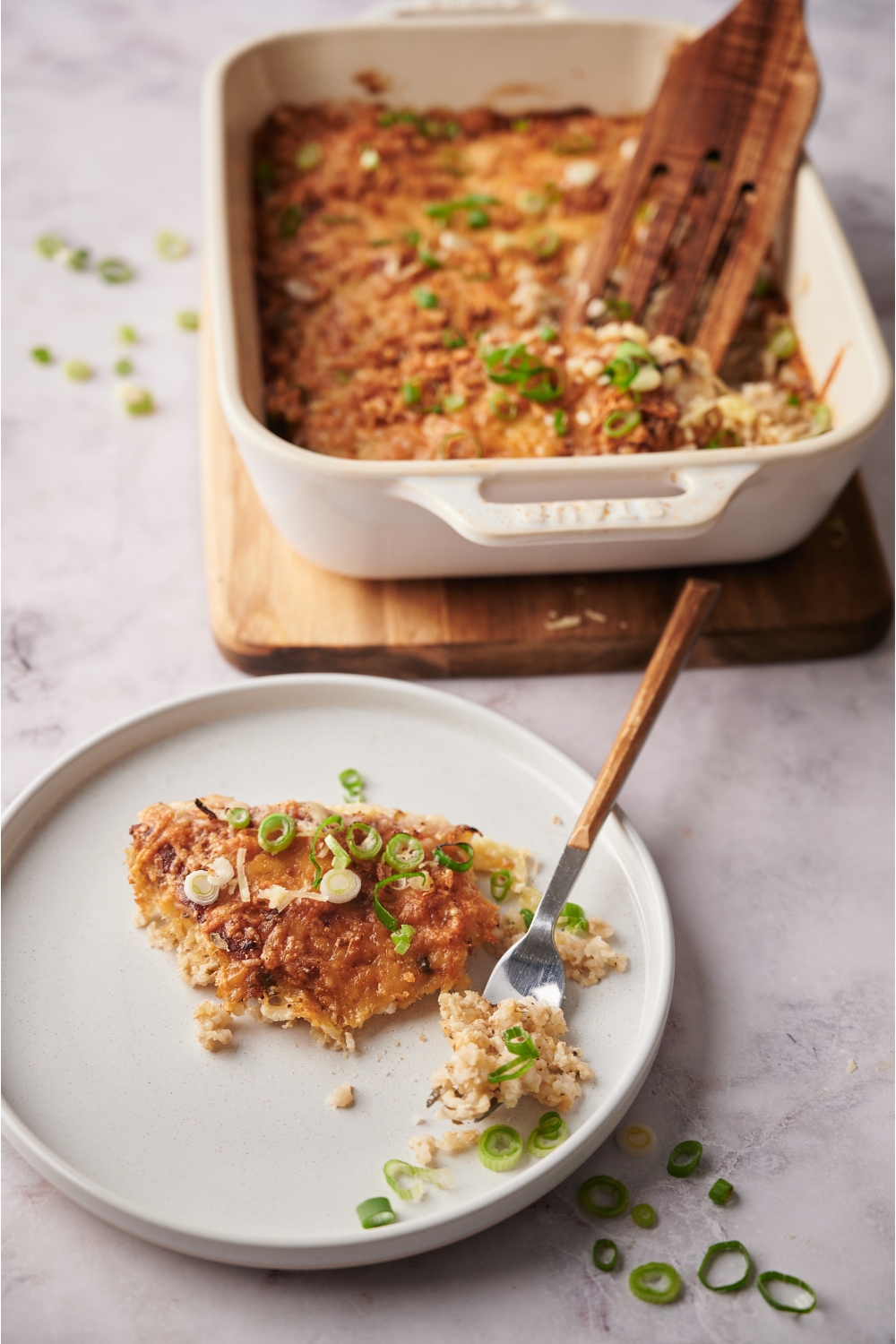 Frequently Asked Questions
Should I use boneless or bone-in pork chops for this casserole?
I like to use boneless since they cook faster and are more convenient to eat. With that said, bone-in works great too! You'll just want to add a little more baking time to make sure they cook through.
When do you know the pork chops are done?
At the end of the baking time, check the internal temperature of the chops. They should be at around 145°F when checked with a meat thermometer at the thickest part. They don't have to be exactly at that temperature since they'll cook a little more while the cheese is melting.
What can I serve with this pork chops casserole?
It's delicious with any comfort food side, like my twice baked mashed potatoes, fried potatoes, old fashioned cornbread, or corn pudding.
More Casserole Recipes
Yield: 6 servings
Pork Chop Casserole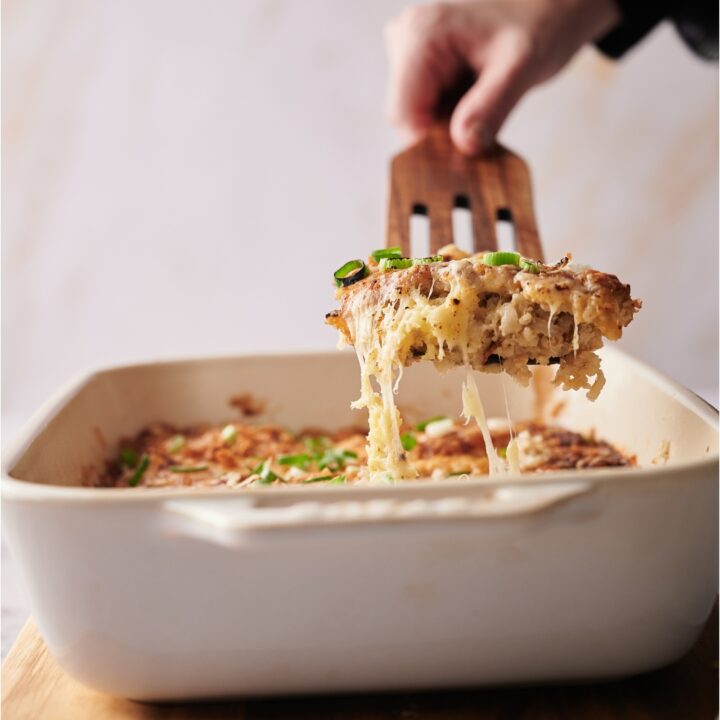 This pork chop casserole is the ultimate one-pan dish. It combines savory pork chops with rice, cheese, crispy fried onions, and a rich, creamy white sauce. Honestly, it's as good as a casserole recipe gets! 
Ingredients
1 can Cream of Mushroom Soup
½ cup Milk
1 tbsp. Italian Seasoning
2 cups Brown Rice, cooked
6 Boneless Pork Chops
1 ½ cup Mozzarella Cheese, shredded
½ cup Green Onions, chopped
½ cup Crispy Onions
Instructions
Preheat the oven to 400°F (200ºC).

Spray a baking dish with cooking spray.

Mix the mushroom soup, milk, and Italian seasoning in a bowl.

Add the rice to the baking dish and top with half of the soup mixture.

Place the pork chops arranged over the rice.

Pour the rest of the soup mixture on top and bake for 30 minutes or until the pork chops are nearly done.

Add the cheese and return to the oven until the cheese is melted.

Top with green onions and crispy onions.
Nutrition Information:
Serving Size:
1 serving
Amount Per Serving:
Calories:

300
Total Fat:

13g
Saturated Fat:

0g
Trans Fat:

0g
Unsaturated Fat:

0g
Cholesterol:

0mg
Sodium:

0mg
Carbohydrates:

16g
Fiber:

0g
Sugar:

0g
Protein:

31g