Pink Whitney is one of the most popular flavored vodkas right now. And this recipe creates the ultimate Pink Whitney drink! Light and refreshing with an enjoyable buzz, it'll quickly become your new favorite mixed drink.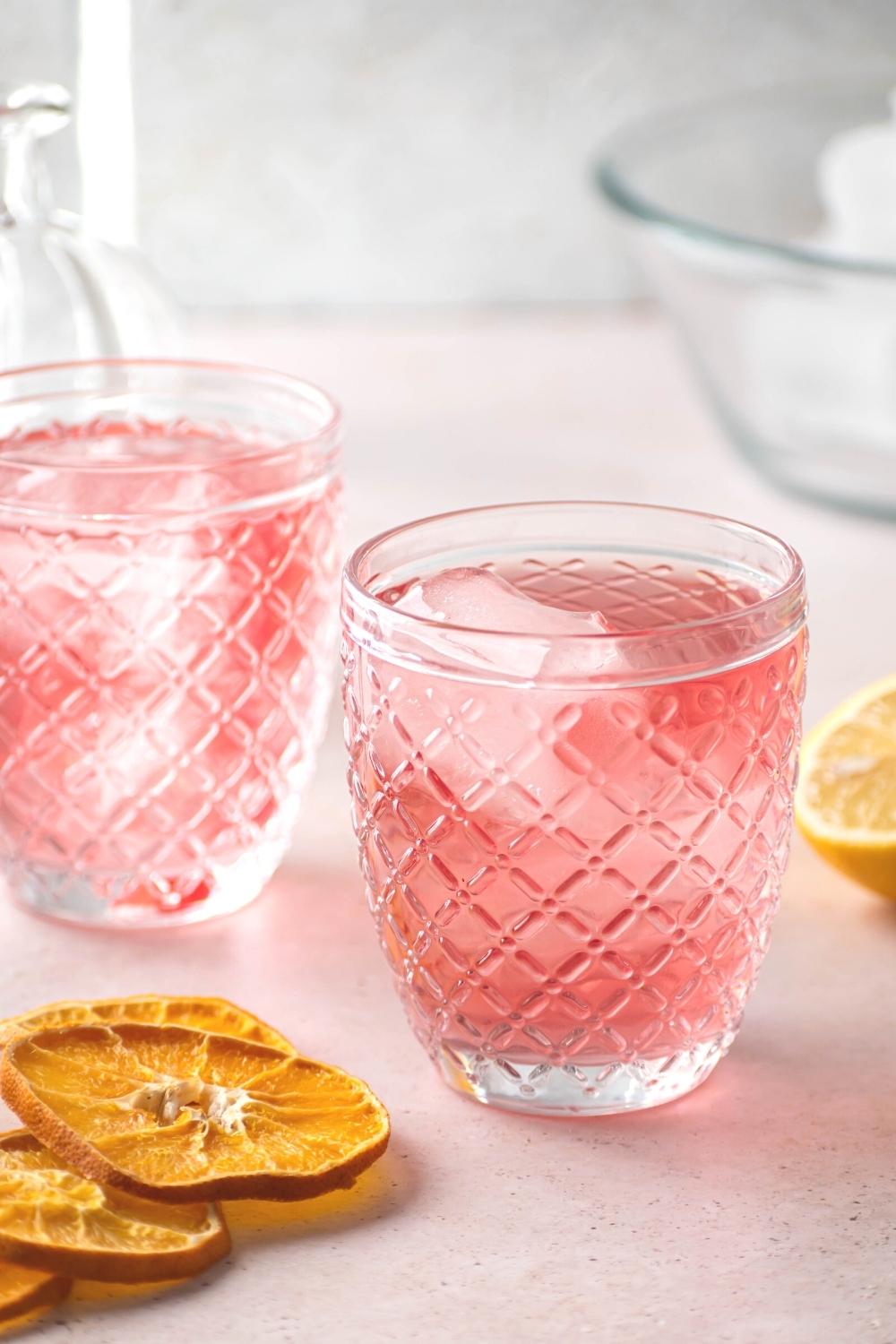 The Best Pink Whitney Drink
If you're looking for what to mix vodka with or need a new go-to drink, you've come to the right place.
Now, you may be wondering, what is Pink Whitney? If you've never heard of it, Pink Whitney is a pink lemonade flavored vodka drink by New Amsterdam Vodka, named after one of the Spittin Chiclets Podcast hosts, Ryan Whitney.
Ryan Whitney is a former NHL player who started a hockey podcast, and it's grown to be one of the biggest podcasts from Barstool Sports. So, his drink has become insanely popular over the past few years.
And since it's so tasty, I decided to make my own version. Let me tell you, my Pink Whitney drink is as refreshing as it gets. It has the perfect balance of vodka and pink lemonade for a drink that just tastes like a party.
You can whip it up in just seconds, and it's easily one of the best vodka drinks you can make if you're hosting. So, pass out a few of these bad boys to your friends, and let the good times roll!
If you really want to get the good times going, mix in a few of these liquid marijuana shots, applesauce shots, and Mexican candy shots! Or you can make my all-time favorite, this green tea shot.
Oh, and if you're looking for a snack to go with your drink, try making these Instant Pot Peanuts or Popcorn.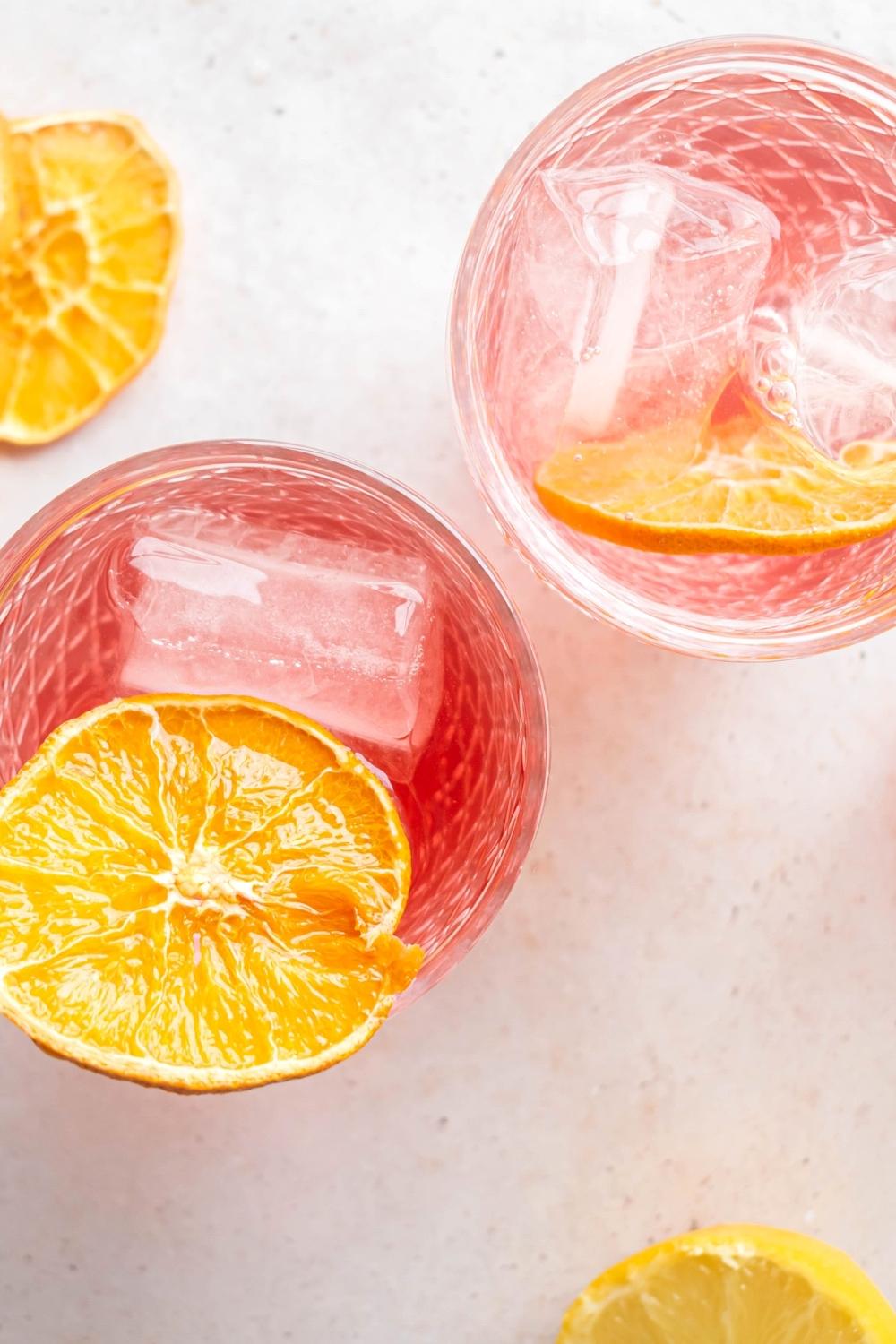 Ingredients
Vodka- you can use any kind that you want.
Pink lemonade- my favorite is the one from Minute Maid.
Lemon juice- just a slash for more lemon flavor.
Ice cubes- a couple to chill the drink.
Dried lemons- for garnish if you're feeling extra.
Flavor Variations To Try
Mixing the vodka with pink lemonade is a great drink in itself, but there are so many ways you can add a little twist for others.
Here are my favorite additions for more pink lemonade vodka drinks:
Splash of Sprite & Cranberry Juice

Splash of Iced Tea

Splash of Tonic Water

Splash of Orange Juice

Half Vodka, Half Malibu Rum

Adding a bunch of ice cubes and blending everything up to make a pink vodka lemonade slushie
All of these variations are awesome and make for a great change-up. Just follow the original recipe and add any of these suggestions above that you want to it!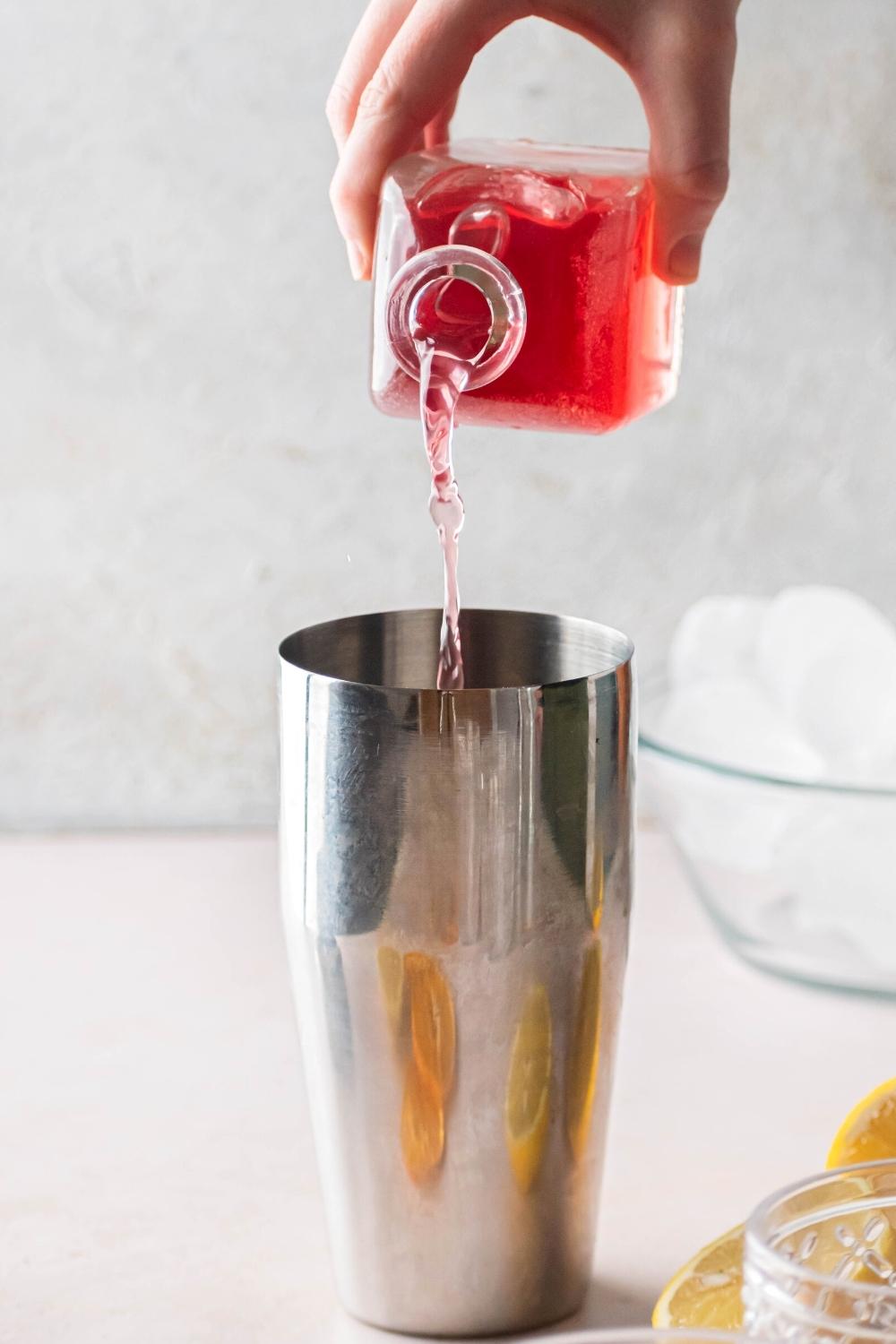 How To Make Pink Whitney
Step 1: Mix the drink. Take out a cocktail shaker or any large cup that you can seal on a lid. Add in the vodka and pink lemonade of your choice and anything else if you're making one of the variations. Top it off with a splash of lemon juice and give it a couple of good shakes to mix everything together.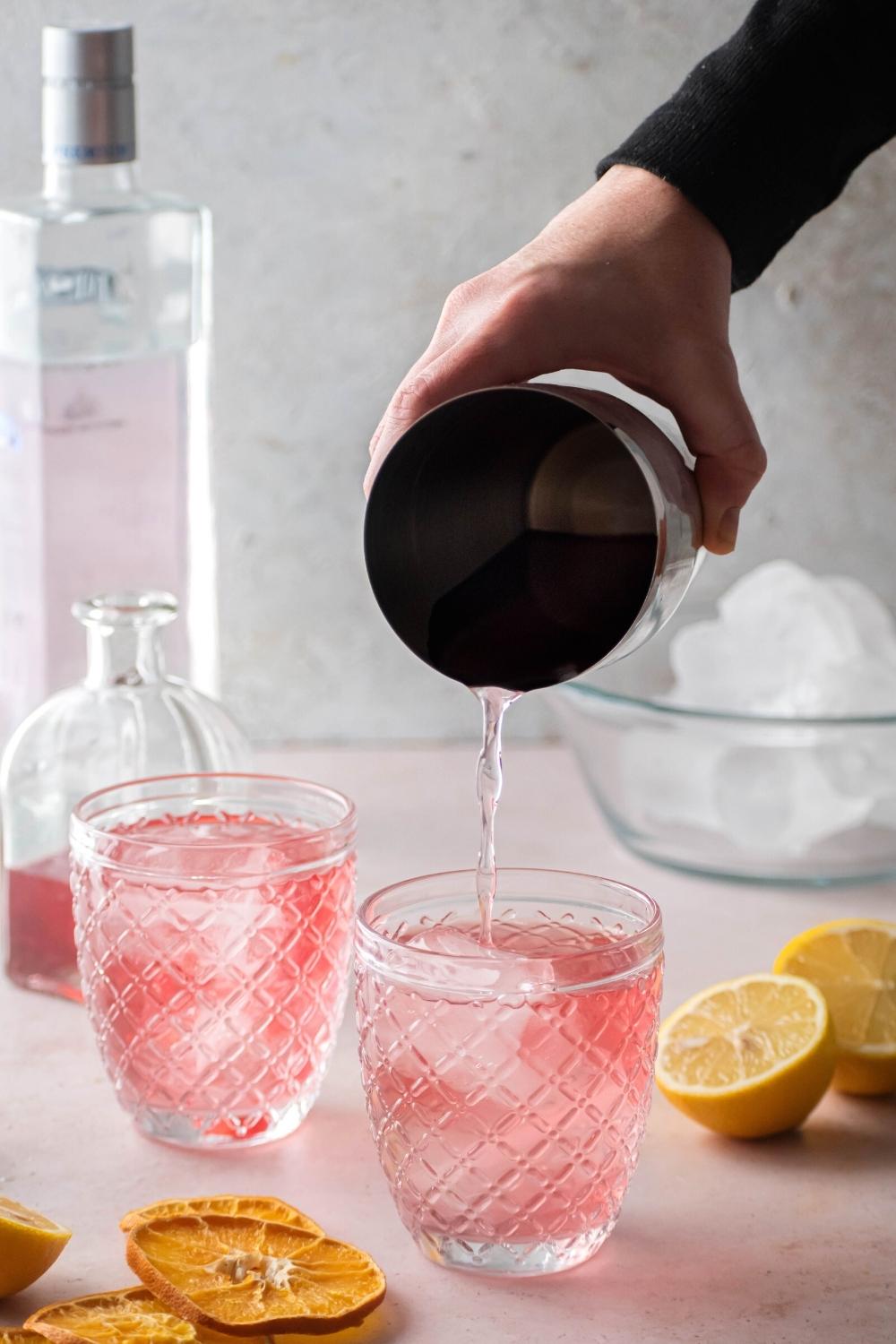 Step 2. Serve: Once it's mixed, put some ice cubes in a glass and pour in your drink. Then garnish with lemon slices and you can add a stirring straw to complete the look. By the way, this recipe will make two drinks, so you'll have another waiting for you right after you finish it off! The best part, if you want to make one for a friend or need to whip up a few more, you can do it in seconds. Enjoy!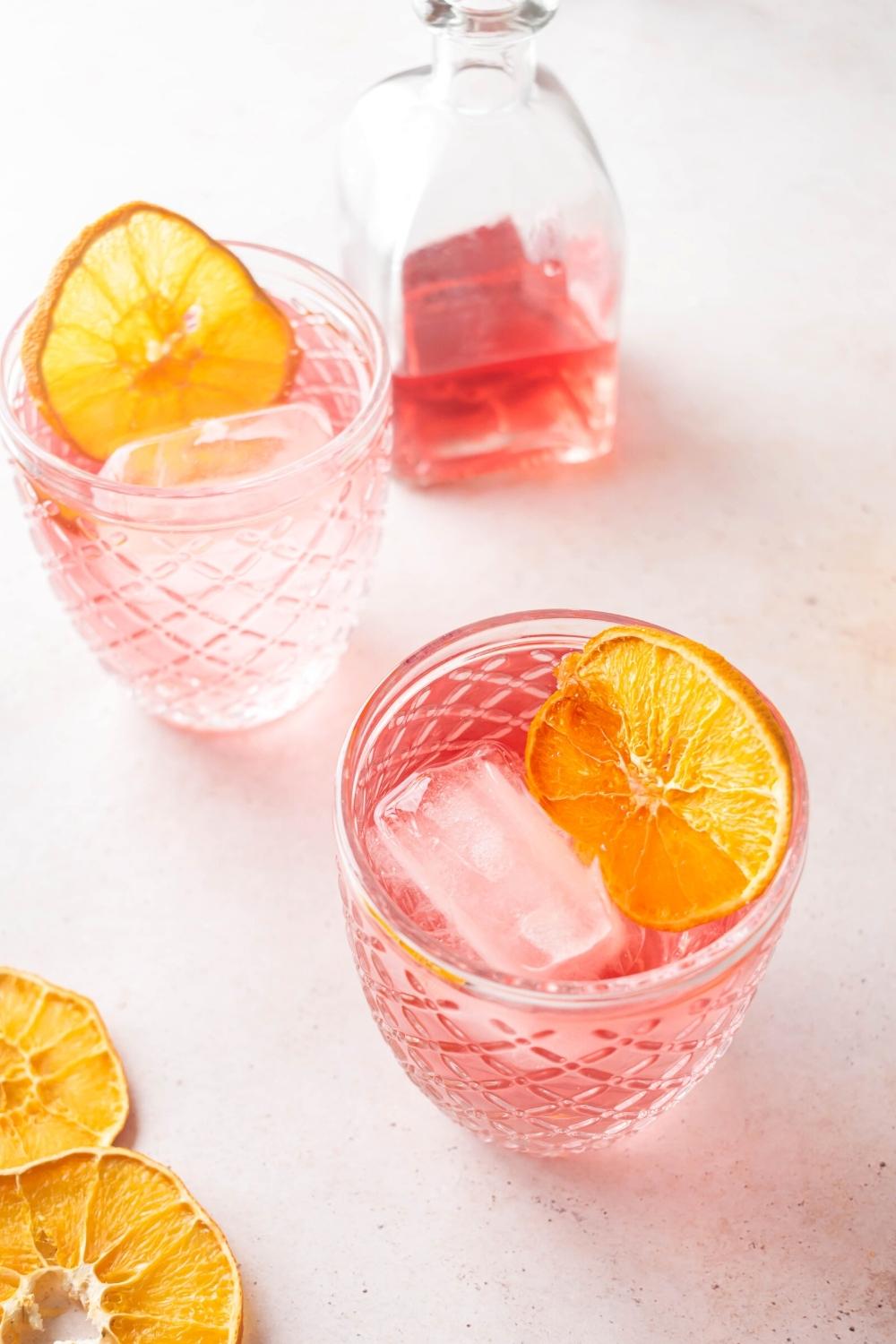 My Final Thoughts
If you've wondered what is so special about Pink Whitney, now you know.
Combining pink lemonade and vodka seems so simple, yet it's such an underrated mixed drink that is out of this world good. It's light, refreshing, and has the perfect balance of mixers with vodka - it really doesn't get much better than this! But this spicy margarita comes pretty darn close.
Anyway, I hope you enjoy this drink as much as my friends and I do. If you try it, leave a comment below and let me know your thoughts.
Oh, and by the way, if you're in the mood for more of a dessert cocktail, our mudslide recipe, and espresso martini are always a hit. So, definitely give those a go if you love chocolate and coffee. Cheers!
Yield: 2 servings
Pink Whitney Drink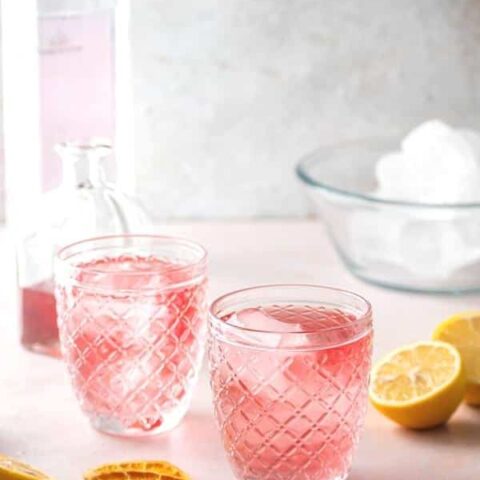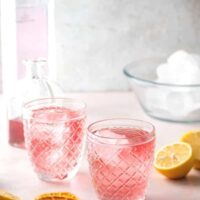 Pink Whitney is one of the most popular flavored vodkas right now. And this recipe creates the ultimate Pink Whitney drink! Light, refreshing, and an enjoyable buzz, it'll quickly become your new favorite mixed drink.
Ingredients
2 oz. (1-2 Shots) Vodka
6 oz. (¾ Cup) Pink Lemonade
Splash of Lemon Juice
A Few Ice Cubes
Dried lemons to garnish
Instructions
Add the pink lemonade, vodka, lemon juice (and anything else you want from the variation suggestions) into a cocktail shaker or large cup with a sealable lid.

Give it a couple of shakes to mix everything.

Pour in two glasses with ice cubes and them off with a dried lemon slice. Cheers!
Nutrition Information:
Serving Size:
1 serving
Amount Per Serving:
Calories:

100
Total Fat:

0g
Saturated Fat:

0g
Trans Fat:

0g
Unsaturated Fat:

0g
Cholesterol:

0mg
Sodium:

0mg
Carbohydrates:

25g
Fiber:

0g
Sugar:

0g
Protein:

0g