This frozen turkey recipe in the crock pot is the most convenient way to cook turkey breast. It's delicious too! The turkey comes out super tender and juicy, made even better with homemade gravy.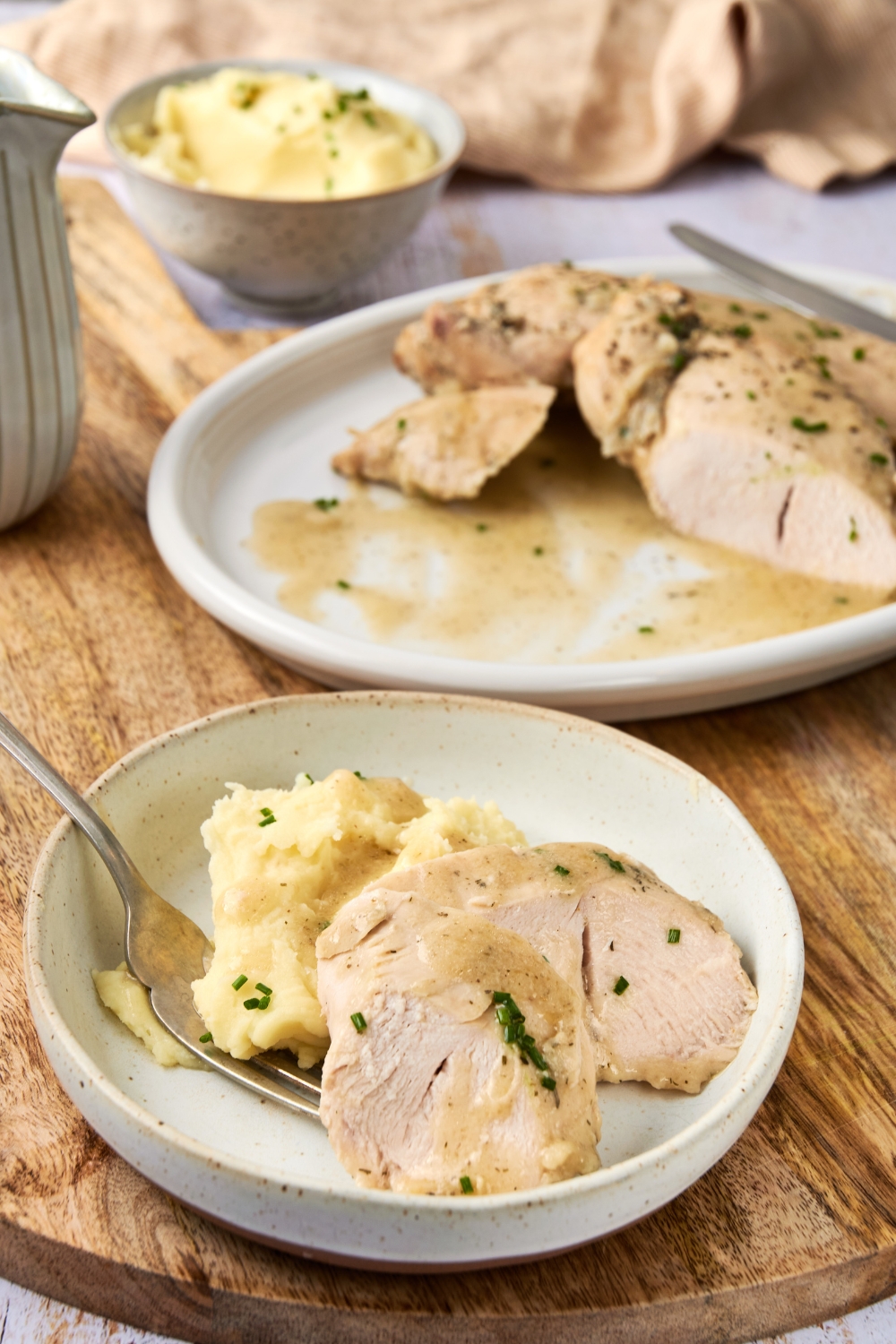 If you've ever hosted Thanksgiving or had to cook an entire turkey, then you know how time-consuming and hard it is. Not to mention that sometimes you don't need a whole turkey. My family is on the smaller side, and we make this frozen boneless turkey breast in the crock pot every year instead.
This slow cooker turkey breast recipe allows you to bypass brining, basting, and ensuring it's cooked through. Even though it's a simple recipe, it produces the juiciest tender turkey ever. Smothered with savory gravy, everyone won't be able to get enough!
Why You'll Love This Slow Cooker Turkey Breast Recipe
You don't have to thaw it. The slow cooker slowly heats up and thaws the turkey. While most recipes require starting with a thawed turkey breast, this one does not, so it's even more convenient!
It's effortless. Needless to say, slow cooker recipes are the best when it comes to cooking a meal you just don't have the time for. The holidays can be such a busy time. Whether you're hosting the extended family or trying to spend some quality time with your immediate family, the last thing you want is to be taken out of the present moment to check on the turkey. So this recipe is a game-changer!
Guaranteed juicy meat. The homemade turkey gravy that the meat cooks in helps to cook the turkey breast to perfection. It adds moisture along with flavor and results in a super tender and juicy turkey.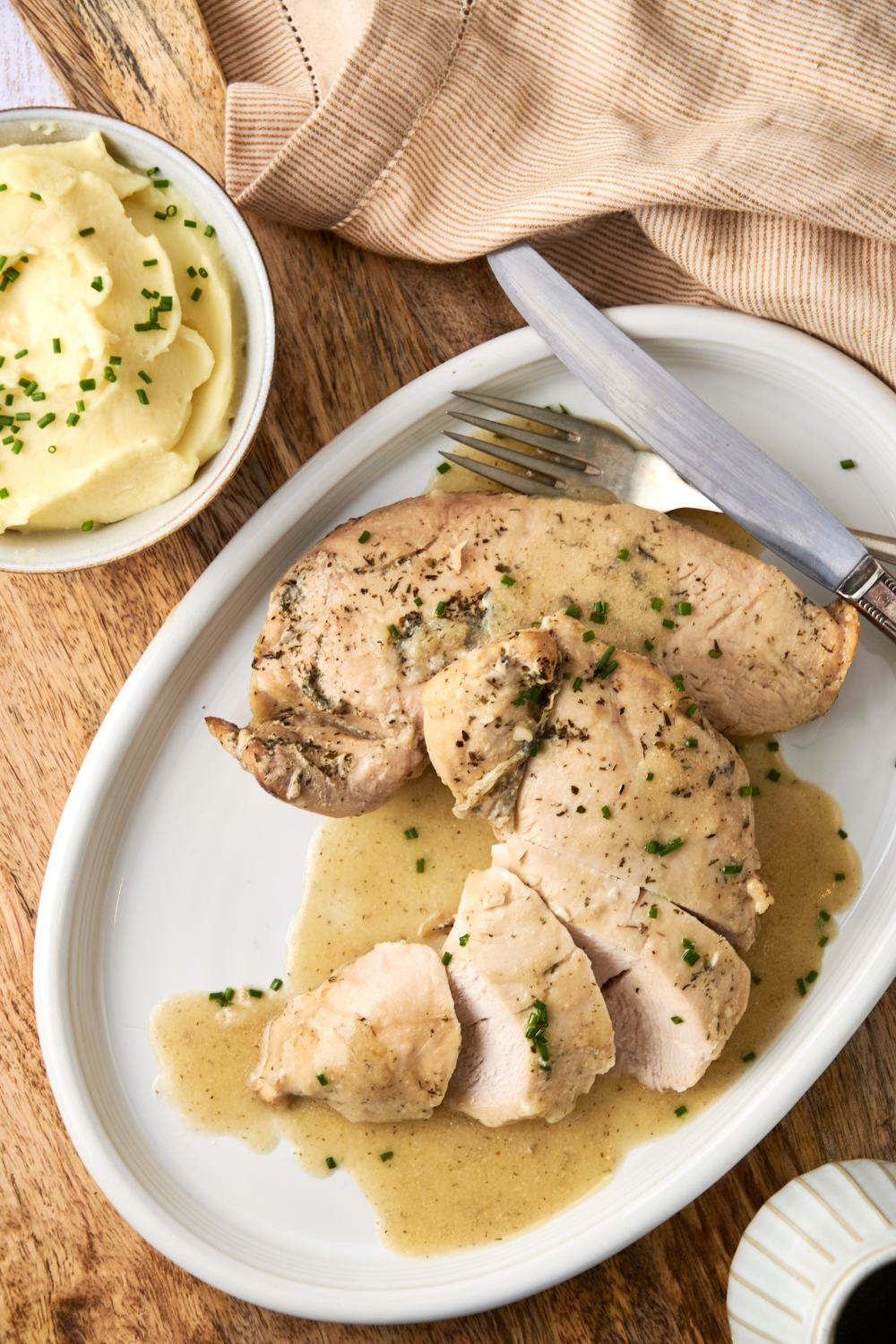 Ingredients Needed
Frozen boneless turkey breast- the star of the show in this recipe. I love to use the butterball turkey breast.
Butter- blends the ingredients together to make a smooth, buttery gravy.
All-purpose flour- helps to thicken the gravy.
White wine- I recommend a dry white wine like Sauvignon Blanc or Pino Grigio.
Chicken broth- an essential savory addition. You can use turkey broth, but I think the chicken broth actually gives it a better flavor.
Herbs de Provence- this blend is the key to the irresistible flavor, but feel free to use your own seasoning blend if you prefer.
Salt and black pepper- enhance all the savory spices.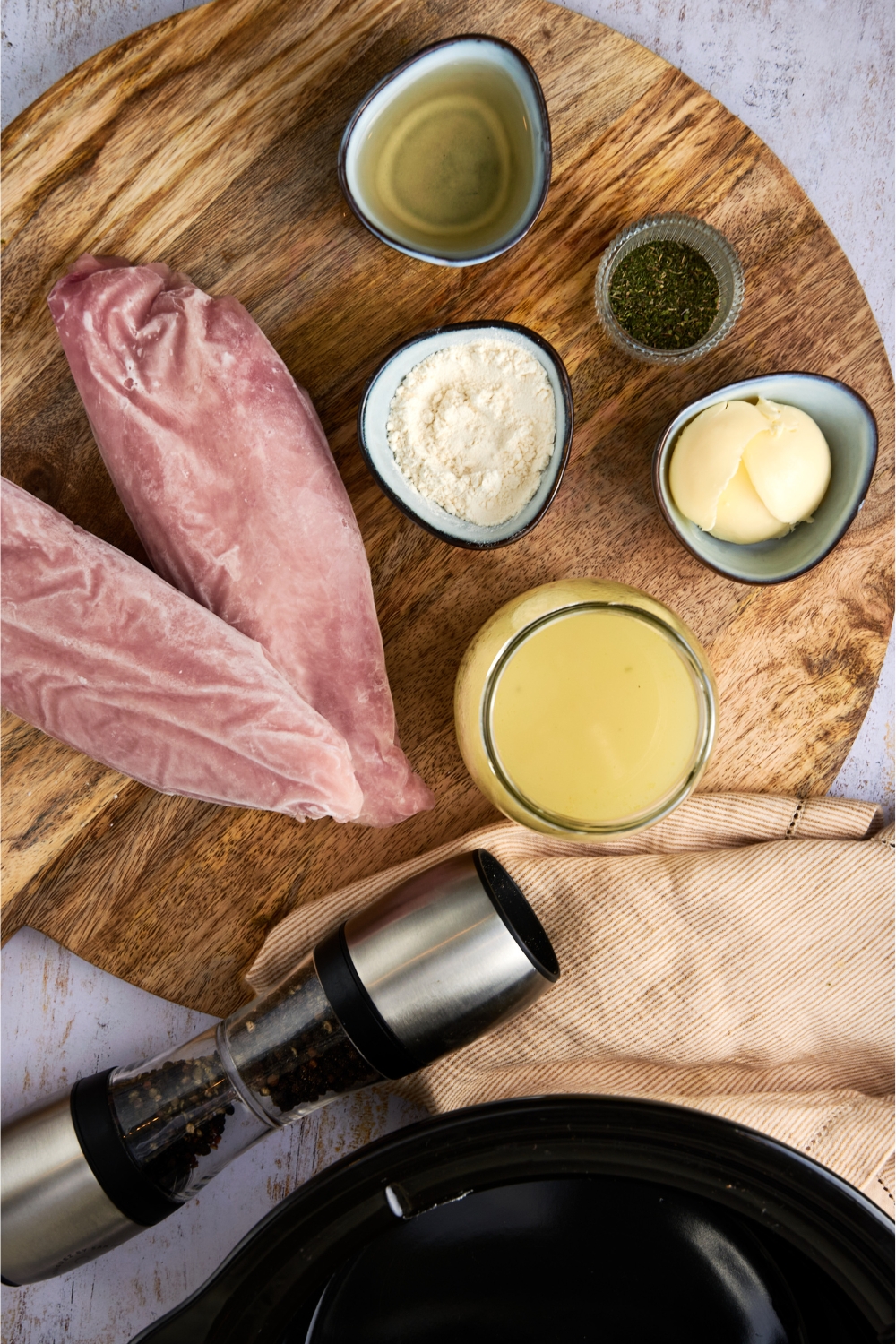 How To Make Slow Cooker Turkey Breast
Step 1: Prep work. Place the frozen turkey breast into your crock pot.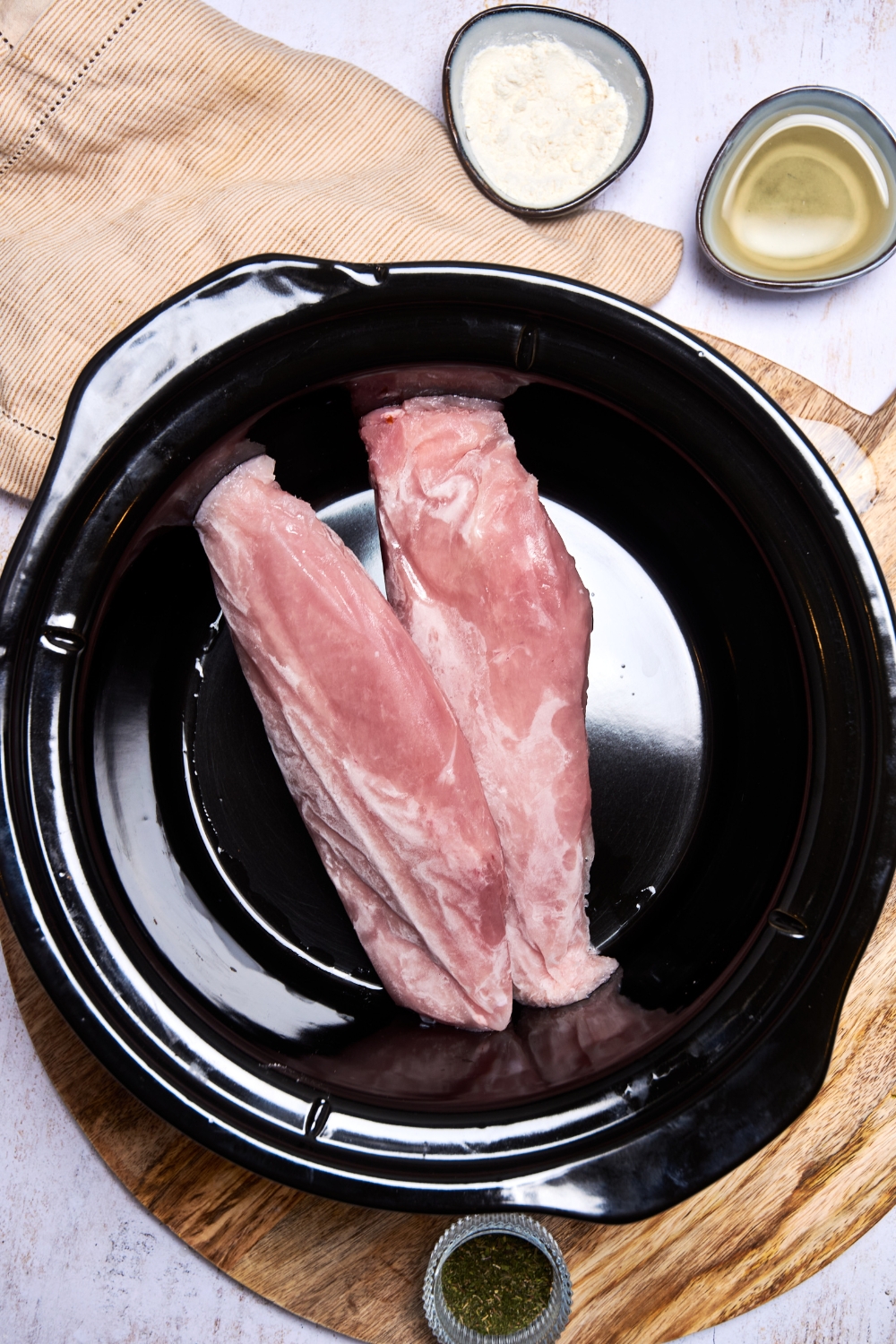 Step 2: Make the gravy sauce. In a small microwave-safe bowl, mix the butter, wine, and broth. Add the flour and microwave it for one minute. Add the seasonings and herbs to the butter mixture, give it a stir, and pour it over the turkey breast.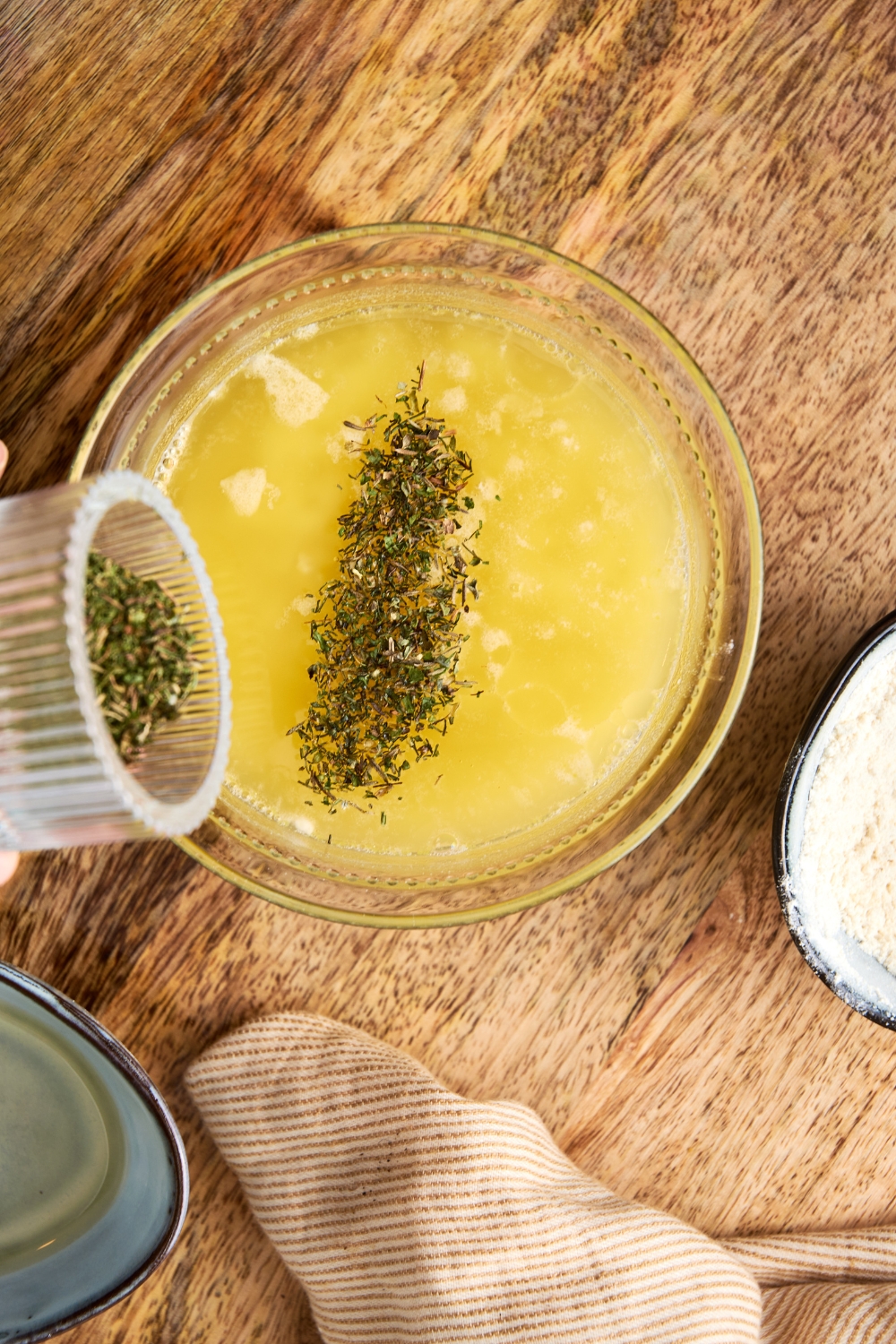 Step 3: Cook. Cover the crock pot and cook on low power for 8 hours. Depending on the weight of your turkey, you may need to cook it for a bit longer. You'll want to check the internal temperature with a meat thermometer towards the end of cooking. If it has reached 165°F, it's cooked.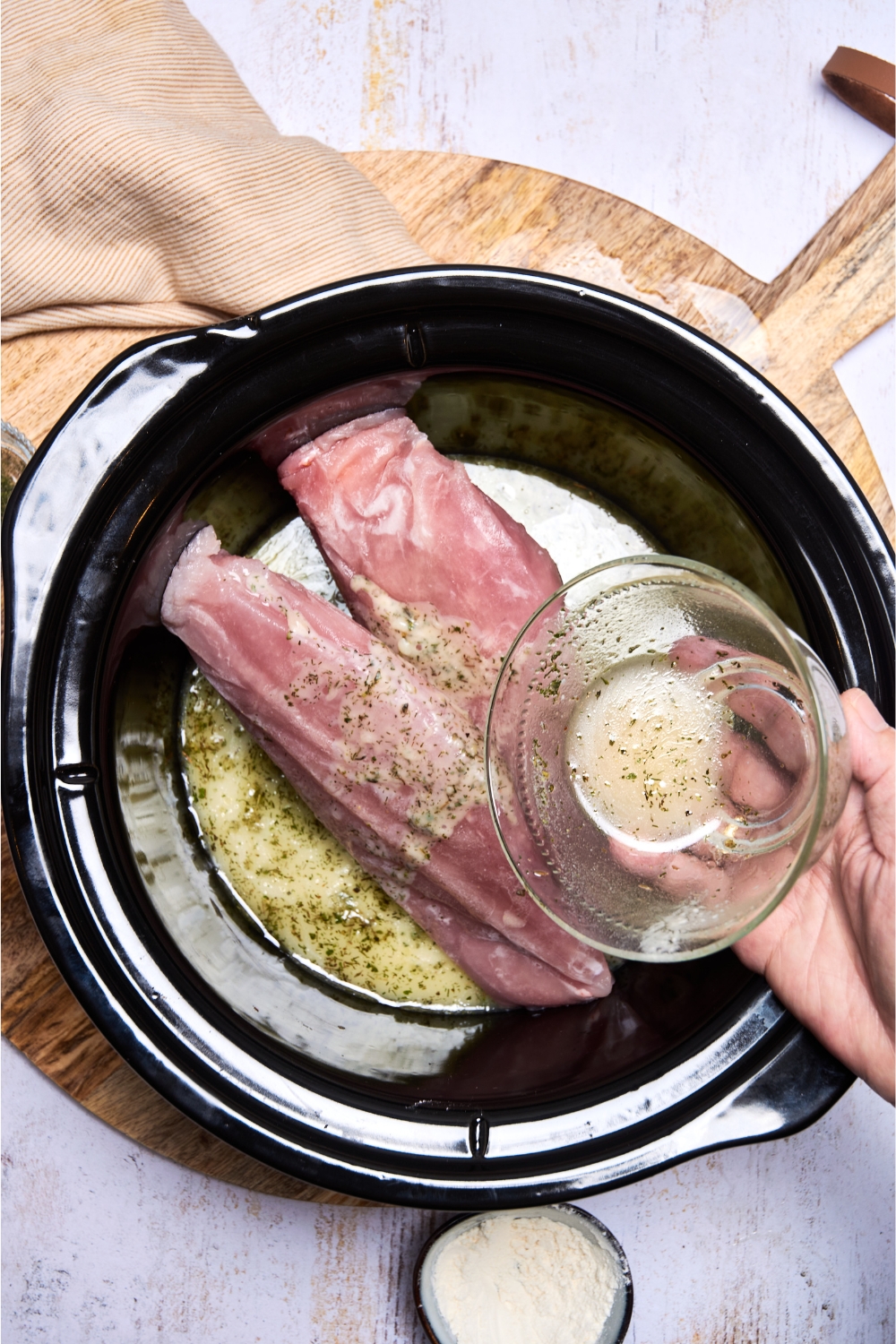 Step 4: Finishing touches. Carefully transfer the cooked turkey breast to a cutting board. If it's wrapped in twine, use kitchen scissors to cut it off. Then remove and discard any visible fat from the turkey meat. Strain the gravy into a gravy boat to discard any excess fat from cooking. Serve on a plate smothered in gravy with any other sides you want. Enjoy!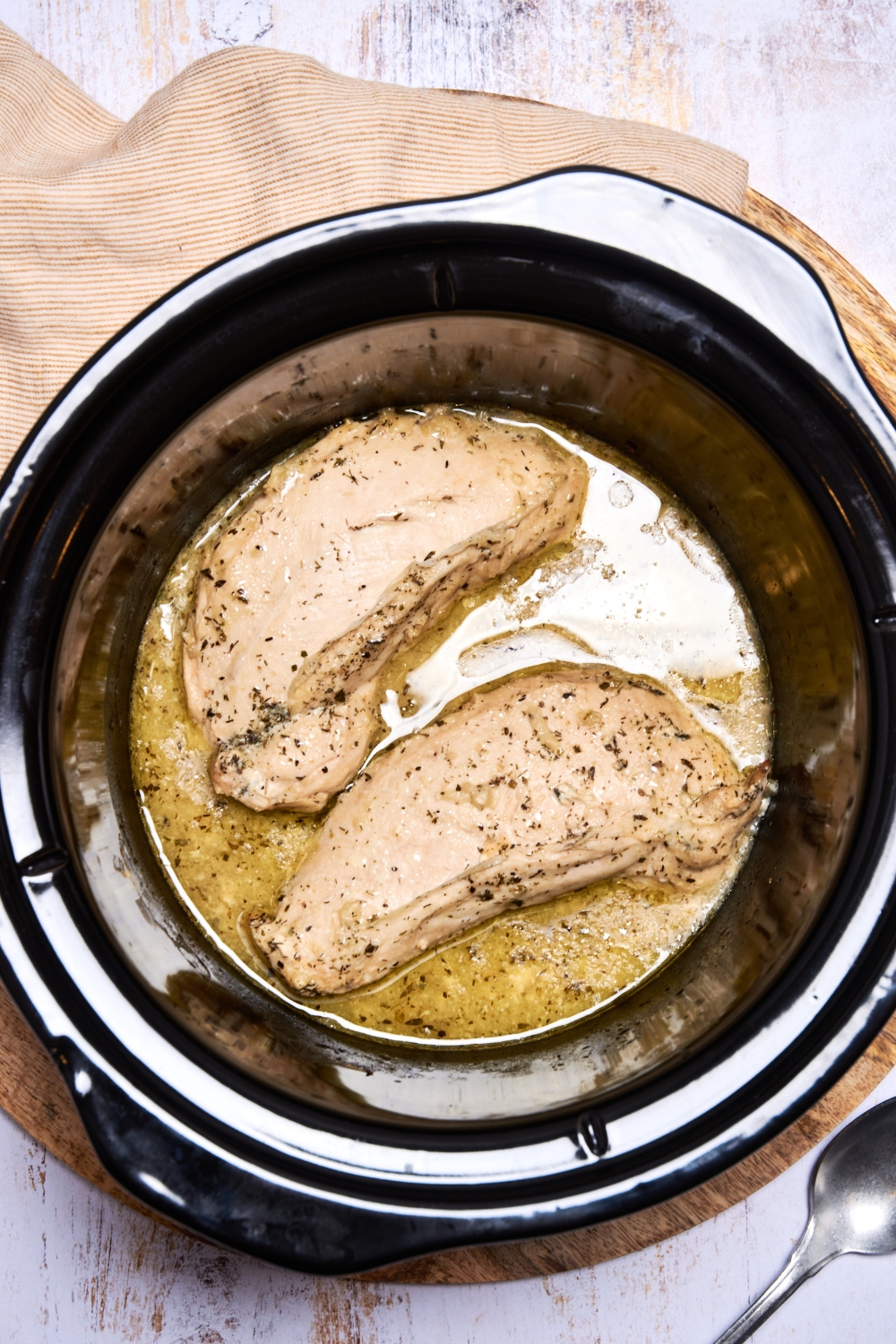 Storage Instructions
If you end up with any leftovers, you can store the turkey and gravy in an airtight container in the fridge for about 4 days. I don't recommend freezing the leftovers since they were cooked from frozen. The leftover turkey is delicious in my turkey pot pie with biscuits!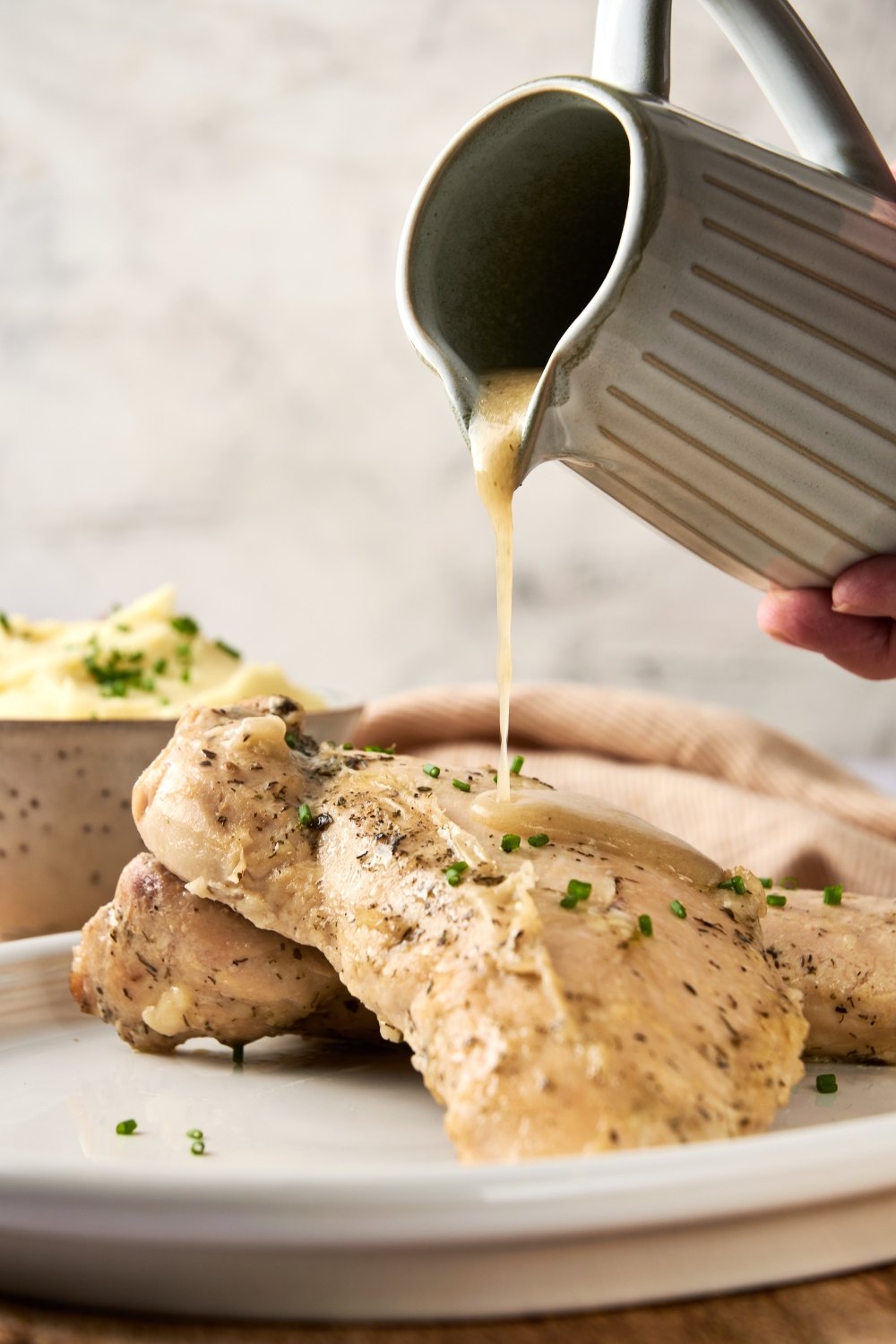 Frequently Asked Questions
What can I serve with crockpot turkey breast?
It's delicious with this stovetop stuffing, these cheesy mashed potatoes, and this Jiffy corn casserole for the ultimate Thanksgiving feast! It also goes well with things like these crack green beans and Vidalia onion casserole.
Can I cook bone-in turkey breast in the crockpot?
Yes! The cooking time may vary slightly from this recipe. If you use the same weight as this recipe calls for, follow the same cooking time, check to make sure it's cooked through, and add extra time if needed.
Can I cook frozen turkey meat?
Yes! It is safe and possible to cook turkey meat from frozen. I think the best way to cook it is using the crock pot. Slow-cooking frozen turkey breasts with this recipe results in tender and juicy turkey every time.
Can I make this recipe with thawed turkey?
Yes, you totally can! Follow this exact recipe and just cook the turkey for a little less time. About 6 hours instead of 8 at low power will do the trick!
More Crock Pot Recipes
Yield: 8 servings
Crock Pot Frozen Turkey Breast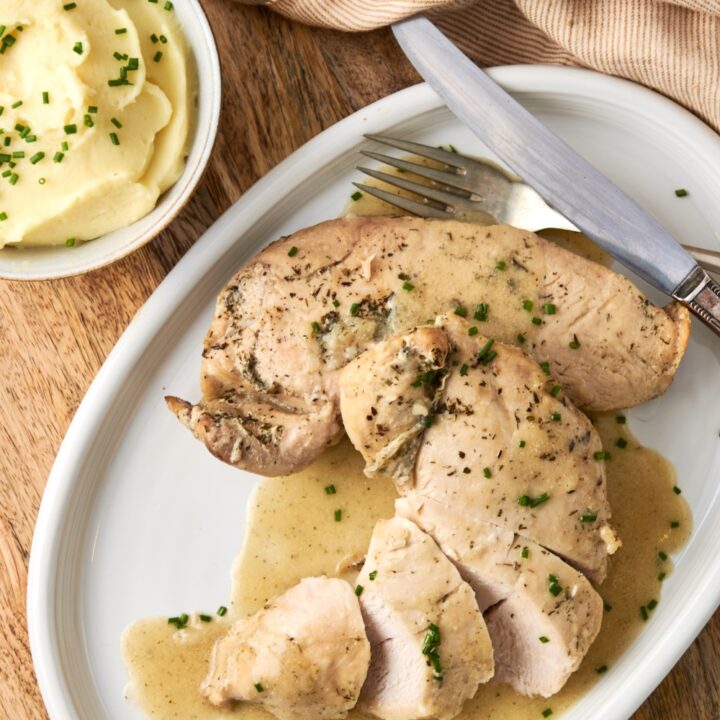 This frozen turkey recipe in the crock pot is the most convenient way to cook turkey breast. It's delicious too! The turkey comes out super tender and juicy, made even better with homemade gravy.
Total Time
6 hours
10 minutes
Ingredients
2-3 lbs.  frozen boneless turkey breast
4 tablespoon butter, melted
2 tablespoon all-purpose flour
½ cup dry white wine
1 cup chicken broth
1 ½ teaspoon salt
1 teaspoon Herbs de Provence
½ teaspoon black pepper
Instructions
Place the frozen turkey breast into your Crock Pot.

In a small bowl, mix butter, wine, and broth.

Add the flour and microwave for one minute.

Pour the wine mix over the turkey breast and add the herbs seasoning.

Cover with the lid and cook on low power for 8 hours (you can also cook on high power for 4 hours, but I think it turns out better cooked low and slow).

Carefully remove the turkey breast from a cutting board. Use kitchen shears to gently cut away the twine if there is any. Also, remove and discard any visible fat.

Strain the gravy and discard any fat that might be floating in it.

Serve the turkey with gravy poured on top.
Nutrition Information:
Serving Size:
¼ lbs.
Amount Per Serving:
Calories:

222
Total Fat:

8.7g
Saturated Fat:

5.2g
Trans Fat:

0g
Unsaturated Fat:

0g
Cholesterol:

81mg
Sodium:

1324mg
Carbohydrates:

2.8g
Fiber:

0.1g
Sugar:

0.3g
Protein:

29.9g