This baked haddock recipe consists of tender and flakey fish coated in a seasoned, crispy breading that is just to die for. It's honestly just so good, and so easy to make. In fact, 5 minutes is all you need to prepare this baked haddock, then the oven takes care of all of the cooking.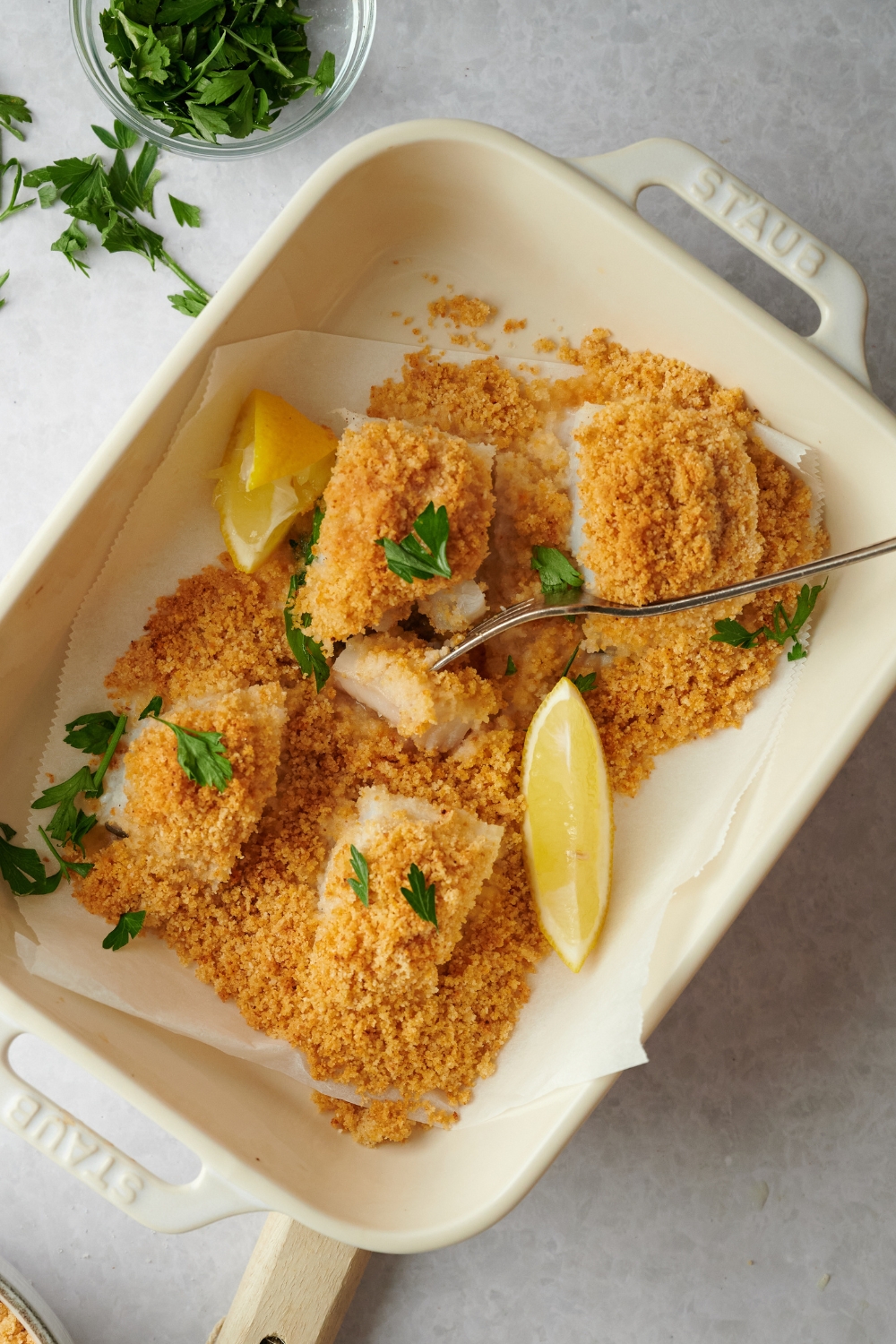 The Best Baked Haddock
This baked haddock tastes as if it came straight from a restaurant. It has a perfectly tender and flaky texture and a garlicky, buttery flavor. Plus, the breading on it is as crunchy as could be.
Gah, it's just so good! I'll even go as far as saying that this might just be the best fish fillet recipe you ever make
Plus, along with being delicious, this oven baked haddock is really easy to make too. The entire recipe takes under 30 minutes from start to finish to whip up. Not to mention, the only work you really are responsible for is breading the haddock fillets. Then, the oven does all of the heavy lifting/cooking.
By the way, while it's baking I highly recommend making some sides to go with this haddock recipe since you'll have a bit of time to kill while it's cooking - that's what we usually do when we make it anyway. I love serving it with these redskin mashed potatoes, this carrot casserole, and these honey glazed carrots.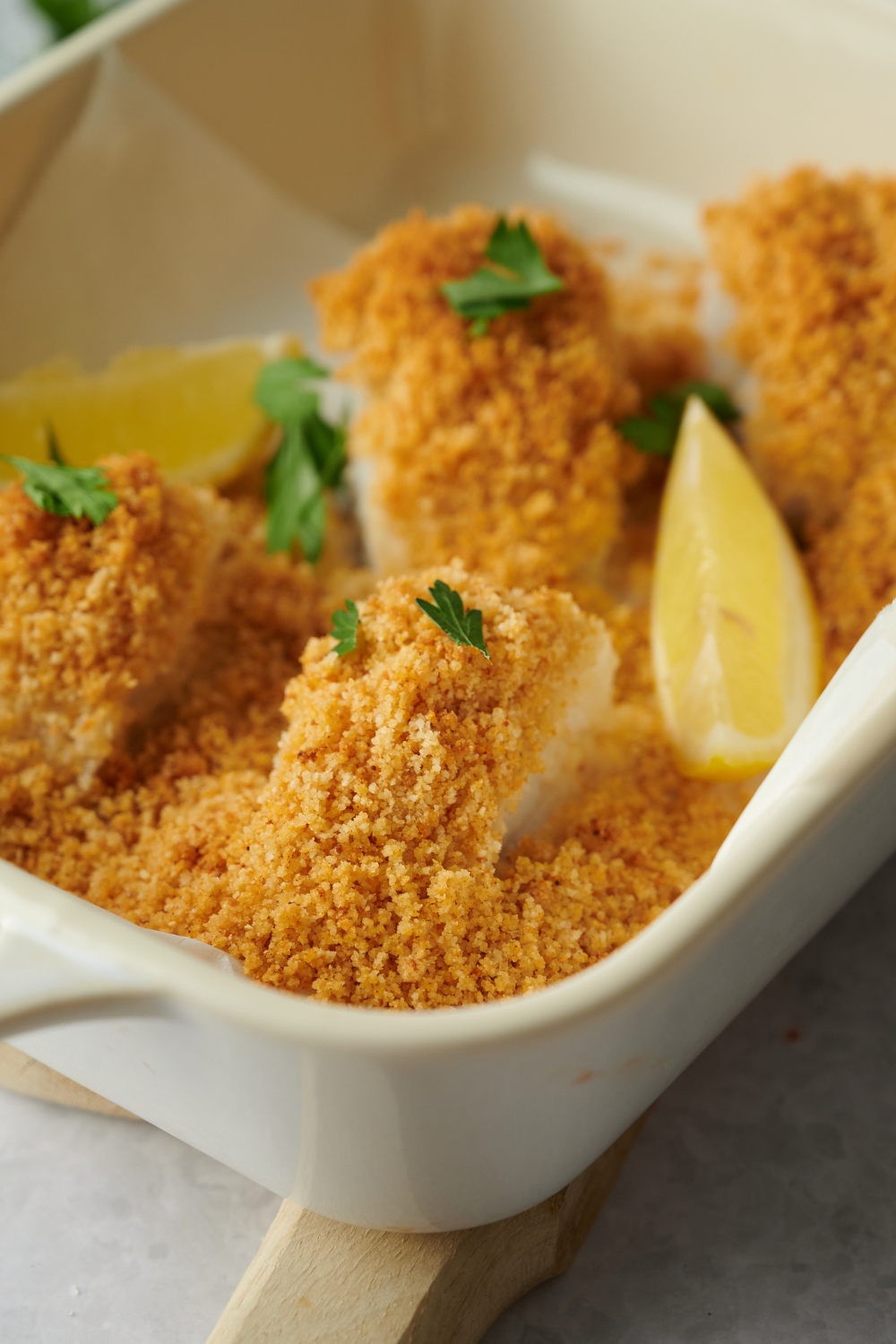 Ingredients
Another reason to love this recipe is that it's made with simple, everyday ingredients. In fact, I bet you have most - if not all - of these ingredients at home already. The only thing you might be missing is the haddock fillets.
Anyway, here's what you'll need to make this easy fish recipe:
1 lb. Haddock
1 cup Breadcrumbs
1 tsp. Garlic Powder
1 tsp. Onion Powder
½ tsp. Paprika Powder
½ tsp. Salt and pepper
¼ cup Butter, melted
Lemon and Fresh Parsley for serving (optional)
Simple stuff, right?!
By the way, you can use almost all of these ingredients to make this baked cod with panko and deep fried salmon, so if you like crispy fish, I definitely recommend giving those a try next!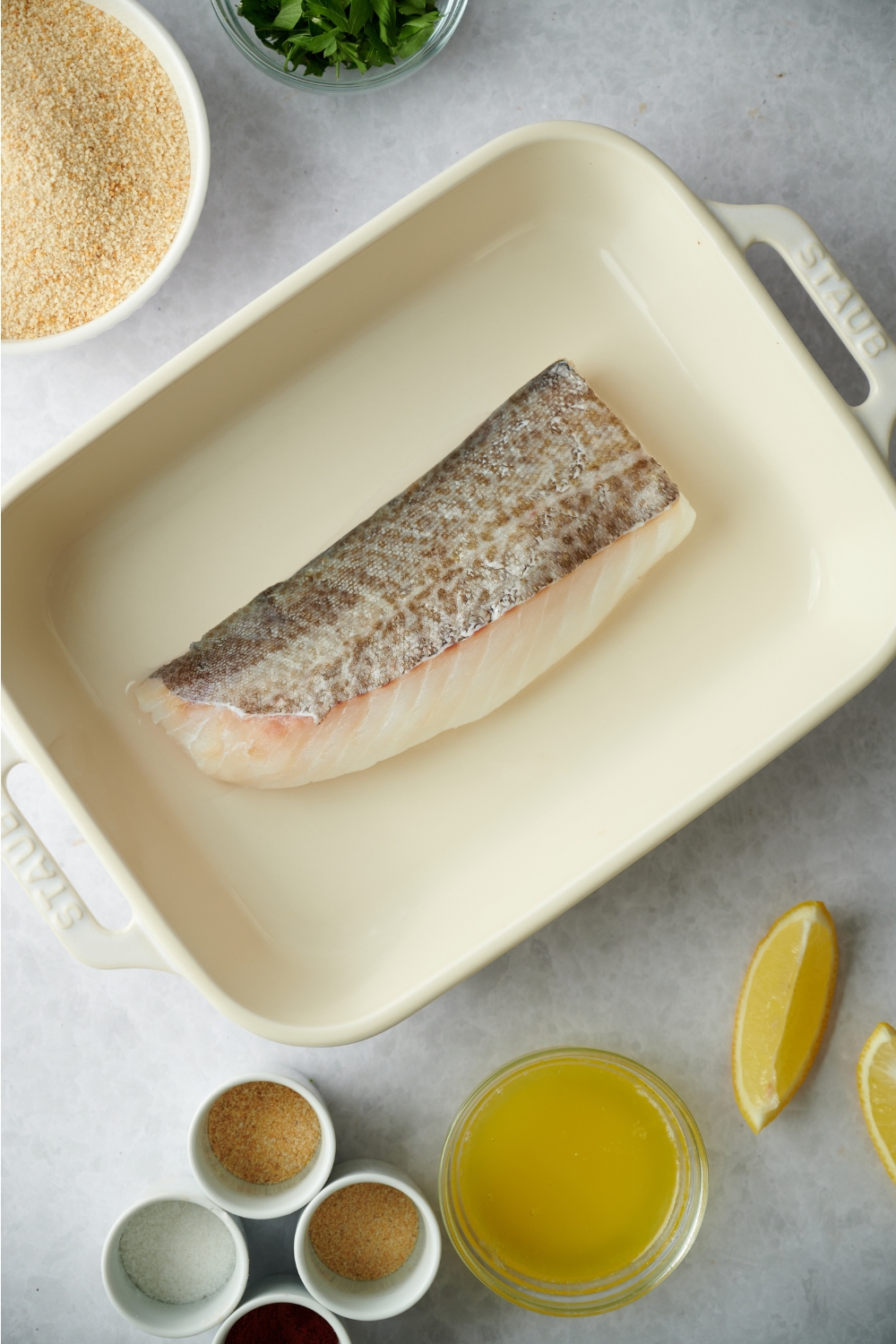 Ingredient Substitutions and Suggestions
Now, to make this haddock taste as delicious as possible, I recommend using high-quality fresh haddock. You can get one big haddock or smaller fillets, but fresh is best.
With that said, fresh fish or frozen fish work. If you're in a pinch and only have frozen haddock filets, you can certainly use them to make this recipe too. Just make sure to thaw them before you bread/cook 'em.
As for the bread crumbs, you can either use plain bread crumbs or panko bread crumbs. With that said, all of the seasonings that are added to this recipe will give the bread crumb mixture the perfect flavor, so there's no need to buy seasoned bread crumbs or Italian bread crumbs. Oh, and you could even use crushed Ritz crackers if you want.
Speaking of the bread crumb topping, the only additional ingredient that I'll add sometimes to it is a sprinkle of parmesan cheese. I think parmesan cheese makes everything better, so feel free to add some in.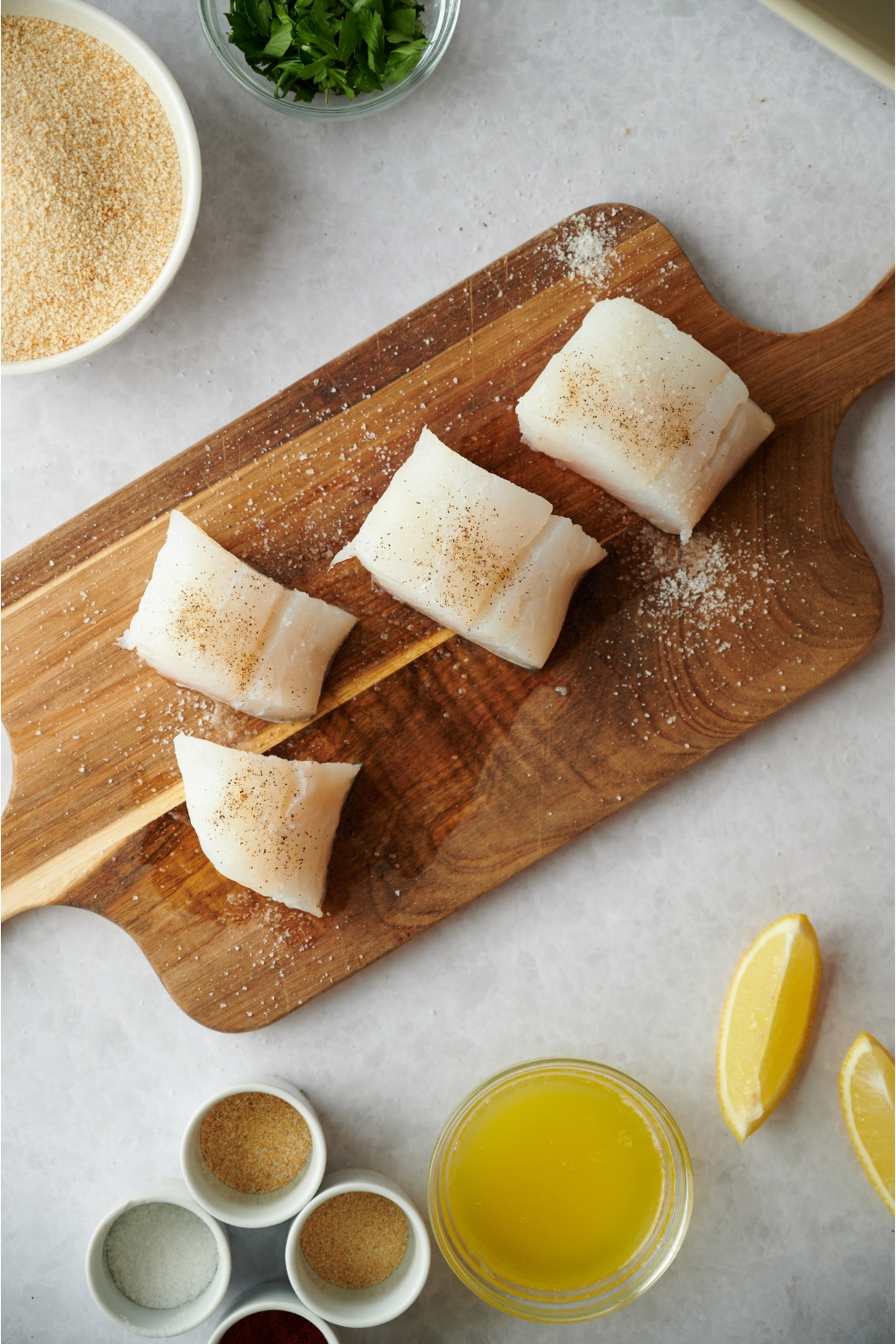 How To Bake Haddock
As I've mentioned, this oven baked haddock recipe is super easy to make.
Honestly, it's one of the easiest fish recipes you'll find. All you have to do is make the bread crumb topping, coat the fillets in it, and then let them bake in the oven.
Yup, that's all there is to it.
So, with all of that said, let's not waste any more time and get cooking!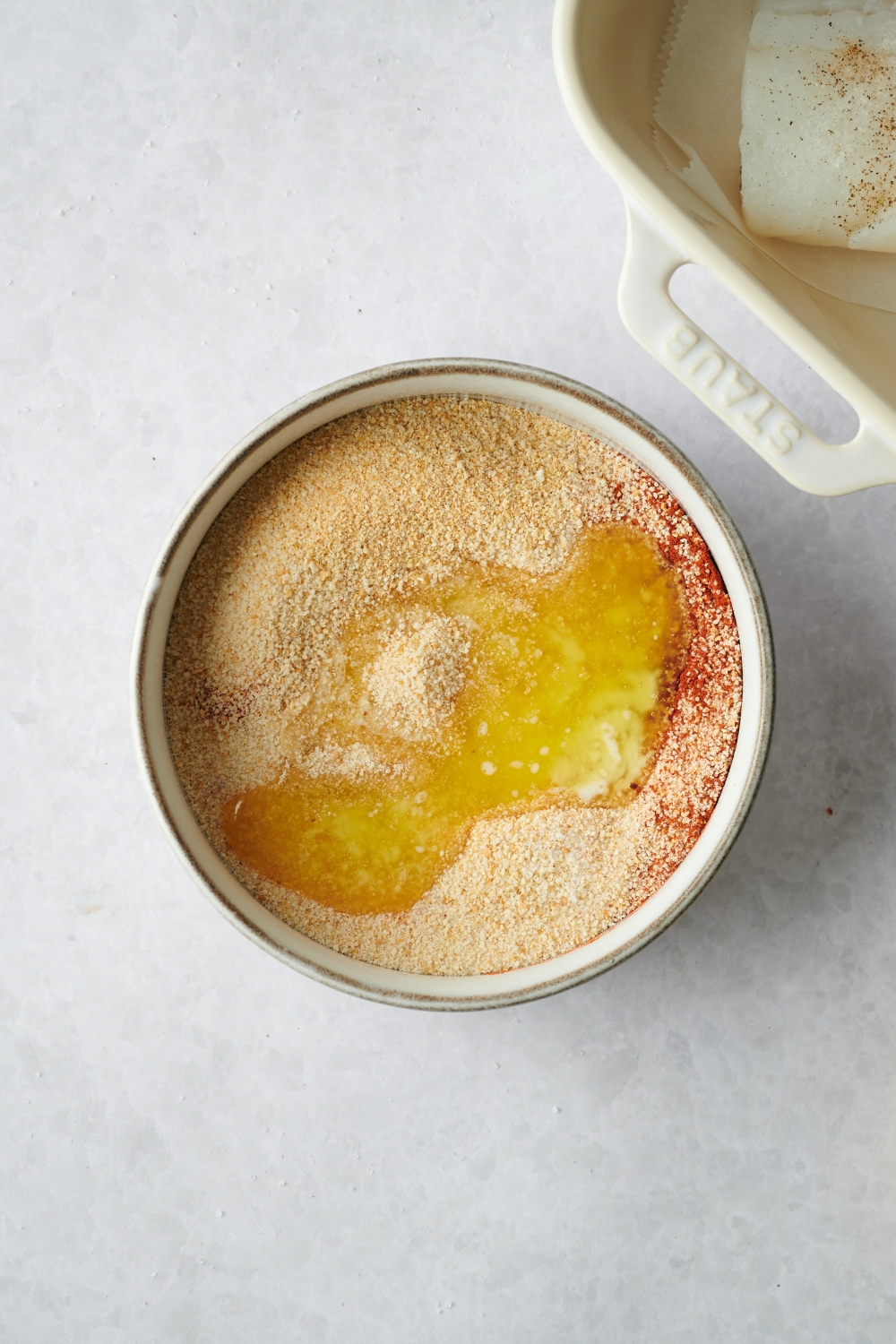 Step 1: Prep Work
First things first, you'll want to preheat the oven to 350°F (180ºC) and line a baking sheet - or dish - with parchment paper.
Now, at this point, you'll want to pat your haddock fish filets dry with some paper towels. Then, once those are dry, you can season both sides of the fish fillets with salt and pepper and put them on the baking sheet or dish.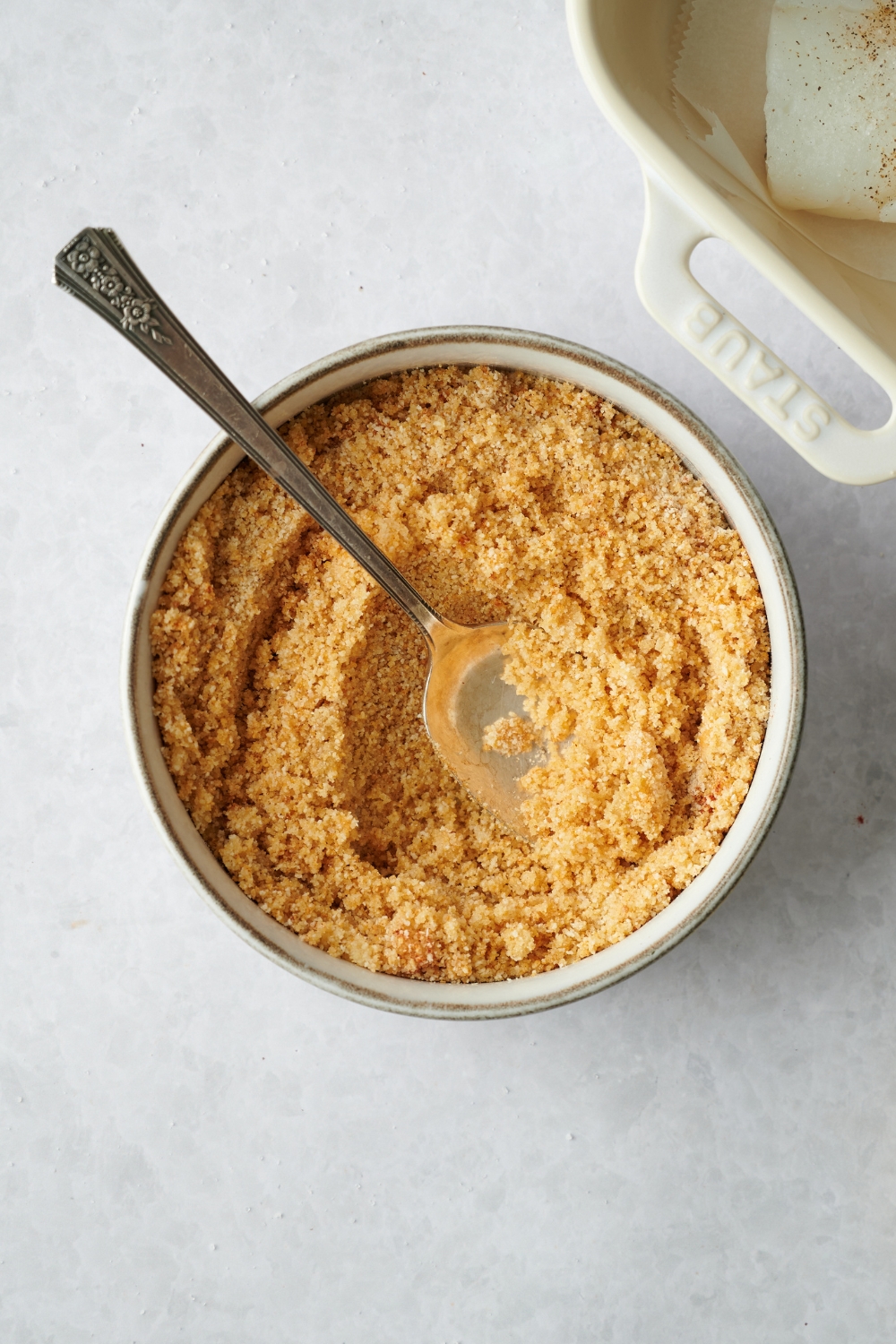 Step 2: Bread The Haddock
So, now that the haddock fillets are ready, you can prepare the breading components.
Start by mixing the breadcrumbs, garlic powder, onion powder, paprika, and salt - and parmesan cheese if you want - in a medium bowl. Then, melt the butter in a separate bowl, pour it into the breadcrumb mix, and stir everything together until combined.
Once the bread crumb topping is ready to go, you can sprinkle it evenly on top of each fish fillet so the top of each one is fully covered.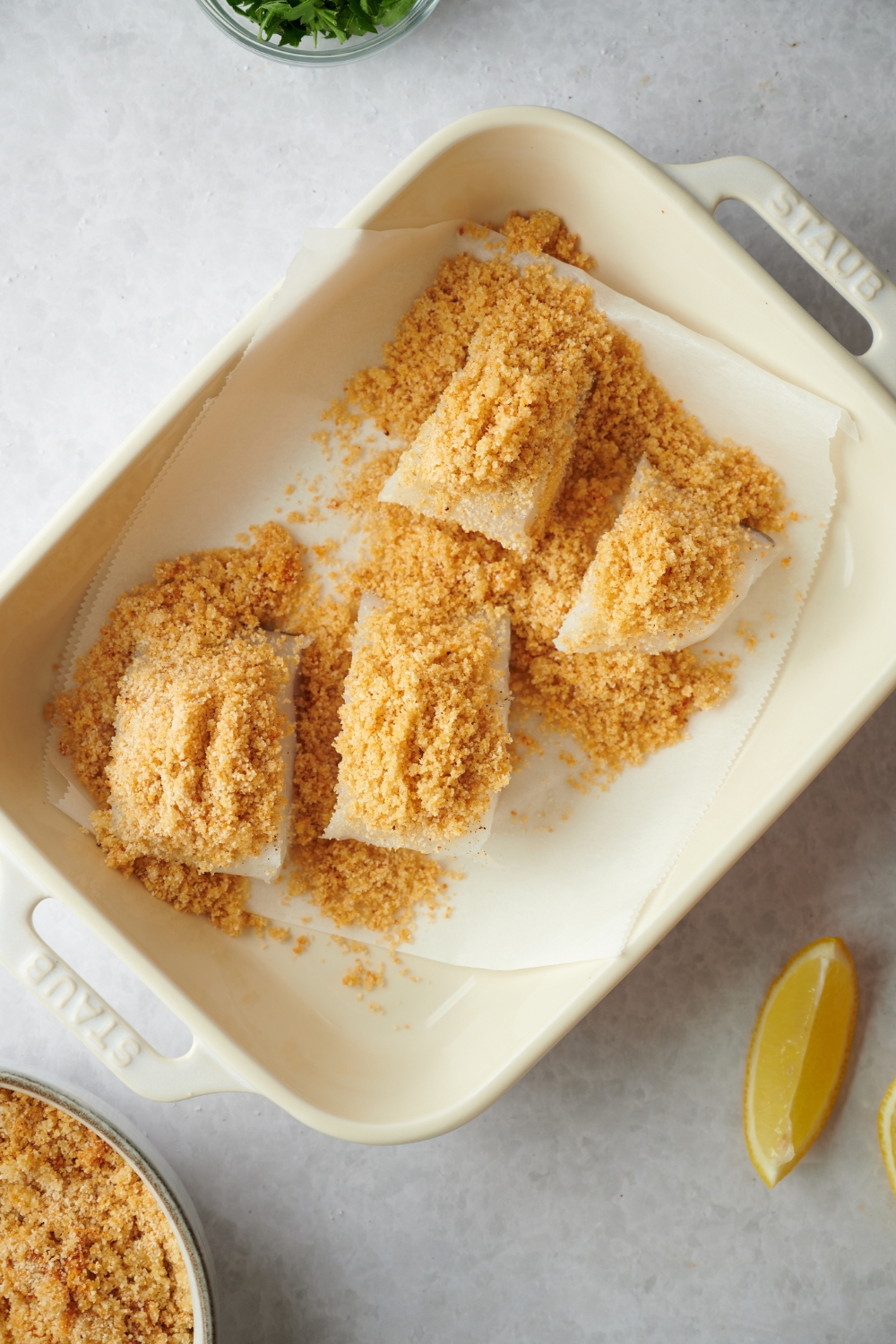 Step 3: Bake the Haddock
So, now that the haddock is covered in the flavorful, crunchy topping, you can pop it in the oven and bake it for about 15 minutes. Then, after you cook haddock for 15 minutes, you can check on it and see if its internal temperature has reached 145°F. If it has, then the fish is fully cooked, and you can remove it from the heat.
Finally, serve with a squeeze of lemon juice, some fresh parsley on top, and even a sprinkle of grated parmesan cheese, and enjoy!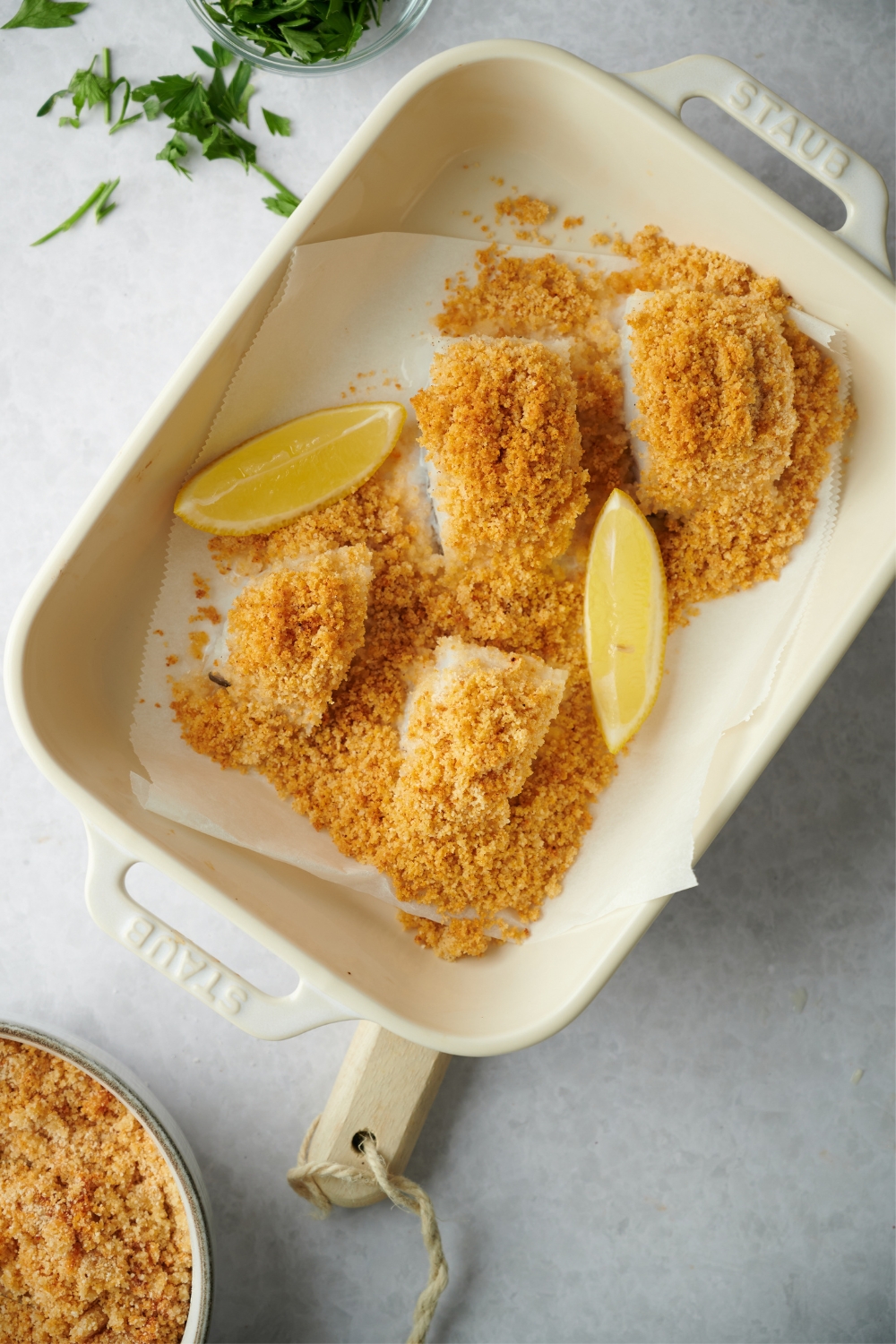 How to Store Cooked Haddock
This recipe for baked haddock will make about 4 servings. But, with that said, this recipe is super easy to double - or triple - if you're serving it to a large group or want to have leftovers.
Speaking of leftovers, you can store the cooked fish in an airtight container in the fridge for about 3-4 days.
How To Reheat Cooked Fish
Now, I'm not going to lie, the leftover haddock is actually pretty tasty cold. But, of course, you can totally reheat it too and enjoy it warm as well. With that said, to reheat the haddock you'll just want to put it on a wire rack set on top of a baking sheet and warm it in the oven at 275°F for about 10 minutes - or until warm.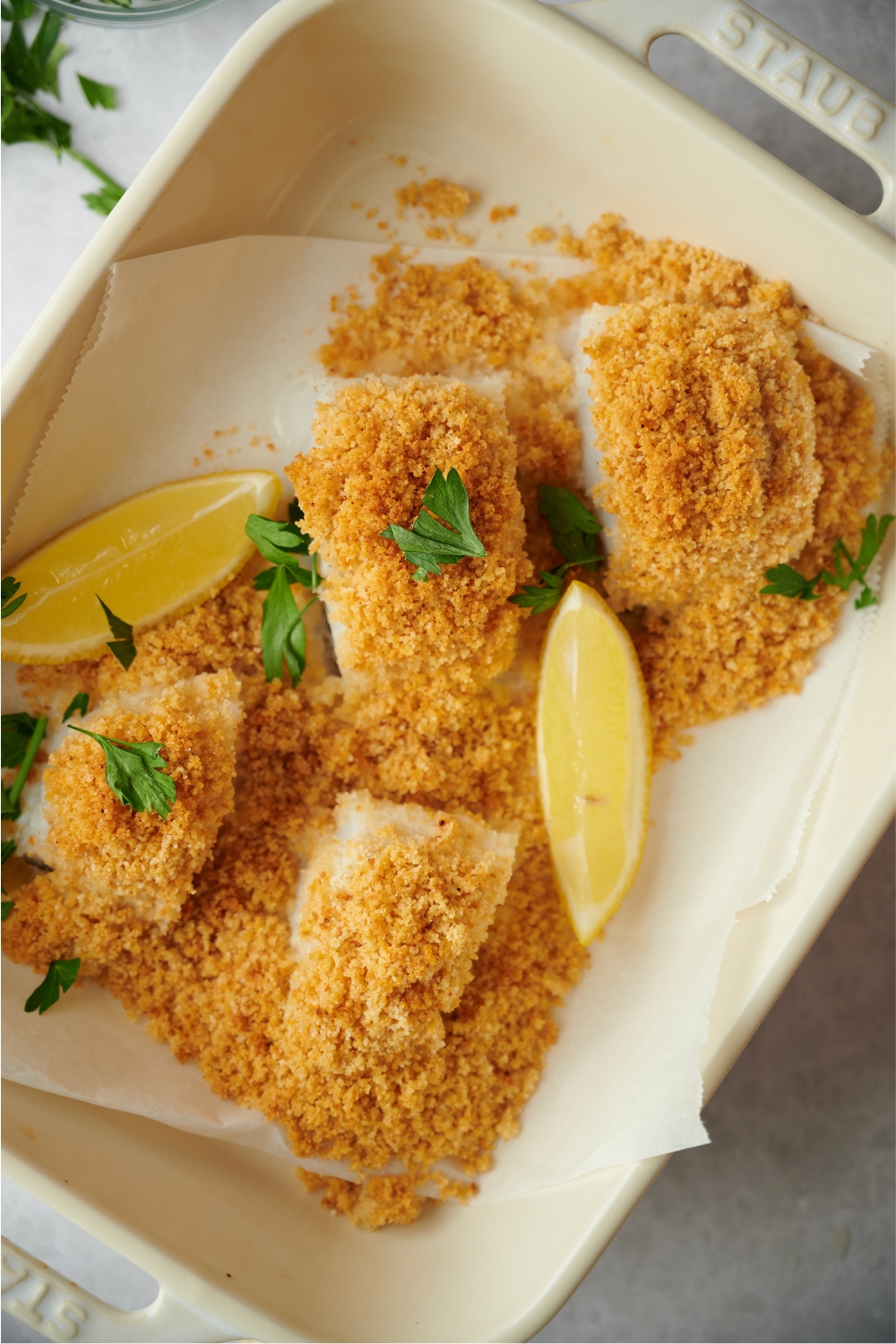 FAQs About This Baked Haddock Recipe
What temperature should baked haddock be?
Baked haddock should be cooked until the internal temperature reaches 145°F. If the fish flakes easily, this is also a good indicator that it is fully cooked.
How long should haddock be cooked for?
The cooking time is going to vary depending on the recipe. For this baked haddock recipe, about 15 minutes is all it takes to cook it.
What temperature should fish be baked at?
The cooking temperature for fish will depend on the recipe, the type of fish you are cooking, and the thickness of the fish. Semi-thick haddock filets are best cooked at 350°F.
Is it better to bake fish covered or uncovered?
Haddock - and all other white fish - should be cooked uncovered. Cooking the haddock uncovered will also help crisp up the breadcrumbs.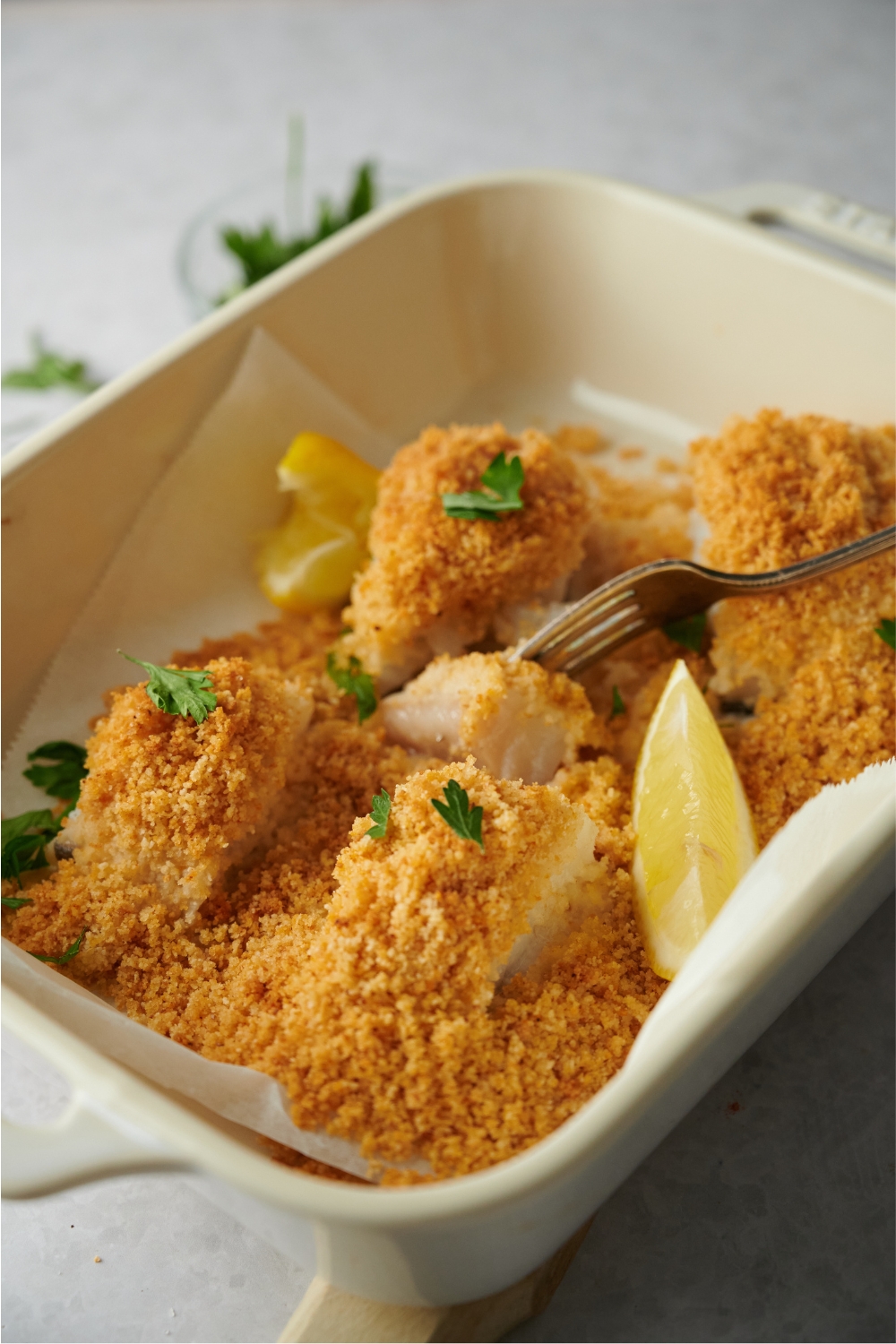 Wrapping It All Up
Well, that's how to make haddock that's perfectly juicy and flaky every single time.
This is seriously one of the best easy fish recipes out there and it just tastes incredible too.
Honestly, my family loves this recipe, and I have a feeling you and your family will too.
As always, if you make it, leave a comment below and let me know what ya'll think.
More Seafood Recipes
If you're looking for more delicious seafood recipes that taste like they're from a restaurant, we have a ton on the blog that you can try next!
Here are some of our most popular ones:
Oh, and for even more deliciousness, don't forget to follow us along on Tiktok, Youtube, and Instagram. We post new tasty recipes on them daily.
Yield: 4 servings
The BEST Baked Haddock You'll Ever Make (5 Minutes To Prep)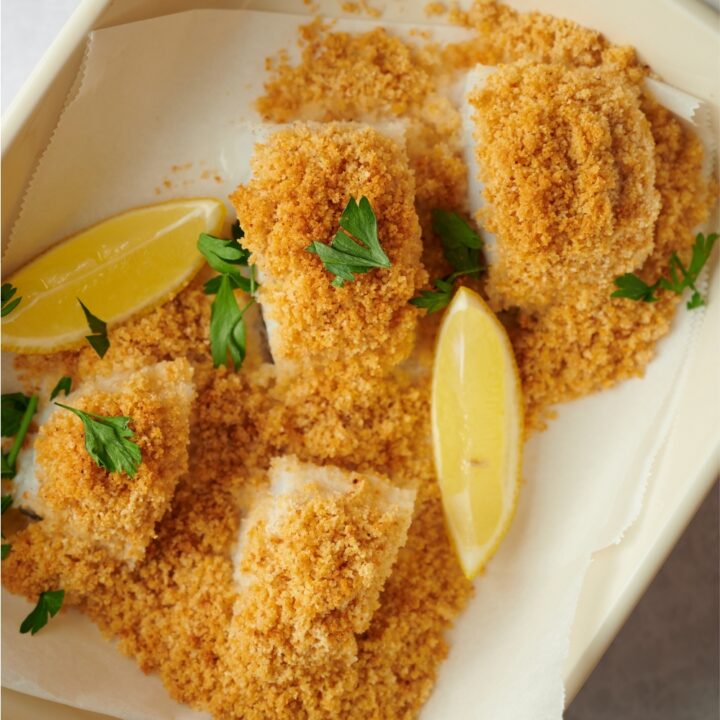 This baked haddock recipe consists of tender and flakey fish coated in a seasoned, crispy breading that is just to die for. It's honestly just so good, and so easy to make. In fact, 5 minutes is all you need to prepare this baked haddock, then the oven takes care of all of the cooking.
Instructions
Preheat the oven to 350°F (180ºC). Line a baking sheet or dish with parchment paper.

Cut the haddock into big fillets. Pat it dry with a kitchen towel and season with salt and pepper. Put on baking sheet.

In a bowl, mix breadcrumbs, garlic powder, onion powder, paprika, and salt. Add the melted butter and mix.

Spread the breadcrumbs on top of the fillets and bake for 15 minutes.

Serve with lemon juice and parsley.
Nutrition Information:
Serving Size:
1 serving
Amount Per Serving:
Calories:

222
Total Fat:

7g
Saturated Fat:

0g
Trans Fat:

0g
Unsaturated Fat:

0g
Cholesterol:

0mg
Sodium:

0mg
Carbohydrates:

9g
Fiber:

0g
Sugar:

0g
Protein:

28g