This taco dip is the ultimate appetizer to share with your friends and family. It combines cream cheese, cheddar cheese, taco seasoning, and all your favorite toppings to make one delicious dip. Plus, it's so, so easy to make. In fact, you can have it all set and ready to go in just 5 minutes!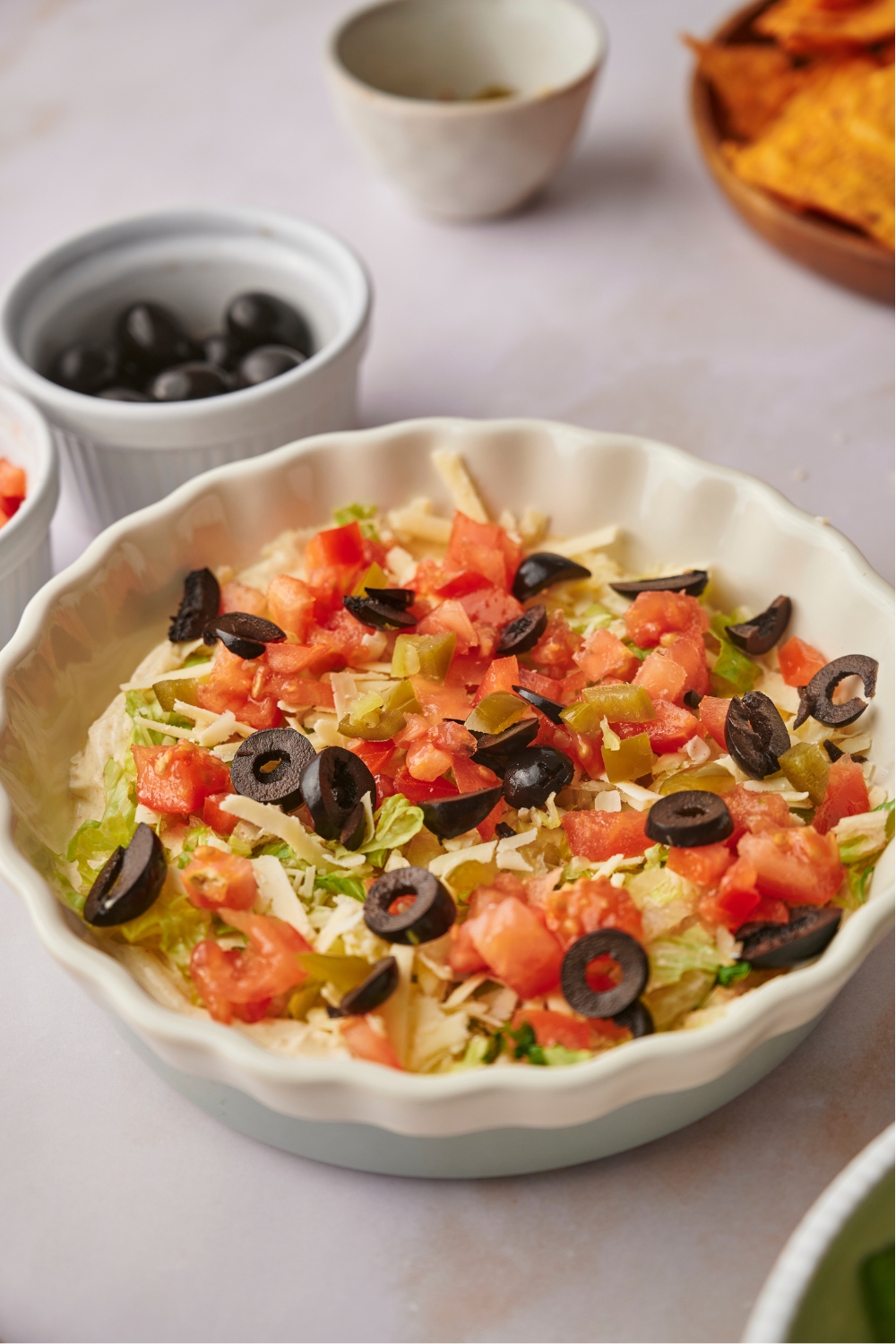 The Best Taco Dip
If you can't get enough of the incredible taste of tacos but you're looking for something a little different, this taco dip has everything you need!
This dip is absolutely jam-packed full of melty, cheesy goodness and a creamy base that's filled with flavor. Then, the whole thing is topped with delicious taco-inspired toppings like shredded cheese, shredded lettuce, and diced tomatoes.
And I love how simple it is to prepare. With just two easy-to-follow steps, you can whip this taco dip up in no time. Plus, it's so versatile that you can serve it with practically anything and everything - I love serving this taco dip with celery sticks, sliced bell peppers, cucumber slices, and tortilla chips.
By the way, if you're looking for an easy homemade recipe for some tortilla chips, give these easy air fryer tortilla chips a shot sometime. They're always a hit when I put them out with the taco dip.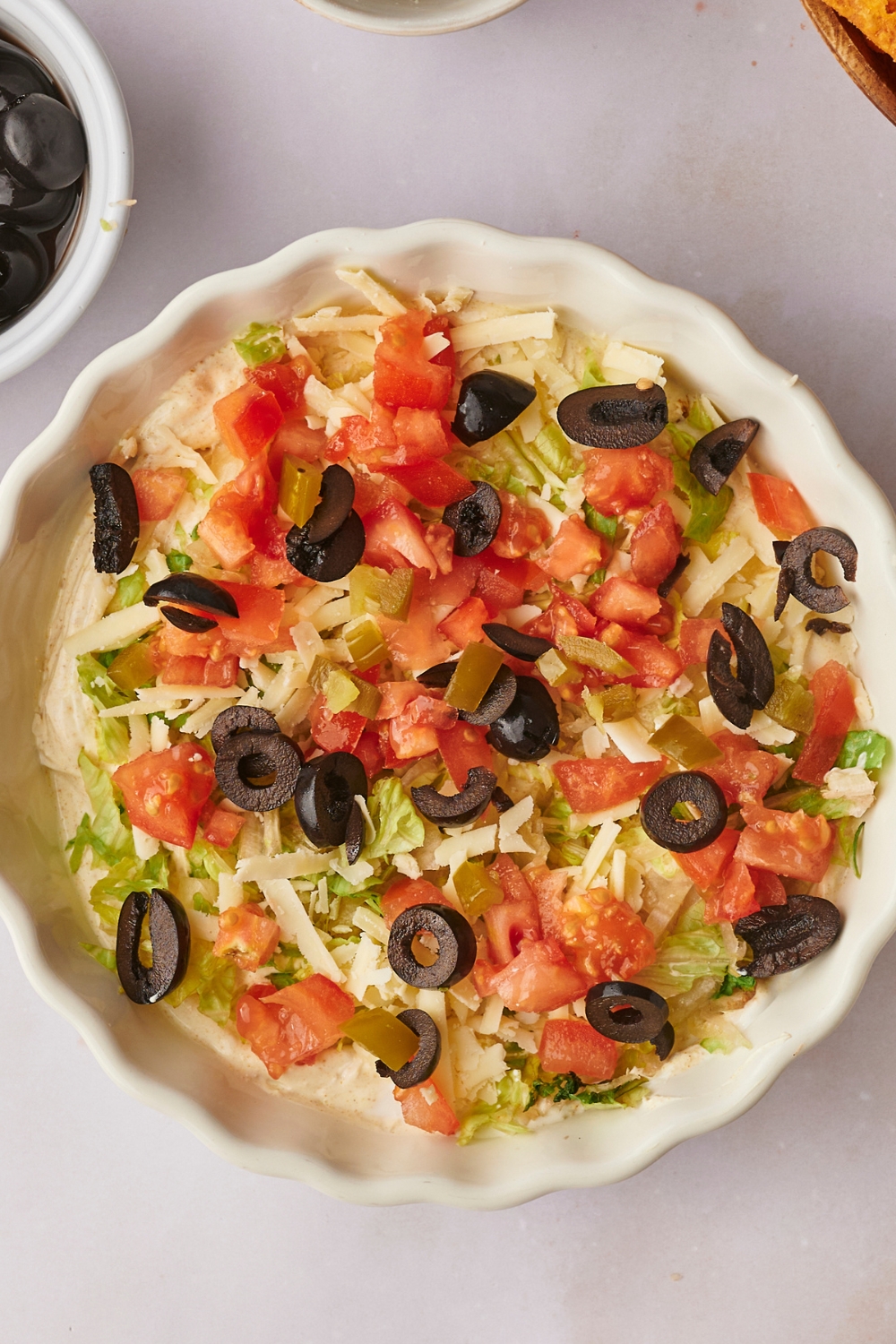 Ingredients
I know I keep saying it, but you really won't find a simpler recipe than this taco dip.
In fact, all you need are a handful of simple ingredients to make it. And, honestly, I can almost guarantee that you'll have most - if not all - of them at your house already.
Anyway, here's everything you'll need to make this taco dip:
8 oz cream cheese, at room temperature
1 cup sour cream
2 tbsp. taco seasoning
½ cup lettuce, finely chopped
2 chopped tomatoes
¼ cup black olives (optional)
2 jalapeños, chopped (optional)
1 cup shredded cheddar cheese
Fresh cilantro and corn tortillas to serve
Super simple, right?
By the way, if you have some leftover ingredients, you can use the majority of them to make this walking taco casserole recipe next!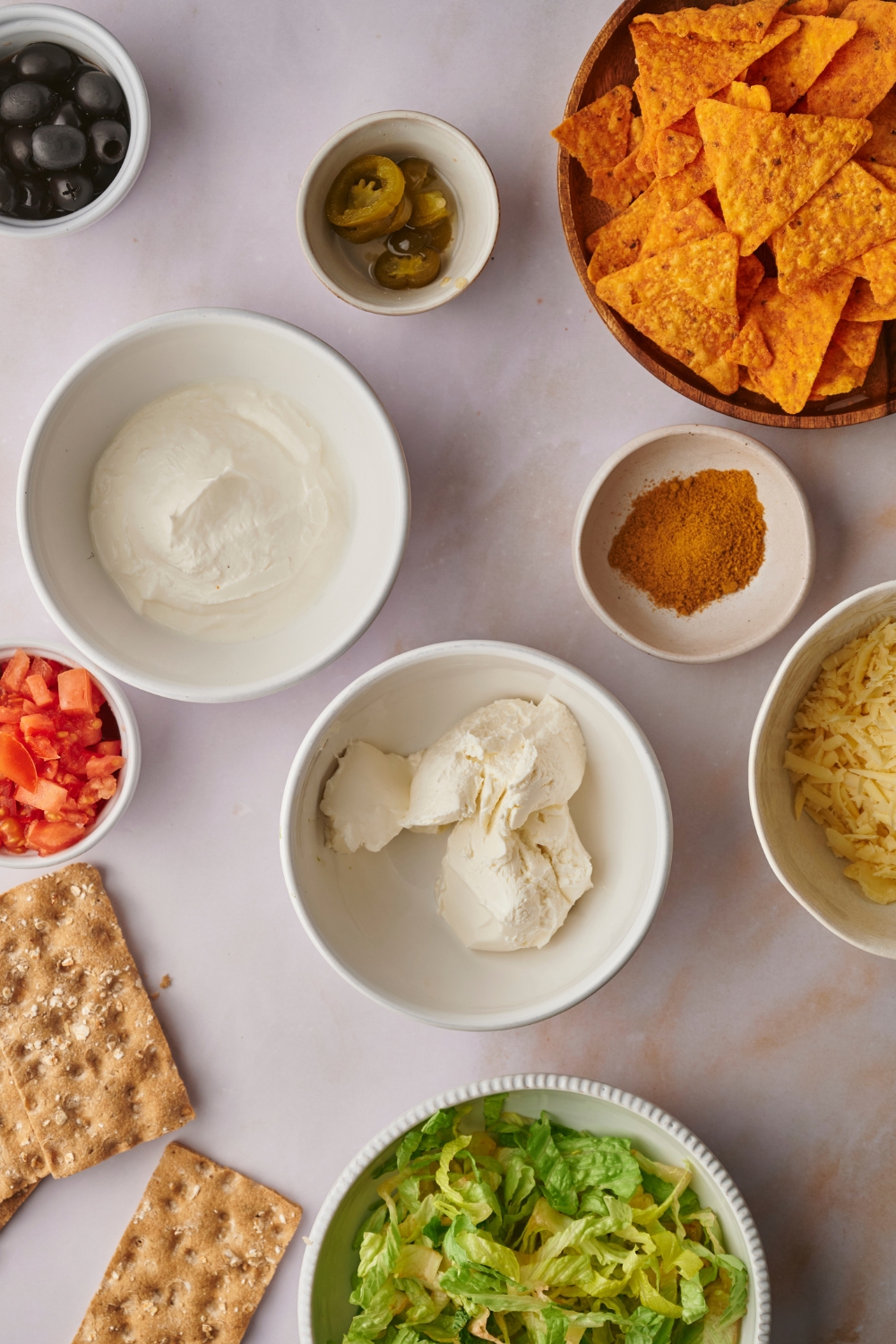 INGREDIENT SUBSTITUTIONS & SUGGESTIONS
Now, while I recommend making this taco dip with the ingredients listed above, there are loads of awesome ways to add a twist to this dip recipe. So with that said, here are some ideas to try.
Add An Extra Layer Or Two Or Seven For Added Flavor
One really great way to surprise your guests is to layer your taco dip with other classic Mexican favorites. For example, you can turn this recipe into an amazing seven-layer taco dip just by adding a layer of salsa, refried beans, ground beef, black beans, sliced black olives, shredded lettuce and green onions on top of the creamy base. With each layer, your taste buds will have a new flavor experience!
Add Ground Beef For A Meat Taco Dip
Seasoned ground beef can make a great addition to this easy taco dip. If you are going to add ground beef though, I suggest using a leaner blend for the best results.
Add Extra Cheese And Other Creamy Ingredients
This dip uses sour cream, softened cream cheese, and cheddar cheese, but you can also add things like monterey jack cheese or pepper jack cheese and even a little Greek yogurt for some extra delicious creaminess.

How To Make Taco Dip
I know I've mentioned this a few times, but it's worth mentioning again this taco dip is about as easy as it gets to make.
All you have to do is mix the ingredients together in a bowl, then layer the dip, there's no cooking required!
Anyway, let's stop wasting time and get into the recipe!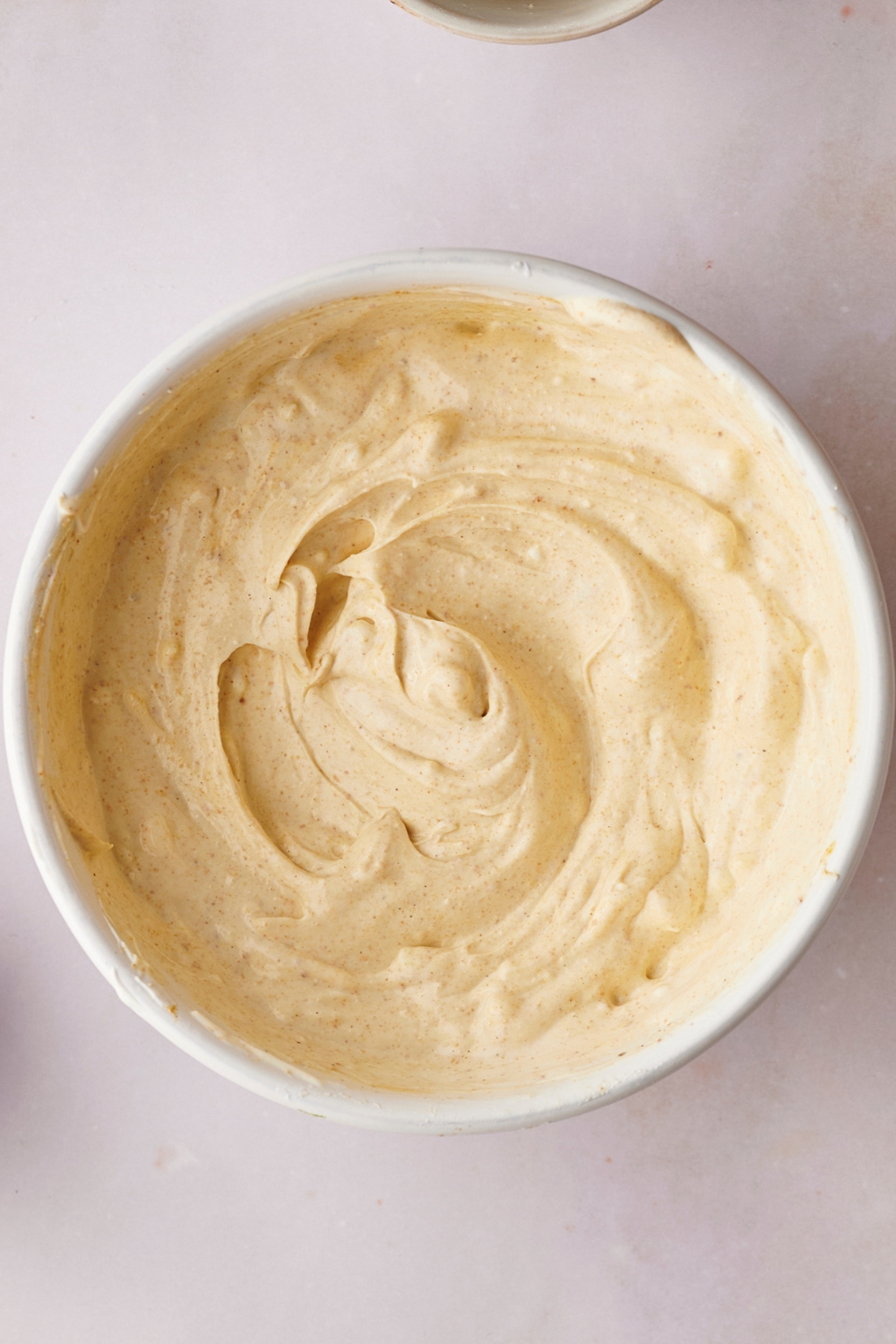 Step 1: Prepare The Base Layer
First, you'll want to take out a large mixing bowl and add the cream cheese, sour cream, and taco seasoning to it. Then, you'll want to mix all of these ingredients together until they combine. And I recommend using a hand mixer to combine everything together just to make sure there are no lumps and the dip is as smooth as possible.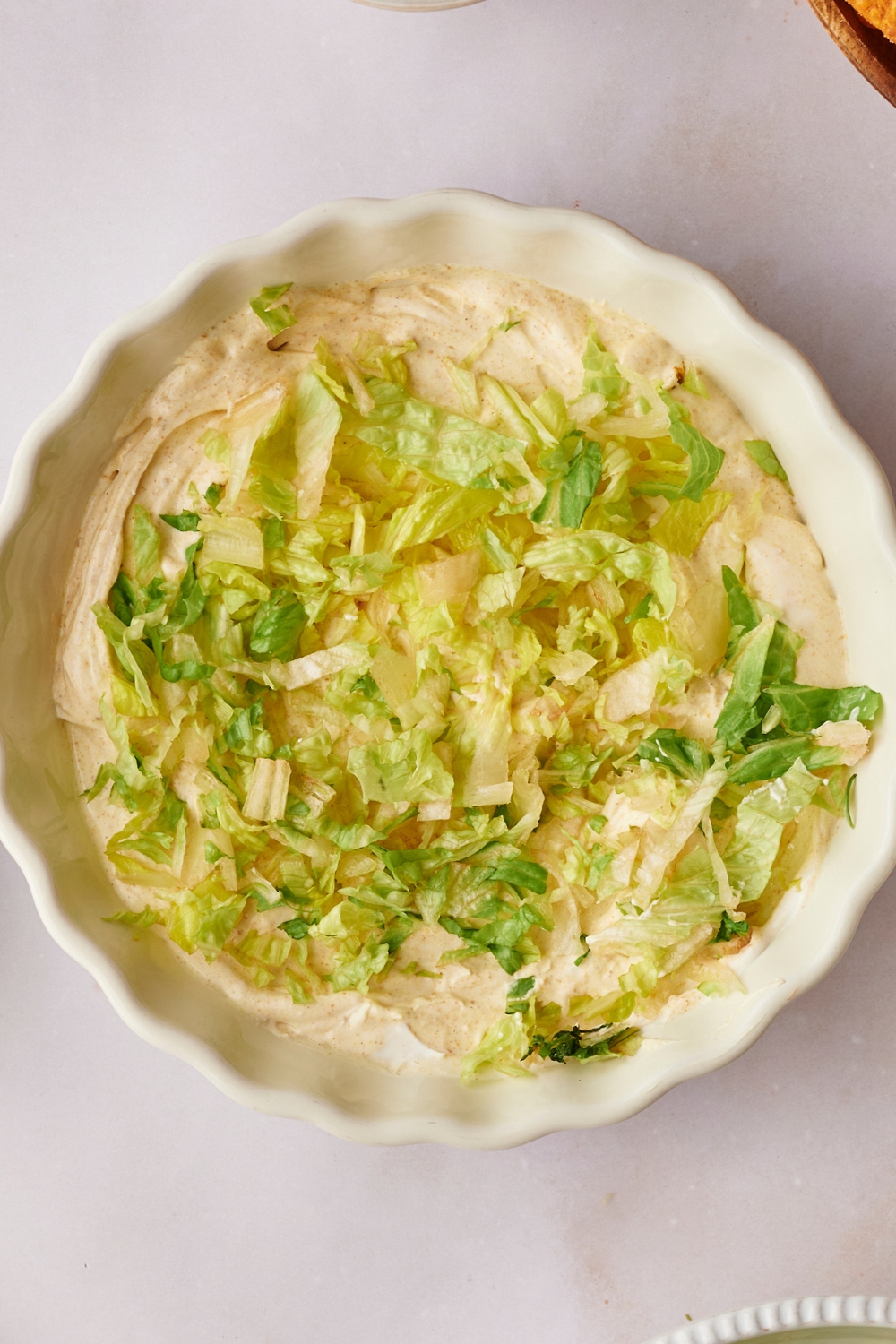 Step 2: Add The Toppings
Now that the base layer has been well combined, you can transfer it to a baking dish. Then, once you've got that situated, you can add the shredded lettuce, tomatoes, jalapeños, cheddar cheese, black olives, and cilantro on top of it.
Finally, you can serve your taco dip with tortilla chips - or something like nacho cheese Doritos - for dipping, and enjoy it!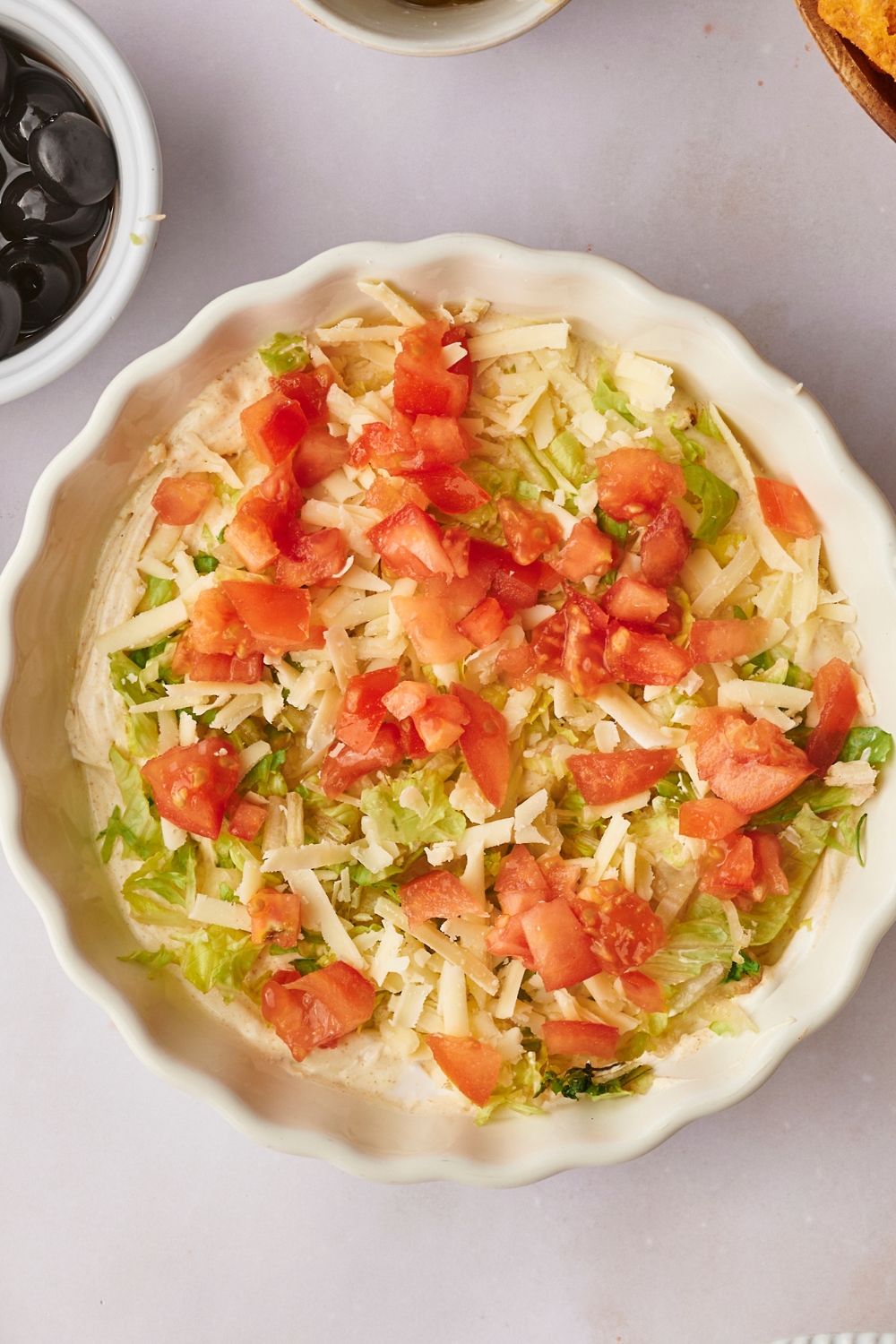 How To Store Taco Dip
This recipe for taco dip will make about 6 servings, so it makes the perfect amount for a small appetizer.
Honestly, I hardly ever have any leftover when I've made it, but on the rare occasions that I have, the dip stored incredibly well in the fridge. In fact, it might've even been better the day/s after I prepared it.
So, with that said, if you have any leftovers, just store 'em in the fridge in an airtight container. Stored like this, they should last for up to 3-4 days. Then, whenever you want to eat the dip again, you can just take it out of the fridge and dig in!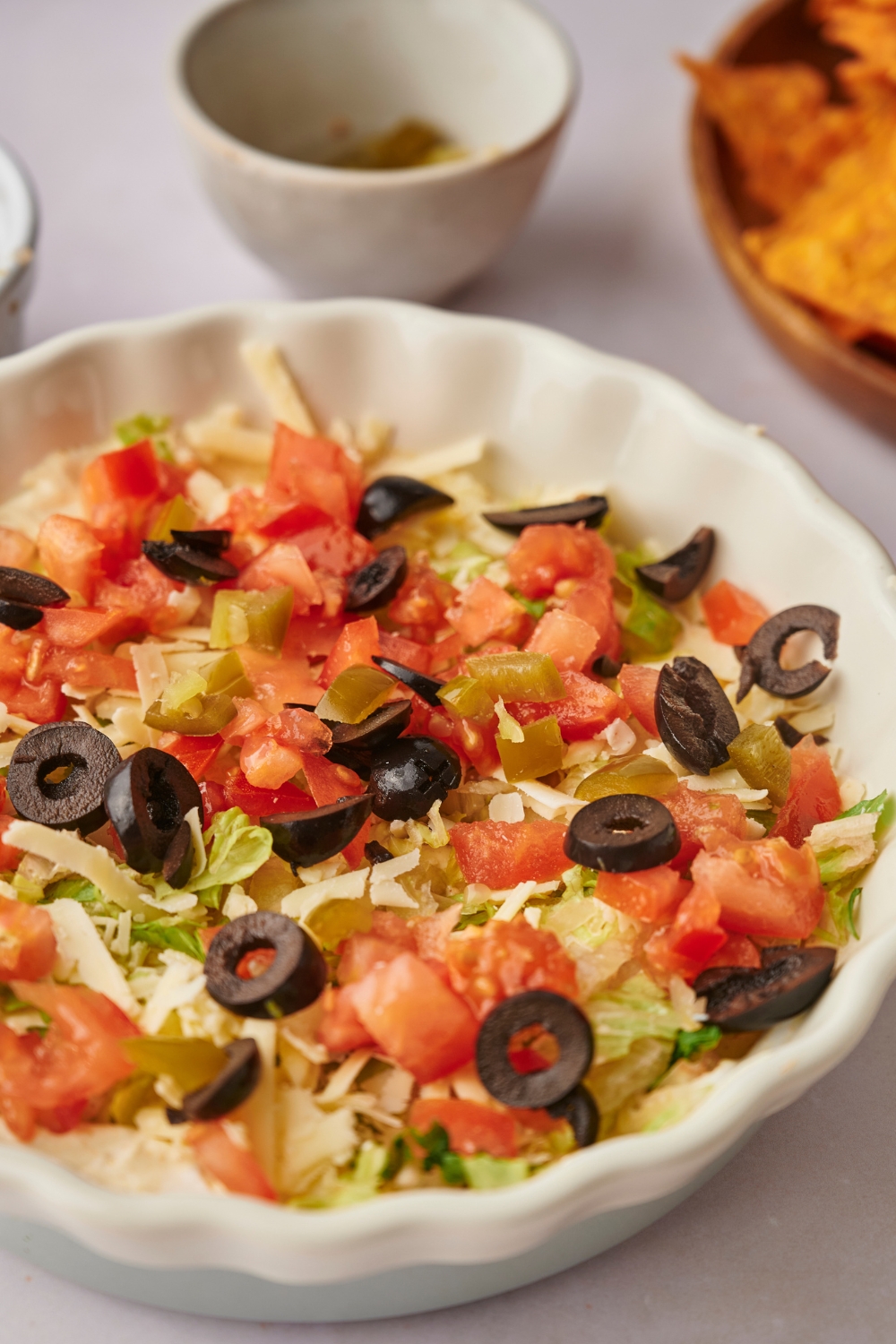 FAQs About This Taco Dip Recipe
Can I add extra spice to this Dip?
Yes, this taco dip recipe works great with chili powder, chopped spicy green peppers, pepper jack cheese, and a hot salsa topping to add extra spice.
Can I add extra veggies to this dip?
Yes, this taco dip recipe is great for adding extra veggies to. Things like green onion, green pepper, and other classic Mexican toppings like refried beans all add an extra layer of flavor and will give the dip different textures as well.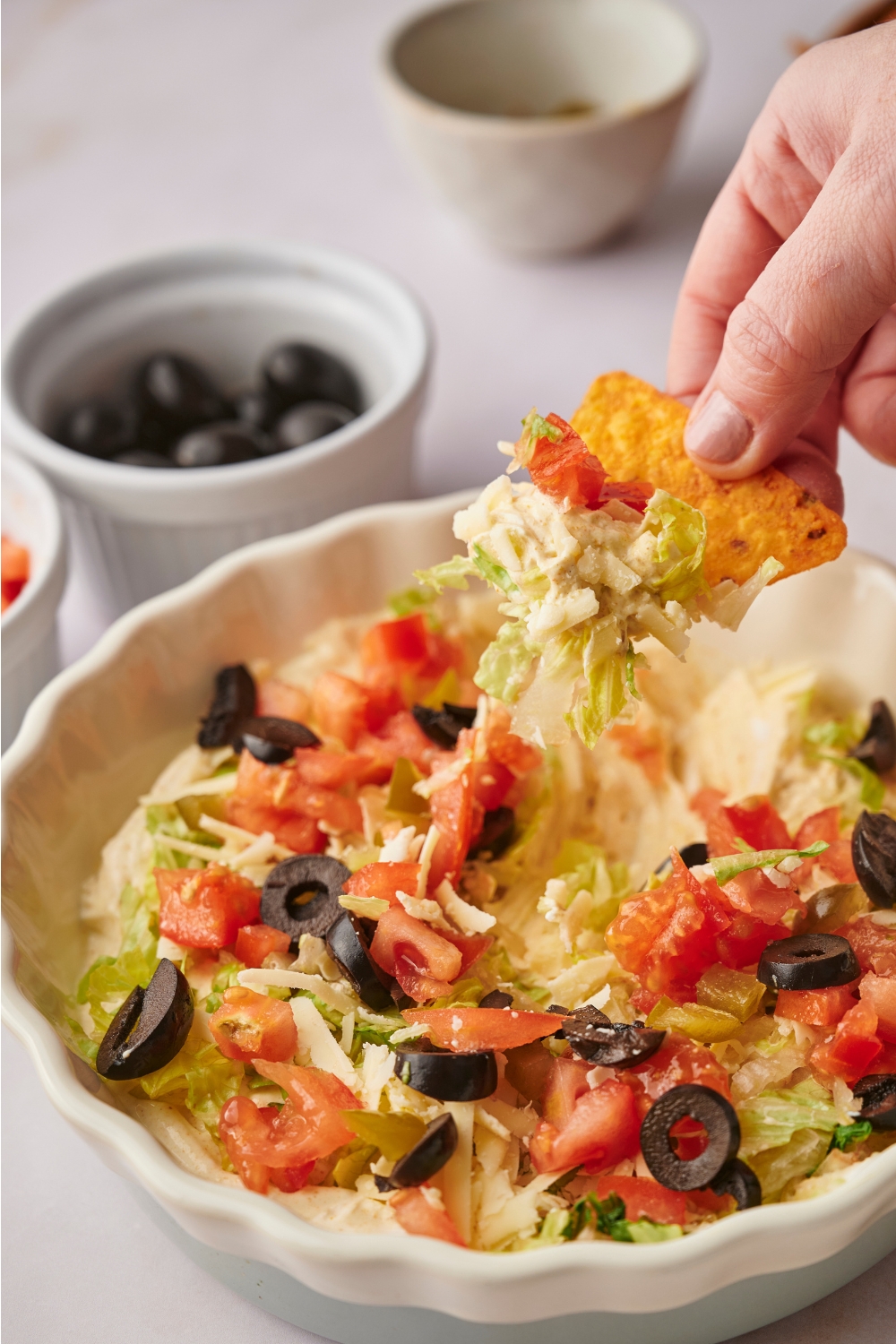 Wrapping It Up
Well, that's how to make taco dip in just a couple of simple steps!
This dip really has something for everyone in it. From the creamy base to the taco seasoning and fresh veggies, it's just so, so darn good. Also, since this is a taco dip without meat, it's a great vegetarian option to serve, so there's something for everyone.
Anyway, I hope you like this dip as much as I/we do.
As always, if you make it, leave a comment below and let us know how it turned out!

More Appetizer Recipes
If this recipe has you in the mood to make even more appetizers, we have a bunch on the blog that you can try next!
Here are some reader favorites:
Also, make sure to check us out on TikTok, Instagram, and YouTube! We post new recipes on them every day.
Print
The BEST Taco Dip Recipe | Easy To Make In Just 5 Minutes
This taco dip is the ultimate appetizer to share with your friends and family. It combines cream cheese, cheddar cheese, taco seasoning, and all your favorite toppings to make one delicious dip. Plus, it's so, so easy to make. In fact, you can have it all set and ready to go in just 5 minutes! 
Author:
Prep Time:

5 minutes

Total Time:

5 minutes

Yield:

6

servings

1

x
Category:

Appetizer

Method:

Mixing

Cuisine:

Dip
8 oz cream cheese, at room temperature
1 cup sour cream
2 tbsp. taco seasoning
½ cup lettuce, finely chopped
2 chopped tomatoes
¼ cup black olives (optional)
2 jalapeños, chopped (optional)
1 cup shredded cheddar cheese
Fresh cilantro and corn tortillas to serve
Nutrition
Serving Size:

1 serving

Calories:

300

Fat:

26

Carbohydrates:

6

Protein:

8
Keywords: taco dip, easy taco dip, taco dip recipe, how to make taco dip, best taco dip, taco dip recipe easy, taco dip no meat, taco dip with cream cheese, taco dip layers, taco dip recipe no meat,