This Rotel dip is packed with a ton of rich, creamy, cheesy, meaty deliciousness. It combines Rotel with spicy pork sausage and Velveeta cheese to create a dip recipe that's just to die for. Plus, it's so easy to make - just 15 minutes is all it takes to whip this cheesy Rotel dip up!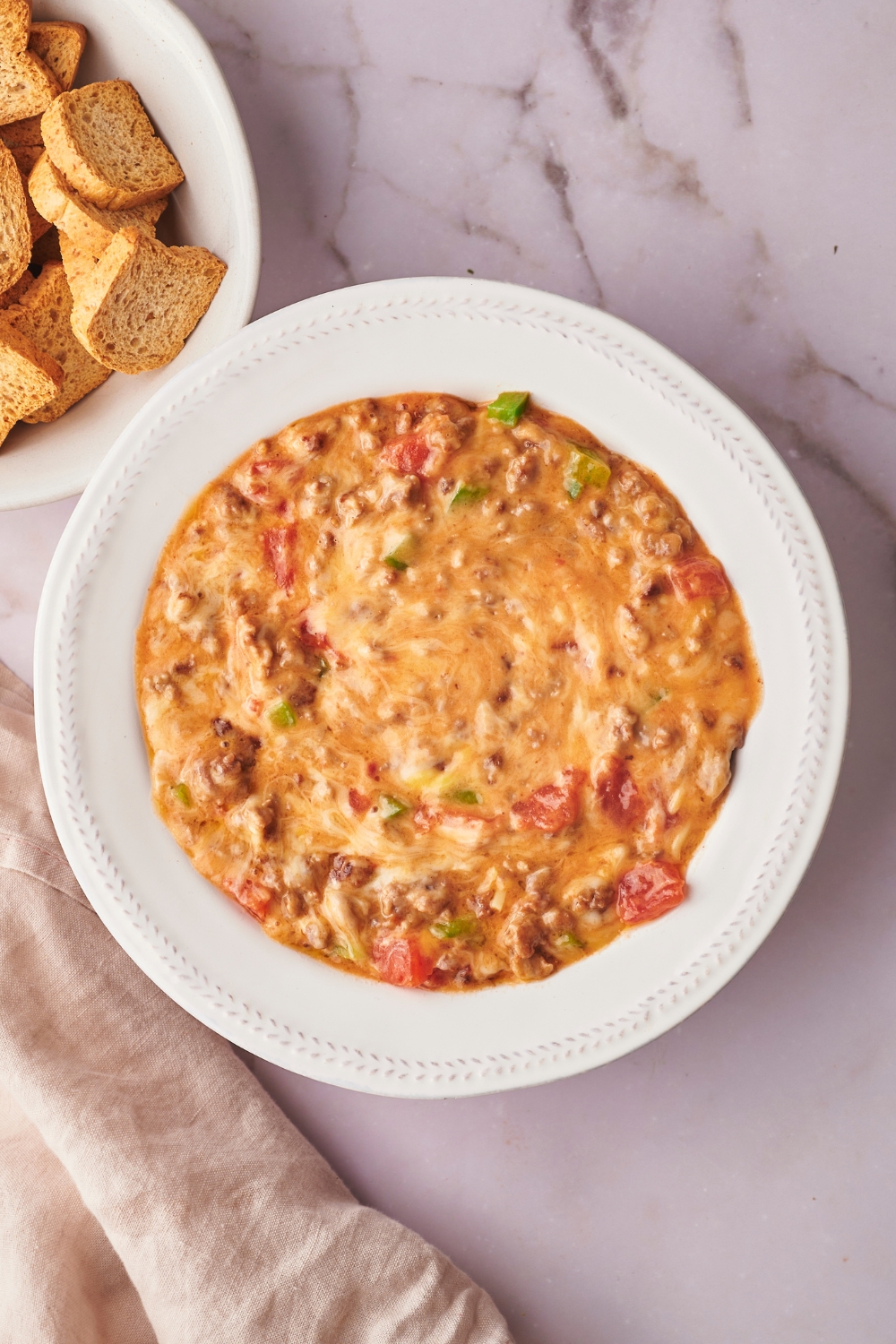 The Best Rotel Dip
If you like queso or nacho cheese dip, you're going to fall in love with this Rotel dip.
I mean, this stuff is just jam-packed with tons of cheesy goodness from some Veleeta cheese, meaty goodness from some spicy sausage, and zesty spicy yumminess from some vine ripened Rotel tomatoes and chilies.
Gah, it's just so good.
And it's so easy to make too. Just a few simple steps are all you'll need to follow to make it, and they should take you no more than 15 minutes to get through. Plus, everything cooks in just one skillet, so not only making it is a breeze but cleaning up is too!
How great does that sound?
Honestly, I love making this Rotel dip whenever I'm hosting or need something to bring over to my friends and families. There's nothing quite like serving this dip warm with some tortilla chips - or some bread - and watching everyone dig into the cheesy goodness and loving every single bite.
Speaking of tortilla chips and bread, I love serving this Rotel dip with my air fryer tortilla chips and Little Caesar's crazy bread. The crunchy chips and soft bread are really the perfect pair for the cheesy dip.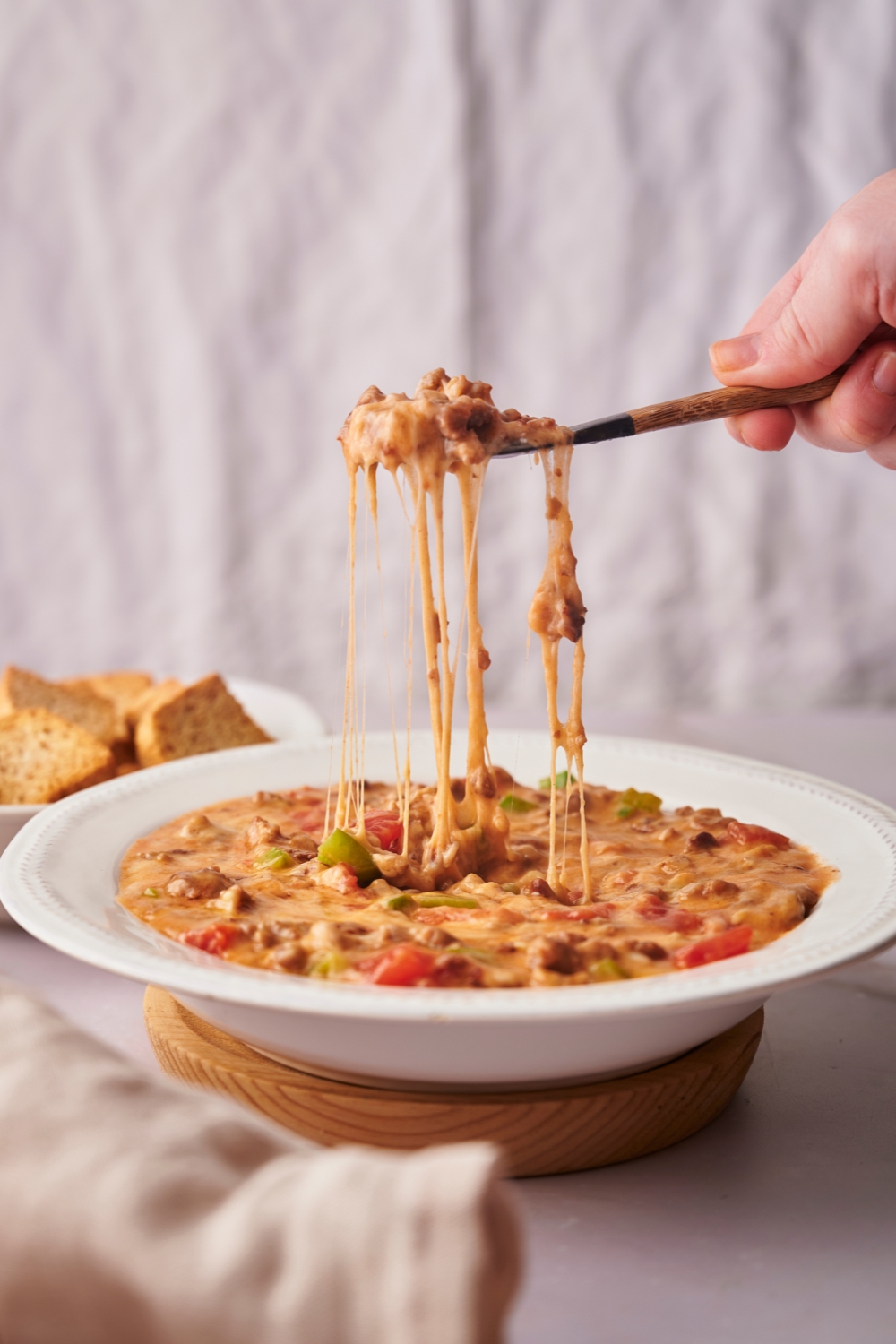 Ingredients
As I mentioned earlier, this Rotel cheese dip recipe is made with only 3 ingredients. And I can almost guarantee that you'll have most - if not all - of them at your house already since they're all kitchen/pantry staples.
Anyway, here's everything you'll need to make Rotel Dip:
½ lb. ground beef or ground pork sausage
8 oz. shredded or cubed Velveeta cheese
4 oz. can of Rotel
Pretty simple, right?
By the way, if you have some leftover pork sausage, you can use it to make these sausage balls. And if you have some leftover Rotel tomatoes, you can use them to make this chicken spaghetti casserole and this texas chicken spaghetti recipe.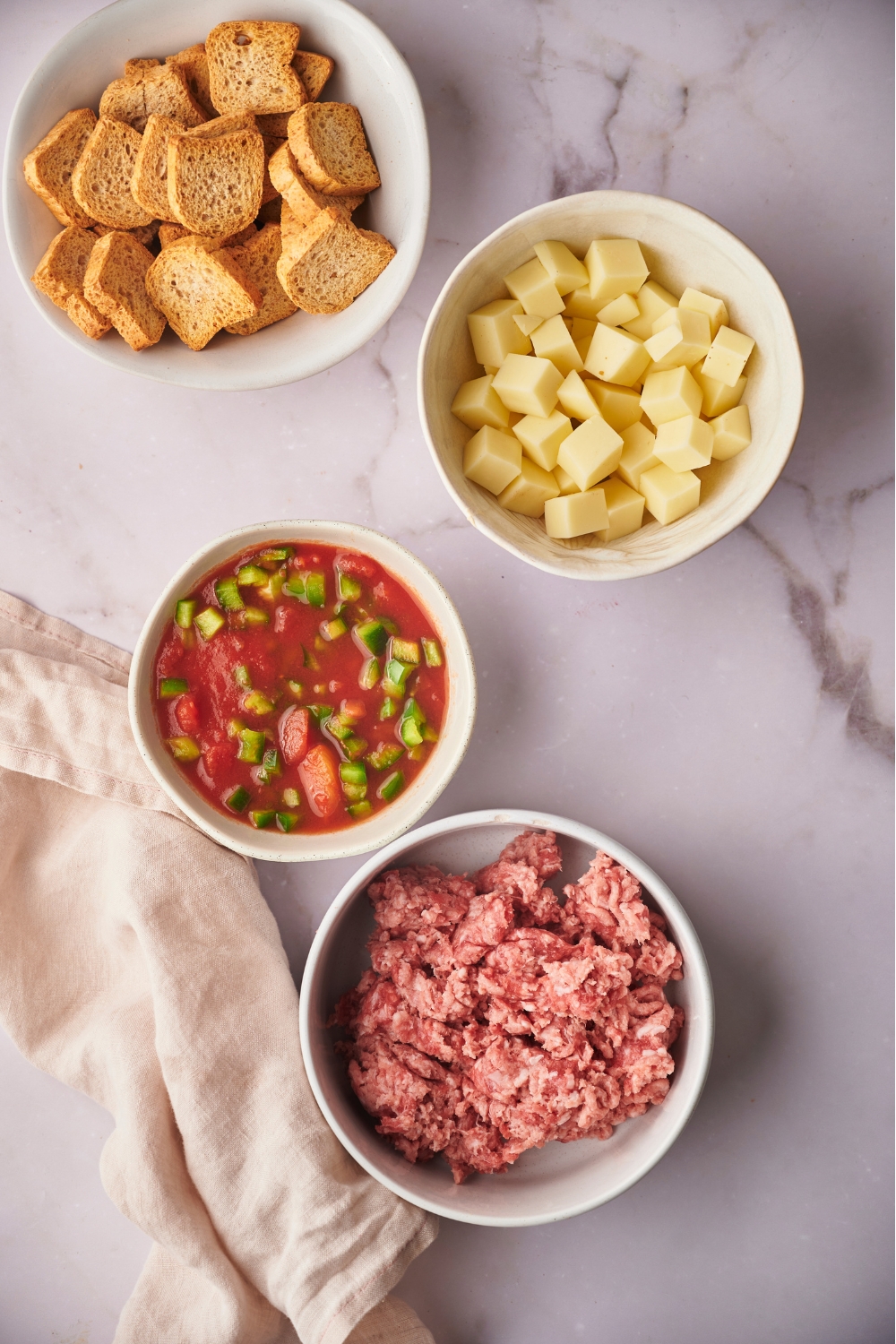 Ingredient Substitutions & Suggestions
While I recommend making this Rotel dip with the ingredients listed above, there definitely are some exciting ways you can spin this recipe.
Here are some of our favorite suggestions...
Switch Out Velveeta Cheese For Cream Cheese Other Cheeses
While this class Rotel dip is made with Velveeta cheese, you can experiment with loads of different types of cheese for different flavors including:
Swiss cheese

Cream cheese

Shredded Cheddar cheese

Or any other kind of shredded cheese
Experiment With Different Sausages
This Rotel dip recipe uses ground pork, but you can also use ground turkey, spicy sausage, ground beef, ground chicken, or shredded chicken to make it.
With that said, though, if you decide to use ground beef, always choose one with a low-fat content so that your Rotel dip isn't too greasy.
Spice Things Up
If you want to add more of a kick to your Rotel dip, you can simply add some extra green chiles or even jalapenos to it!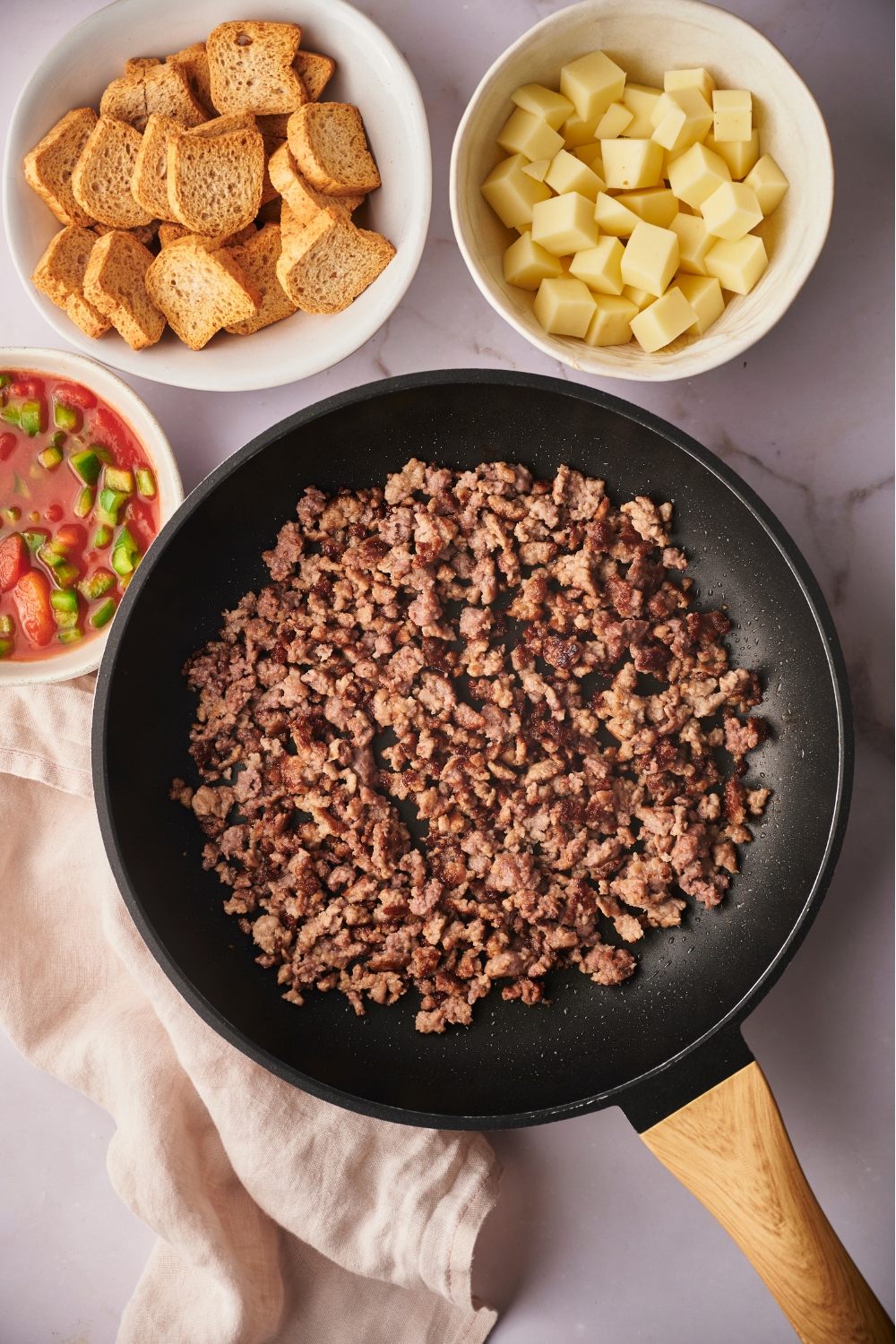 How To Make Rotel Dip
Alright, now it's time for the fun part - making the dip!
And, again, making this Rotel Dip recipe is about as easy as it gets. I mean, it's hard to beat a recipe that requires only 3 ingredients and less than 5 steps, right?
So let's not waste another second and get into the recipe!
Step 1: Cook The Meat
So, to get started, you'll want to heat a large skillet - or crock pot - to medium-high heat and add your ground sausage - or ground beef - to it. Then, you'll want to break the sausage up with a wooden spoon and cook it until it's completely browned.
Also, just so you know, you don't need to add any oil to your pan before you add the meat to it. The sausage - or ground beef - contains a good amount of fat which will allow it to cook in its own juices.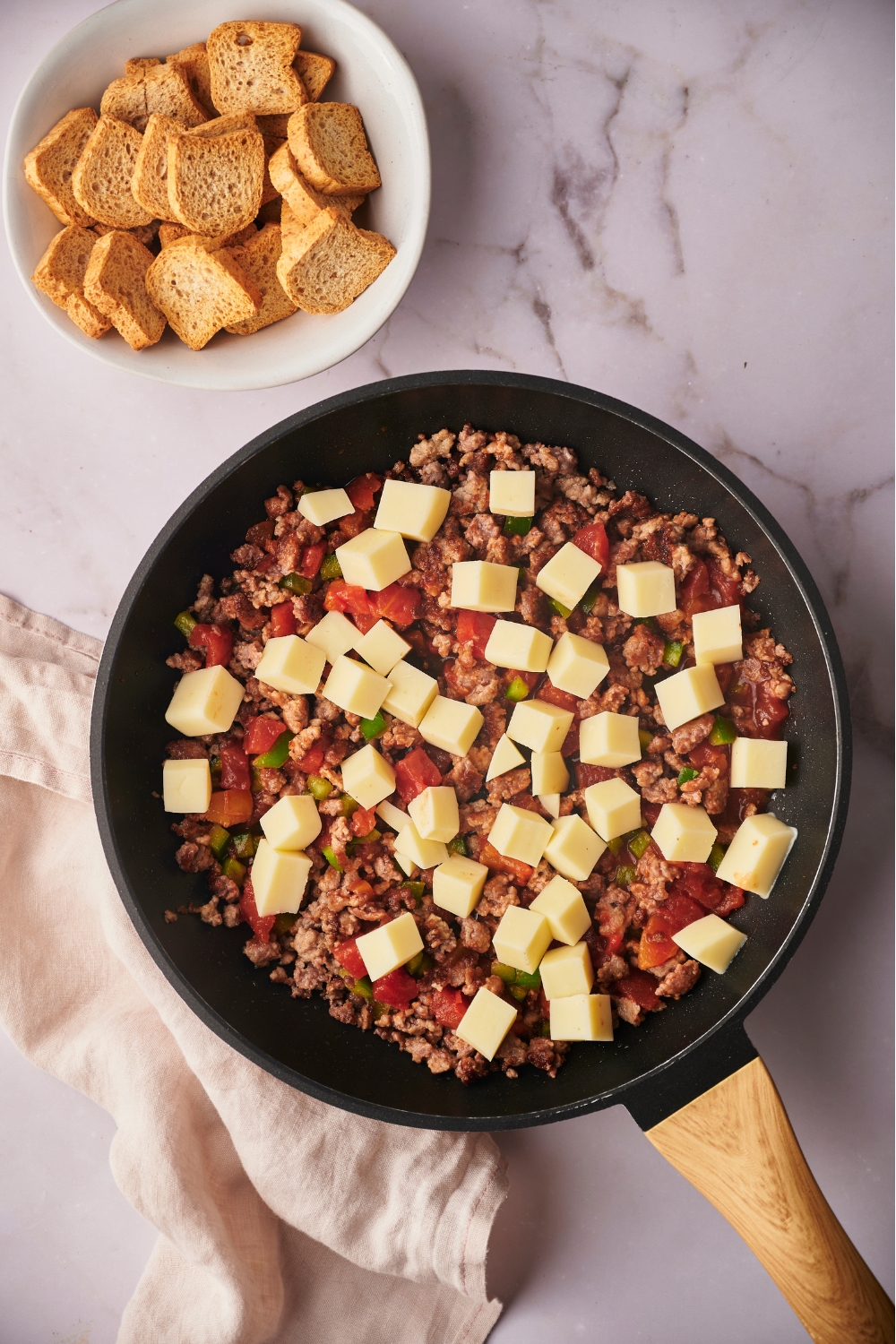 Step 2: Add The Rotel Tomatoes and Velveeta Cheese
So, now that the sausage is looking good, you can add the Rotel tomatoes and Velveeta cheese to it. Then, after you've added those ingredients in there, you'll want to cook 'em together until the cheese is melted and the dip is bubbling away nicely.
Step 3: Seasoning The Dip
Now it's time to test the salt level of your Rotel Dip and season it if necessary. This will depend on the type of sausage you are using, as some are saltier than others.

Step 4: Getting The Dip The Right Consistency
Once the cheese has completely melted, check that your Dip has the desired consistency. This is a very important step because nobody wants a thick, gloopy cheese dip!
If it is too thick, add a little milk and stir occasionally until it is nice and smooth. Alternatively, if the dip is too thin, you can add some more Velveeta cheese cubes to it until it reaches your desired level of thickness.
Step 5: Serving
Once your Rotel cheese dip has a perfect consistency, spoon it into a large dish and serve it with some tortilla chips or warm bread.
Enjoy!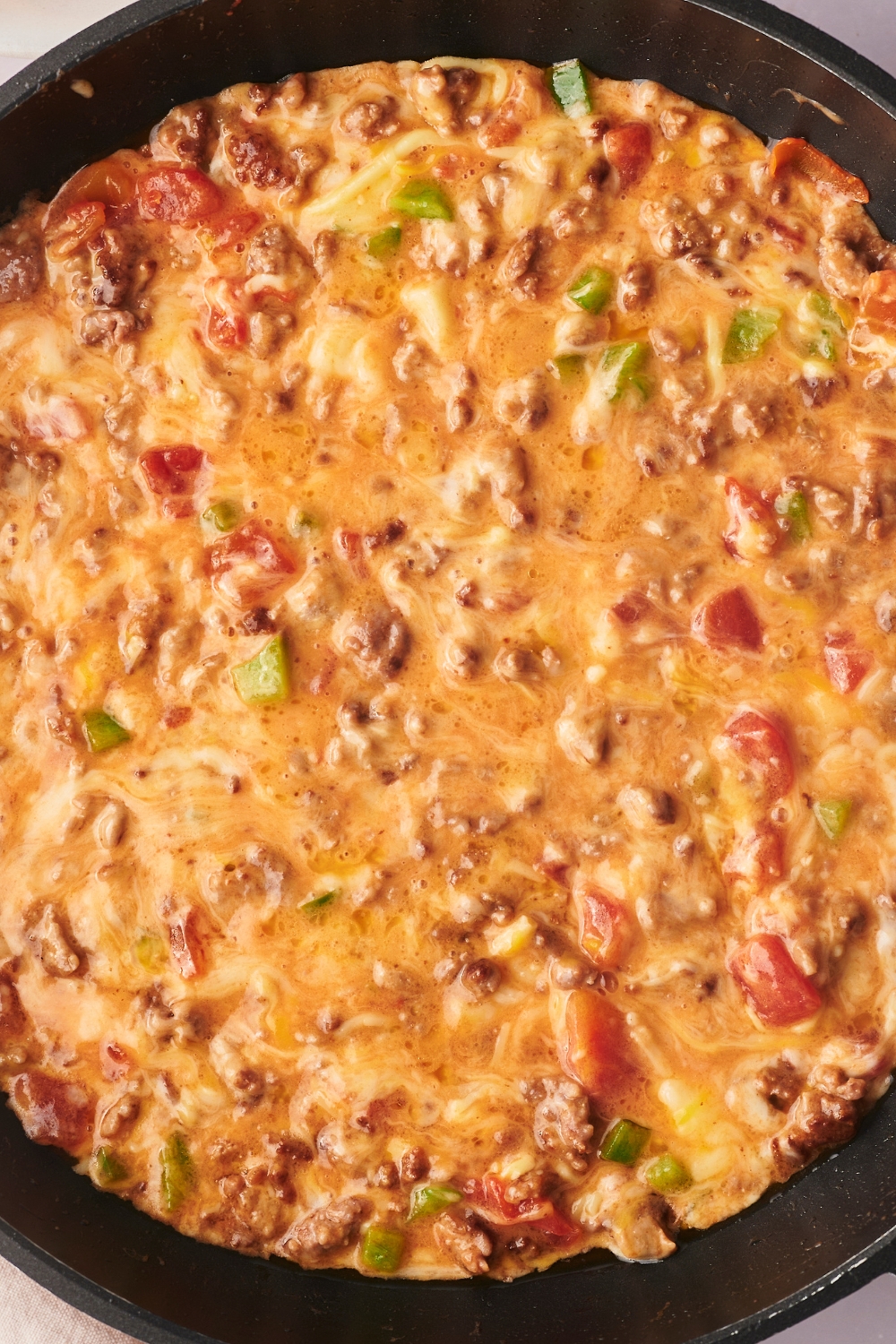 How To Store Rotel Dip
This recipe for Rotel dip will make enough for about 6 people to share.
So if you're bringing it to a large party or are having a lot of people over, you can easily double or triple this recipe without adding any time!
Oh, and don't worry about making too much and having leftovers because it tastes delicious the next day! You can store any leftover Rotel dip in an airtight container in the fridge for about 3-4 days.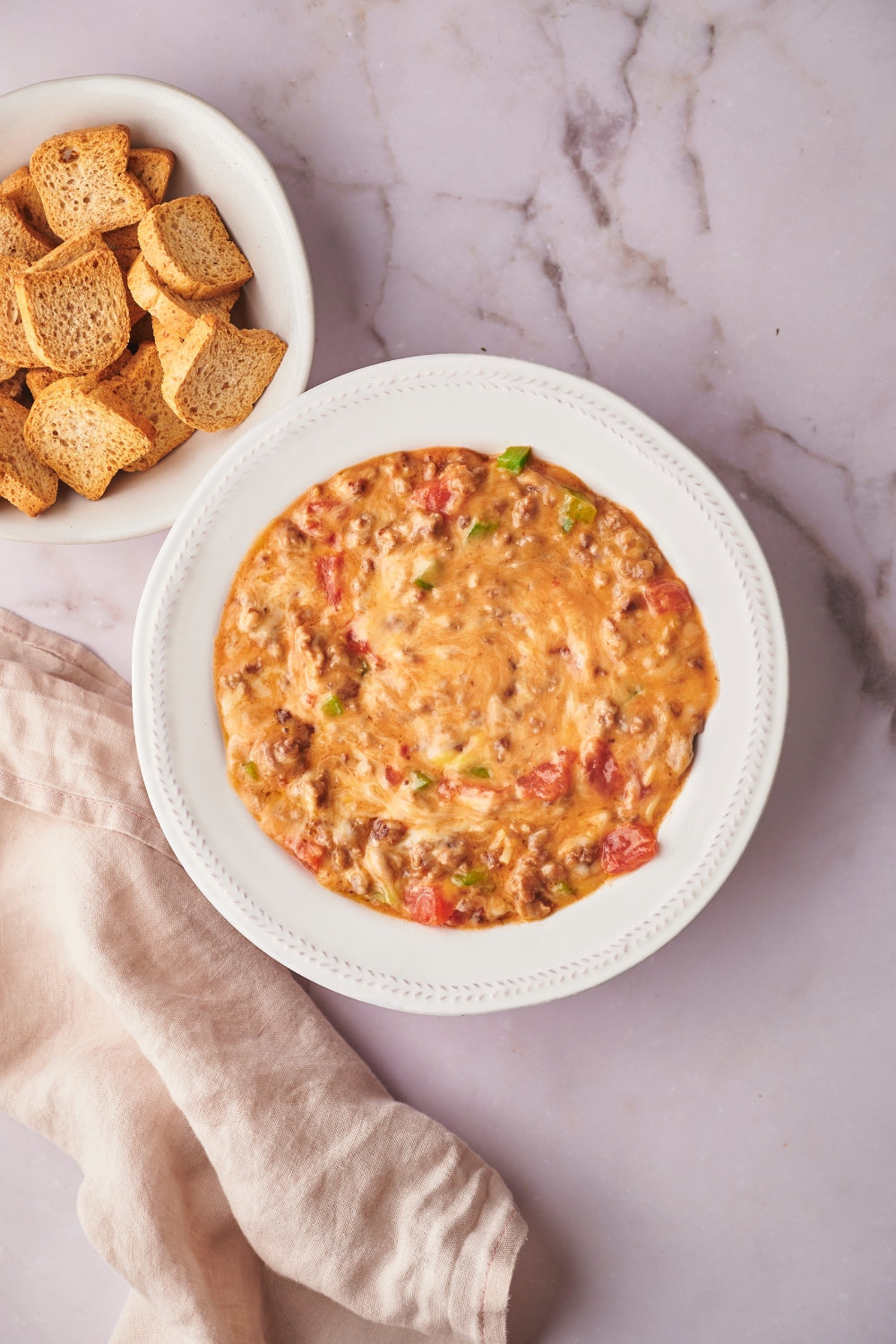 How To Freeze Rotel Dip
Some people think that you can't freeze Rotel cheese dip because it has dairy in it. But, as long as you prepare it correctly, it should be absolutely fine.
Again, just allow the dip to cool naturally and then place it in a freezer-safe container. Then when you are ready to eat it, simply place the container in the refrigerator and allow it to thaw out slowly before reheating it.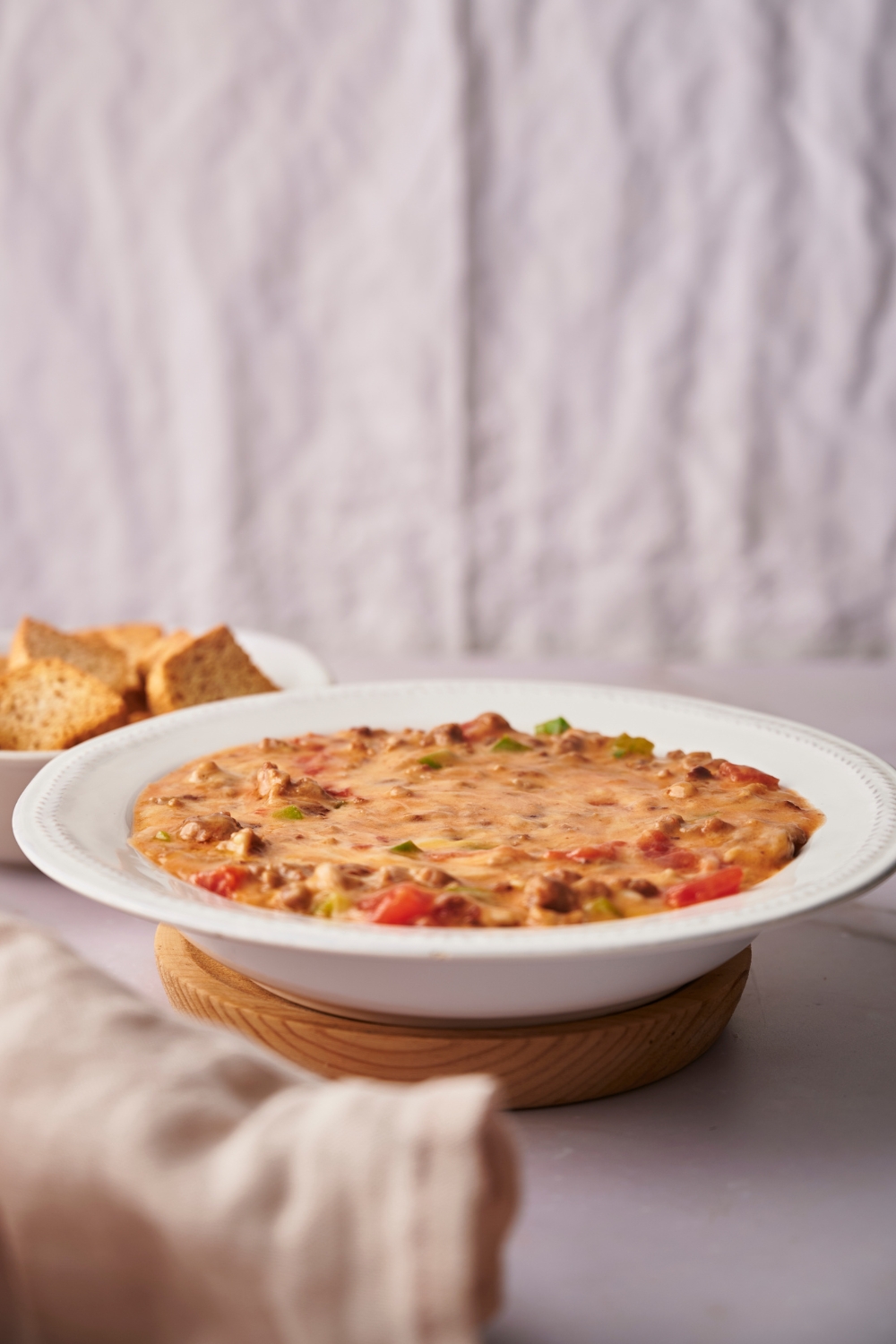 How To Reheat Rotel Dip
Once you're ready to enjoy this delicious cheese dip again, it's definitely best reheated. To reheat, you can put the dip in a crock pot and set it to low heat until the cheese melts.
For a quicker method, you can put the dip in a microwave-safe bowl and microwave in 20-second increments, stirring between each one, until the cheese has melted and is smooth.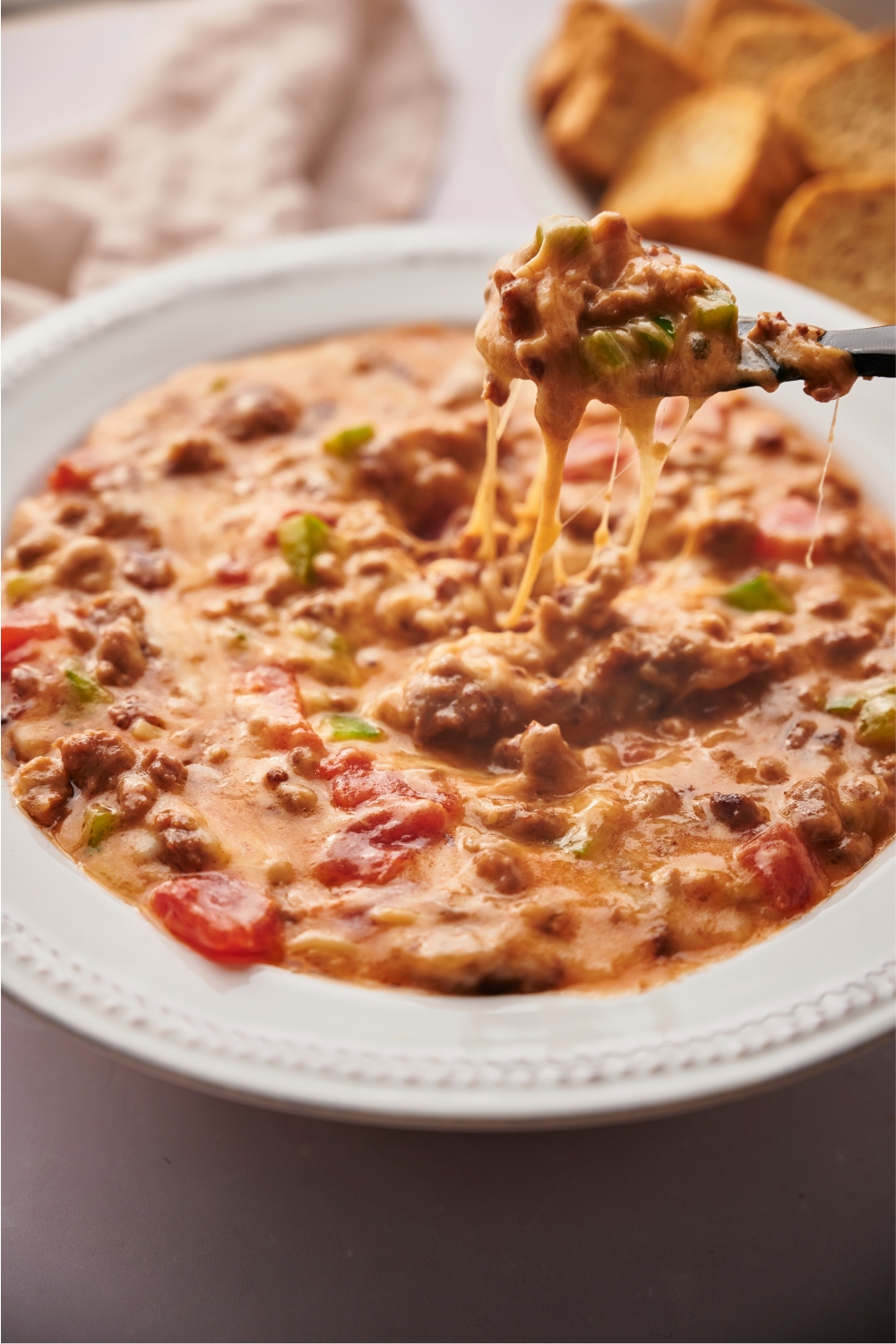 FAQs About This Rotel Dip Recipe
Can I Adapt this Recipe to Make a Queso Dip?
Absolutely, this easy dip recipe can be adapted perfectly for a delicious queso dip. Just add taco seasoning and green onions, and serve with tortilla chips. You don't even have to add any meat to it, although I have found that queso dip with ground beef is delicious.
Do I have to use Rotel tomatoes?
No, Rotel tomatoes are simply petite diced tomatoes with green chilies, but you can use any brand of canned diced tomatoes and add your own green chilis to them. But to keep this cheese dip recipe true to its name, using the Rotel tomatoes are definitely the way to go.
Can I make this Rotel Dip in a slow cooker?
Yes, there are a number of different cooking methods which will work with this recipe. If you want to use a slow cooker (also known as a crock pot), all you need to do is put the Rotel dip ingredients in the slow cooker/crock pot, set it to medium heat cook mode, and wait until the cheese has completely melted, and the sausage is thoroughly cooked. You can then switch the slow cooker to the warm setting and dig right in!
Can I use different types of meat in my Rotel dip?
Yes, as I mentioned earlier, you can use any meat that you want! With that said, ground meat will work best in this dip, so I recommend using ground beef, ground chicken, ground sausage, ground spicy sausage, ground pork, or ground turkey.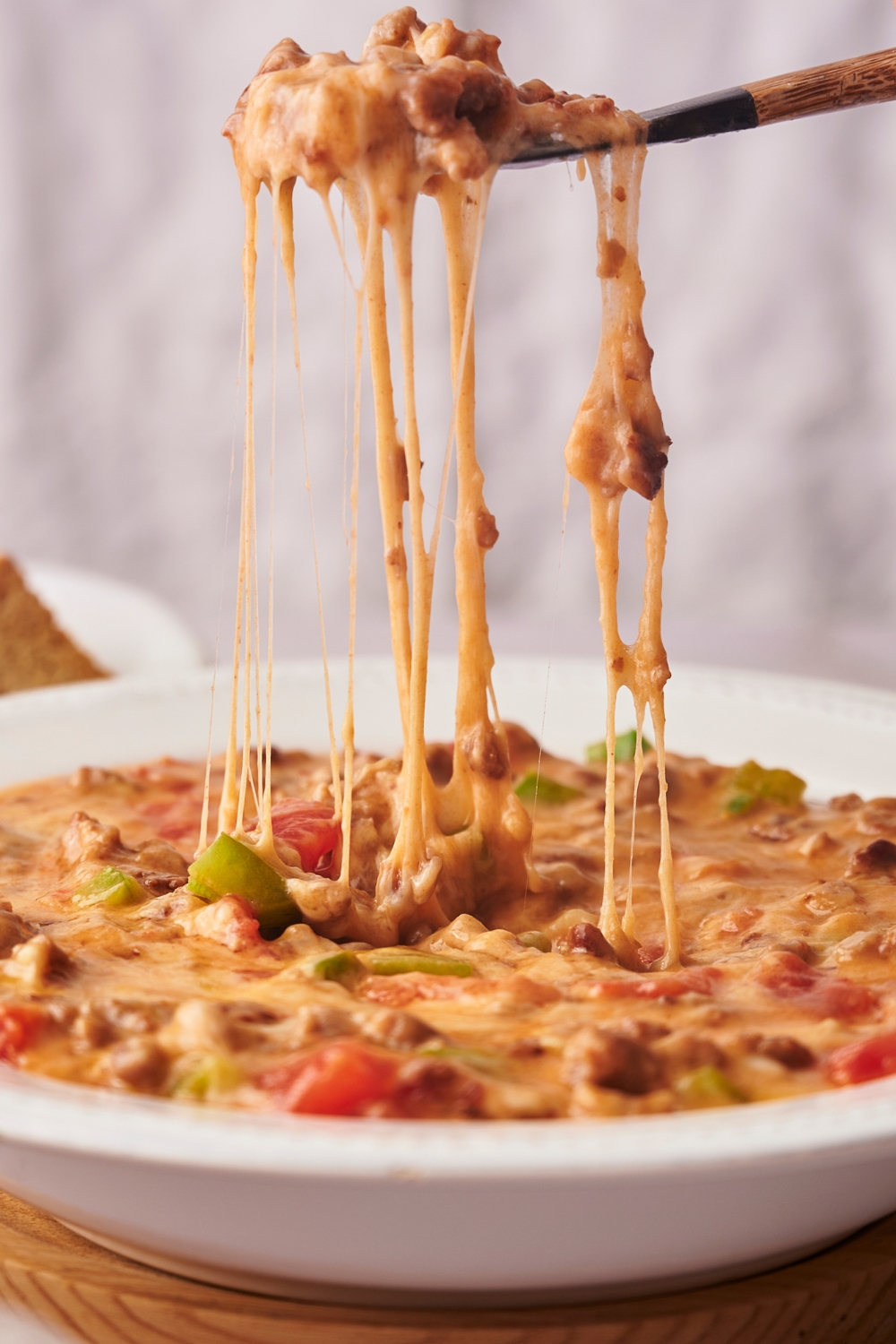 Wrapping It Up
Well, that's how to make Rotel Dip in just a few simple steps!
This Rotel cheese dip has to be the most delicious dip ever created. I don't know if it's those tangy, spicy Rotel tomatoes with green chiles, the saltiness of the sausage, or the rich, indulgent Velveeta cheese, but something about this dip is so special. All I know is that from the first time I made it I've been hooked on it.
Anyway, I hope you like this Rotel dip as much as I do. If you give it a try, leave a comment below and let me know your thoughts!
More Easy Recipes
If you like the Tex-Mex flavors of this Rotel dip, we have some more recipes on the blog with a similar taco seasoning flavor that is just delicious.
Give one of these recipes a try next:
As always, make sure to check us out on YouTube, TikTok, and Instagram! We post new recipes on them every day.
Print
The BEST Rotel Dip Made In 10 Minutes
This Rotel dip is packed with a ton of rich, creamy, cheesy, meaty deliciousness. It combines Rotel with spicy pork sausage and Velveeta cheese to create a dip recipe that's just to die for. Plus, it's so easy to make - just 15 minutes is all it takes to whip this cheesy Rotel dip up!
Author:
Prep Time:

1 minute

Cook Time:

9 minutes

Total Time:

10 minutes

Yield:

8

servings

1

x
Category:

Dip

Method:

Stovetop

Cuisine:

American
½ lb. (250g) ground beef or ground pork sausage
8 oz. shredded or cubed Velveeta cheese
4 oz. can of Rotel
Instructions
Heat a non-stick skillet to medium high and add the ground meat to it.

Cook for about 8-10 minutes, breaking it with a wooden spoon until it's completely browned.

Add Rotel and Velveeta cheese to it and stir well until all the cheese melts. Test the salt level and season if needed.

Serve with tortilla chips, crackers, or bread.
Nutrition
Serving Size:

1 serving

Calories:

127

Fat:

8

Carbohydrates:

4

Protein:

10
Keywords: rotel dip, rotel dip, easy rotel dip, easy rotel dip recipe, rotel cheese dip, rotel cheese dip recipe, how to make rotel dip, rotel dip with sausage, rotel dip with ground beef, rotel dip ingredients, rotel dip recipe easy, rotel dip recipe with meat