This puff pastry apple tart recipe is the quickest and easiest way to get your apple pie fix! Sweet and tender apple filling with a touch of cinnamon is encased in a crispy and buttery puff pastry crust to make one delicious dessert.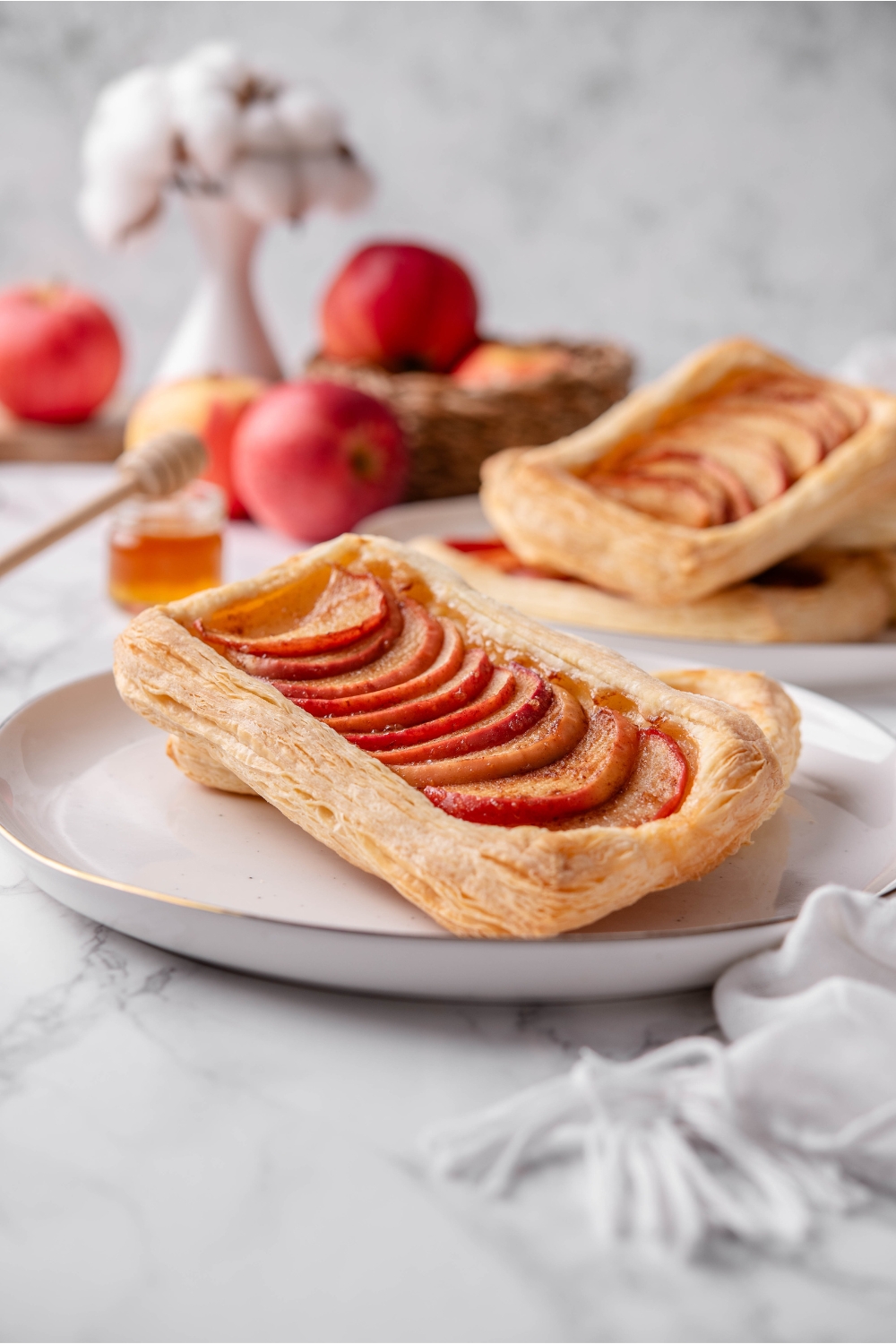 An Easier Apple Tart Recipe
Nothing says fall like apple pie, but these tarts are a fun and easy change up from a traditional pie. They have all the delicious flavors and textures of the nostalgic pie, but something about them is even more satisfying!
I got the idea for this recipe from the upside-down puff pastry tarts that went viral on TikTok a while back, and it turned out even better than I anticipated. So if you're looking for a different dessert to make with apples, this one is perfect!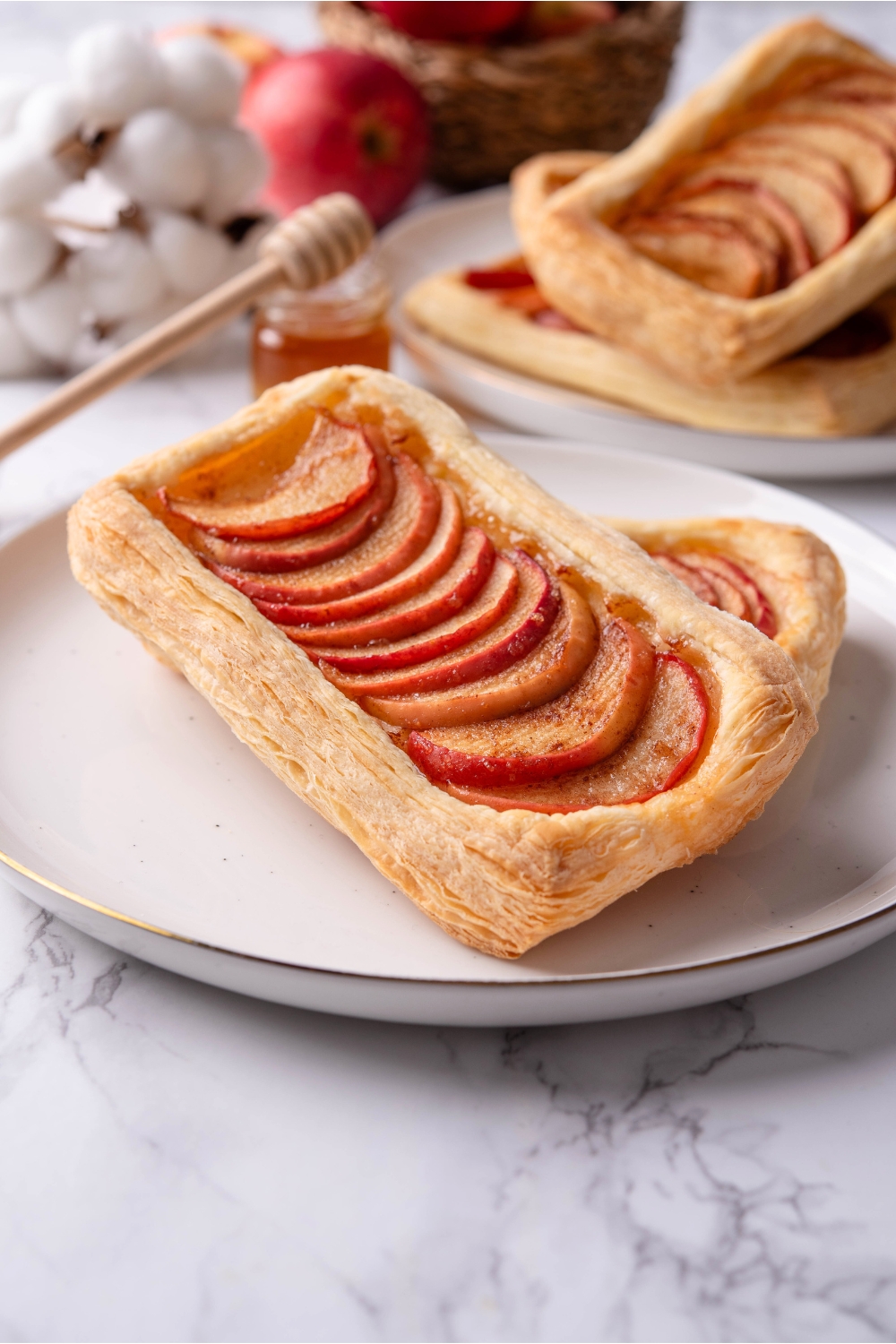 Why You'll Love This Recipe
It's effortless to make. All you have to do is slice and roll the pastry sheets, then mix and add the apple tart filling. It's a foolproof process, and the results taste like you picked it up fresh from a bakery!
The combination of flavors and textures is amazing. The puff pastry gives the tarts a wonderful crisp flakiness and a slight chew. It's so addictive when paired with the softened cinnamon apple filling with hints of brown sugar in each bite.
Ultimate apple season dessert. These apple tarts are great year-round, but they're an absolute must-have in the fall when apples are in season! This is one of me and my wife's favorite recipes to make after going apple picking.
It's a great make-ahead dessert. You can easily double or triple the batch and freeze the rest for quick and easy desserts. They come in clutch if you're hosting for the holidays! I've added some tips for freezing them baked or unbaked later below.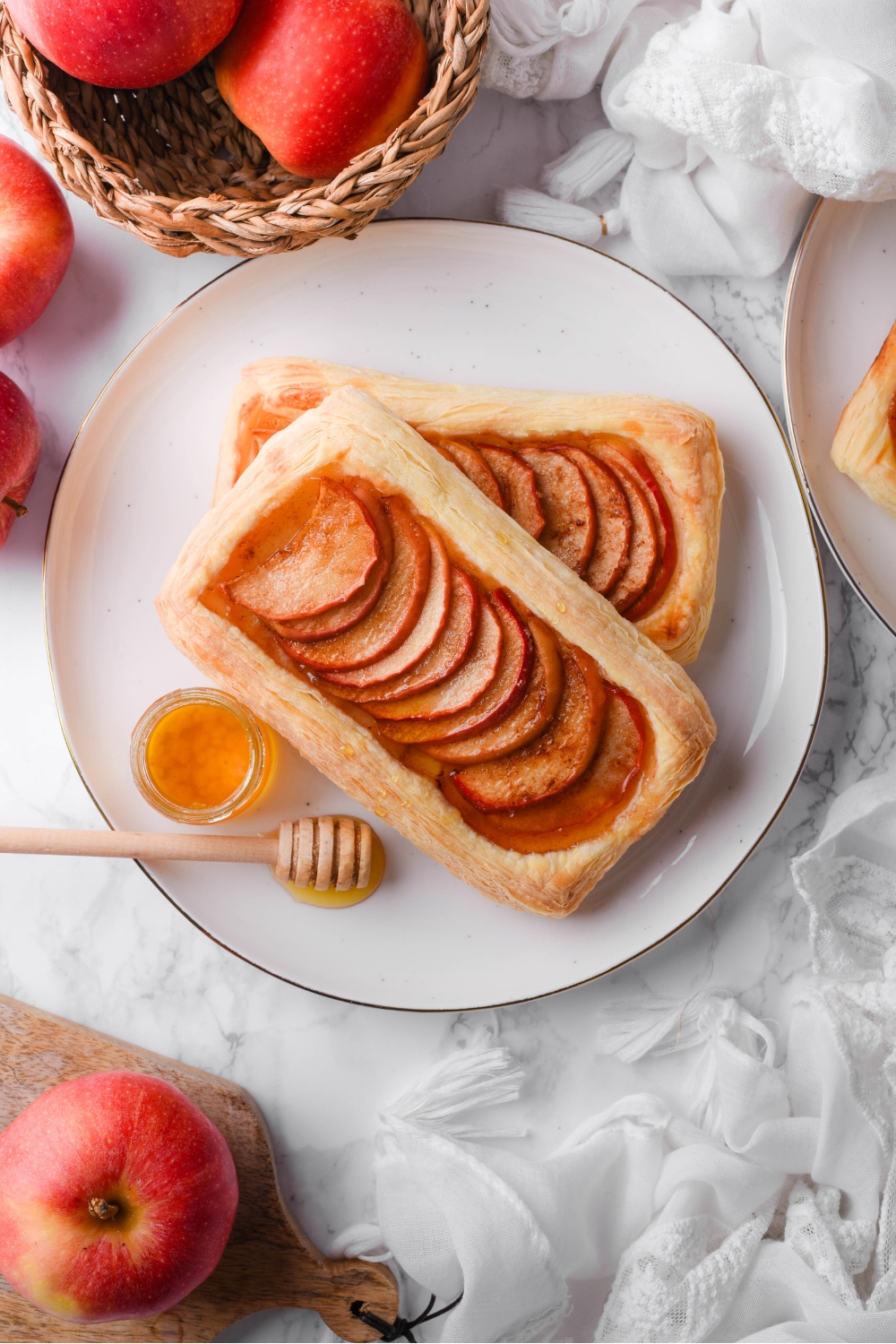 Ingredients You'll Need
Puff pastry - if you're starting with frozen puff pastry, be sure to thaw it before getting started.
Baking apples - Cored and thinly sliced. You can do one variety or a mix of tart apples and sweet apples. I like to use Honeycrisp apples.
Lemon juice - keeps the apple slices from oxidizing and also adds a touch of tartness to balance out the sweetness.
Sugar - to make a sweet and syrupy apple filling.
Brown sugar - brings another layer of sweetness with a caramel undertone.
Cinnamon - for a touch of warmth and spice that perfectly complements the apple flavor.
Honey or powdered sugar - as a garnish to add another touch of sweetness to the finished tarts.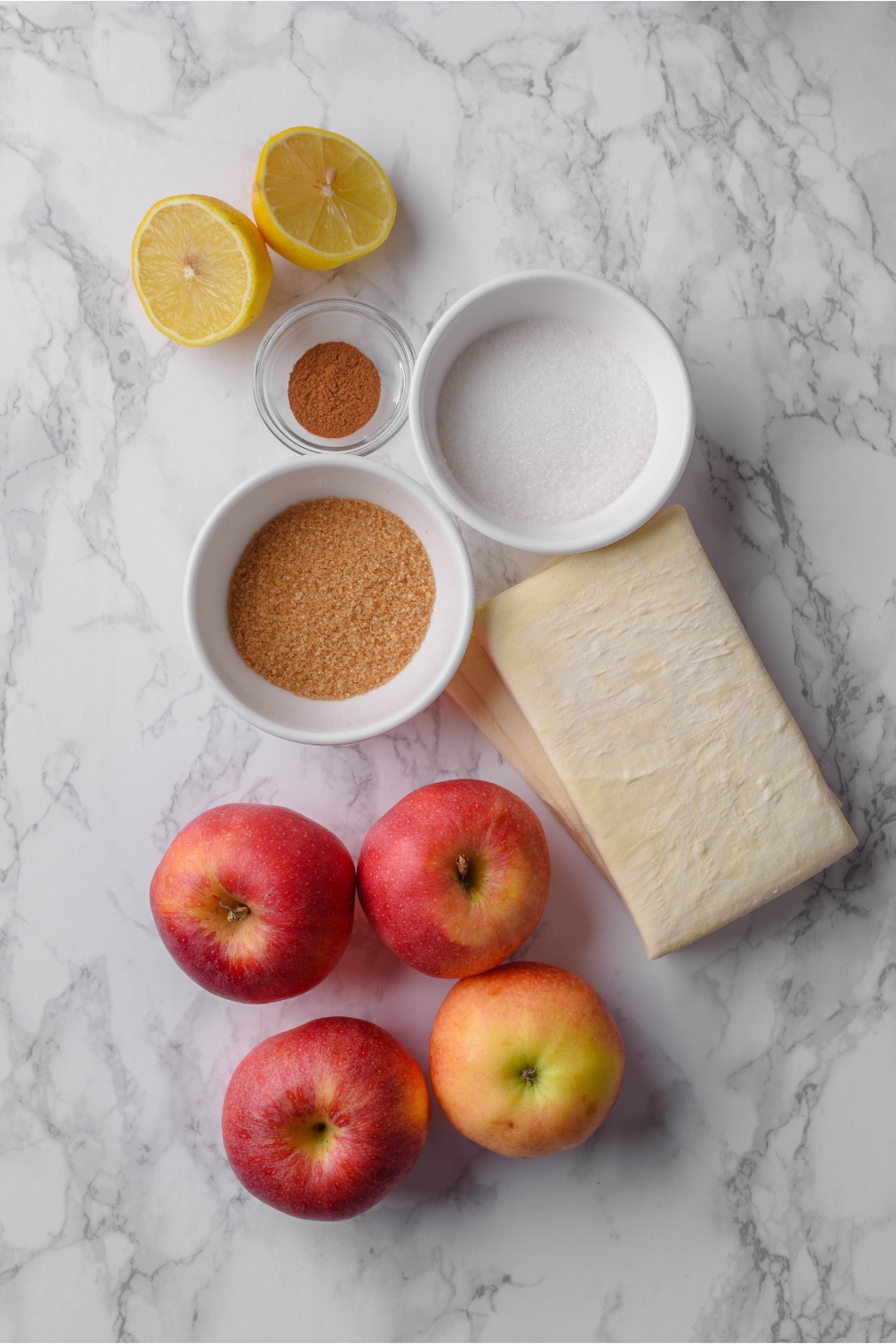 How To Make Apple Tarts with Puff Pastry
Step 1: Prepare the apple filling. Preheat the oven to 425°F (220°C) and line two baking sheets with parchment paper. In a bowl, gently combine the sliced apples with sugar, brown sugar, lemon juice, and cinnamon. Once mixed, set them aside.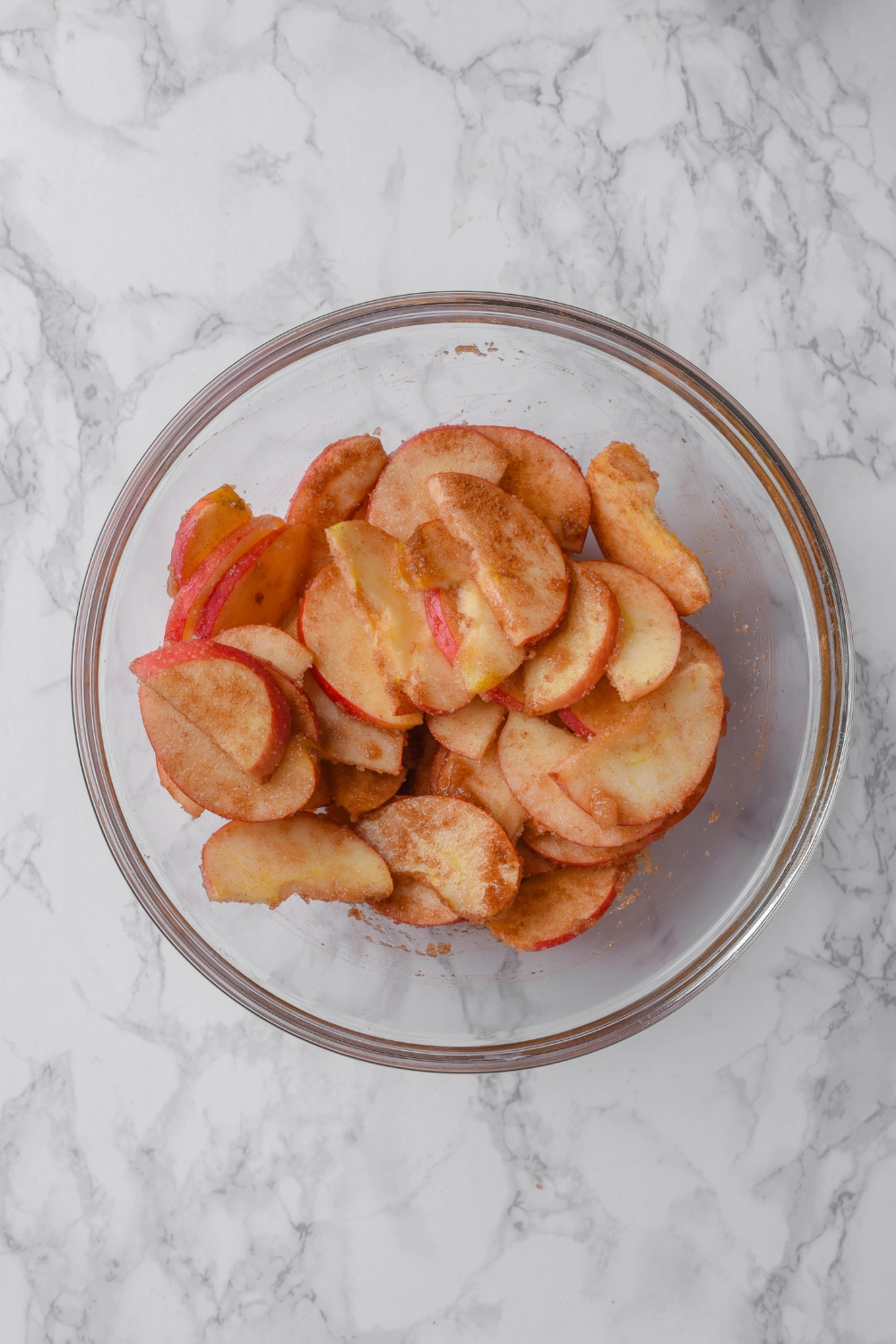 Step 2: Make the tart shells. Cut each puff pastry dough into three pieces. Cover a flat working surface with flour and roll out each piece, then place three evenly spaced pieces on each baking sheet. Make shallow slices along the border of each puff pastry, being careful not to cut to the bottom. This will help create the border for the apple tart.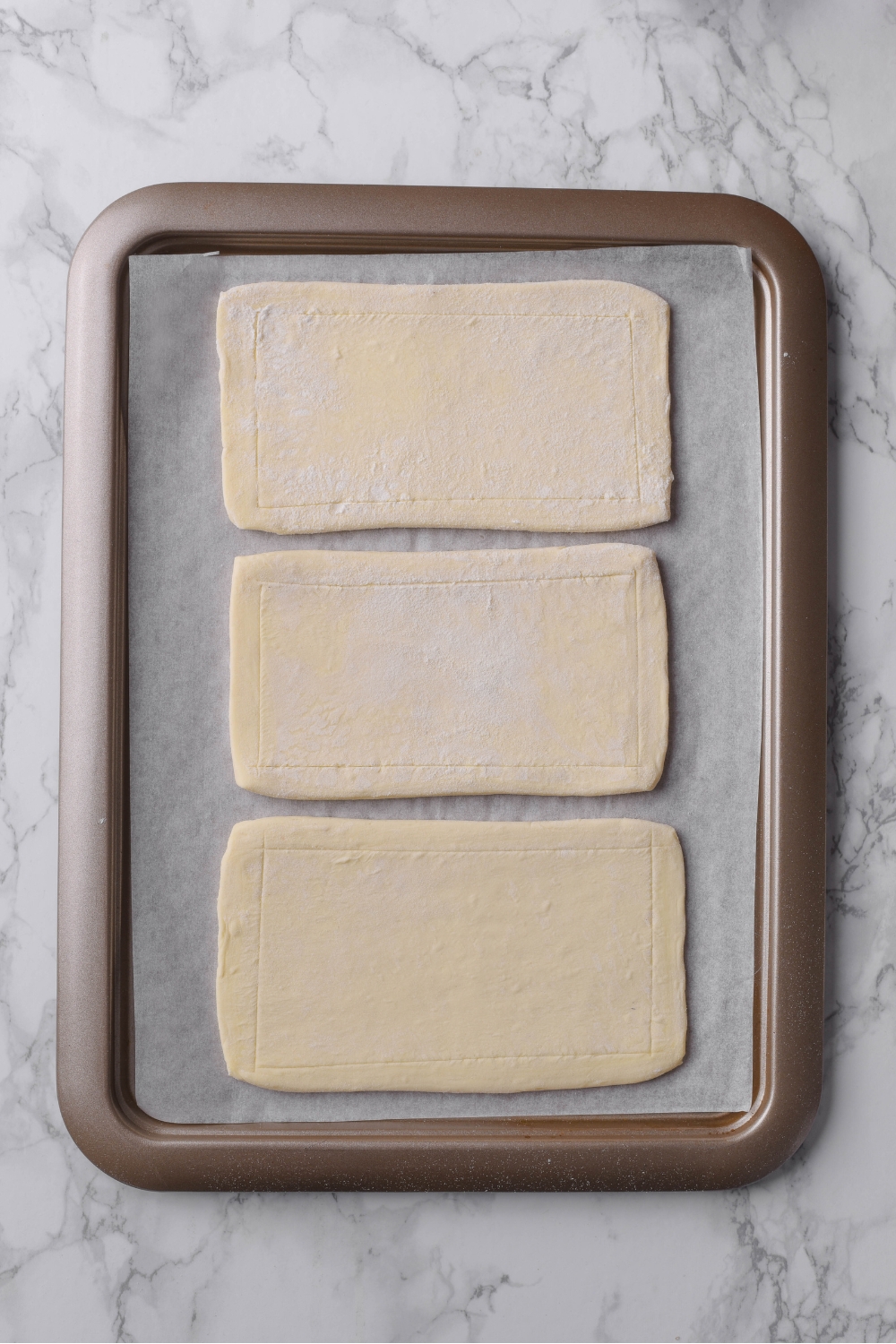 Step 3: Assemble. Arrange the apple slices in an overlapping row in the center of each puff pastry sheet. Try not to go over the borders you sliced earlier.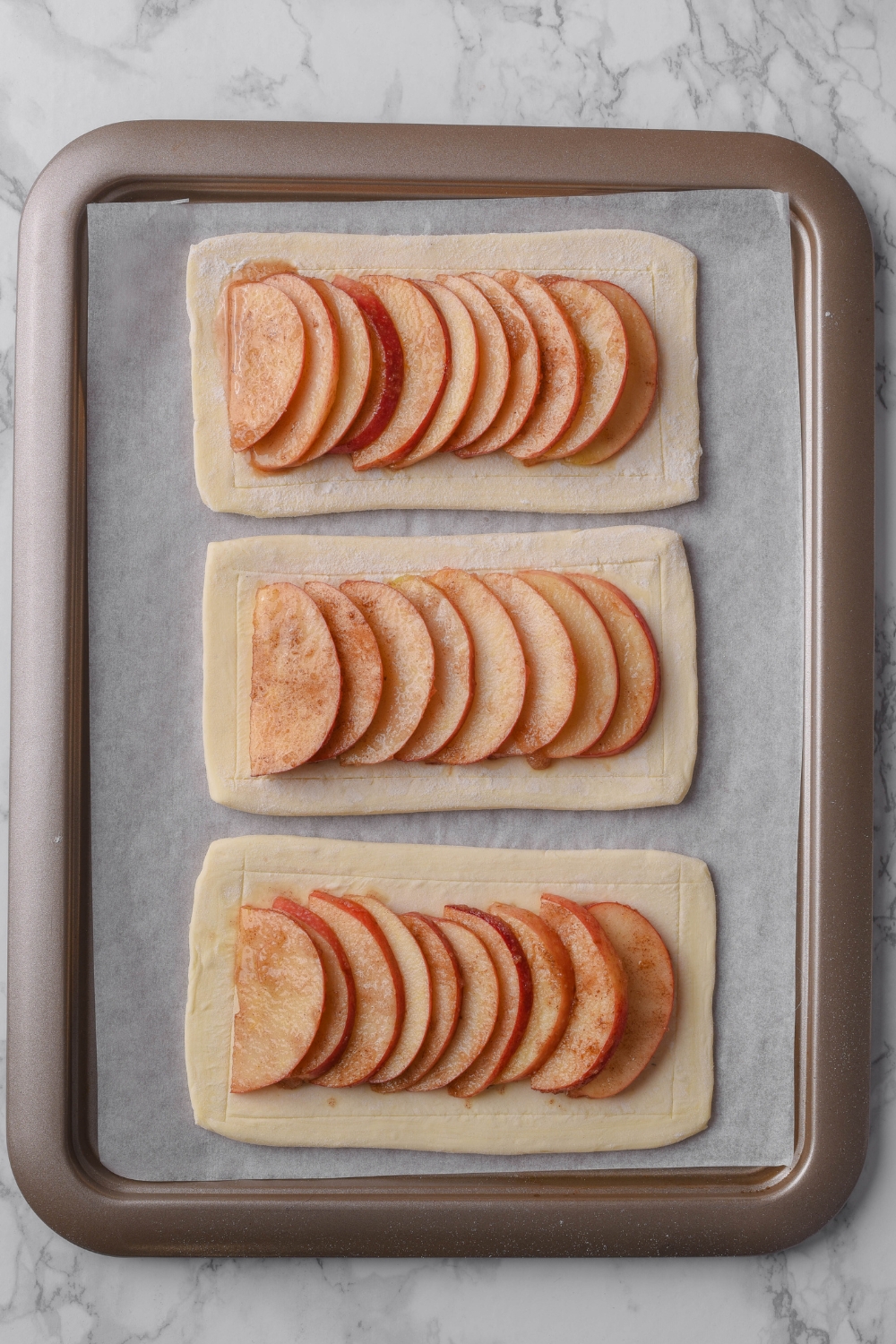 Step 4: Bake. Put the apple tarts into the oven and bake for 20 minutes or until puffed and golden brown. Let them cool to room temperature, then finish with a drizzle of honey or dusting of powdered sugar. Enjoy!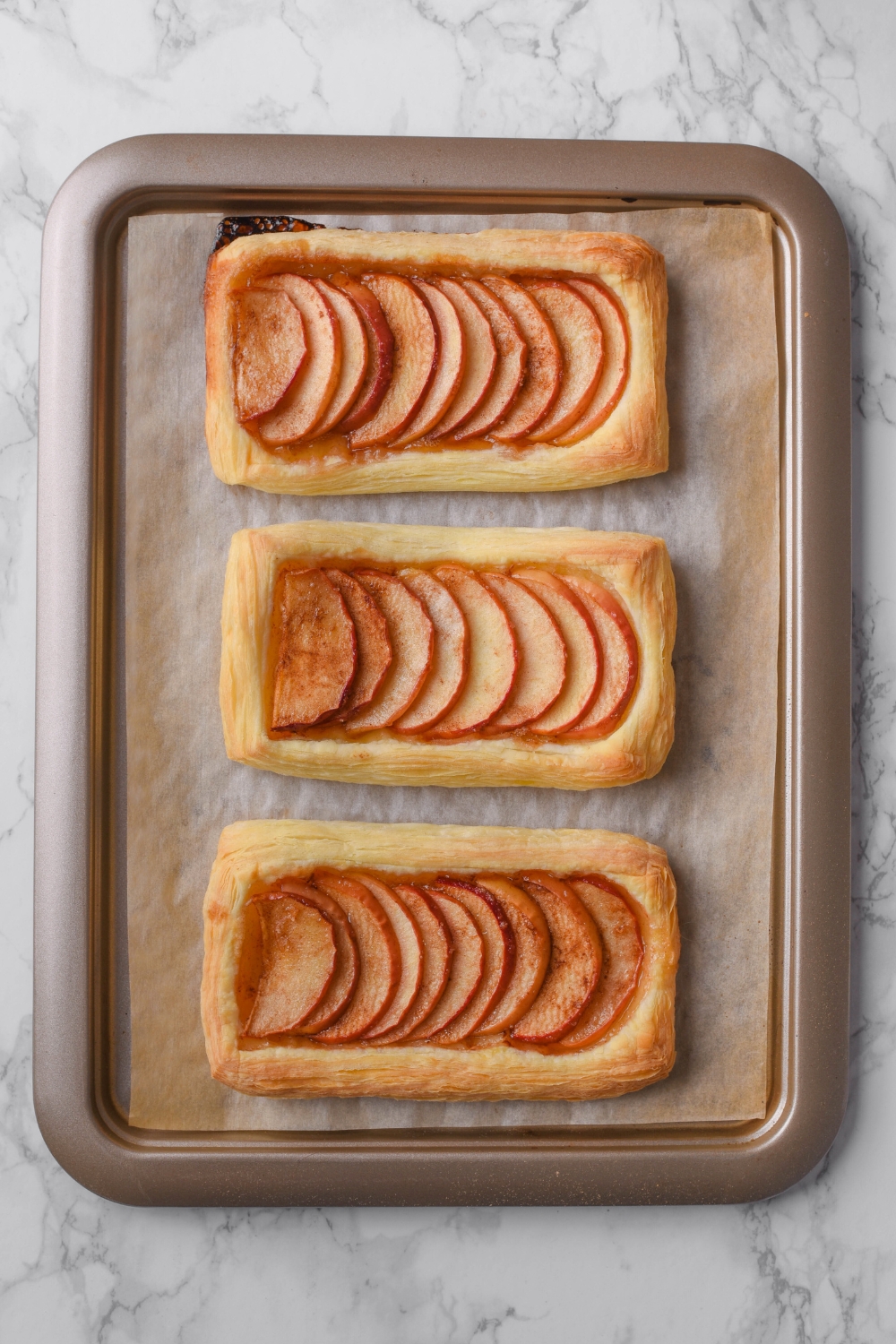 Tips To Make The Best Recipe
Slice your apples around ¼ inch thick and place them in water or immediately in the sugar and lemon juice mixture to prevent browning.

When mixing the apples with the other ingredients, be very gentle so they stay in slices and do not break.

Always work with thawed puff pastry. To thaw, either put it in the fridge for about 2 hours or unwrapped on your kitchen counter for about 30 minutes. It bakes best cold, so do not leave it out too long after thawing.

Flour both your rolling surface and your rolling pin for smooth and easy rolling with no sticking.

Don't put too much pressure when rolling your puff pastry to retain the puffiness and flaky layers when baked.

Serve it ala mode with a scoop of vanilla ice cream for an indulgent dessert.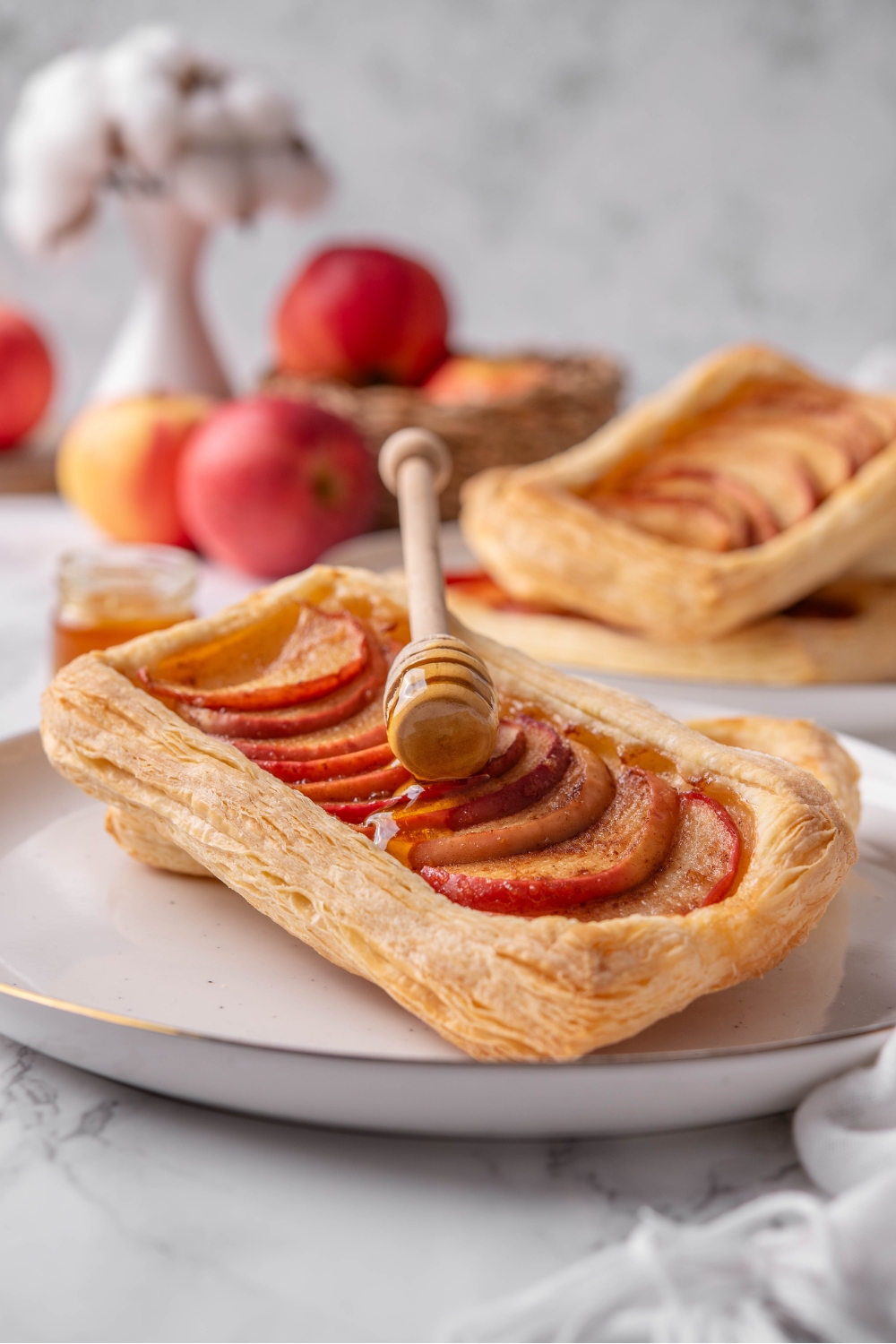 How To Store Apple Tarts
In the fridge: Transfer the cooled tarts to an airtight container and refrigerate them for 3-4 days. If you're stacking them in one container, put a piece of parchment paper between each.
In the freezer: Freeze the baked tarts in one layer on a baking sheet, then transfer them to a freezer-safe container or freezer bag. You can also store them before baking. Wrap each uncooked tart in plastic wrap and seal them in a freezer bag, then thaw and bake as instructed. They freeze best unbaked, but either way, they'll last for up to 3 months.
Reheating: Thaw the apple tarts to room temperature, then preheat your oven to 250°F (125°C) and bake them for 10-15 minutes or until warmed through and crisp on the edges.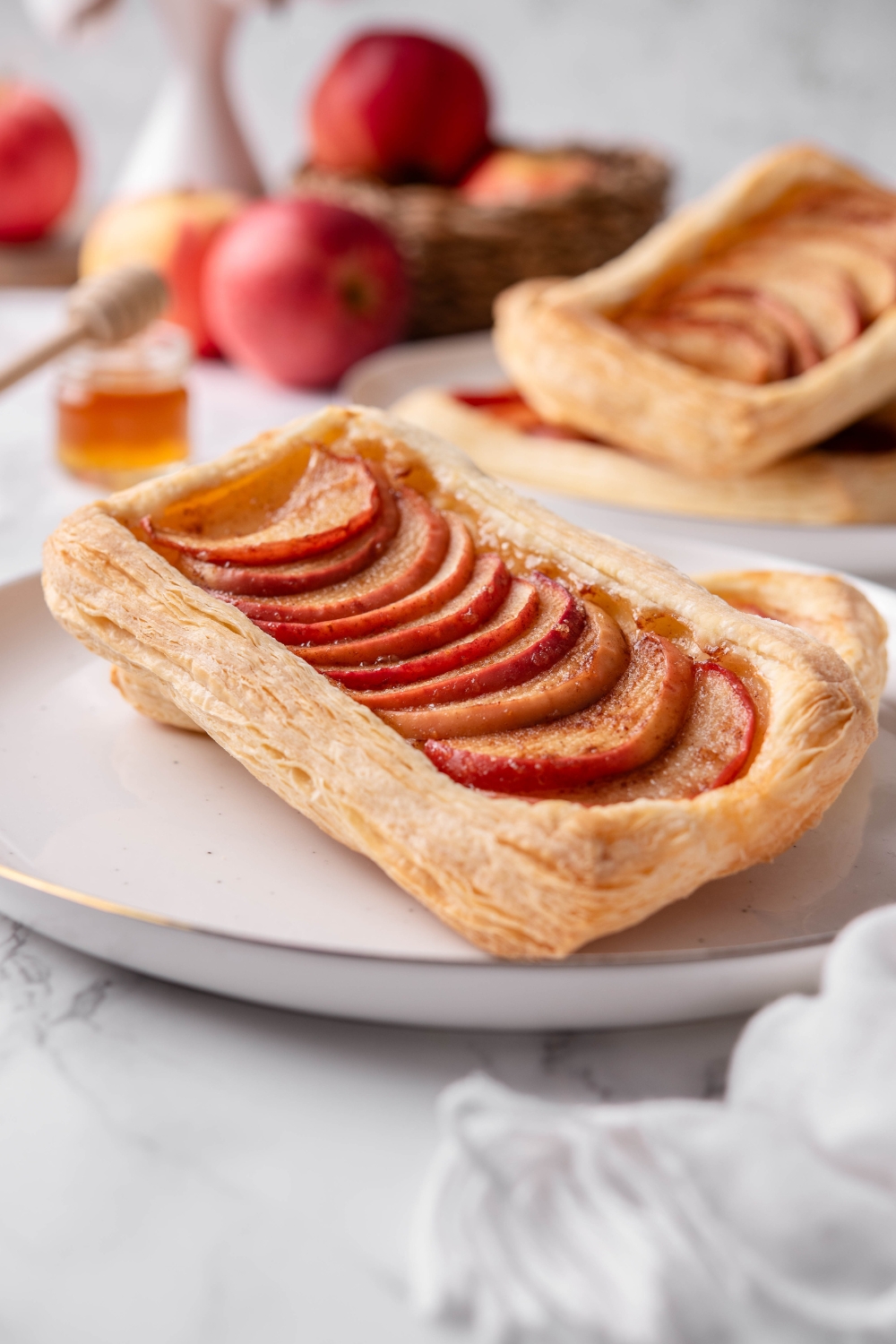 Frequently Asked Questions
What are the best apples to use for this recipe?
Some of the best apple varieties to use are Honeycrisp, Braeburn, and Gala apples. If you want a tart flavor, Granny Smith works too.
Do I need to peel the apples?
I suggest leaving them unpeeled, but that's totally up to you. I prefer to leave the skin on because it gives this dessert a nice aesthetic, and I think the skin adds to the flavor.
Do I need to prebake the puff pastry?
No, the dough will actually cook to perfection when it's baked with the apple filling.
Can I make this recipe ahead of time?
Yes, you can prepare the tarts up to 24 hours in advance. Just assemble and store in an airtight container or on a plate covered in the fridge. Then when you're ready to serve, just pop them in the oven and bake as directed. You can also bake this dessert hours in advance before your guests arrive since it's so delicious at room temperature.
More Apple Recipes To Try
Yield: 6 tarts
Puff Pastry Apple Tart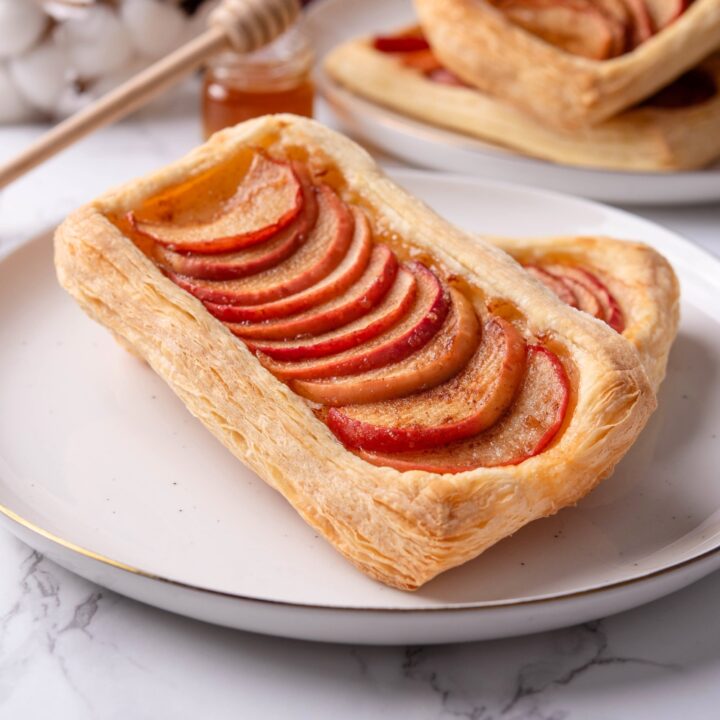 This puff pastry apple tart recipe is the quickest and easiest way to get your apple pie fix! Sweet and tender apple filling with a touch of cinnamon is encased in a crispy and buttery puff pastry crust to make one delicious dessert.
Ingredients
1 lb. puff pastry, thawed if frozen
4 baking apples, cored, thinly sliced, unpeeled (I used Honeycrisp)
1 tablespoon lemon juice
¼ cup sugar
¼ cup brown sugar
½ teaspoon cinnamon
Honey or powdered sugar for serving
Instructions
Preheat oven to 425°F. Line two baking sheets with parchment paper.
Toss the apples gently in a bowl with sugar, brown sugar, lemon juice, and cinnamon. Make sure you do not break them.
Cut each puff pastry into 3 pieces. Roll out each piece on a floured surface.
Using a knife, cut shallow slits around the borders (a little bit in from the edges), but do not cut through. This will create a nest for the apples.
Arrange the apple slices over the puff pastry, making sure they are slightly overlapping.
Bake for 20 minutes until the dough is puffed and golden brown.
Serve at room temperature, drizzled with honey or dusted with powdered sugar.
Notes
Honeycrisp, Braeburn, and Gala apples work best in this recipe. Granny Smiths will work if you want a tart flavor.
Nutrition Information:
Serving Size:
1 tart
Amount Per Serving:
Calories:

549
Total Fat:

29.1g
Saturated Fat:

7.3g
Trans Fat:

0g
Unsaturated Fat:

0g
Cholesterol:

0mg
Sodium:

192mg
Carbohydrates:

69.1g
Fiber:

4.9g
Sugar:

30.3g
Protein:

6g