These keto blueberry scones are tender, flaky, and they have deliciously crumbly toasted edges. Plus, these low carb scones are incredibly easy to make - all you need is few simple ingredients. On top of all that, they have no added sugar and they are gluten free scones as well!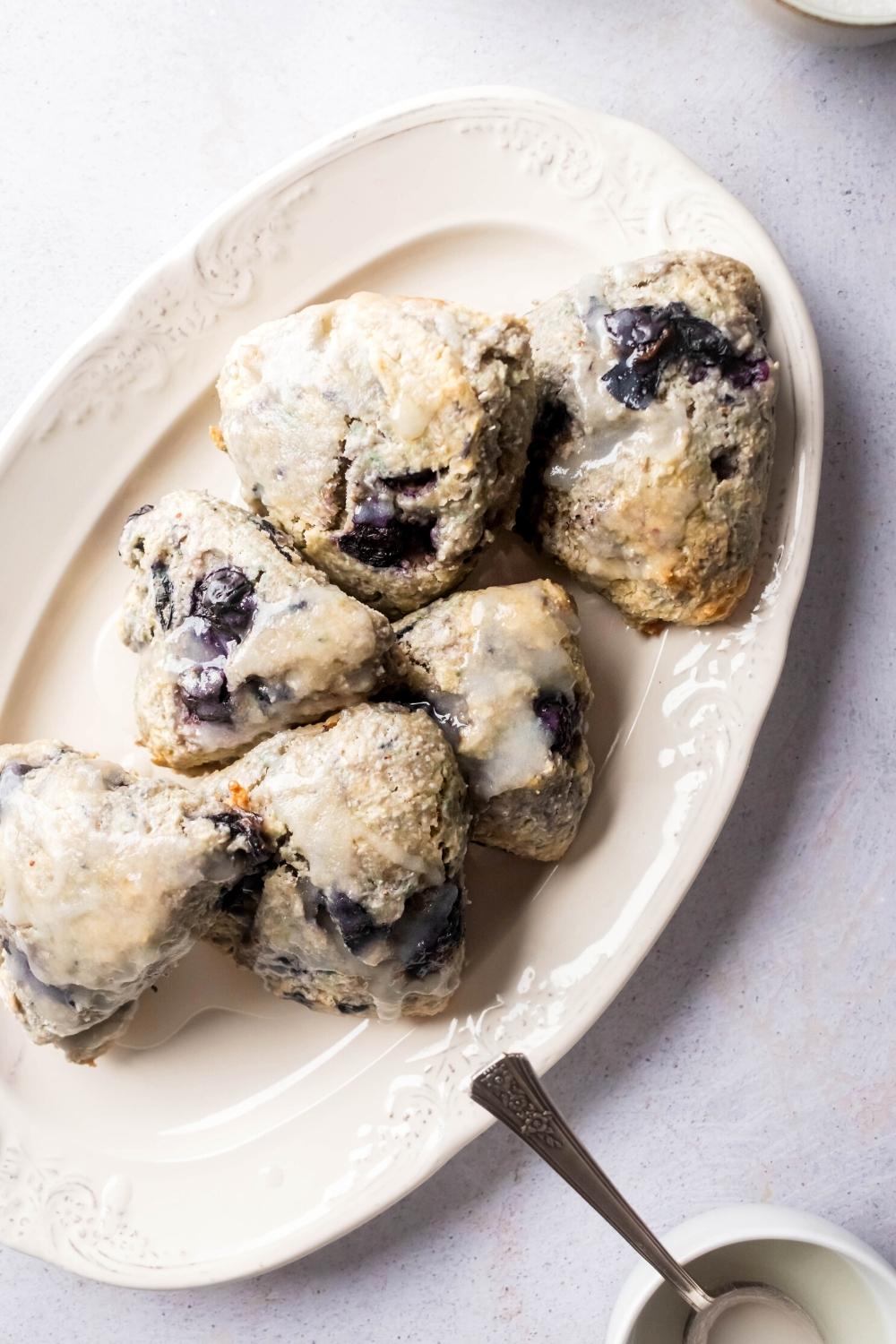 THE BEST KETO SCONES
These keto scones are the ultimate healthy breakfast or brunch staple. And if you didn't think you could enjoy delicious pastries on the keto diet, these blueberry scones will change everything!
These keto blueberry scones are rich and flaky, filled with jammy blueberries and topped with a glistening sugary glaze that's completely sugar free.
Plus, they're surprisingly simple to make - this keto scones recipe only takes about 15 minutes of prep, and the rest is just waiting for them to bake in the oven or air fryer!
Also, they're near-impossible to resist, so it's a good thing they're keto friendly. And kids love these keto scones too, so you can have a healthy and delicious breakfast for the entire family made in no time.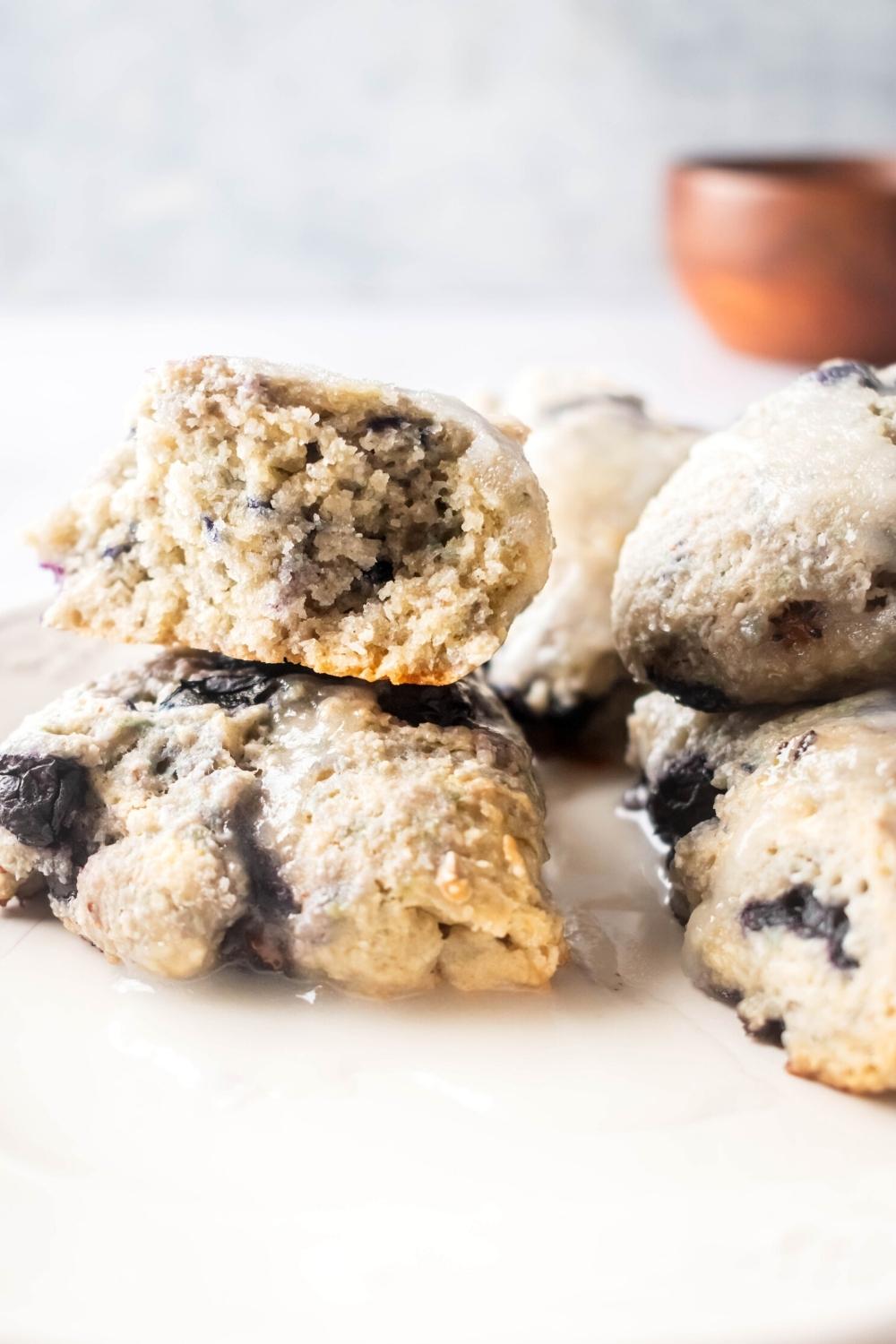 INGREDIENTS
So, most of the ingredients you need to make these almond flour scones keto friendly are low carb baking staples. And, odds are, if you've been doing the keto diet for a while then you have most - if not all - of these ingredients in your kitchen already!
Here's everything you'll need for the blueberry scones:
2 cups Almond Flour
¼ cup Coconut Flour
3 tbsp. Granulated Erythritol
½ tsp. Baking Powder
¼ cup Almond Milk
2 tbsp. Coconut Oil (melted)
1 Egg
2 tsp. Vanilla Extract
1 cup Blueberries
And for the sugar free glaze:
½ cup Confectioner Erythritol
2 tbsp. Almond Milk
As you may have noticed, we will be using both almond flour coconut flour to make these low carb blueberry scones. And the combination of both the almond flour and coconut flour are what makes the texture so delicious, so you'll want to make sure you use both and do not substitute one for the other.
Oh, and if you don't already have them, the best part about picking up the two flours is you can use both of them to make these keto lemon bars next!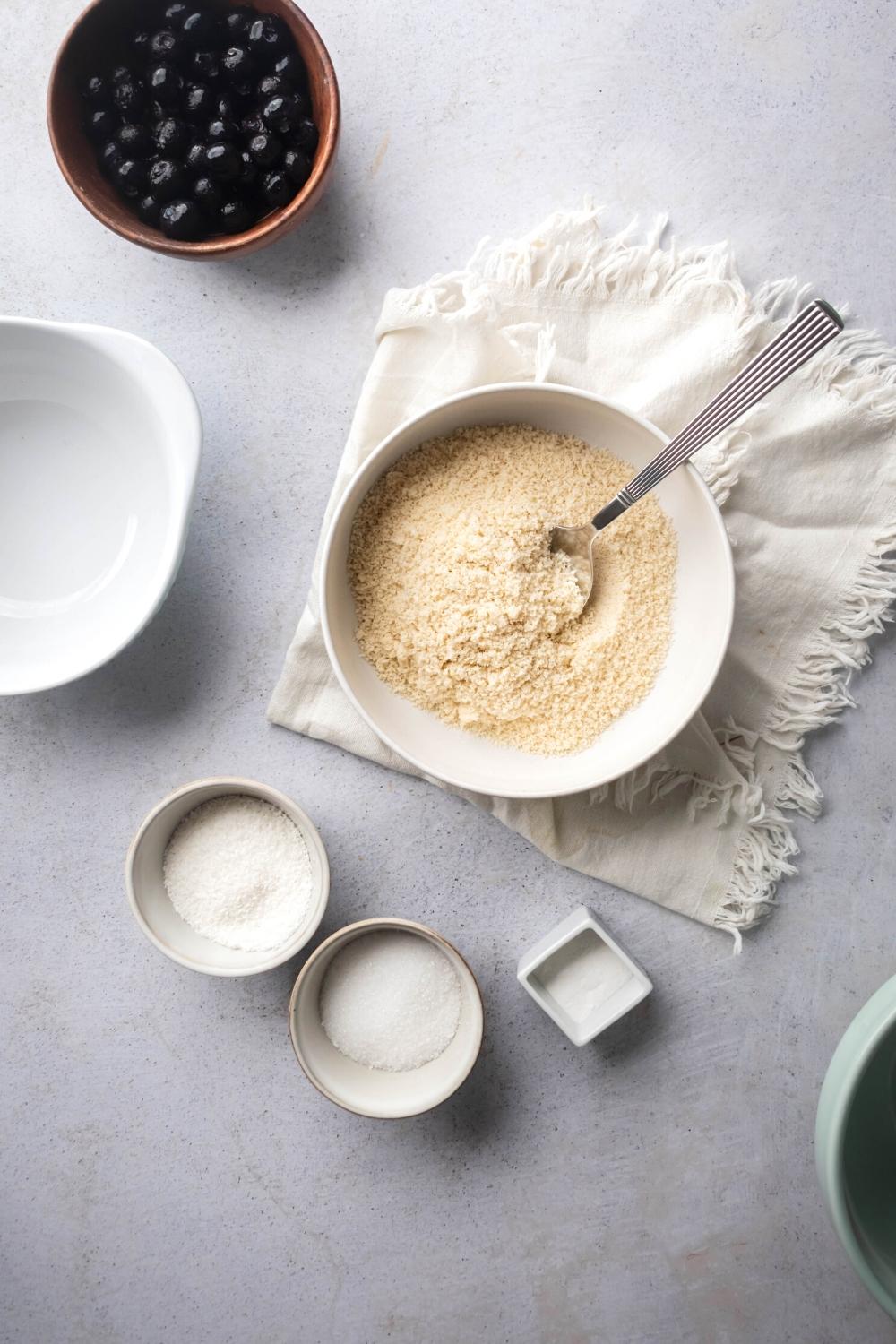 MAKING THESE SUGAR FREE SCONES
These keto blueberry scones are deliciously sweet throughout, from the flaky pastry to the crisp glaze on top. And again, it's pretty hard to believe they're totally keto friendly - but they are!
The secret ingredient I used to sweeten them is Granular Swerve for the scones and Confectioners Swerve for the glaze. And, if you don't know, Swerve is an erythritol-based sweetener that has the same sweetness level as sugar without any carbs or calories!
Another option that you can try is using Lakanto's Monk Fruit sweetener for the scones and Lakanto's Powdered Monk Fruit sweetener for the glaze. Just like Swerve, it's a fantastic sugar substitute that has no carbs or calories.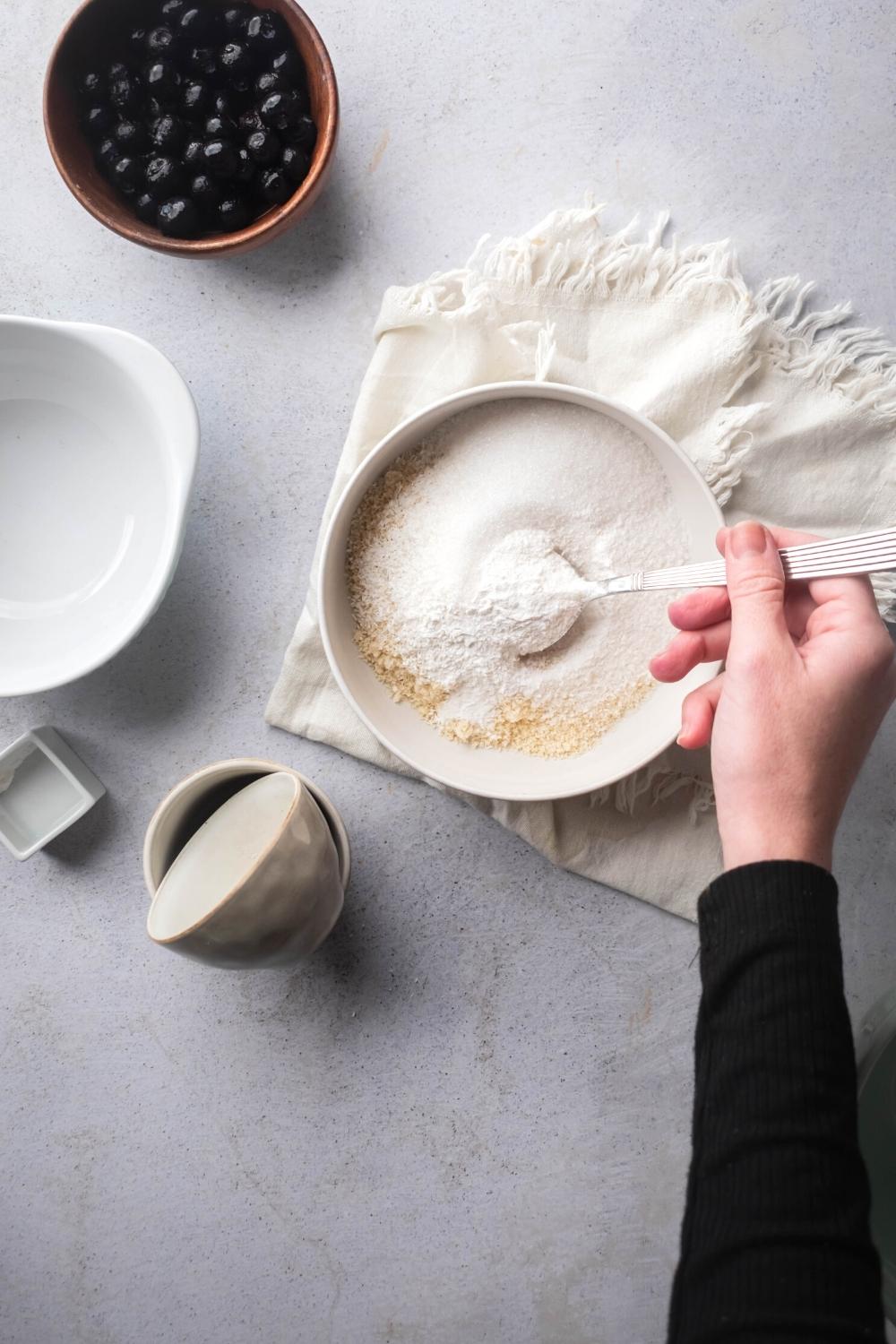 HOW TO MAKE KETO BLUEBERRY SCONES
Now, if you've never made scones from scratch before, don't be intimidated. They may seem hard to make, but they're actually really simple to put together.
Once you've combined the dough ingredients, all that's left to do is shape 'em, cut 'em, bake 'em, and glaze 'em!
It's almost too easy. So, let's not waste any more time. Let's get right to it.
STEP 1: MAKING THE DOUGH
First things first, preheat your oven to 350 degrees Fahrenheit (180°C) and line a baking sheet with parchment paper.
Next, put the almond flour, coconut flour, granulated erythritol, and baking powder in a bowl and mix them to combine.
Then, in a separate bowl, pour the almond milk, melted coconut oil, egg, and vanilla extract into it and give them a whisk to combine.
Now, pour the dry ingredient mixture into the bowl of wet ingredients and mix until everything is well combined.
By the way, if your dough feels like it's a little on the runny side, you can add more almond flour until you get the right consistency. The dough should be sticky and thick enough to hold the shape of a circle when you mold it with your hands.
Lastly, add the blueberries to the bowl and mix to incorporate them throughout the dough.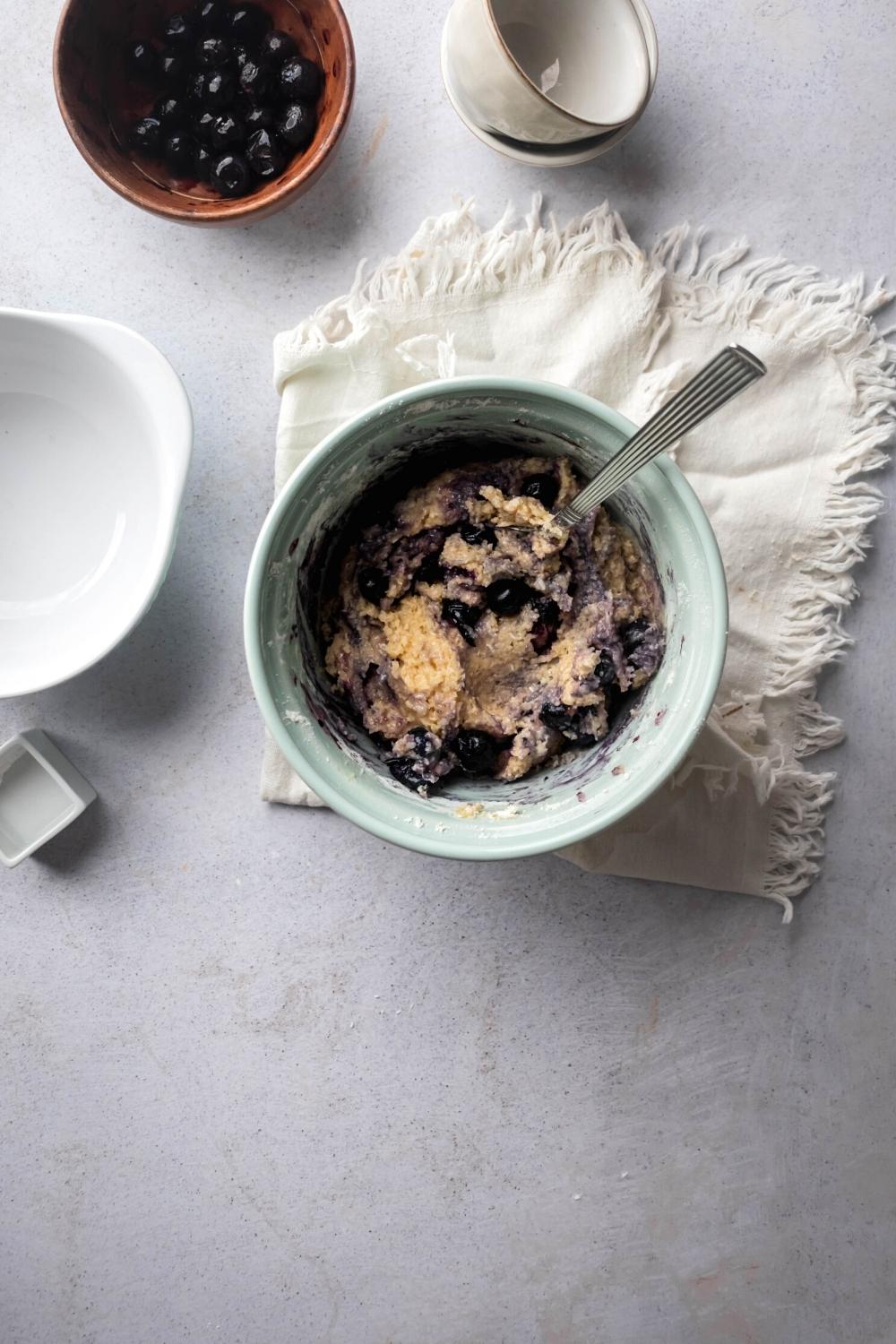 STEP 2: SHAPING AND BAKING THE SCONES
Once the dough is ready, transfer it to a working surface and use your hands to shape it into a slightly flattened dough ball circle.
By the way, if you're having some trouble with the stickiness of the dough, wet your hands a little with water to prevent it from clinging to your fingers.
Now, use a knife or dough scraper to cut the dough into 8 parts. And you'll want to cut it the same way you would cut a pizza or a pie, so you get 8 even scones.
Now, arrange the scones on the baking sheet lined with parchment paper and make sure they don't touch. Then, bake for about 20-25 minutes.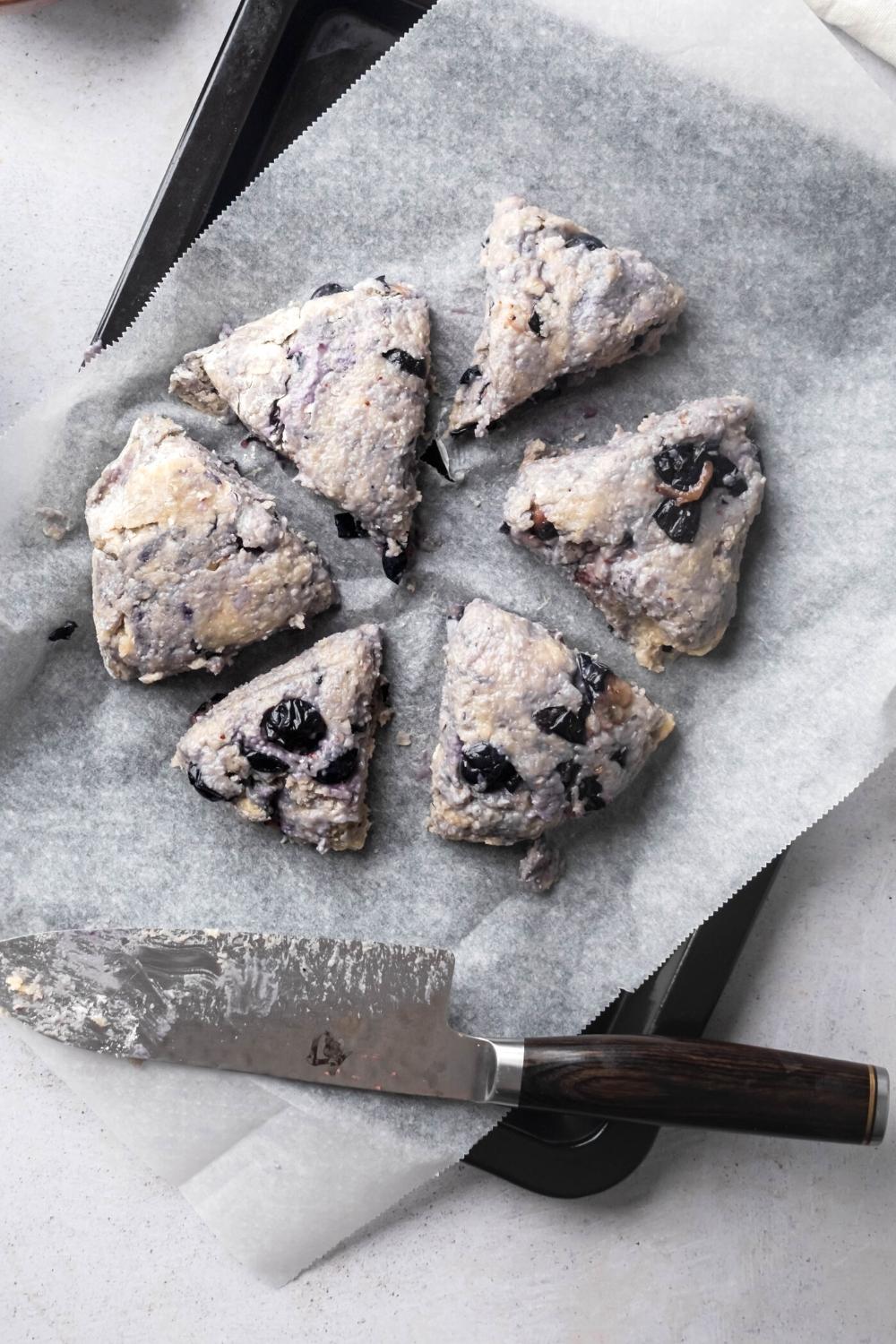 STEP 3: GLAZING AND FINISHING UP
While the scones are finishing up in the oven, you can make the glaze to complete them.
To do that, combine the confectioner's Swerve and almond milk in a small bowl and whisk them together until the glaze is nice and smooth. Oh, and for a thicker glaze, use less almond milk. And for a runny glaze, use more.
Finally, take your keto blueberry scones out of the oven and drizzle all of the glaze goodness on top. Or, if you prefer, you can serve the glaze on the side for dipping.
However you eat them, they'll be delicious, so enjoy!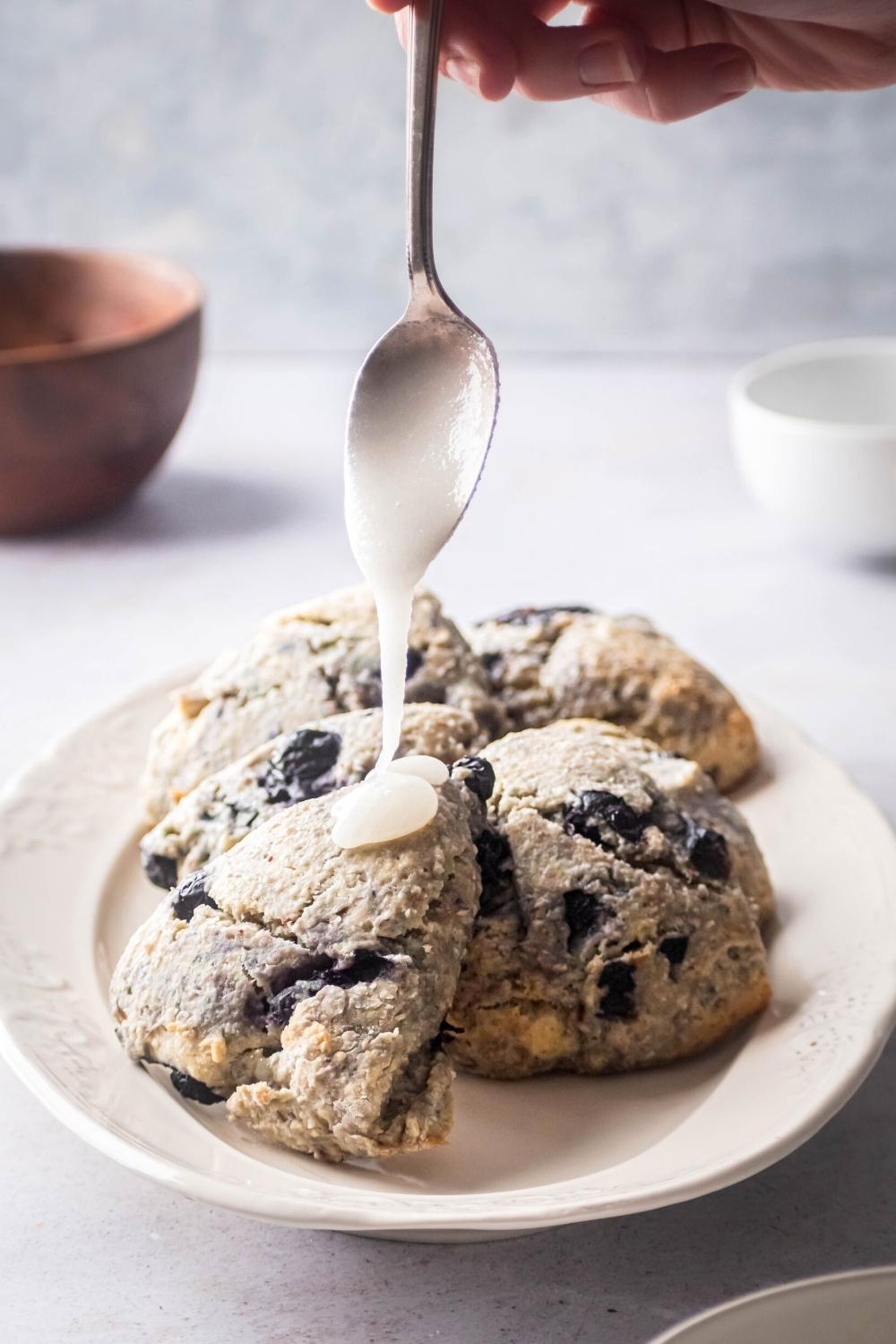 MAKING THESE SCONES IN AIR FRYER
If you'd rather make this keto blueberry scone recipe in the air fryer you totally can do that too.
To make air fryer scones, start by spraying the air fryer basket with oil, or lining it with parchment paper.
Then, preheat the air fryer to 350°F (175°C) and arrange a few of the low carb scones inside of it - this just depends on how many you can fit. The most important thing here is that your scones don't touch each other.
Cook them for about 10-15 minutes or until golden.
Also, be sure to flip them over at the halfway mark so they can evenly cook.
And If you're starting from frozen scones, add around 5 minutes to the cooking time.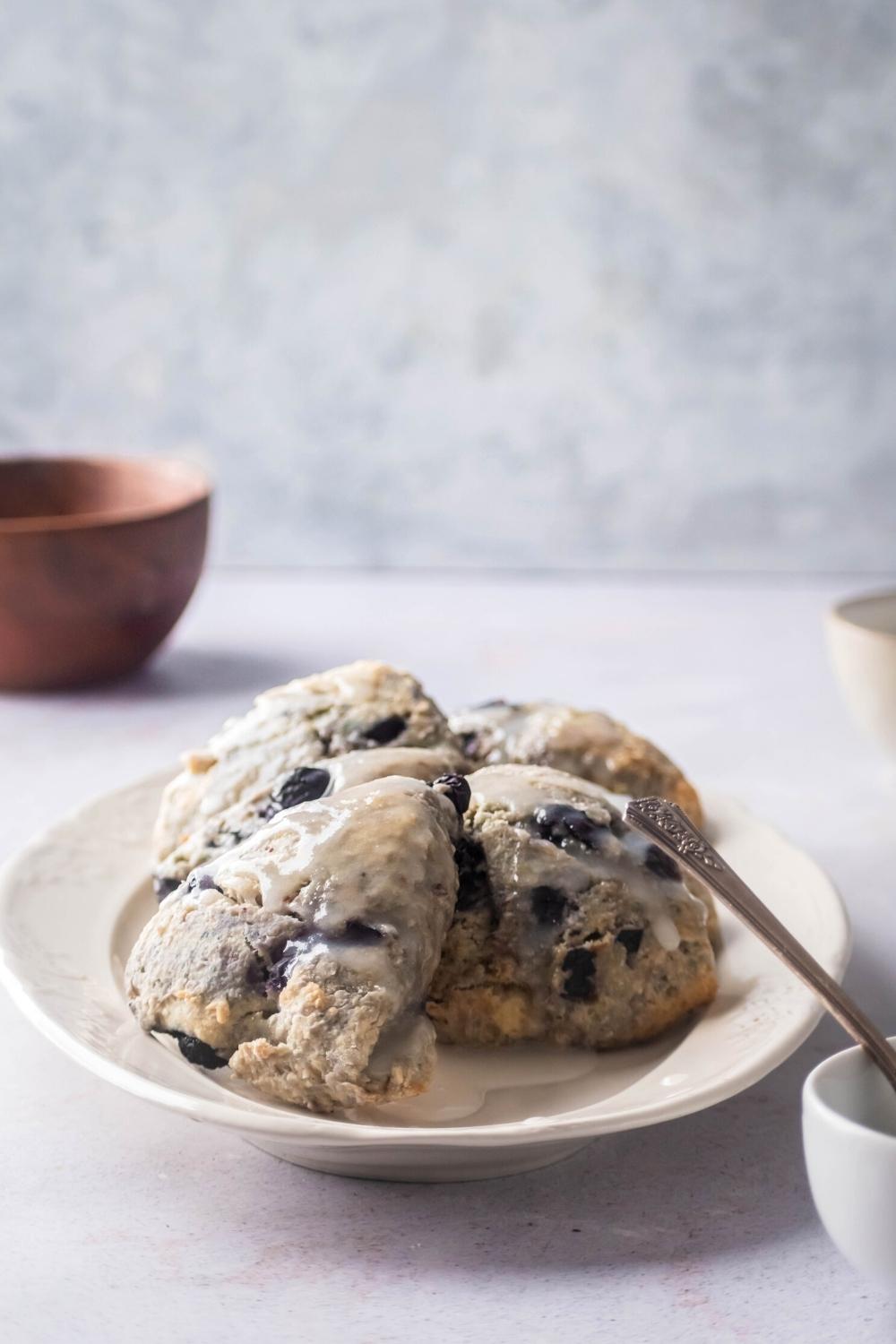 STORING KETO BLUEBERRY SCONES
If your family's around when these blueberry keto scones come out of the oven, they might not last through the day.
But, if you happen to have leftovers, you can store them in an airtight container at room temperature for up to 2 days, or in the fridge for 1 week.
And to keep them for longer, you can store them in the freezer for 3 months.
For frozen scones, arrange them on a baking sheet lined with parchment paper first, and freeze them until they've hardened. Then, transfer them to a freezer-safe container or bag.
You can also freeze unbaked scones the same way - they'll stay good for around 3 weeks. Storing them raw is a good idea if you don't plan on serving them all at once - just bake a fresh scone as described above whenever the craving hits!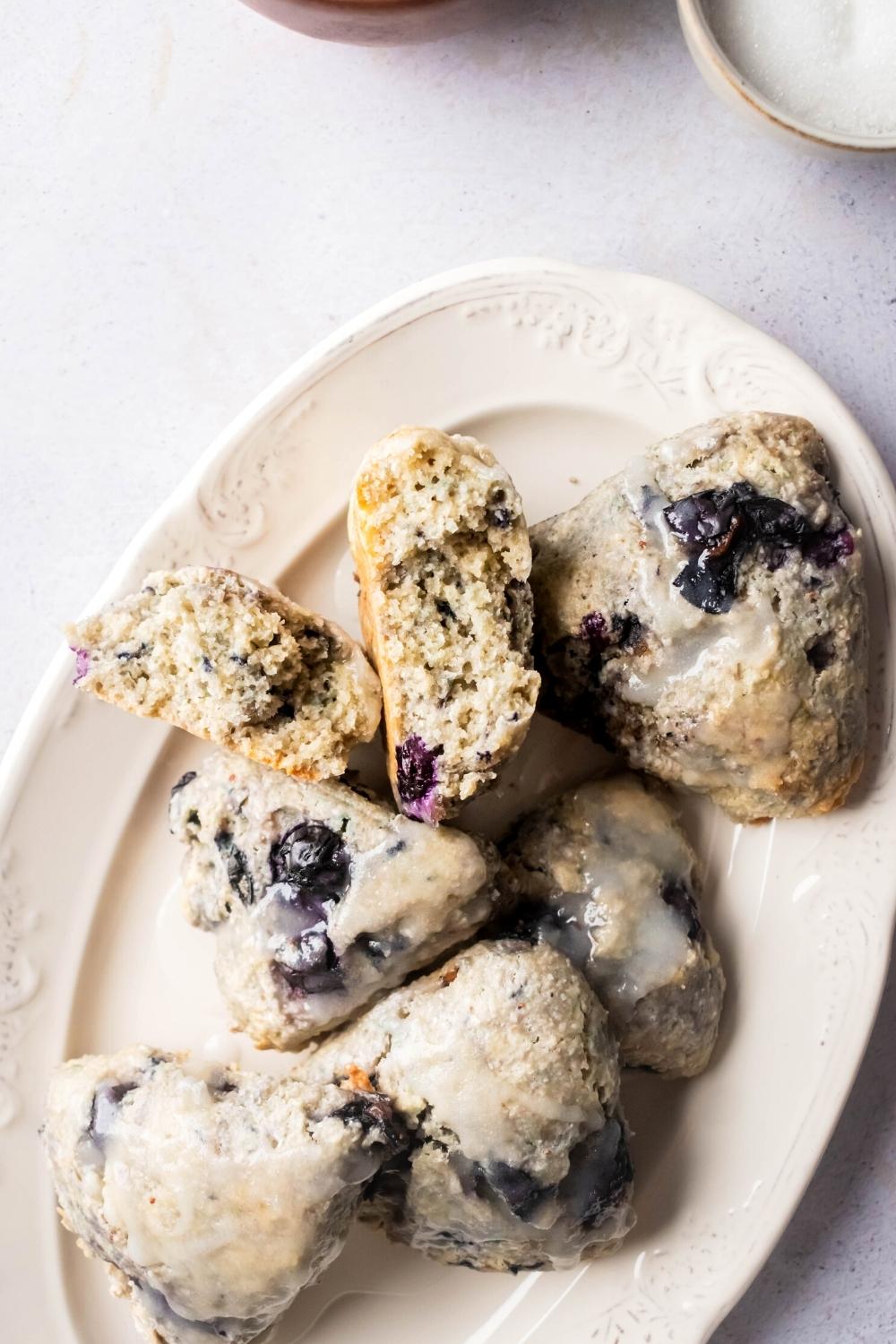 WRAPPING IT ALL UP
That is how to make blueberry scones keto friendly!
They're seriously about as good as anything you could get from a bakery. Plus, not only are they're healthy, but they're so delicious and easy to make too- could these get any better?
Honestly, whenever I make them for friends and family, they're always blown away by how tasty these are - and even more shocked to find out they're low carb and gluten free scones!
With all that said, I hope you enjoy this keto scone recipe as much as I do.
As always, don't forget to leave a comment below if you make them, and let me know what you think!
EASY KETO RECIPES
If you liked this recipe and want to try some more delicious and easy keto recipes, we've got a ton on the blog!
Give some of these keto recipes a try next:
Print
Keto Blueberry Scones | Low Carb, Gluten Free, & No Sugar Added
These keto blueberry scones are deliciously moist, tender, and flaky with crumbly toasted edges. And they're incredibly easy to make with just a few simple ingredients. On top of all that, they have no added sugar and are gluten free scones! 
Author:
Prep Time:

10 minutes

Cook Time:

20 minutes

Total Time:

30 minutes

Yield:

8

scones

1

x
Category:

Breakfast

Method:

Oven

Cuisine:

Keto Low carb
Instructions
Preheat the oven to 350°F (180°C) and l

ine a baking sheet with parchment paper.

Mix all dry ingredients in a bowl.

Whisk all wet ingredients in a separate bowl.

Add the dry ingredients to the bowl of wet ingredients and mix carefully until fully combined (you may need to add a bit more almond flour if it's too runny - you should be able to form a circle with your hands, although it will still be sticky).

Add the blueberries and combine to incorporate them in the dough.

Form a dough ball shaped like a circle with your hands and put it on the parchment paper line baking sheet.

Cut into 8 pieces with a sharp knife.

Bake for 20-25 minutes.

Mix all the glaze ingredients in a small bowl until combined. Drizzle on top of the scones or use for dipping. Enjoy!
Notes
The scale up function does not change the gram measurements.
Nutrition
Serving Size:

1 scone

Calories:

279

Fat:

23.6

Carbohydrates:

10.5

Fiber:

5.5

Protein:

9