These keto cinnamon rolls taste just like the ones you would get from a bakery! They're soft, fluffy, and chewy with a delicious brown sugar cinnamon filling that just melts in your mouth. And they're topped with the best cream cheese icing. Seriously, they're so good you'd never believe each one of these low carb cinnamon rolls has just less than 2 NET CARB!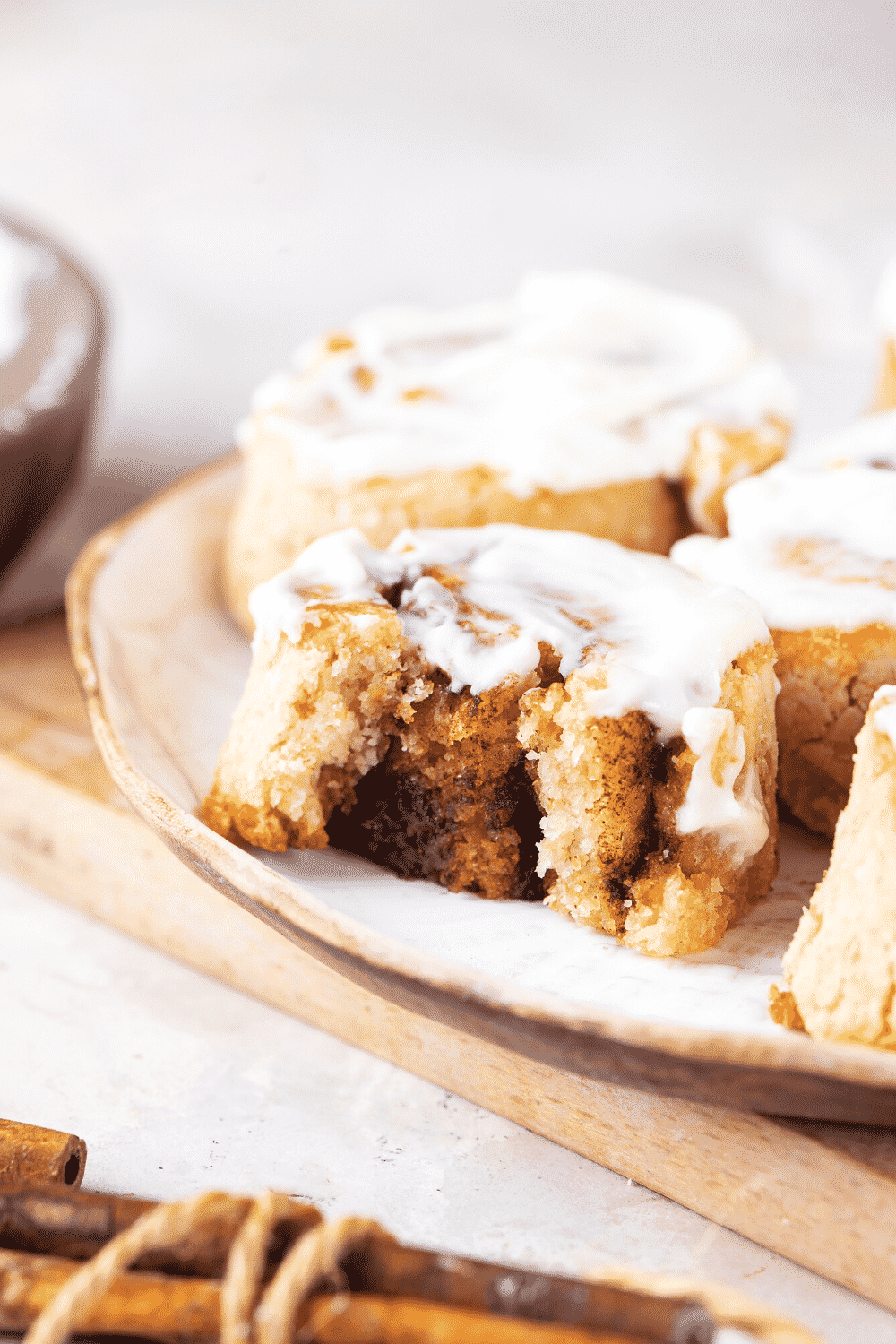 THE BEST KETO CINNAMON ROLLS
Cinnamon rolls are probably one of the most nostalgic and comforting baked goods you can make.
I mean, there's nothing like the smell of sweet cinnamon and freshly baked dough in the morning is there?
I certainly don't think so.
And if you feel the same way, you're in luck!
These homemade keto cinnamon rolls can go toe-to-toe with any regular high carb, high sugar cinnamon roll recipe out there. They're tender and perfectly cinnamony with a smooth and sweet icing. 
And the best part about these keto cinnamon rolls is the fact that they're totally sugar-free, and each one comes out to less than 2 NET CARBS! 
Plus, it only takes about 15 minutes to make these cinnamon rolls. Then, you can just relax, and let them bake in the oven. Bonus: your kitchen will smell heavenly.
Having said all of that, I've got a feeling that once you make this keto cinnamon rolls recipe, you'll want to keep making it again, and again, and again.
So, let's get into the deets.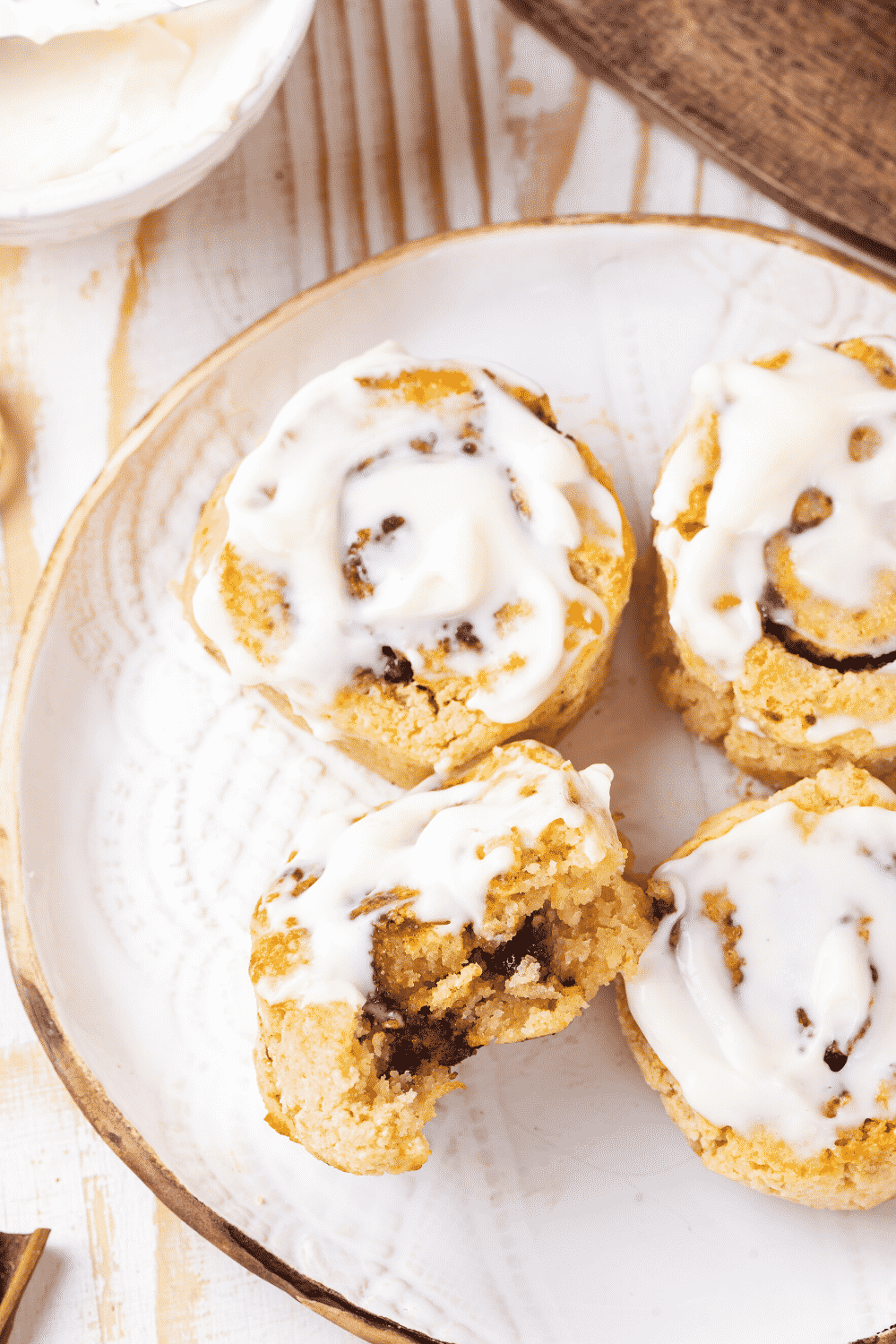 INGREDIENTS
Ok, so most of the ingredients for this low carb keto cinnamon roll recipe are common keto-friendly baking ingredients.
And if you've made some of my keto desserts and baked goods, you're probably familiar with them.
With that said, here's what you'll need for the cinnamon roll dough:
1 cup almond flour
¼ cup coconut flour
3 tbsp. golden flaxseed flour
¼ cup granular swerve 
2 tbsp. psyllium husk powder
1 teaspoon xanthan gum
¼ teaspoon salt
2 teaspoon baking powder
2 eggs
2 tbsp. butter, melted
3 tbsp. cream cheese, softened
1 teaspoon vanilla extract
And for the cinnamon filling you'll need:
⅓ cup brown swerve
3 tbsp. butter, softened
2 tbsp. cinnamon
And for the icing: 
2 oz. cream cheese, room temperature
2 tbsp. heavy whipping cream 
2 tbsp. confectioners swerve 
½ teaspoon vanilla extract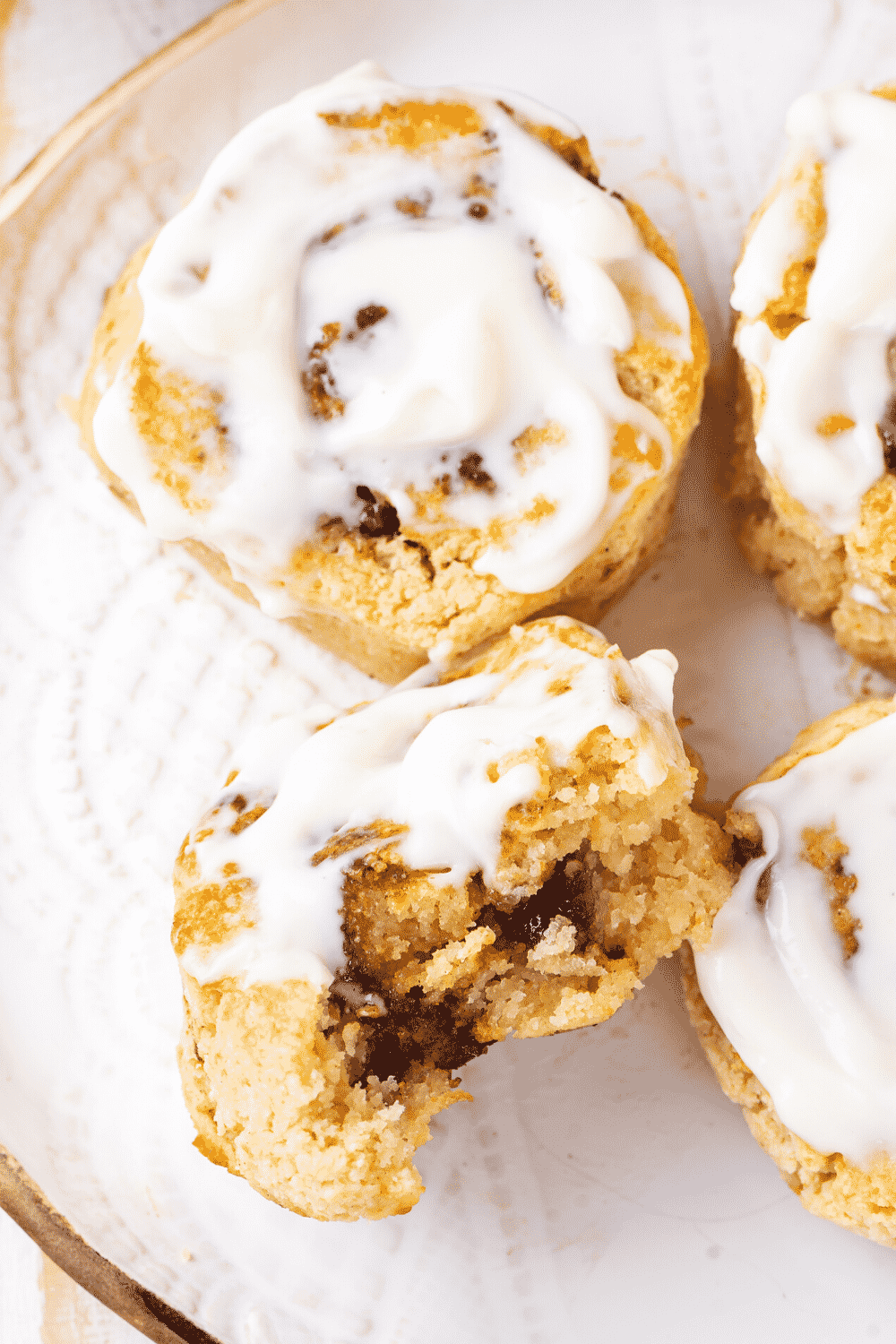 By the way, if you've never baked with some of these ingredients before, don't be intimated.
Everything results in perfectly sweetened, tender, and fluffy cinnamon rolls that feel and taste almost exactly like the freshly baked ones you'd buy at a bakery – or maybe even better.
Also, you can use a lot of theses same ingredients to make my keto pancakes, keto brownies, or even these keto french fries!
Flours to use
The combination of almond flour, coconut flour, golden flaxseed flour, and psyllium husk might seem like a lot, but it's the key to creating the perfect soft and chewy, bread-like texture for these cinnamon rolls.
With that said, the only one of these ingredients that I'd suggest substituting is almond flour. You can easily replace it with an equal amount of sunflower seed flour or walnut flour, and you'll get the same results. 
However, DO NOT try to use more coconut flour in place of almond flour. Coconut flour is highly absorbent - and almond flour is not - so adding more will result in dry and crumbly cinnamon rolls.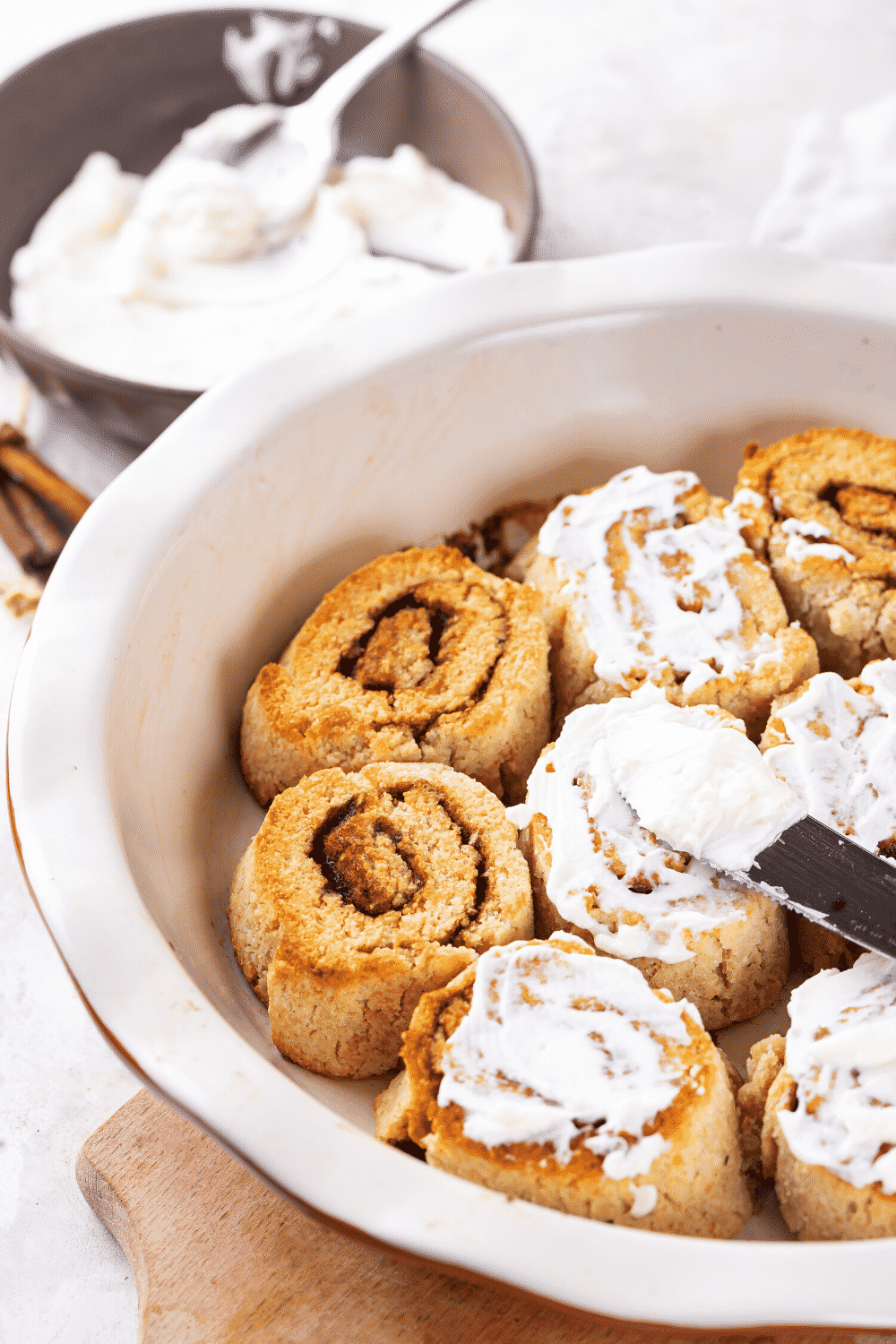 SUGAR FREE CINNAMON ROLLS
Now to sweeten up the cinnamon rolls - without using sugar - we'll be using Granular Swerve for the dough, Brown Swerve for the cinnamon filling, and Confectioners Swerve for the icing. 
All of these keto-friendly sweeteners have 0 calories, 0 sugars, and measure out equally with sugar. 
Having said that, you can also use Lakanto's Monk Fruit and Lakanto's Confectioners Monk Fruit Sweeteners in place of the Granular and Confectioners Swerves. Both are essentially the same thing as Swerve and will make your cinnamon rolls just as delicious. 
As far as the Brown Swerve goes though, I suggest using the it and not substituting it with anything else - I've found it is the best brown sugar replacement.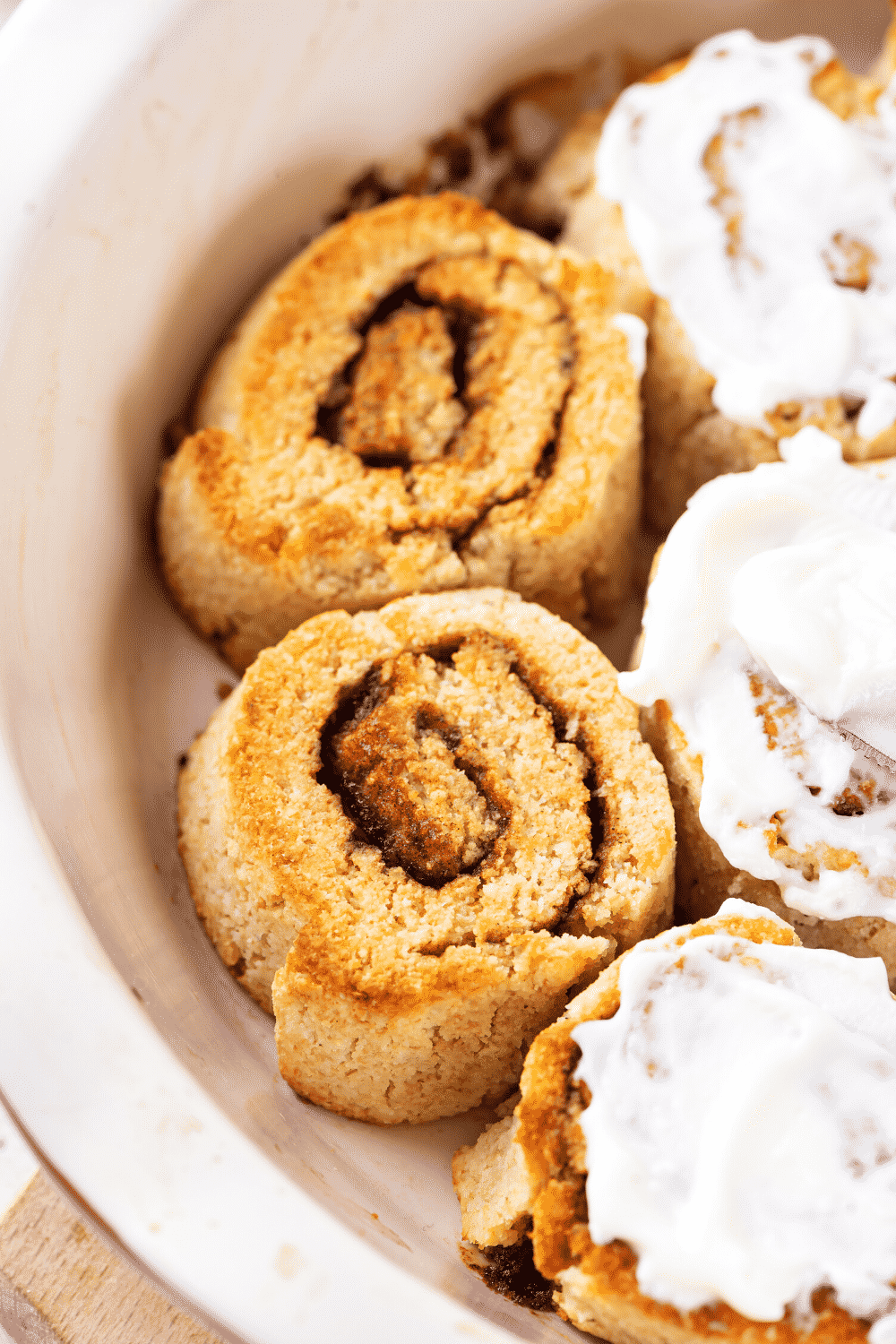 HOW TO MAKE KETO CINNAMON ROLLS
Alright, so as I mentioned earlier, it only take about 15 minutes to whip up these keto cinnamon rolls, and then all you have to do is wait for them to bake.
And although making cinnamon rolls from scratch may seem intimidating, this recipe has super easy-to-follow steps, so you'll get pro baker results. 
Now, roll up your sleeves, and let's get into it!
STEP 1: PREPARING THE FILLING
Of course, the first thing you'll want to do is preheat your oven to 350°F (175°C).
Then, you'll want to make the filling, so it is ready to go later. So, you'll combine the Brown Swerve, softened butter, and ground cinnamon in a bowl and stir until everything is well incorporated.
Once that's done, set it aside and get started on the dough.
STEP 2: MAKING THE DOUGH
First, combine your dry ingredients – flours, confectioners swerve, psyllium husk, xanthan gum, salt, and baking powder – in a bowl and mix thoroughly.
Then, mix the wet ingredients in a separate bowl – eggs, cream cheese, melted butter, and vanilla – until combined.
Now, add the wet ingredients to the combined dry ingredients and stir everything with a spoon until a dough forms.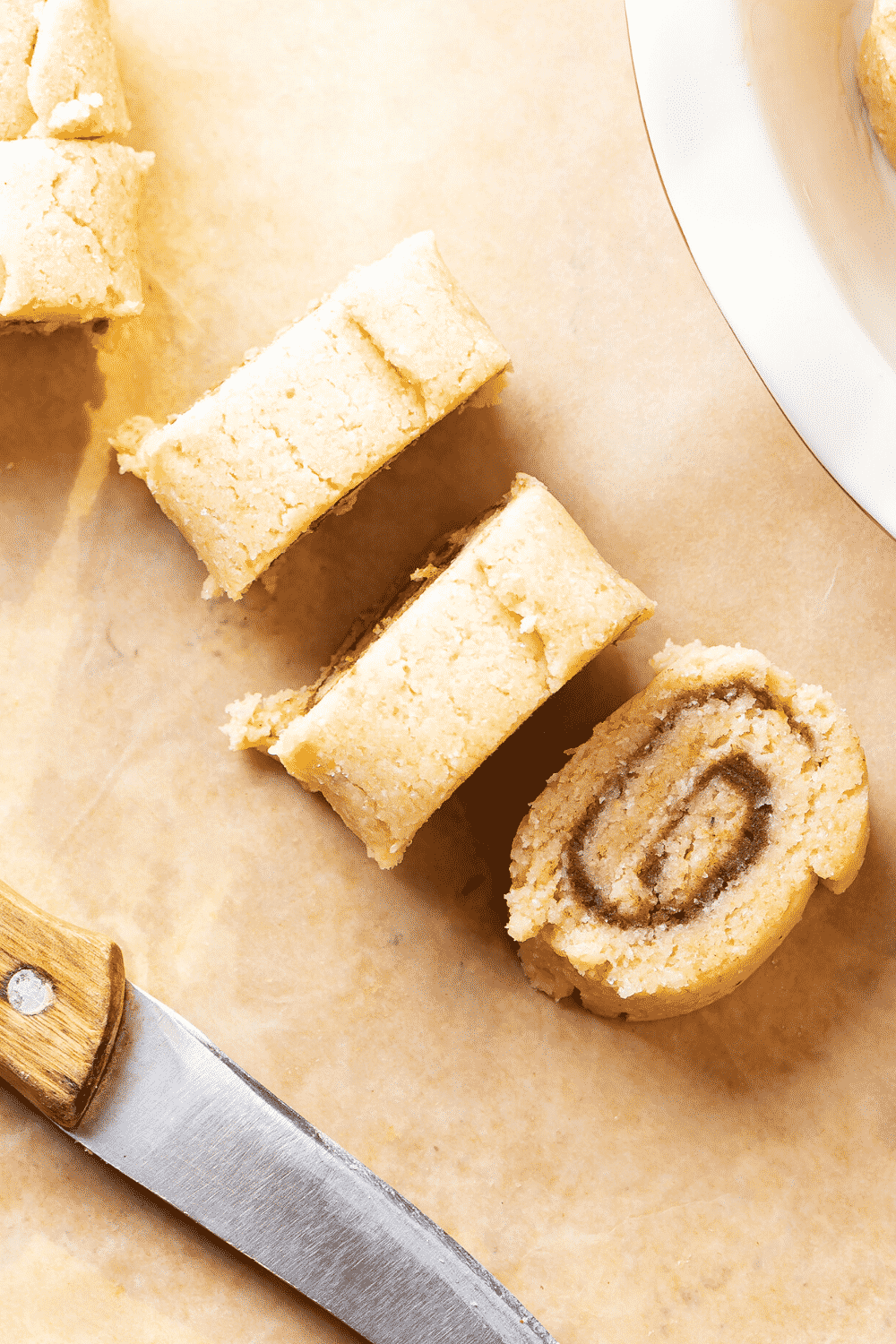 STEP 3: SHAPING AND BAKING THE CINNAMON ROLLS
Now, it's time to give your cinnamon rolls that iconic cinnamon swirl!
First, lay a piece of parchment paper over a flat surface, then place your dough on top of it, and then cover it with anothr parchement paper.
Then, use a rolling pin to shape your dough into a large rectangle - about 16x19 inches.
Next, take the filling you made earlier and spread it in an even layer over the entire dough. 
Then, after the dough is covered in the filling - starting from the shorter side of the dough - roll the whole thing into the shape of a log. 
PRO-TIP: You can use the parchment paper to help you roll up the dough. Just make sure to let the excess parchment paper stick out, so you don't accidentally roll it into the dough.
Lastly, cut the cinnamon roll log into 7 equal pieces and grease a baking dish with cooking spray. Then arrange them on the baking dish, pop it in the oven, and bake for 40-45 minutes.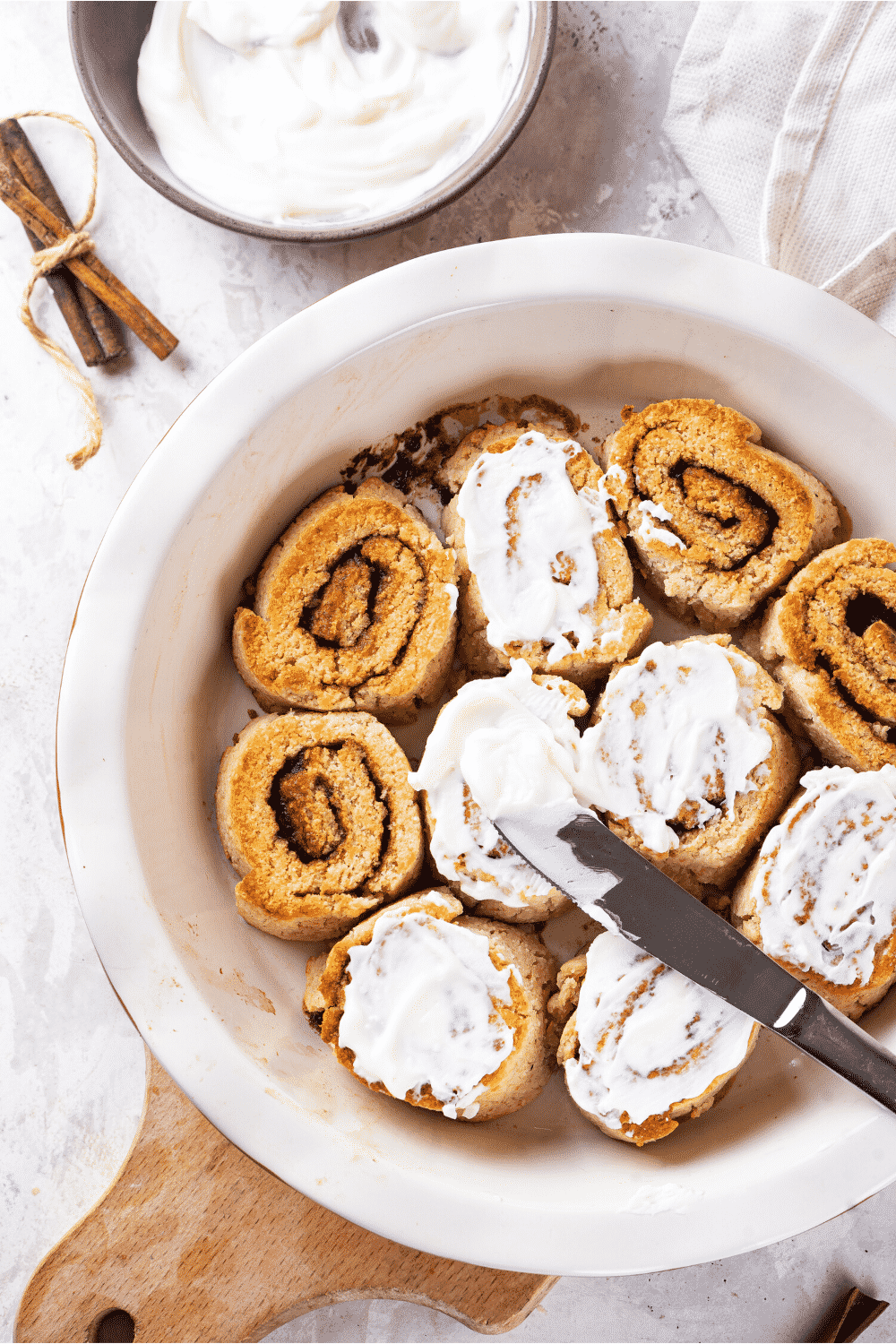 STEP 4: MAKING THE ICING & SERVING
When your cinnamon rolls are almost done baking, you can make the cream cheese icing. 
To make the icing, combine all of the ingredients in a mixing bowl. Then with a stand-mixer - or hand-mixer - mix the ingredients until a smooth, slightly thick icing forms. 
Now, when your cinnamon rolls are done, you can take them out of the oven and glaze them up with the icing you just made.
And, if you want more of a frosting consistency to the glaze - and not as much of an icing - just let your cinnamon rolls cool before spread on the icing.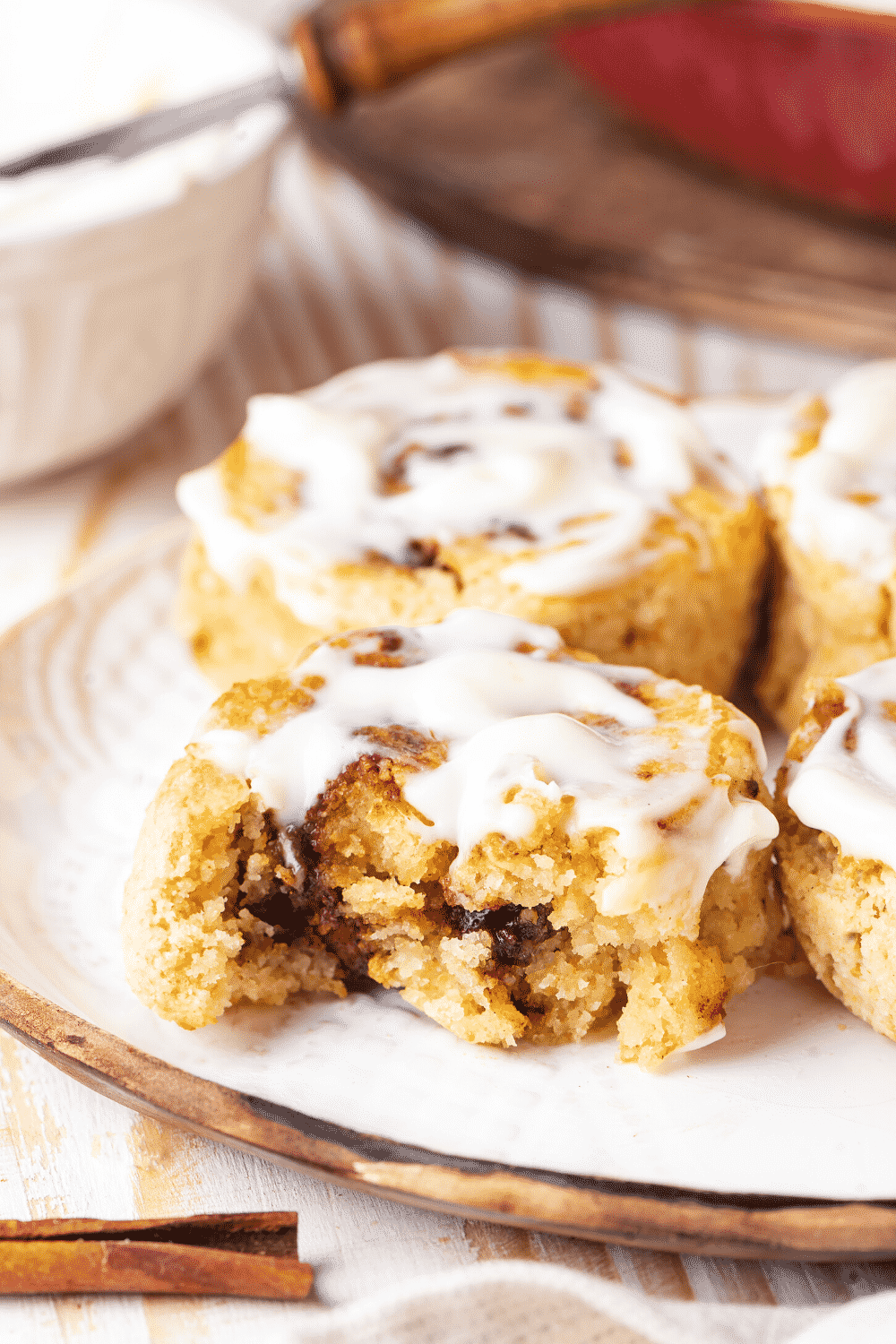 HOW TO STORE YOUR KETO CINNAMON ROLLS
This keto cinnamon rolls recipe makes 7 delightful cinnamon rolls. 
So, hopefully, you have a few leftovers to enjoy for the days to come. 
And if you do have some leftover, these keto cinnamon rolls will stay good at room temperature in an airtight container for up to 3 days. 
Or, you can store them in the refrigerator to keep them longer, and they'll last for up to 7 days. 
And if you want to keep them for even longer than that, wrap the individual rolls in plastic wrap and store them in an airtight container - they'll last in the freezer for up to 3 months.
Oh, and speaking of freezing, you can also store the unbaked cinnamon roll dough (sliced and filled) the same way. Then, just thaw them in the refrigerator and bake at 350°F (175°C) for 40-45 minutes.
REHEATING YOUR CINNAMON ROLLS
So, if you're eating a leftover cinnamon roll, you'll probably want that fresh out of the oven taste. 
And the quickest way to reheat your cinnamon rolls is to pop them in the microwave in a few-second increments until warm.
And you could also put them in the oven at 325°F (163°C) until they reach your desired temperature.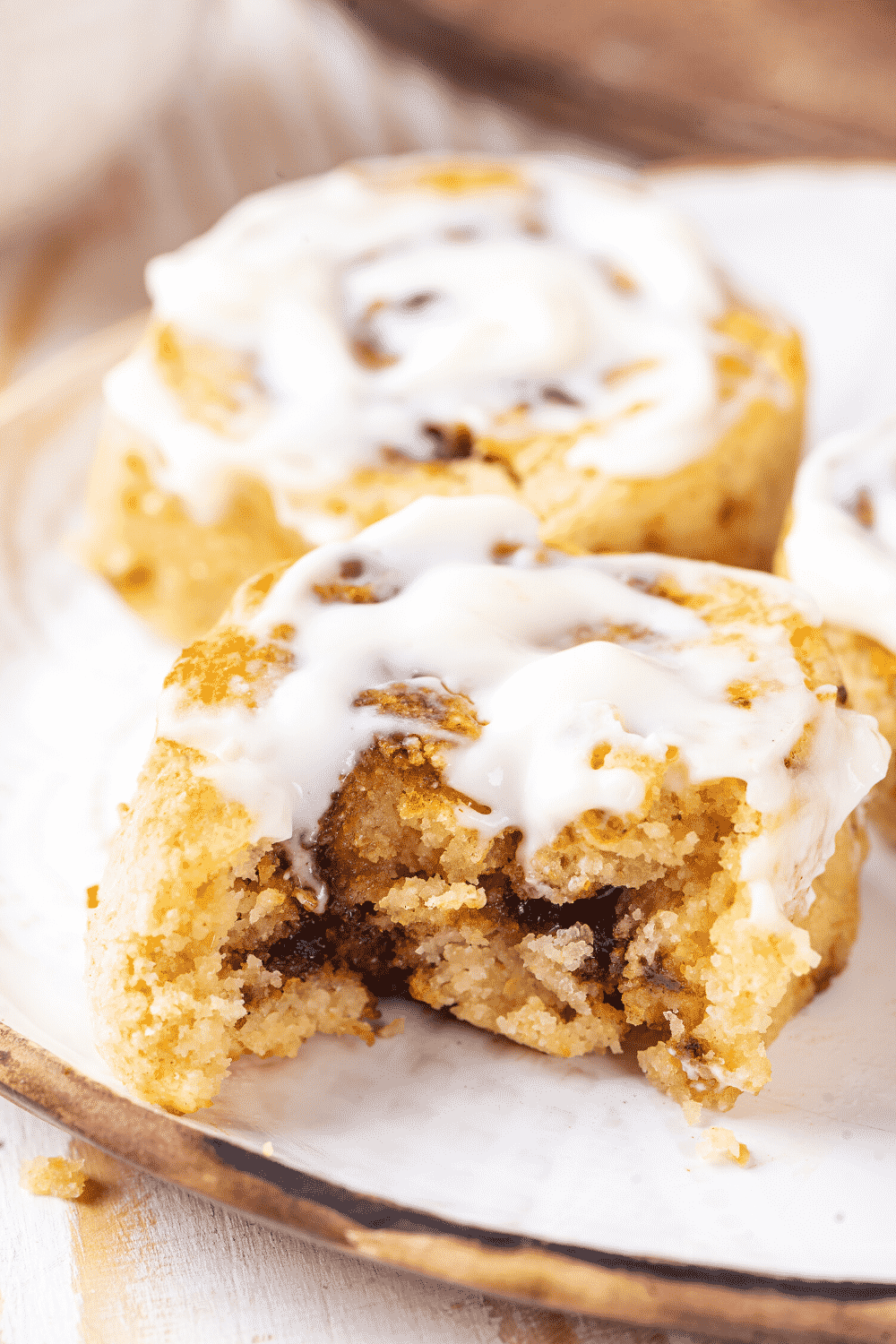 Nutritional Information
Ok, so aside from the fact that each of these low carb cinnamon rolls has just 1.7g NET CARBS, they're also pretty excellent as far as macros go.
Here's a look at what you'll be getting in 1 cinnamon roll:
292 Calories  

26g Fat 

8g Carbs  

6.3g Fiber   

1.7g NET CARBS 

6.5g Protein
Pretty sweet right?
And what I love about these keto cinnamon rolls is how much they taste like the real thing. No one will ever be able to tell that these are low carb, sugar free, or keto friendly.
Anyway, I hope you enjoy this recipe as much as I do! Make sure to leave a comment and let me know how they turned out - I'd love to hear. 
MORE BAKERY ESQUE KETO RECIPES
Here are some other bakery wothry keto friendly recipes to try:
Print
Keto Cinnamon Rolls | The Best Low Carb Keto Cinnamon Roll Recipe
These keto cinnamon rolls taste just like the ones you would get from a bakery! They're soft, fluffy, and chewy with a delicious brown sugar cinnamon filling that just melts in your mouth. And they're topped with the best cream cheese icing. Seriously, they're so good you'd never believe each one of these low carb cinnamon rolls has just less than 2 NET CARB!
Author:
Prep Time:

15 minutes

Cook Time:

40 minutes

Total Time:

55 minutes

Yield:

7

Servings

1

x
Category:

Breakfast

Method:

Oven

Cuisine:

Keto Low Carb
Instructions
Preheat the oven to 350°F (177°C).

Combine the filling ingredients in a bowl and stir together, set aside. 

To make the dough, mix all the dry ingredients in a large bowl.

In a separate bowl mix eggs, cream cheese, melted butter, and vanilla until incorporated.

Add dry ingredients to the wet ingredients and stir with a spoon to combine until a dough forms.

Put the dough between two pieces of parchment paper, and roll into a rectangle about 16x19 inch. The dough won't be too sticky but it will be quite soft.

Then, spread the filling evenly on the rolled dough.

Now, using the parchment paper as help, starting with the shorter side, roll the dough into a log-like shape.

Cut dough into 7 pieces and place in a baking dish coated with cooking spray. 

Bake for 40-45 min.

When the cinnamon rolls are almost baked, combine all the icing ingredients in a mixing bowl. Mix with a stand or hand mixer until a smooth, slightly thick icing forms.

For a glaze, spread the icing on the warm cinnamon rolls. And for a frosting, let the cinnamon rolls cool and then spread the icing on top. 
Notes
The scale up function does not change the gram measurements.
Nutrition
Serving Size:

1 Serving

Calories:

292

Fat:

26

Carbohydrates:

8

Fiber:

6.3

Protein:

6.5
Keywords: keto cinnamon rolls, keto cinnamon rolls recipe, keto cinnamon buns, low carb cinnamon rolls, low carb cinnamon rolls recipe, low carb keto cinnamon roll recipe, easy keto cinnamon rolls, keto cinnamon rolls no cheese, keto cinnamon rolls coconut flour, keto cinnamon rolls easy, keto cinnamon rolls (not fathead), keto cinnamon rolls recipe easy, keto cinnamon rolls recipe with coconut flour, keto cinnamon rolls recipe without mozzarella cheese, low carb cinnamon rolls with cream cheese frosting, low carb cinnamon rolls easy, sugar free cinnamon rolls recipe, gluten free cinnamon rolls with cream cheese frosting, how to make keto cinnamon rolls, gluten free cinnamon rolls