This dumpling sauce recipe is so simple yet packed with so much flavor. Soy sauce, rice vinegar, sesame oil, and a few other basic ingredients combine to form a richly flavorful sauce that's perfect for your next batch of dumplings.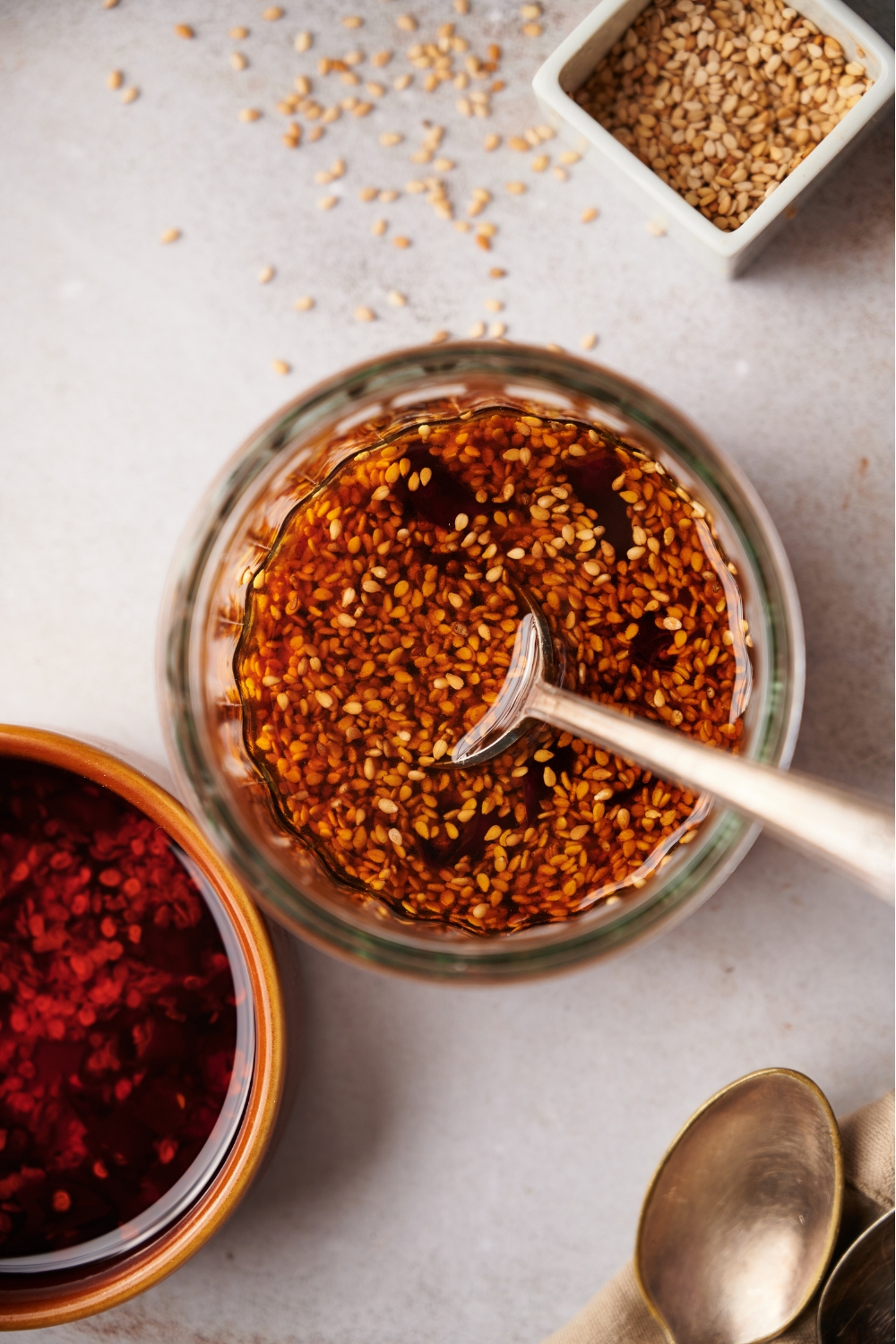 The Best Dumpling Sauce
If you've been looking for something to dip your dumplings (also known as potstickers) or gyoza in, then you have to give this dumpling dipping sauce a try! It's so, so good!
Now, I think that Chinese dumplings and Japanese gyoza are only as good as the sauce that's paired with them, and this sauce is absolutely top-notch. It just has the perfect balance of sweet, salty, and spicy flavors, and I just feel like dumplings just seem incomplete without it.
Oh, and the good news is that you don't have to use this sauce only when you're making dumplings. In fact, I always have some of this stuff in my fridge to pull out at a moment's notice. It's just so versatile and even makes for a great stir-fry sauce!
If you're looking for what to serve with dumpling sauce, I love serving it with this Texas Roadhouse grilled shrimp, potato mochi, and panko breaded chicken. I'll even drizzle it on top of this microwaved ramen!
With that said, though, it is, of course, best served with my homemade shrimp dumplings. So you'll definitely want to make those along with this sauce!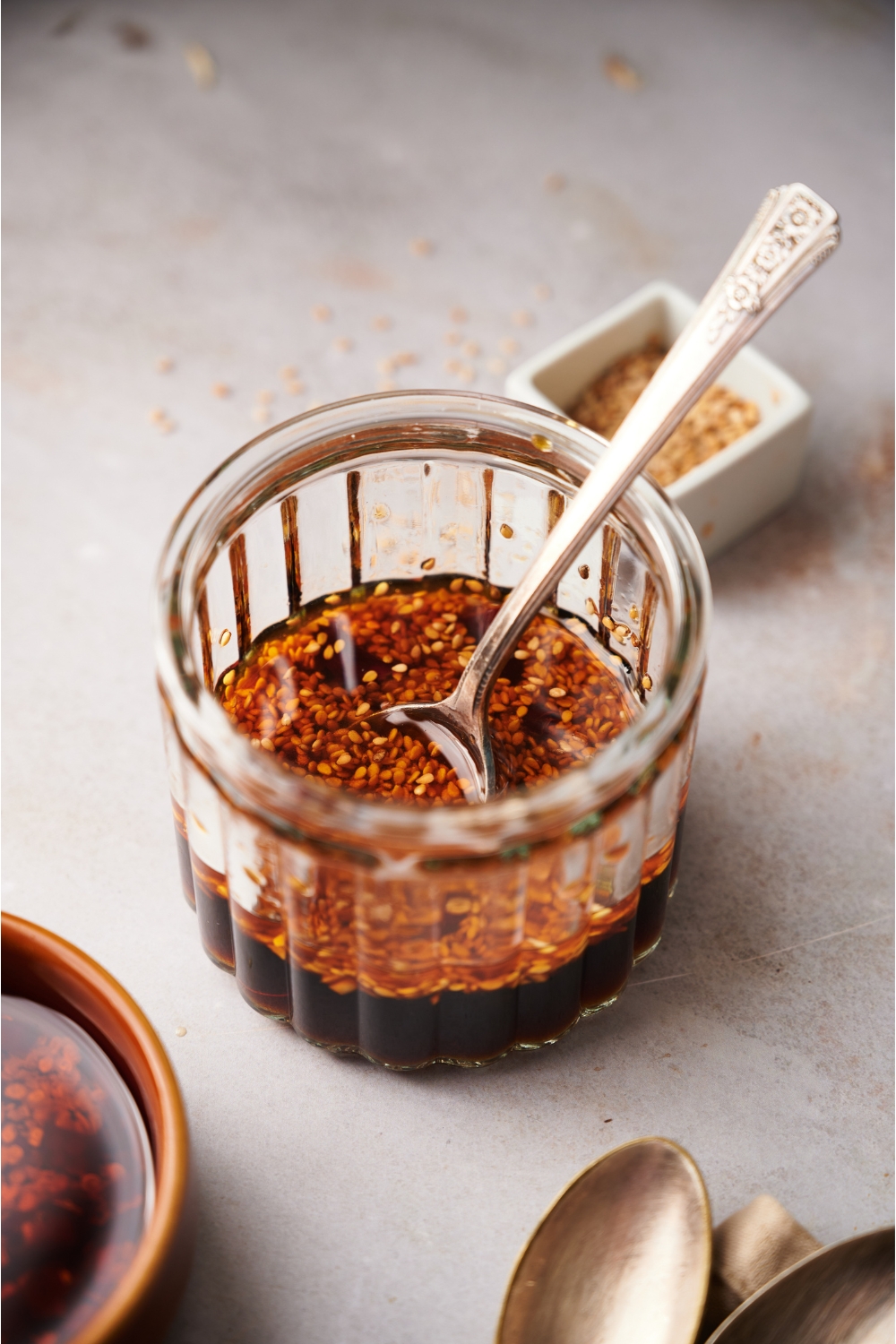 Ingredients
Soy Sauce- you can use regular soy sauce, light soy sauce, low-sodium soy sauce, or even gluten-free soy sauce.
Sugar- for a delicious touch of sweetness.
Rice Vinegar- it can be swapped with apple cider vinegar, white wine vinegar, rice wine vinegar, or Chinese black vinegar.
Sesame Oil- accentuates the flavor of the soy sauce.
Garlic- minced for some savoriness.
Sesame Seeds- for added flavor and a little crunch.
Chili Oil- for a touch of spice. Feel free to add some chili flakes or red pepper flakes if you want more spice.
By the way, you can use most of these ingredients to make this McDonald's Szechuan sauce. So, if you want another versatile dipping sauce, give that a try next.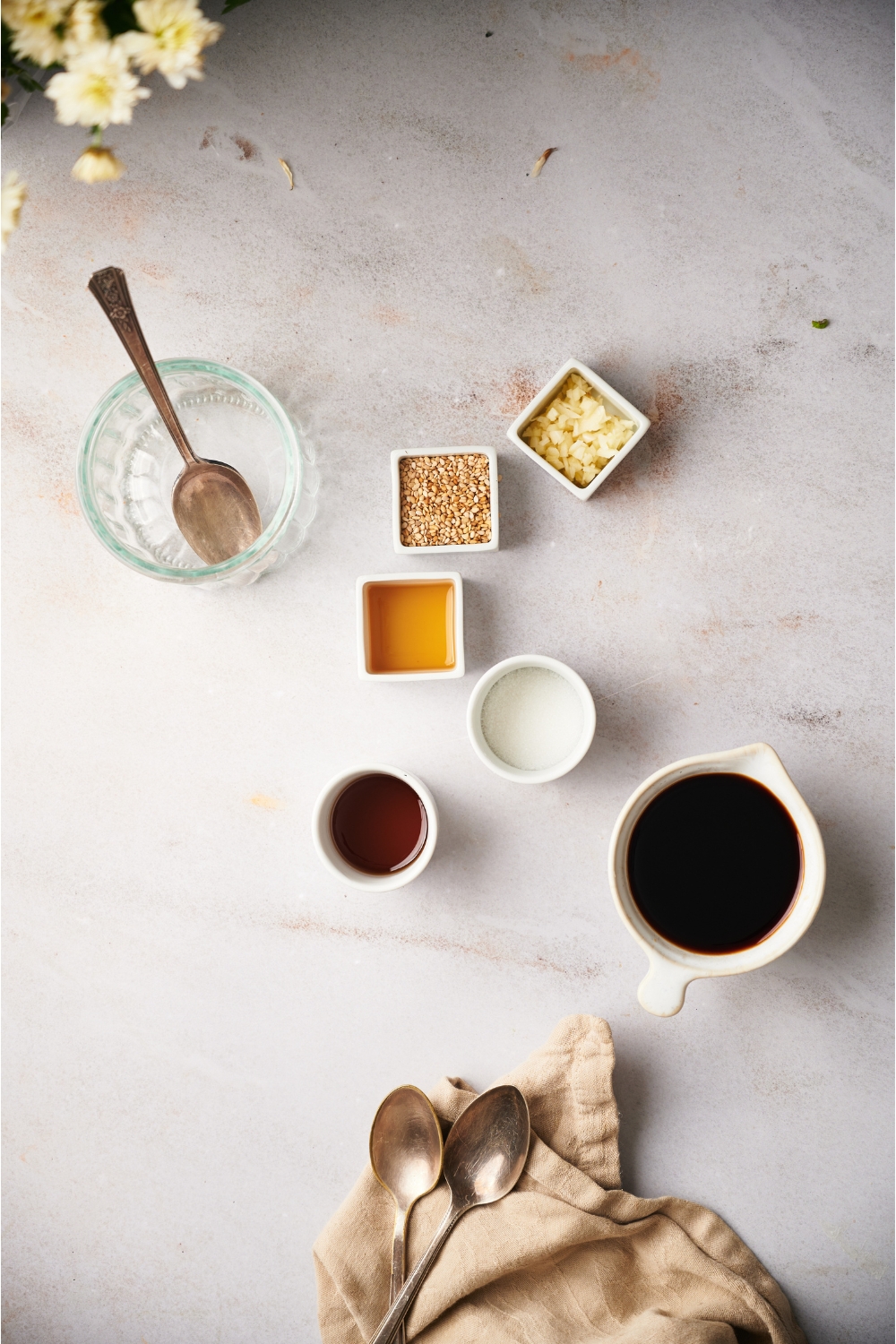 How To Make Dumpling Sauce

Step 1: Make The Sauce
First, you'll want to take out all of your ingredients, along with a medium-sized mixing bowl, a ¼ cup, and a teaspoon to measure everything out.
Next, you'll want to add the soy sauce, sugar, vinegar, sesame oil, minced garlic, sesame, and chili oil to the bowl. Then, give everything a good mix until the sugar dissolves and the ingredients fully combine.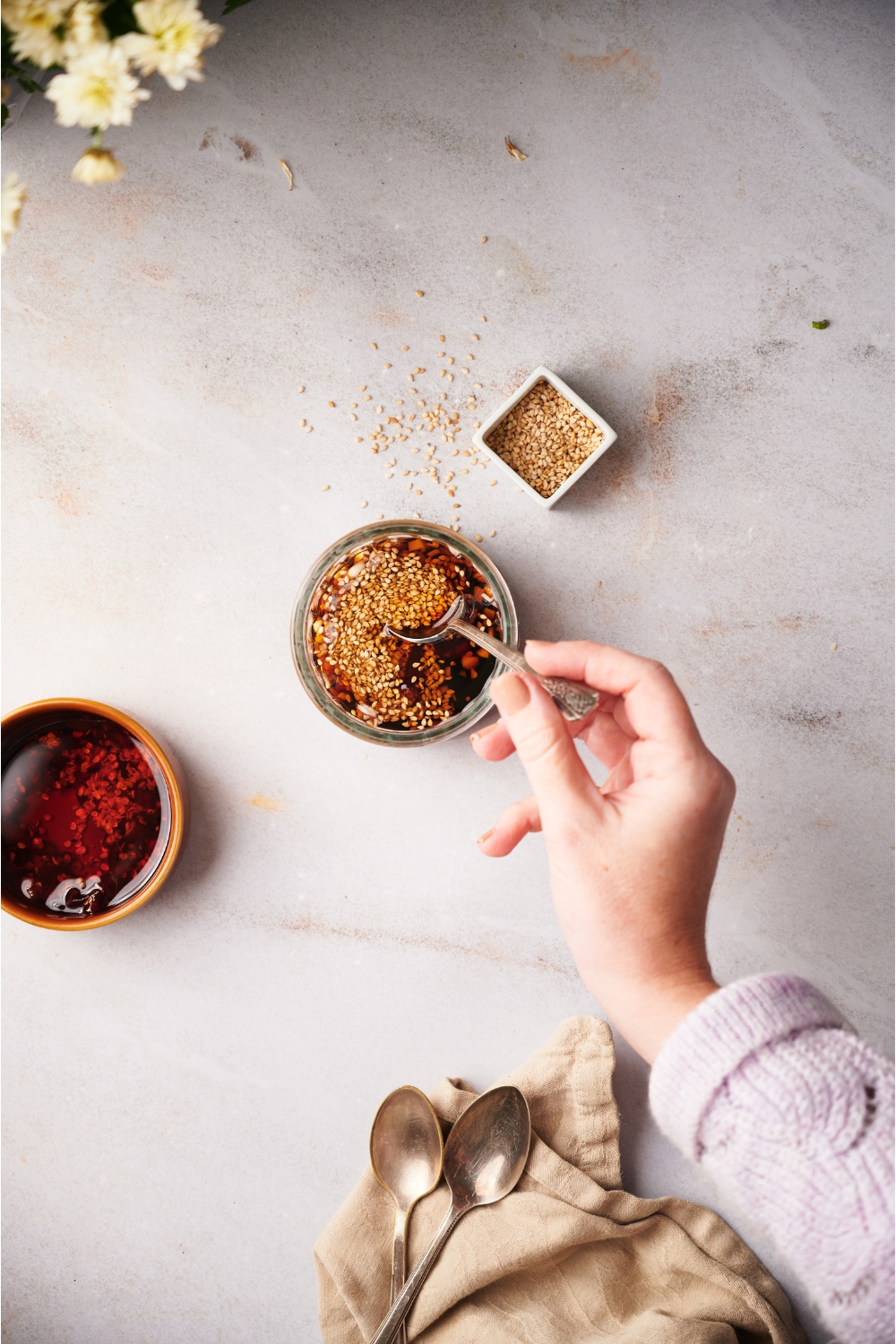 Step 2: Serve
Now, once the sauce ingredients have fully mixed together, you can give it a taste and adjust the seasonings as needed. If you want some more flavor, you can mix green onion into it.
Then, when you've got the sauce where you want it, you can use the sauce immediately with some Chinese dumplings, Japanese gyoza, or whatever you want! Also, if you don't want to use the sauce immediately, you can store it for later.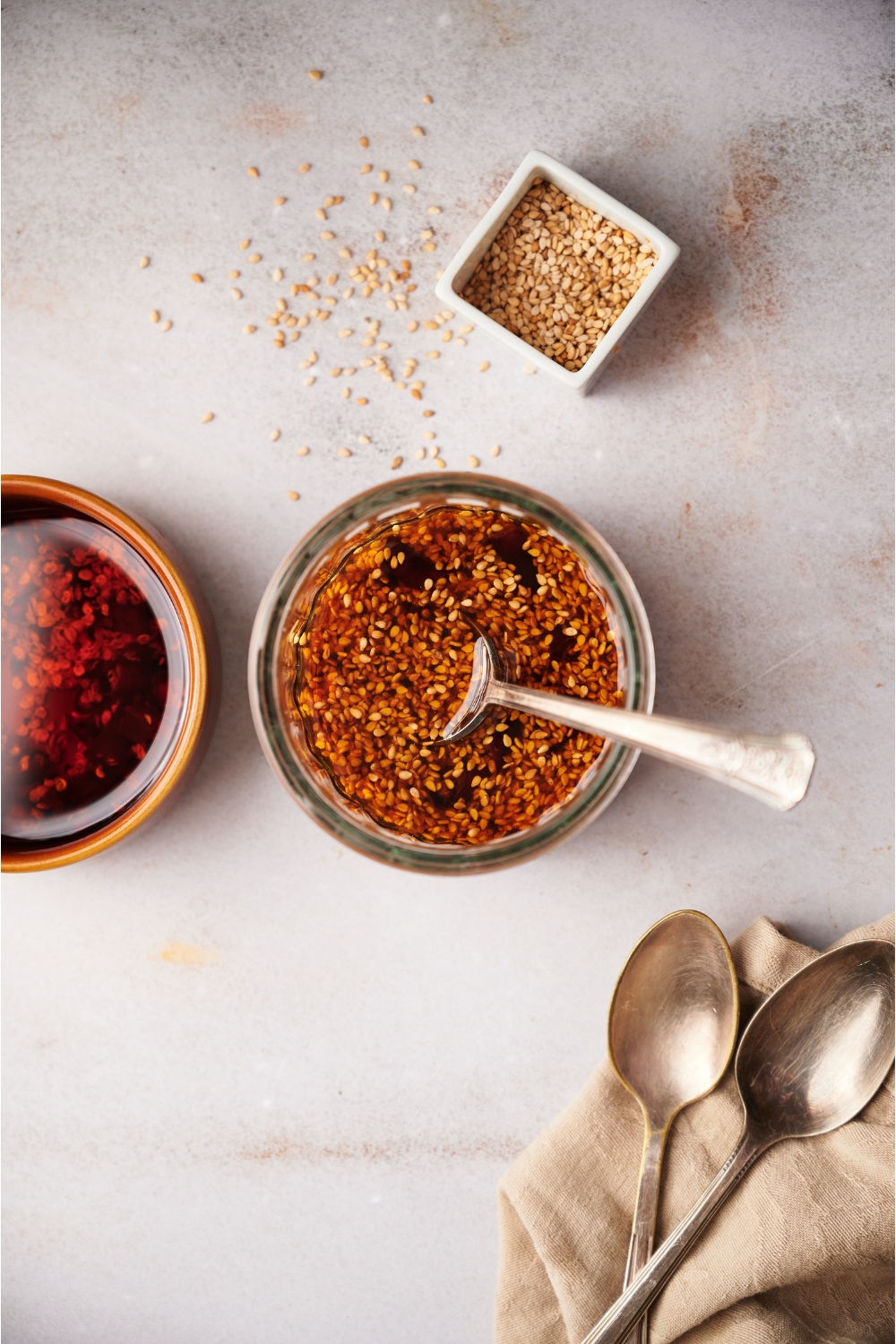 How To Store Dumpling Sauce
This recipe for dumpling sauce makes about ¼ cup worth of sauce. That being said, it's effortless to double - or triple - the recipe if you want to make more of it.
Also, if you made a big batch and have extra, you can store the leftover dumpling sauce in an airtight container - or sealed glass jar - in the fridge for up to 2 weeks.
Alternatively, if you want to keep the sauce for even longer, you can freeze the dumpling sauce for up to 6 months. Then, to thaw it, either place it in the fridge overnight or put it in a large bowl and run it under cold water in the sink to thaw.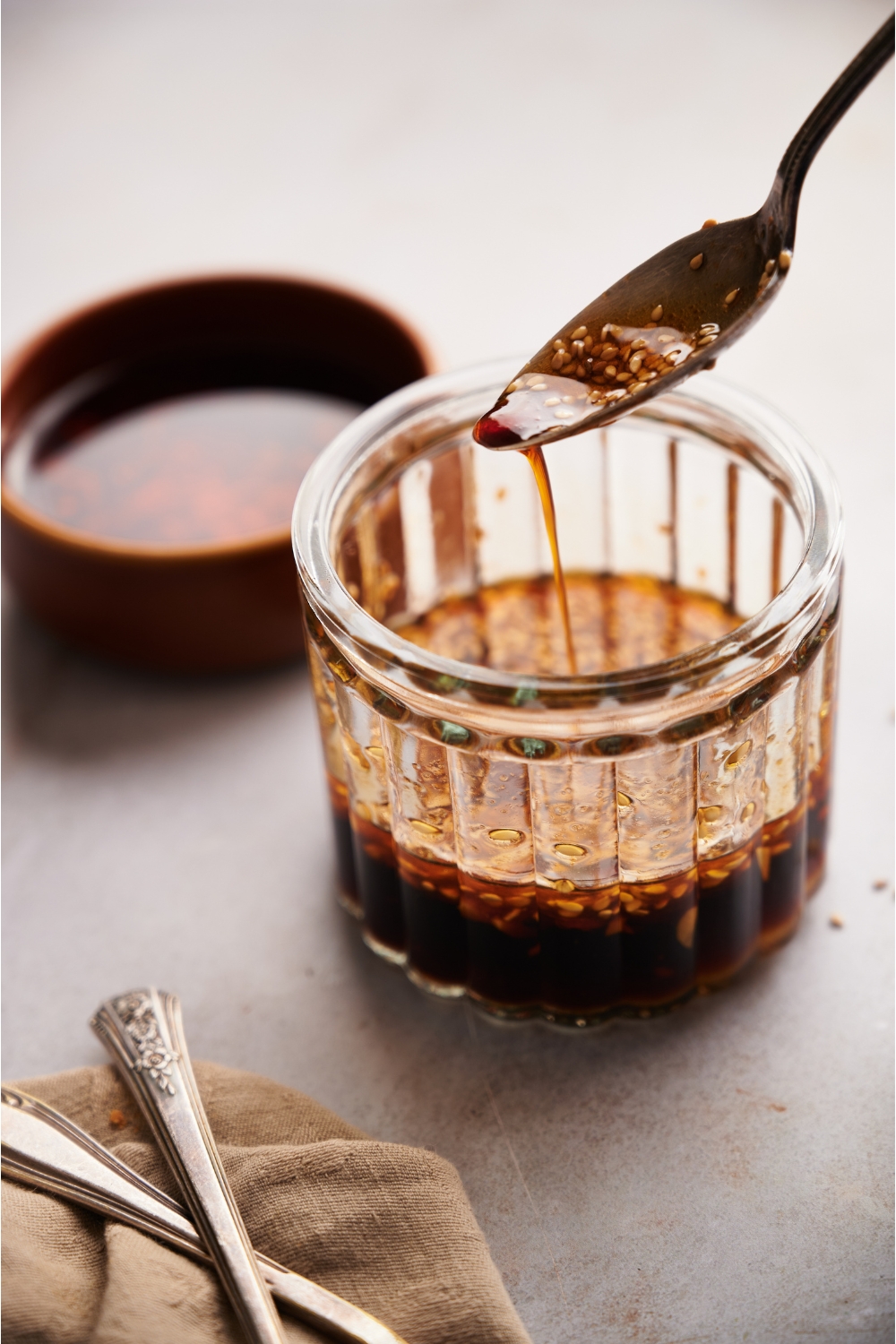 FAQs About This Dumpling Sauce Recipe
What sauce do you eat gyoza with?
Traditional dipping sauce for Japanese gyoza usually contains a combination of regular soy sauce and rice vinegar, with optional chili oil or red pepper flakes. Sesame oil is also a good additional ingredient that adds a depth of flavor to your gyoza dipping sauce. With all of that said, though, this easy dumpling sauce recipe is the perfect sauce to eat gyoza with!
Can you eat soy sauce with dumplings?
Yes, you can absolutely eat soy sauce with dumplings. Pretty much every filling in dumplings goes great with classic soy sauce. But, if you want to put something on your dumplings that has a little more flavor to it, then this soy sauce-based dumpling sauce is just what you need.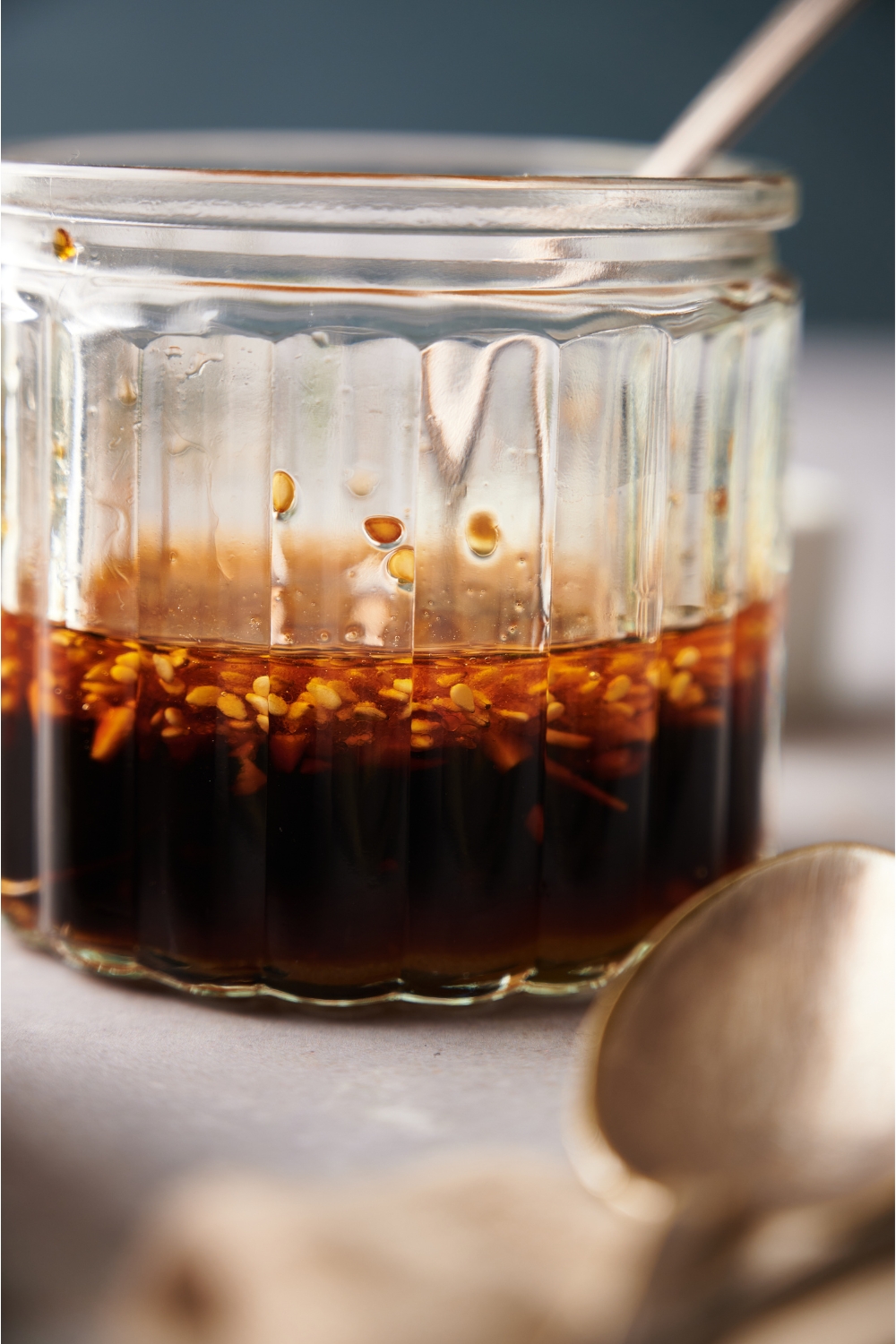 My Final Thoughts
This is such a good dumpling dipping sauce and is everything you need, whether you're making dumplings from scratch, making frozen dumplings, or looking to elevate plain noodle dishes or a variety of other foods.
It's honestly so flavorful, and the fact that it's so quick and easy to make is just a bonus. Anyway, I hope you like this easy dumpling sauce as much as my family and I do. As always, if you give it a try, leave a comment below and let me know your thoughts.
More Recipes
If you like Asian-inspired recipes - and are looking for some more delicious recipes just like it - we have a bunch on the blog you can check out next!
Here are some of our favorites:
Also, for more tasty recipes - just like this dumpling sauce - don't forget to follow us along on Tiktok, YouTube, and Instagram. We post new ones on them every single day.
Yield: ¼ cup
Dumpling Sauce Recipe Made In 1 Minute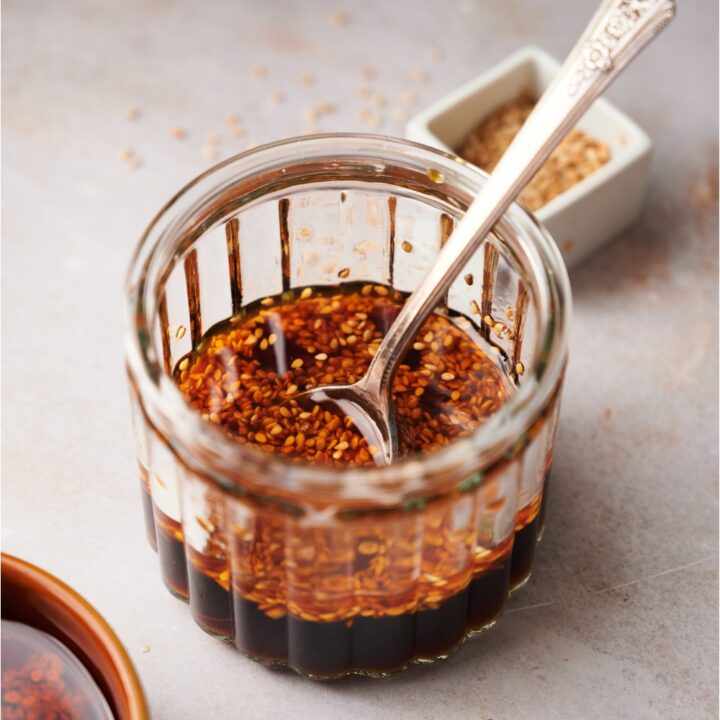 This dumpling sauce recipe is so simple yet packed with so much flavor. Soy sauce, rice vinegar, sesame oil, and a few other basic ingredients combine to form a richly flavorful sauce that's perfect for your next batch of dumplings.
Instructions
Mix all the ingredients in a bowl and stir until the sugar dissolves.

Serve immediately or store in an airtight container.
Nutrition Information:
Serving Size:
¼ cup
Amount Per Serving:
Calories:

93
Total Fat:

6g
Saturated Fat:

0g
Trans Fat:

0g
Unsaturated Fat:

0g
Cholesterol:

0mg
Sodium:

0mg
Carbohydrates:

4g
Fiber:

0g
Sugar:

0g
Protein:

7g