These grit cakes have comfort food written all over them. They're a delicious Southern staple with an addictive crunch and fluffy texture that's just so good. Best of all though, these fried grits are effortless to make with just 4 basic ingredients, and they're the ultimate versatile addition to any breakfast, lunch, and dinner!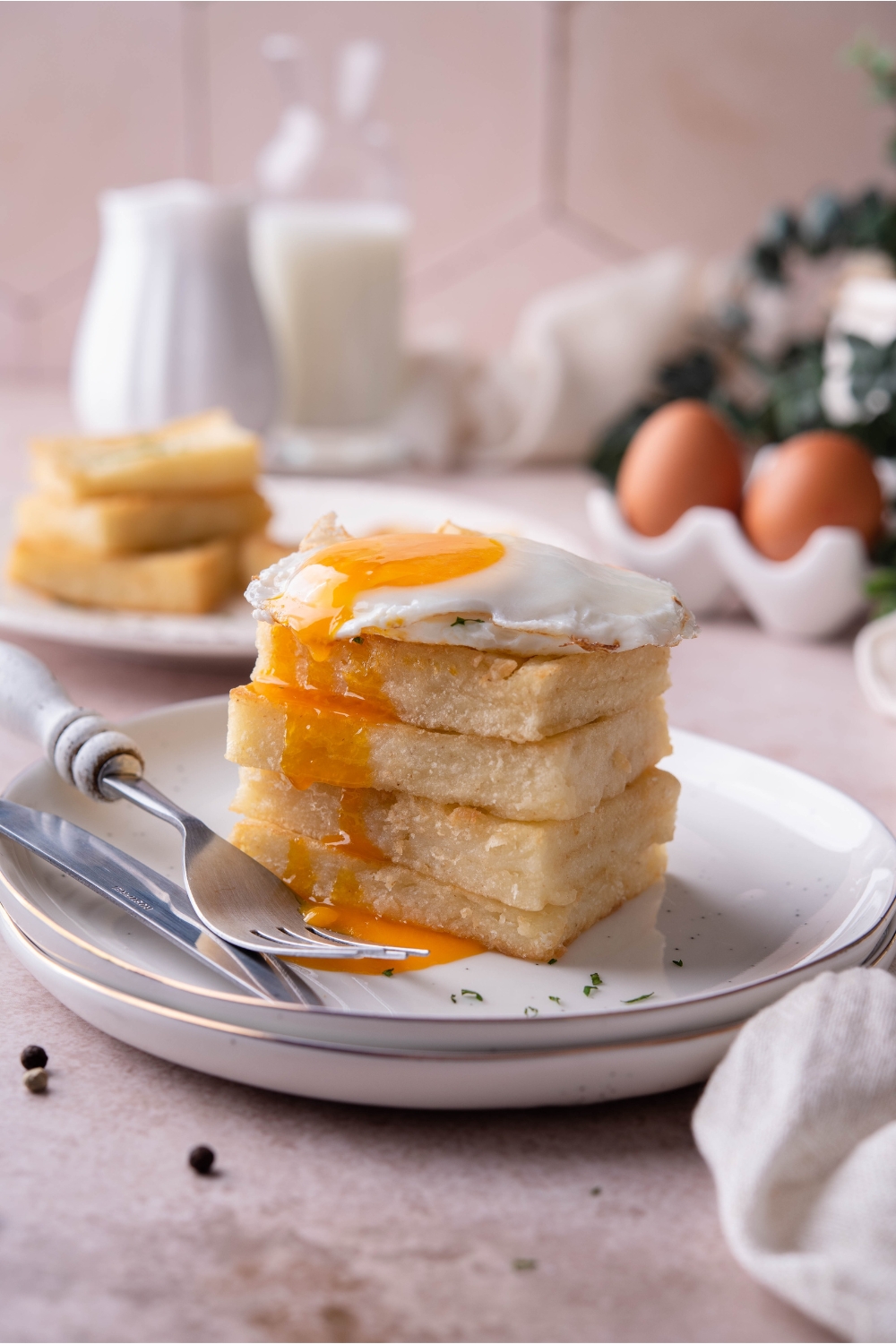 The Best Grit Cakes
If you love classic Southern grits, just wait until you try these crispy fried grit cakes!
This grit cake recipe is simply cooked grits that are cooled, cut into squares, and fried until they're wonderfully golden brown and crispy on the outside but soft and tender on the inside.
Honestly, they're so simple, yet they're one of the most delicious Southern comfort food recipes I've ever had. And I just love how versatile they are! The fried grit cakes are pretty mild in flavor, so they work well with all sorts of dishes.
I usually serve my fried grit cakes with sausage gravy and fried eggs or scrambled eggs, topped with pulled pork or country ham, or alongside a Southern meal like this Southern meatloaf and fried corn.
With all of that said though, these crispy grit cakes are so darn good you can totally eat them alone!
Now, along with being so delicious and versatile, these fried grit cakes are also a breeze to make. You basically cook the grits on the stovetop, firm them up in the fridge, then cut them into squares and fry 'em up. The hardest part will be waiting for them to finish chilling in the fridge!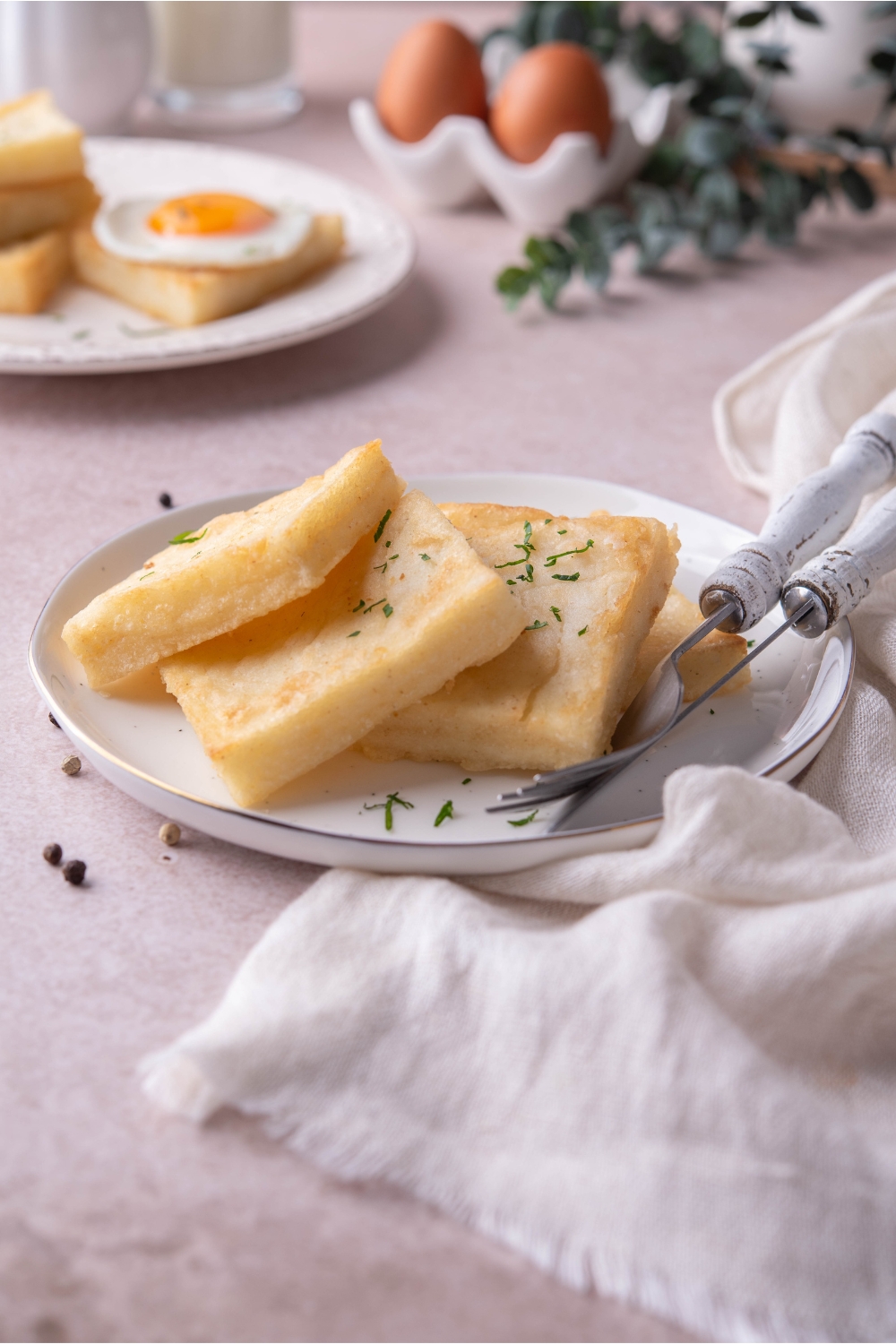 Ingredients
As I said before, you only need a handful of basic ingredients to make these fried grits cakes. In fact, you probably have most - if not all - of the ingredients you'll need to make them on hand already!
Anyway, here's what you'll need:
4 cups water
1 cup stone ground grits
1 tsp salt
1 cup flour
Oil, for frying
Sunny-side-up eggs for serving
How simple is that?!
By the way, if you're serving these grit cakes for breakfast, they're delicious with some sunny-side-up eggs, but they're even better with this sausage casserole. So I highly recommend making that recipe to go with 'em!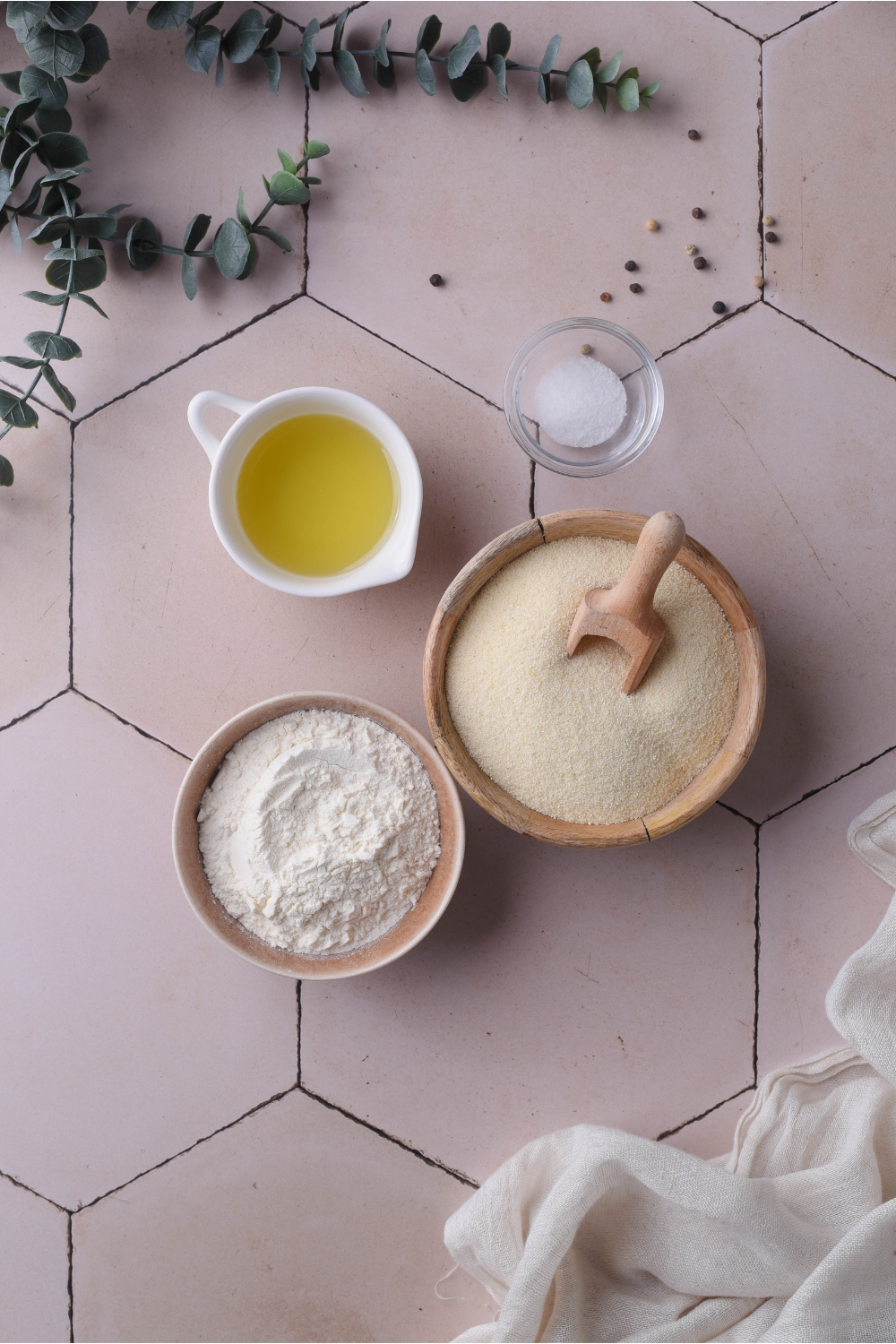 Make Cheesy Grit Cakes
Now, I always make this grit cake recipe with the exact ingredients above because I think it turns out best that way. But with that said, sometimes I'll add a little cheese to elevate the flavor even more.
So if you love cheesy grits, just know that you can easily make cheesy grit cakes. Simply stir in some shredded cheddar cheese to the grits as they're cooking. Then, once the cheese grits are fried, you can top 'em with some more sharp cheddar cheese or parmesan cheese for an extra cheesy flavor.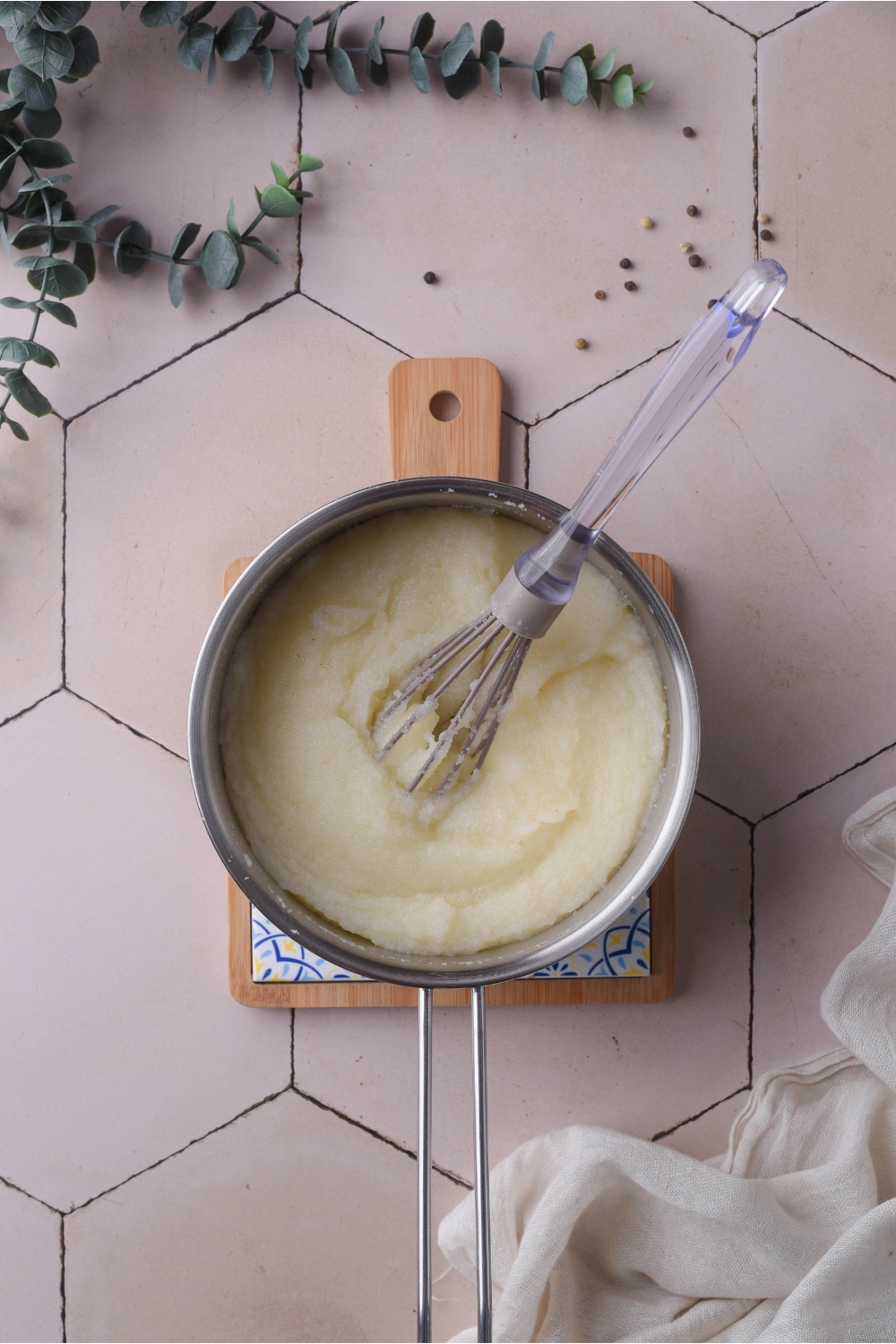 How To Make Grit Cakes
Now it's time to get down to business and make the grit cakes!
And, as I said before, it couldn't be easier to make these things. Even if you've never made grits before, these fried cakes will turn out perfect since the recipe is so simple to follow.
Anyway, let's stop wasting time and get cooking!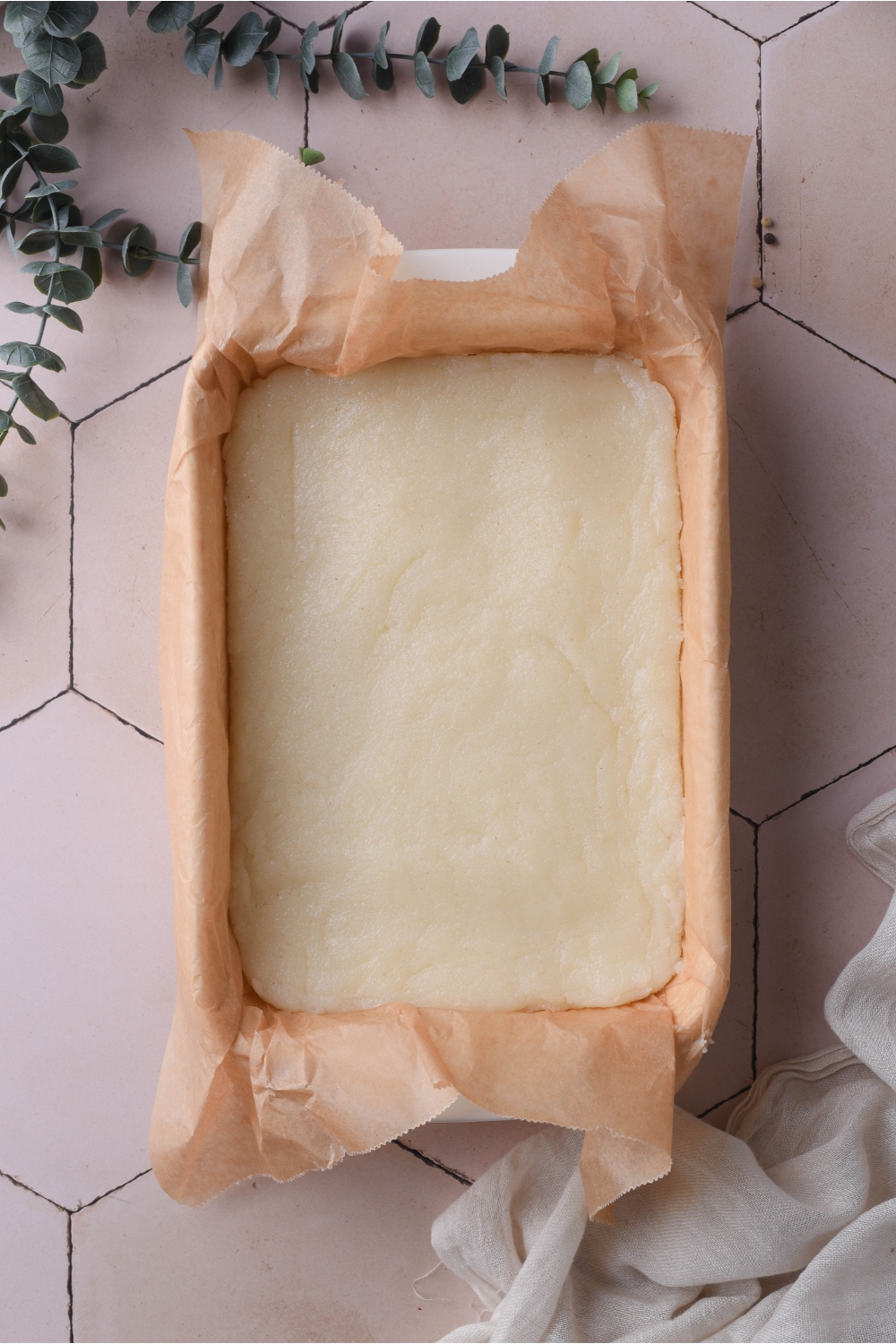 Step 1: Cook The Grits
First things first, you'll want to line a 7-inch baking dish with parchment paper - making sure to leave some extra paper on the sides hanging over the dish. Also, if you don't have a baking dish, a small baking sheet will work too.
Next, you can take out a large saucepot, set it over medium high heat, and add the water, grits, and salt to the pot. Now bring this mixture to a boil, then reduce the heat to low and cook the grits for 20 minutes. You'll want to cook them covered, but you'll still want to stir them occasionally, so the grits don't burn.
You'll know the grits are done cooking when all of the water has been absorbed.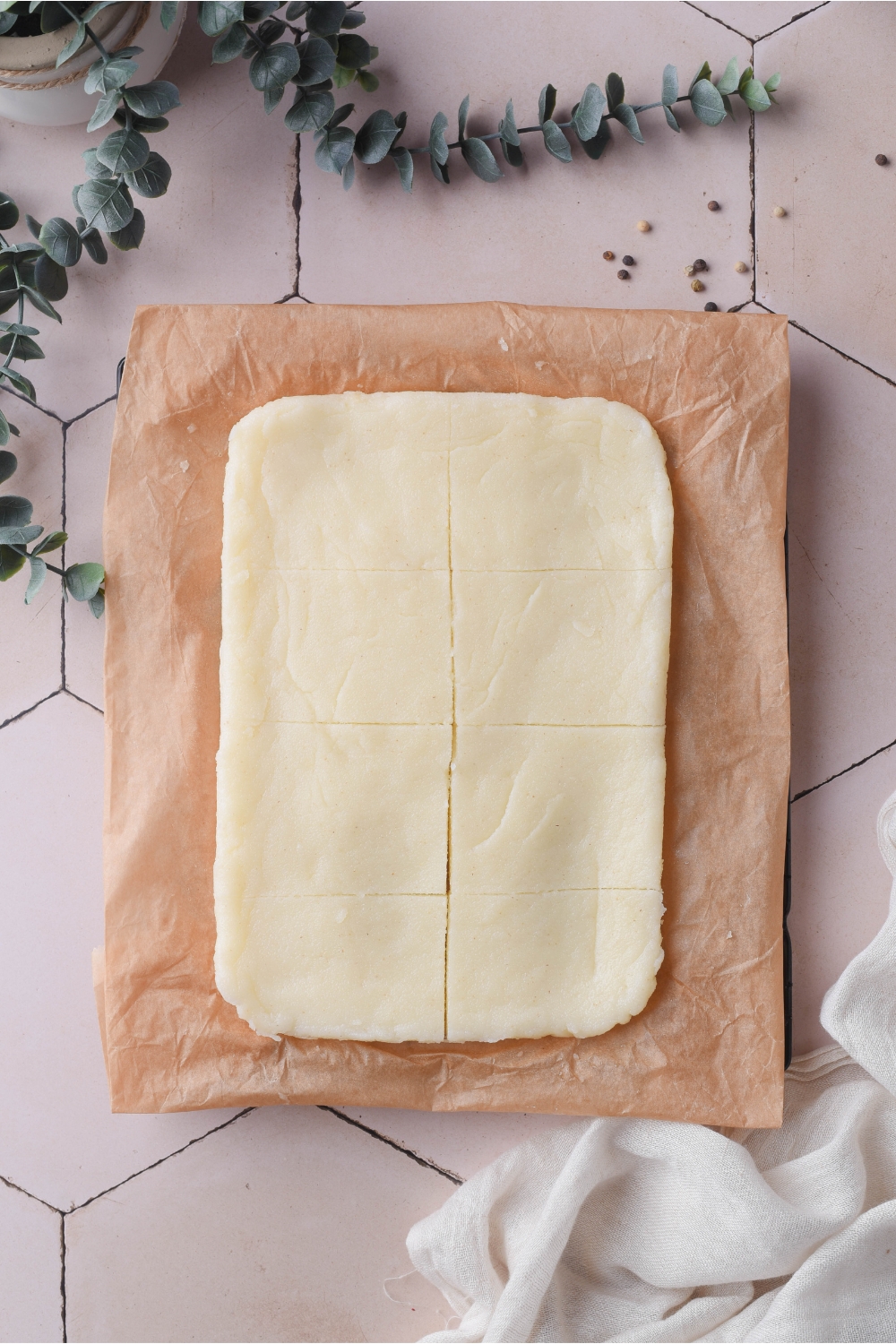 Step 2: Cool The Grits
Once the grits are good to go, you can transfer your cooked grits to the prepared baking sheet or baking dish. Then, you'll want to smooth out the top of the grits with a spatula until they're evenly spread out.
Finally, you can refrigerate the grits for 1 hour or until they're firm and well chilled.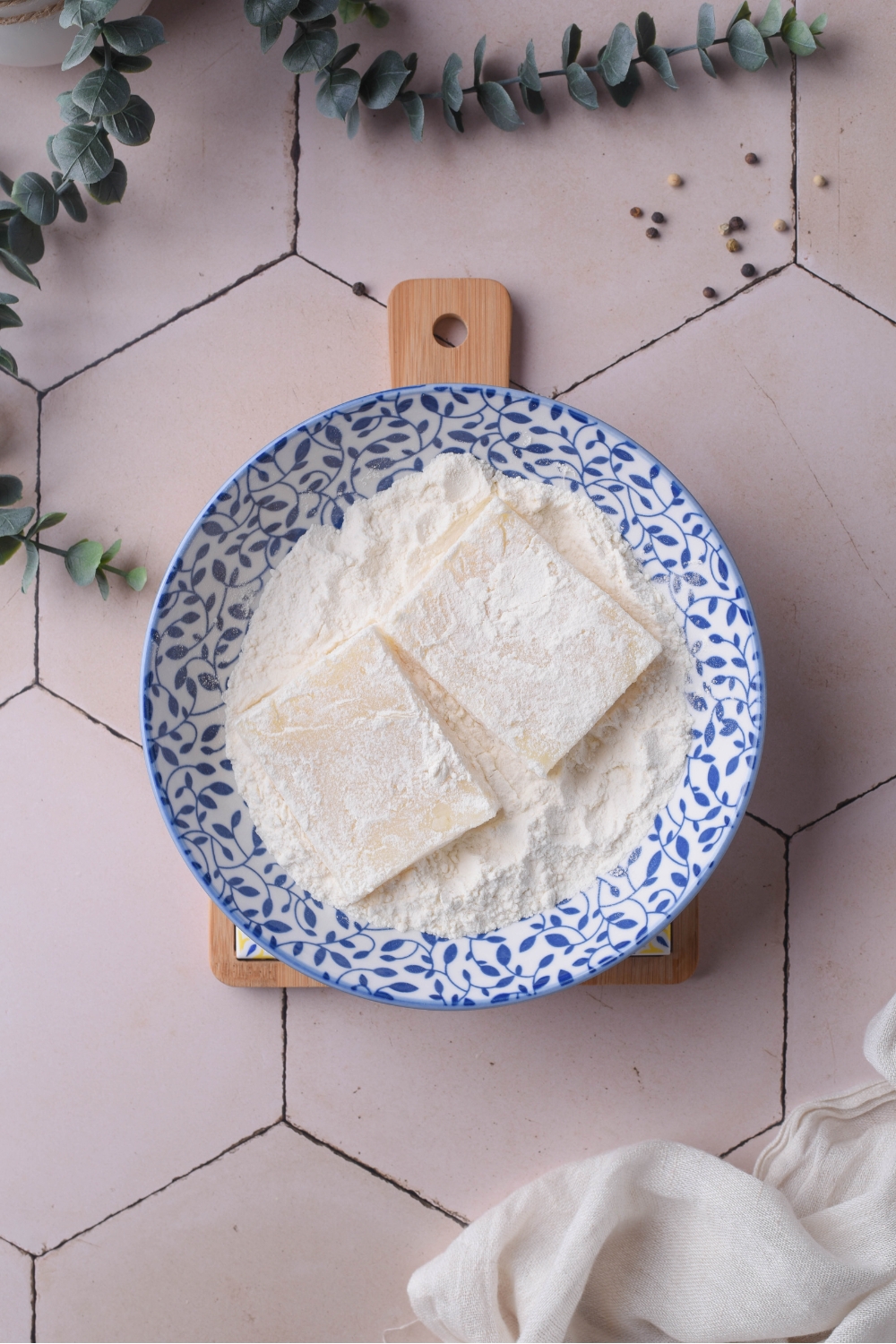 Step 3: Fry The Grits
As soon as the grits are chilled, you can lift up the parchment paper and transfer it to a cutting board. Then, you'll want to cut the chilled grits into about 8 equal portions. I like to cut mine into rectangles, but you can also use a round cookie cutter if you want to cut them into circles.
Next, you're going to fry the grit cakes. So, to do that, you'll want to heat up about 2-3 tablespoons of olive oil in a large skillet. Then, while the oil is heating up, you can add the flour to a bowl and carefully coat both sides of the grit cakes with it.
Now you can add your grit cakes to the hot oil and fry 'em for a minute or so on each side until they're crispy and golden. Keep in mind you'll need to fry the grits in batches so all of them can lay flat in the skillet. Between frying, you can add more oil as needed.
Anyway, once you've fried all of the grit cakes, serve 'em warm and enjoy.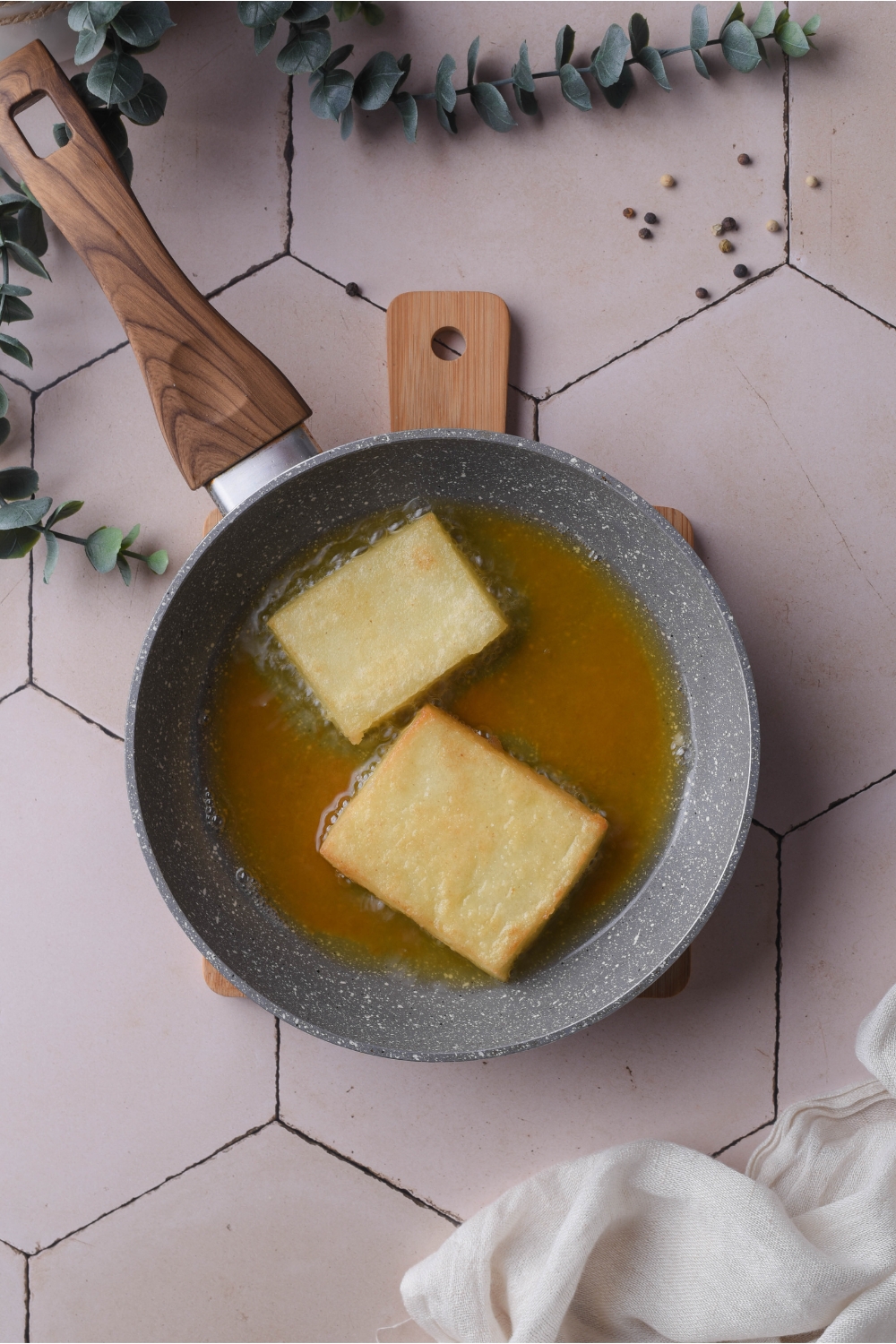 How To Store Grit Cakes
This recipe for grit cakes makes about 4 servings, so you should have plenty to serve on the side with breakfast, lunch, or dinner.
Honestly, these grit cakes are so good that I've never had any leftovers after making them. They're usually gone within minutes after they come hot off the pan!
With that said though, if you do end up with some leftovers, just let them cool first, then you can transfer 'em to an airtight container. Stored this way, the leftover grits will last in the fridge for up to 5 days. If you want the leftovers to last even longer, you can freeze 'em in an airtight container - or freezer-safe bag - for up to 3 months.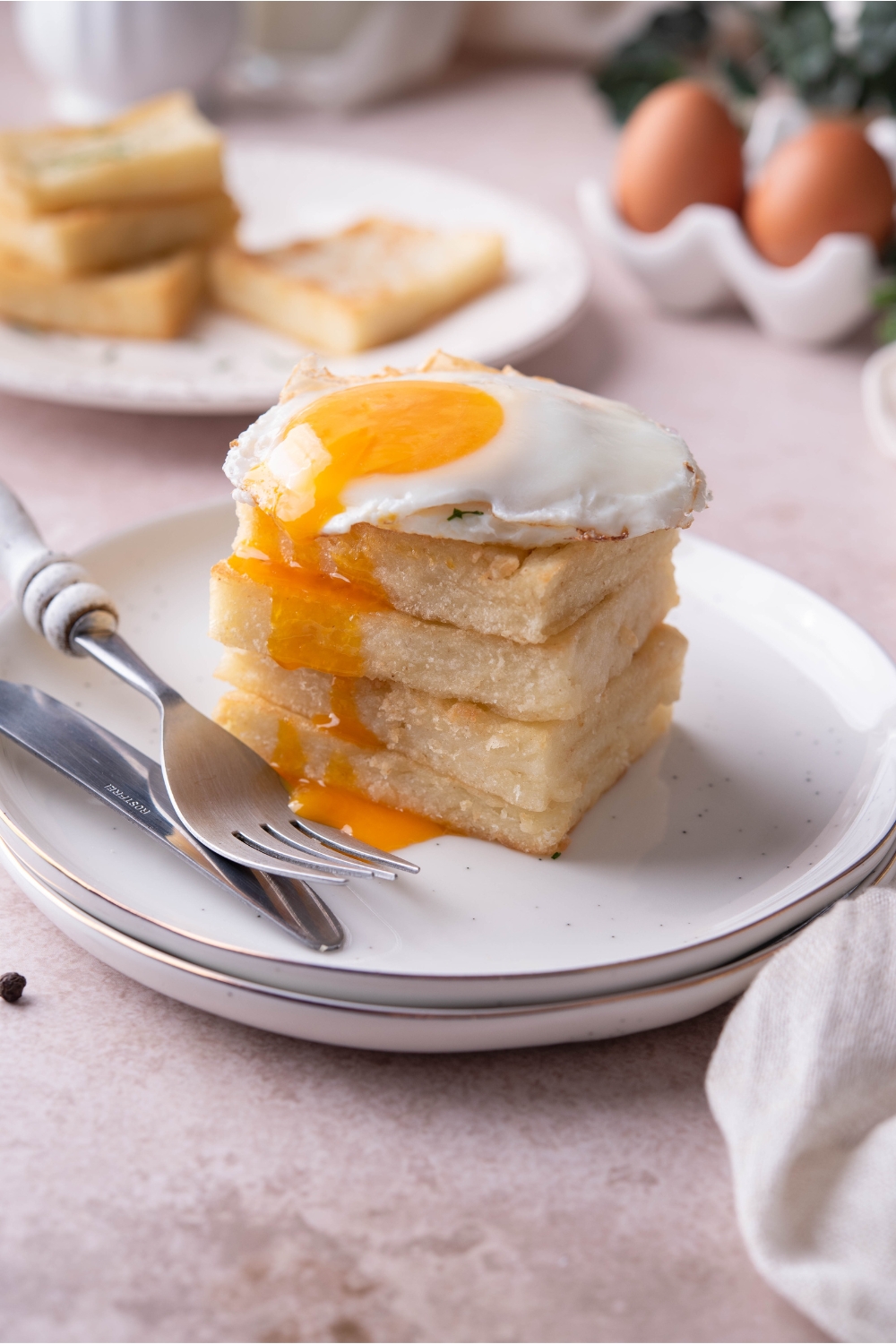 How To Reheat Grit Cakes
When you're ready to enjoy your leftover grits again, they're definitely best reheated.
So, to reheat your grit cakes, all you have to do is toss them back into a frying pan with a dash of oil. Just let the grits heat for a few minutes or so on each side until they're warmed through. If you're starting with frozen grits, you'll want to add a few more minutes to the reheating time.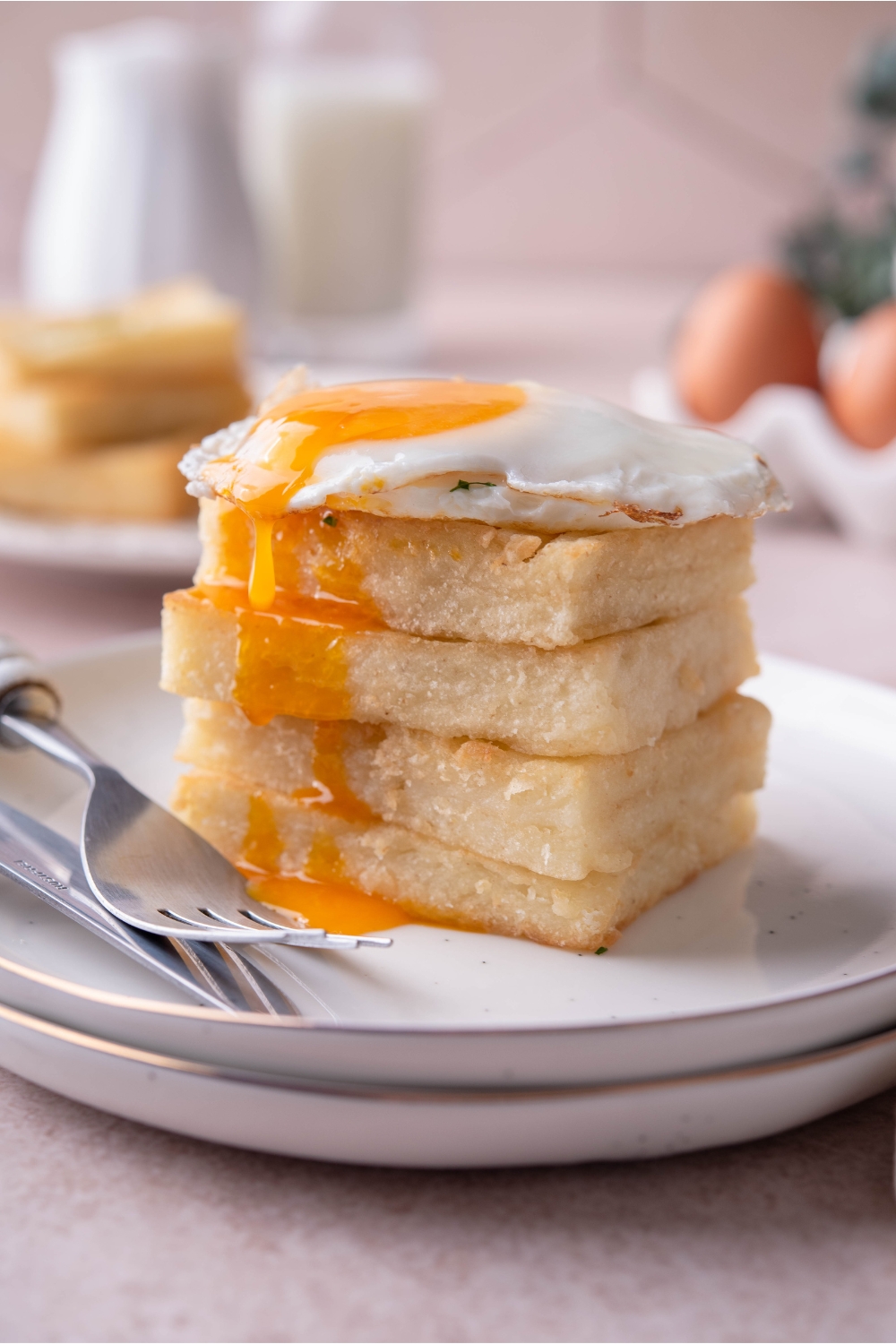 Wrapping It Up
Well, that's how to make grit cakes!
I know I'm biased, but I really do think this is the best grit cake recipe you'll find. From the addictive crunch they have on the outside to the soft and fluffy texture on the inside, they're just so, so good! My family and I love making 'em when we're craving some Southern comfort food, and we still haven't run out of things to eat them with.
Anyway, I hope you enjoy this fried grit cakes recipe as much as I/we do.
As always, if you give it a try, be sure to leave a comment below and let us know what you think!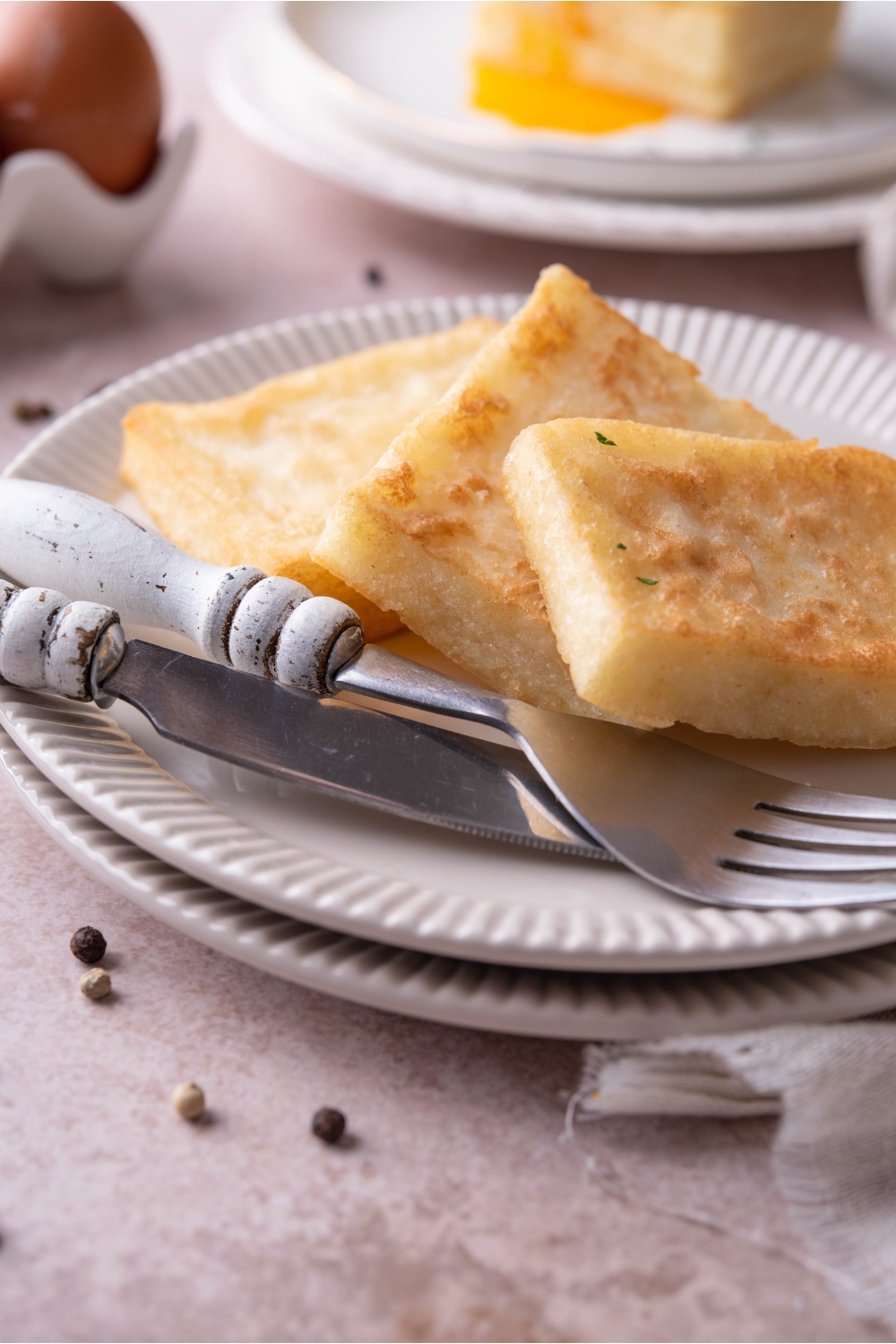 More Southern Recipes
If you enjoyed these fried grit cakes, and are looking for some more classic Southern food, we have a ton of recipes on the blog you can make next!
Check out all of these easy recipes:
Oh, and as always, make sure to follow us on TikTok, Instagram, and YouTube. We post new recipes on them every day!
Print
Easy Grit Cakes Recipe (Made With Just 4 Ingredients)
These grit cakes have comfort food written all over them. They're a delicious Southern staple with an addictive crunch and fluffy texture that's just so good. Best of all though, these fried grits are effortless to make with just 4 basic ingredients, and they're the ultimate versatile addition to any breakfast, lunch, and dinner!
Author:
Prep Time:

1 hour

Cook Time:

10 minutes

Total Time:

1 hour 10 minutes

Yield:

4

servings

1

x
Category:

Dinner

Method:

Stovetop

Cuisine:

Southern
4 cups water
1 cup grits
1 tsp salt
1 cup flour
Oil, for frying
Sunny-side-up eggs for serving
Instructions
Line a 7-inch baking dish with parchment paper. Leave the sides hanging over.

Add water, grits, and salt into a saucepot.

Bring the grits to a boil. Reduce heat and cook for 20 minutes - covered but stirring occasionally, so the grits do not burn. Make sure the water is absorbed before moving on.

Transfer the grits to the baking dish.

Smooth the top and place the grits into the fridge for 1 hour or until well chilled. Lift the paper and remove the grits from the baking dish. Cut the grits into 8 equal portions.

Place the flour into a bowl. Coat the grits cakes on both sides with the flour.

Heat 2-3 tbsp of olive oil in a skillet. Fry the grits cakes until golden. 

Repeat with remaining grits and add more oil if needed. 

Serve grits cakes with eggs or anything you want.
Nutrition
Serving Size:

1 serving

Calories:

168

Fat:

4

Carbohydrates:

29

Protein:

4
Keywords: grit cakes, grit cakes recipe, easy grit cakes recipe, best grit cakes recipe, fried grit cakes, fried grit cakes recipe, fried grit cake recipe, crispy grit cakes, easy fried grit cakes, grit cake recipe easy, grit cakes recipe breakfast, grit patties recipe, fried grit patties