This ham loaf is an amazing comfort food dinner recipe. It's juicy and meaty and it has a sweet and savory brown sugar glaze that's to die for. Plus, it's so, so easy to make. In fact, just 10 minutes of prep work is all that's needed to make it and then your oven takes care of the rest from there.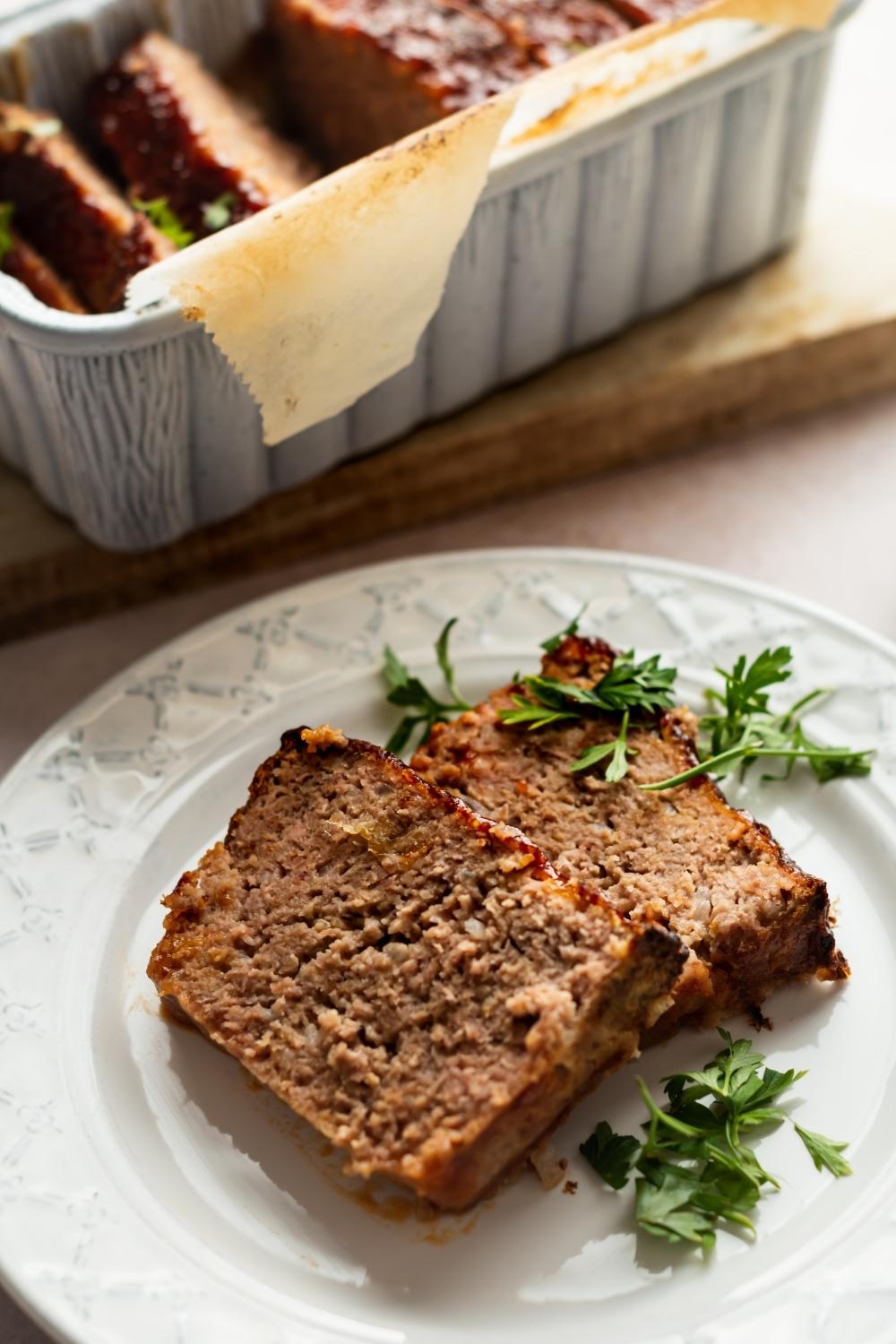 Ingredients You'll Need
One of my favorite things about this ham loaf recipe is that you only need a couple of basic ingredients to make it.
Anyway, here's what you'll need to make the loaf:
1 tbsp. Butter
½ cup Onion, chopped
3 cups Ground Ham (we cube ours and then run it through a meat grinder)
1 cup Ground Pork
1 Egg
½ cup Bread Crumbs
½ cup Milk
1 tsp. Salt
½ tsp. Pepper
And to make the glaze:
¼ cup Brown Sugar
1 tbsp. Dijon Mustard
2 tbsp. Apple Cider Vinegar
2 tbsp. Ketchup
Pretty simple stuff, right?
Ingredients Suggestions and Substitutions
As always, my very first recommendation is that you get fresh, high-quality ingredients for the perfect ham loaf.
Also, if you can't find ground ham, you can always use a whole ham and then grind it up yourself with a meat grinder or food processor.
By the way, just so you know, smoked ham also works great to make this ham loaf recipe. The loaf will have an almost bacon-like flavor if you do!
As for the glaze, if you're not into sweet glazes, you can just prepare the ham loaf without it. Or, try it with the tangy ketchup glaze from this chicken meatloaf recipe!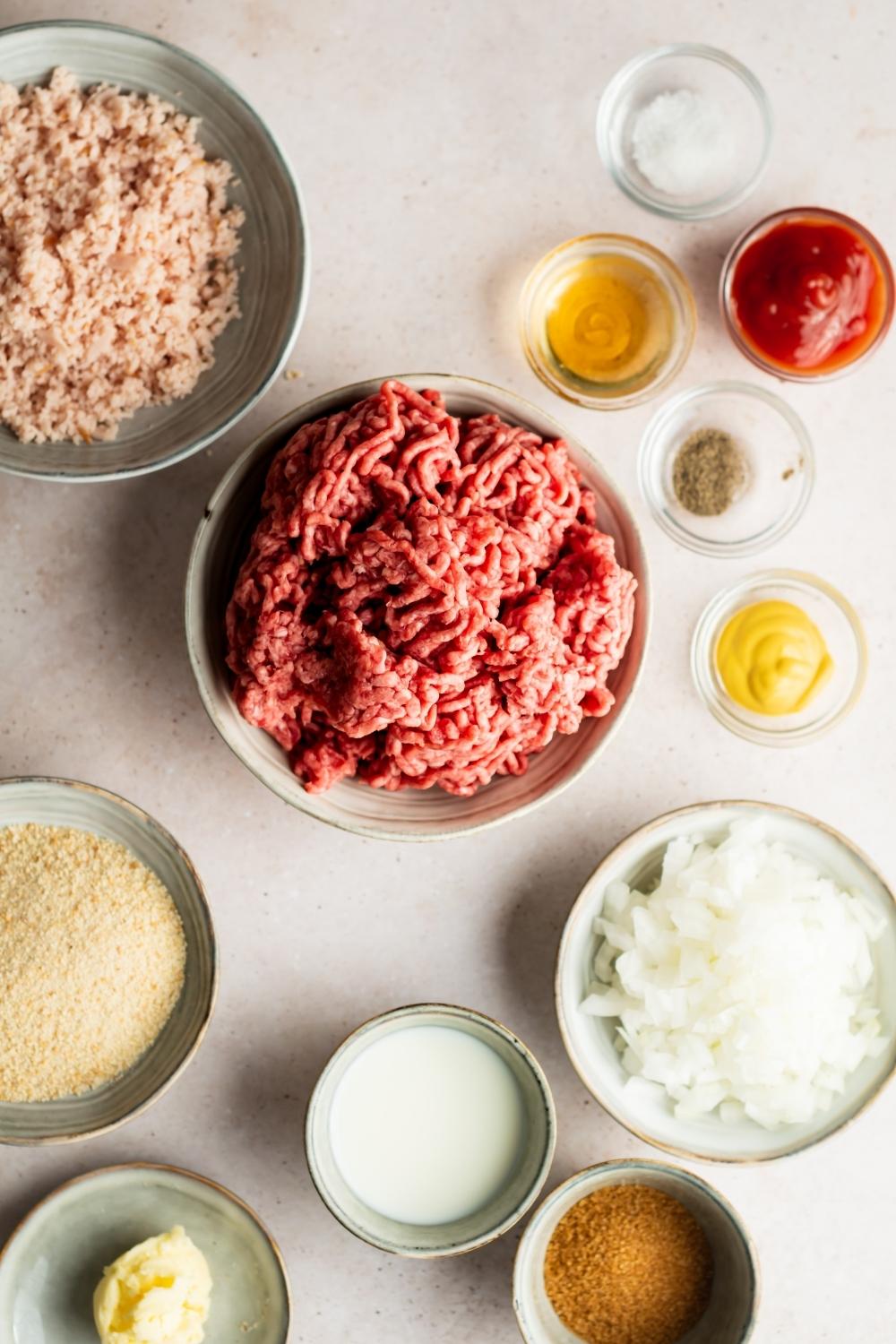 How To Make Ham Loaf
As you already know, just five simple steps - and 10 minutes worth of prep work - are all that stand between you and this delicious ham loaf. And, trust me, even if you've never made ham loaf - or meat loaf for that matter - from scratch before, you'll have no problem making this stuff.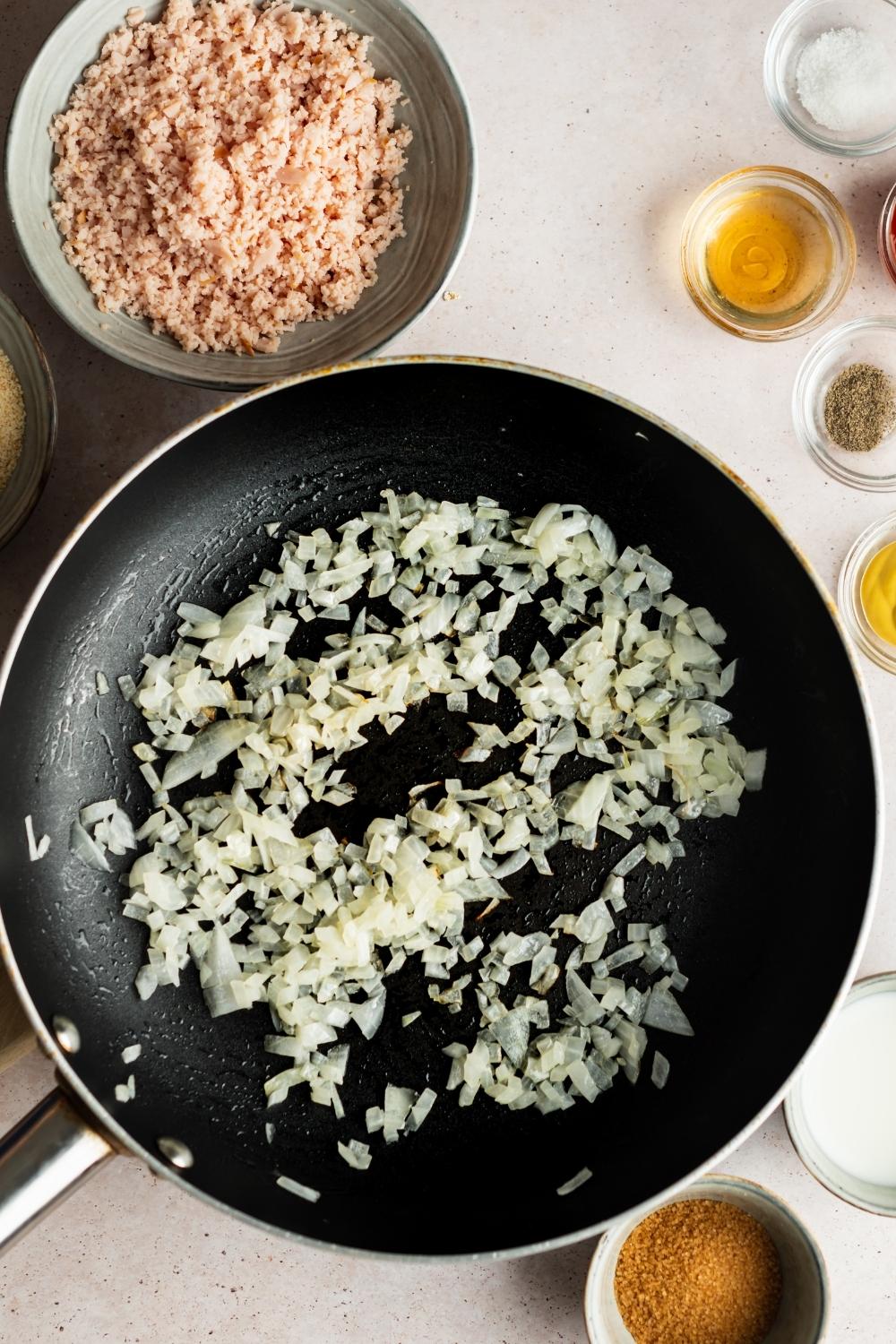 Step 1: Prepare The Onion
The first thing before you start to do anything else is to preheat the oven to 350 °F (180ºC).
Next, grab a non-stick skillet, put it over medium heat, and let it heat up for a minute.
Then, add 1 tablespoon of butter, let it melt, and then add the chopped onion. Cook it for about 10 minutes, or until browned.
Once it's done, transfer it to a large bowl.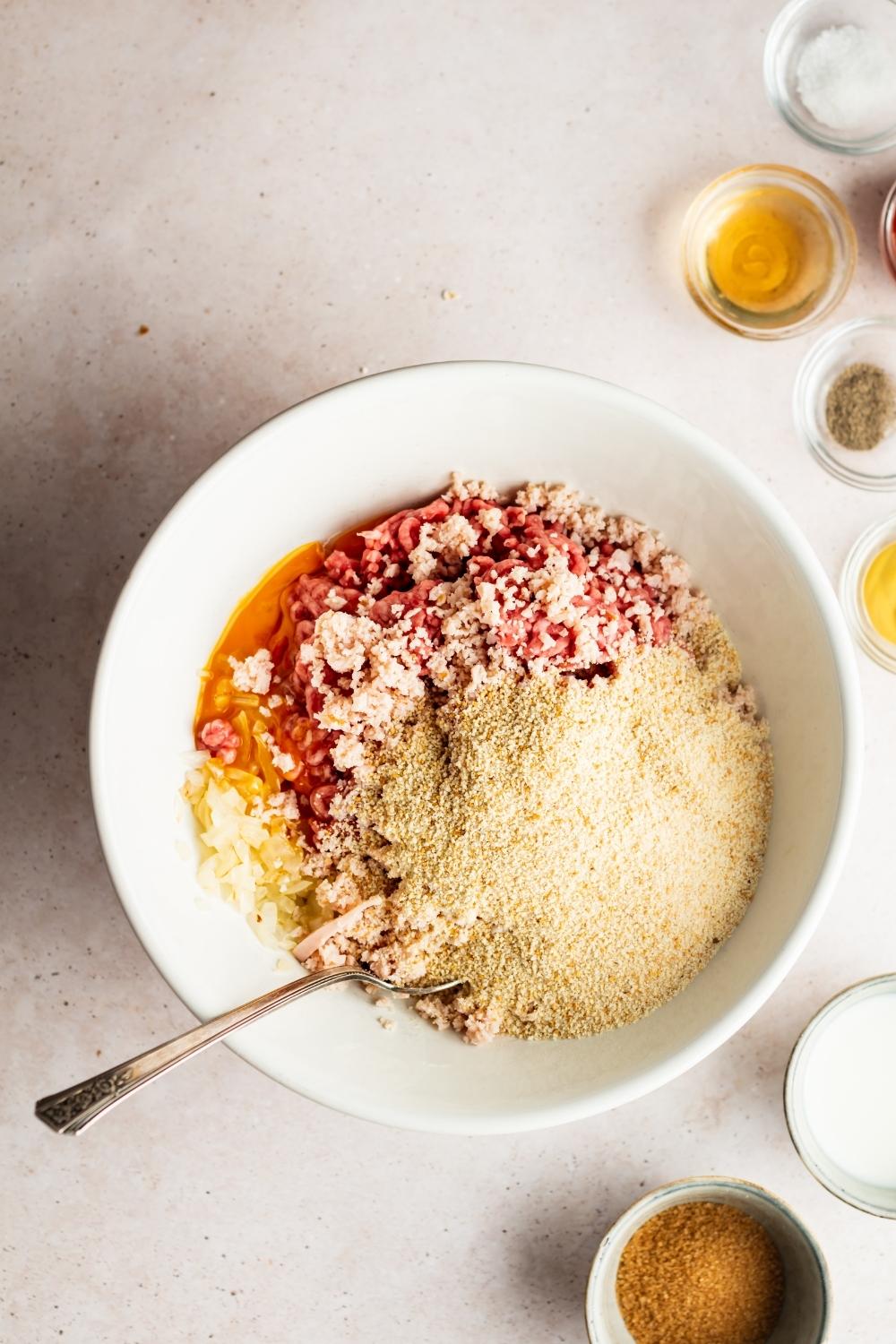 Step 2: Make The Ham Loaf & Bake
In that same bowl, mix in the rest of the ham loaf ingredients. That would be the ground ham, ground pork, egg, bread crumbs, milk, salt, and pepper.
You can start mixing with a wooden spoon, but you'll eventually have to use your hands to mix all the ingredients and fully incorporate the ground ham, ground pork, egg, and bread crumbs. And it's pretty important for the texture and consistency of this ham loaf, so don't be afraid to get into the meat mixture!
Then, line a loaf pan with some parchment paper and transfer the ham loaf mixture to it, shaping it to make sure it cooks evenly.
Next, put the ham loaf in the oven without the glaze and bake for 1 hour.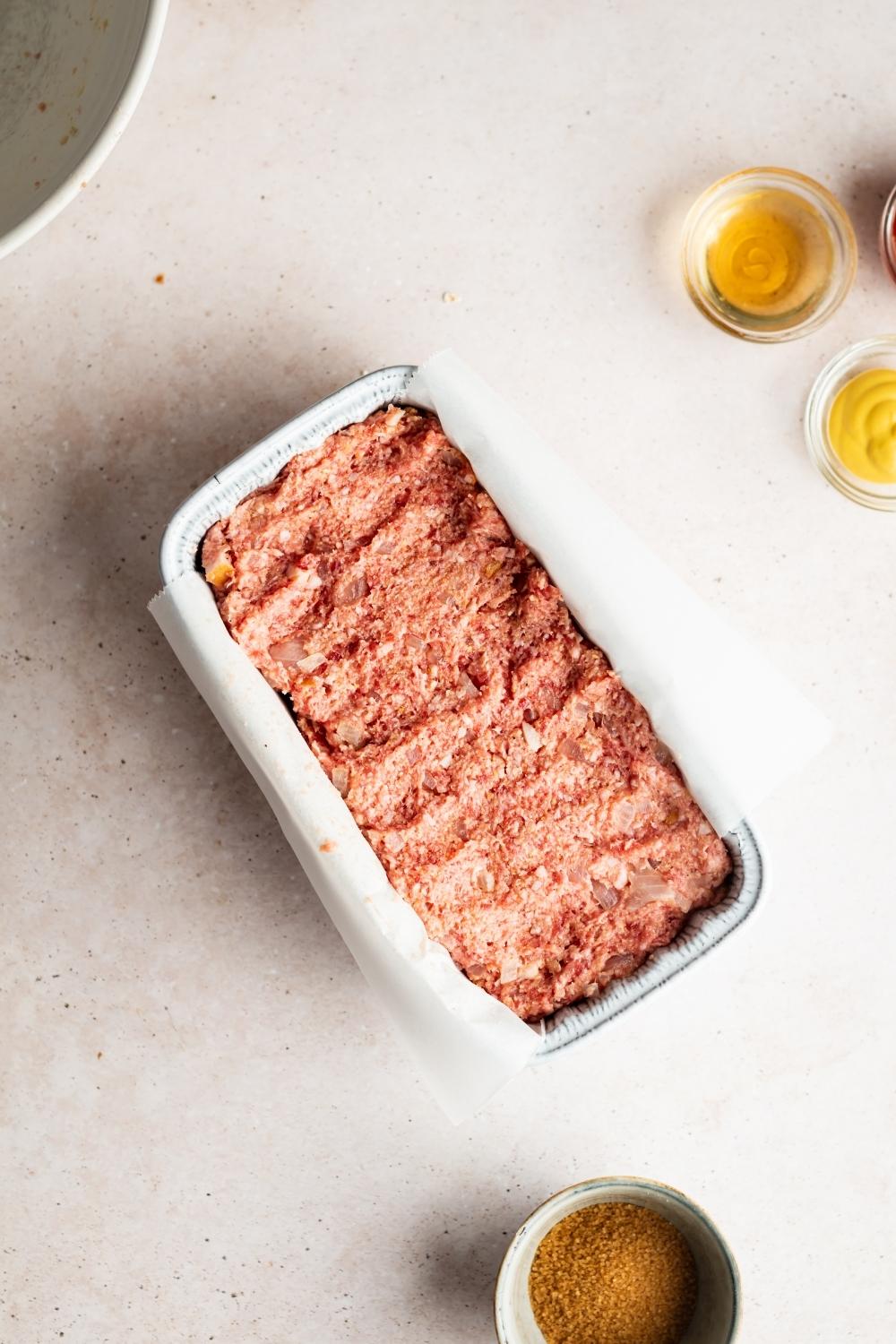 Step 3: Prepare the Glaze
While the ham loaf is baking, grab a small bowl and combine the glaze ingredients using a fork or whisk.
With that said, if you want a ham loaf glaze that's not too sweet, you can use a bit less brown sugar for the glaze than I listed above.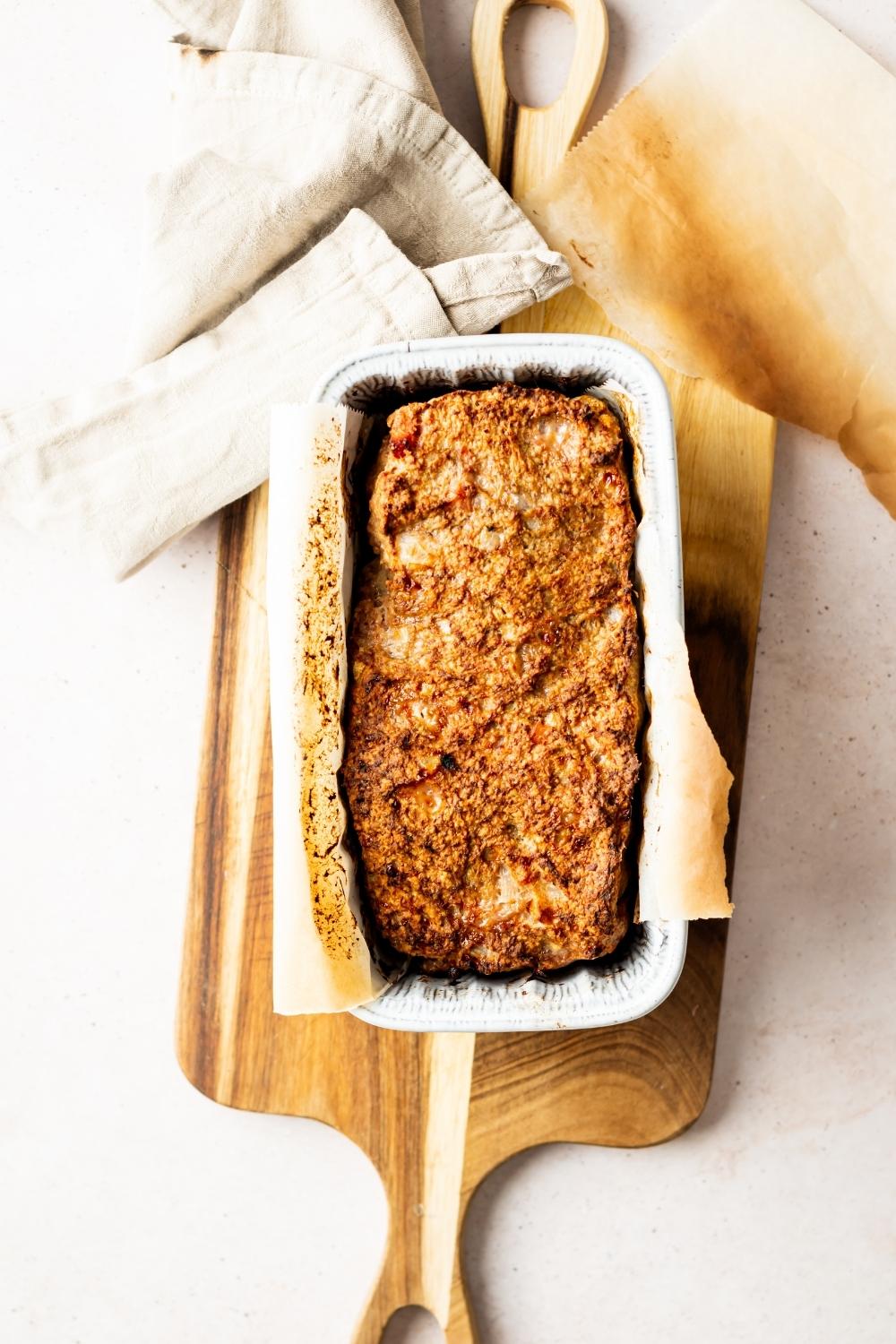 Step 4: Glaze & Bake
After 1 hour, remove the ham loaf from the oven and pour glaze on top evenly.
Bake for 20 more minutes or until the glaze caramelizes. Make sure to double-check through the oven window that it doesn't burn.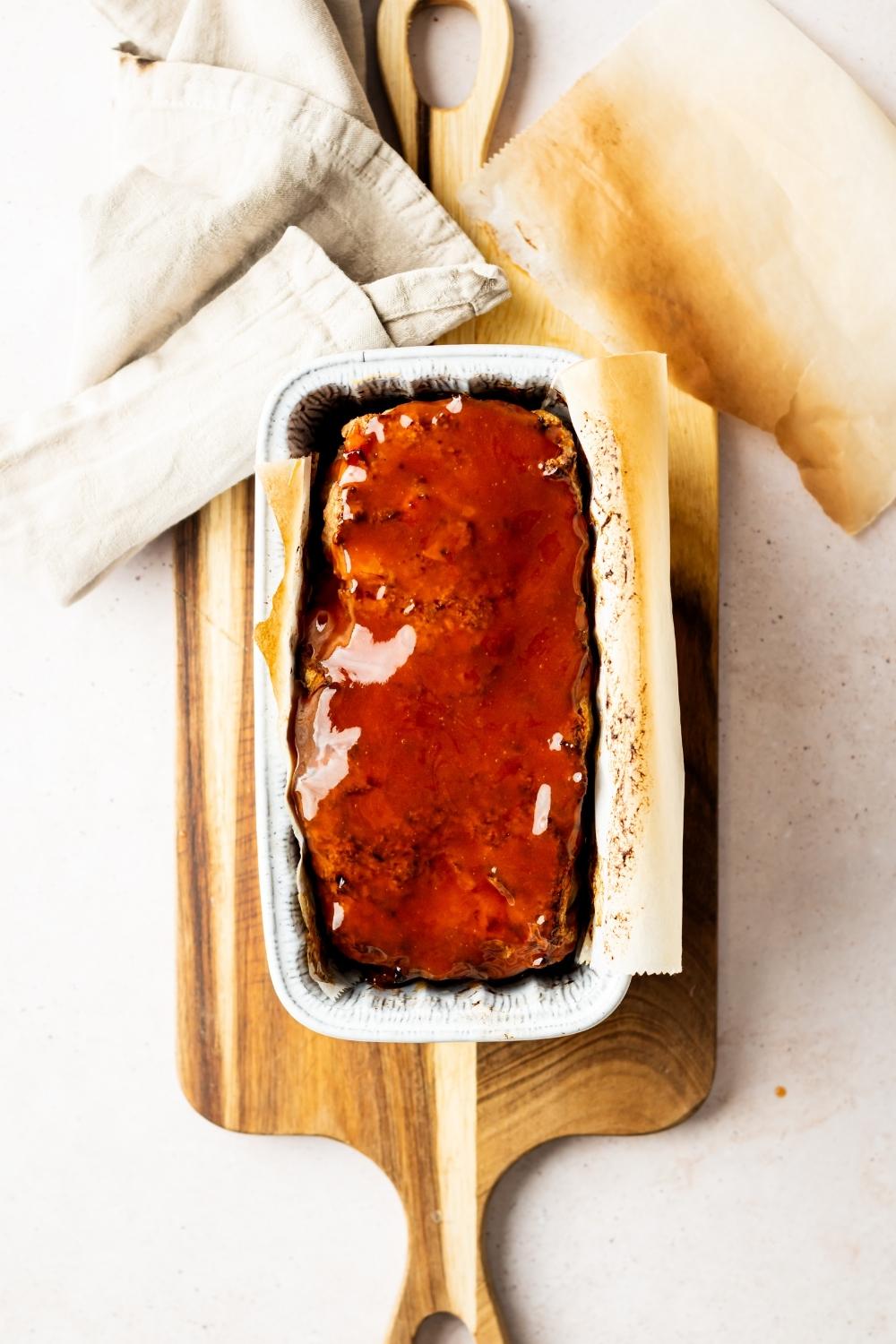 Step 5: Slice & Serve
Finally, take the ham loaf out of the oven.
Give it a few minutes to cool and settle, and then slice it.
Serve the glazed ham loaf slices with your choice of sides, and enjoy!
How To Store Ham Loaf
If this ham loaf is being served for a family dinner or on the holiday dinner table, you probably won't have any leftovers.
But, if you do, you can store leftover ham loaf slices in an airtight container in the fridge. It will stay good stored like this for up to 5 days.
You can also freeze the leftover ham loaf slices in freezer bags, separating each piece with parchment paper so they don't stick. They'll stay good stored like this for about 3 months.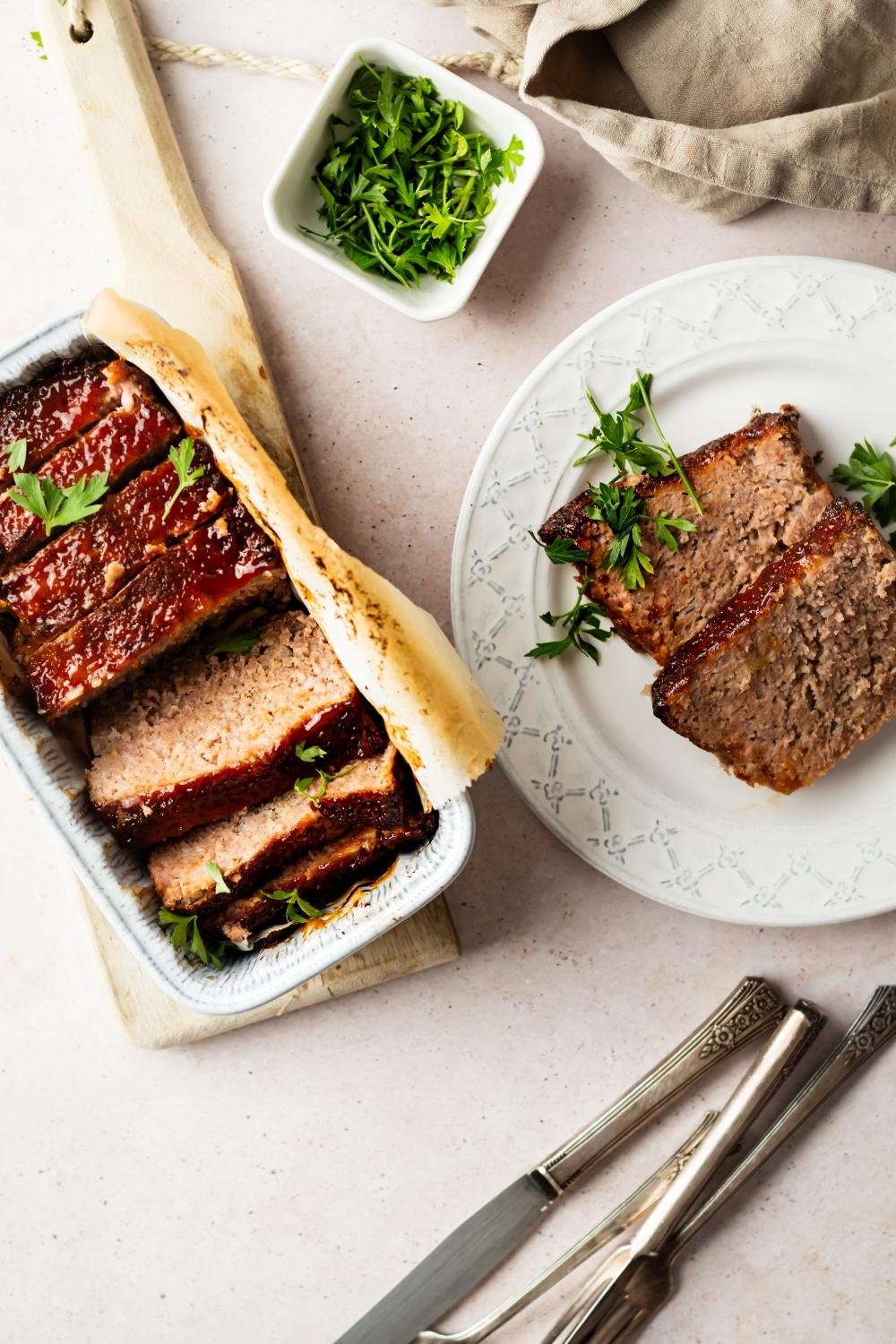 How To Reheat Ham Loaf
To reheat the leftover ham loaf, just grab the quantity you need and warm it in the microwave in 1-minute intervals until warm.
You could also heat it in a pan on the stove - or in the oven - on low heat until warm.
And if you're starting with frozen leftovers, be sure to thaw them in the fridge overnight for even reheating.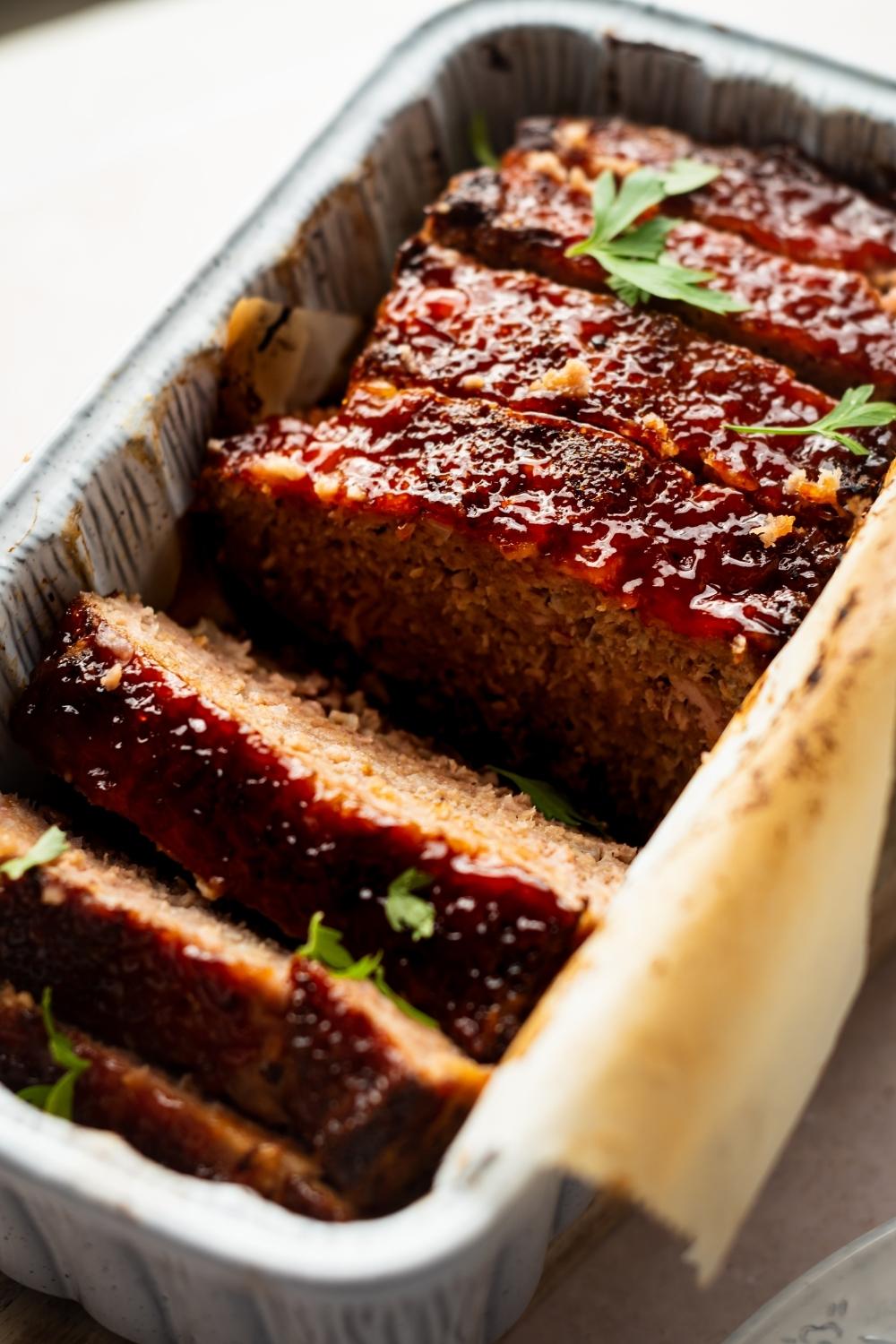 FAQs About This Ham Loaf Recipe
What is ham loaf made of?
Ham loaf is made of ground ham and ground pork, typically with aromatics like garlic or onions and seasoning. Ham loaf is usually made with a glaze as well, whether a brown sugar glaze like in this recipe, a simple ketchup glaze, or a pineapple glaze.
What temperature does ham loaf need to be cooked to?
To know the ham loaf is ready, it should have an internal temperature of at least 160°F (72°C) when checked with a meat thermometer. If you bake ham loaf for the time that is required in this recipe, it should reach that temperature.
Where did ham loaf originate?
Ham loaf is originally from the Pennsylvania Dutch, who were German immigrants that settled in Pennslyvania around the 18th-19th century. It's now commonly eaten throughout the midwest and is actually almost as popular as regular meatloaf.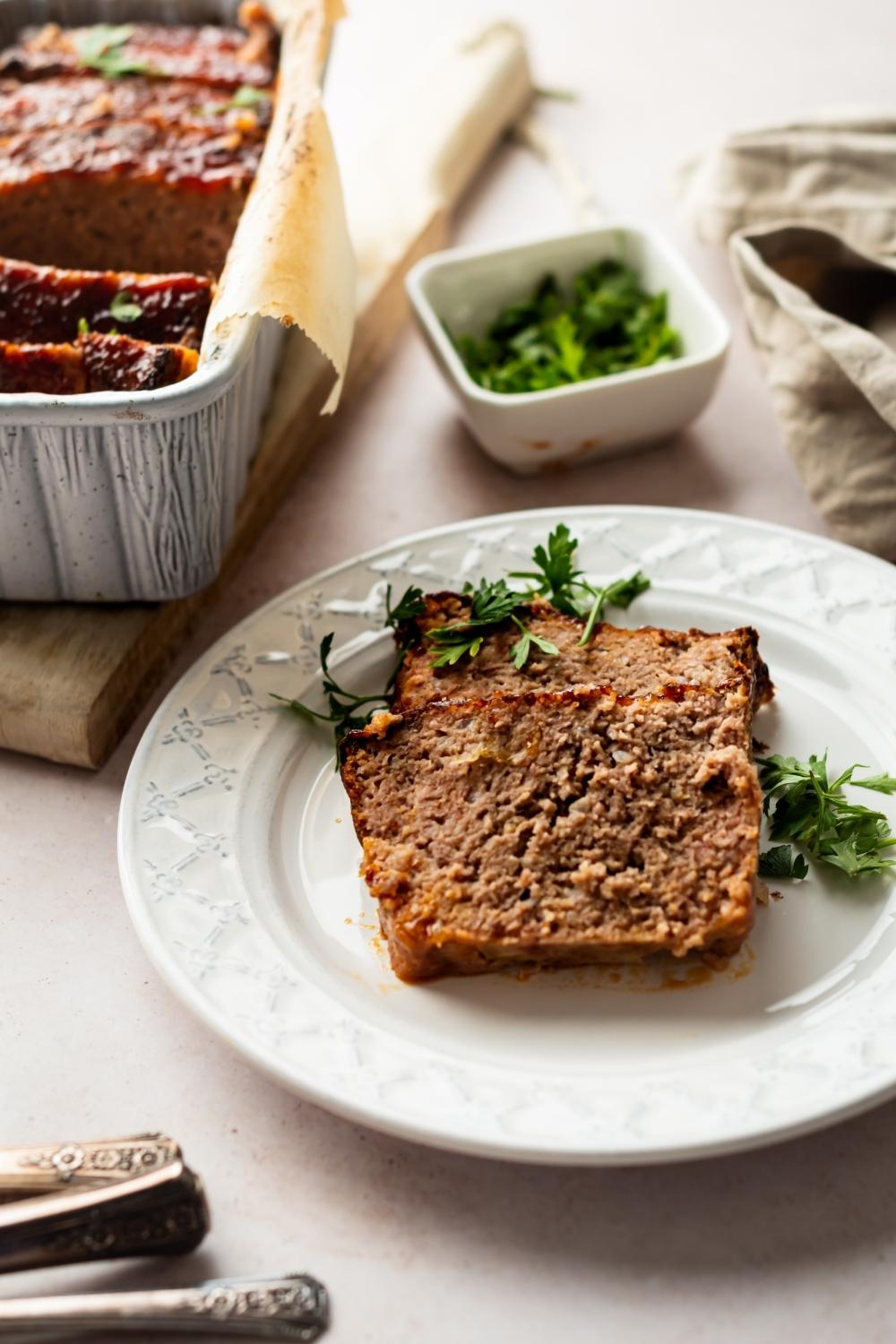 My Final Thoughts
Well, that's how to make ham loaf from scratch!
This hearty and flavorful loaf is a delicious and comforting meal great for both family dinners and special occasions like Thanksgiving or Christmas. And, honestly, it comes out amazing every time!
If you make it, it's sure to become a regular part of your dinner rotation like it is in our house! Also, what I love about this recipe is that I can always tweak it a little bit to make it just a little different each time. I love trying different kinds of glazes, spices, and seasonings to come up with different ham loaf recipes.
Anyway, I hope you enjoy this recipe as much as I do. Be sure to let me know in the comments below if you make it and what you think.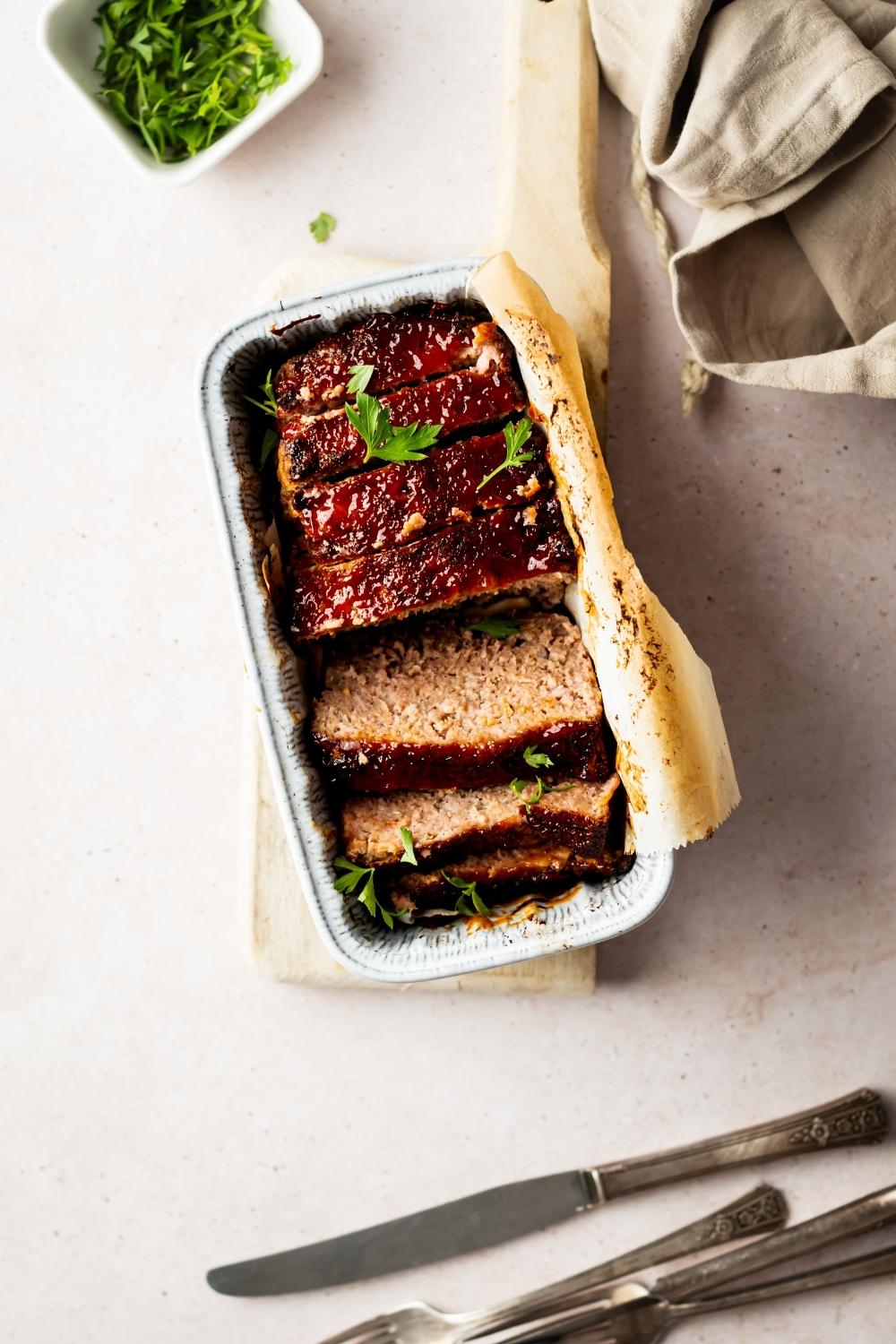 More Meaty Recipes
If you liked this savory ham loaf recipe, you should definitely try these other meaty main recipes:
Oh, and don't forget to check out our Instagram, YouTube, or TikTok, for some tasty dessert recipes. We post new ones on them almost every day.
Yield: 8 servings
Easy Ham Loaf Recipe | Only Takes 15 Minutes To Prep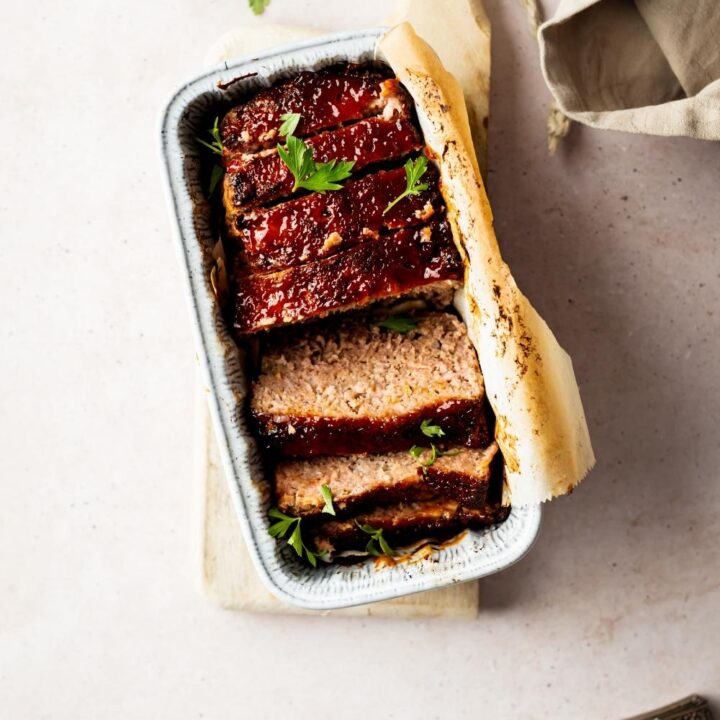 Juicy and meaty with a sweet and savory brown sugar glaze, this ham loaf is an amazing comfort food dinner recipe. Plus, it's easy to prepare, full of flavor, and made with simple ingredients too!
Cook Time
1 hour
20 minutes
Total Time
1 hour
30 minutes
Ingredients
1 tbsp. Butter
½ cup Onion, chopped
3 cups Ground Ham
1 cup Ground Pork
1 Egg
½ cup Bread Crumbs
½ cup Milk
1 tsp. Salt
½ tsp. Pepper
Glaze:
Instructions
Preheat the oven to 350 °F (180ºC).

Heat a non-stick skillet to medium and add the butter and onion. Cook for 10 minutes or until browned and transfer to a bowl.

Add the rest of the ingredients to the bowl and mix with your hands until well incorporated.

Line a loaf pan with parchment paper and transfer the mixture.

Mix all the glaze ingredients.

Bake for 1 hour. Remove from the oven and top with the glaze, bake for 20 more minutes or until it caramelizes.

Slice and serve.
Nutrition Information:
Yield:
8
Serving Size:
1 Slice
Amount Per Serving:
Calories:

202
Total Fat:

8g
Saturated Fat:

3g
Trans Fat:

0g
Unsaturated Fat:

4g
Cholesterol:

75mg
Sodium:

872mg
Carbohydrates:

14g
Fiber:

1g
Sugar:

8g
Protein:

18g