This chicken 65 is a dish like no other! These crunchy chicken bites are tossed in fragrant spices and a mouthwatering spicy sauce. This dish makes for an absolutely unforgettable dinner and it brings a taste of India right to your kitchen.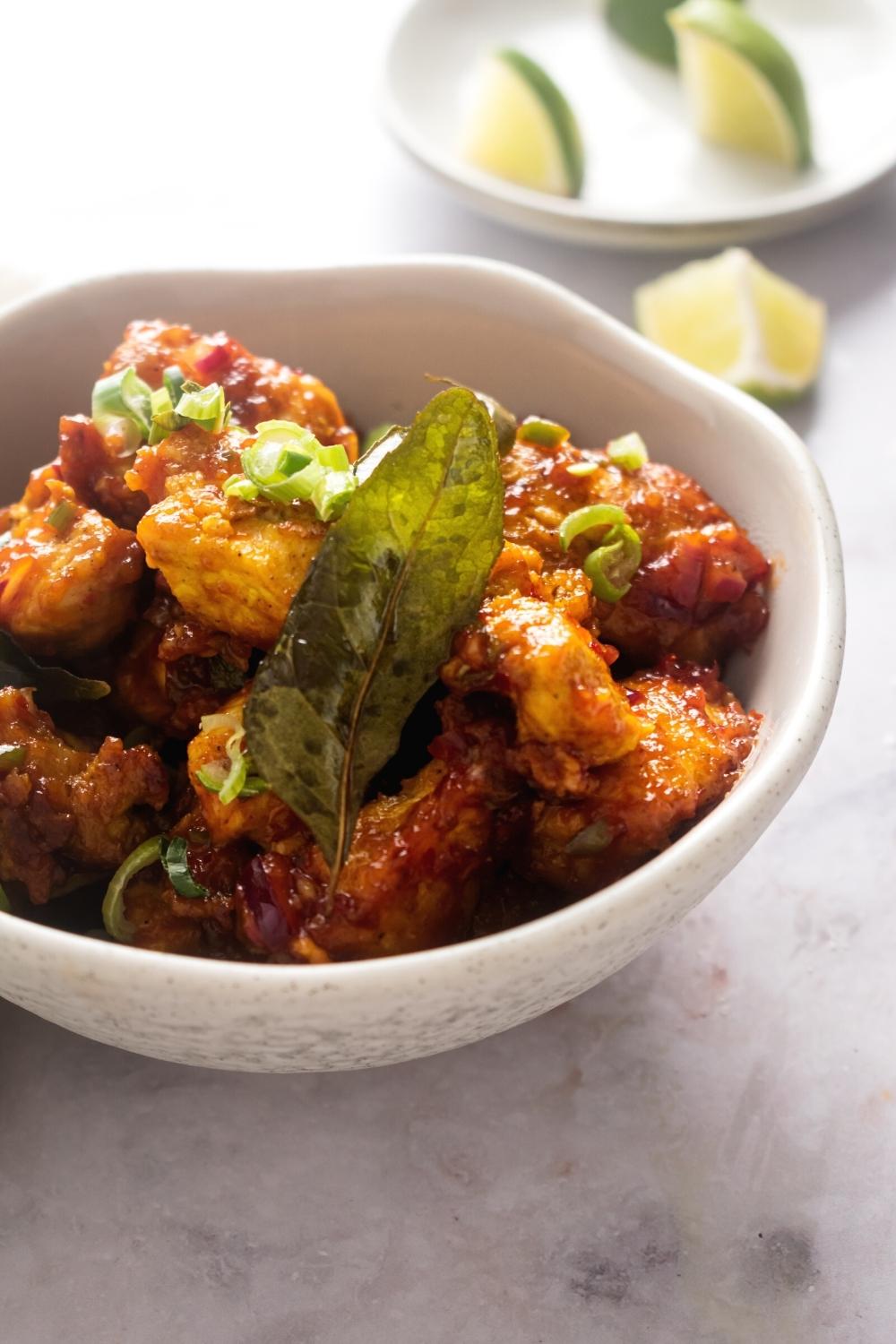 The Best Chicken 65
If you've never heard of chicken 65 before, you're in for a treat. Chicken 65 is an iconic Indian dish packed with incredible flavors and a ton of heat.
This chicken is juicy on the inside and coated with a light and crispy batter on the outside. The classic Indian spices give it a ton of flavor, and the chili makes it even more mouthwatering.
And although this chicken 65 is a showstopper on the dining table, it's surprisingly easy to make - it's ready in under an hour! I'd put it on the same level as these breaded chicken cutlets.
All you have to do is coat, fry, and toss the fried chicken with the sauce and you're done.
So, you'll have plenty of time to make these fried biscuits or this cheesy bread to balance out the heat.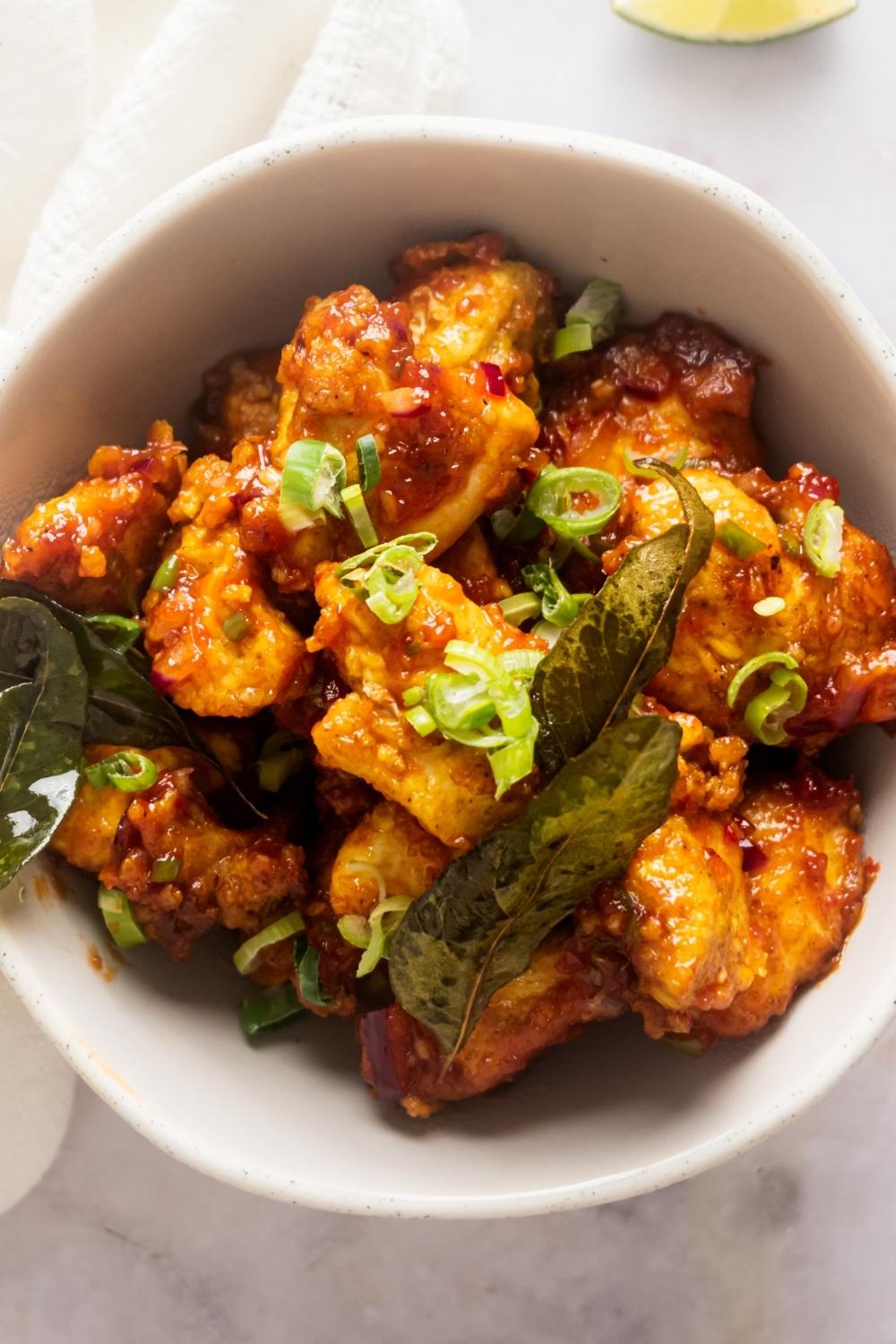 INGREDIENTS
So, the secret to this crazy flavorful chicken 65 is the spices in both the batter and the sauce.
And if you don't have much experience with Indian spices, don't worry. You'll notice that most of these are actually your usual pantry staples and spices.
The only ingredients you might not already have on hand are the Kashmiri chili, garam masala, and ginger garlic paste - which you should be able to find in any Indian grocery store or spice shop.
With that said, here's everything you'll need for the chicken:
17 oz (

500g) chicken breast chopped into chicken pieces

1 tbsp Kashmiri Chilli Powder

1 tsp Turmeric Powder/Manjal Podi

1 tbsp Garam Masala Powder

1 tbsp Ginger Garlic Paste

2 tbsp Lemon Juice or Vinegar

Salt to taste

½ cup Yogurt

2 tbsp Rice Flour or Arisi Mavu

2 tbsp All Purpose Flour/Maida

2 tbsp Corn Flour/Corn Starch

½ tsp Baking Powder

Curry leaves

Oil for Deep Frying
And for the spicy sauce:
2 tbsp. Sesame Oil

1 tbsp Chilli Garlic paste

1 Garlic clove, finely chopped

½ red onion finely chopped

1 tsp cumin

1 green chili chopped

½ tbsp. sugar

Salt to taste

1 Spring Onion chopped
This ingredients list may seem extensive to make this fried chicken sixty five, but preparing them is a lot easier than you'd think - you'll basically just be tossing everything together!
By the way, if you want to add a different flavor to this dish, you can add things like green chillies, coriander powder, red chili powder, and finely minced garlic.
Oh, and I highly recommend trying this easy lamb vindaloo or chicken curry next. Both recipes use a lot of the same ingredients as this chicken 65 recipe!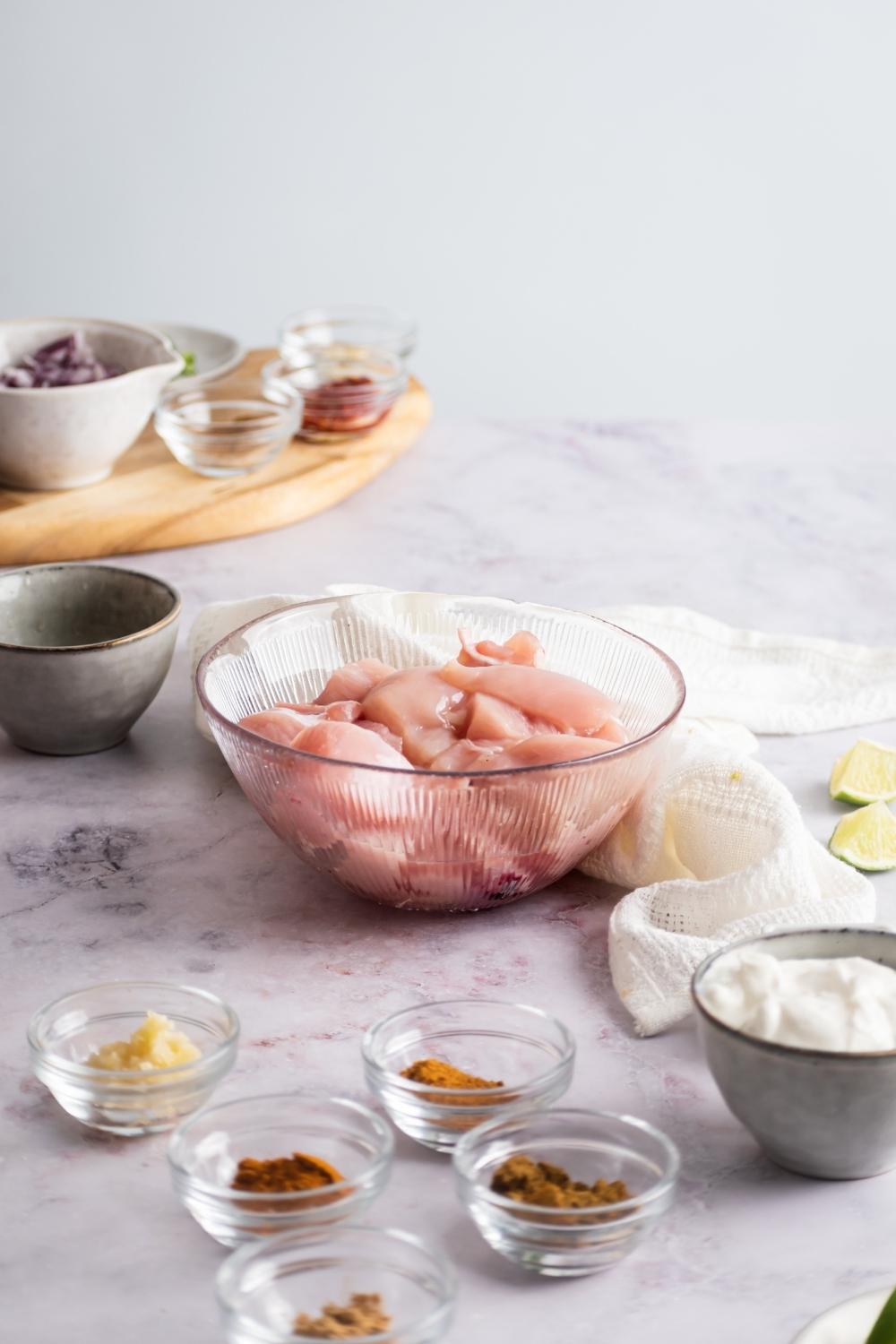 HOW TO MAKE CHICKEN 65
Again, this chicken 65 recipe takes less than an hour, or just 40 minutes, to make.
Also, there's nothing too crazy about this process, either - it's just like making regular fried chicken breast or wings.
Now, gather your ingredients, and let's get cooking!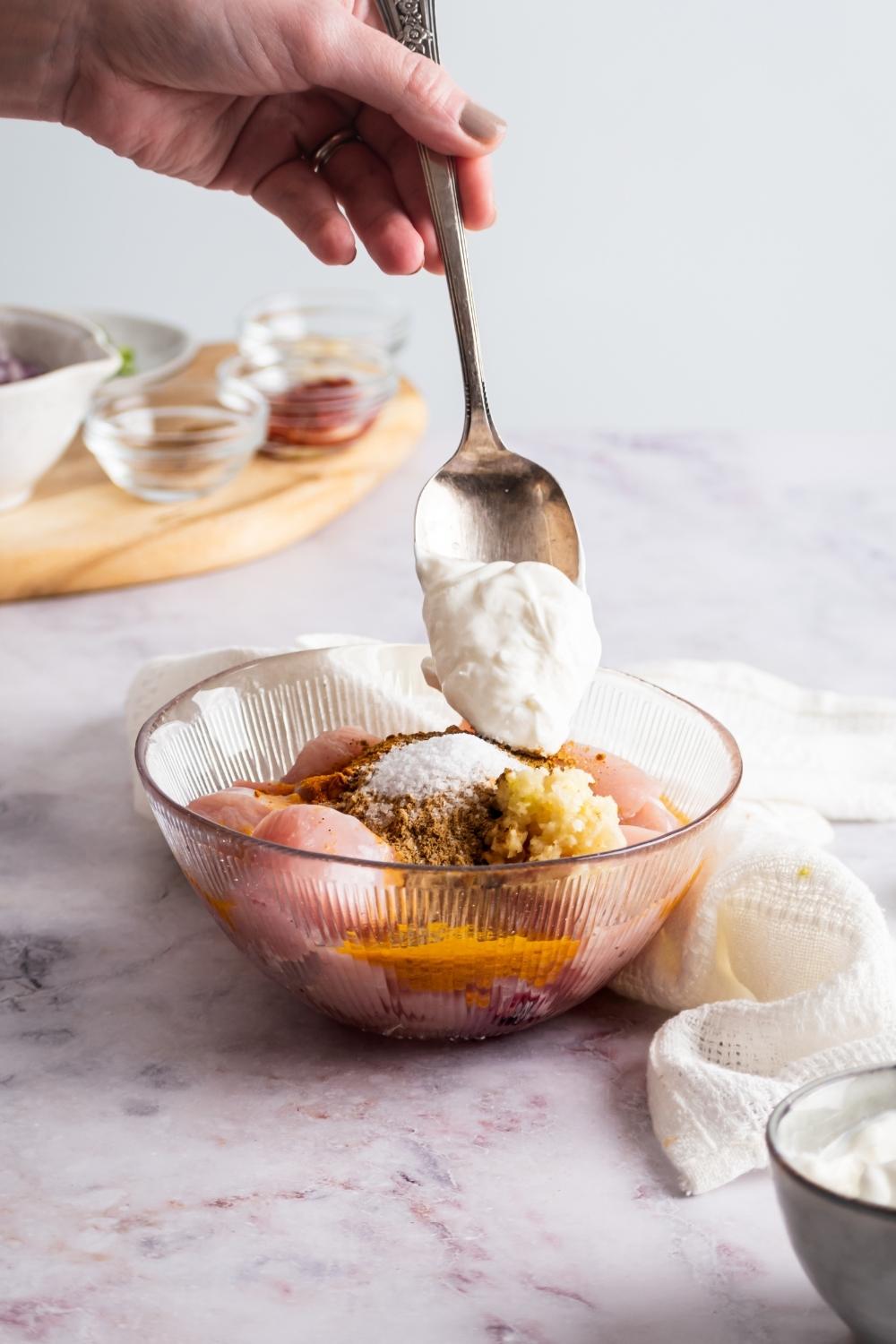 Step 1: Coating the Chicken
First, combine the chicken breast coating ingredients in a bowl. That would be the chili powder, garam masala, ginger-garlic paste, lemon juice, yogurt, rice flour, baking powder, and salt. Mix until everything is well distributed.
Then, add in your chopped chicken and combine until all the pieces are evenly coated in the spice paste.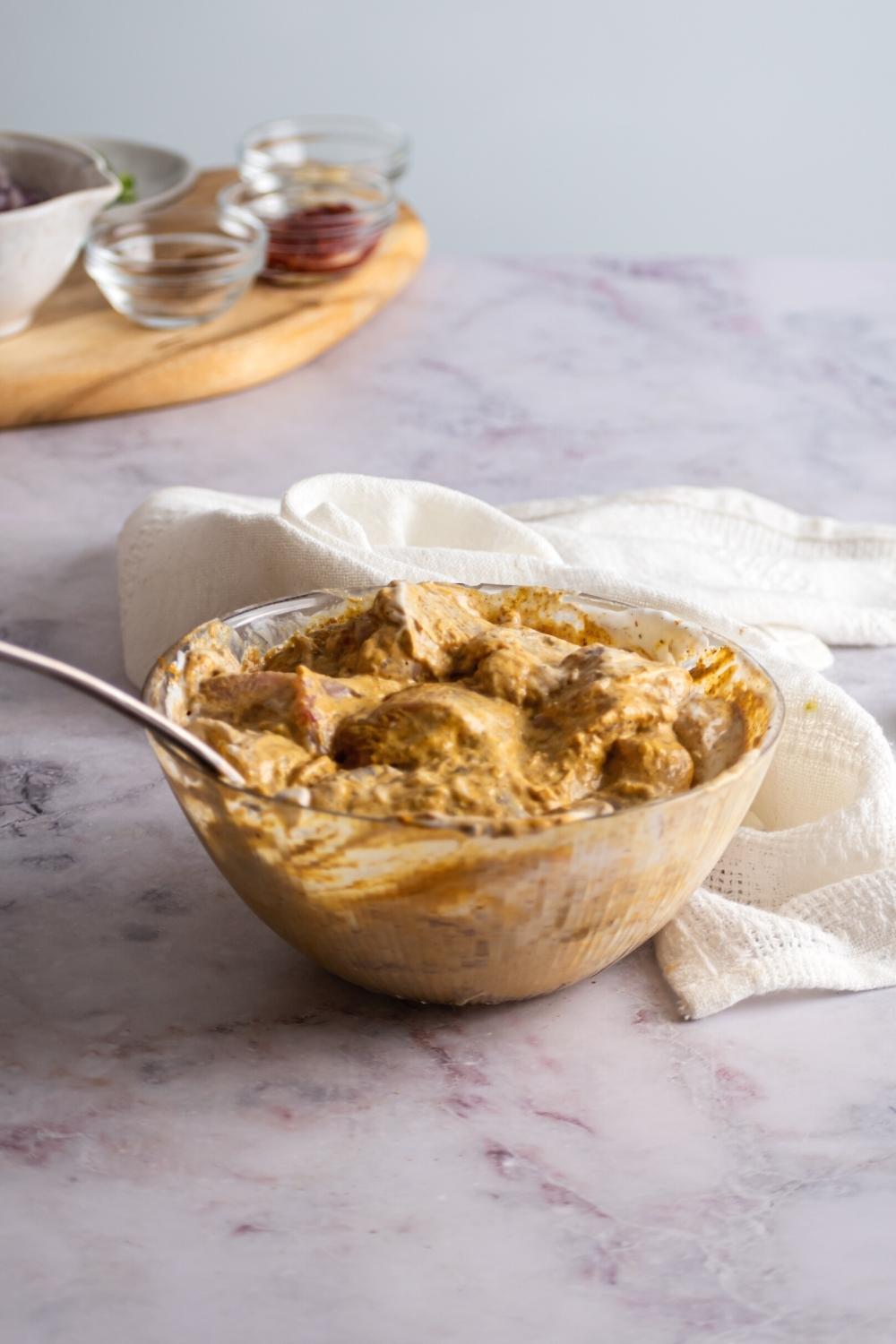 Step 2: Frying the Chicken
Next, take out a deep skillet and fill it with enough oil to deep fry your chicken.
Bring the heat to medium and fry a couple of curry leaves to start. Place them on a small paper towel-lined plate and set aside for later.
Then, start frying your chicken in batches until they're beautifully golden brown and crunchy on all sides. It should take about 6-8 minutes per batch for frying chicken.
By the way, don't try to rush the process by frying everything at once. Crowding the skillet will lower the temperature of the oil and will make it harder to get an even cook on your chicken.
Anyway, once done deep frying the crispy fried chicken to golden brown perfection, transfer the deep fried chicken pieces to another plate lined with paper towels to drain any excess oil.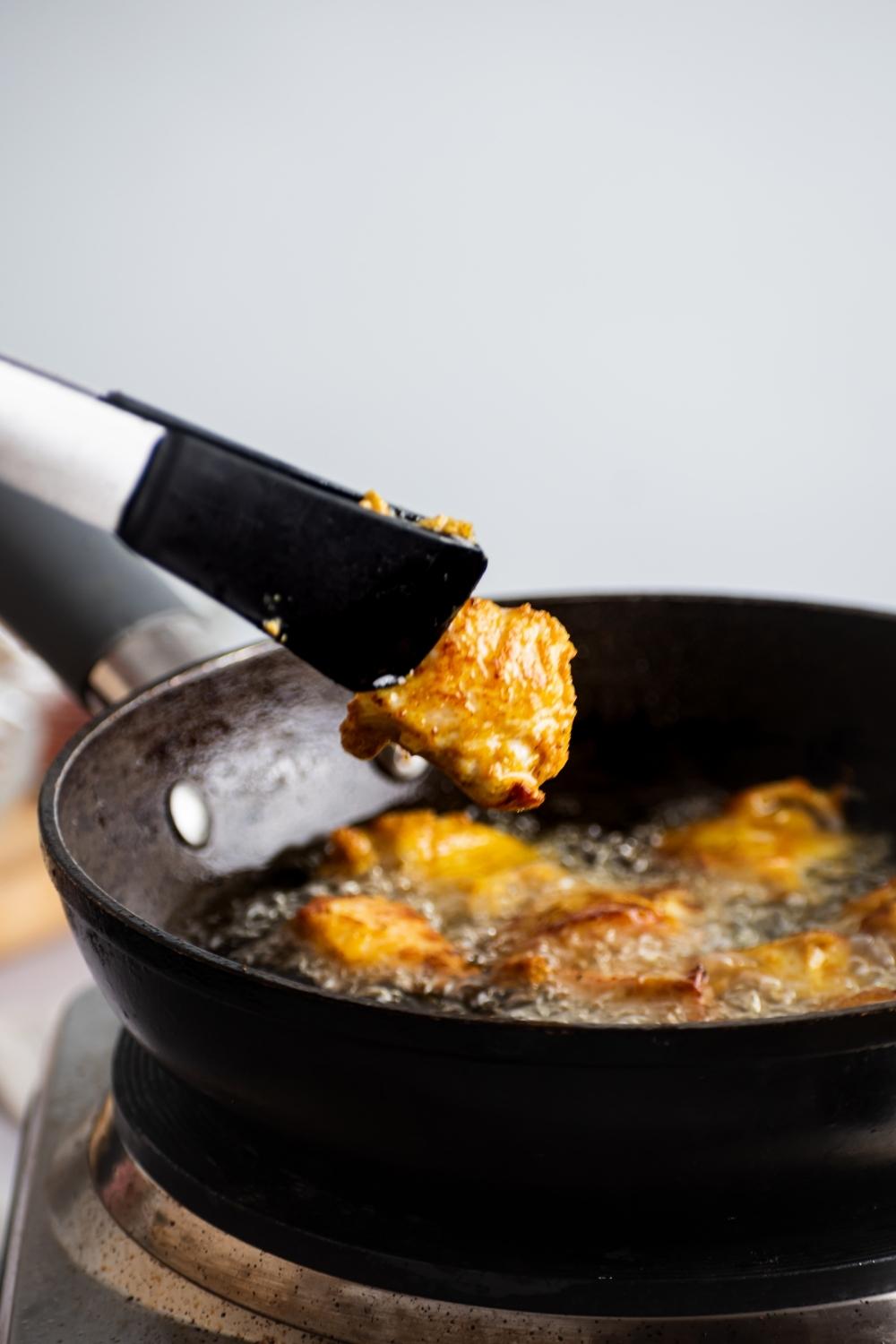 Step 3: Making the Sauce
Now, it's time to make the sauce for this restaurant style chicken!
In a non-stick pan, add the sesame oil, chili garlic paste, garlic, red onion, cumin, green chili, sugar, and salt - this mixture will give the marinated chicken that show-stopping flavor.
Cook everything on medium for about 5 minutes or until the garlic, spices, and chili become super fragrant.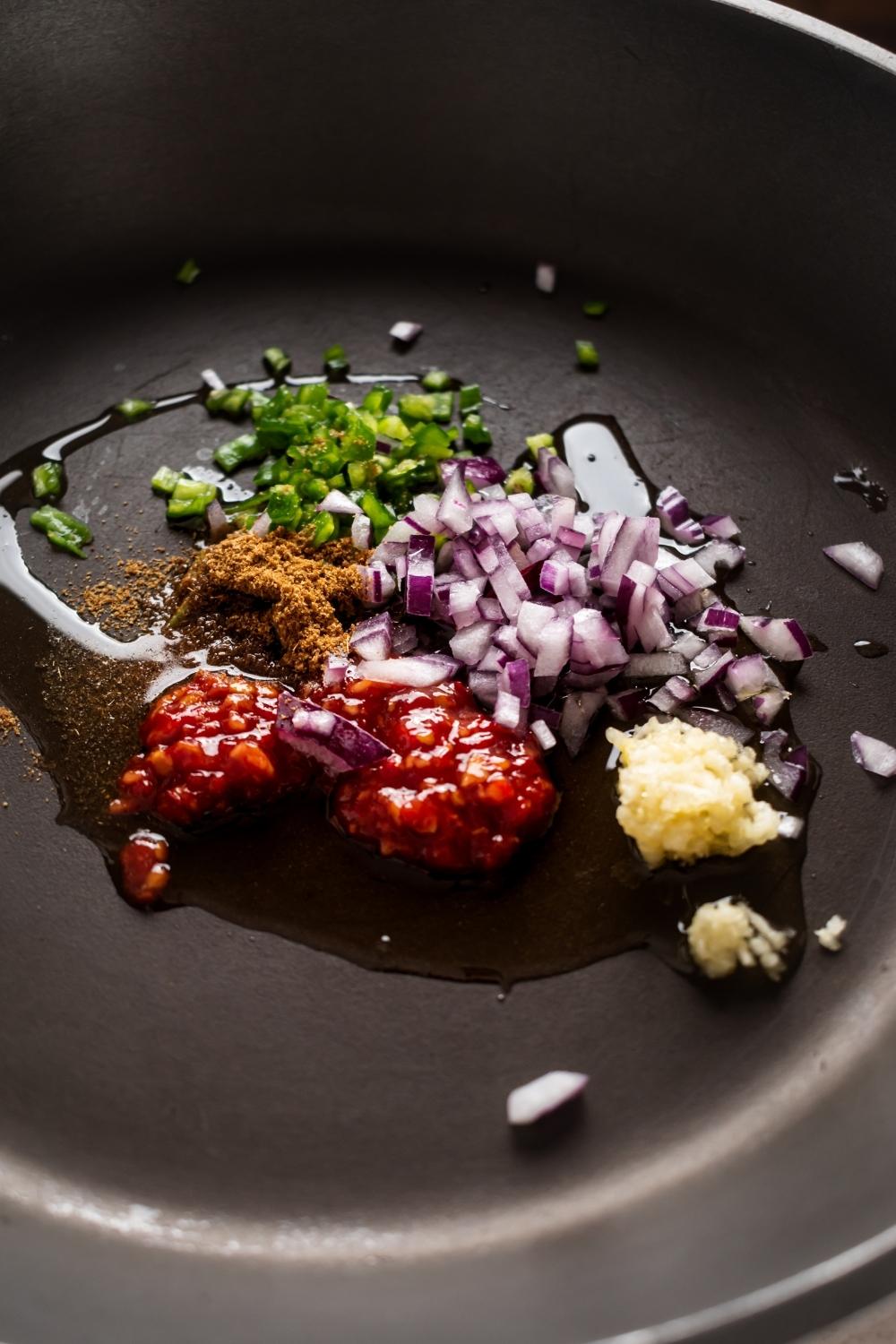 Step 4: Finishing The Chicken
Finally, you can add fried chicken into the sauce and mix it to coat each piece in spicy-savory goodness.
Then, once that's taken care of, transfer the marinated chicken pieces to a serving plate and top with fried curry leaves and chopped spring onions.
Enjoy!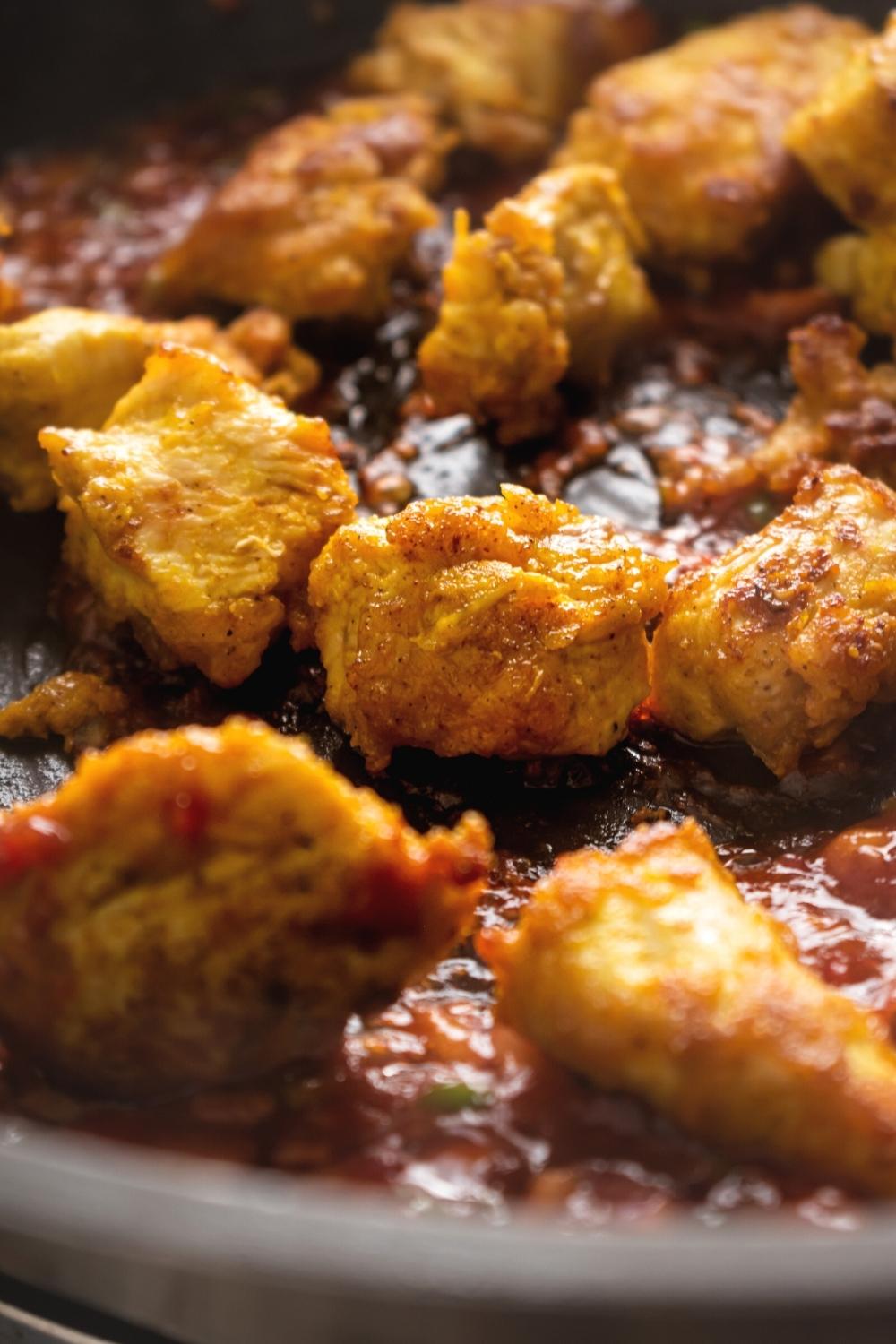 How To Store CHICKEN 65
This chicken 65 recipe will make about 4 servings of restaurant style chicken, so it's perfect for a family dinner, or to have as leftovers for the next few days.
With that said, if you happen to have any leftovers from this chicken 65 recipe, you can keep them in an airtight container in the fridge for up to 3-4 days.
How To Reheat Chicken 65
Now, this chicken 65 is actually pretty tasty cold, but if cold chicken isn't your thing, you can warm it back up.
The best way to bring back the crunch from the fried chicken without burning the sauce is to reheat it in a preheated air fryer at 350°F (175°C) for 4-5 minutes.
Or you can reheat the chicken in the oven at 350°F as well for about the same amount of time.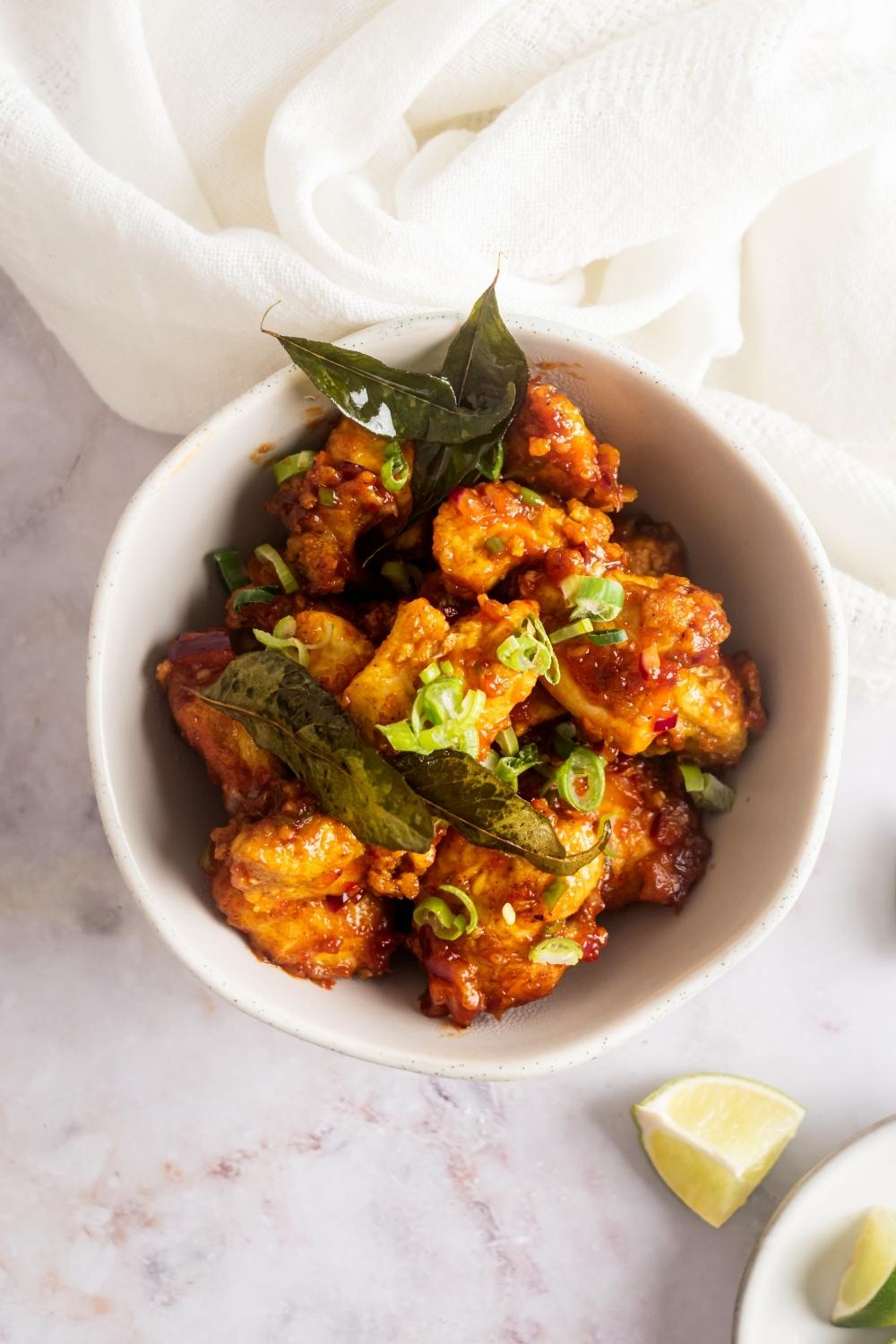 FAQ'S ABOUT THIS CHICKEN 65 RECIPE
What is the reason for calling it Chicken 65?
The meaning of the 65 in chicken 65 isn't entirely known, but there are a couple of popular theories. The first is that the dish was originally made with exactly 65 pieces of chicken, which makes sense since it's usually served during celebrations.
The second theory is that 65 refers to the 65 different chillis used in making the masala or spice mixture.
Either way, the name indicates that this chicken is plentiful and packed with flavor!
Is Chicken 65 good for your health?
Like any deep-fried food, you can enjoy chicken 65 in moderation.
The sauce for the fried chicken is also packed with spices and aromatics that are good for you.
It's a high protein meal, but the chicken is traditionally deep-fried.
This recipe cooks the chicken on a skillet, reducing the amount of oil used.
What does Chicken 65 taste like?
Chicken 65 has a good amount of aromatics, spices, and chilis, so expect it to have bold flavor and a lot of heat.
That said, it's not so spicy that you won't be able to taste anything else.
The fried chicken is crunchy and juicy, coated with a sauce that's spicy, garlicky, savory, and slightly sweet. It really has a flavor combination that you won't find in any other chicken recipes.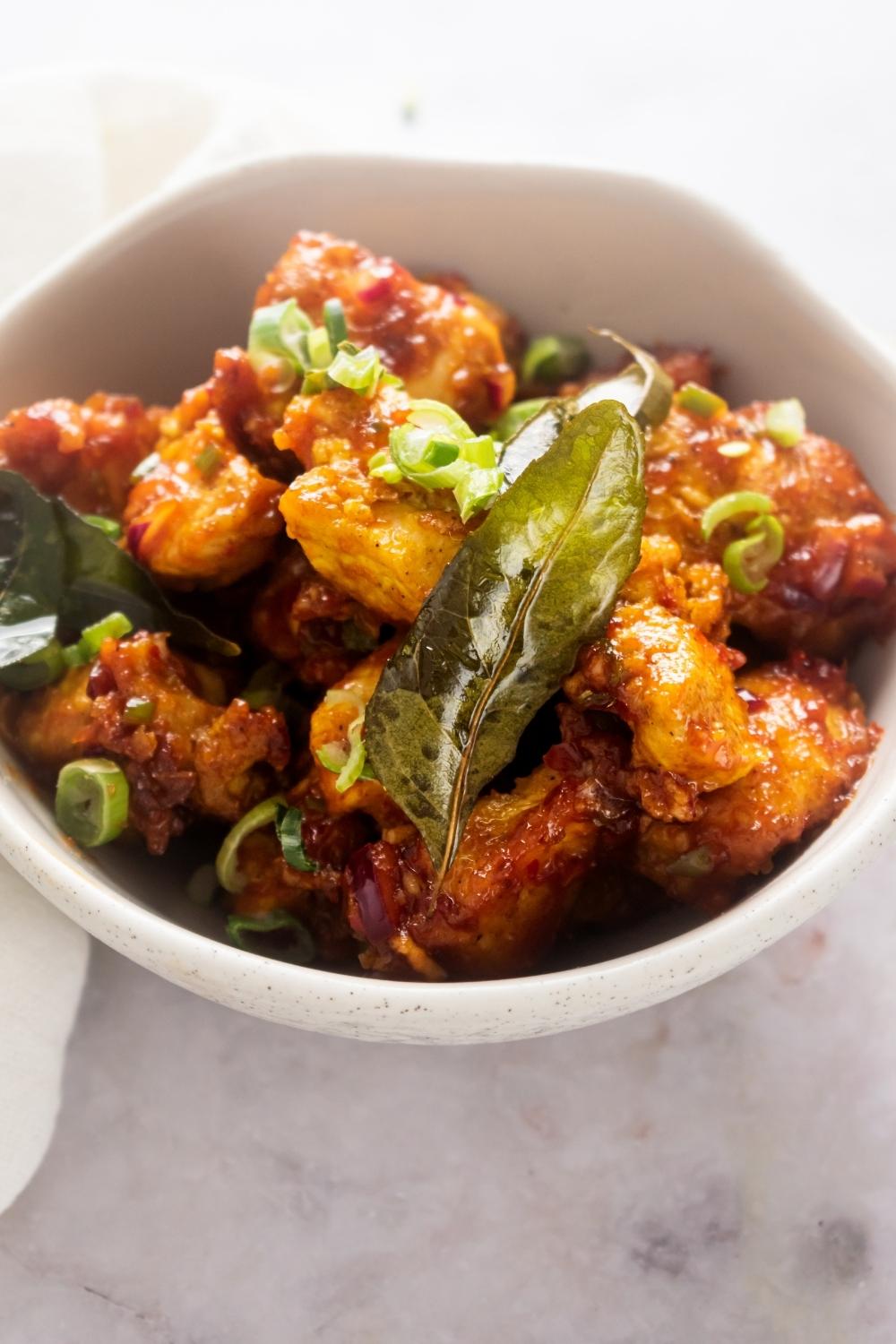 Wrapping It All Up
So, that's how to make chicken 65!
In my opinion, this is the kind of dish you have to make more than once. The combination of the crunchy, juicy chicken plus the flavorful spices and spicy sauce makes it just so incredibly addictive.
And, best of all, it's quick and easy to make!
Anyway, I hope you love this chicken 65 recipe as much as I do.
As always, if you make this delicious recipe, be sure to leave a comment below and let me know what you think.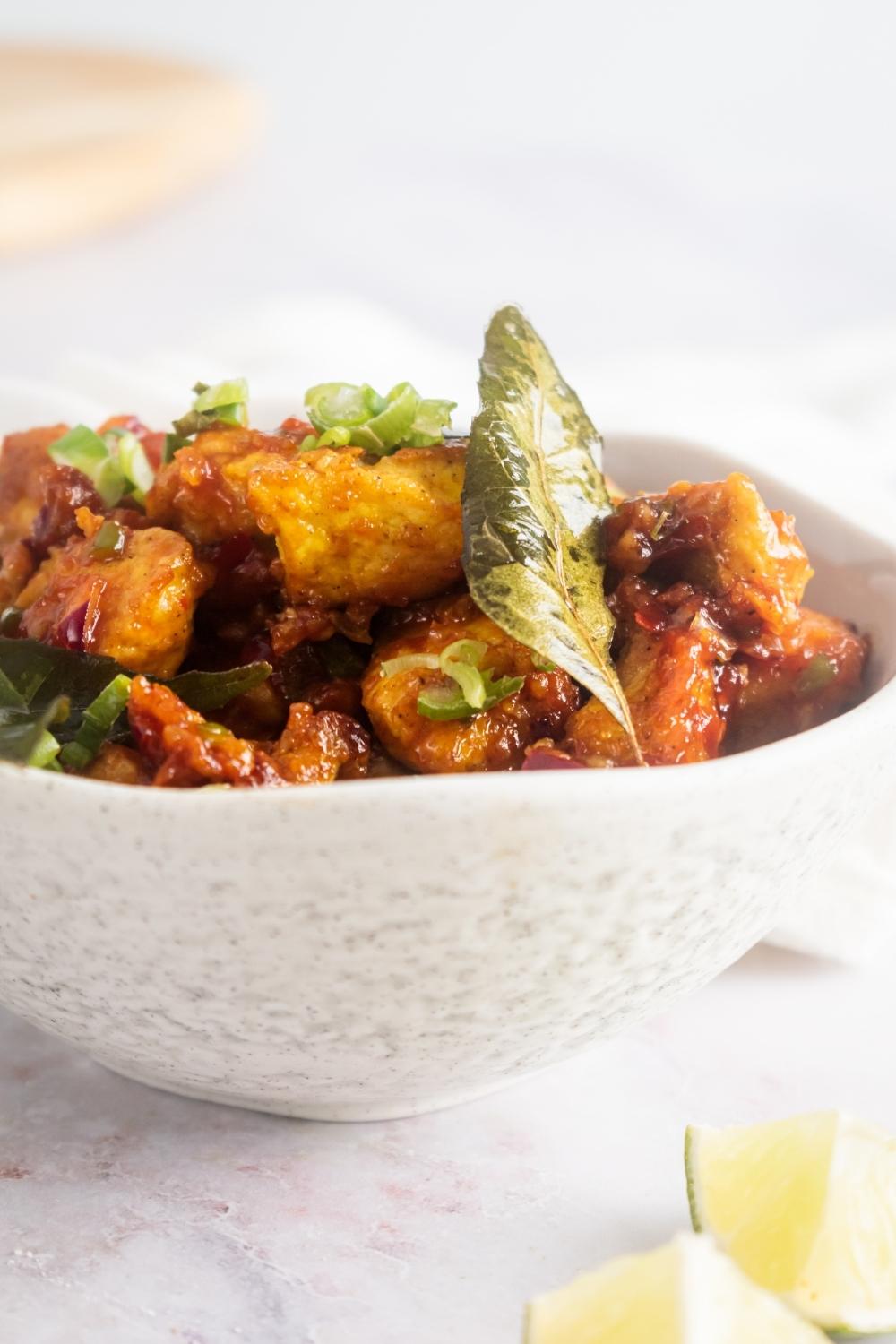 More Chicken Recipes
If you liked this chicken recipe, we have a ton of great chicken recipes you can whip up for your next weeknight meal!
Here are some of our most popular easy chicken recipes:
Also, don't forget to check out our TikTok, Instagram, and YouTube for more recipes!
Print
Chicken 65 Recipe
This chicken 65 is a dish like no other! These crunchy chicken bites are tossed in fragrant spices and mouthwatering spicy sauce, making for an absolutely unforgettable dinner. Bringing a taste of India to your kitchen has never been so easy or delicious.
Author:
Prep Time:

10 minutes

Cook Time:

15 minutes

Total Time:

40 minutes

Yield:

4 servings

Category:

Dinner

Method:

Stovetop

Cuisine:

Indian
Instructions
Combine the boneless chicken with chili powder, turmeric powder, Garam Masala, ginger garlic paste, lemon juice, salt, yogurt, rice flour, all purpose flour, and baking powder.

Heat oil in a deep skillet and fry a couple of curry leaves. Reserve.

Add the chicken and fry until golden on every side. Remove from the oil and drain kitchen towels to eliminate excess grease.

In a non-stick skillet combine the sesame oil, chili garlic paste, garlic clove, red onion, cumin, green chili, sugar and salt. Cook for about 5 minutes, or until fragrant. Add the chicken and mix until well combined.

Serve with fried curry leaves and spring onions.
Nutrition
Serving Size:

1 serving

Calories:

501

Fat:

33

Carbohydrates:

17

Protein:

30
Keywords: Chicken 65, Chicken 65 recipe, chicken sixty five, chicken 65 recipe easy, chicken sixty five recipe, chicken 65 biyrani, chicken 65 Indian, chicken 65 recipe Indian, how to make chicken 65, chicken 65 recipe without deep frying