Crispy on the outside, tender on the inside, this air fryer okra is one of the best vegetables you can make. It's a great side that is quick, easy, delicious, and super healthy! And, if you've never made okra air fryer "style", well, after you do, you might never make it another way again. It's that good!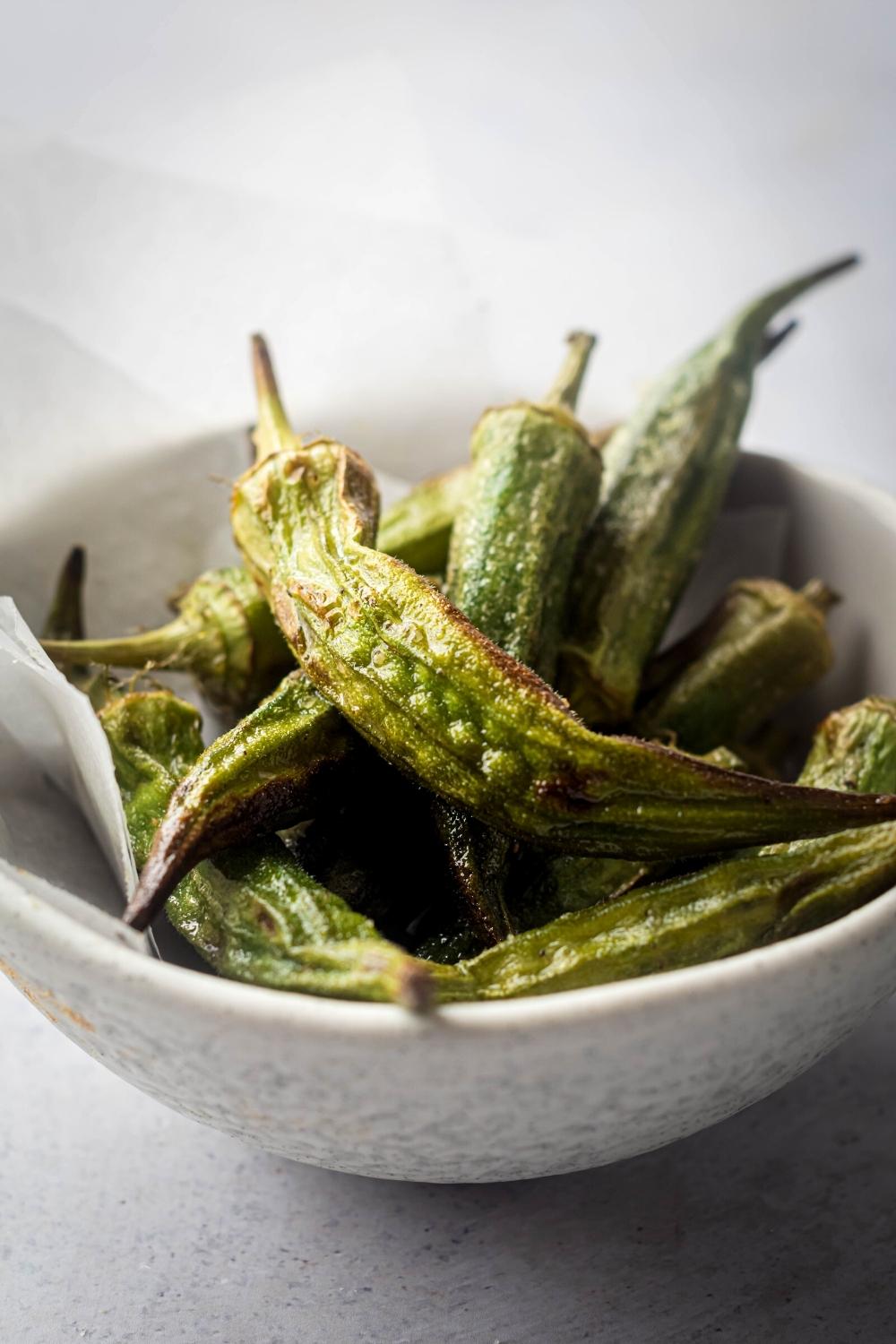 The Best Air Fryer Okra
Okra - also known as ladies' fingers - is a vegetable that is an abundant source of vitamins C, K, A, B6, folate, and magnesium.
If you've never heard of okra before, it's an edible seed pod that comes from the tropical plant Abelmoscheus. And while eating okra raw is not very appetizing, cooking okra in the air fryer - or really any other way - is actually really tasty!
With that said, what I really love about making air fried okra is that it only takes about 10 minutes total to make. And the entire time is pretty much passive cooking, so you can make this blackened chicken while the okra is frying for a completely healthy meal.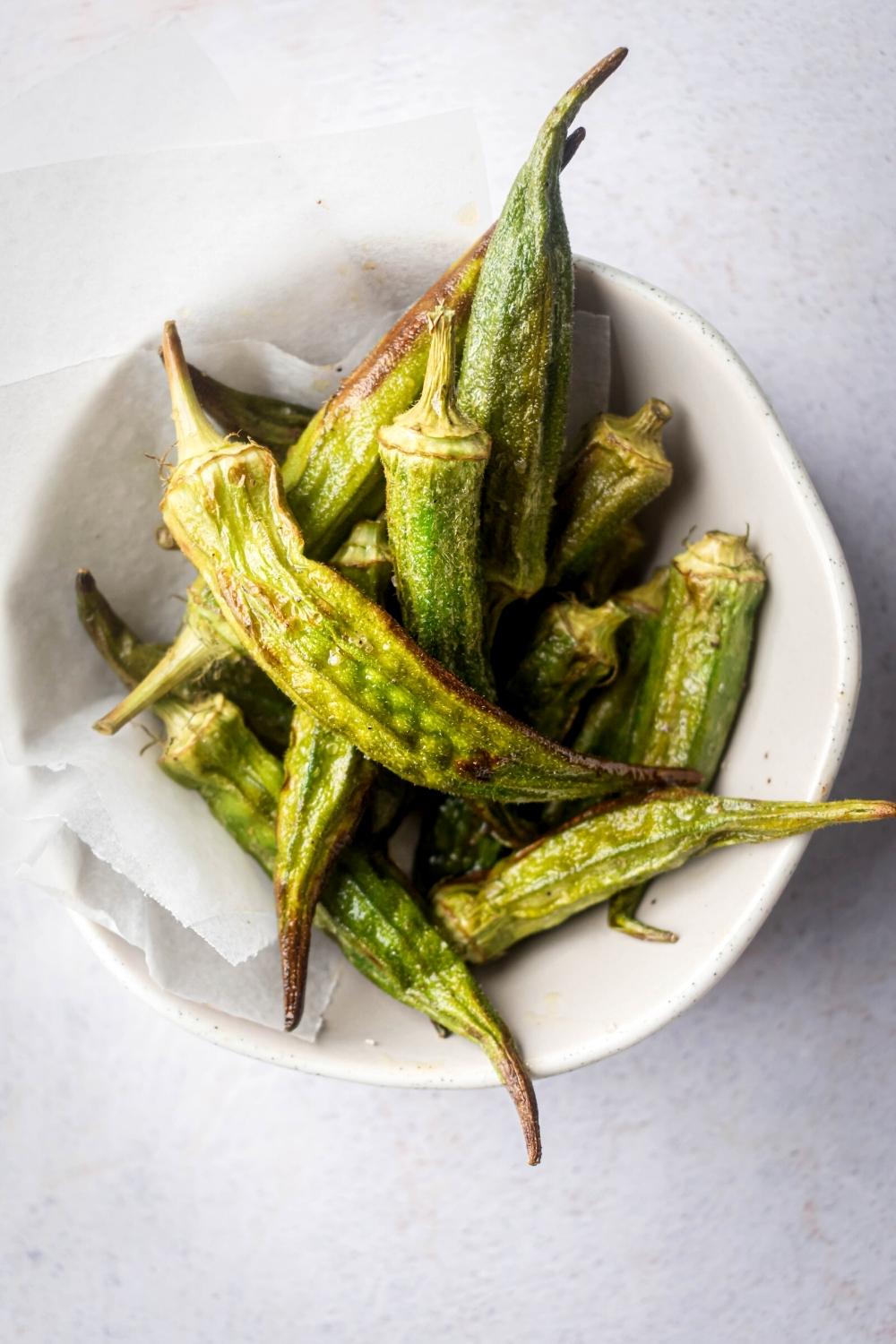 Ingredients
Ok, so you only need a couple of ingredients for this easy okra recipe. And if you pick up some fresh okra from your local farmers market or the grocery store, I can almost guarantee you have the three other ingredients.
Here's everything you will need:
2 cups Okra (about 16 individual pieces)
2 tbsp. Olive Oil
Salt and Pepper
Pretty basic ingredients list, eh?!
And if you have the oil, salt, and pepper, you have almost everything you need to make these air fryer potato wedges next.
Oh, and what's great about this recipe is you can make as much okra or as little as you want! Just adjust the amount of oil, salt, and pepper you use.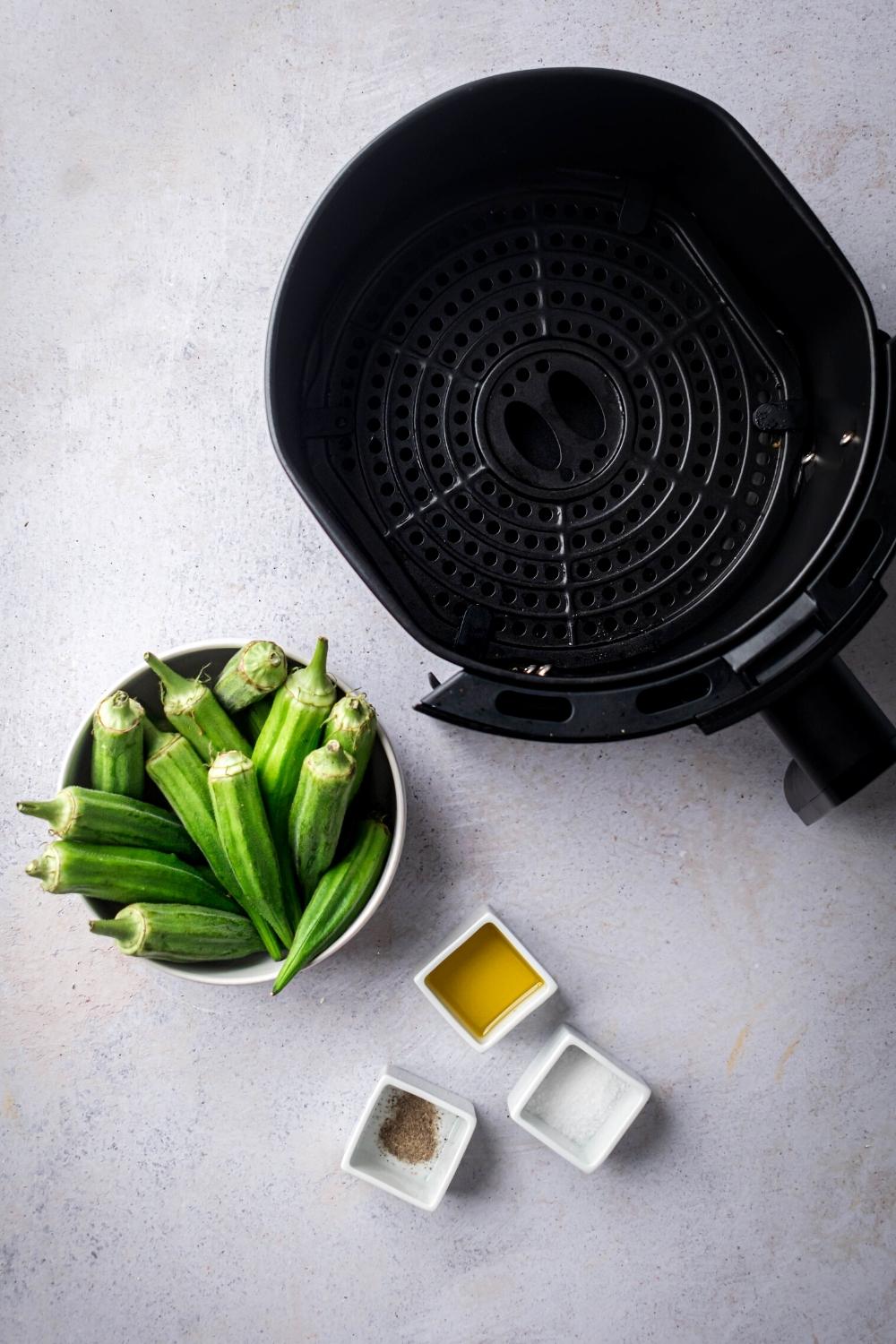 How to Make Okra in Air Fryer
This fried okra in air fryer is one of the easiest air fryer recipes you can make. It literally requires no effort and cooks perfectly every time!
So get your ingredients, and let's make some okra in 10 minutes.
Step 1: Preparing the Okra
First, preheat the air fryer to 400°F (200ºC).
Then, if you're using fresh okra, wash and dry all of them thoroughly.
Next, if desired, trim the ends of the okra, and you can cut them in half if they fit better in your air fryer.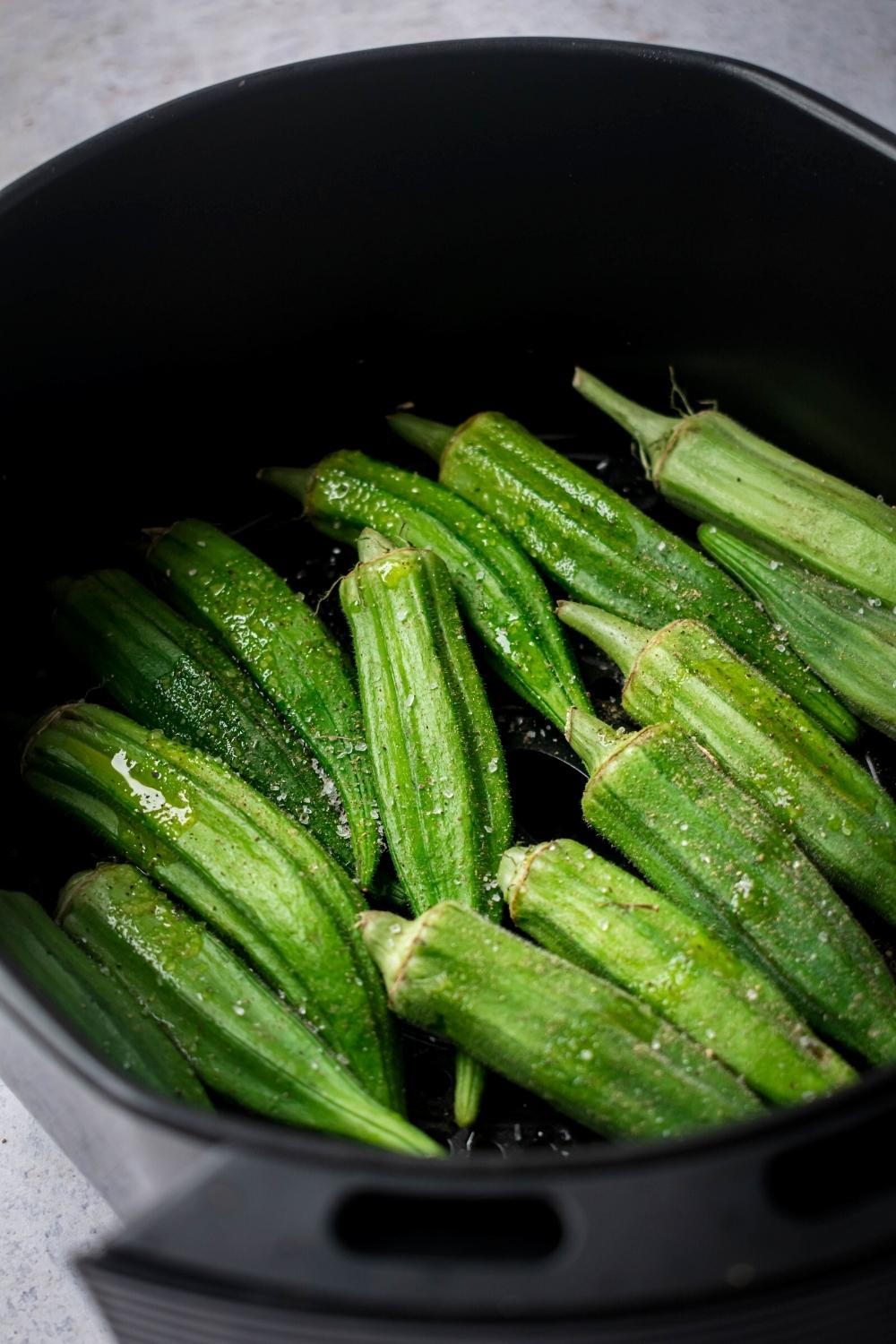 Step 2: Cooking and Serving
Now, arrange the okra in the air fryer basket and drizzle olive oil on top of them.
Then sprinkle salt and pepper on the okra, and give the air fryer a shake to coat them. Alternatively, you can put the okra in a bowl, pour the olive oil on top, and toss them in salt and pepper.
Next, cook for 8 minutes, and flip the okra halfway through the cooking time to make sure all pieces are nice and crispy on both sides.
Once cooked and all golden and crispy, remove the okra from the air fryer using tongs.
Serve with anything you want and enjoy!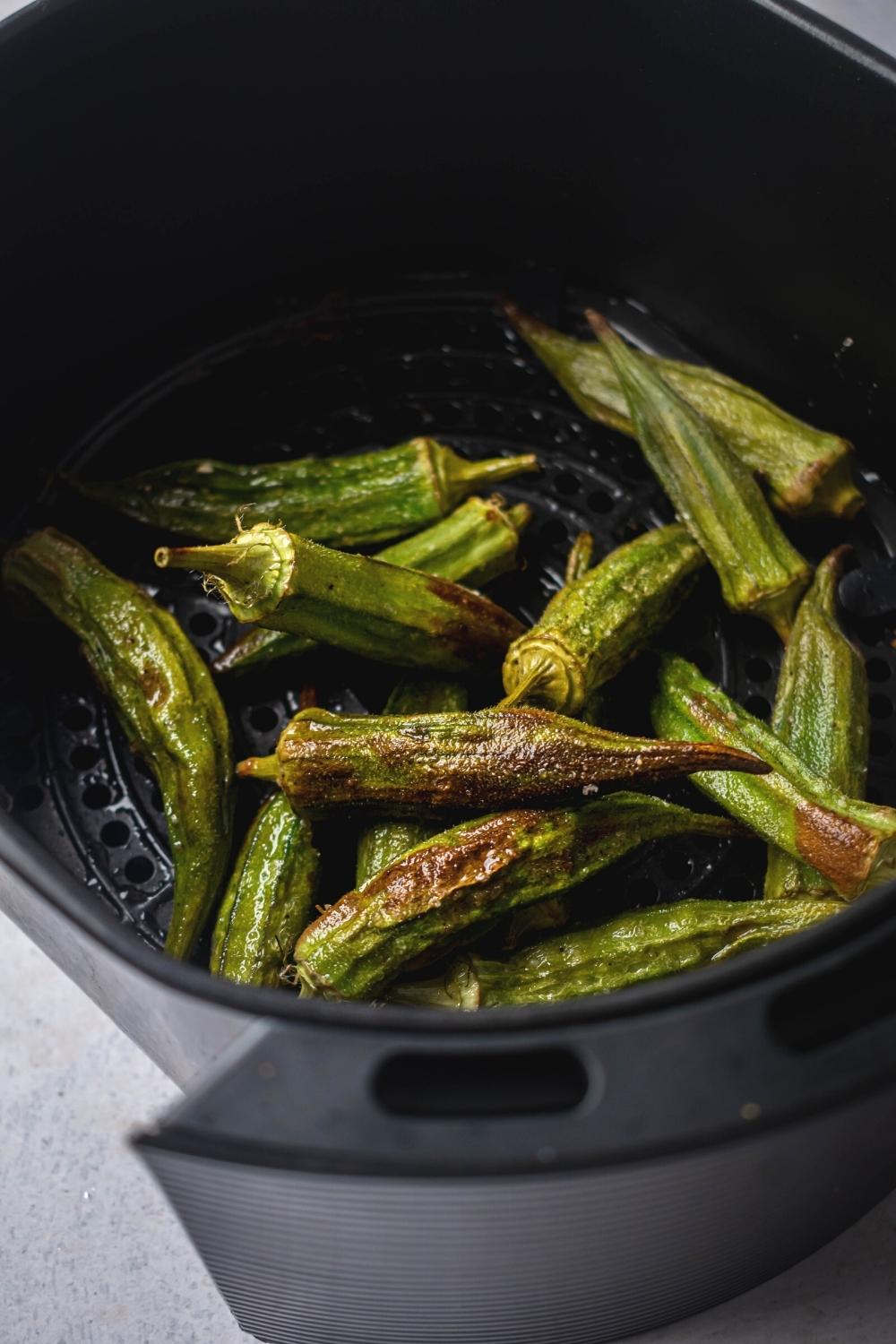 What to Eat with Air Fryer Okra?
Air fryer okra is a great healthy snack eaten alone or dipped in a sauce like ranch. But it's also an excellent side dish that goes with more foods than you could imagine.
Here are some ideas of what you can eat it with: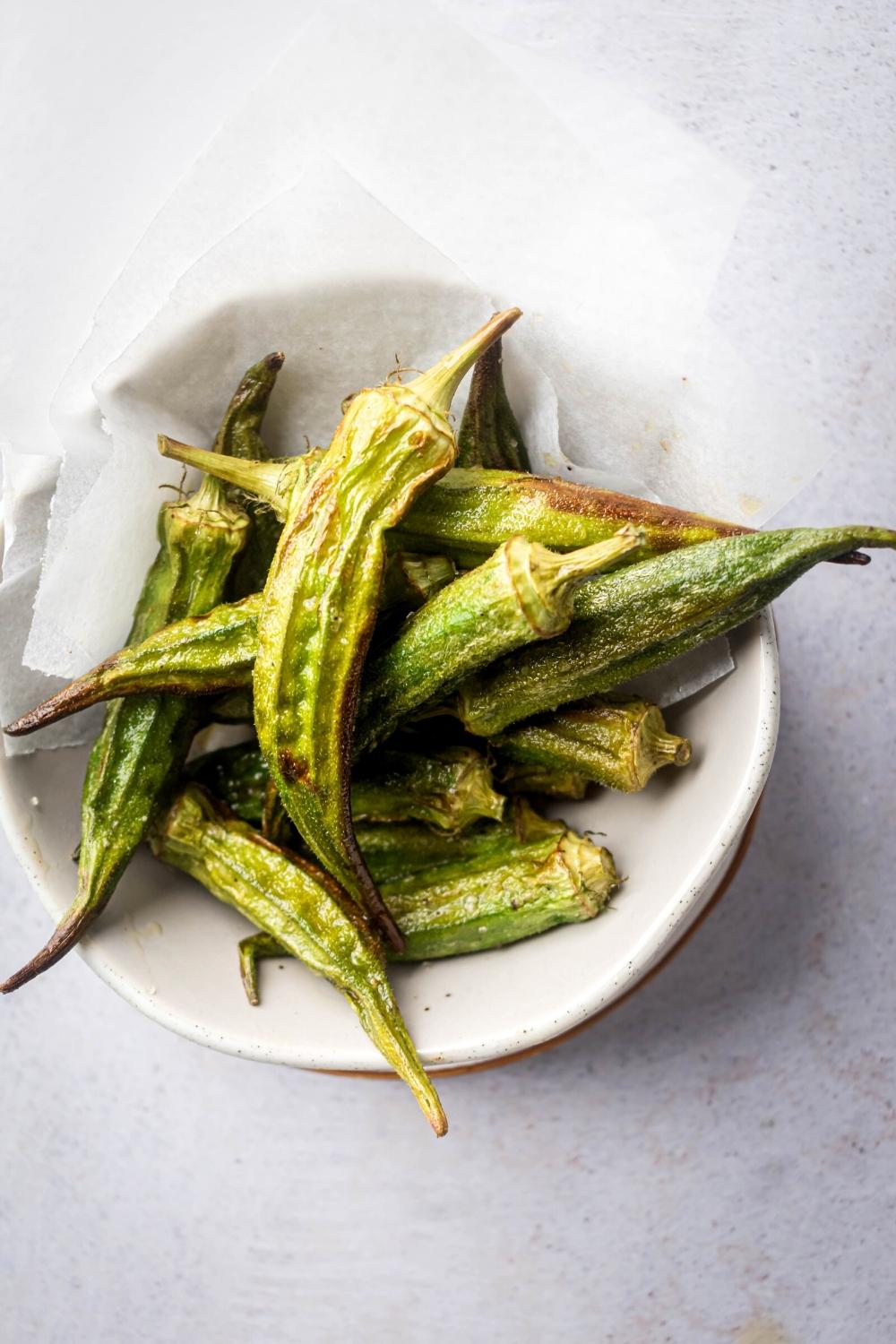 FAQs About This Air Fryer Okra
What Does Air Fryer Okra Taste Like?
Okra has a very unique flavor profile which is one of the reasons why many people don't enjoy eating it. The taste of okra can be described as sweet and grassy. But the flavor of this vegetable largely depends on the cooking method you use to prepare it - making air fried okra gives it a more neutral flavor.
Can You Use Frozen Okra for This Recipe?
Okra is a seasonal vegetable and if you don't have access to fresh okra, using frozen okra is a great option! You can make this air fryer frozen okra recipe the same way as explained above - just add some more cooking time.
How do you Store Leftover Okra?
This air fryer okra is best eaten fresh right after it's made. But if you have leftovers, you can keep them in an airtight container and store them in the fridge for up to 3 days.
How do you reheat okra?
To reheat leftover okra and bring back the crispiness, cook it for a few minutes in the air fryer - or oven - at 325°F (160°C). I don't recommend reheating it in the microwave as it will make it soggy.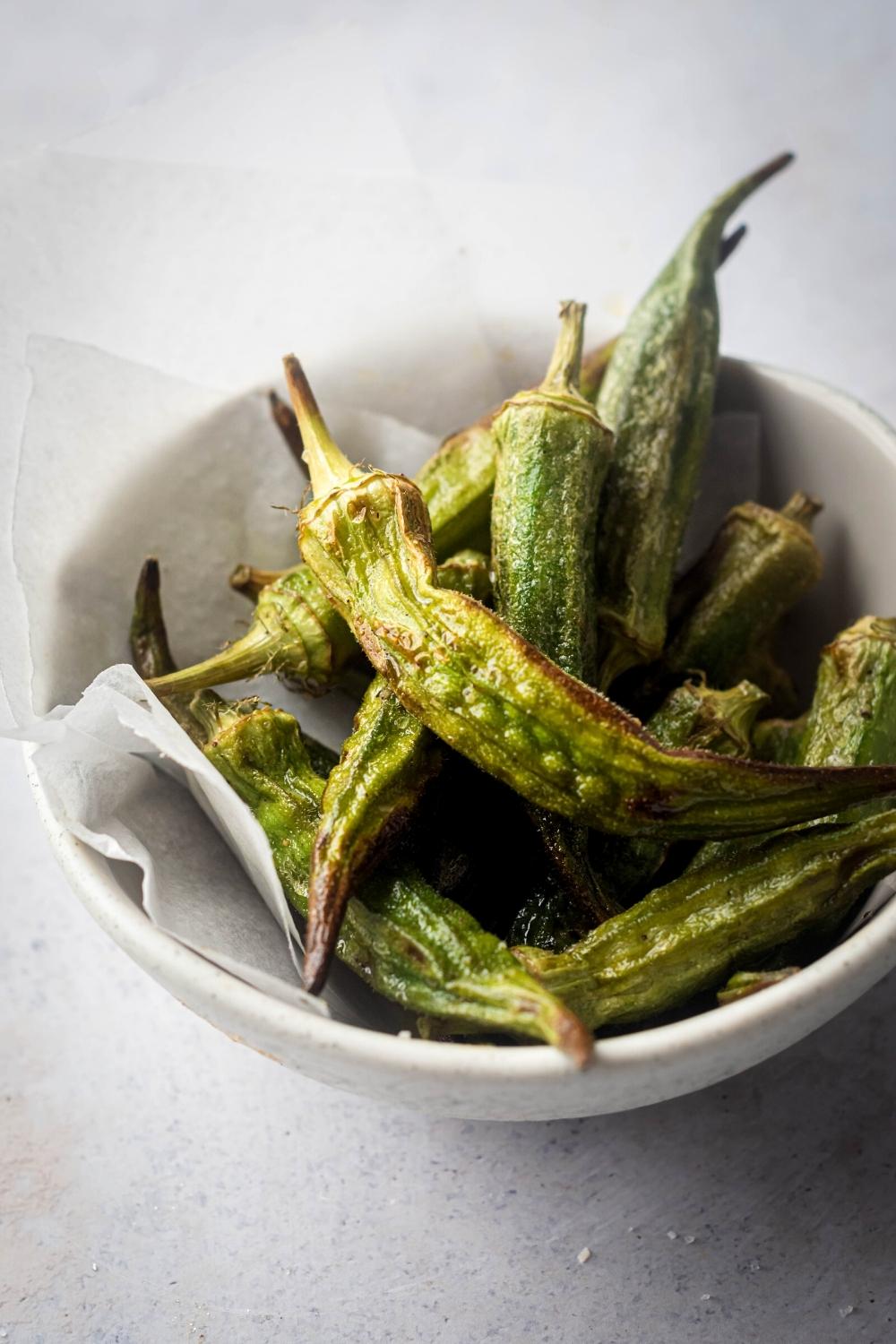 Wrapping It All Up
Well, now you know how to make air fryer okra, and make this uncommon vegetable taste uncommonly delicious.
Even if you are not a huge okra fan - or have never heard of it - I highly recommend giving this recipe a try! It's a fun change-up from traditional vegetables, and it's so quick and easy to prepare.
Anyway, if you make this okra recipe, don't forget to tag us or let us know in the comments how you liked it!
Print
Air Fryer Okra | Quick and Easy 10 Minute Recipe
Crispy on the outside, tender on the inside, this air fryer okra is one of the best vegetables you can make. It's a great side that is quick, easy, delicious, and super healthy!
Author:
Prep Time:

1 minute

Cook Time:

8 minutes

Total Time:

9 minutes

Yield:

2

servings

1

x
Category:

Side

Method:

Air Fryer

Cuisine:

Vegan
2 cups Okra (about 16 individual pieces)
2 tbsp. Olive Oil
Salt and Pepper
Instructions
Arrange the okra in the air fryer basket and toss with olive oil, salt and pepper.

Mix well, shaking the tray, and cook in the air fryer at 400°F (200ºC) for 8 minutes, flip halfway through.
Nutrition
Serving Size:

1 Cup

Calories:

152.2

Fat:

13.5

Carbohydrates:

7.5

Fiber:

3

Protein:

2
Keywords: air fryer okra, okra in air fryer, fried okra in air fryer, fried okra air fryer, how to cook okra, air fryer okra recipe, air fryer okra keto, air fryer okra no breading, air fryer okra recipe gluten free, air fryer frozen okra recipe, best air fryer okra recipe, air fryer whole okra recipe, air fryer okra recipe keto,