If you've been looking for keto bagels that have a legit bagel consistency, you'll love this recipe. This keto bagels recipe makes soft and perfectly chewy bagels with a spot-on texture. And each one only has 4 NET CARBS!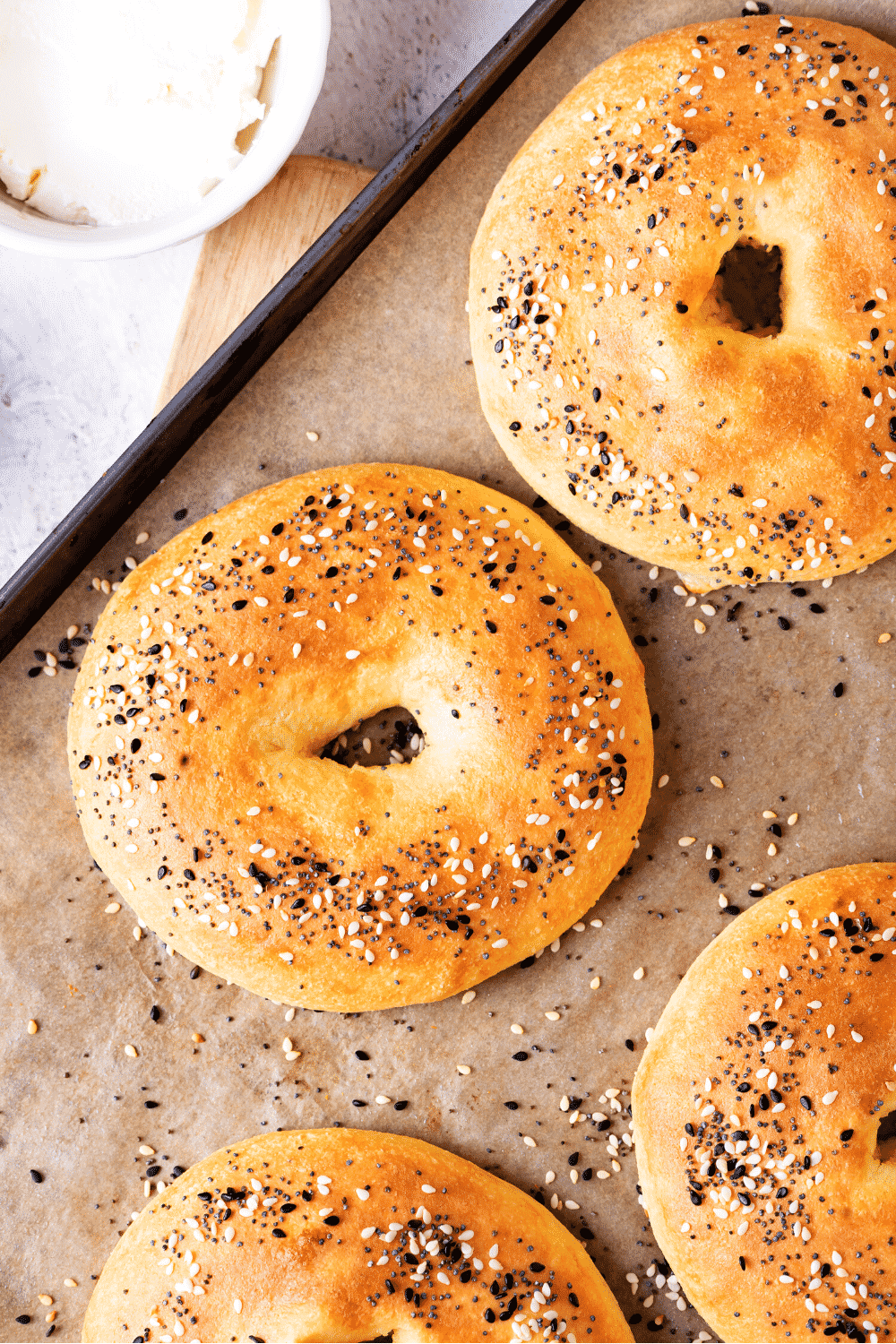 THE BEST KETO LOW CARB BAGELS RECIPE
Bagels are one of the most classic foods that you can eat for breakfast.
But unfortunately, they're at the top of the list for foods you can't eat if you follow a low carb or keto diet since one "regular" bagel can have upwards of 50g of carbs. 
Well, that's where these low carb bagels come in. These keto bagels will give that same authentic bagel experience you know, love, and want from a bagel - just without all the carbs. And I'm a huge fan of that because, let's face it, bagels are amazing. 
Seriously, the outside chewy crust and light and airy inside will have you second-guessing if these bagels are actually keto. I promise they are, and each one has just 4 NET CARBS! 
Plus, you only need 6 ingredients to make this fathead bagel recipe, and it comes together in under 30 minutes. And half of that time is waiting for the bagels to bake to perfection in the oven.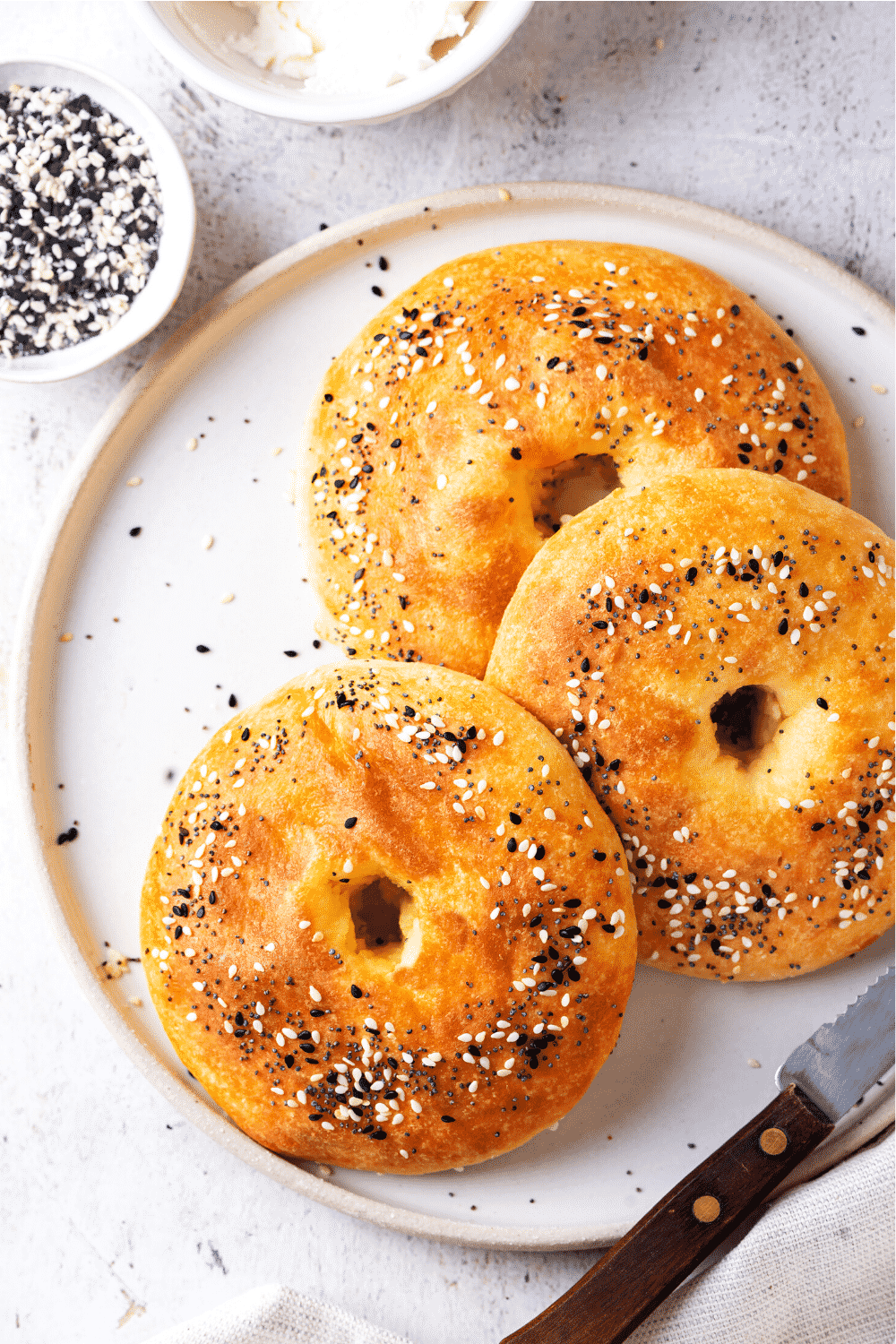 INGREDIENTS FOR THE BEST KETO BAGELS
So, we will be creating a fathead dough to make these bagels keto. 
And all the ingredients are super basic, so you might have everything you need to get baking right away. 
Here is what you'll need: 
Just under 2 cups grated mozzarella cheese
¾ cup cream cheese
1 ½ cup almond flour 
2 teaspoon baking powder
⅓ teaspoon salt
2 eggs, cold from the fridge

Everything Bagel Seasoning or Sesame Seeds (optional)
Like I said, some super basic ingredients to create some super delicious bagels.
And you can even use some of these ingredients to make my keto cinnamon rolls and keto french fries!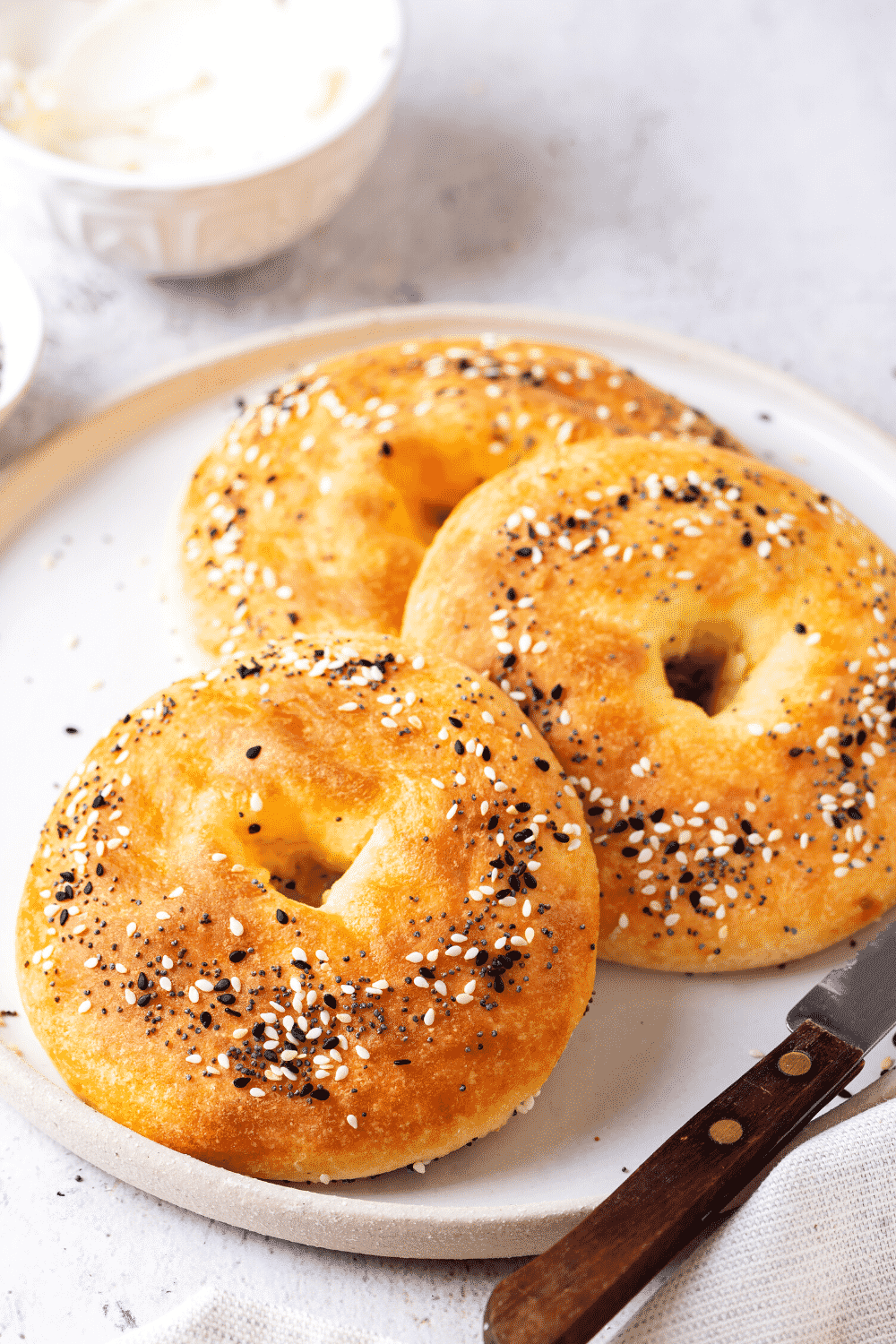 DIVING INTO THE INGREDIENTS
Before we make these keto bagels, let's go over a few of the ingredients.
One component of our keto fathead bagels is grated mozzarella cheese. And to keep these bagels as low carb as possible, I recommend grating your own cheese. 
As I've mentioned several times before on the blog, pre-grated cheeses typically have starches added to them to prevent the cheese from sticking together. And these starches add some unnecessary carbs to the cheese. 
But if you do use pre-grated cheese, not to worry. Your bagels will still be low carb and keto-friendly, they'll just have a couple of extra carbs to them.
Now for the bagel base, I used almond flour to give them that real bagel-like texture. 
But if you are allergic to almond flour or just want other options, you could also use sunflower seed flour or walnut flour. Both can substitute out equally with almond flour and will work just as well to make your bagels keto. 
With that said, you DO NOT want to use coconut flour in place of almond flour in these bagels. Coconut flour is an absorbent flour  - unlike almond flour - and it will dry out your fathead dough.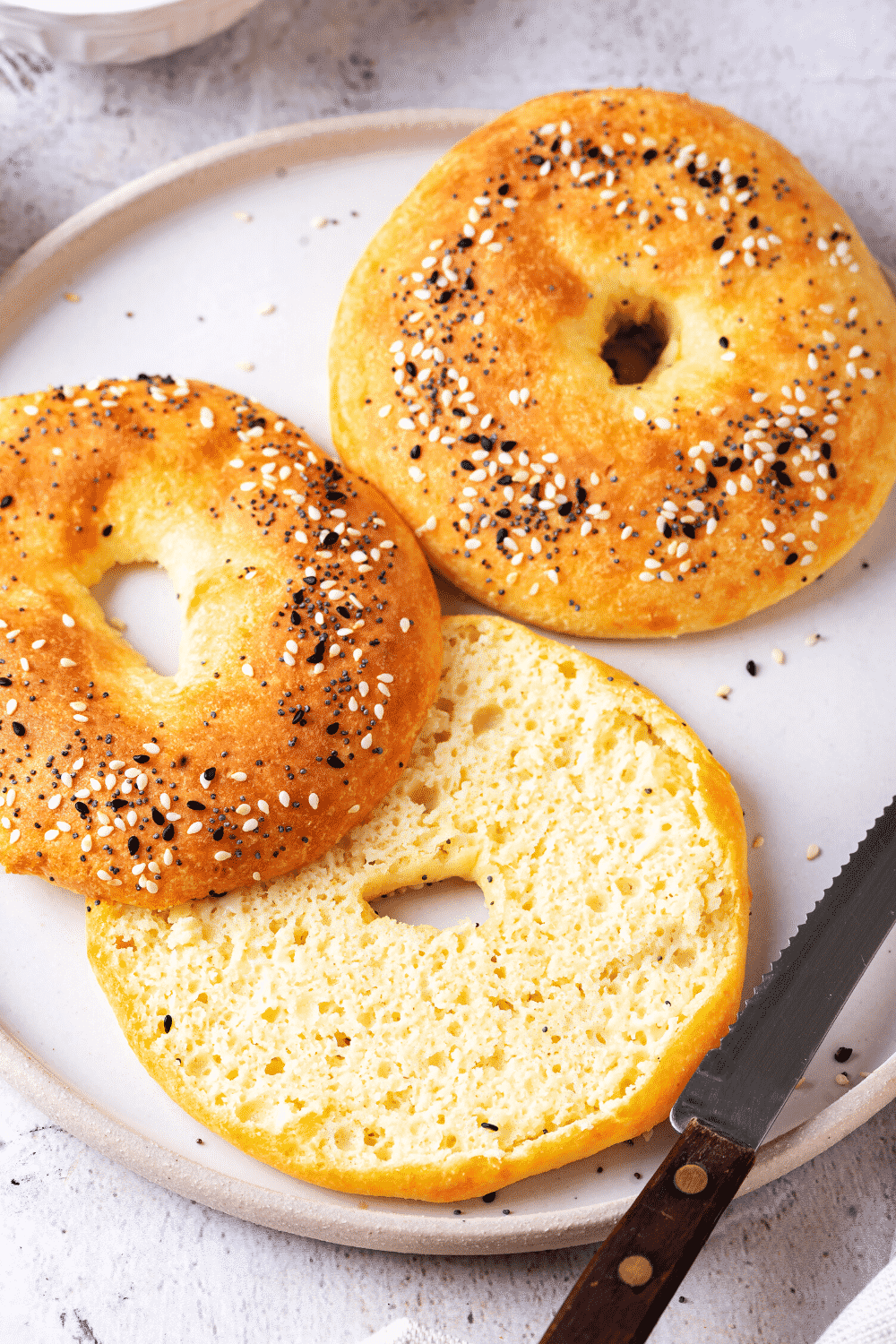 HOW TO MAKE LOW CARB KETO BAGELS 
The best part about this keto bagels recipe might be how easy it is to make. 
All it takes is a few simple steps, and you'll have coffee shop-like bagels for the most delicious keto breakfast.
By the way, if you have a food scale, I highly suggest using one to get the most accurate measurements possible. 
Now let's make some bagels! 
Step 1: PREPPING THE FATHEAD BAGEL INGREDIENTS
First things first, preheat your oven to 400°F (204°C). 
Then in a medium bowl, mix your almond flour, baking powder, and salt and set it aside. 
Next, put your grated mozzarella cheese and cream cheese into a large microwave-safe bowl. And you'll want to heat it on the highest setting for about 40 seconds, then take the bowl out and stir the cheese blend together with a spatula. 
Repeat this microwaving and stirring process 2 more times until the mozzarella and cream cheese are smooth when mixed together.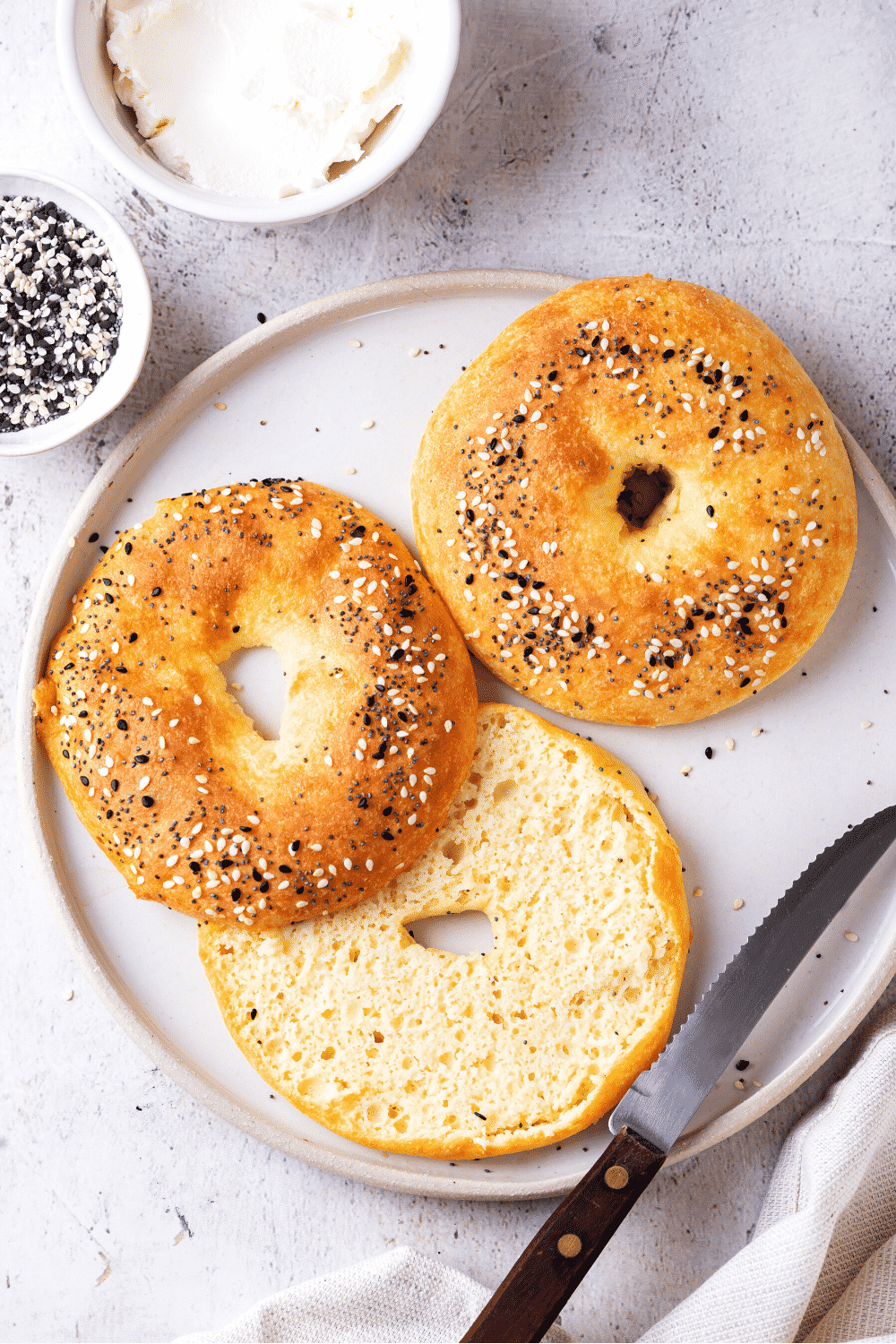 Step 2: MAKING THE FATHEAD DOUGH 
So, to make the dough, quickly add the eggs and flour mixture to the bowl of cheese. Make sure the cheese is still HOT when you add the other ingredients - this is VERY IMPORTANT. 
Next, immediately stir all of the ingredients together with a spoon, and when they just start to combine, use your hand to finish incorporating everything. 
Then sprinkle a tiny bit of almond flour on a flat surface and knead the dough for a few minutes with your hands to form a ball. And if the dough is too sticky, wash your hands and then add a little oil to them. 
And if kneading the dough by hand is too difficult, you can knead it on low in a stand mixer with the hook attachment.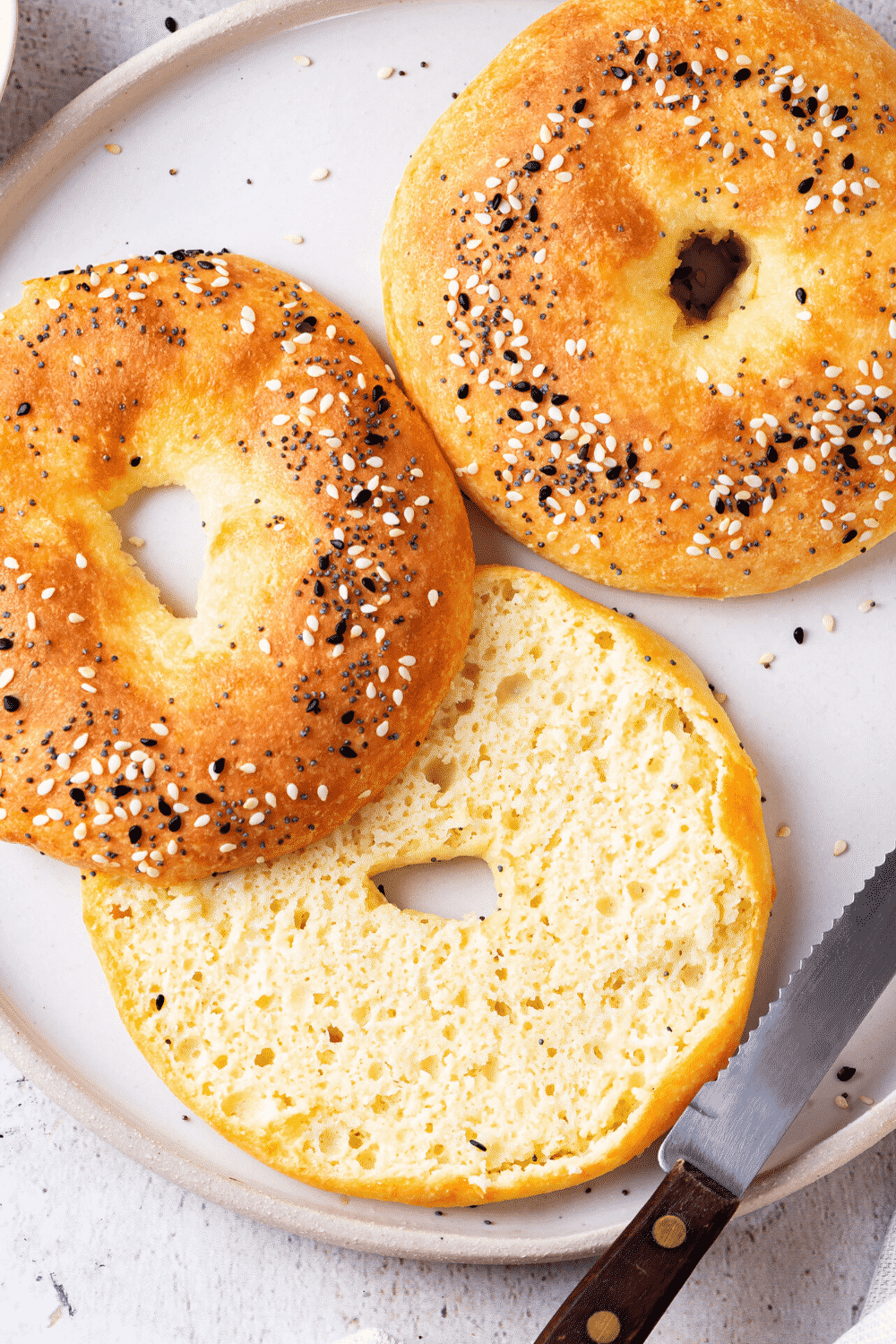 Step 3: TURNING THE DOUGH INTO KETO BAGELS
Once the ball of fathead dough forms, divide it up into 6 smaller dough balls.
Then take your finger and press it into the middle of the dough to form a fairly large hole and then shape the dough into bagels.
Once you've shaped the 6 dough balls into bagels, add them to a baking sheet lined with parchment - make sure to leave plenty of space between each bagel.
And if you want to make sesame seed or everything keto bagels, coat the top of each bagel with baking spray, and then add on your sesame seeds or seasoning. 
Lastly, bake your bagels for about 12-15 minutes or until they are golden brown. 
For the fluffiest bagels possible, serve them fresh out of the oven - they will slightly deflate while cooling but will still be just as delicious later on.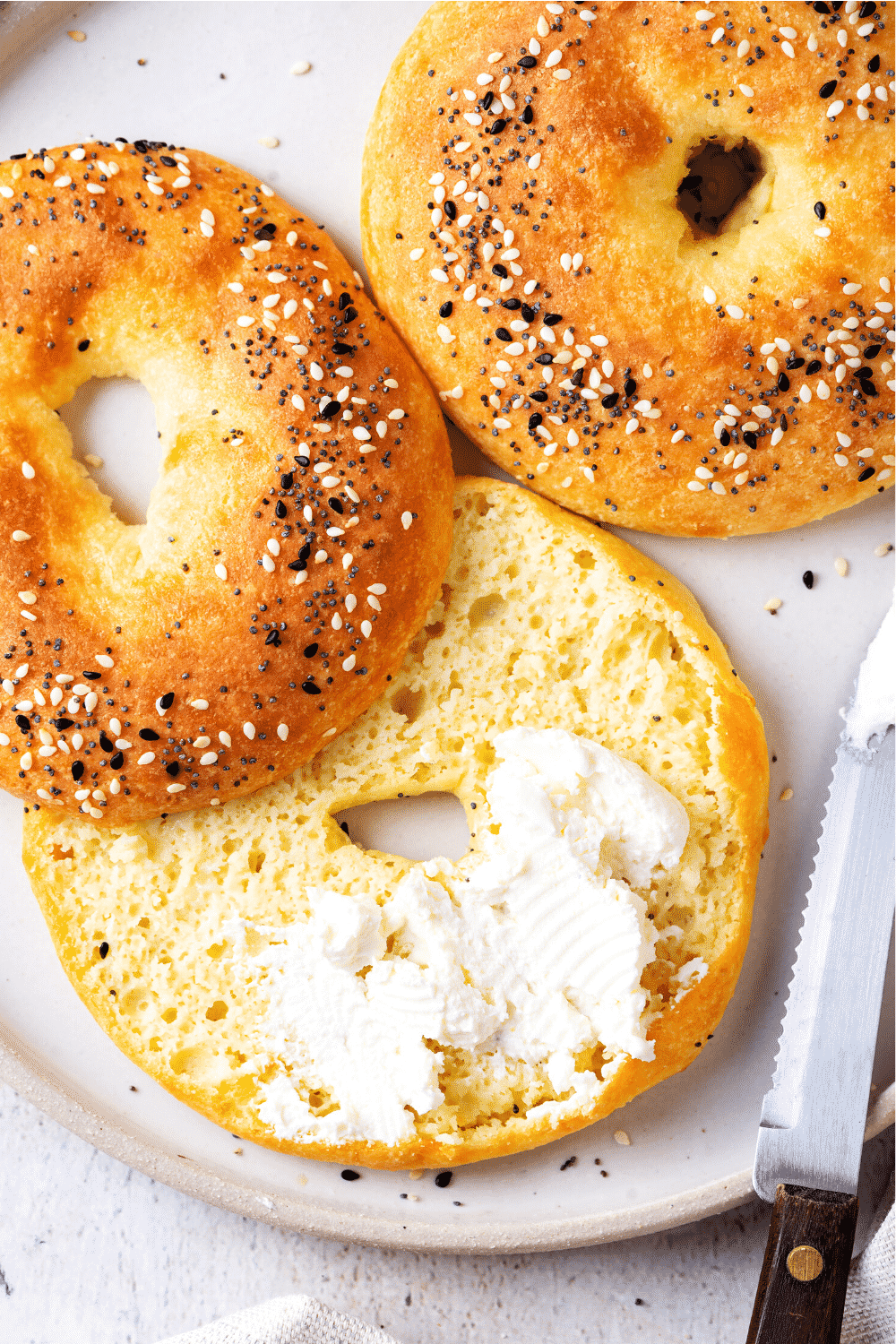 STORING YOUR KETO BAGELS
So, as you know, this recipe makes 6 low carb keto bagels - perfect for having a quick and easy keto breakfast ready to go for the week!
And I love that you can eat one every day for 6 days straight since they store so well. 
You can keep your bagels in the refrigerator in an airtight container for up to 3 days. 
But for the best leftover bagels, I suggest freezing them immediately after they cool.  
Before you eat your bagel, just thaw in the microwave in 15-second increments until slightly thawed, then slice your bagel and put it in the toaster oven.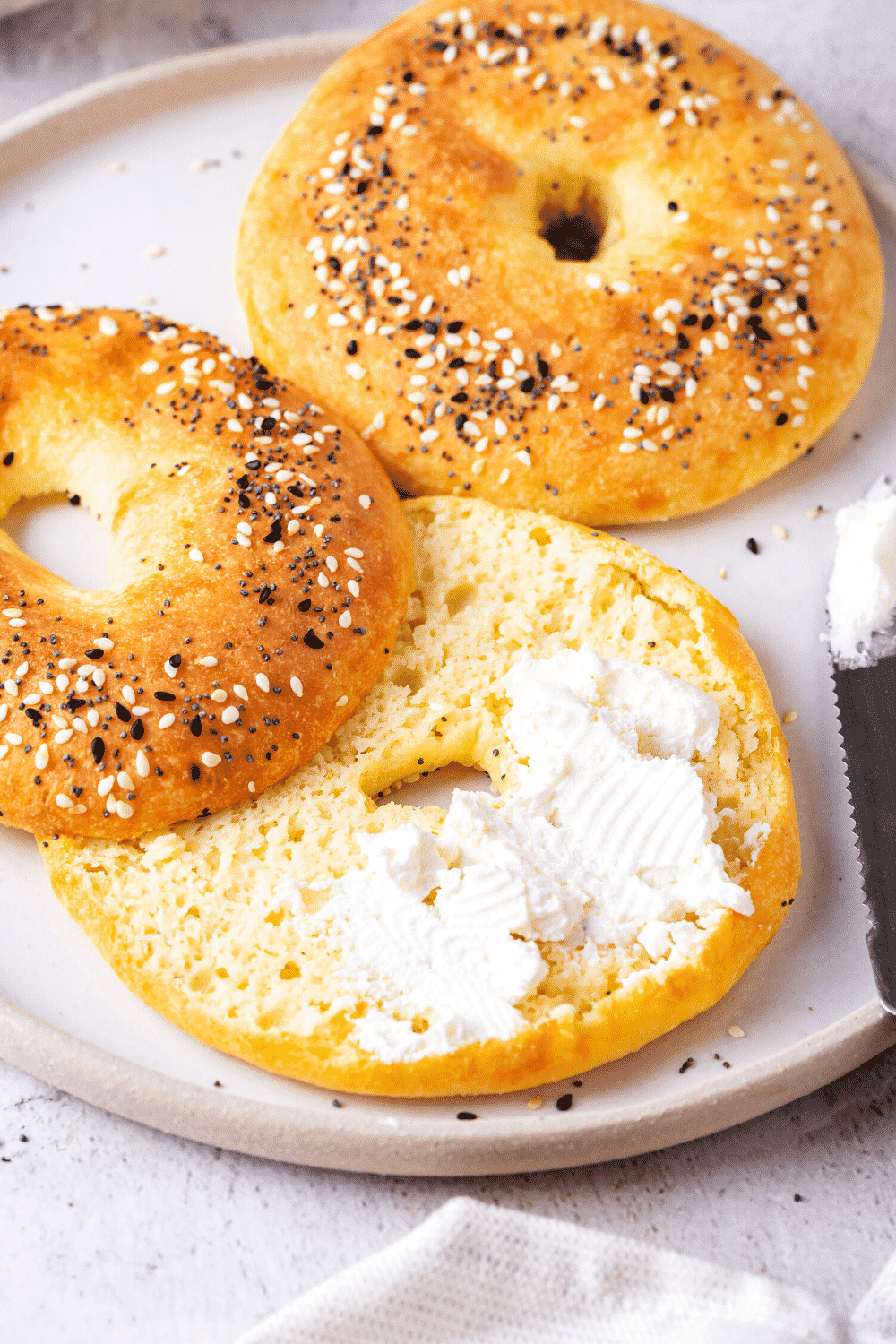 NUTRITIONAL INFORMATION FOR LOW CARB BAGELS
As I mentioned earlier, these keto bagels have only 4 NET CARBS each, but they taste exactly like regular high-carb bagels. And each bagel has a good amount of protein too.
Check out the rest of the macros for 1 bagel:
370.5 Calories

31.2g Fat

5g Carbs

1g Fiber

4 NET CARBS

18.3g Protein 
These bagels will be an excellent addition to your keto breakfast rotation. You can eat them with some butter, cream cheese, nut butter, or my favorite, avocado. 
And you can also use them to make a keto breakfast sandwich. Talk about having a coffee shop right in your kitchen! 
I hope you find this keto bagels recipe as awesome as I do. Make sure to leave a comment and let me know what you put on your keto bagels!
MORE KETO BREAKFAST RECIPES
There's nothing like having a bagel for breakfast. But I have a few other keto breakfast recipes on the blog that I'll think you'll enjoy.
Check out these classic recipes turned keto: 
Print
Keto Bagels Recipe | The Best Low Carb Keto Bagels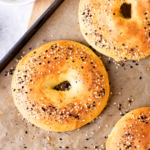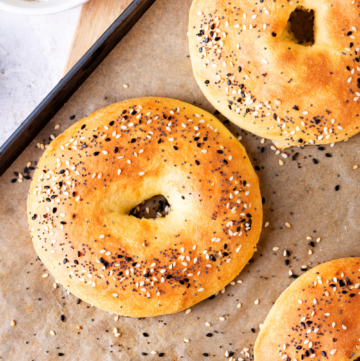 If you've been looking for keto bagels that have a legit bagel consistency, you'll love this recipe. This keto bagels recipe makes soft and perfectly chewy bagels with a spot on texture. And each one only has 4 NET CARBS!
Author:
Prep Time:

15 Minutes

Cook Time:

12 Minutes

Total Time:

27 minutes

Yield:

6

Bagels

1

x
Category:

Breakfast

Method:

Oven

Cuisine:

Keto Low Carb
Instructions
Preheat the oven to 400°F (204°C).

In a bowl mix together almond flour, baking powder and salt.

Put mozzarella and cream cheese into a microwave safe bowl and heat on highest setting for about 40 seconds, stir, then repeat 2 more times. Mixture should be smooth. 

Quickly add eggs and flour mixture to the bowl of hot cheese and stir with a spoon, just when it starts to incorporate use your hands. Knead for a few minutes until you have a dough ball.

Divide dough into 6 pieces. Press your finger into the middle of the dough to form a hole and then shape it into bagels

Add bagels to a baking sheet lined with parchment paper leaving plenty of space between each. 

Spray top with cooking spray and sprinkle with sesame seeds or seasoning (optional).

Bake for about 12-15 minutes, until golden brown.

Serve right away - they will deflate a bit while cooling, but it's not critical and they'll still be just as delicious. 
Notes
The scale up function does not change the gram measurements.
Nutrition
Serving Size:

1 Bagel

Calories:

370.5

Fat:

31.2

Carbohydrates:

5

Fiber:

1

Protein:

18.3
Keywords: keto bagels recipe, keto low carb bagels recipe, low carb keto bagels, low carb bagels, low carb bagels recipe, gluten free bagels, fathead dough for bagels, fathead bagel recipe, keto bagels recipe easy, keto bagels recipe almond flour, low carb bagels recipe almond flour, how to make keto bagels, fathead bagels keto recipe, keto breakfast, keto breakfast recipes, fathead dough bagels almond flour