Healthy energy drinks can be hard to find, but this list takes the guesswork out of picking the right energy drinks to buy. I searched for the BEST energy drinks to power you through your day in a healthier way. Whether you like fruity, bubbly, or refreshing drinks, this list has it all.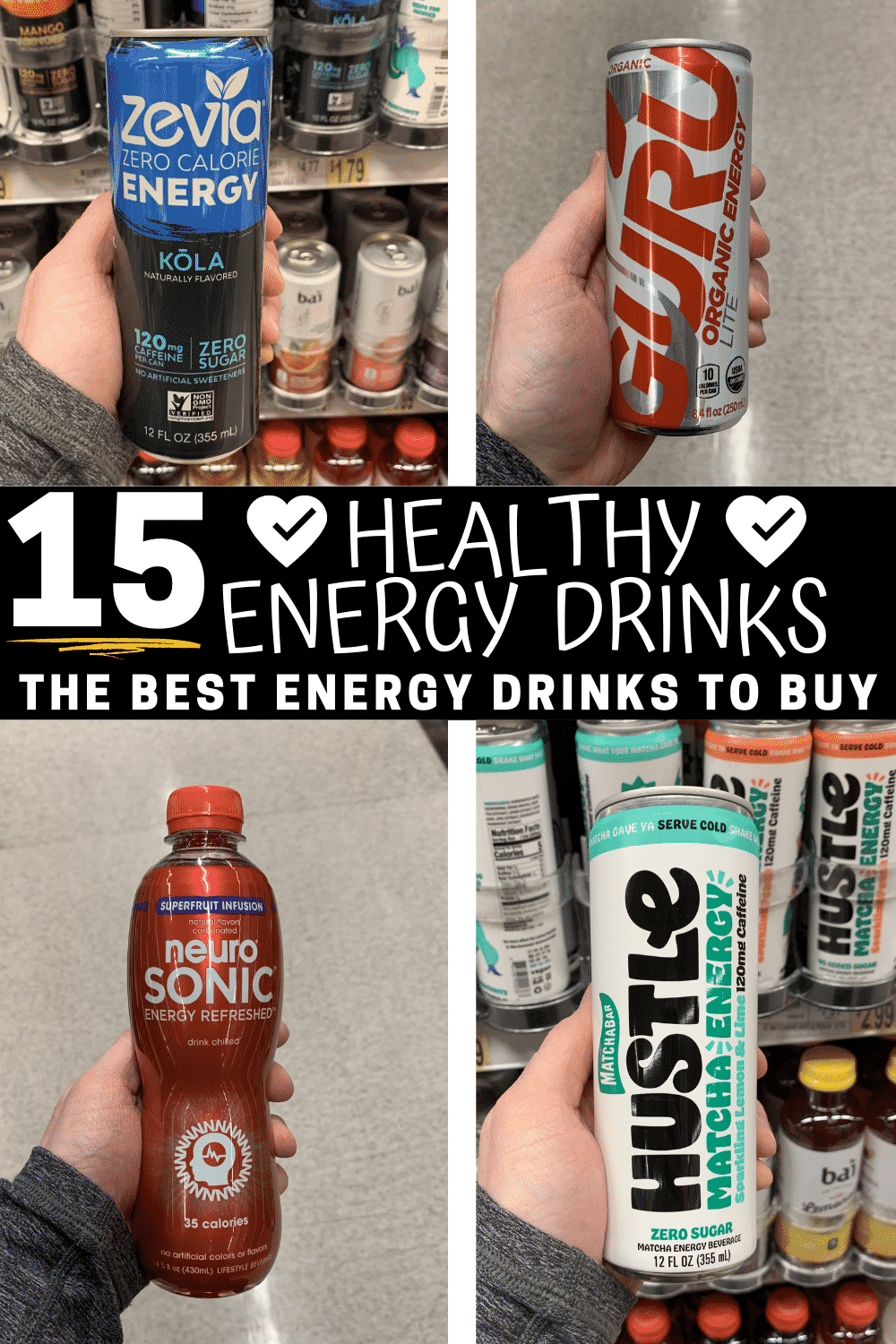 THE BEST HEALTHY ENERGY DRINKS You Can Buy
When you have a big day ahead of you or need a little mid-afternoon pick me up, energy drinks can come in clutch.
But the majority of energy drinks are filled with an excessive amount of sugar, an unhealthy amount of caffeine, and some not so great ingredients.
So, I went out and found a bunch of sugar-free drinks, zero-calorie drinks, and organic energy drinks that are made with natural, beneficial ingredients.
That said, let me show you what I found, and recommend!
1. RUNA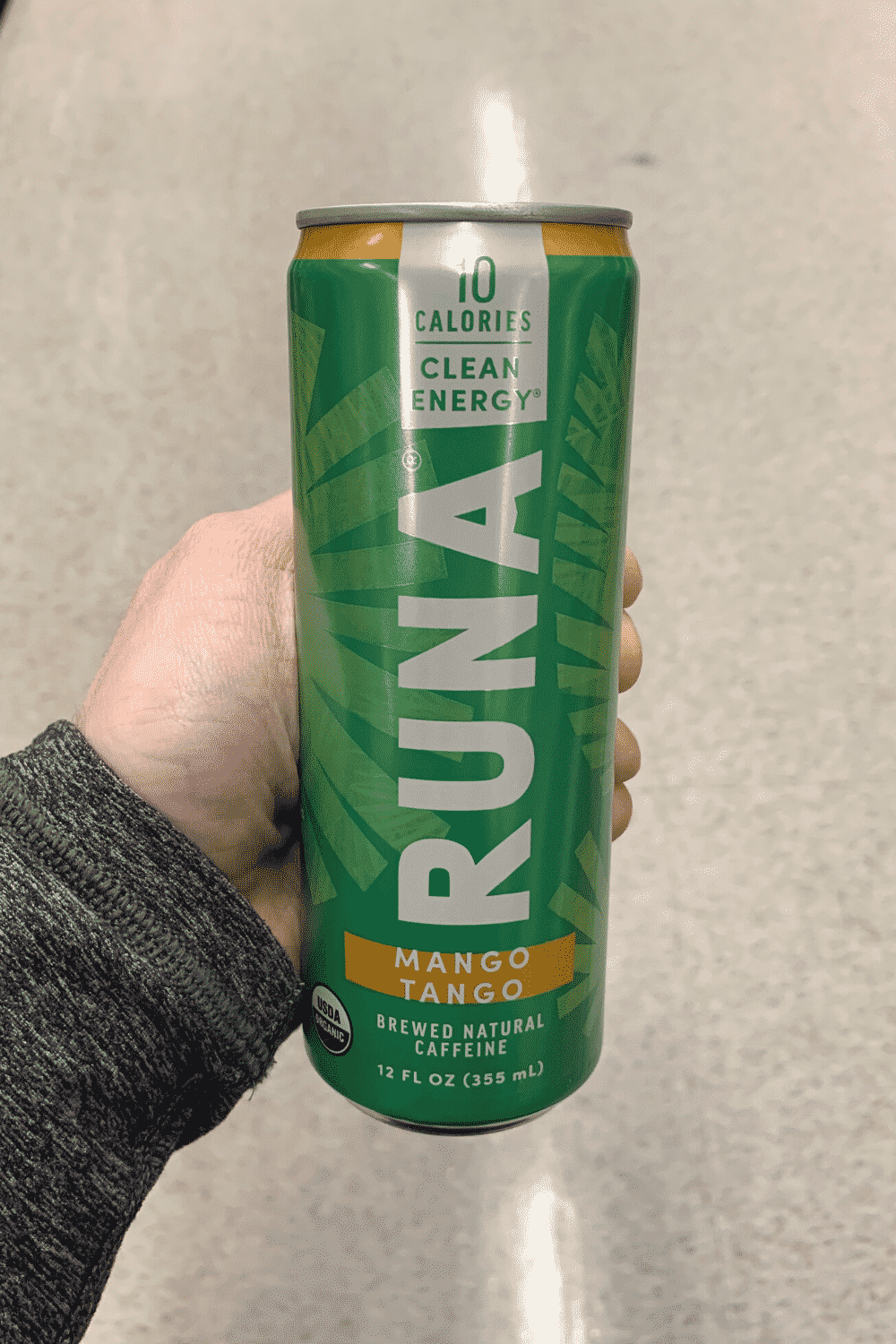 The first healthy energy drink on the list is Runa, an organic energy drink that has no artificial sweeteners, no added sugar, and is made with caffeine coming from a single source - organic brewed guayusa.
Guayusa leaves have antioxidants and anti-inflammatory properties and provide sustained energy and focus without a crash or jitters.
And Runa offers multiple tropical flavors that have a tea-like taste. The flavors are berry boost, blood orange, lime twist, mango tango, pineapple pick me up, and watermelon focus.
Here's what you can expect if you buy one of these natural energy drinks:
$2.49 per can
10 calories
2g sugars
150mg caffeine
2. MATCHABAR HUSTLE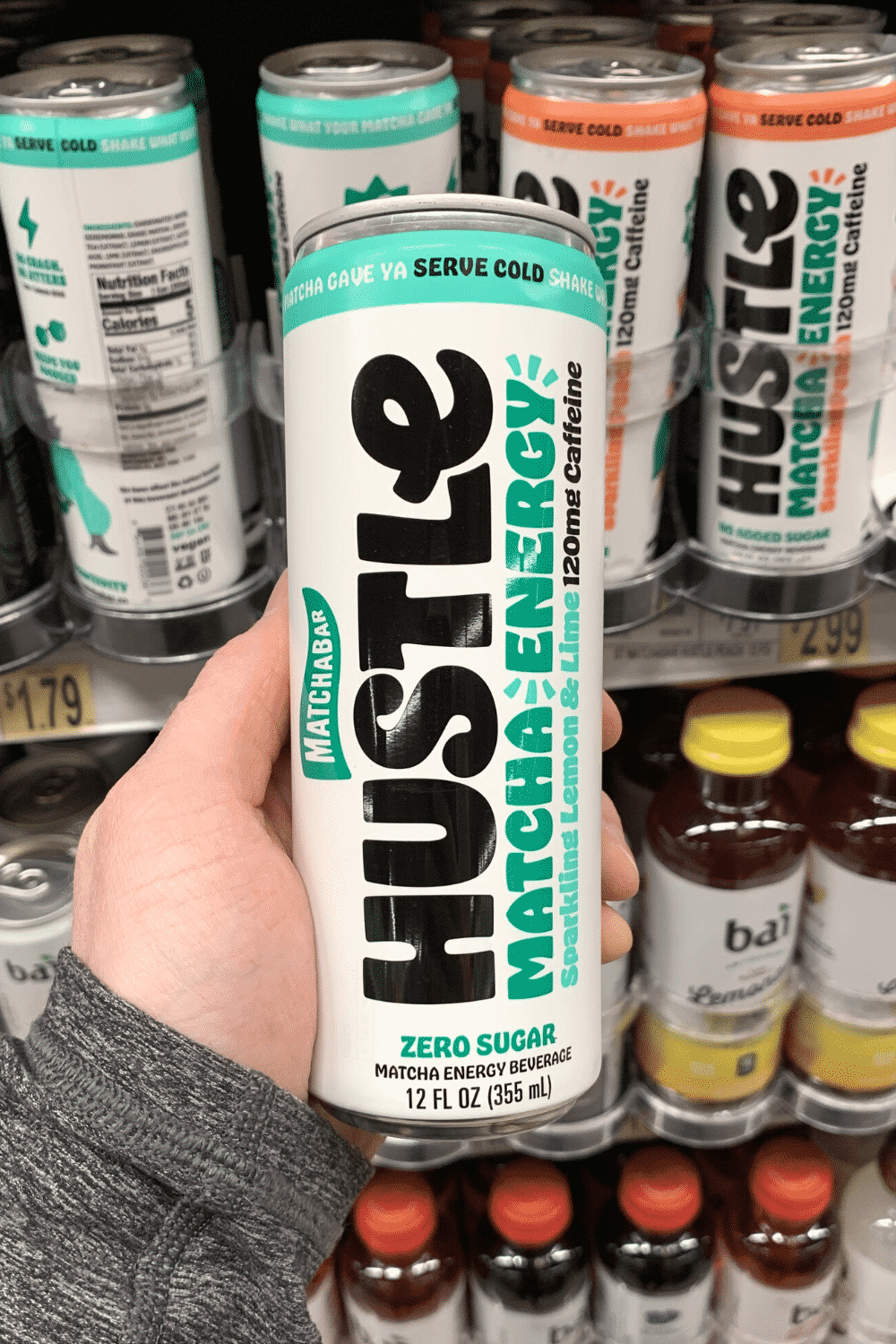 Next up on our list is Hustle, a sparkling energy drink filled with matcha.
If you've never heard of matcha before, it is a finely ground powder made from green tea leaves. And Hustle is made with ceremonial grade matcha, which is the highest quality matcha there is.
Matcha can reduce stress, lower inflammation, lower blood sugar, and contains antioxidants. And on top of these benefits, matcha can sharpen memory, improve focus, and provide long-lasting energy.
So this is the perfect drink if you need to lock in on what you're doing while also staying calm and poised - think about having a big presentation or interview - this is the type of drink you'll want to have.
Hustle is offered in four flavors: berry, lemon lime, mint, and peach.
And here's what you can expect out of the drink:
$2.99 per can
0 calories
0g sugar
120mg caffeine
3. Matcha Love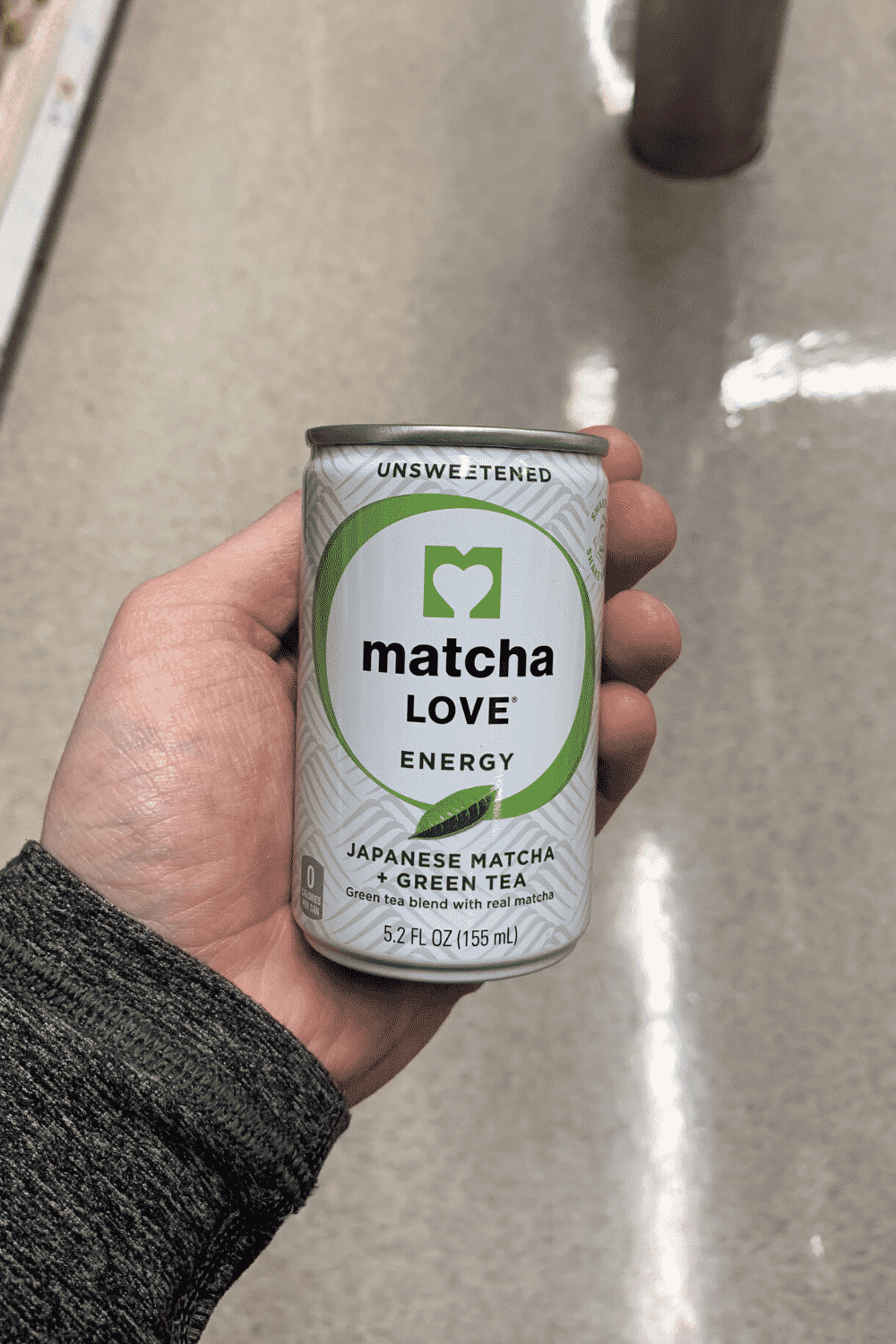 Following up is another matcha based drink - Matcha Love Energy. And this small can is filled with a whole lot of goodness - it combines green tea and matcha to give an antioxidant-rich, gentle energy boost along with mental clarity.
I found the unsweetened version, but there is also a sweetened one with only 35 calories and 9g of sugar. Oh, and this drink is lower in caffeine, making it the perfect late-afternoon energy drink.
And here are some key details on the drink:
$1.49 per can
0 calories
0g sugar
29mg caffeine
4. BAI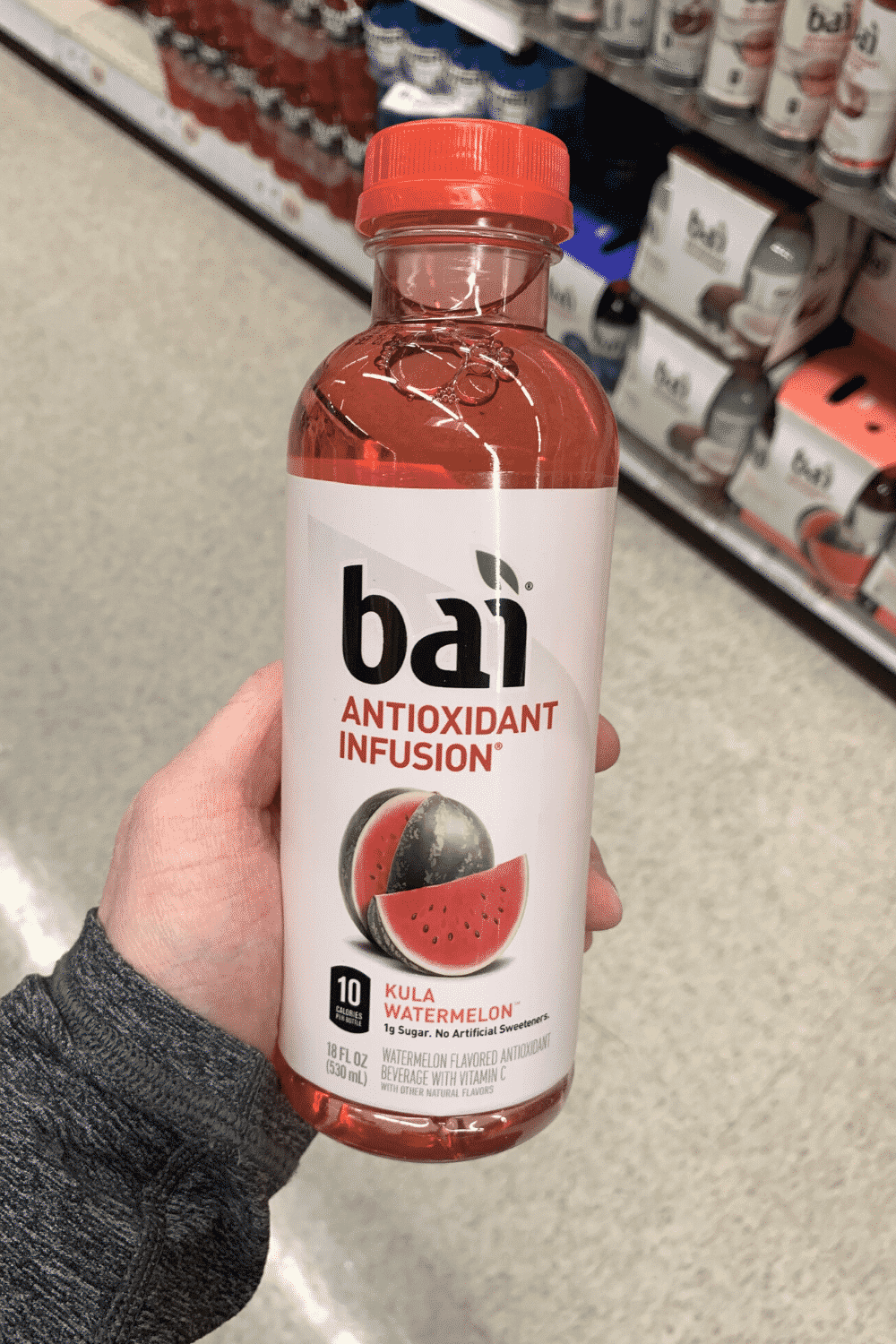 Continuing our list of healthy energy drinks is bai. Bai is by far one of the most popular energy drinks right now.
I first drank a bai a few years ago, and it has been one of my favorite energy drinks since.
Bai is a sugar free energy drink infused with antioxidants and sweetened with erythritol. And it's great to boost energy levels in a steady fashion thanks to the green tea extract.
Oh, and there are plenty of fruity flavors to choose from, like blueberry, clementine, mango, and dragonfruit. My personal favorite flavors are coconut and strawberry lemonade.
And here's some stats on the beverage:
$1.99 per bottle
10 calories
0g sugar
55mg caffeine
5. Bai Bubbles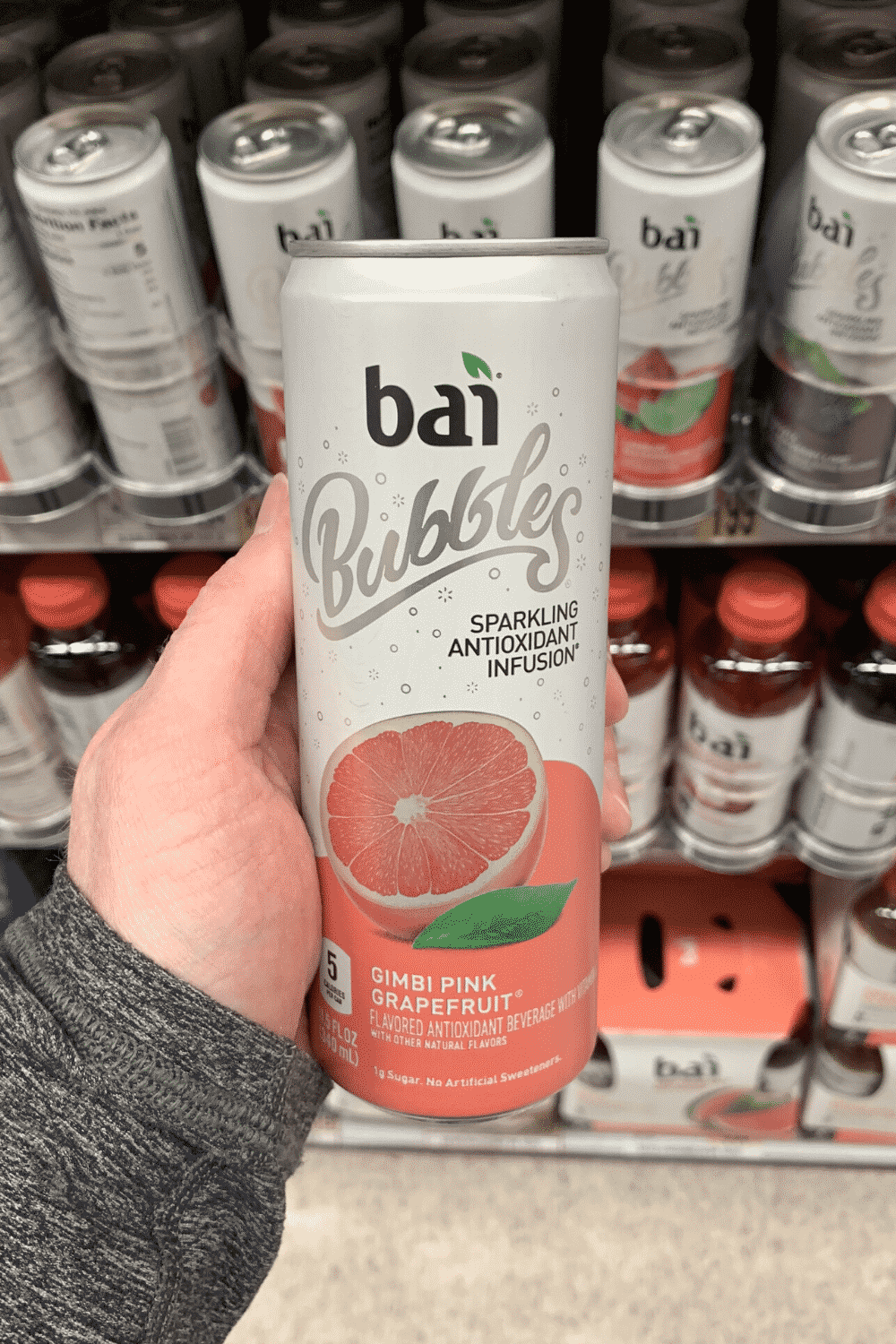 Another energy drink from the same beverage company is this sparkling antioxidant-infused drink, giving you everything in the drink above but with bubbles.
However, there is slightly less caffeine in the sparkling bai with 45mg per can.
Like the regular bai, a ton of different flavors is offered: black cherry, grapefruit, blood orange, and pineapple.
And here are some key details on the drink:
$1.99 per can
5 calories
1g sugar
45mg caffeine
6. Zevia Energy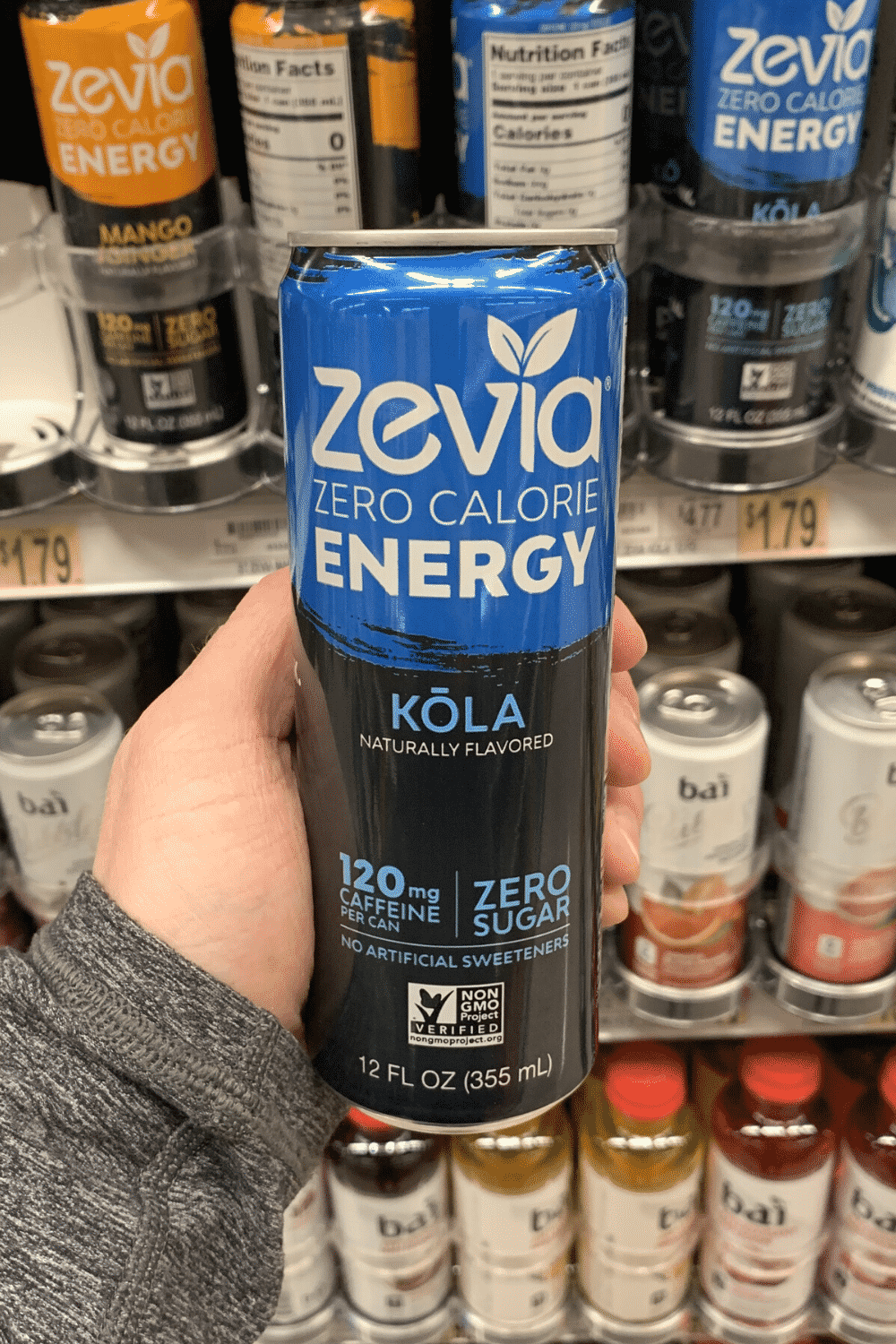 Zevia is another sugar free energy drink on the list.
This energy drink gets its name from being sweetened with stevia, a zero-calorie sweetener that, like erythritol, does not affect blood sugar.
Although erythritol has the same amount of sweetness as sugar, stevia can be 300 times sweeter than sugar. So if you are ever swapping out sugar in a recipe, I suggest using erythritol. And my favorite erythritol sweetener to use is this Swerve.
Bringing it back to Zevia, there are a few flavors to choose from: grapefruit, kola, mango ginger, and raspberry lime.
Here are some highlights on this drink:
$1.79 per can
0 calories
0g sugar
120mg caffeine
7. Neuro Sonic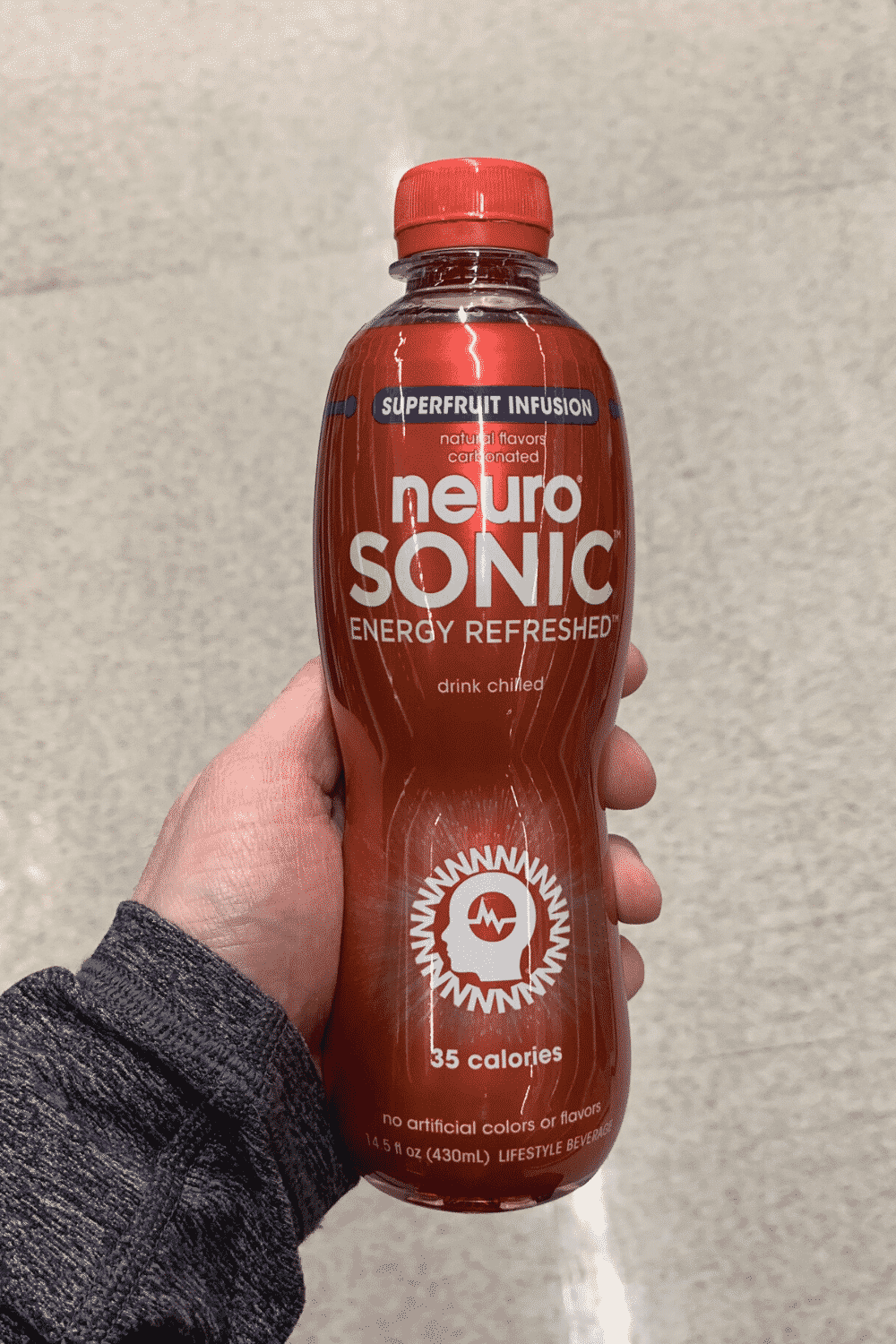 Next on the list is Neuro SONIC, an energy drink from the Neuro brand that offers multiple other beverages, like one for improved sleep and increased immunity.
This Neuro SONIC drink has brain-boosting ingredients that work synergistically to provide enhanced focus, improved attention, better short-term memory, and increased energy. It's seriously one of the best natural energy drinks you can buy.
Oh, and it also contains vitamins D2, B6, B12, and antioxidants. The two flavors offered are super fruit infusion and blood orange passion.
And the breakdown on this drink is as follows:
$2.49
35 calories
9g sugars
100mg caffeine
8. hi-ball energy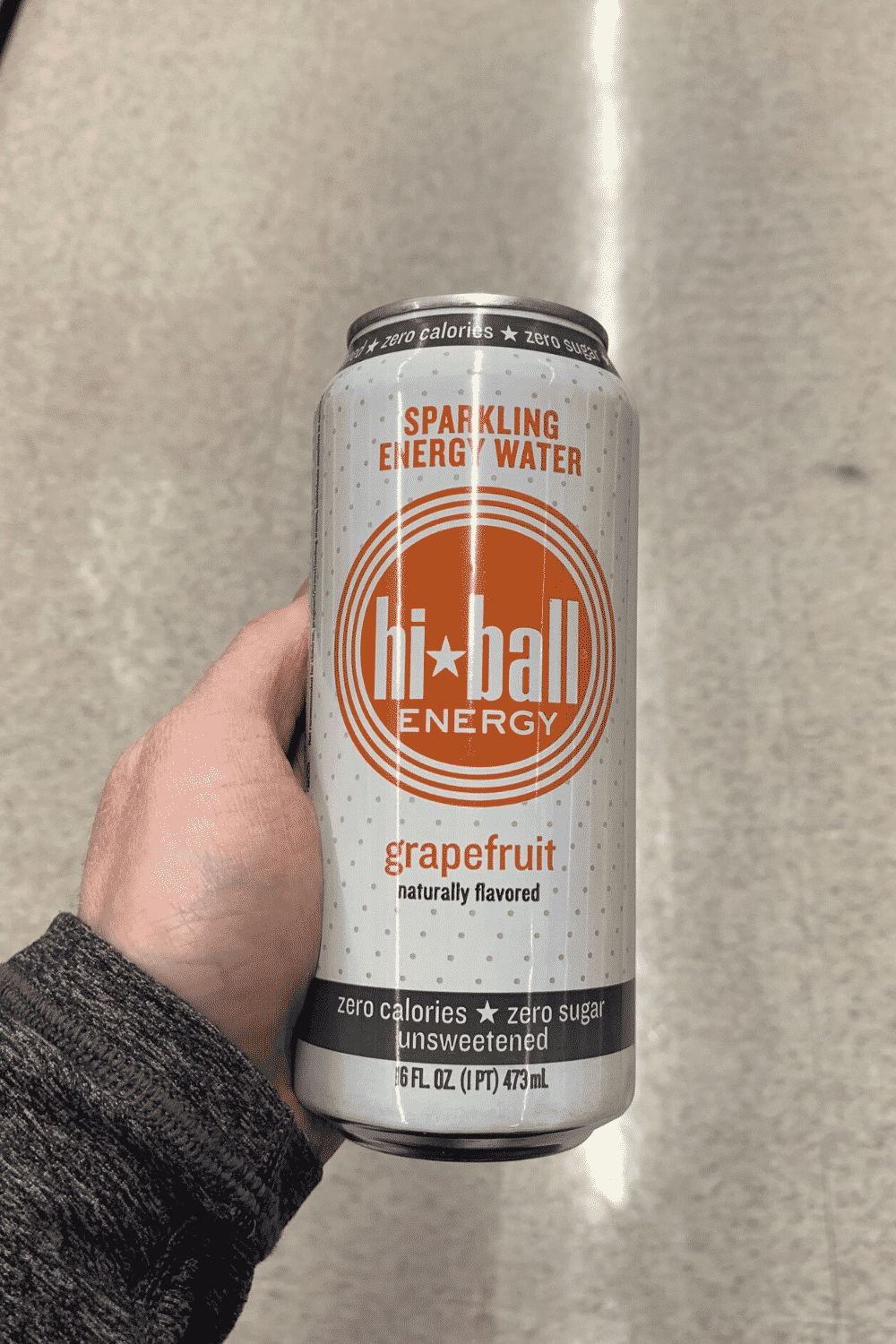 Keeping our list going strong is Hi-ball - an all-natural drink that contains B-vitamins, guarana, and ginseng.
Guarana is a plant known for its ability to reduce fatigue, boost energy, and aid in learning and memory. Ginseng is an herbal supplement that promotes mood, cognitive function, and boosts the immune system.
So basically, a whole lot of awesome in a can.
And this is another one of the zero-calorie energy drinks on the list.
Hi-ball combines sparkling water with natural fruit flavors to make one tasty energy drink, offering a few different flavors: grapefruit, lemon-lime, peach, vanilla, watermelon, and wild berry.
Here's what you can expect if you pick one of these up:
$2.49 a can
0 calories
0g sugar
160mg caffeine
9. Guyaki Yerba Mate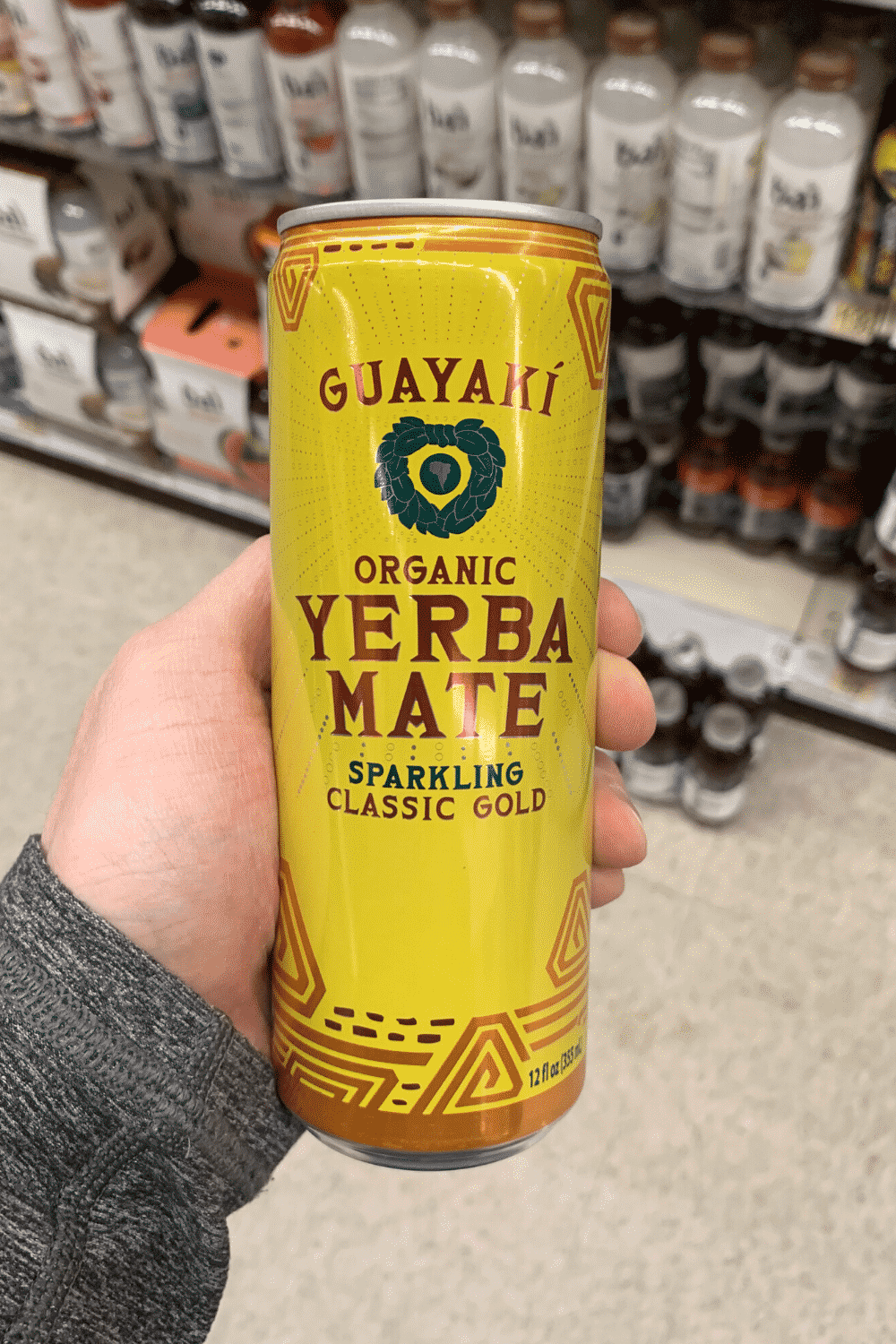 Guyaki is an organic energy drink that contains 24 vitamins and minerals, along with 15 amino acids.
The caffeine in this healthy energy drink comes from one source, yerba mate.
Yerba mate is an herbal tea made from leaves and twigs of the llex paraguariensis plant - it increases energy and enhances mental clarity, alertness, focus, and concentration.
The flavors offered are sparkling classic gold, sparkling pomegranate, enlighten mint, revel berry, and bluephoria. This drink has 27g of sugar, but if you are going to have an energy drink with sugar, this is a good pick.
Here are some other details on the drink:
$2.49 per can
120 calories
150mg caffeine
10. Yachak Yerba Mate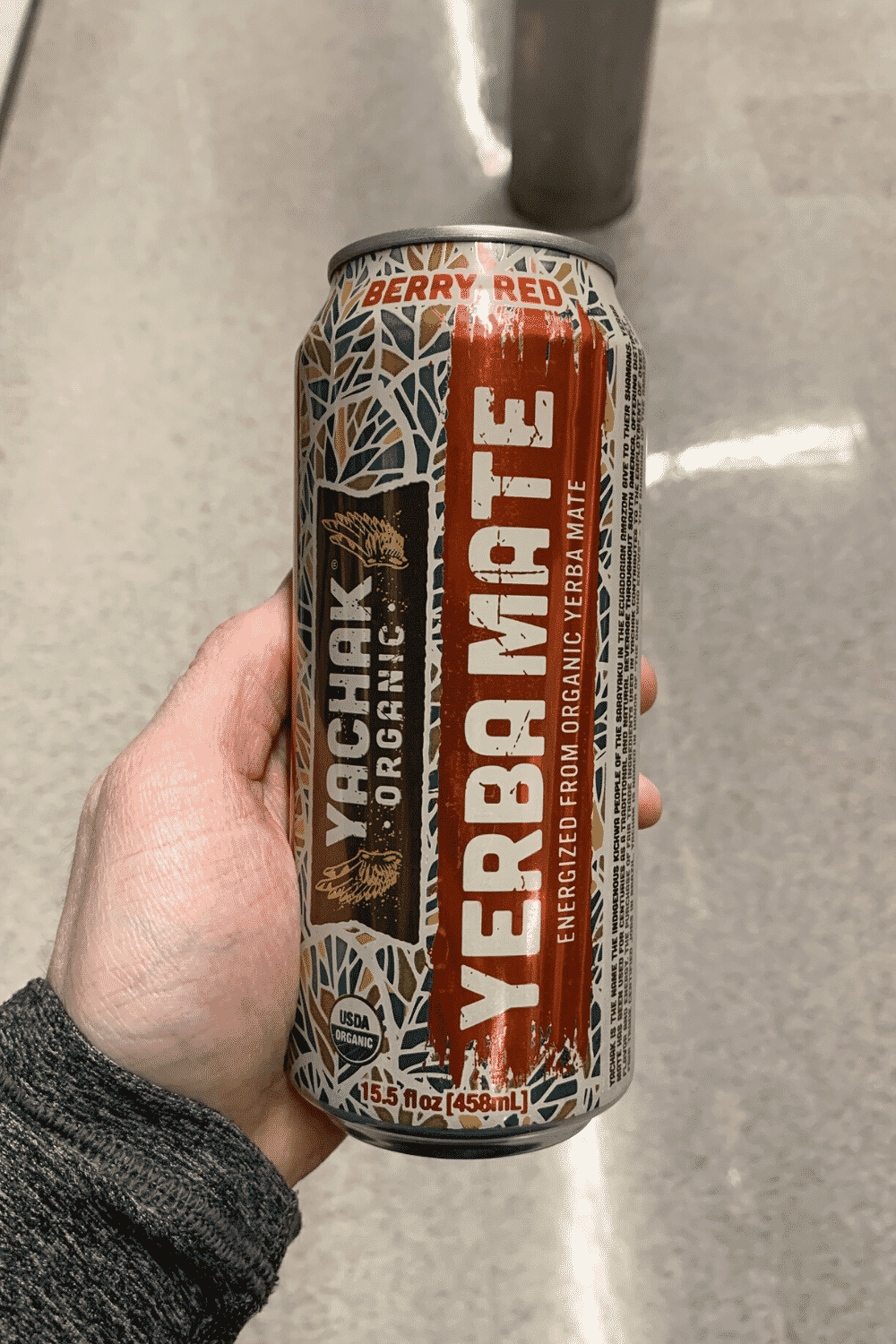 Yachak is another organic yerba mate based drink - it has all of the same components as the Guyaki yerba mate but contains a slightly higher sugar and caffeine content.
There are a few more flavors offered for this drink: berry red, ultimate mint, berry blue, blackberry, and passion fruit.
And here are some key details on the drink:
$2.49 per can
140 calories
33g sugars
160mg caffeine
11. Steaz Energy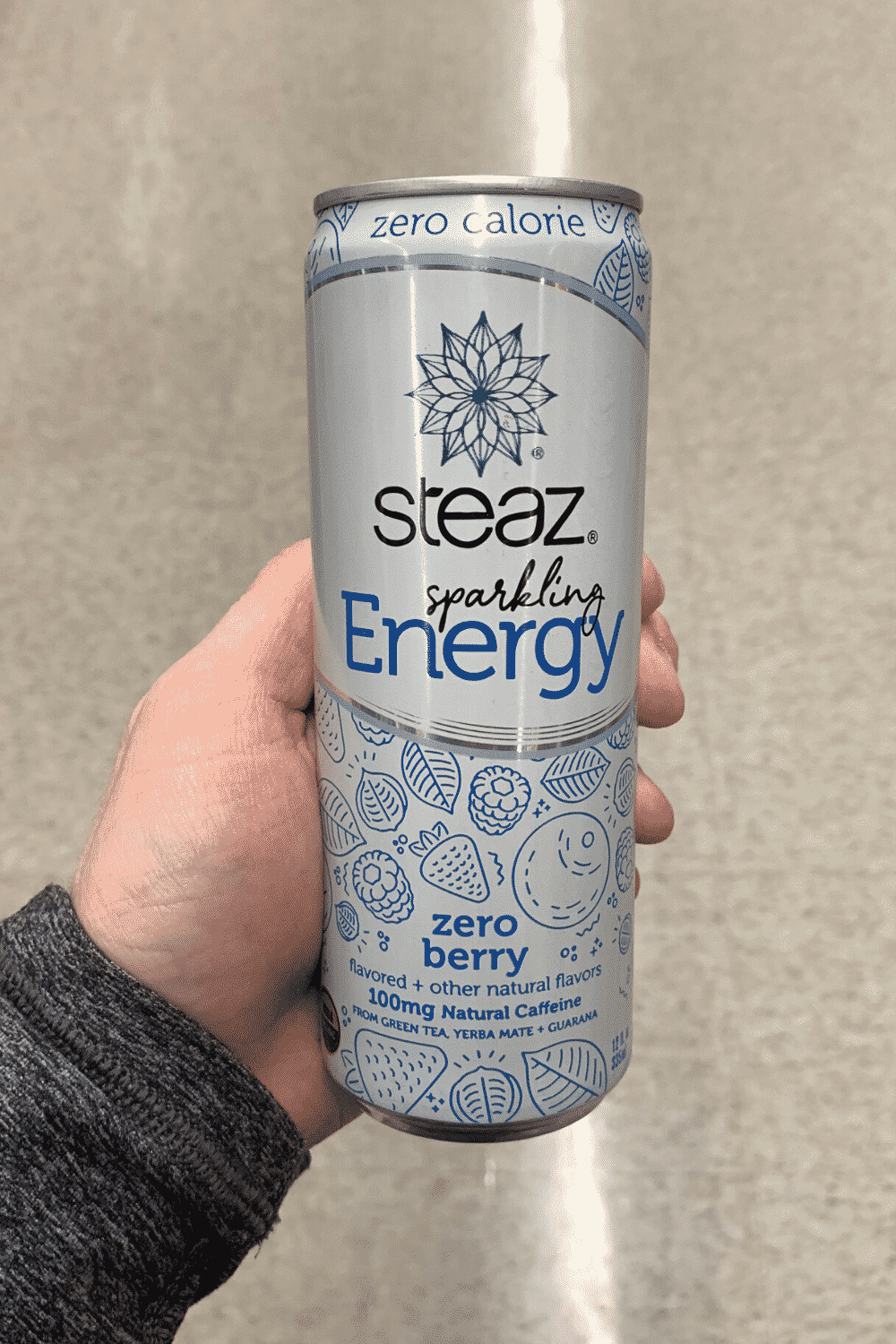 Continuing the organic yerba mate trend is Steaz.
This healthy energy drink gives you a boost of plant-based energy from a combination of green tea, yerba mate, and guarana.
If you want all the benefits of yerba mate in a sugar-free way, this drink is an excellent choice. Oh, and Steaz also contains vitamins B6 and vitamin B12.
For the zero-calorie version, Steaz offers three flavors: berry, pear pomegranate, and super fruit.
And here are some other key details on this one:
$1.99 a can
0 calories
0g sugar
100mg caffeine
12. Steaz green tea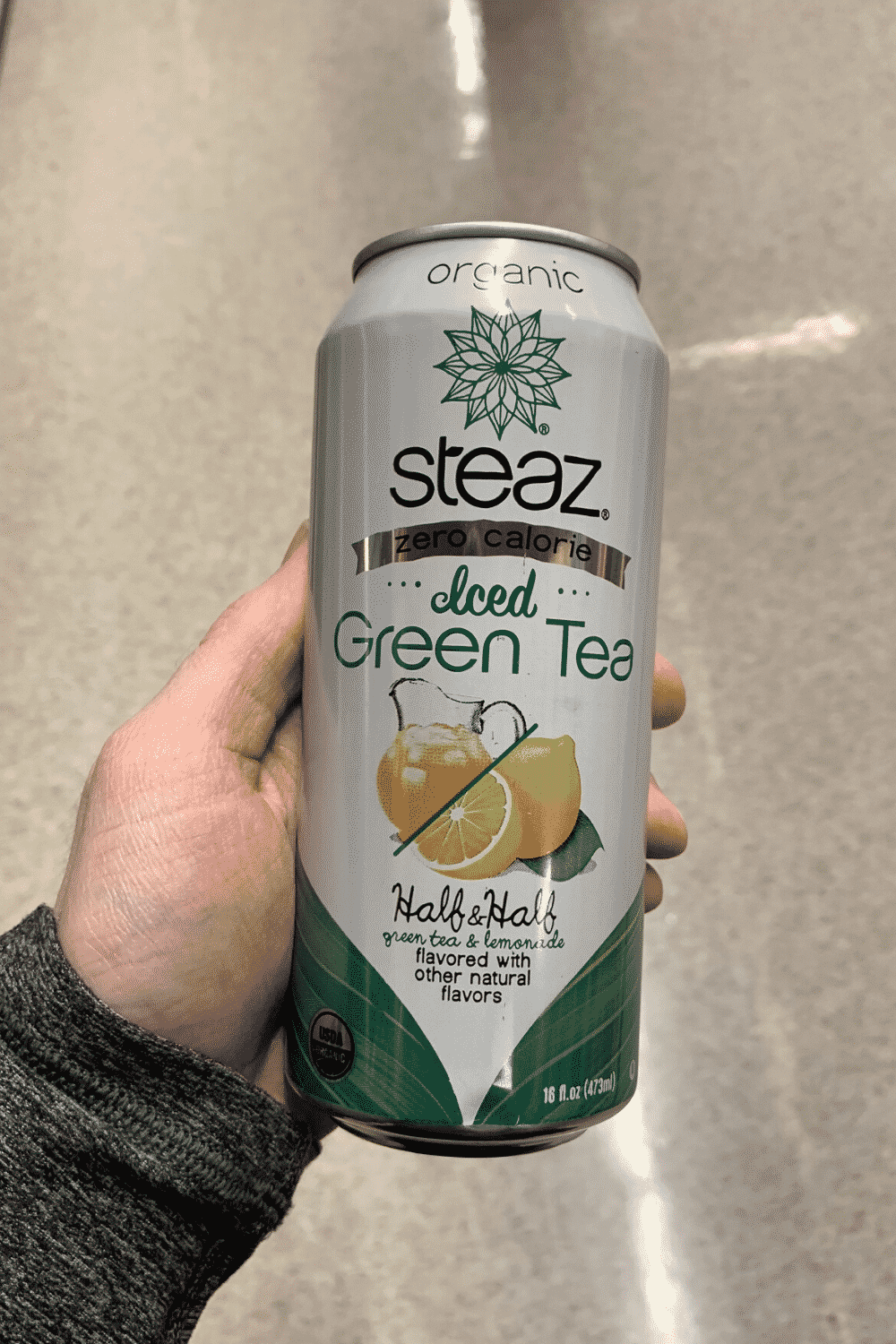 Steaz also offers a low caffeine green tea energy drink.
There are three types of this green tea drink - zero-calorie, unsweetened, and lightly sweetened.
The low caffeine content in this drink makes it another good late afternoon energy boost.
The caffeine content in this drink varies depending on the flavor.
The zero-calorie flavors are peach mango, half green tea half lemonade, raspberry, and goji blackberry.
The lightly sweetened flavors are blueberry pomegranate, peach, super fruit, lime pomegranate, mint, and lemon ginger. And the unsweetened flavors are lemon and passionfruit.
Here is more info on the zero-calorie version:
$1.49 per can
0 calories
0g sugar
15-25mg caffeine
The lightly sweetened version:
$1.49 per can
80 calories
20g sugars
15mg caffeine
And the unsweetened version:
$1.49 per can
10 calories
0g sugar
27mg-33mg caffeine
13. GURU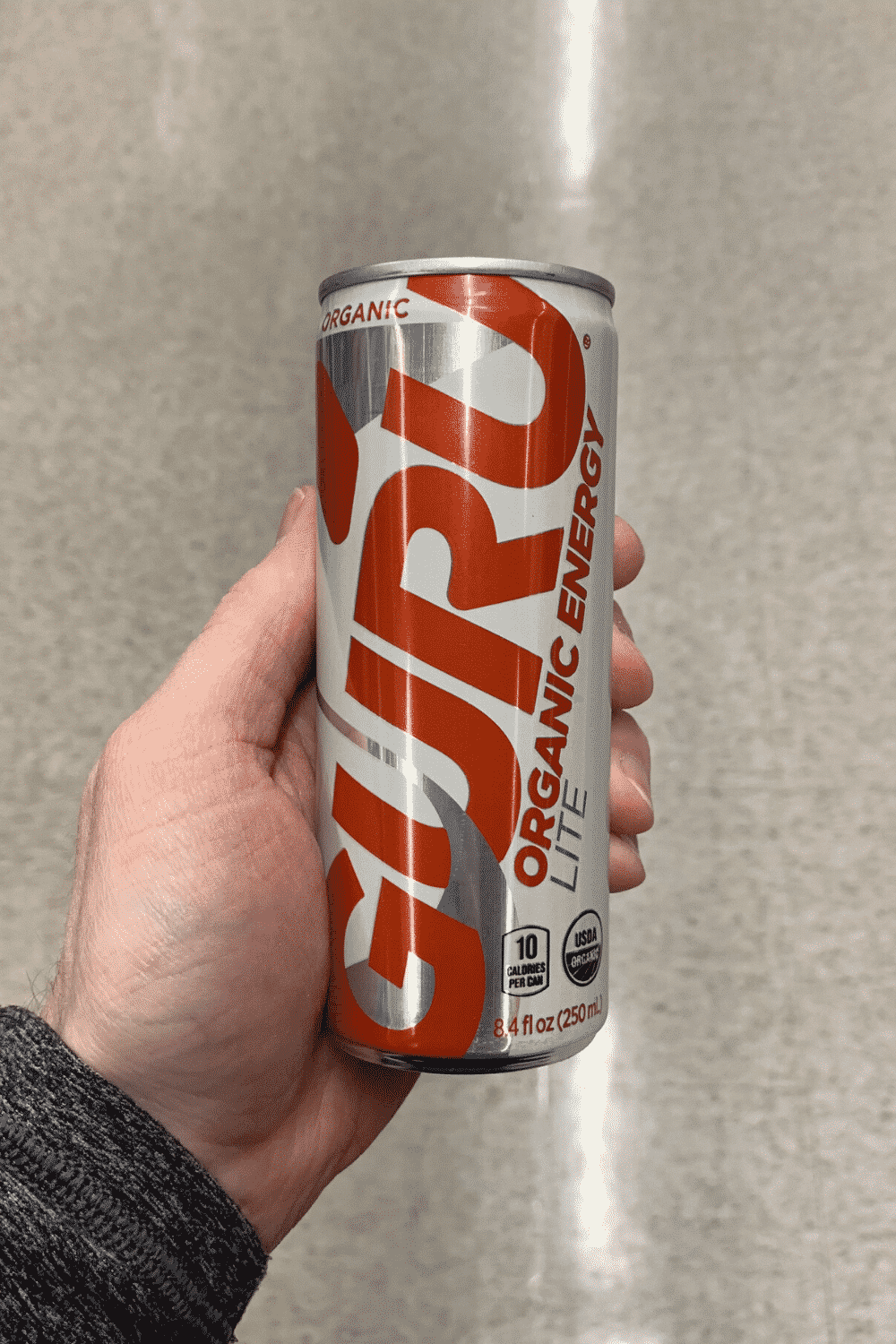 Coming up next is Guru - another organic and 100% plant-based energy boosting drink.
The plant-based ingredients in this drink that will give you sustained natural energy are green tea, guarana, ginseng, and echinacea.
We've touched on all of these ingredients so far except for echinacea. Echinacea is an herbal supplement that boosts the immune system and can fight off infections. The combination of these ingredients makes one powerful drink.
Also, Guru is a no sugar energy drink that is sweetened with stevia and monk fruit. And this Guru lite drink is offered in their original flavor and matcha version.
And here are some more deets on the drink:
$2.49
20 calories
3g sugars
140mg caffeine
14. V8 Energy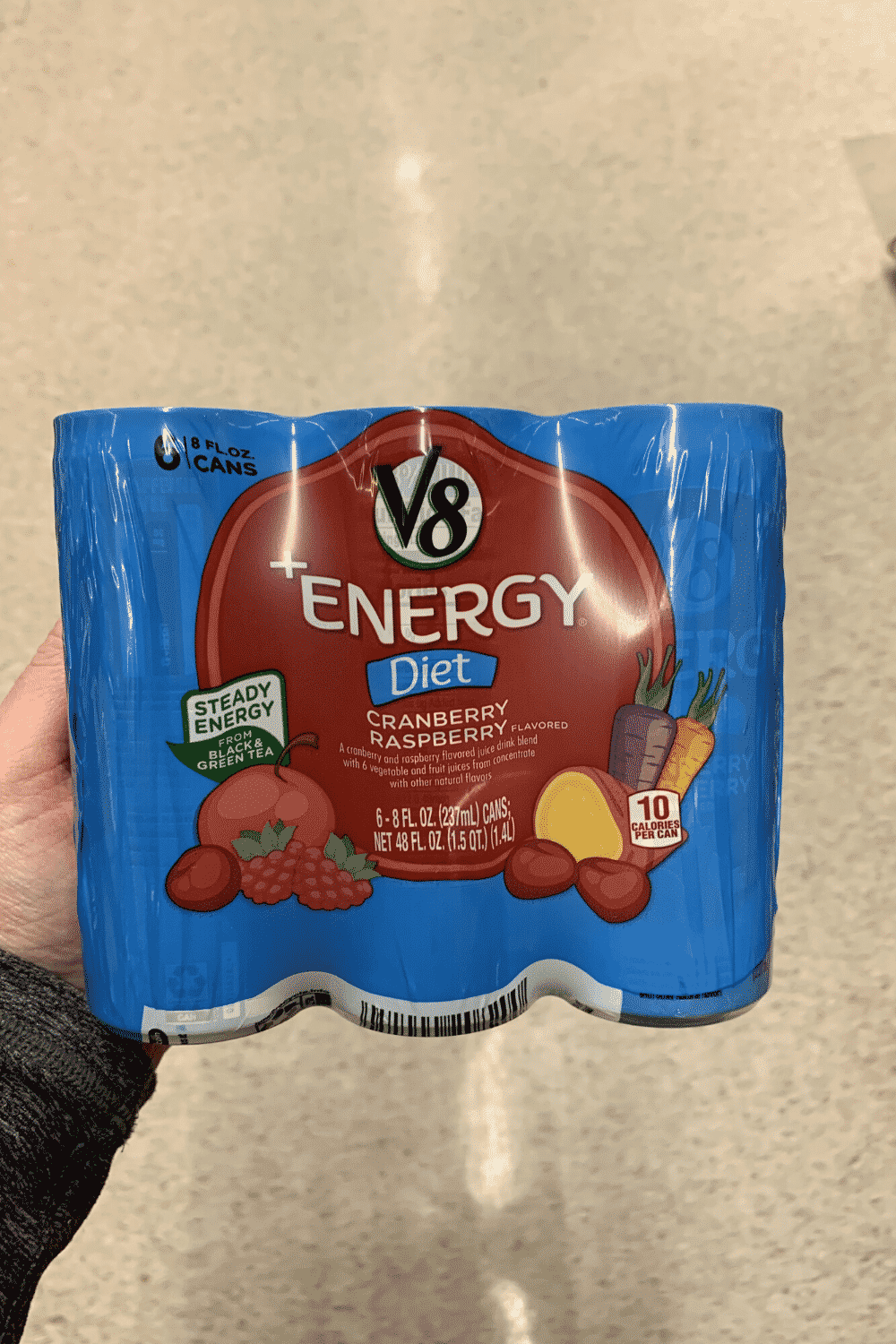 These little cans of wonderful are another healthy energy drink that made our list.
As I'm sure most of you know, V8 juice has been around for a while, and they're known for containing juice from vegetables, giving you a serving of veggies in a drink.
That said, the V8 energy consists of juice from sweet potatoes, purple carrots, carrots, apples, cranberries, and raspberries. And the caffeine in this drink comes from black and green tea, helping you avoid the post-caffeine crash.
There is also a regular version of this energy drink, but I chose the diet with no sugar or calories for this list - it comes in cranberry raspberry and strawberry lemonade flavors. And the no sugar version is one of the healthiest energy drinks on the list.
And here's more info on the breakdown of this energy drink option:
$4.49 (6 pack)

0 calories

0g sugars

80mg caffeine
15. Rebbl Maca Cold-Brew Coffee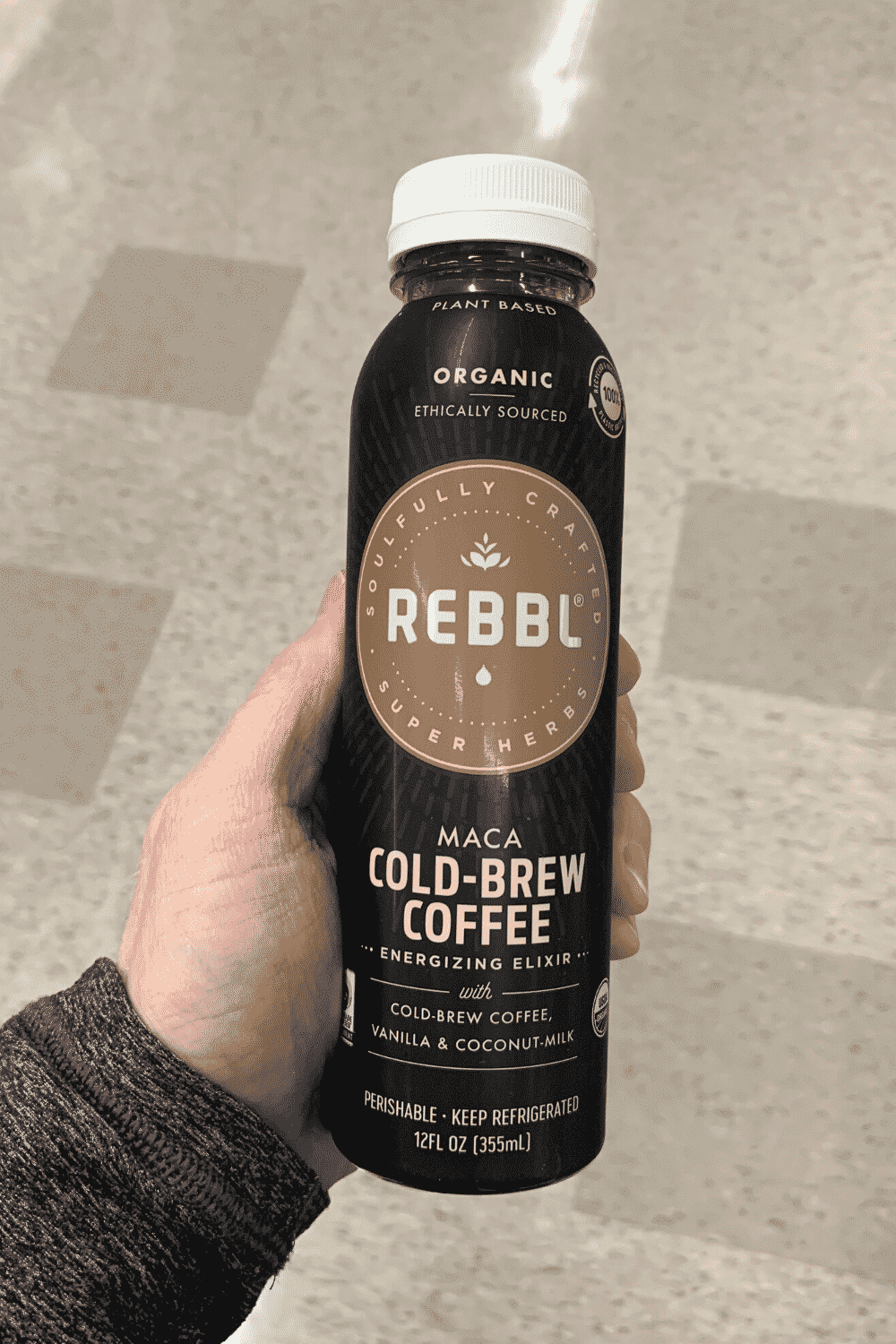 For all you coffee lovers out there, this last drink is for you.
This cold-brew coffee is 100% vegan and is made with organic coconut milk and sweetened with organic coconut sugar.
This drink contains maca root - a plant that can help support healthy energy levels, stamina and endurance, hormonal balance, and balanced adrenal function—pretty good benefits for a coffee-based drink.
So, if you want a bottled iced coffee to give you an energy boost from natural caffeine, this is an excellent choice.
And here's some more info on the drink:
$3.99

110 calories

7g sugars

140mg caffeine
Wrapping it all up
Well, that is my list what I think are the healthiest energy drinks you can buy. These energy drinks few are made with clean ingredients that will give you sustainable energy.
Countless energy drinks are available, and this list is just my opinion on some of the healthier energy drinks that you can have. I hope you get some new energy drink ideas from this list and better understand what each one has to offer!
As always, if you pick some of these up, let me know what you think of them in the comments below!