This sweet potato pound cake is so tender, full of warm spices, and topped with a luscious maple brown sugar praline sauce. It's just so good and so simple to make that you'll want to make it all fall long!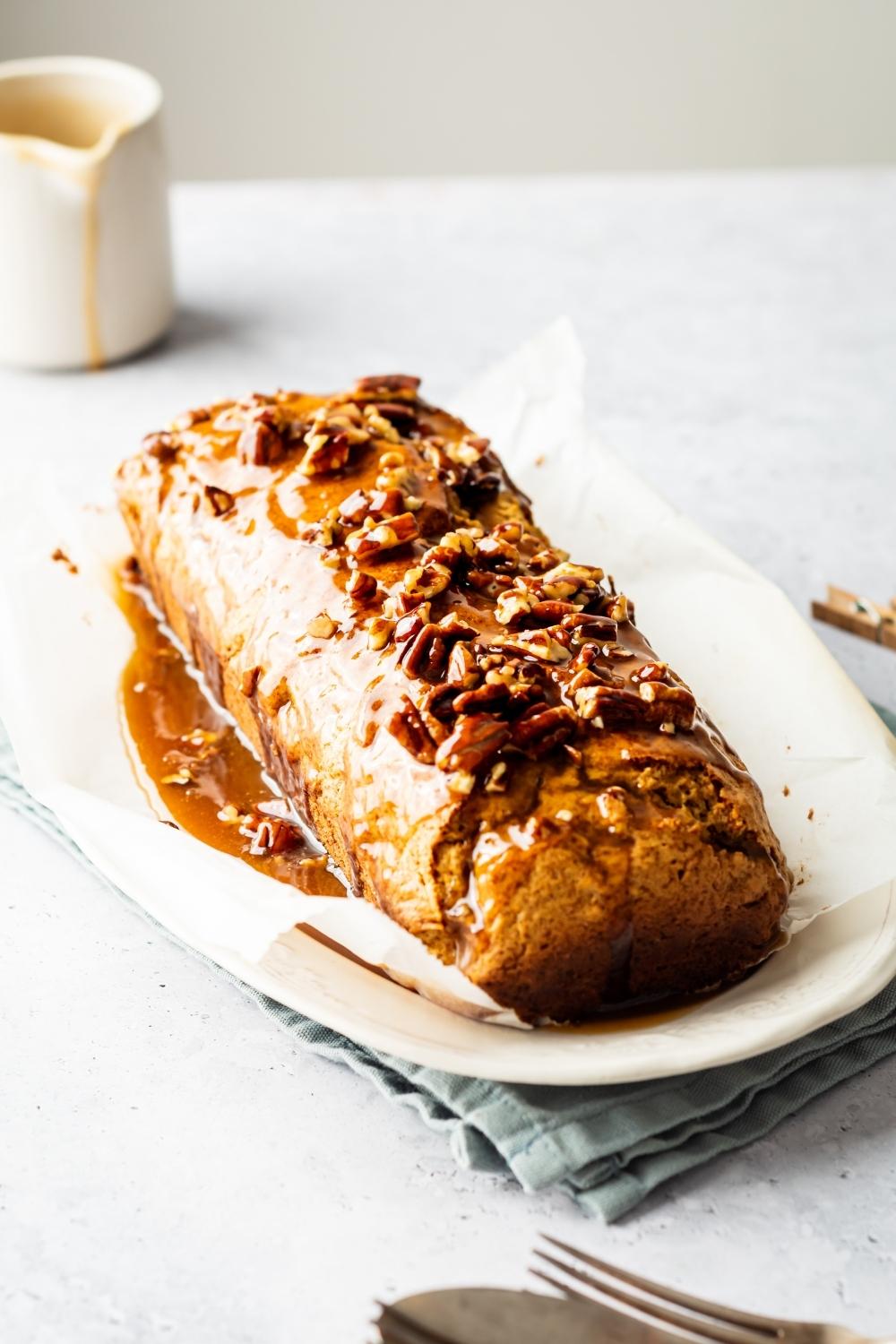 My Take On Sweet Potato Pound Cake
This sweet potato pound cake recipe is easily one of my top 5 favorite fall desserts to make. Every element of this gorgeous cake just represents the season perfectly!
I mean, you have sweet potatoes - aka the official vegetable of fall - cinnamon, nutmeg, ginger, and brown sugar in this cake, what more could you ask for in a dessert like this?!
The most divine element of the cake though is the maple brown sugar praline syrup. It's a magical concoction, and pouring the thick sweet sauce all over the warm cake really creates the most decadent pound cake ever.
Plus, as I alluded to just a second ago, making this pound cake is a breeze. 10 minutes is all it should take you to prepare, then the rest is just baking and cooling time.
With that said, since it takes about an hour to bake, I love making another simple dessert to go with it while it cooks. My favorite thing to make with it lately has been this no bake pumpkin pie. The two recipes basically time out perfectly with one another.
Also, for what it's worth, they're both Thanksgiving dessert staples in our house.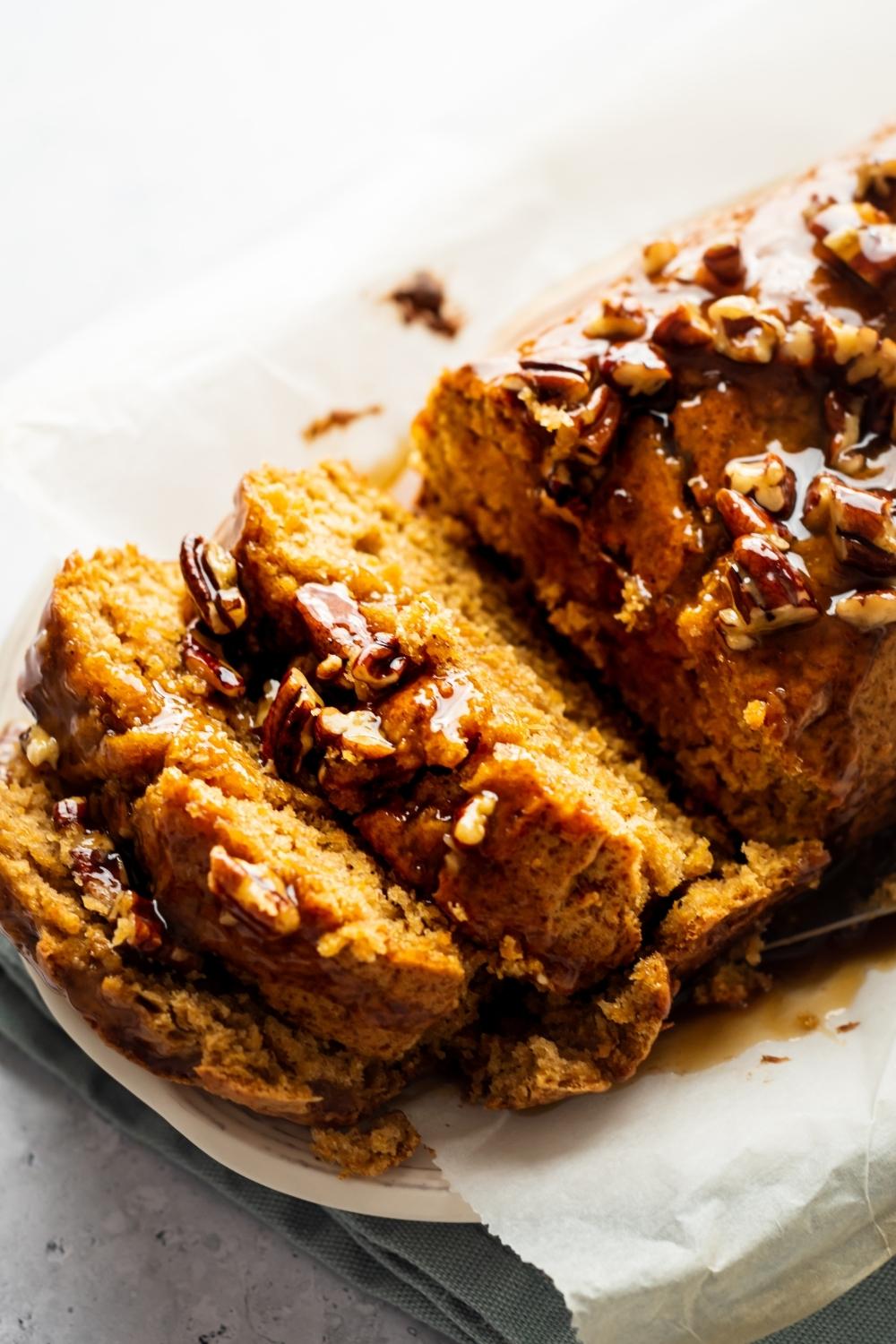 Ingredients You'll Need
Don't be intimidated by the ingredient list for this delicious pound cake! Most of them are kitchen staples, like eggs, flour, sugar, butter, and spices.
Anyway, here's everything you'll need to make it:
1 ½ cups sweet potato puree (or cooked mashed sweet potatoes)

3 cups all-purpose flour
1 ½ cup butter
¾ cup brown sugar
4 eggs
1 ½ cup sour cream
1 tablespoon vanilla extract
2 teaspoons baking powder
1 teaspoon baking soda
1 teaspoon cinnamon
1 teaspoon ground ginger
¼ teaspoon nutmeg
½ teaspoon salt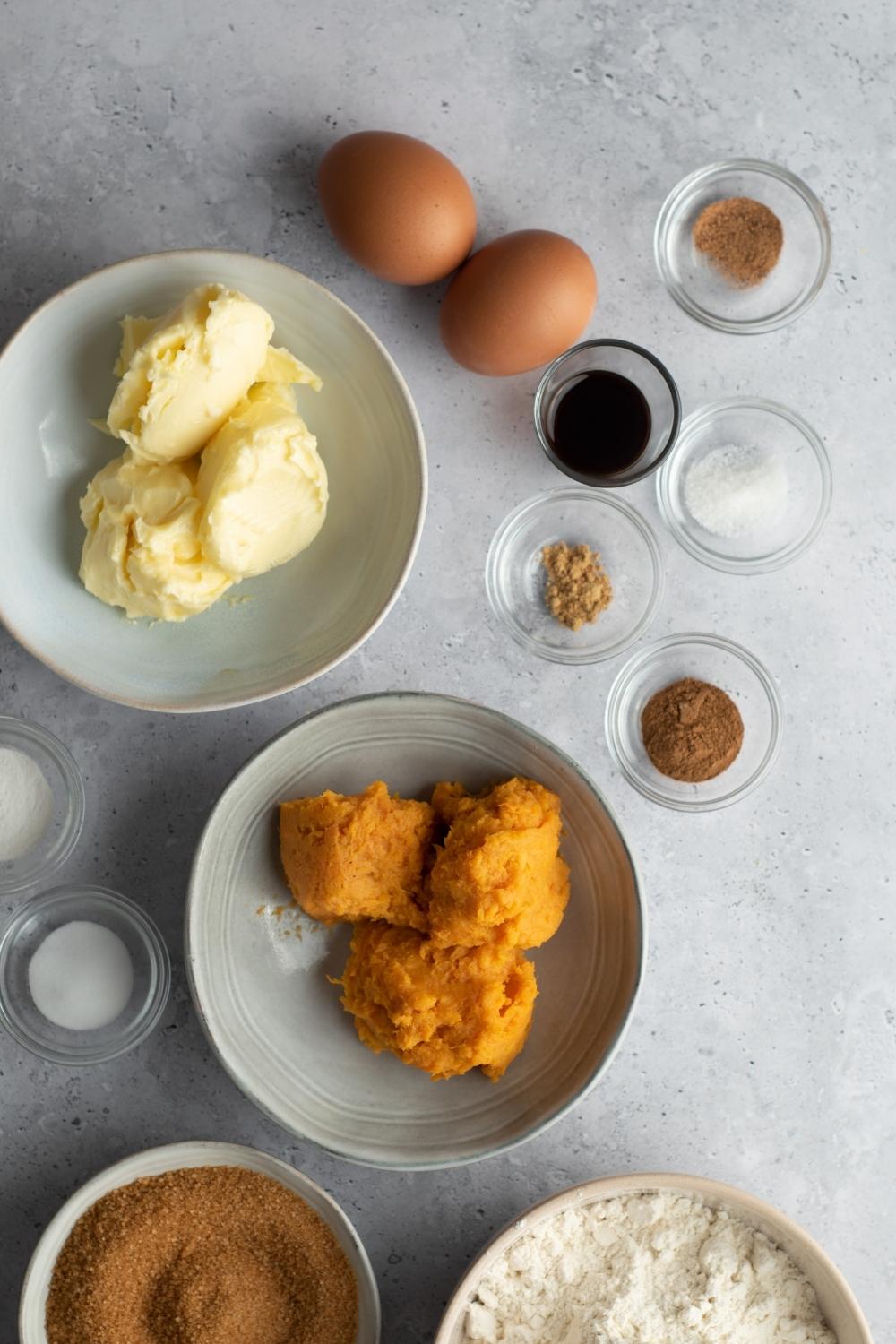 And for the maple brown sugar praline sauce, you'll need:
1 cup brown sugar
1 cup chopped pecans
½ cup butter
¼ cup maple syrup
½ cup heavy cream
Pretty simple stuff, right?
For what it's worth, you can use a lot of these same ingredients to make this Italian hangover cake as well. So, if you end up with some leftovers of them, consider putting them to good use and make that recipe too.
By the way, you'll definitely want to pick up some extra sweet potatoes if you're headed to the grocery store. You can use them to make this old fashioned sweet potato pie or these sweet potato muffins next! Both of them have the perfect sweet potato flavor combined with a selection of ingredients that create two more absolutely delicious recipes.
Ingredient Substitutions and Additions
For the mashed sweet potatoes, you can use fresh sweet potatoes if you can't find pureed ones. You can also roast sweet potatoes before mashing them. Roasting brings out the sweetness of sweet potatoes even more.
You can also put your own twist on this delicious cake. For instance, you can brighten up the sweet potato flavor with a cream cheese glaze or cream cheese frosting.
Don't have much of a sweet tooth? Let the cake cool, then give it a light dusting of powdered sugar for a less sweet version.
Now, I love using pecans in this recipe, but you could also use walnuts or almonds. You can also make a few substitutions if needed, such as switching out plain yogurt for the sour cream or using white sugar instead of brown sugar.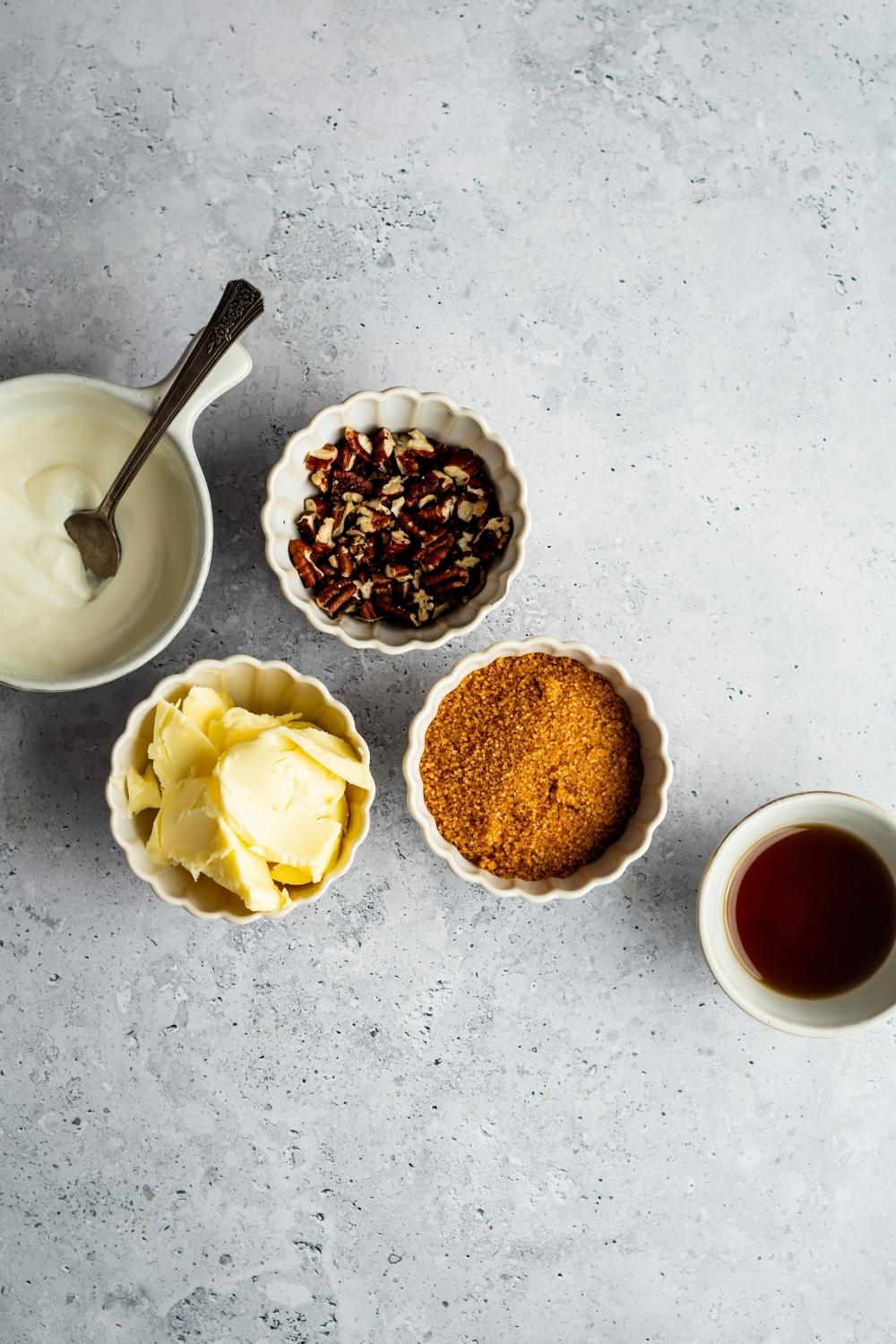 How to Make Sweet Potato Pound Cake
As I've mentioned a few times, this recipe is so much easier than the result looks.
I mean, this sweet potato pound cake looks like it came straight from a bakery, but you'll be whipping it up in your kitchen in just a few steps!
Anyway, let's not waste another second and dive into the steps you'll want to follow to make it!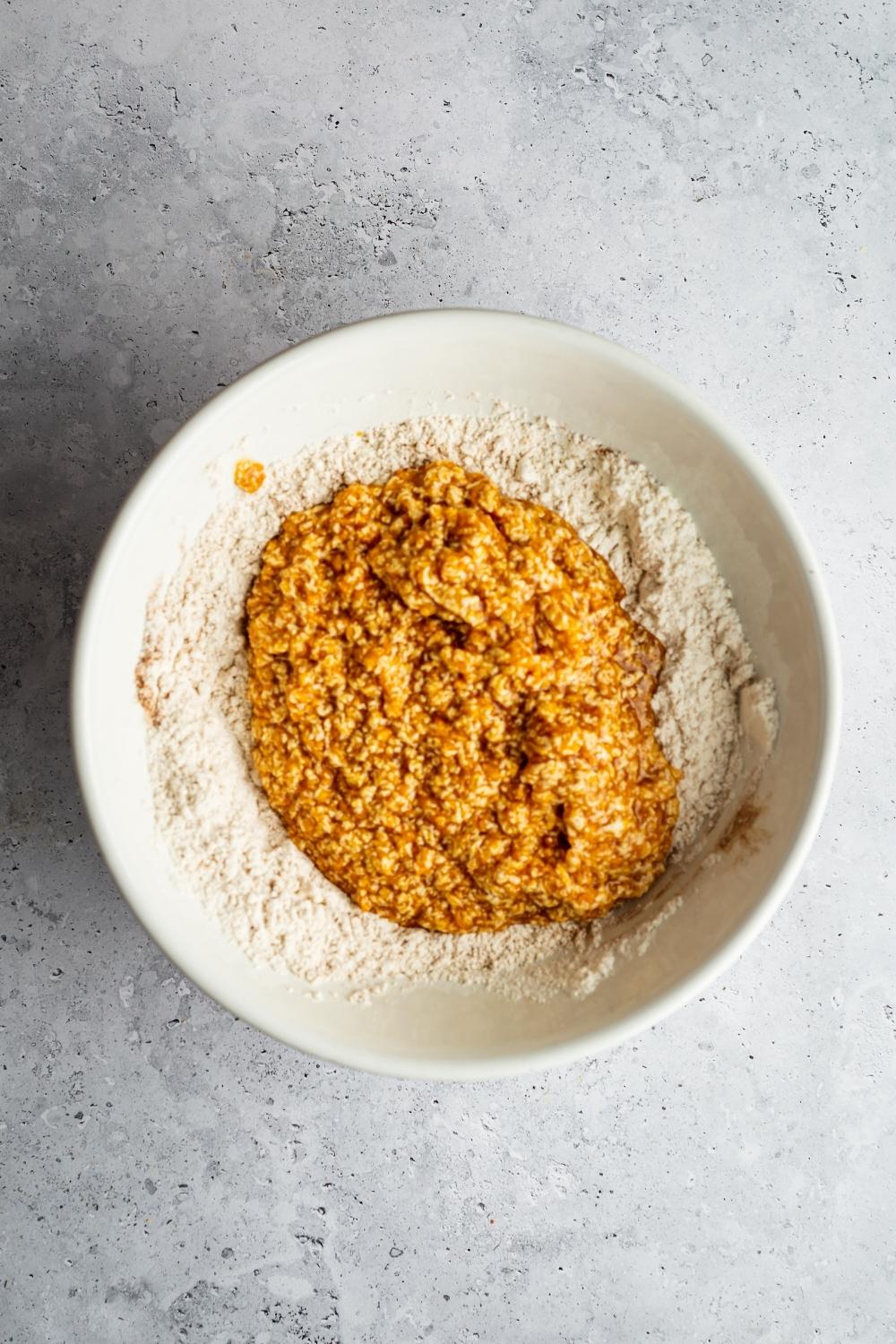 Step 1: Prep Work
First things, first, preheat your oven to 350°F (180°C), and line a pound cake pan, loaf pan, or bundt cake pan with parchment paper. You can also generously grease the pan with butter - or baking spray - if you don't have parchment paper.
Next, make sure your eggs, sour cream, sweet potato mash, and butter are all at room temperature. This will help them incorporate better into the cake batter. You also avoid over-mixing the batter, which can make your cake tough.
Then, measure out your dry and wet cake ingredients directly into their respective bowls. This way, you can just dump everything into the bowl without having to stop and measure as you go.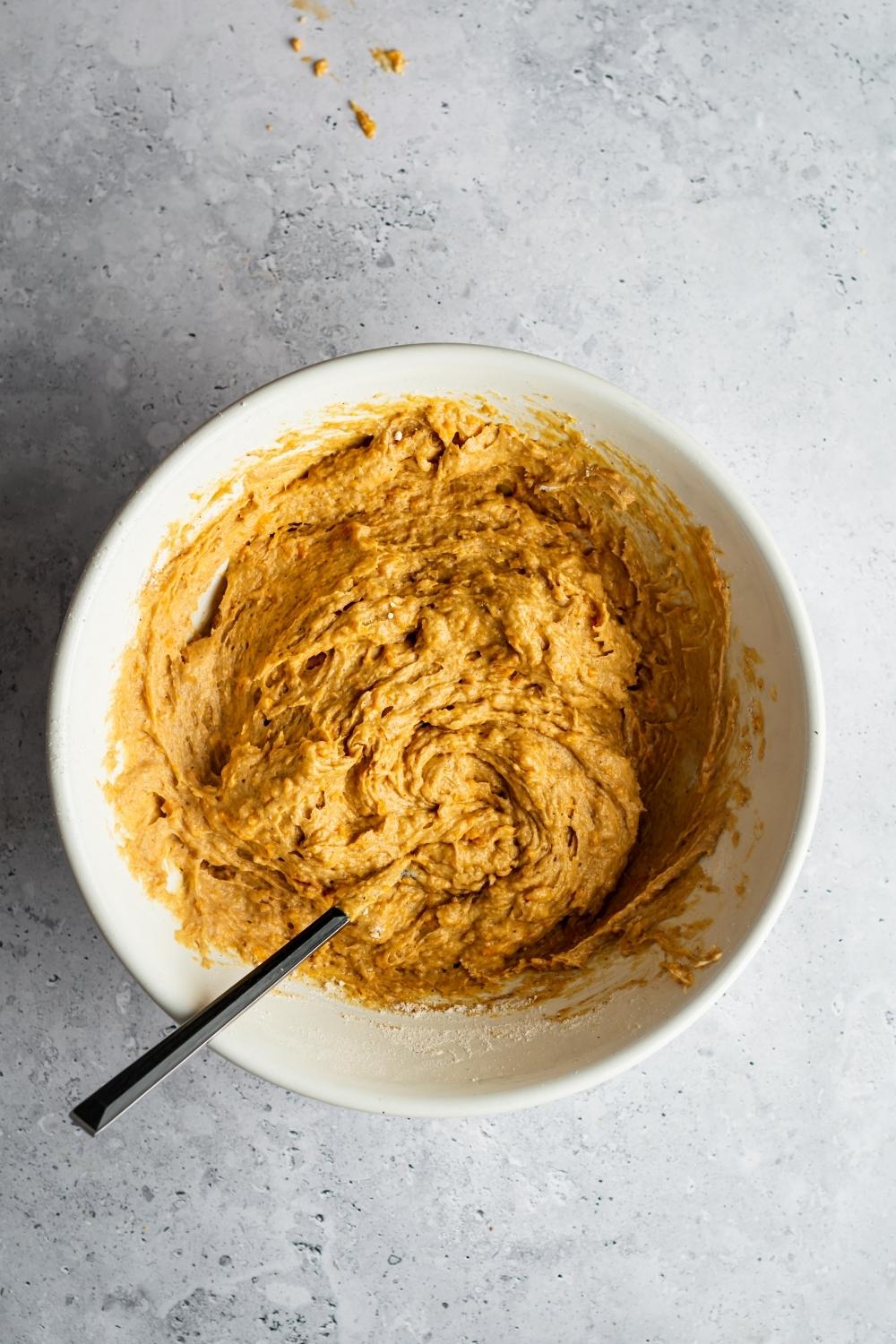 Step 2: Make the sweet potato batter
Now, in a large bowl, add the flour, brown sugar cinnamon, ginger, nutmeg, salt, baking soda, and baking powder. Give it a good mix, so everything combines.
In a separate bowl, whisk together the eggs, sour cream, butter, sweet potato puree, and vanilla extract until smooth.
Then, pour the spiced flour mixture into the bowl of wet ingredients. Gently fold everything together until combined. Be careful not to overmix the batter.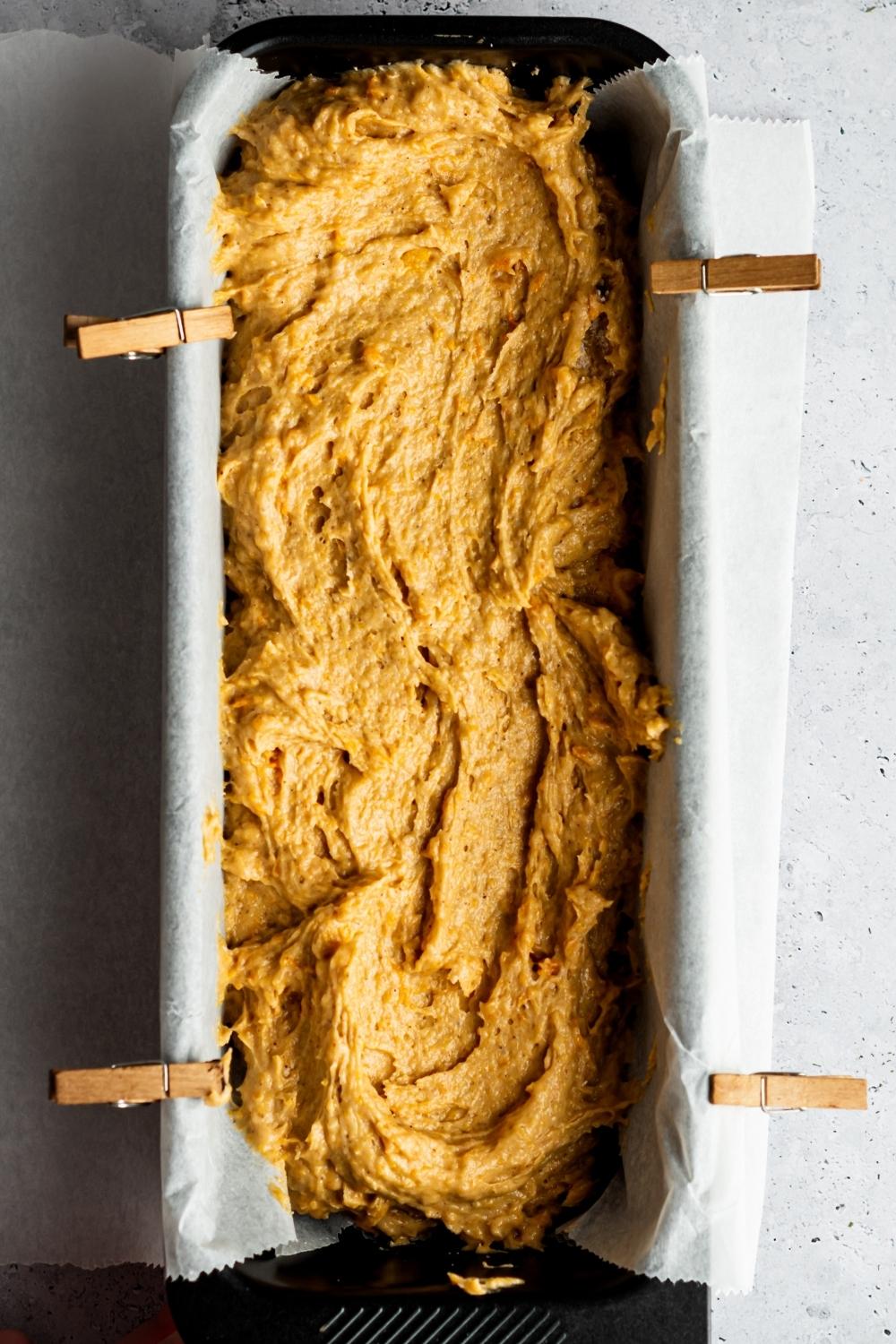 Step 3: Baking The Pound Cake
Now that pound cake batter is prepared, pour the cake batter into the loaf pan, then place it in the oven. Any size loaf pan really works, it will just change the thickness of your pound cake.
Bake the sweet potato pound cake for about 50-60 minutes or until a toothpick comes out clean when inserted into the center of the cake.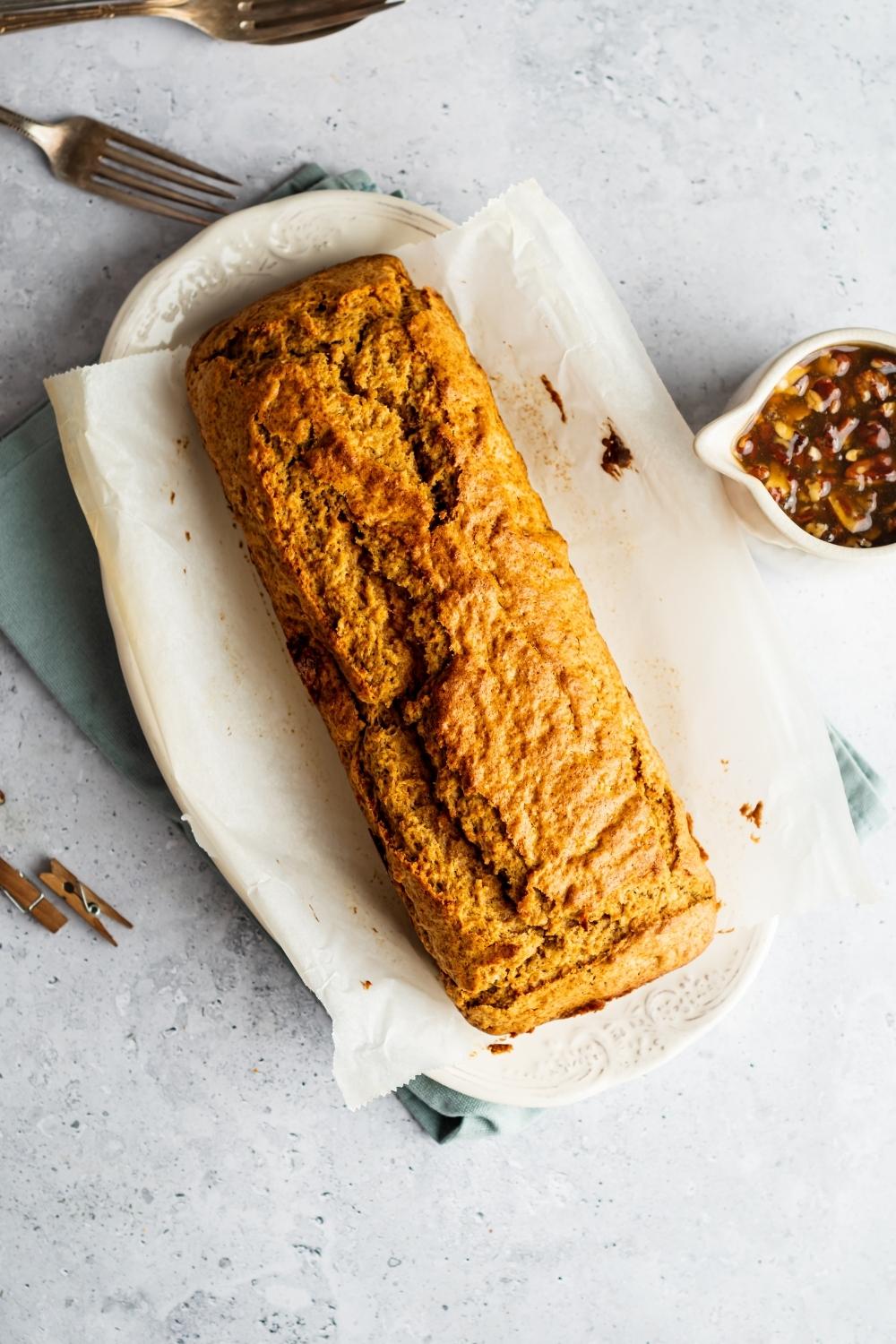 Step 4: Make The Maple Brown Sugar Praline Sauce
When the cake is almost done baking, it's time to make the mouthwatering maple brown sugar glaze. This is seriously the easiest (and most delicious) part!
Simply place all of the glaze ingredients, that would be the brown sugar, chopped pecans, butter, heavy cream, and maple syurp, into a small but deep saucepan and set the temperature of your burner to low. This will prevent the sauce from burning.
Now, cook the sauce, stirring frequently, until the sugar is melted and the mixture resembles caramel sauce. Then, take it off the heat and set it aside until the cake is ready.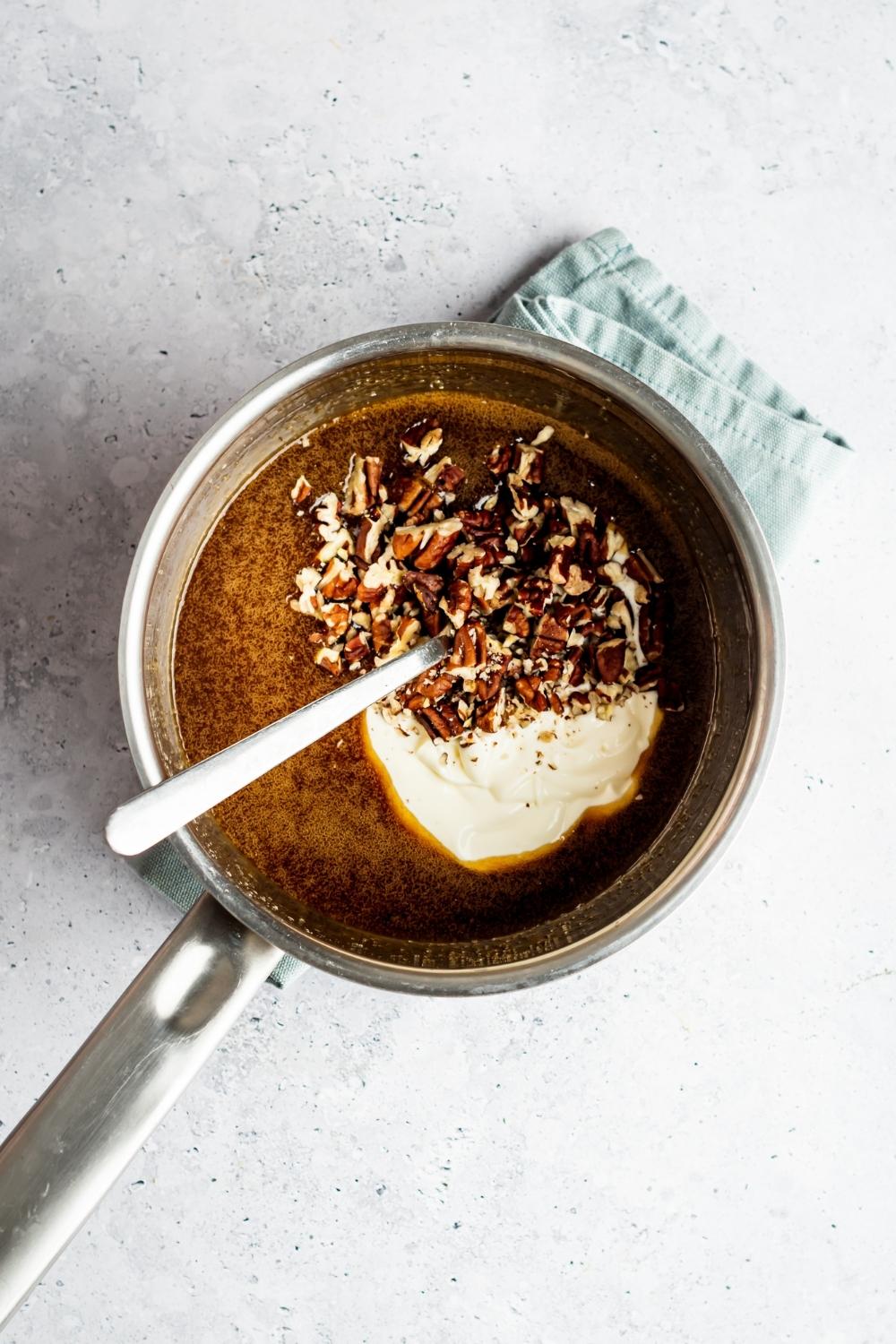 Step 5: Glaze The Pound Cake
Once the sweet potato pound cake is baked, remove it from the oven and place it on a wire rack or directly on your cake plate.
Then, pour the prepared glaze over the hot pound cake, using as much or as little as you like. You can also poke holes in the cake with a skewer or fork to help the glaze seep in. And if you want, you can top it with more chopped nuts.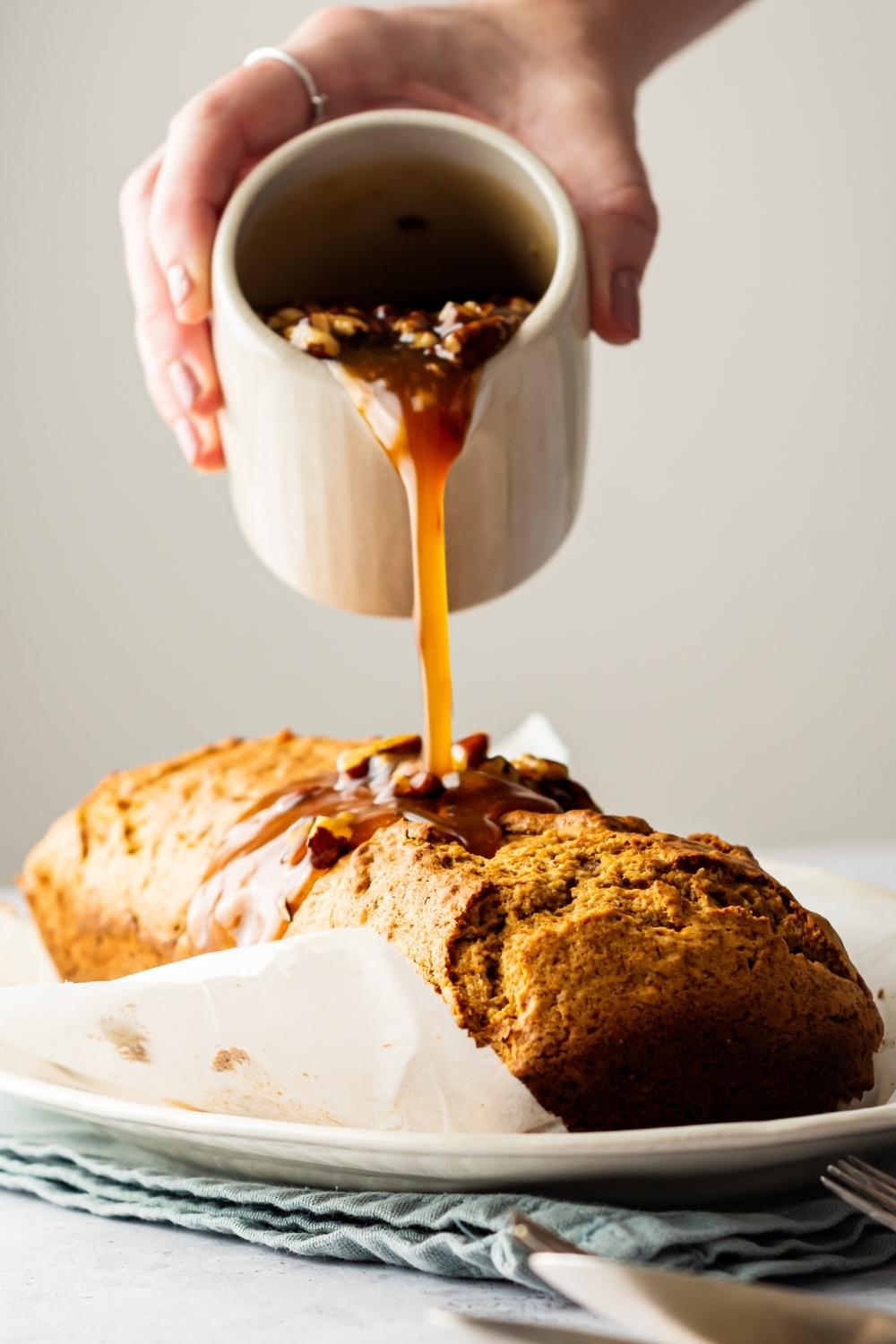 Step 6: Slice and serve warm
Allow the cake to cool for a few minutes so the glaze can set, then slice and serve warm.
I love eating this pound cake with a big glass of milk. Enjoy!
How I Recommend Storing The Pound Cake
This recipe will make about 10 slices of pound cake depending on how you slice it. It's honestly so good fresh out of the oven that I rarely have any leftovers. Everyone always eats it all the day I make it.
However, if you're lucky enough to end up with a few extra slices, you can store them sealed in an airtight container - or bag - for up to 5 days. Alternatively, you can refrigerate them and they'll last a few days longer - usually up to a week or more. f
Also, if you want to freeze the pound cake to save it for even longer you can totally do that as well. I recommend doing so without the glaze though. Otherwise, the sugar crystals will get hard and make the glaze grainy.
With that said, to freeze the sweet potato pound cake simply wrap the cooled cake tightly in plastic wrap, and then place it in a freezer bag. Stored like this it will stay good in the freezer for up to 2 months.
Then, when you're ready to eat, thaw the cake overnight in the fridge, then add the glaze and serve it as usual.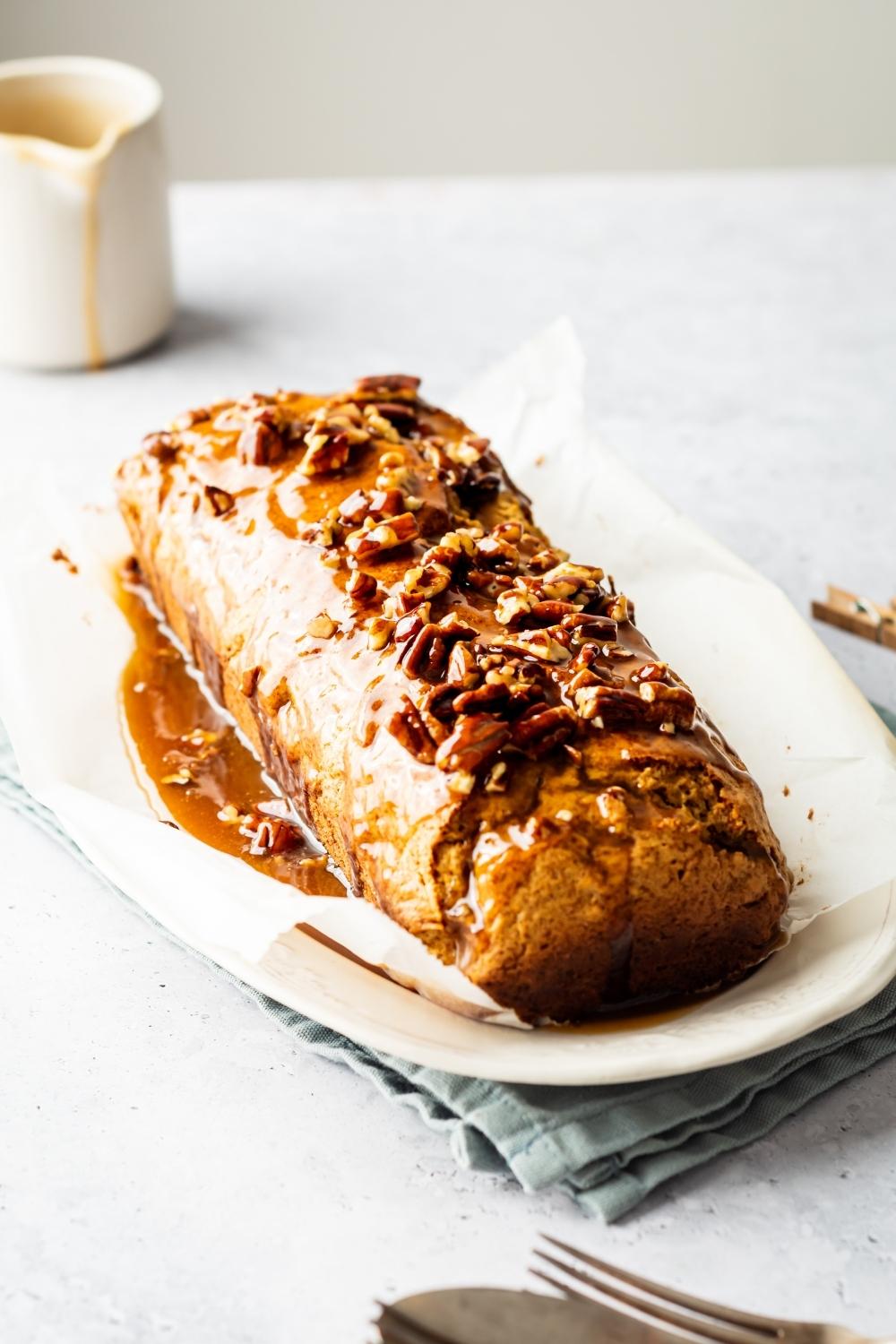 My Recommendations For Reheating The Cake
This sweet potato pound cake will taste delicious even when cold. But for the full hot, sticky, ooey-gooey amazing experience, I recommend reheating a slice in the microwave for about 10-15 seconds. Then, serve it immediately!
However, if you want to reheat the whole cake, I recommend placing it on a baking sheet and warming it up in an oven at 350°F for about 10-15 minutes - or until it's heated through. Also, I recommend covering it with foil to prevent the glaze from getting burnt.
My Final Thoughts
Well, that's how to make sweet potato pound cake!
This dream-worthy recipe deserves a spot on every fall spread. It's just too good not to make. The smell of warm spices filling your kitchen, the sound of the maple praline glaze bubbling in the pot, and that first bite into the warm cake...it's all just so, so wonderful!
Anyway, I hope you'll give this sweet potato pound cake recipe a try. If you do, please leave me a comment and let me know how it turned out!
More Fall Dessert Recipes
If you're looking for some equally delicious desserts to make this fall, there are a ton on the blog worth trying next!
Here are some of my favorite ones:
Oh, and of course, for more easy to make dessert recipes, be sure to check out our Instagram, YouTube, and TikTok pages. We post new ones on them all of the time.
Yield: 10 Slices
Sweet Potato Pound Cake With Brown Sugar Maple Glaze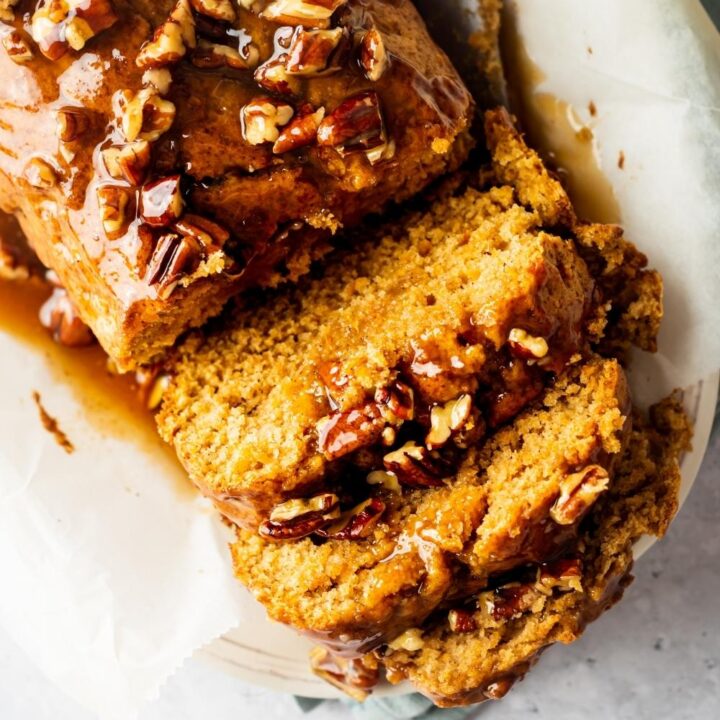 This sweet potato pound cake is so tender, full of warm spices, and topped with a luscious maple brown sugar praline sauce. It's just so good and so simple to make that you'll want to make it all fall long!
Ingredients
Maple brown sugar praline sauce:
1 cup brown sugar
1 cup chopped pecans
½ cup butter
¼ cup maple syrup
½ cup heavy cream
Instructions
Preheat the oven to 350°F (180ºC).
In a bowl, combine flour, brown sugar, baking powder, baking soda, cinnamon powder, ginger powder, nutmeg, and salt.
In another bowl, mix butter, sweet potato pure, eggs, sour cream and vanilla extract.
Combine wet and dry ingredients.
Line a baking pound cake pan with parchment paper and scoop the batter.
Bake for 50-60 minutes, or until a toothpick comes out clean.
Combine the brown sugar, nuts, butter, heavy cream and maple syrup in a pot and melt. Continue stirring at low heat until it looks like caramel.
Serve the pound cake with the syrup on top.
Nutrition Information:
Yield:
10
Serving Size:
1 Slice
Amount Per Serving:
Calories:

572
Total Fat:

45g
Saturated Fat:

27g
Trans Fat:

2g
Unsaturated Fat:

16g
Cholesterol:

206mg
Sodium:

458mg
Carbohydrates:

62g
Fiber:

3g
Sugar:

27g
Protein:

10g