This spinach casserole is super cheesy, packed with hearty spinach, and has crunchy breadcrumbs on top. Plus, this casserole recipe is about as easy as it gets - just a few simple steps are all you need to follow to make it!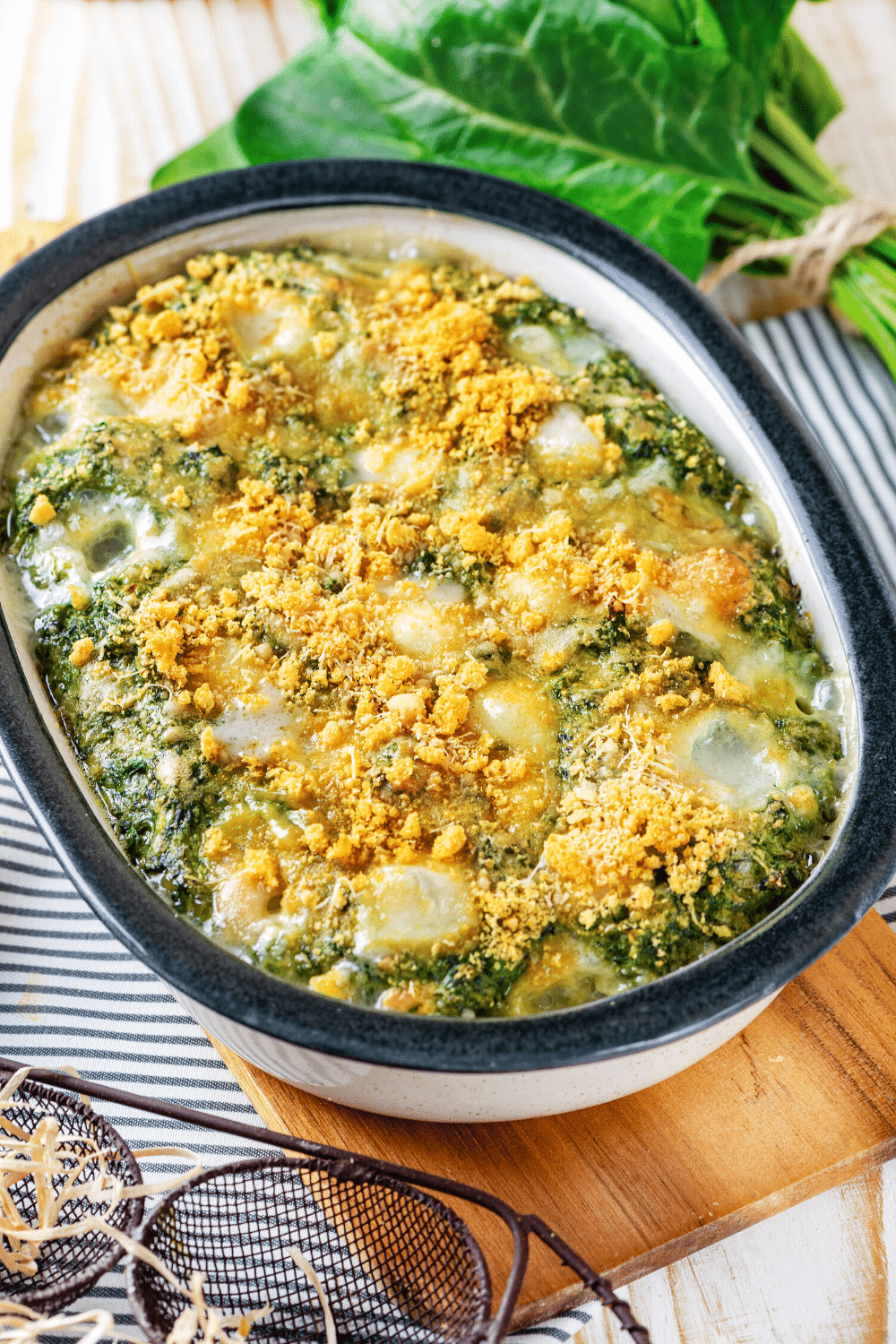 THE BEST SPINACH CASSEROLE RECIPE
If you're looking for the most delicious cheesy spinach casserole, well, you've found it. This recipe is a hearty, healthy, and super tasty way to add some more fresh spinach to your diet.
It's like eating creamed spinach but so much better. This recipe combines two kinds of cheese for an extra cheesy experience. But this is more than just cheesy. It's delicious! I mean, there are tender pieces of fresh creamed spinach and crunchy bits of breadcrumbs in every bite.
This easy spinach casserole recipe is so versatile, too. It literally goes with anything. And that's not an exaggeration. Having said that, though, my favorite side dish to pair it with is this huli huli chicken- the combination of the two makes for an absolutely awesome summer meal.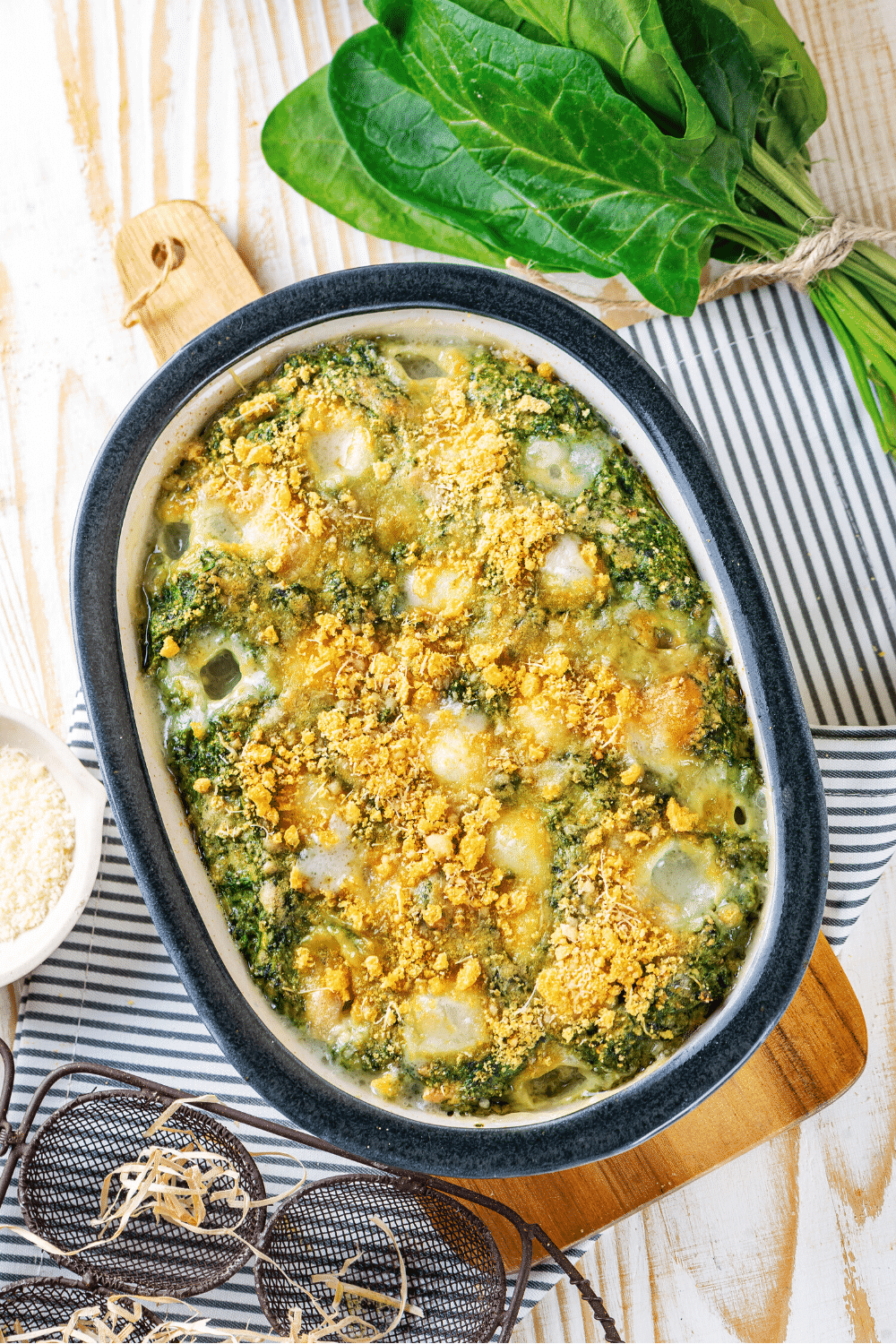 Ingredients Needed
Olive oil

Onion- white onion chopped.
Garlic cloves- minced.

Feta cheese

Eggs- two large ones.
Flour- all purpose flour works best.
Spinach- fresh spinach or frozen spinach. If you're using frozen, make sure that you thaw it and drain it. You also won't have to wilt it down before starting the recipe.

Shredded cheddar cheese

Breadcrumbs- regular or panko.

Salt and pepper
If you want to give some more recipes with spinach a try, you have to give this spinach, feta, and rice casserole, curry shrimp, and salmon pasta a try next! I think they're some of the best spinach recipes!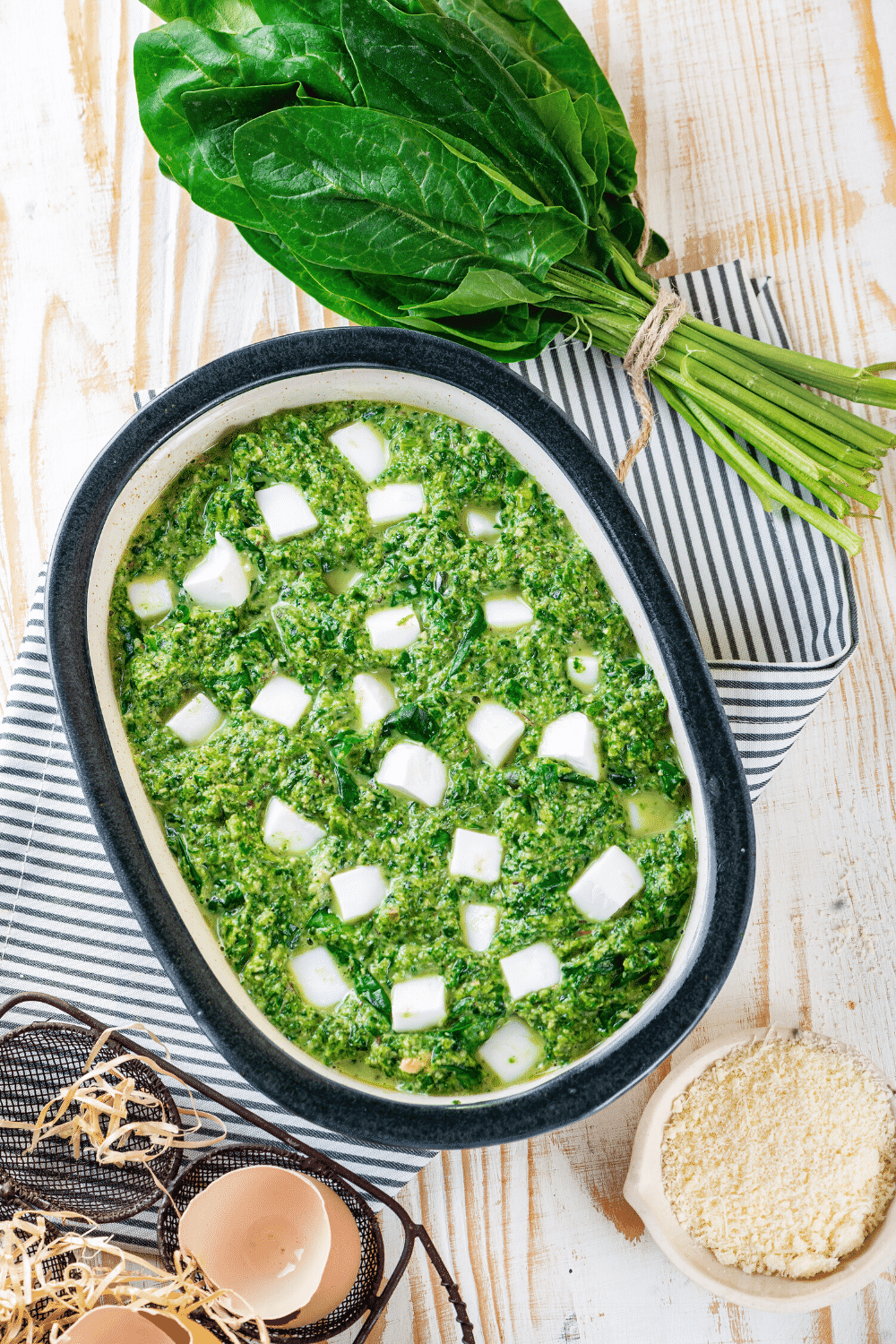 How To Make Cheesy Spinach Casserole
Making this spinach casserole is a super simple process. And the majority of the time is just waiting for it to bake in the oven.
And when you are waiting for it to bake, you'll have plenty of time to cook a main dish to go along with this spinach casserole. Or, you can always just enjoy this casserole as your main dish and be perfectly satisfied too.
Anyway, let's get cooking!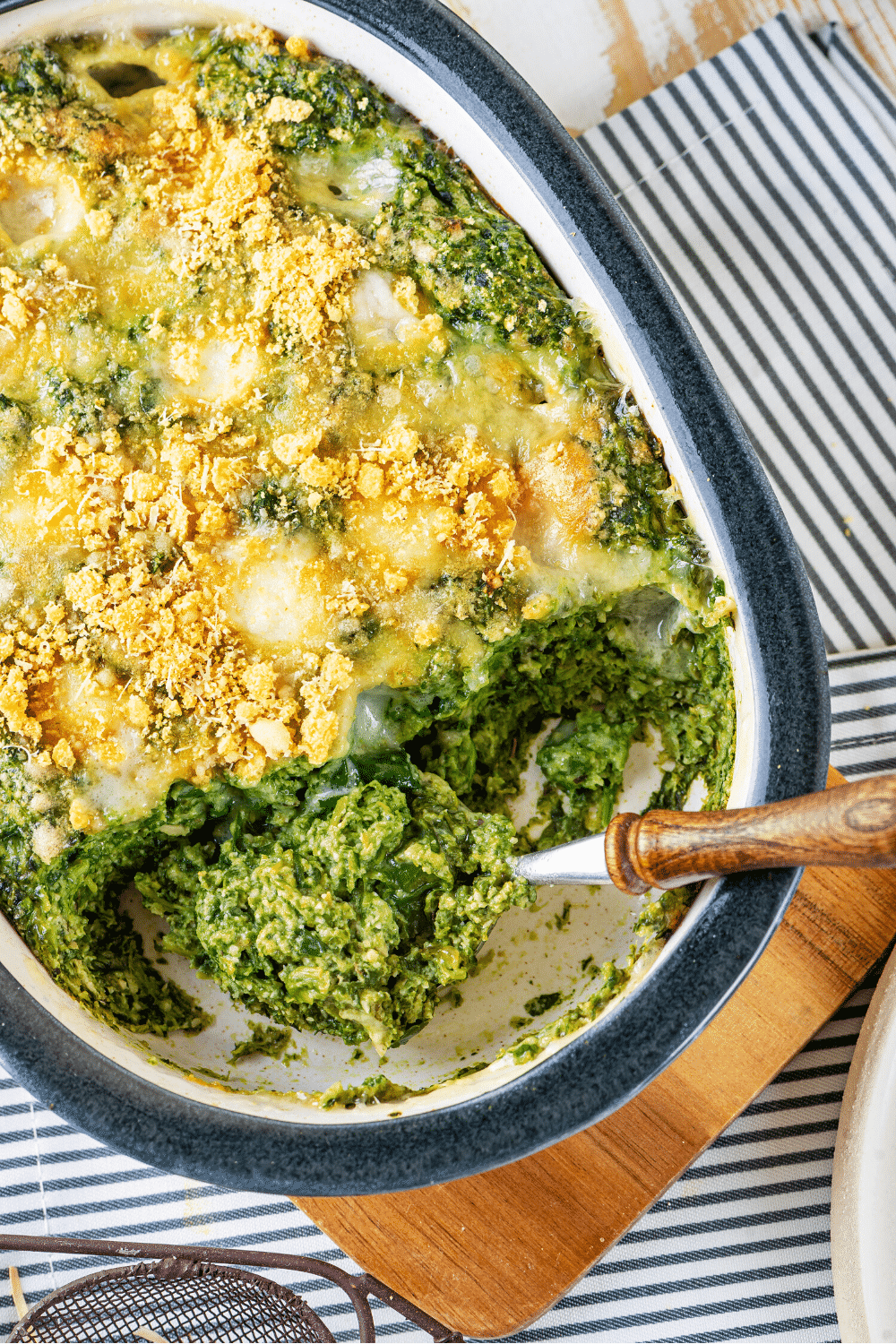 Step 1: Preparing The Casserole
The first thing you're going to want to do is to preheat oven to 350°F (177°C) and then grease a 1 quart or 9x5 baking dish.
Next, in a pan on medium heat, cook the chopped onion with a little butter for about 3-4 minutes until it is soft. Then, add in the minced garlic and cook for about 1 more minute.
Now, if you are using fresh spinach, add it to the pan, and cook it until it is wilted - no liquid should be coming from it either.
Then, when the cooked spinach has reached that stage, let everything cool.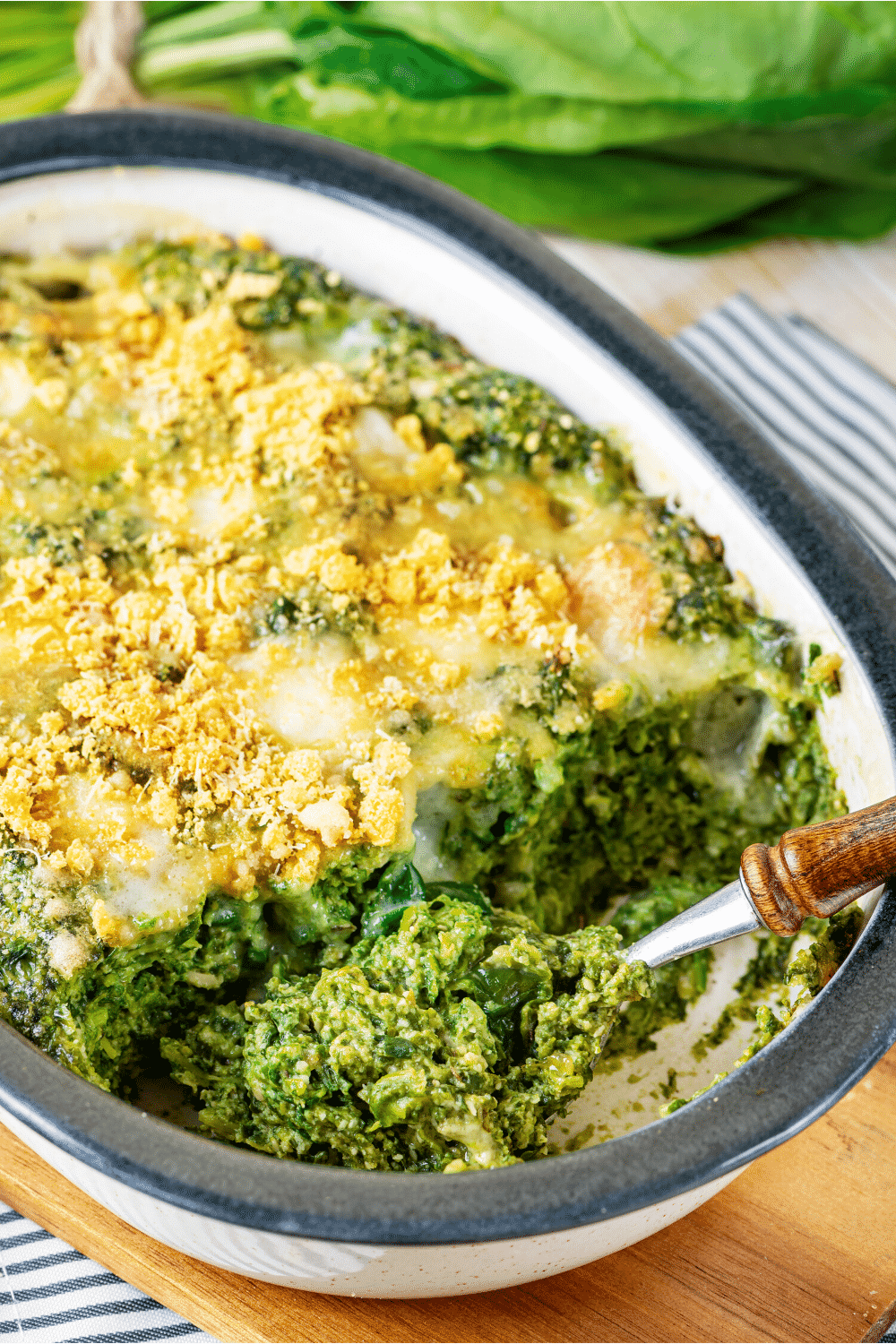 Step 2: Combining Everything And Baking
Ok, so now that everything is cooked in your pan, you'll want to add in the eggs, salt, pepper, flour, and cheddar cheese. Then, after you've done that, you can mix all of your ingredients together in the pan, and then transfer everything to the prepared baking dish.
Now, at this point, you can add the feta cheese to the top layer of the casserole, and then sprinkle the breadcrumbs evenly on top of it too.
Then, all you have to do is bake the casserole for about 35-45 minutes - or until the crispy breadcrumbs on top are golden brown and the cheese is melted.
Finally, top with parmesan cheese, serve this side dish with anything you want, like Martha White cornbread and Southern meatloaf, and enjoy!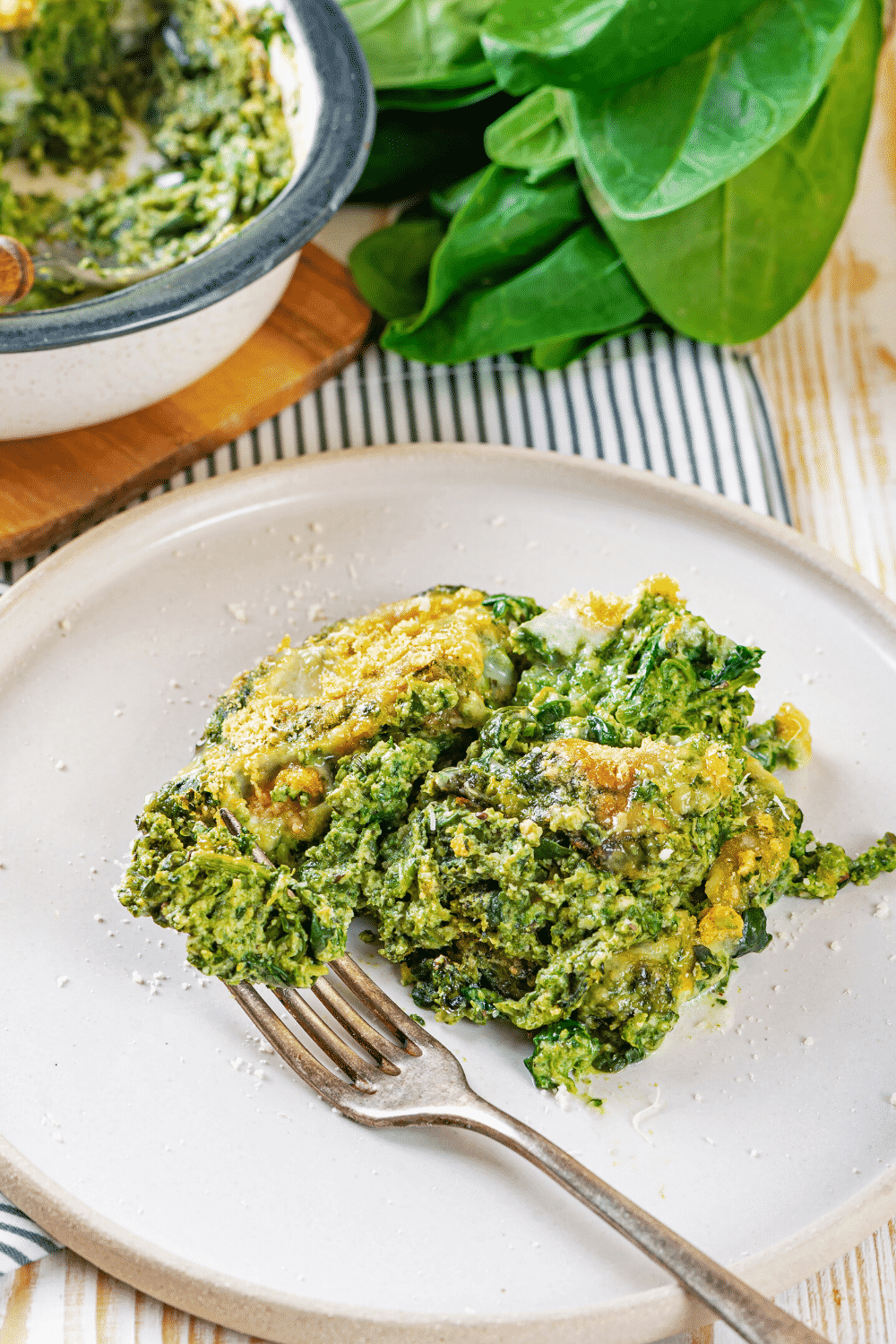 How To Store Spinach Casserole
This spinach casserole recipe makes 4 servings. So, if you are making it for a family dinner, odds are you won't have any leftovers. But if you are making it for yourself, you can look forward to having this delicious healthy side dish for the next few days.
That said, your fresh spinach casserole will last in the refrigerator for up to 4 days. And if your baking dish has a lid, I recommend keeping the casserole in the casserole dish to store it - this will make it super easy to reheat. But if your baking dish does not have a lid, you can either wrap it tightly in plastic wrap or transfer the leftover spinach casserole to an airtight container.
By the way, I don't recommend freezing this creamed spinach casserole because the casserole will become super watery after the spinach thaws.
How To Reheat This Casserole
So, if you stored this casserole, odds are you'll want to warm it up. To reheat spinach casserole, all you have to do is put your baking dish in the oven at 325°F (163°C) until it is warmed through - or reaches your desired temperature. Alternatively, you can reheat spinach casserole in the microwave in 20-second increments until warm.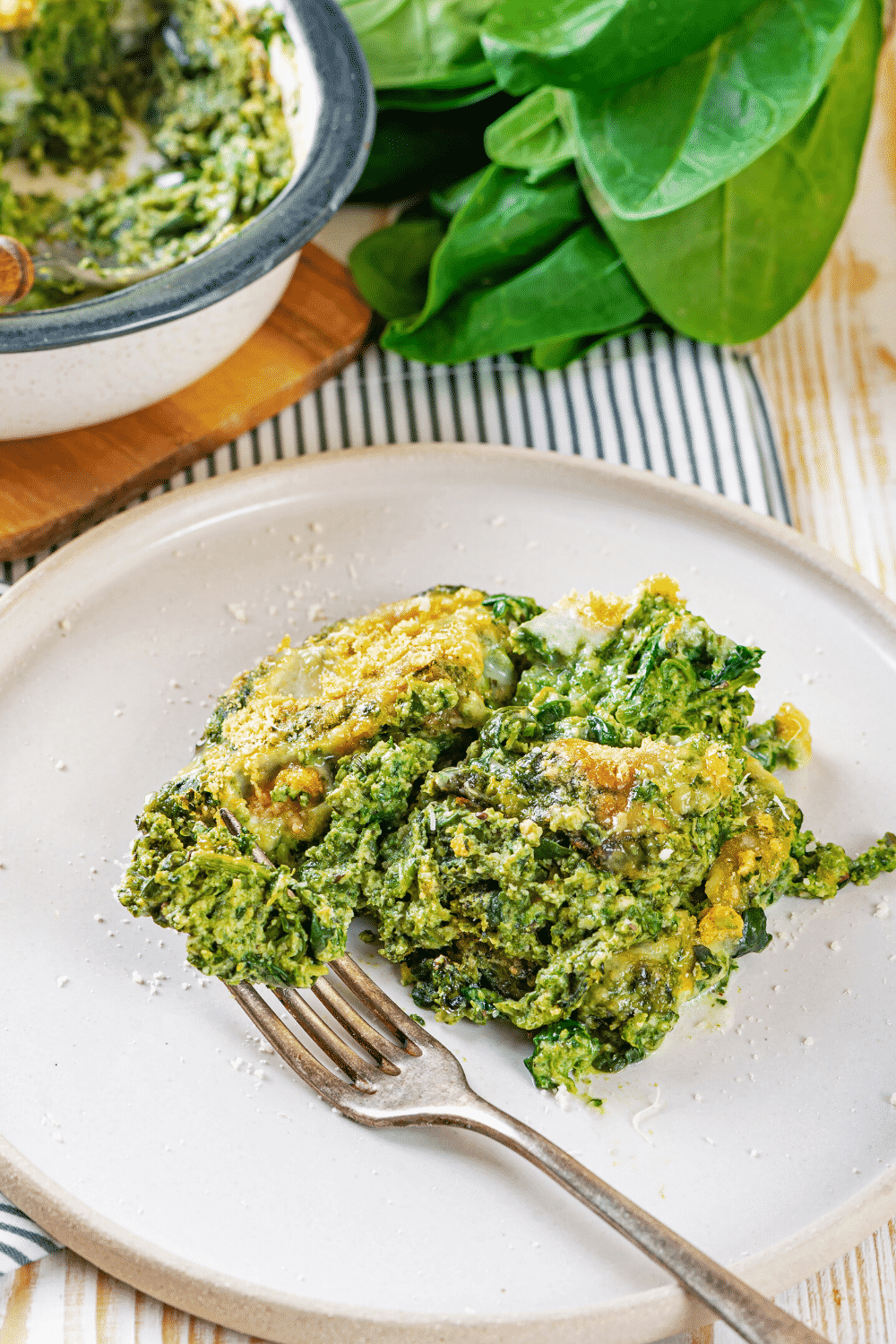 My Final Thoughts
That is how to make spinach casserole in just a few easy steps!
This recipe is a keeper if you are looking to add some healthy greens to your meal in a tasty way or just love cheesy casseroles.
Everyone always loves this casserole, and it's perfect for the holidays, like Thanksgiving, or just for a family weeknight dinner. Honestly, it's one of my family's favorite Thanksgiving casseroles, and we make it every year.
Anyway, I hope you enjoy this creamed spinach casserole recipe as much as my family, and I do! If you make it, leave a comment below and let me know your thoughts. By the way, if you liked this leafy greens recipe, you'll want to check out this turnip greens recipe next!
Oh, and for more easy recipes, check us out on YouTube, TikTok, and Instagram.
More Casserole Recipes
Yield: 6 servings
Cheesy Spinach Casserole With Bread Crumbs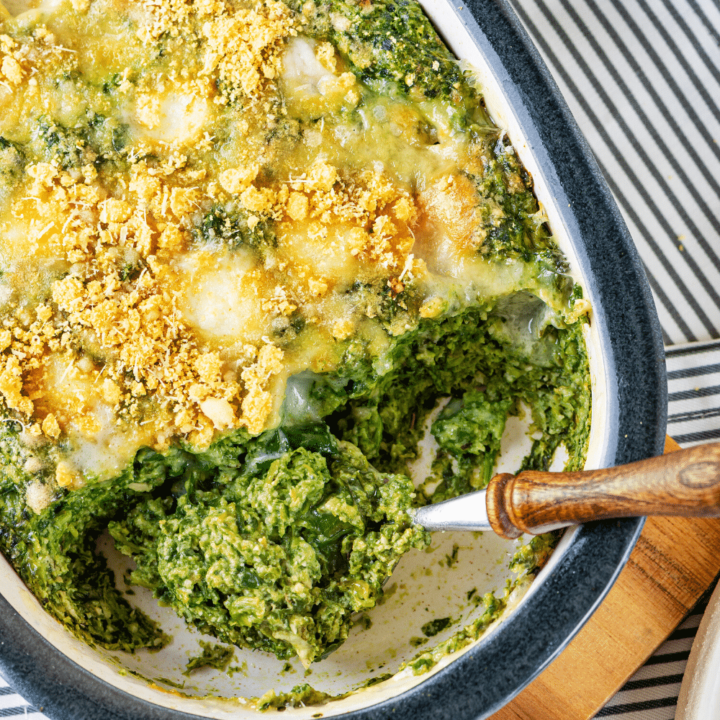 This spinach casserole is super cheesy, packed with hearty spinach, and has crunchy breadcrumbs on top. Plus, this casserole recipe is about as easy as it gets - just a few simple steps are all you need to follow to make it!  
Ingredients
2 tablespoon (28g) olive oil
1 medium onion (170g), chopped
2 garlic cloves (8g), minced
½ cup (75g) crumbled feta cheese
2 large eggs
1 tablespoon (14g) flour
13 cups (400g) chopped spinach (frozen or fresh)
1 cup (112g) shredded cheddar cheese
½ cup (60g) breadcrumbs (or almond flour to make low carb)
salt and pepper
Instructions
Preheat the oven to 350 degrees and grease a 1 qt baking dish.

In a pan cook onion with butter for 3 to 4 minutes until soft. Add garlic and cook for 1 more minute. Add chopped spinach and cook until it's wilted and you don't see any liquid in the pan. Let it cool a little.

Add eggs, salt and pepper, flour, and cheddar cheese. Mix well and transfer to the casserole dish.

Place feta cheese evenly on top and push it in a little.

Sprinkle breadcrumbs on top. Bake for 35 - 45 minutes.
Notes
The grams scale-up function does not work properly so you'll have to do it manually.
Nutrition Information:
Serving Size:
1 serving
Amount Per Serving:
Calories:

200
Total Fat:

13.5g
Saturated Fat:

0g
Trans Fat:

0g
Unsaturated Fat:

0g
Cholesterol:

0mg
Sodium:

0mg
Carbohydrates:

9.6g
Fiber:

0.6g
Sugar:

0g
Protein:

9.8g