This Ocean Spray cranberry bread recipe combines sweet and tart flavors in soft and moist bread to make the perfect festive recipe. It's made with cranberries, fresh orange juice, and savory nuts, and it's bound to become your new favorite sweet bread recipe!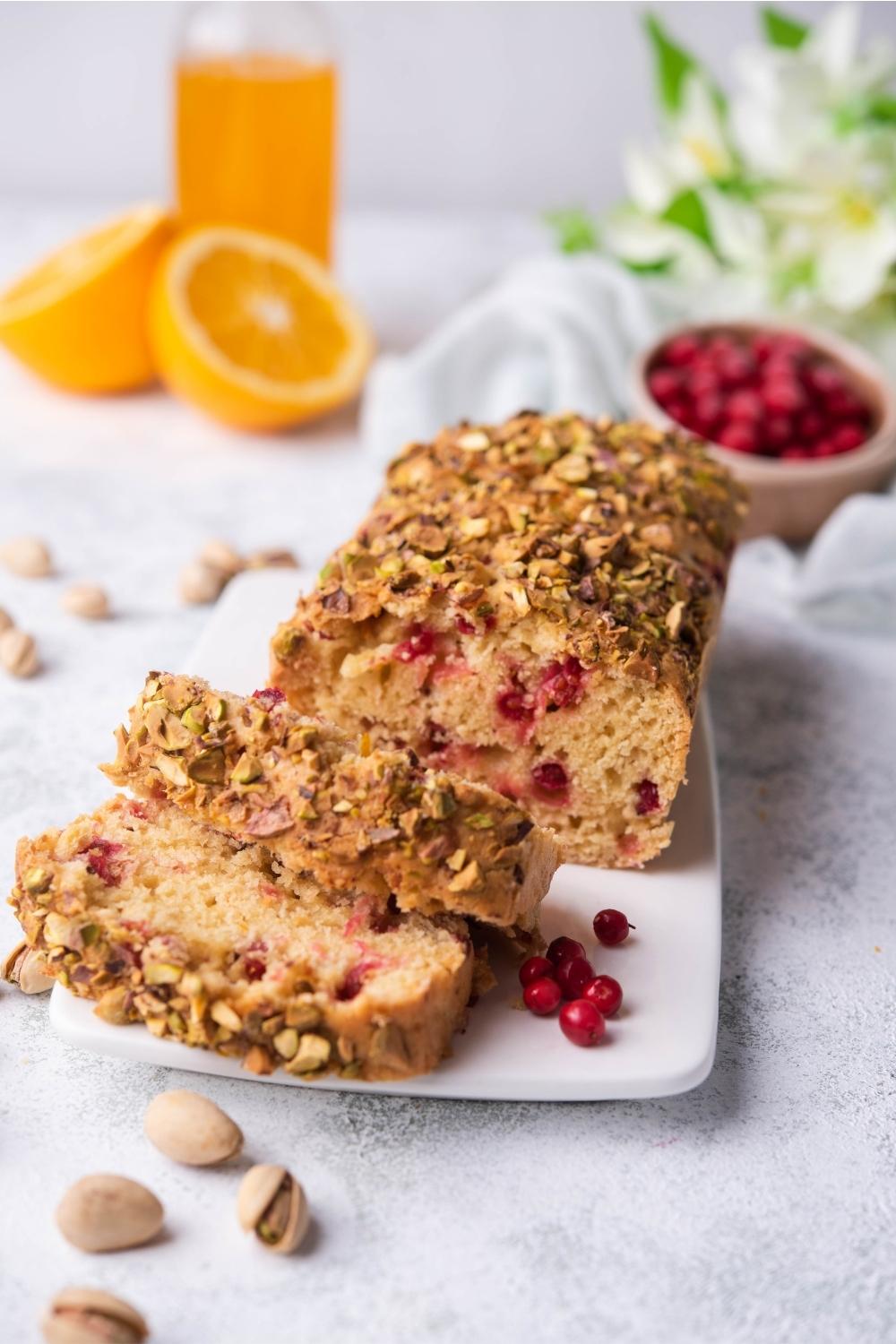 My Take On Cranberry Bread
Whether you're looking for a unique dessert for the holiday season, this recipe is perfect for you.
Now, if you're like me, you probably buy too many cranberries during the holidays and then never end up knowing what to do with all of them. So, that's exactly why I came up with this easy cranberry bread recipe.
It has the perfect balance of sweet flavors along with the tart cranberries, and it's wonderfully moist and soft and just tastes delicious.
It's one of the best things to make as a side for Thanksgiving dinner or really any Holiday. But don't wait for them to make this bread. It's the perfect bread recipe for your lunch or as an afterschool snack for the kids.
And my favorite part about this recipe is how easy it is to make! With no kneading required, you can have this cranberry nut bread recipe baked and on the table in just about an hour.
So, while it's baking, you'll have plenty of time to whip up some more Thanksgiving dishes like this seafood stuffing and these cheesy mashed potatoes.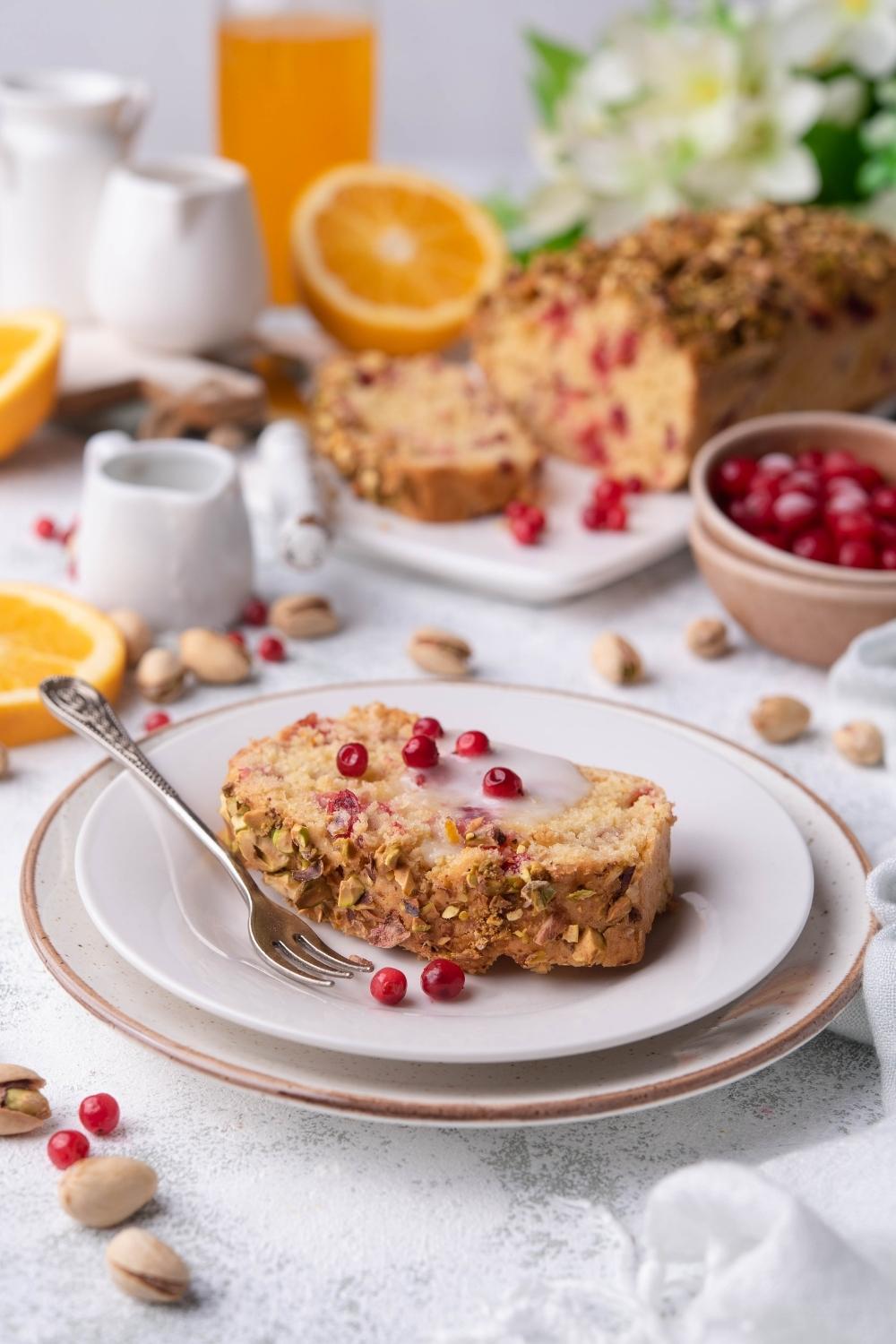 Ingredients
Here's everything you'll need to make Ocean Spray cranberry orange bread:
Brown sugar- for a delicious hint of sweetness.
Butter- to keep the bread light and moist. Make sure to use softened butter.
Egg- essential for the dough.

All-purpose flour and b

aking powder- for the base of the bread

Freshly squeezed orange juice and freshly

grated orange peel- for a delicious citrus flavor.
Cranberries- I used frozen, but you can use fresh cranberries or dried cranberries.
Chopped pistachios- for a little crunch. Pecans or walnuts also work great.
And for the optional glaze:
Confectioners sugar- for that melt-in-your-mouth sweetness.
Vanilla extract- for flavor.
Milk- any milk you want will work. Use more to make the glaze thinner or less to make it thicker.
By the way, if you're grabbing frozen cranberries from the store, make sure to pick up extra so you can make this Ocean Spray cranberry sauce too!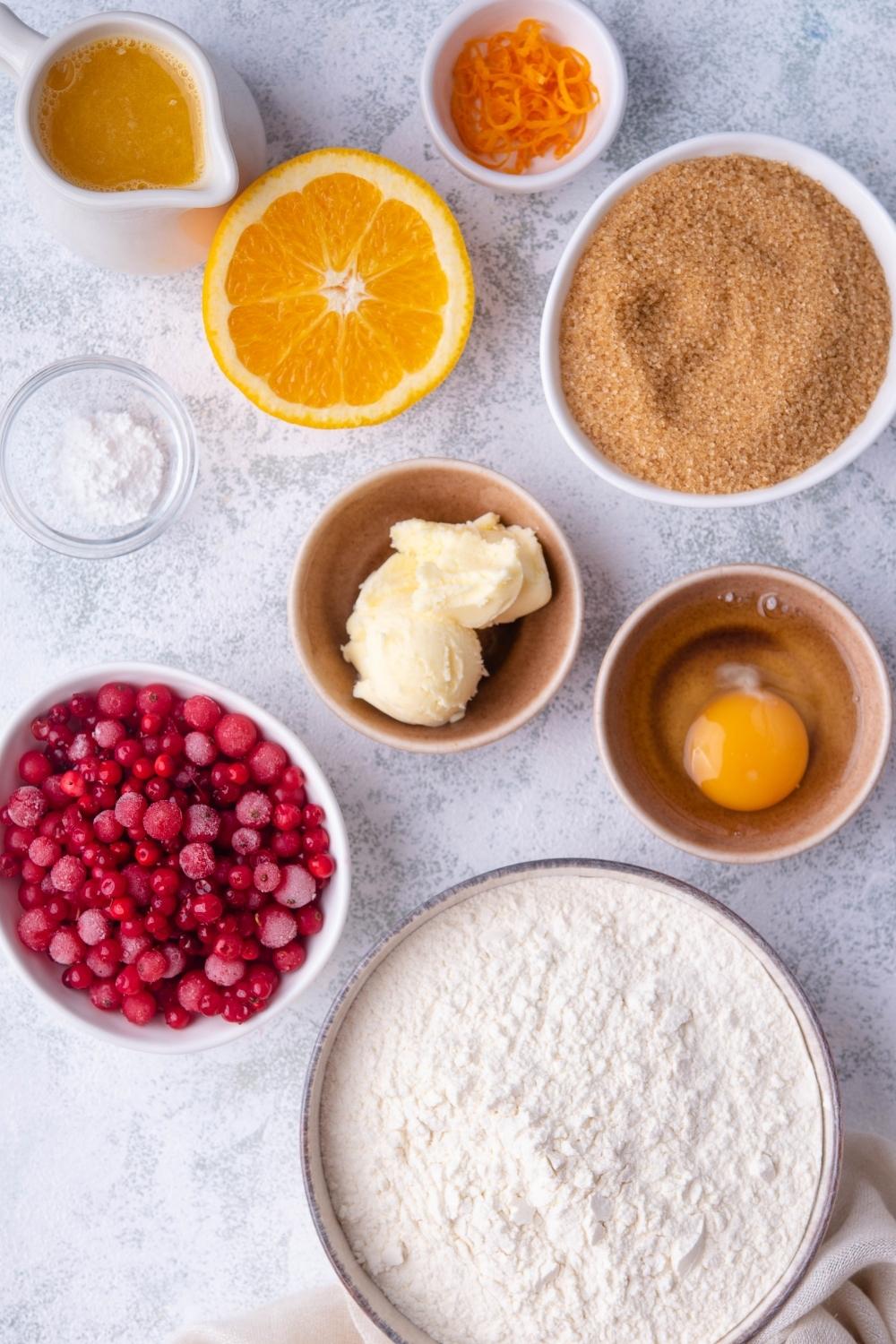 How To Make Ocean Spray Cranberry Bread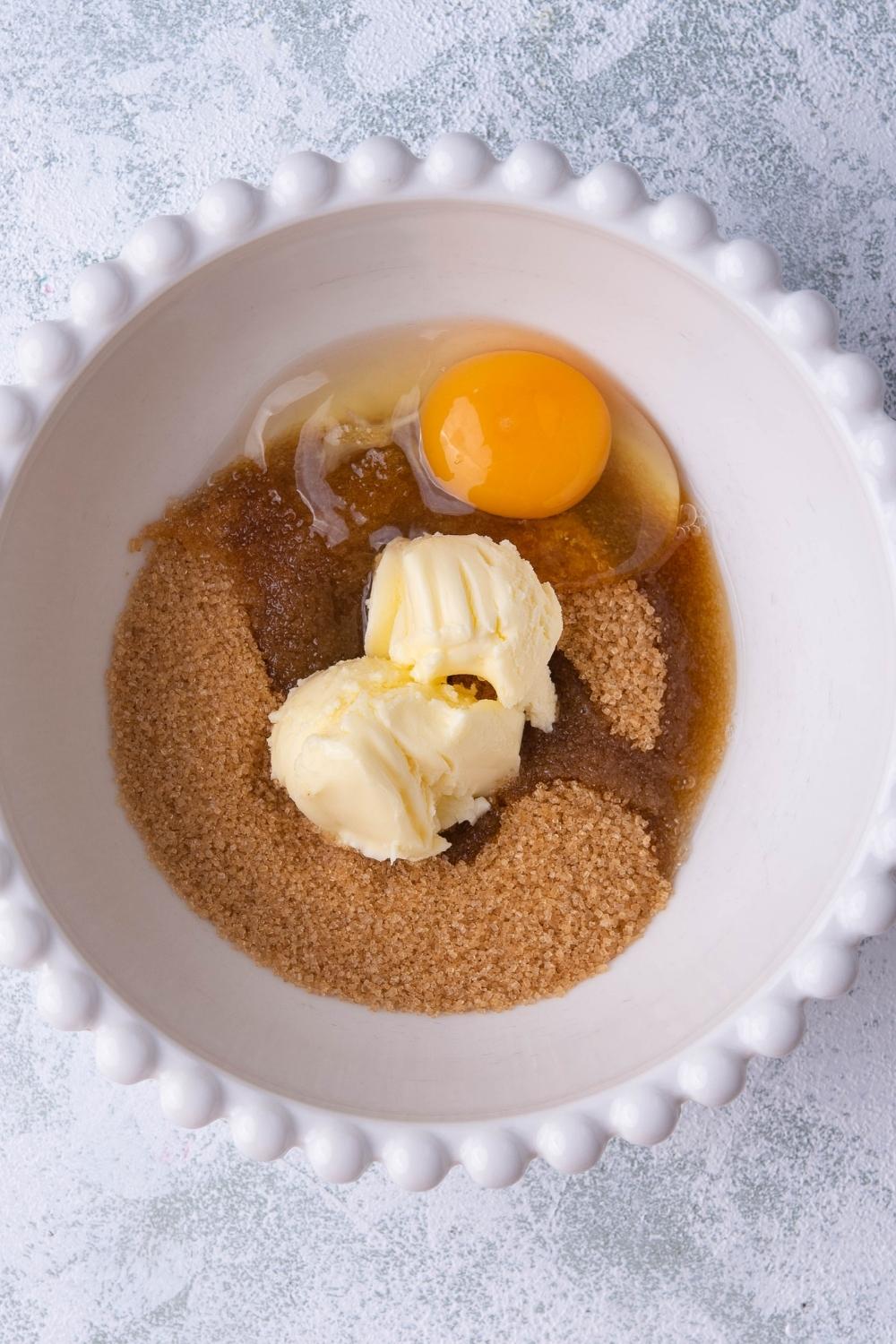 Step 1: Prep Work
First, before getting into the recipe, preheat the oven to 375ºF (180°C).
Then, line a loaf pan with parchment paper and set it aside for later.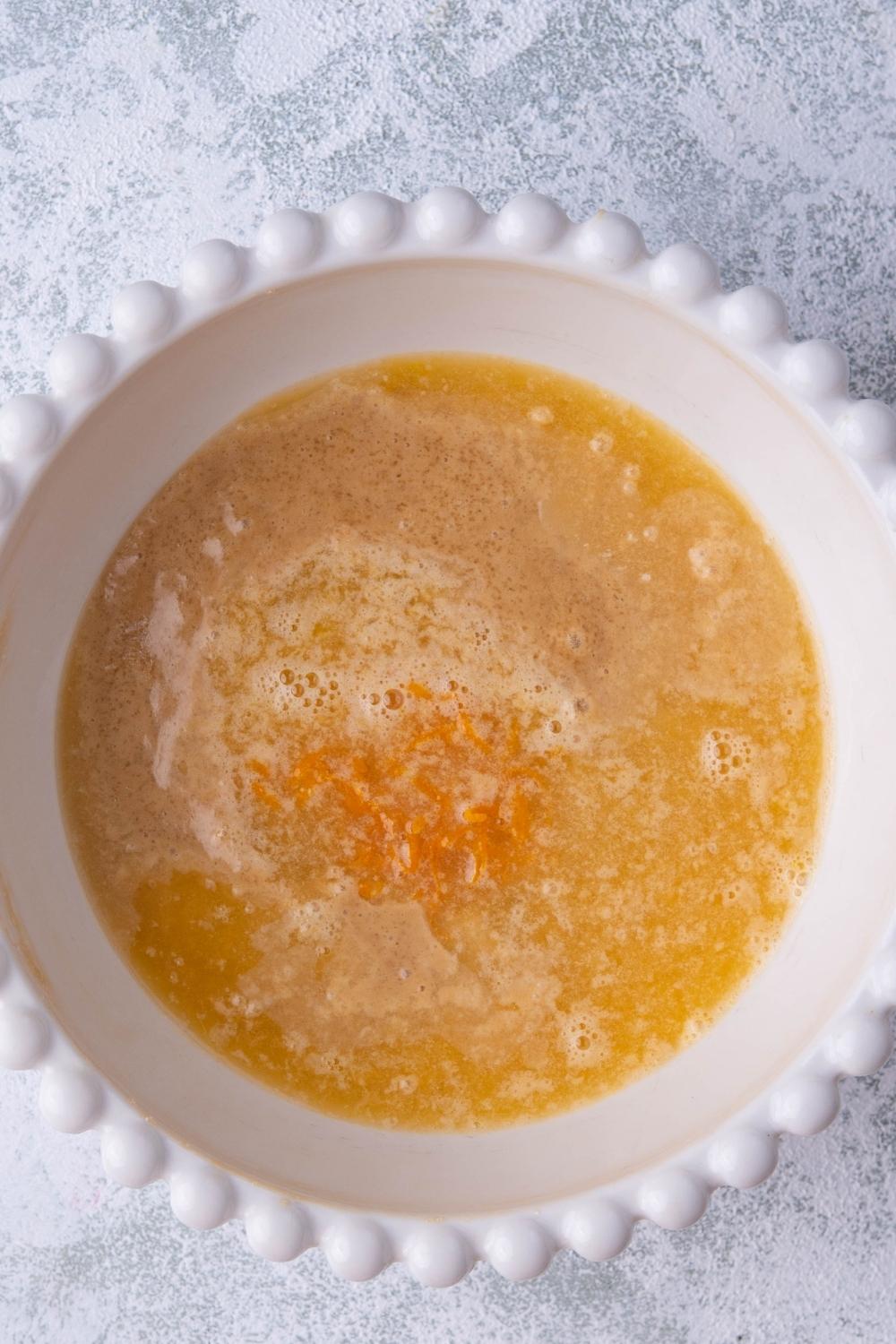 Step 2: Mix The Wet Ingredients
Next, take out a large mixing bowl and cream together the butter, brown sugar, and egg. This will take 3-5 minutes to get a light brown and airy consistency.
Now, once combined, add the orange juice and orange zest and give everything a stir to combine.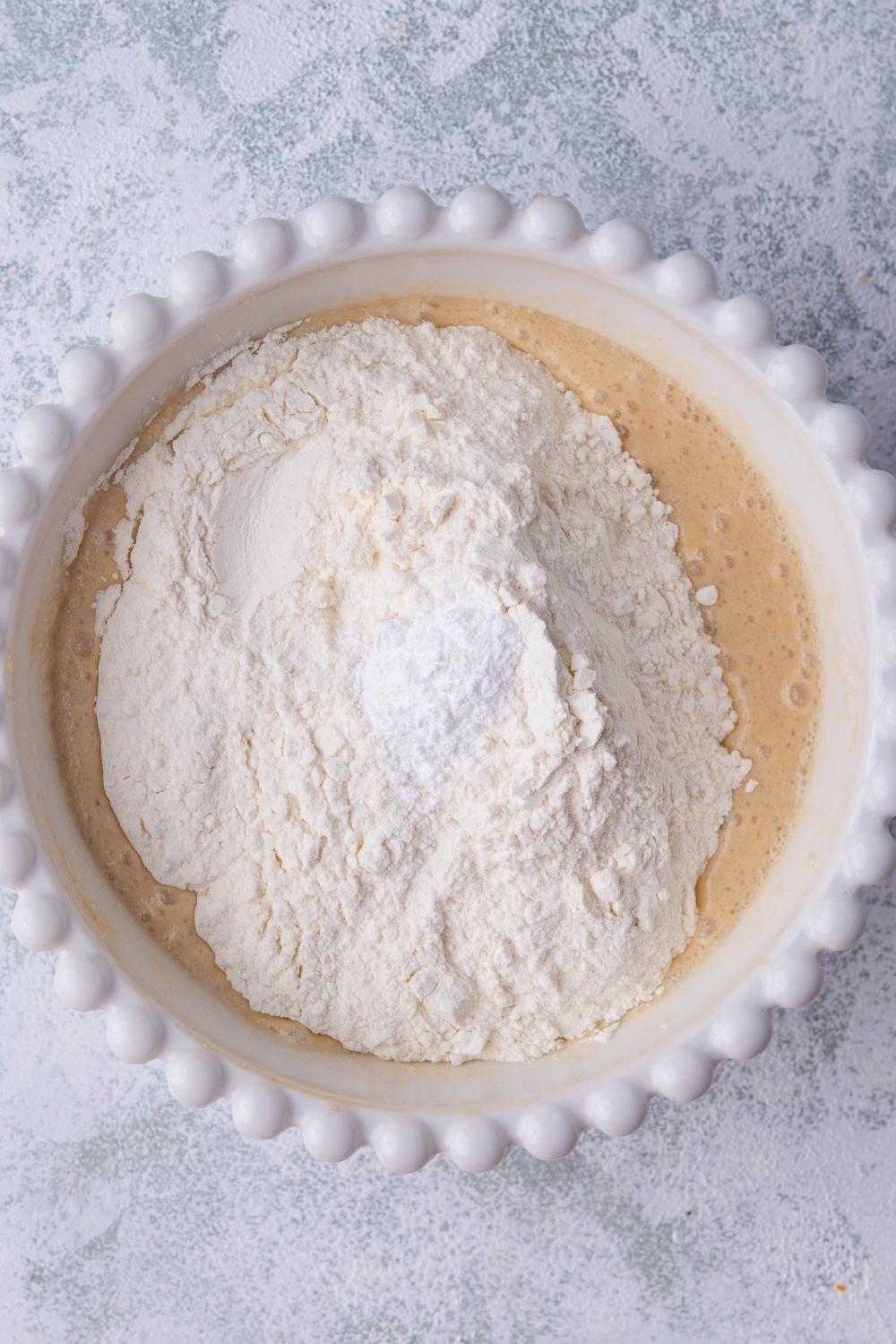 Step 3: Add The Dry Ingredients
So, once the wet ingredients are prepped, add the flour and baking powder to the large mixing bowl.
Then, fold until just combined and a thick batter forms.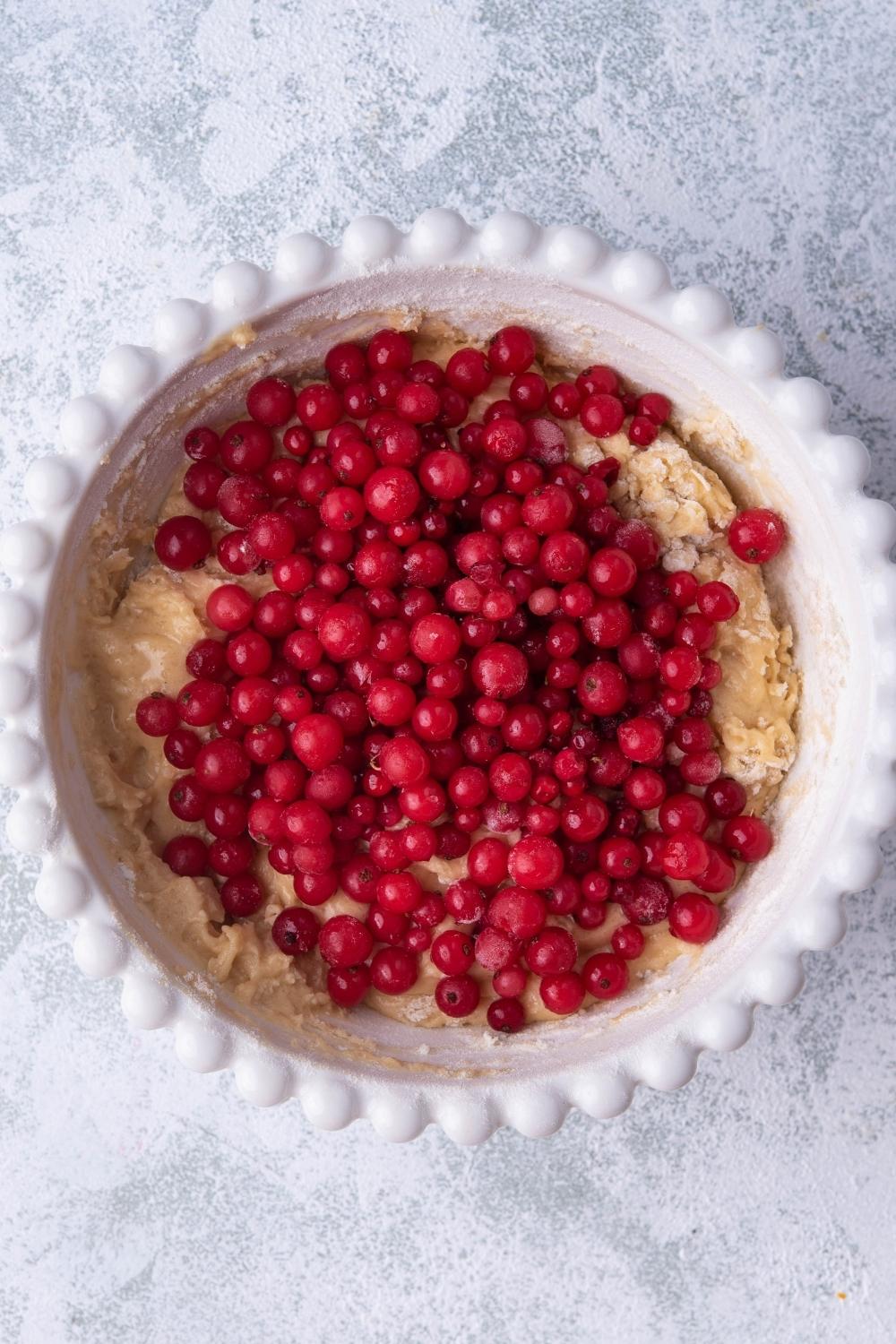 Step 4: Add The Cranberries
Once you have a smooth batter, you can add the star of this bread, the cranberries.
Next, give everything a mix to combine until the tart cranberries are completely covered by the batter and incorporated well.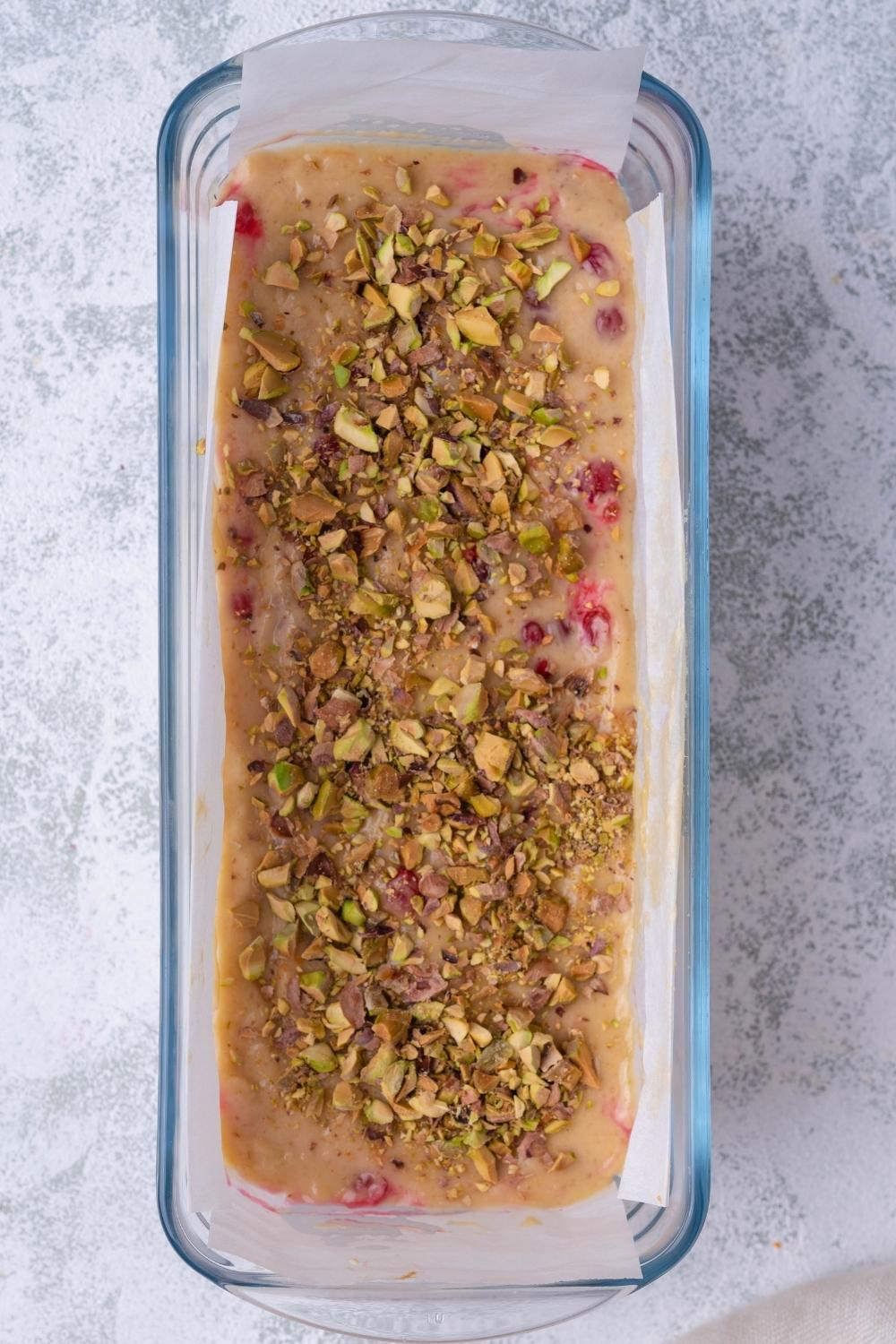 Step 5: Bake The Bread
Now, transfer the mixture to the prepared bread pan, and add the chopped nuts on top. Then, soak a piece of parchment paper, squeeze it out, and place it over top of the loaf pan.
Then, bake the bread for 40 minutes, take off the parchment paper, and proceed to bake for another 10 minutes, or until a toothpick inserted in the center comes out clean.
Finally, once the bread is baked, let the bread cool completely on a wire rack. While it's cooling, you can mix all of the glaze ingredients in a medium mixing bowl until they combine.
Then cut this delicious cranberry bread into slices, drizzle the glaze on top if you want, or just add a slab of butter on top or even powdered sugar, serve, and enjoy!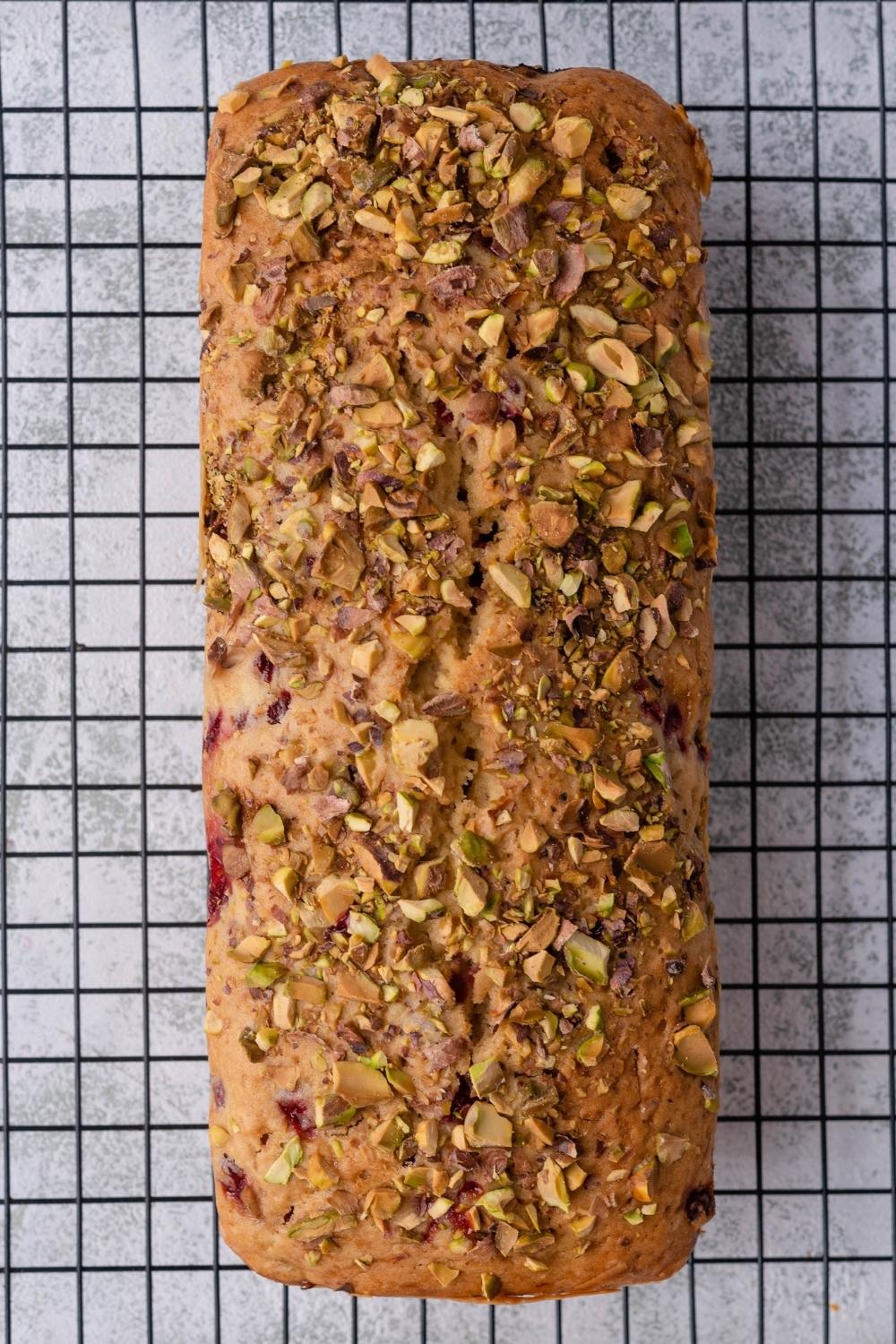 How I Recommend Storing Leftovers
This recipe will make one loaf, or enough for about 10 slices of bread, and usually, every slice is gone in my house after I make this recipe. With that said, the bread tastes incredible leftover! It might be even better than when it's freshly baked.
To store, wrap each slice tightly in plastic wrap and put it in a sealable bag, store it in an airtight container, or even in a bread box. No matter which option you go with, it will keep at room temperature for about 4 days or a week in the fridge.
Oh, and to store it even longer, you can keep it in the freezer for up to 3 months! Just make sure to store it in a freezer-safe container or a freezer-safe resealable bag.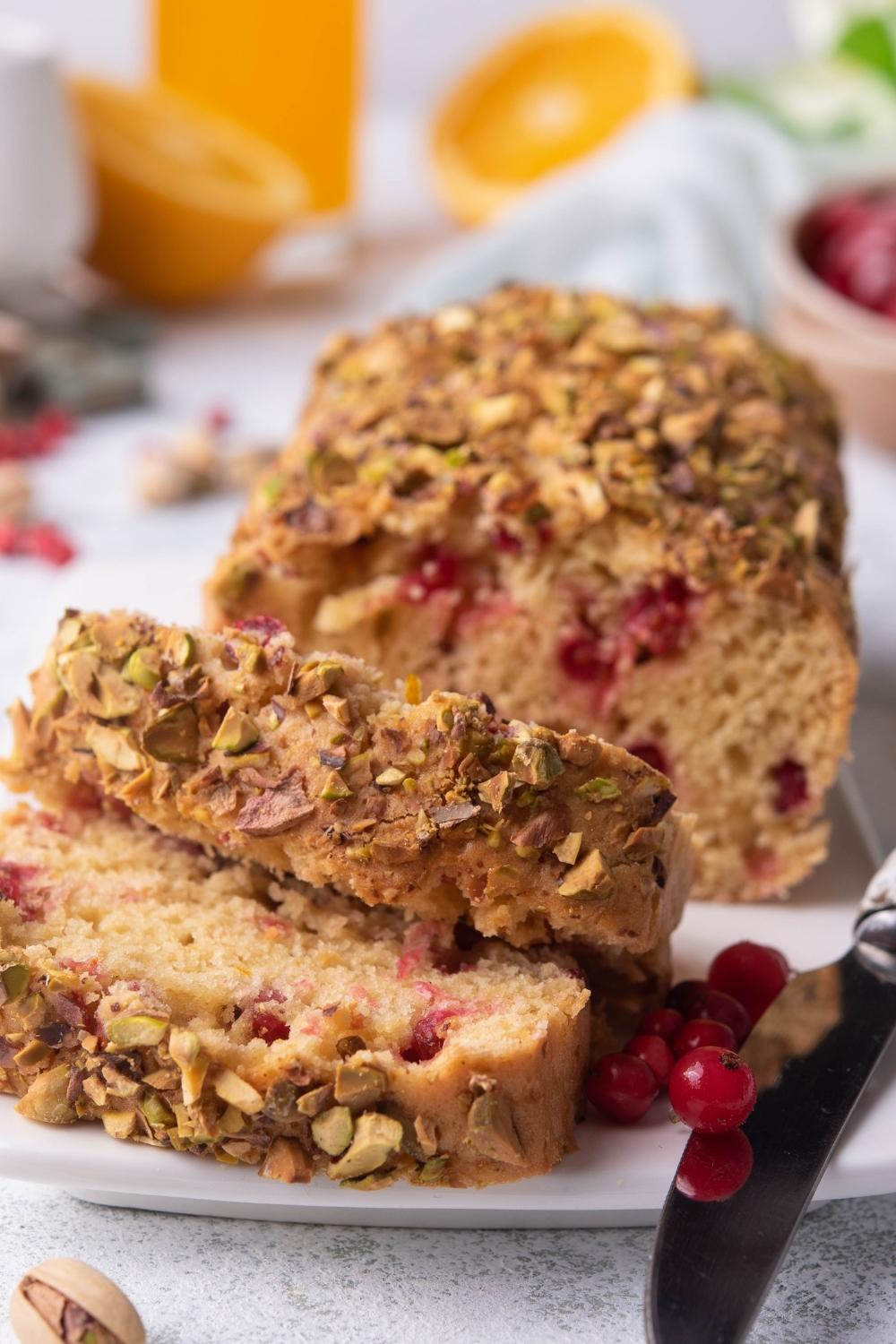 How I Recommend Reheating The Bread
I like to reheat the bread for that fresh out-of-the-oven experience. I'll just put it in the microwave and heat it for about 10 seconds. Another great method is to warm it up in the toaster oven to make some of the most delicious toast you'll ever have! Then add the icing, powdered sugar, or some butter.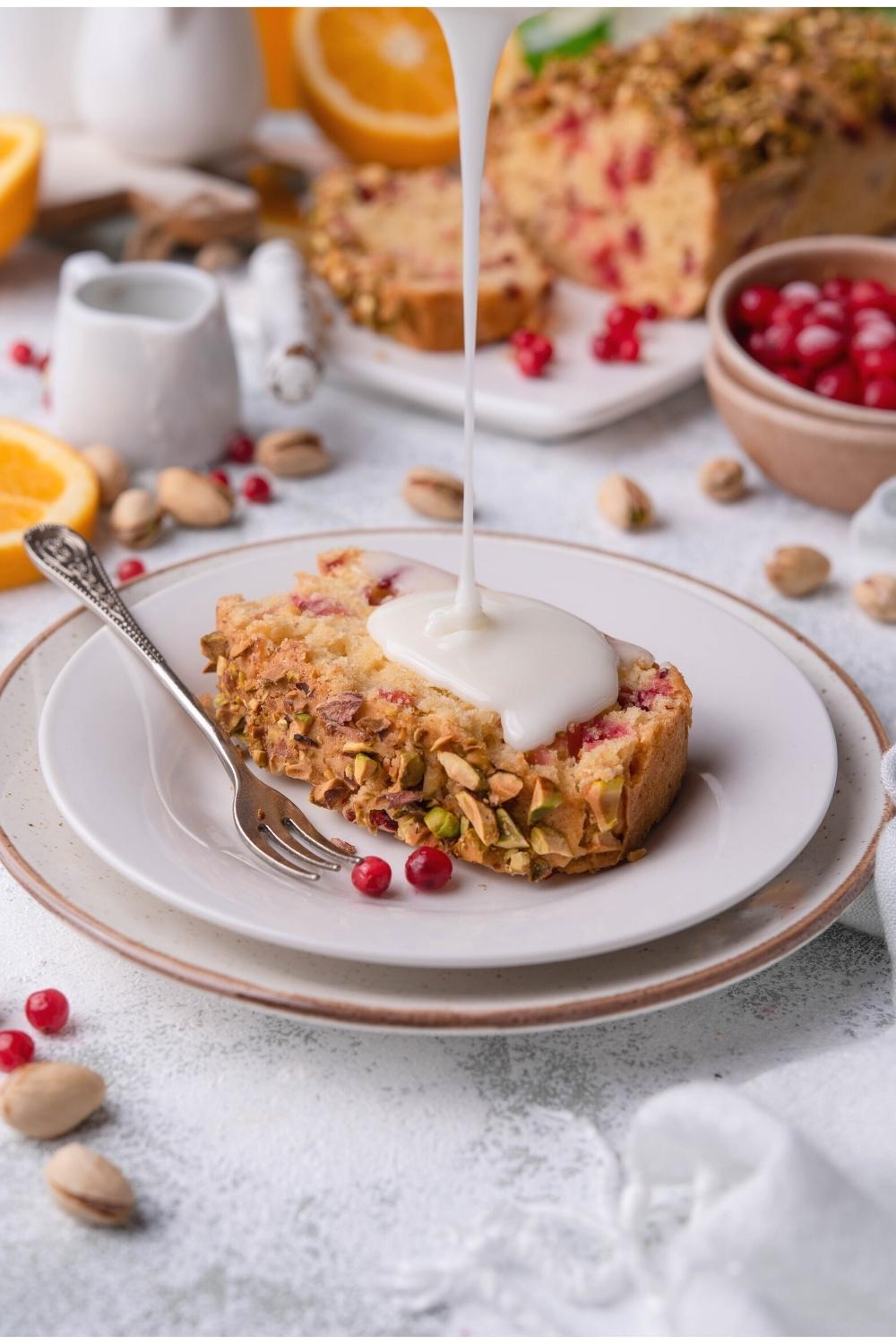 My Final Thoughts
If you've never tried cranberry bread before, I hope this has convinced you to give it a go!
I love making double batches of this quick bread - I use one for a holiday dinner and keep the other one in the freezer for a family dinner. But, honestly, this cranberry orange bread is perfect any time of the year! It's super moist, soft, and filled with a delicious combination of flavors that everyone is sure to love.
As always, if you do give this bread a try, leave a comment below and let me know how it went!
Also, be sure to check out our Instagram, TikTok, and Youtube for more easy recipes. We post new ones on them daily.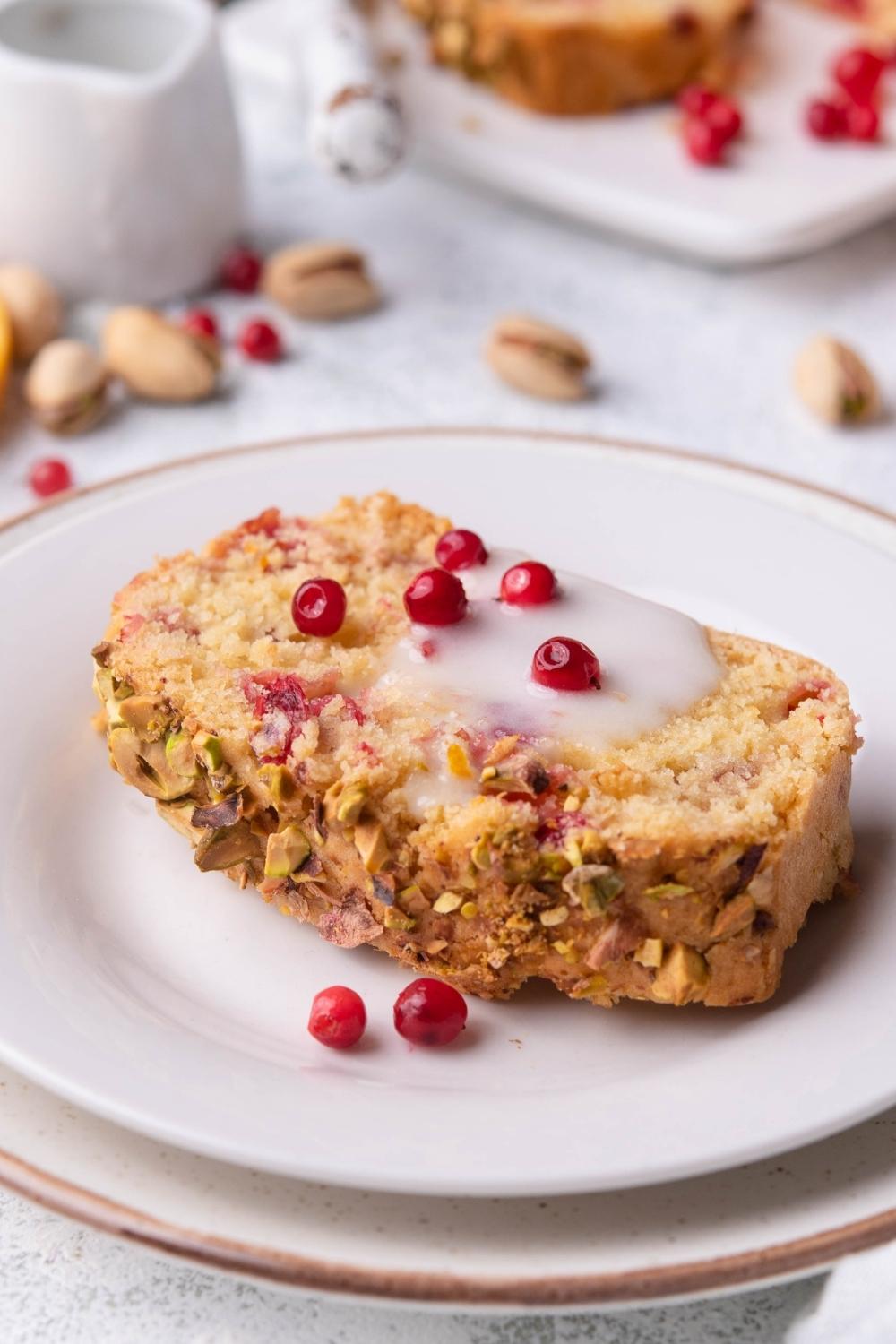 More Delicious Bread Recipes To Try
Yield: 10 slices
Ocean Spray Cranberry Bread Recipe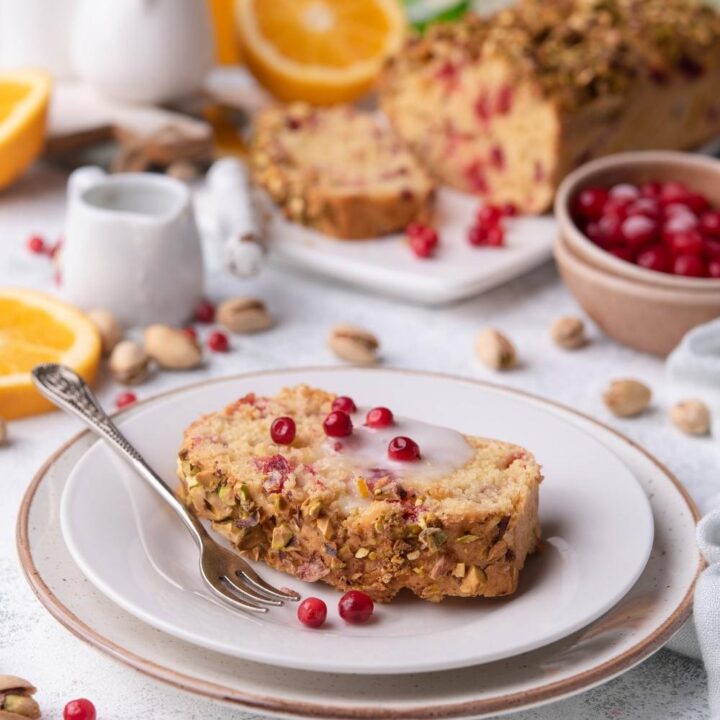 This Ocean Spray cranberry bread recipe combines sweet and tart flavors in soft and moist bread to make the perfect festive recipe. It's made with cranberries, fresh orange juice, and savory nuts, and it's bound to become your new favorite sweet bread recipe!
Ingredients
Optional glaze:
1 Cup Confectioners Sugar
1 Tsp. Vanilla Extract
2-4 Tbsps. Milk
Instructions
Preheat oven to 375F. Line loaf pan with parchment paper.
In a mixing bowl, cream sugar, butter, and egg for 5 minutes. Stir in orange juice and orange peel.
Fold in flour and baking powder. Stir until just combined.
Add cranberries and stir until well blended.
Transfer the batter to a loaf pan and top the batter with chopped pistachios.
Take a piece of parchment paper, soak it in water, squeeze it, and place it over the loaf pan.
Bake the bread for 40 minutes. Remove the parchment paper and continue to bake for another 10 minutes or until the inserted toothpick comes out clean.
Cool the bread on a wire rack before slicing and serving.
Mix the glaze ingredients in a bowl and drizzle on top of the bread (optional).
Nutrition Information:
Serving Size:
1 slice
Amount Per Serving:
Calories:

198
Total Fat:

3.8g
Saturated Fat:

1.8g
Trans Fat:

0g
Unsaturated Fat:

0g
Cholesterol:

35mg
Sodium:

37mg
Carbohydrates:

53g
Fiber:

0g
Sugar:

16.2g
Protein:

3.7g